This story originally published in the November 2015 issue of POWDER (44.3).
WEDNESDAY IS SKI DAY AT MAMMOTH ELEMENTARY SCHOOL. Which, for parents of kids in the program, means an added level of complexity on Wednesday mornings. Not only do the kids have to be in the car by 7:35 a.m., with lunches, homework, combed hair, brushed teeth, and snow boots on the correct feet, but they also have to have their skis, boots, poles, goggles, helmets, gloves, long underwear, jacket, ski pass, sunscreen, snacks, bib, etc. One missing item could mean a kid gets stuck in the lodge all afternoon with a teacher. Or that a parent has to cut out early from work to go pick the child up.
On one such morning last winter, just as the first bell rang, Oscar Ayala (not his real name), dropped his kids at the school. In the near distance, above the paint-speckled ladder on the roof of his third-hand Isuzu Rodeo, Mammoth Mountain Ski Area stood against a blue California sky. Oscar's kids tumbled out and joined the flow of other kids—sons and daughters of doctors, architects, housekeepers, house painters, professional snowboarders, mechanics, ski area executives, undocumented laborers, and licensed contractors—funneling through the front doors of the small town public elementary school.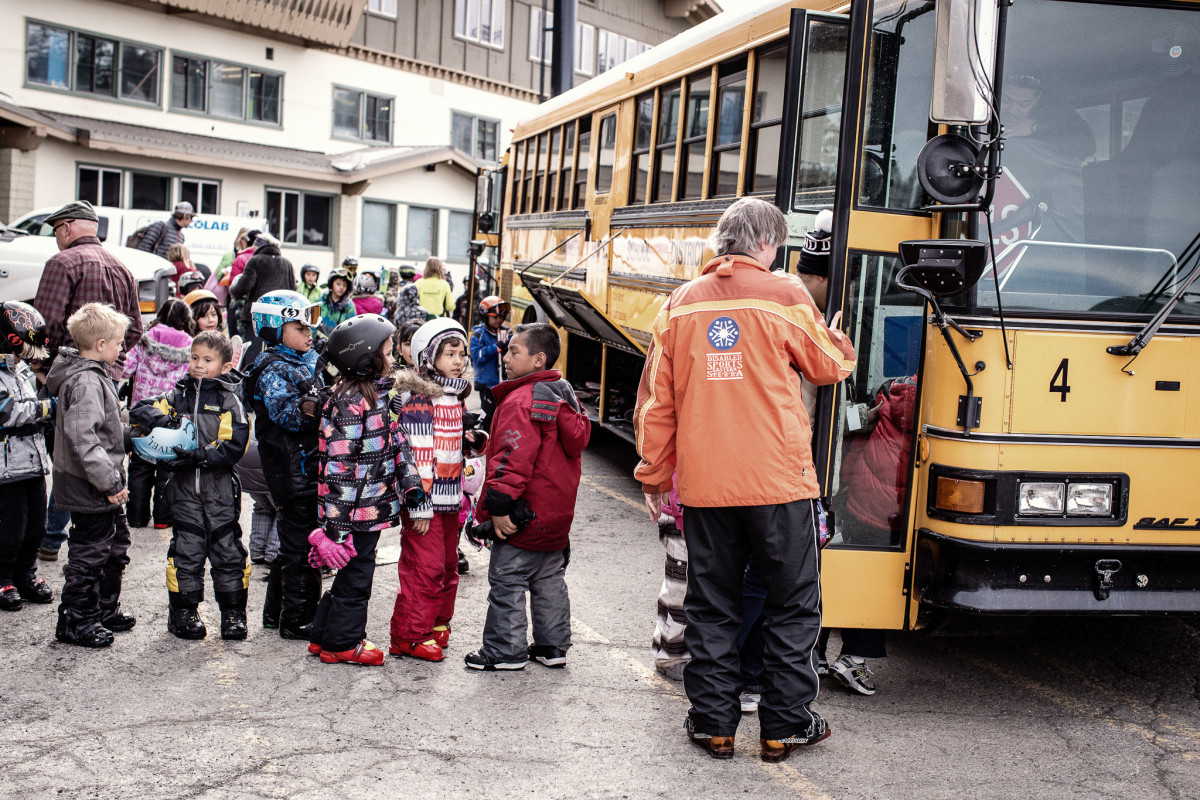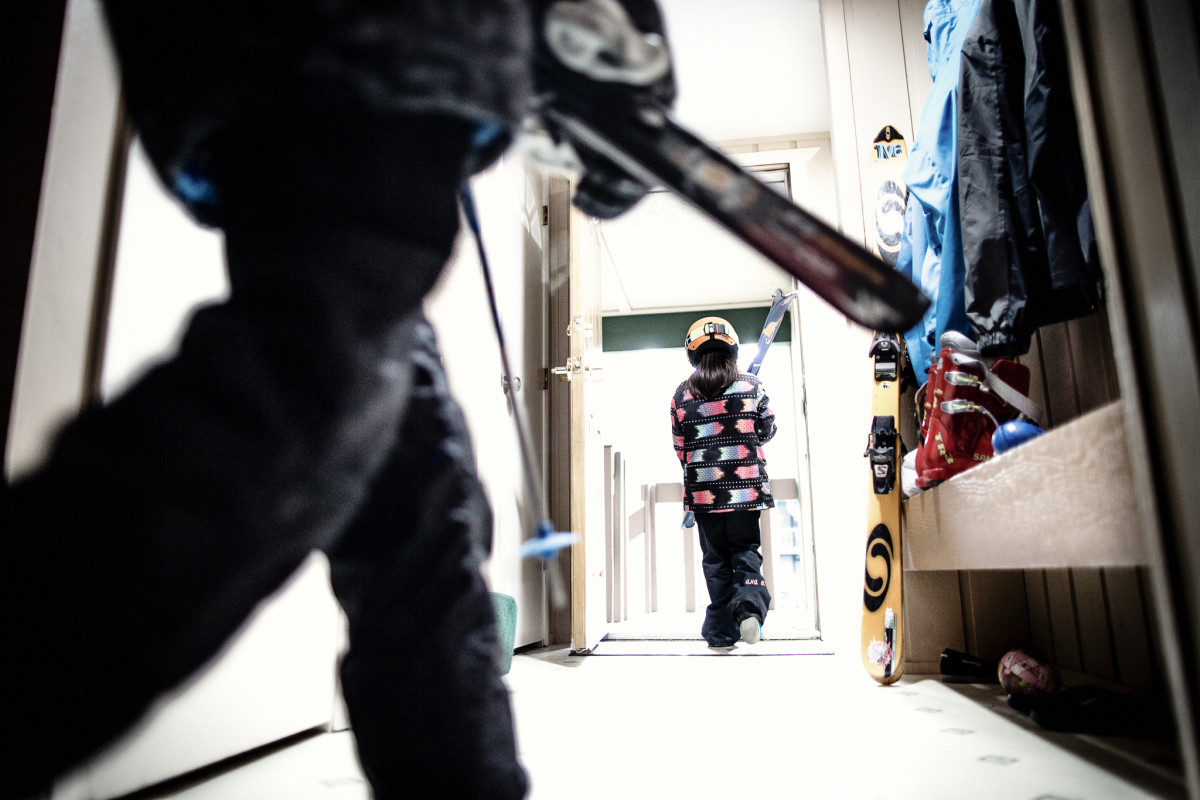 "Tengan buen día!" Oscar called after them.
If the kids heard him they didn't acknowledge it. They had their heads down, steeled for what lay ahead: four long hours of school—for "dual-immersion" kids like Oscar's (and mine), education comes half in Spanish and half in English—followed by a short bus ride to the mountain and an afternoon on the slopes. Alison was in second grade; her brother, Oscar Jr., in fifth. Oscar Jr. was born in the U.S.; his sister in Mexico. He has a U.S. passport; she doesn't. Neither was particularly excited about skiing, at least not early on a Wednesday morning heading into school.
"My son likes it sometimes and sometimes he doesn't," Oscar told me later, in Spanish, as we sat at his kitchen table, sipping Bud Light and crunching on tostadas piled high with homemade salpicón. Oscar speaks English well enough, but he's less guarded in his native tongue. His wife—let's call her Angela—sat on the couch, texting with a friend. Alison was watching TV up in the loft. Oscar Jr. was sprawled out on the green shag in the living room, deep in his iPad. "He's no good with sports," says Oscar. "But I put him in everything. He has to do something."
Oscar is one of a growing number of immigrants finding a home in a ski town. He made his way north from Sinaloa, Mexico, in 2001. He had a degree in industrial engineering and went to Tijuana to try to get a job. Angela, his fiancée, had gone to Mammoth, invited by distant cousins on her mother's side who needed help taking care of their kids while they worked. On the phone, she described to Oscar a place that sounded like paradise: jobs, clean mountain air, trees, a decent school, friendly neighbors, and a general lack of kidnapping, extortion, drug cartels, murder, bad water, extreme poverty, and mean-spirited immigration authorities. There weren't any jobs in Tijuana—in industrial engineering or anything else. So Mammoth became the dream.
His Mammoth Mountain name tag bore the same name as his fake Social Security card and green card, for which he paid $150.
As many as 700,000 people per year attempt to make their way north across the U.S. border, mostly from Mexico, but also, increasingly, from other violent regions of Central America. This despite the fact that the U.S. now spends more than $18 billion per year on border enforcement—more than all other federal law enforcement agencies combined—to catch approximately half of those making the crossing. Most pay thousands of dollars to coyotes and mafia extortionists, opening themselves to the likelihood of further extortion, kidnapping, beatings, rape, or murder. To say nothing of the very real hazards of the desert.
Oscar wasn't willing to go that way. "The minute you call a coyote you're basically putting yourself up for kidnapping," he says. "They care absolutely nothing for your life." He was somehow able to show enough financial solvency in Mexico (proof of domicile, bank account, job, etc.) to secure a tourist visa. Which meant that as long as he could make the border agents believe that he was on vacation, heading into the U.S. to spend money rather than to make it, he could come and go pretty much as he pleased. Not unlike American ski bums in Chamonix, or Kiwi ski bums in Mammoth. Except, for Oscar, the stakes were higher—and the skiing was incidental.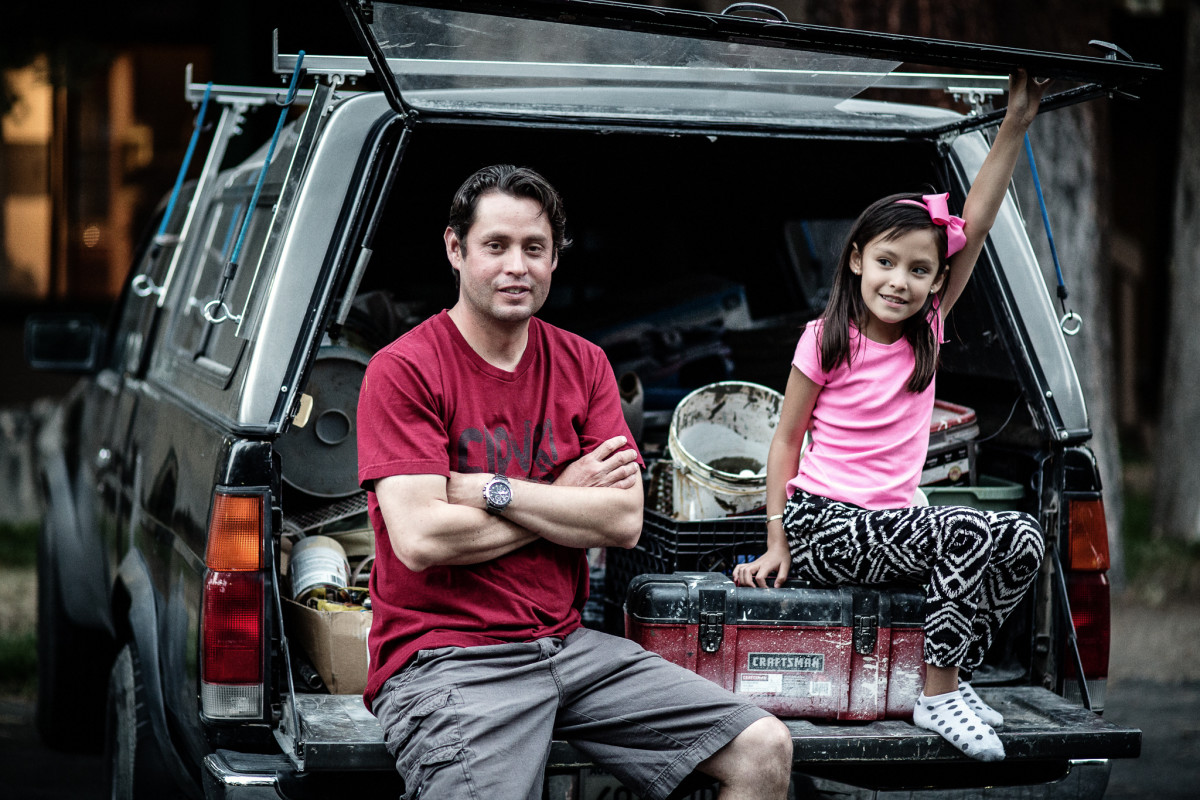 Fourteen years later, Angela and Oscar were married with kids and happily getting by in a furnished shag-and-pine ski condo less than a mile from the public school and less than two from the ski lifts. On the wall above the couch hung an enormous studio family portrait, all four of them with perfect coiffures: a proud family at the top of its game. They paid rent; the landlord paid the property taxes that helped fund the school. The place was quiet, except on weekends when it filled up with skiers and snowboarders from Southern California. The kids could walk to the grocery store. Angela worked at an embroidery and silk-screening shop. Oscar cobbled jobs together between a painting crew, bussing tables at a local steakhouse, and, on busy weekends during ski season, as a cashier halfway up the gondola.
His Mammoth Mountain name tag bore the same name as his fake Social Security card and green card (neither his own name nor the one I've given him), for which he paid $150. The money withheld on his paycheck for Social Security, unemployment insurance, workman's comp, and Medicaid would never be seen again. Not that he was complaining; that's just how it was. "We have zero permission to stay here," he says. "We're the same as those who cross through the desert. The laws are starting to change, but we're still here with the fear that at any moment for any reason they can send us back."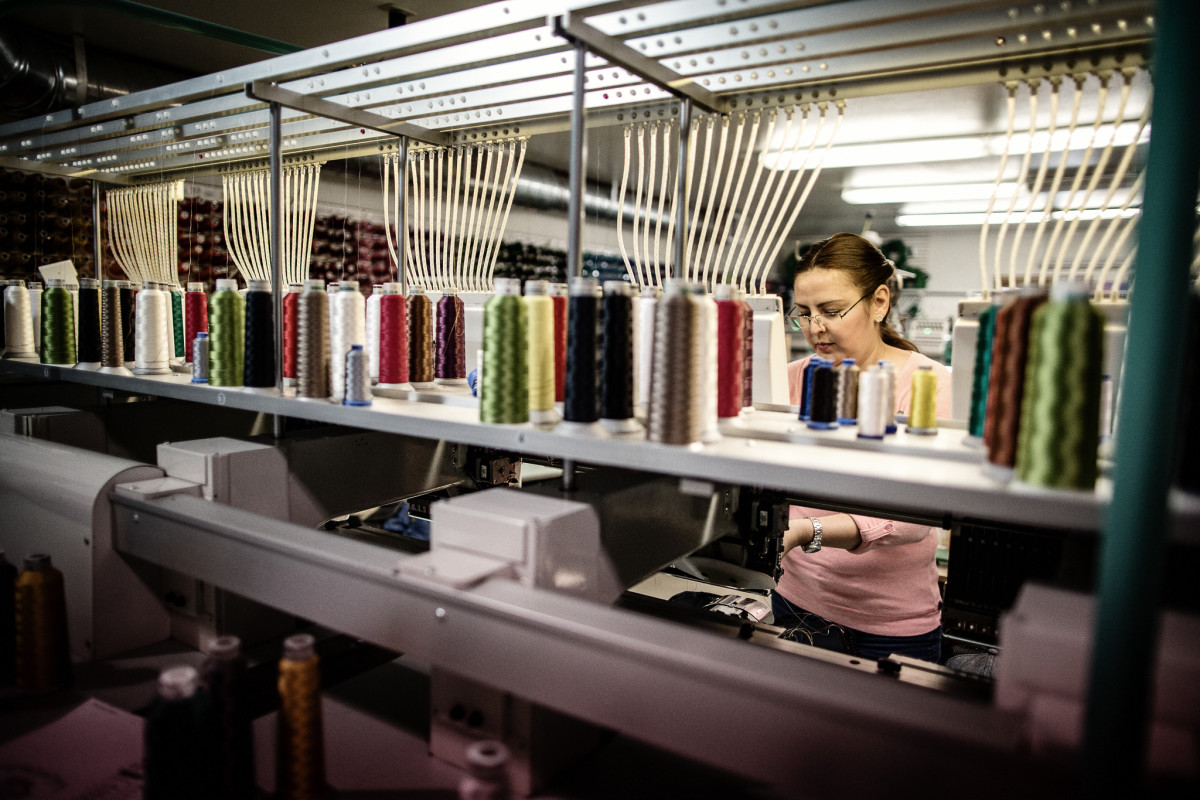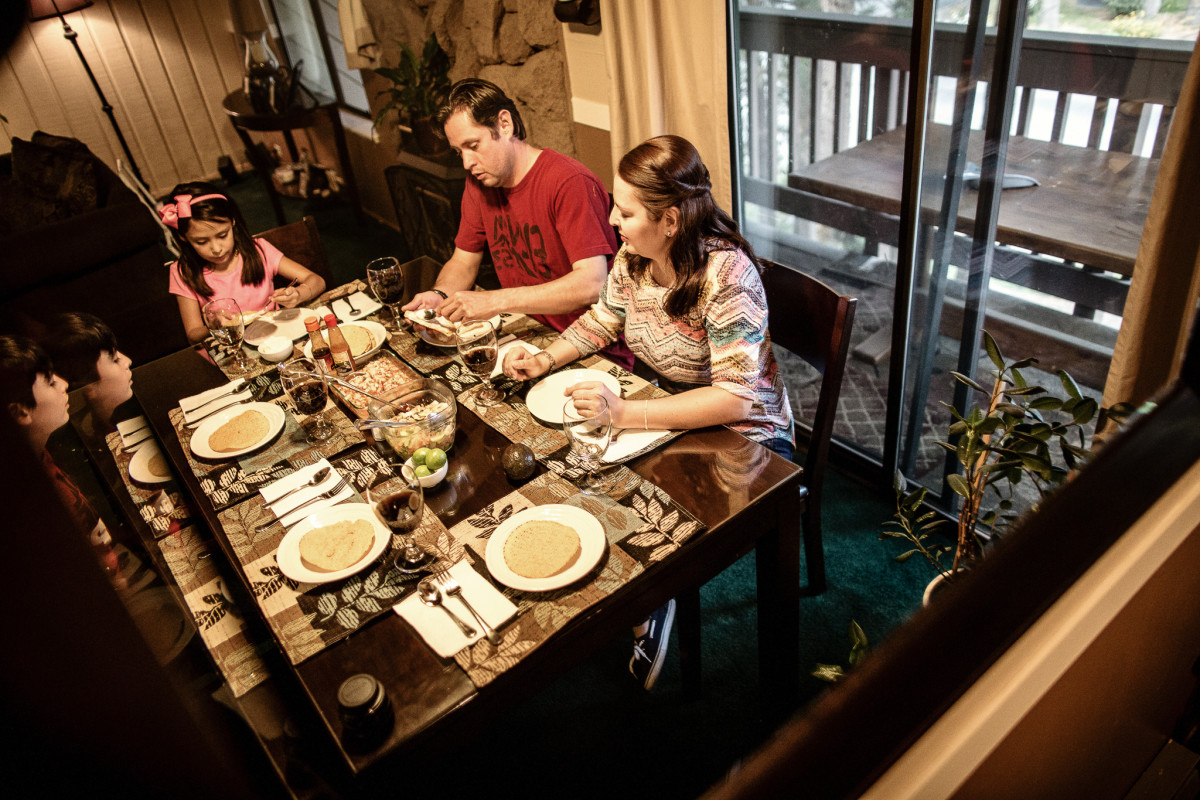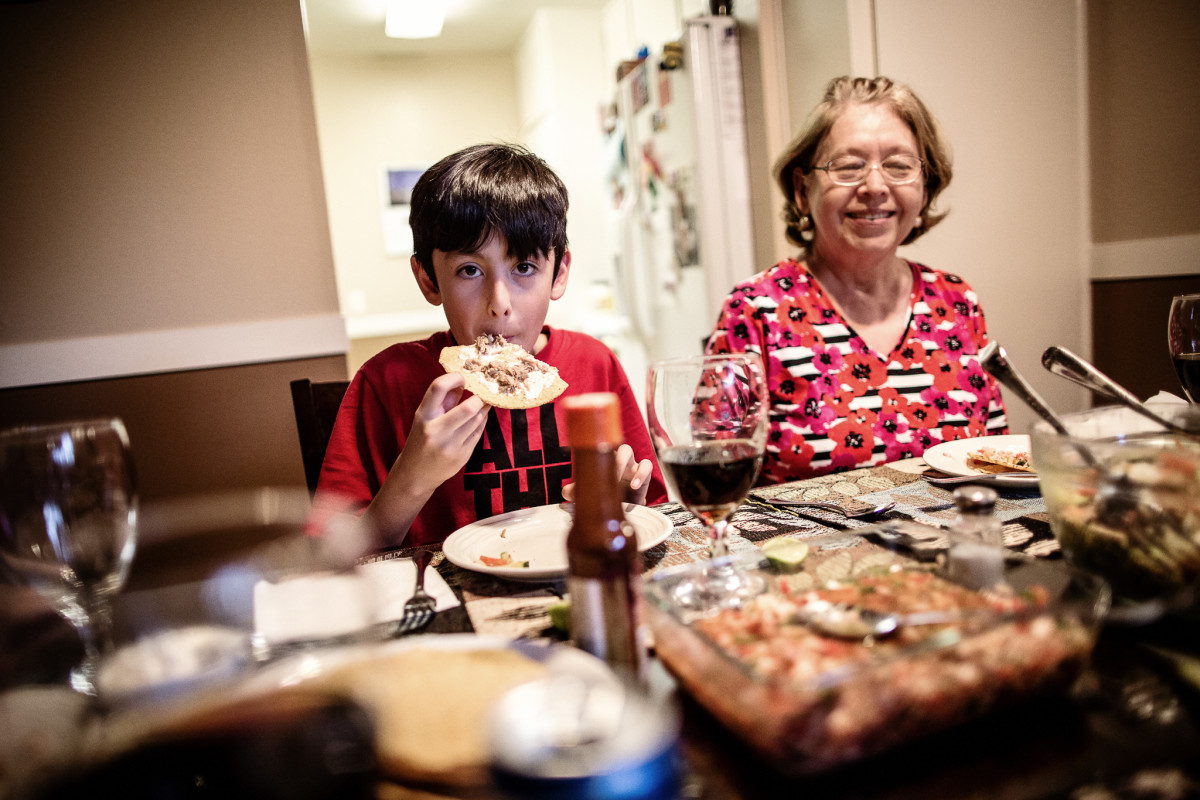 Between the 2000-2010 censuses, the "Hispanic or Latino" population in the U.S. vaulted from 35.3 million to 50.5 million, a 43 percent increase. Some of these folks—an estimated 5.9 million (down from 6.9 million before the U.S. economy fell apart in 2008), or about one in nine—are native Mexicans like Oscar and Angela. Of these, more than two-thirds have bypassed traditional urban destinations and instead landed in far-flung suburbs or smaller rural communities such as Marshalltown, Iowa, Driggs, Idaho, or Mammoth Lakes, California—places that Cornell University sociologist Daniel Lichter calls "Hispanic boomtowns," where there's not only the promise of work to be had, but also relatively decent and safe living conditions. The populations of Garfield and Eagle counties in Colorado, for example, are now estimated at about 30 percent "Hispanic or Latino," nearly 10 percent higher than across the rest of the state. In Jackson, Wyoming, the Hispanic sector has risen to 27 percent of the year-round population—a number that represents a colossal 1,164-percent increase over the previous decade. Just over Teton Pass in Driggs, where housing is cheaper but the commute to work is longer and more dangerous, it's 32 percent.
Census numbers are estimates, of course, especially when it comes to a portion of the population that has an excellent reason to avoid detection. In Mammoth Lakes, where the official census shows a Hispanic population of about 34 percent, the demographic in the local school district, according to elementary school principal Rosanne Lampariello, runs closer to 60 percent. "The trend in the five years I've been here is increasing," says Lampariello, a Long Island native of Italian descent who is thrilled to be in Mammoth after years in New York and Los Angeles inner-city schools. "It's a lot of word of mouth. We'll have a family here and then all of a sudden the sister comes with her kids."
Because of the way word travels south along family lines, certain destinations in the States have a kind of symbiosis with specific villages and regions in Mexico, with a complex, modern underground railroad running back and forth between them. A friend who used to run a literacy program in Jackson Hole told me that folks there have generally come from Tlaxcala, a rural state to the east of Mexico City recently made famous as the source of 90 percent of Mexican sex-trafficking victims in New York City. Most of the Mexican population in Mammoth draws from the highland states of Jalisco, Michoacán and neighboring Guanajuato, where local newspapers and websites for more than a decade have been filled with stories and photos of executions, severed heads, hanging corpses, and the grisly aftermath of gun battles in broad daylight—and where extortion and kidnapping are a daily concern for average citizens. The U.S. State Department recommends that people simply not go there.
The populations of Garfield and Eagle Counties, in Colorado, for example, are now estimated at about 30 percent "Hispanic or Latino," nearly 10 percent higher than across the rest of the state.
"Some of our Hispanic community come from some pretty gnarly areas in Mexico where there's killing," says Lampariello. "They come here, you don't even have to lock your door."
One afternoon I left my skis by the gondola and chatted with Luis Villanueva, general manager of the Mammoth Mountain Inn. I asked him how many of his employees come from Mexico. "The great majority," he said, "because the largest departments in the hotels are usually housekeeping, laundry, and maintenance." Then he revised his estimate upward. "I would even say 100 percent of the employees are from Mexico."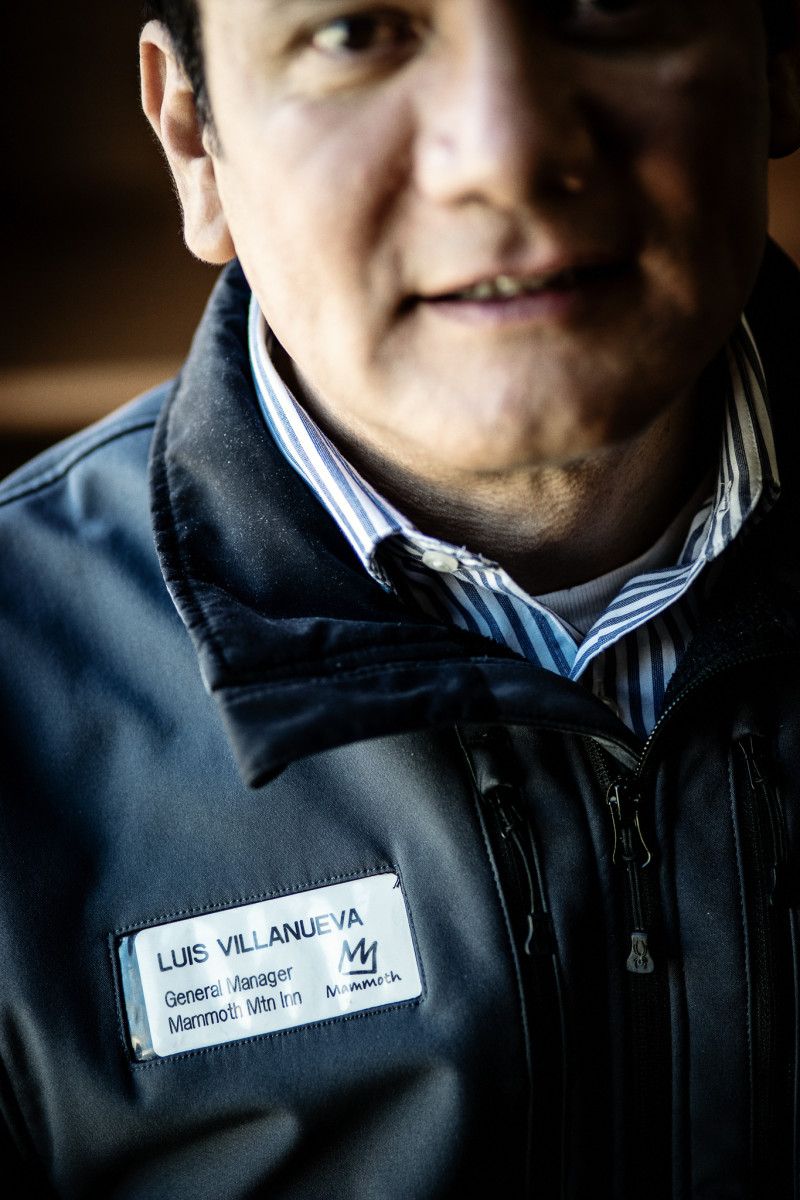 Luis made his way from Puebla to California in 1985, where he began a fast ascent through managerial positions at a series of Hyatt Regencies, Grand Hyatts, and Ritz Carltons. In 2006, he gave up a cushy position at a luxury golf and spa resort in San Diego to try his hand running a property in the mountains for two years. It sounded like a fun challenge. Nine years later, he's still here. Like most of his employees, despite the fact that they get free ski passes, he doesn't ski. It's too scary, he says. "I see people coming in all the time with broken legs and broken arms and broken teeth." And who can afford to lose work due to an injury? But he loves walking in the woods. He loves the cold. "Mammoth is about the same altitude as Michoacán," he explains. He loves the feeling of burying his face in fresh powder. And he loves the community.
The impact of a booming Latino population is not immediately apparent in ski towns. "Culturally, they punch below their numbers," Jonathan Schechter, founder and director of the Jackson-based Charture Institute and 1% for the Tetons, wrote to me in an email. "Very little of our broader cultural life is oriented toward, or influenced by, our Latino population."
In Mammoth, tucked behind strip malls downtown and just off the main tourist thoroughfares, are dozens of high-density, low-income apartment buildings overflowing with families speaking Spanish. If you know where to look, there are four Mexican groceries where you can find a wide selection of dried and fresh chiles, pan dulce, sopes, Mexican candies, Mexican shampoo, tamarind, and other sundries from south of the border, and where you can wire money to Mexico. The Catholic Church does a mass en español on Sundays at 5:30 p.m., well attended even after a summer weekend of full-field adult fútbol matches at Shady Rest Park. Some non-Hispanic parents are quick to point out that the high quotient of English-learners in the schools brings down overall test scores, while the pool of talent for kids' soccer and baseball teams gets deeper every season.
Economically, "they punch above their numbers," says Schechter. "Our tourism and household-services economies would grind to a halt without our Latino population, and our construction industry would be harmed due to a shortage of manual laborers."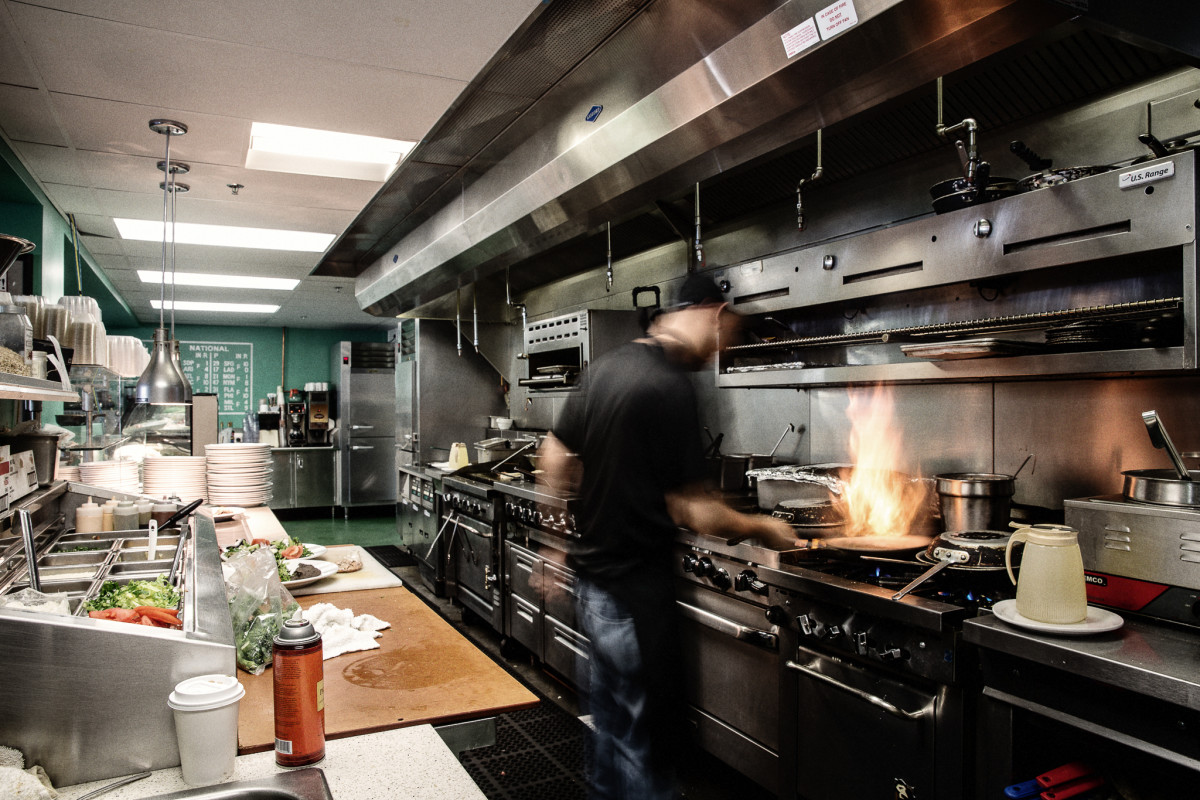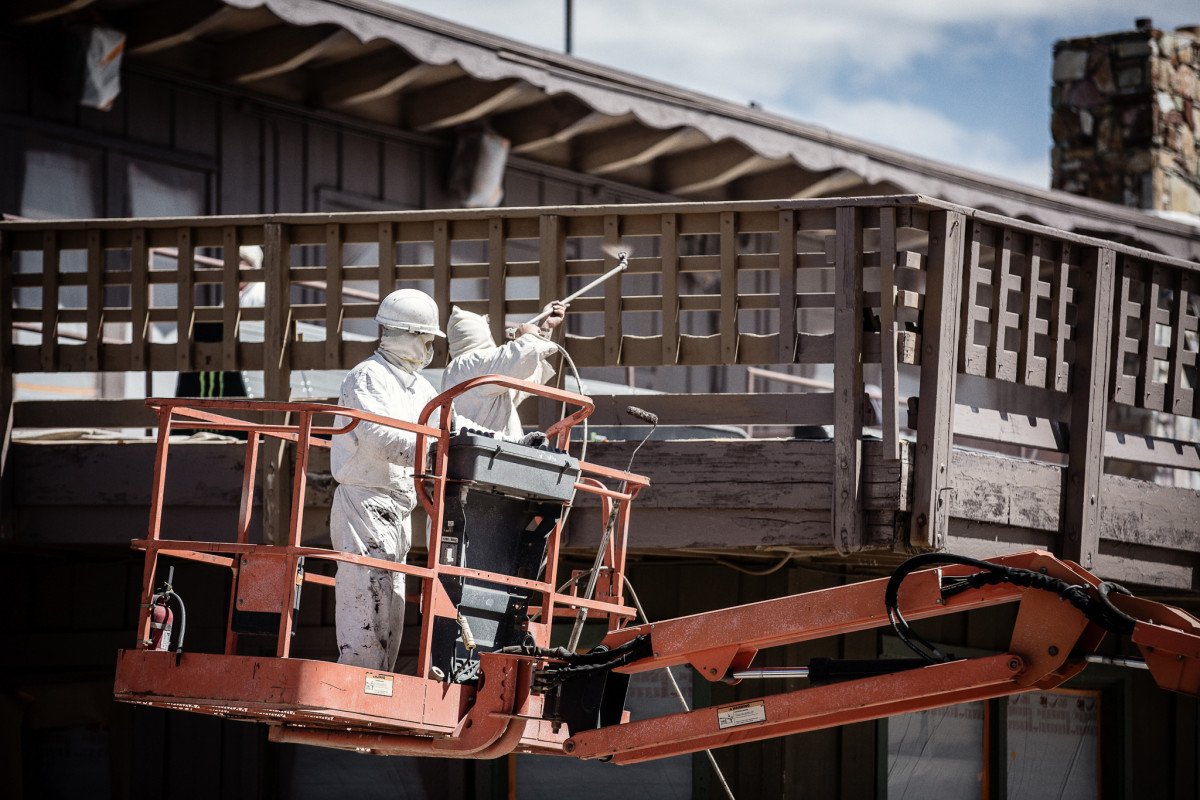 Gordon Hanson, an MIT-trained economist specializing in international migration, sees this growing immigrant population as integral to the expansion of a resort economy. "Just about everybody gains from the arrival of immigrants," he wrote in an email from his post at the University of California, San Diego. "Authorized or not, they are helping expand the tourist industry. This raises income for business owners and property owners. You can think of immigration as helping Mammoth expand its 'exports' to the rest of the world (where these exports take the form of people from outside Mammoth coming to town to spend money on local goods and services)."
Whether this type of expansion is ultimately healthy for ski towns, or for the broader world, remains to be seen. As the cost of housing and the general cost of living continue to rise—especially in resort towns—and wages lag while seasonal jobs come and go, only the scrappiest survive. Even the traditional dirt-bag ski bum, scrappy as he or she may be, can't compete. Most migrants from Mexico will do with much less. They can't file for unemployment—despite what they may pay into the system—or get a student loan. It's not so easy to start over again somewhere else. But since they're not here to play, they make excellent employees. "They show up for work every day," writes Rick Perdue, professor of hospitality and tourism management at Virginia Tech. "They will accept jobs that many traditional ski bums will not. They want to work as many hours as possible and readily accept overtime assignments. Most do not ski and, consequently, never get the 'powder flu.' Contrary to the ski bums, they appreciate their jobs and rarely complain or cause problems with resort guests."
And, like Oscar and Angela who tried to go back to Mexico in 2007 but couldn't make it work financially, they tend to stick it out through thick and thin. "In what I've seen in the five years I've been here, when seasonal layoffs come around," says Lampariello, "our Hispanic community is more likely to hang around even though they don't have jobs. While the non-Hispanic population will pack up and move on."
As to the longer-term impact of such arrangements, Schechter takes a dimmer view than Perdue or Hanson. In an essay for the 2015 Jackson Hole Compass, blaming the rise (and success) of "industrial tourism," with its dependence on low-paid workers and the subsequent influx into resort towns of wealthy, location-neutral amenity seekers, Schechter proclaims nothing less than the end of the ski-bum era. "The world and its economy has changed dramatically," he writes. "One generation ago we were a relatively homogenous middle-class community; one generation from now we'll be a heterogenous place split into three camps: white and well-to-do, brown and lower-end, and a shrinking middle class."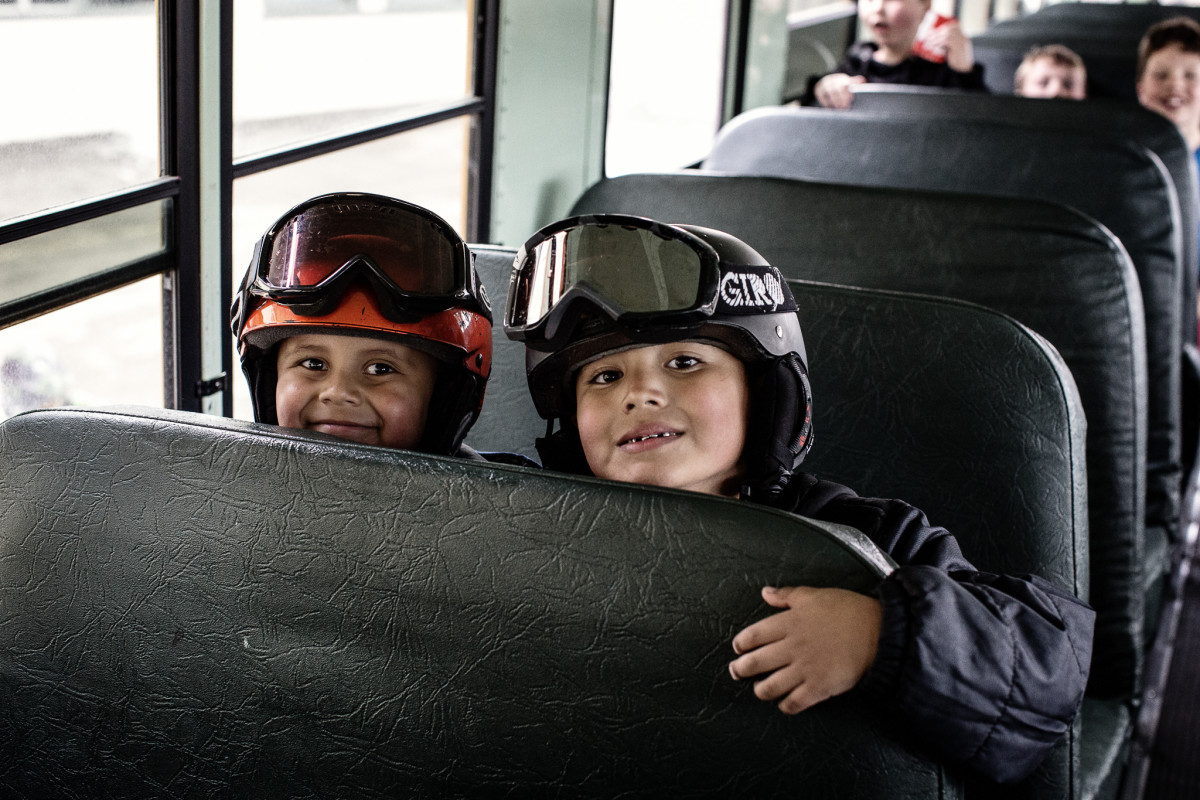 AFTER A WHILE, Angela's boss from the embroidery shop, Jorge, joined us for a beer. Jorge is his real name. After 20 years in Mammoth, more than $30,000 of his own savings in legal and other fees, and sponsorship by the shop's owners, he's finally achieved status as a legal resident of the U.S. He can breathe easier now. He can use his own name, pay income taxes, and maybe, one day when he's old and infirm, file for Social Security benefits. "Really, it's like a dream now that I have my documents," he says. "But I wouldn't recommend it to anyone."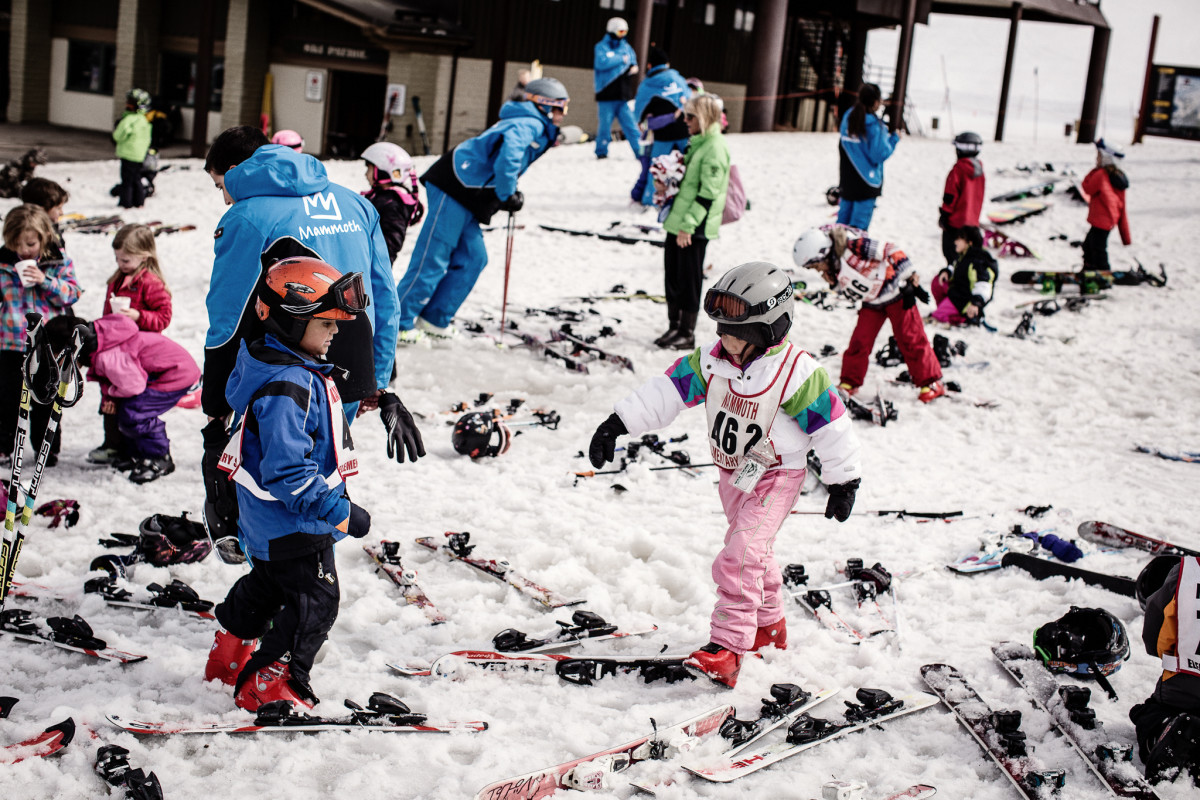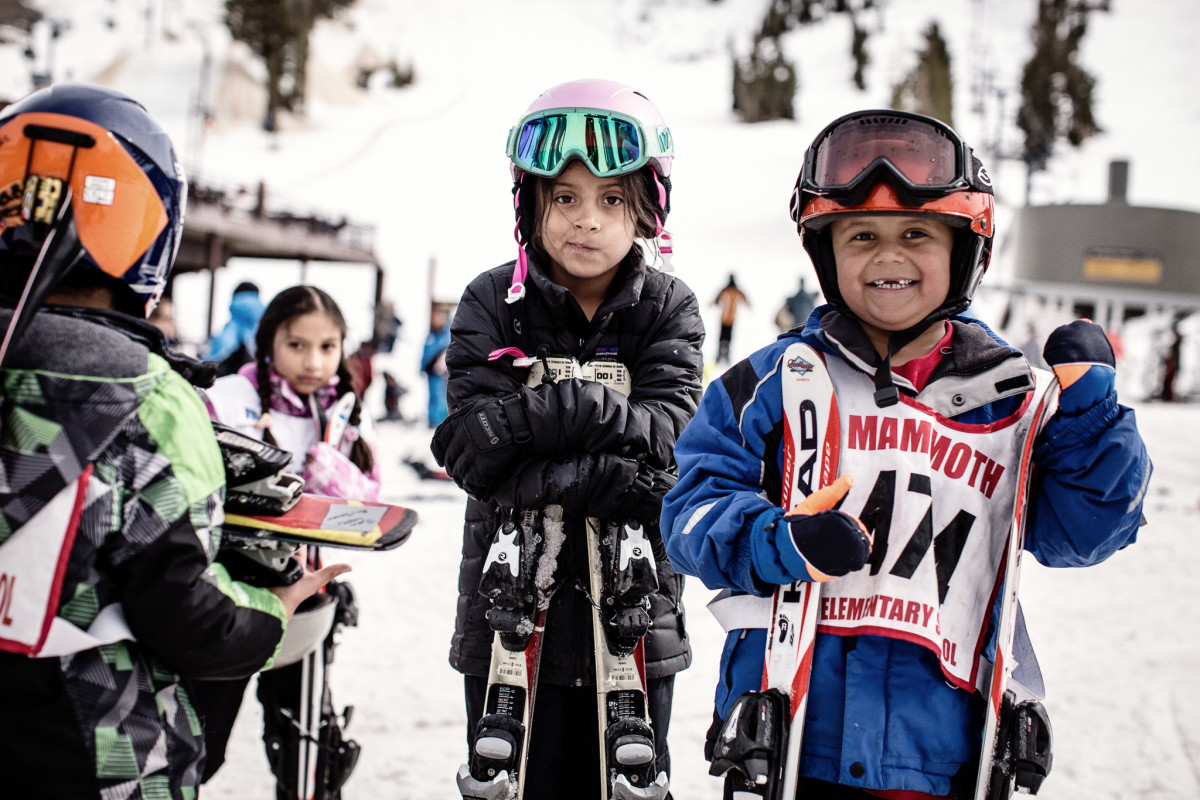 Like many others, Jorge came originally at the invitation of "some uncles" whom he thought would be able to support him, or at least set him up with something. "Although that's a myth," he says, "because once you get here you have to make your own way." He got his start in Mammoth shoveling snow. He did a stint at McDonald's before he hired on and eventually became the manager at the embroidery shop. He captivated us with tales of his three epic border crossings back in the day, journeys that make the most harrowing backcountry ski adventures seem contrived and inconsequential. He told of unscrupulous bosses in L.A. who hire undocumented workers for a specific job and then pay them a fraction of what they promised, or don't pay them at all. Then he told me how his wife, a Colombian national who'd also been in Mammoth on a tourist visa, is now living in Mexico as a temporary resident, unable to return to the U.S.
As it happens, the U.S. Immigration and Customs Enforcement still comes to town every so often and rounds up a handful of people. "Immigration's been here about six times in the last few years," says Principal Lampariello. "They were here last week." According to ICE, most of those detained are in the system because of a "criminal transaction" on their record—a DUI, for example, or a domestic violence charge. Others are in the wrong place at the wrong time. "When I first moved here," Lampariello continued, "there was a huge sweep. There was a student at the high school that was left here and her parents were deported. It was really sad."
Jorge's wife had a son from a previous relationship. He was Jorge's godson, whom he thought of as his own. Having lived in Mammoth and gone to school with Oscar Jr. (and my son) for three years, and learning to ski through the school program, the boy suddenly had to move to Mexico to be with his mother. "He didn't want to go," Jorge explained. "His life is in Mammoth. He loves to ski. All he wants is to be back here." It will take years and many thousands of dollars, Jorge said, before the paperwork goes through to get his family back. He took a sip of his beer, shook his head, and smiled amiably. "It's a lot of suffering."

JUST PAST HIGH NOON ON WEDNESDAY, under a warm California sun, a 25-year-old ski instructor named Juan Lorenzo Magariño, from Burgos, Spain, watched as two yellow school buses pulled up, one after the other, to the Main Lodge. As the bus drivers tossed kids' equipment—skis, poles, snowboards—from the cargo bays onto wet asphalt, the kids clomped down in full battle gear, bibs, and goggles into the bright afternoon. They climbed over each other to get their gear, then scattered across the slush to find their respective groups and coaches.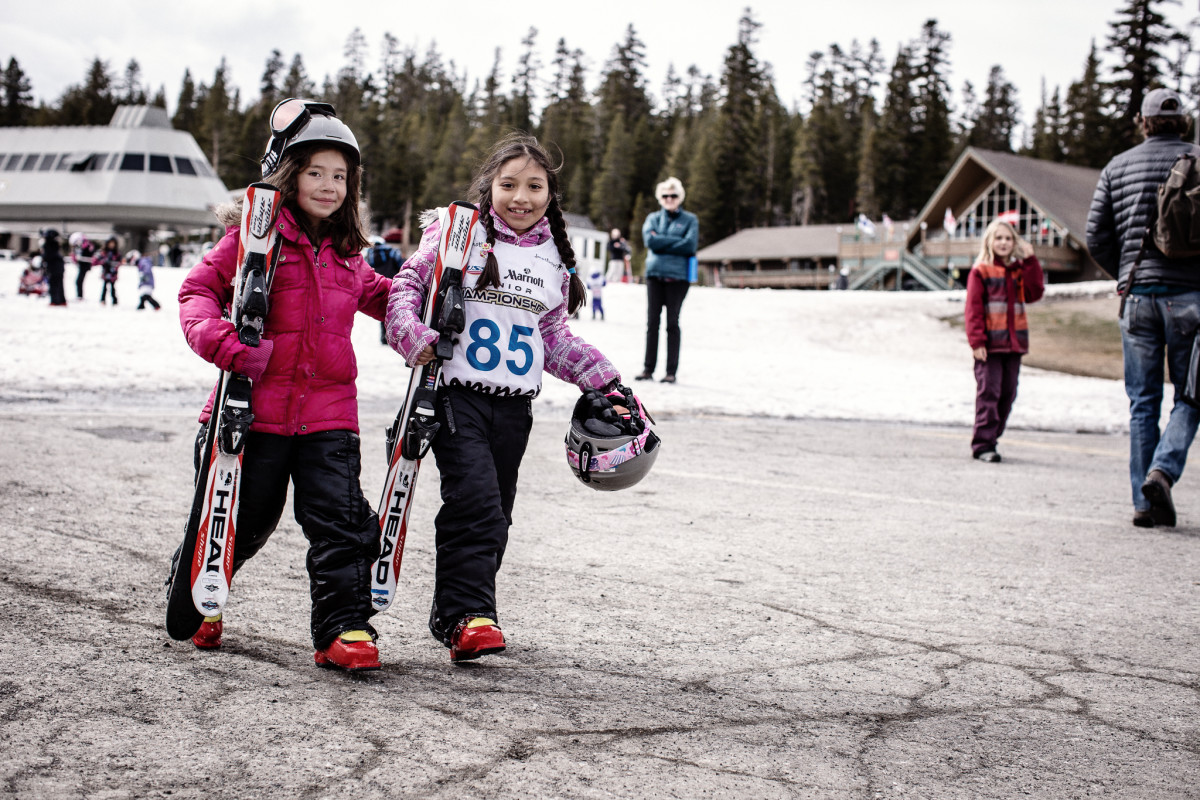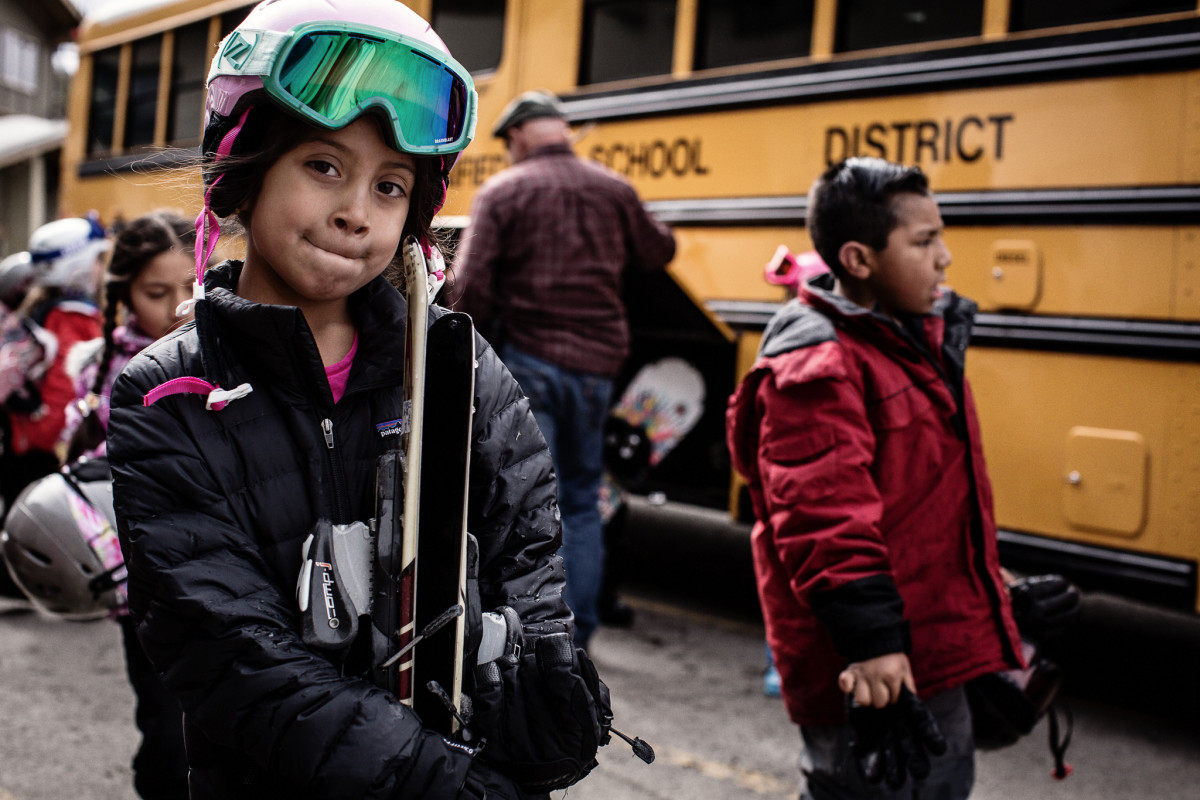 Magariño, who learned to ski in the Pyrenees, was working for Mammoth Mountain Ski Area on a temporary "specialty occupation" H2-B visa. He'd learned his English as a ski instructor in New Zealand, but spoke Spanish on Wednesdays to the gaggle of 6- and 7-year-old Mexican kids from Mammoth Elementary School, including Oscar's daughter, Alison. "We had great times together," he wrote me later in an email from Spain. "We laughed and played a lot." One of the best parts of it, he explained, was introducing the kids to the inimitable freedom of sliding downhill on skis. "It took less than two hours to get them to learn how to turn," he wrote. "We were making snake turns on our first day. They loved it!"
There are success stories. The Doug Coombs Foundation, based in Jackson, takes children from low socio-economic families and teaches them to ski—with a mission to "promote racial and financial integration among the children in Jackson Hole." In Mammoth, Villanueva's lead supervisor, Juan Carlos Morales, came from Michoacán, went through several ski programs and graduated from Mammoth High School in the early '90s. He loves to ski, though he rarely gets a chance anymore. His son, Carlos, has been skiing and snowboarding since he was 6. At the 2015 California Nevada Interscholastic Ski and Snowboard Federation (CNISSF) Championships, he competed in the snowboard giant slalom and slalom, helping put the Mammoth high school snowboard team on top in their division.
At the opposite end of the spectrum, Luis' employees, and people like Oscar and Angela, who've never been on airplanes and aren't likely to take up skiing themselves, are trying their best to hang on for the long haul and do what they can to give their kids broader options. "This place is very different from Mexico, or from a big city," says Oscar, citing schools in Sinaloa with razor-wire perimeters. You can't go out of the house there, even to pick up your kids, without thinking what someone might do to you or your family. Just the other day, he said, his mother, in Mexico, got a phone call announcing that Oscar had been kidnapped and she would have to pay a ransom if she ever wanted to see him again. Luckily—so-called virtual kidnapping is a common scam in Mexico—she was able to confirm that he was in Mammoth and not tied up in a back room in Sinaloa. "Good thing I'm not there," he said. Then he added: "As long as they let us stay, we'll be here."
By 12:30 p.m., Magariño had his crew assembled. Within minutes, they loaded onto chairlifts and were flying through the air, all memories of morning hassles and distances traveled eclipsed by the landscape and the chatter of jays and squirrels in the trees—all anxieties narrowed to the simple, thrilling challenge of the coming descent.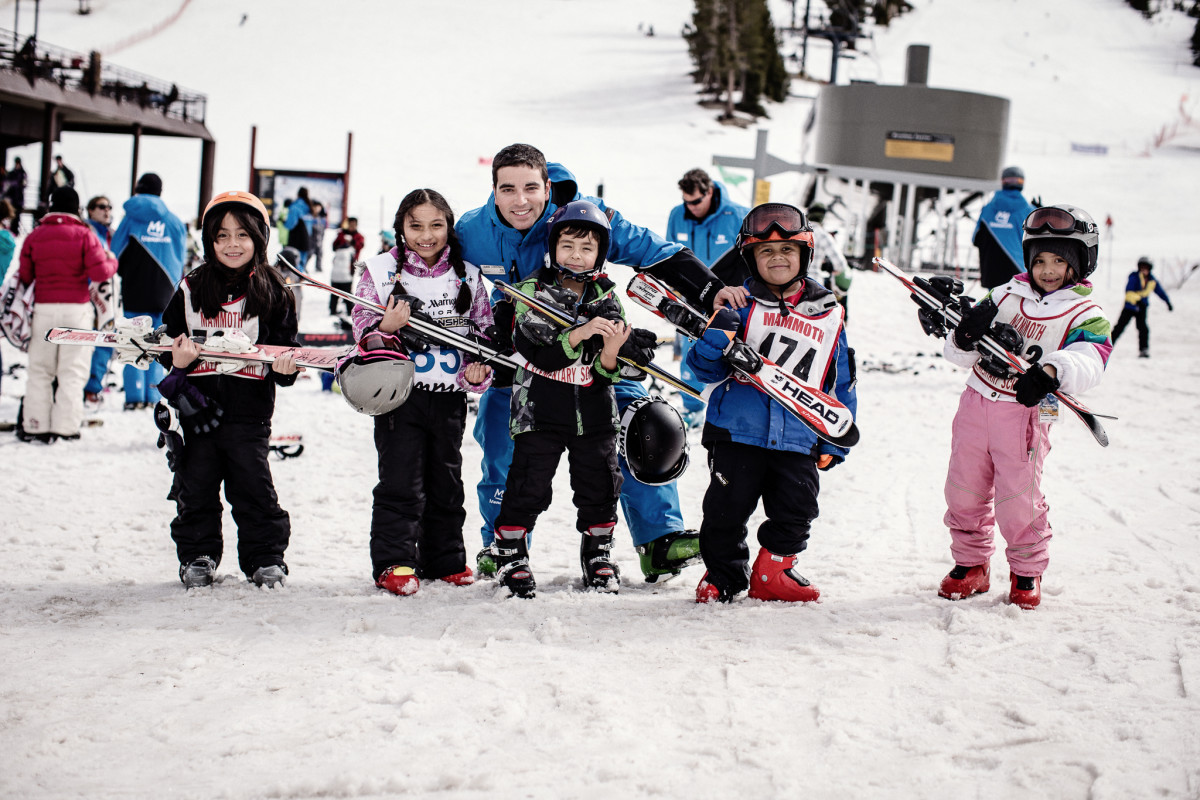 ---