The Local
The people you want to know, the skier you want to be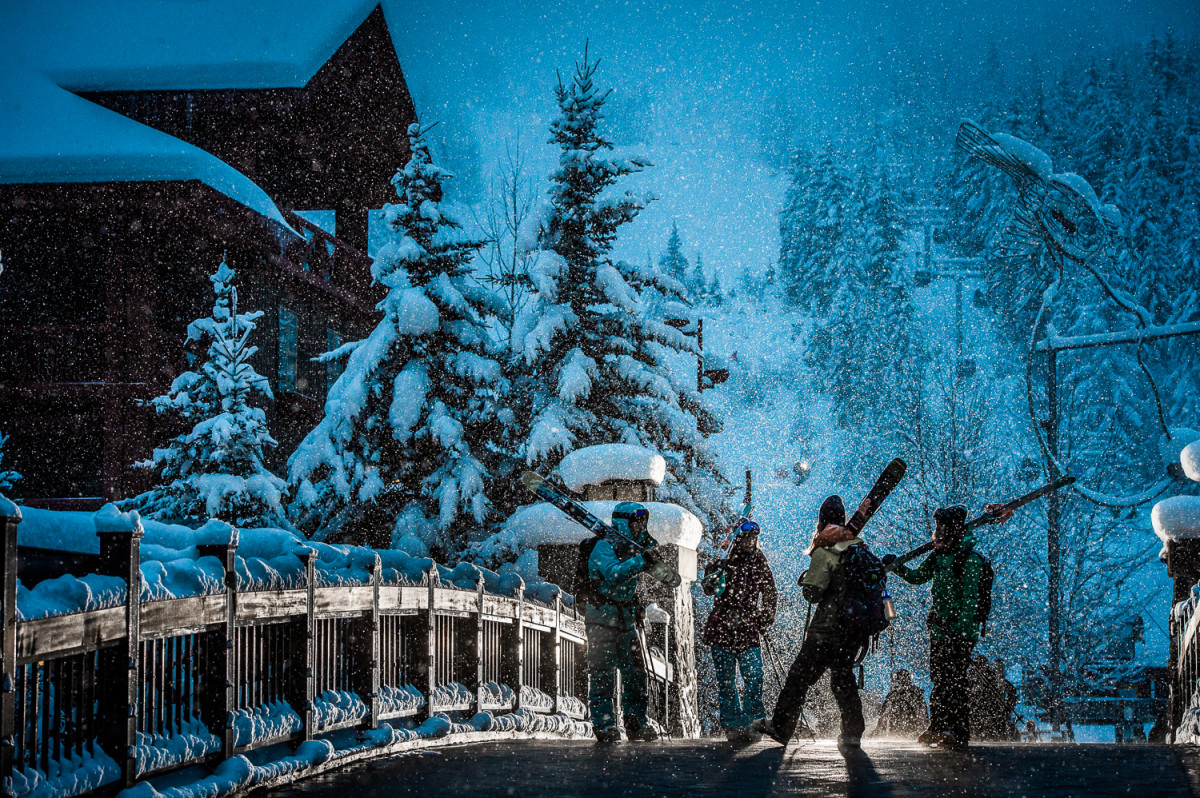 Editor's note: This story originally published in the September 2014 issue of POWDER (43.1).
THEY ARE IN THEIR EARLY 20s and probably right out of college when they make the greatest decision of their lives: to move to a ski town. Everything they own fits in the back of their car, a good thing because they'll be moving often, a simple fact of life in every ski town.
After scoring a place to live, the next step is to secure that season pass. Acquired with a job or cold hard cash, this precious piece of plastic will be the key to their future. Friends, acquaintances, jobs, relationships, injury, heartbreak, and rebirth may all be discovered through a simple dorky photo dangling around their neck.
Five years and hundreds of powder days (and parties) later, they start to feel part of the community. They'll resist the pressure from Mom and Dad to move back home and "get a real job." Instead, they'll patch together gigs around the one thing that makes them happiest: skiing. To hell with what society says, skiing down mountains and embracing the raw, wild beauty of nature is what they were born to do.
After a while they'll leave the rowdy life of a skid behind and move to a better house. They'll find a roommate who doesn't eat all their peanut butter and then they'll get a dog to go with that new touring setup. They might even run into their soul mate on the skin track. Then one day, while standing in line for first chair, the old timers will nod their direction as if to say, "Nice to see you, kid." And that's when they know they've arrived and that they're not ever leaving.
In the life of a ski town local, there are hundreds of decisions to make but only one that really matters: do what it takes to keep skiing. In that respect, all locals share a similar path yet each contributes to the mountain lifestyle in his or her own way. The result is a rich culture containing a cast of characters found nowhere else in the world—a celebration of skiing that lasts a lifetime.
1 Season
The Rookie: Dorm-living, parties, and powder deep in Little Cottonwood Canyon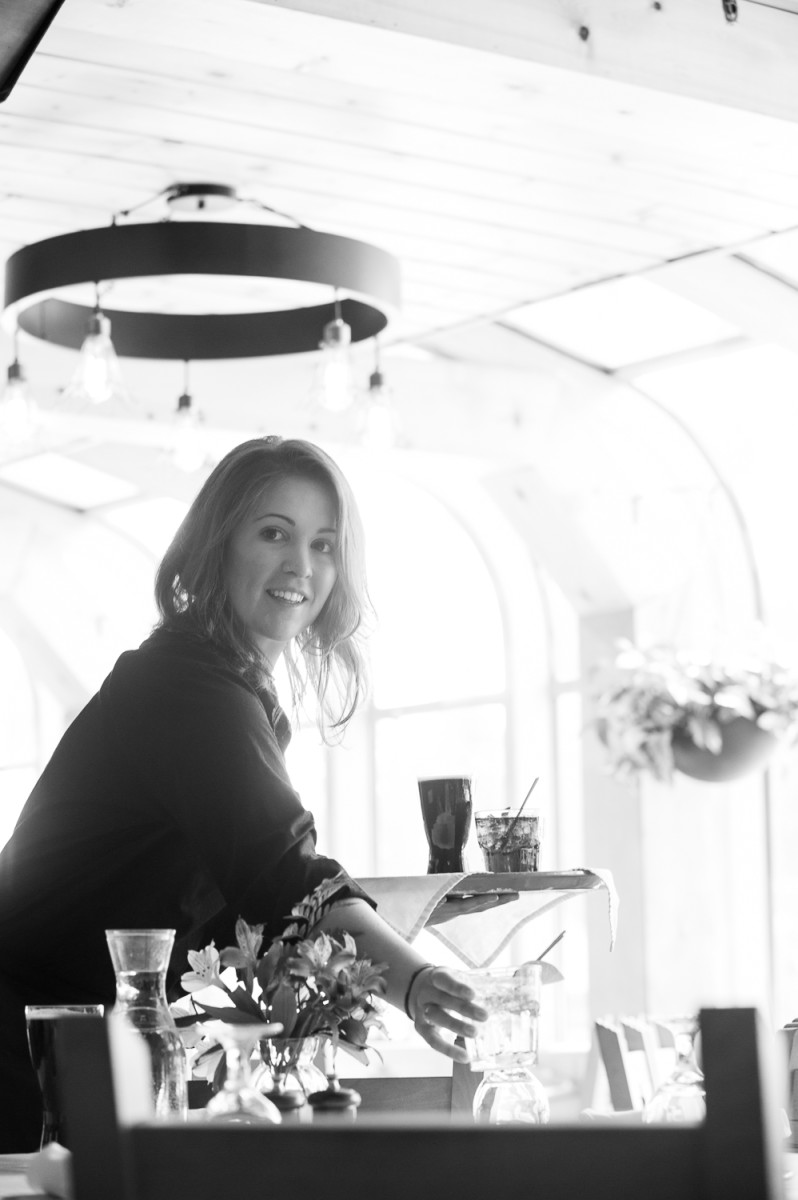 Most rookies at the Peruvian Lodge, at Alta, Utah, live in what's known as the Fort, a college-style dormitory occupying the second floor of a building adjacent to the main lodge. Of all the seasonal housing at the Peruvian, known as the P-Dog to locals, the Fort is the rowdiest. Well past midnight, it's common to hear someone yell out the P-Dog rallying cries: "Drop your eagle on it!" or "'ell yeah!" Because when you're in heaven on earth, there is no 'h' in 'hell.'
"But my favorite part of living in the Fort is knowing that even though so many of us are staying up until the early hours of the morning, mostly everyone will push for first chair or first tram on a pow day—if we don't have to work—despite the gnarly hangover that we may be sporting," says 23-year-old Kate Klibansky, a Massachusetts native who lived in the Fort and completed her first season as a ski bum last winter.
Klibansky and other rookies arrived in November carrying a duffle bag, ski gear, and a mind to take their life in a new direction. Like thousands of skiers before them, they sought something grander, more alive, and adventurous than they would find in an otherwise manicured society. Once settled, they got a roommate, communal bathrooms, and lots of friends. As a server in the Peruvian dining area, Klibanksy made $850 per month, plus three meals a day. The best part, other than living in the shadow of Mount Superior, was the complementary season pass to either Alta or Snowbird.
With the Collins and Wildcat chairlifts just a few minutes away, or the Snowbird tram just down the Bypass Road, the pass is more valuable than gold. They don't know it at the time, but riding the lift to ski powder with new friends who moved there with the exact same goals and desires will change them fundamentally and forever. They'll hold onto that pass their entire lives, a youthful memento of that first crazy winter at Alta.
"It's like college," says Klibansky, "but with more partying and less studying."
Klibansky had never experienced skiing in deep snow, nor had she skied more than 10 days in a single winter. At Alta, she got over 100, and plenty of powder days.
"Skiing powder was totally foreign to me," she says.
"It took me a while to get used to it. But now…it's like skiing on a cloud."
And then, she laughs. Because that's what skiing powder does to people. It also makes them want to come back for another year. Which is exactly what Klibansky plans to do.
10 Seasons
The Dirt Bag King: Music, skiing, and dirt bagging in Big Sky, Montana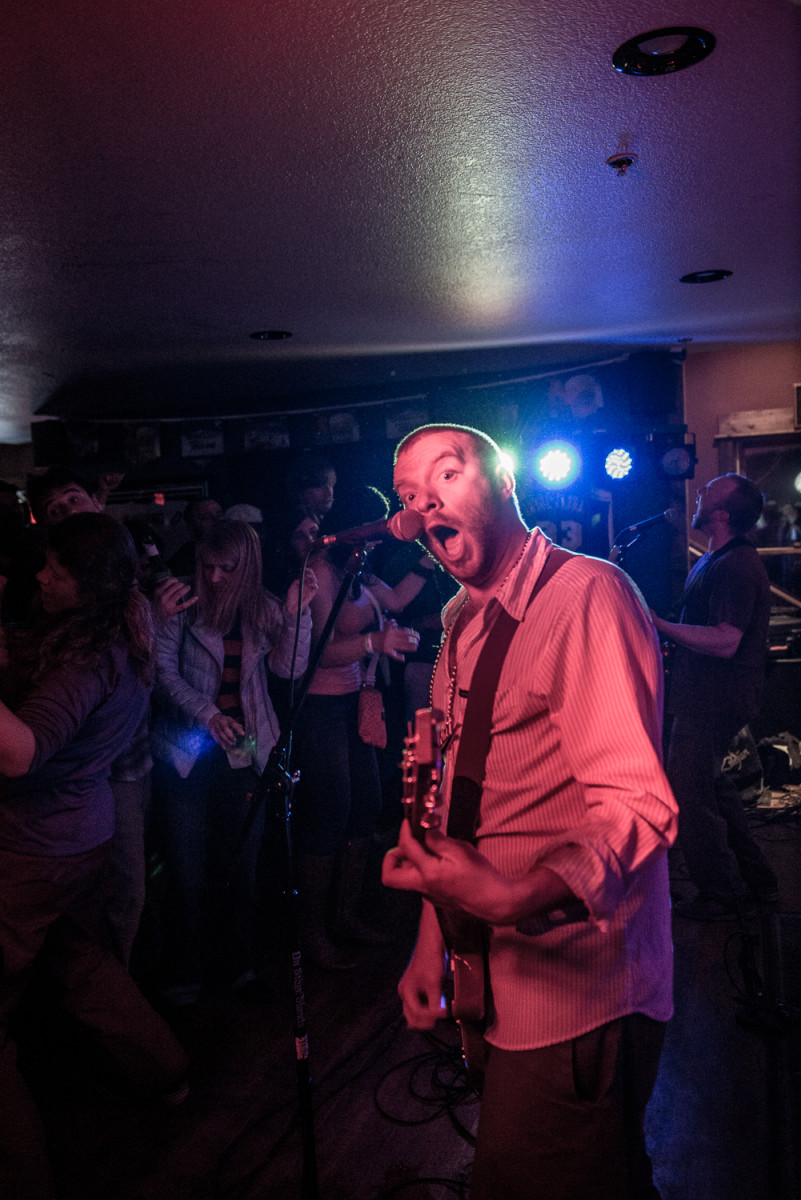 Every year for 35 years, Big Sky's dirt bag royalty has reflected what it means to be a true skier. Their gear isn't always new. They don't blab about their skiing, or "one-up" you at the bar. They don't bitch and complain about the snow or patrol or chairs not running on certain days. Above all, they put their time in, day after day, season after season. They show up on the good days—and the bad—because, well, what else are they going to do when Lone Mountain is covered in snow?
The Dirt Bag King and Queen are announced every March by the Big Sky Ski Patrol. They hold a Powder 8s comp under the tram, a mass ski parade, and party till they drop that night at the Dirt Bag Ball, which also acts as a fundraiser for the ski patrol.
In 2014, the Dirt Bag King was Brian Stumpf, 30, a musician from Vermont who's lived in Big Sky for 10 years. After he graduated from Penn State, he took a desk job with the resort. He soon realized that he was missing out on why he wanted to live in the mountains in the first place.
"I got out of school and wanted a career… But I fuckin' hated it," he says. "When you work for the mountain, you look out the window and see all your friends shredding and you're not out there with them. I finally caught onto
the fact that if you work nights, you can ski all day."
Finding a way to adapt in a limited economy is a shared trait among all ski town locals. They piece
together jobs in order to follow a chosen lifestyle.
The key to Stumpf's own survival was his guitar.
After tiring of his desk job, he quit to focus on music and found a few gigs at the bars around Big Sky. His playing schedule quickly grew, and it has become his sole focus. "Now I'm busy enough that it's a full-time job," he says. "I ski every day and play music at night. It's fuckin' unreal."
Stumpf plays in four different bands, alternating between bluegrass, jam tunes, and a "bar band that plays cheesy covers." But a group called Riot Act is his real jam, rocking out to their own original music. They released their first LP this winter, an album titled
"Goin' Snakepunchin."
"We toast to the snow and everyone's health, and it's just a big party," says Stumpf. "Honestly, I don't think I could be a musician anywhere else because it's a party town and everyone wants to drink beer and hit on the
only two chicks who are there."
He believes that anyone who complains about Montana being a tough place to live is probably not there for the right reasons. It all depends on your outlook.
"The world is a playground," says Stumpf, "and life
is recess."
Spoken like a true king.
20 Seasons
The Free Spirit: Forward or back, Buck Cobb goes with the flow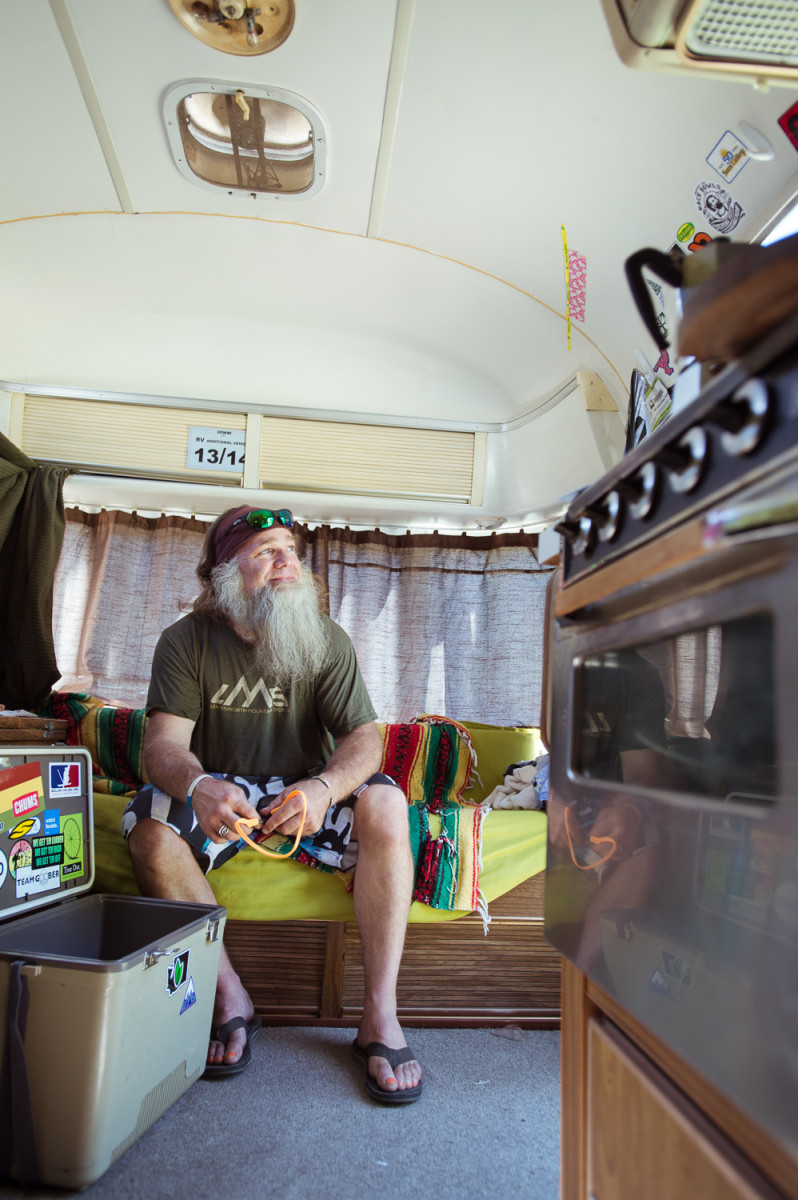 In November, Buck Cobb parked a 26-foot 1977 Airstream in the Stevens Pass parking lot and didn't move it until spring. From the trailer's bay window, he could buckle up his beat-up old NTN tele boots every morning with a view of Cowboy Mountain.
At 5-feet-9 and 220 pounds, Cobb skis with the purpose of an eagle and the strength of a giant. Yet like all good skiers, he makes nary a sound. It's like the snow was meant just for him, and he for it.
"That kid is the sickest frickin' tele skier on the planet," says Adam McKenney, one of Cobb's ski partners and owner of Leavenworth Mountain Sports. "He points it straight fall line, hands out, thumbs forward. There's a reason people like to watch him ski."
Especially when he and McKenney are on their tandem tele setup. Using 189cm K2 Hell Bents, Cobb leads the way while McKenney takes the rear. Not that there's anything wrong with it. "I'm taller at 6-foot-1, and with Buck in the front it's like I'm humping a big old hairy dude," McKenney laughs.
Cobb also skis backward on his tele skis better than most people do forward. Last year he skied switch more than half the time. Such antics have made Cobb a favorite among the crowd.
"My motto lately has been to make more friends on powder days," says Cobb. "I've had so many powder days that it's worth it to stop skiing for five minutes to help someone else, and I'll catch my boys on the next lap. Skiing is so worth it to turn more people onto it. "
That respect for the gift of skiing came from his own father, who taught at the Lyon Ski School at Stevens and put young Buck on skis at the age of 3. As an 11-year-old, he became a ski instructor. "Skiing challenged me and kept me honest," says Cobb. "If I screwed up, I lost my skiing privileges. It was as important to me as breathing."
After college, Buck, now 43, moved to Sun Valley and got a job banging nails. He spent 18 years in Idaho, making choices along the way to continue his skiing. One of those was giving up alcohol. It was clear to him that booze was starting to affect his skiing. He hasn't had a drink in 15 years.
Cobb returned to Washington six years ago, where he operates a pressure-washing business and works as a "cannabis advocate" in Everett. With Washington legalizing marijuana in 2012, Cobb partners with a pot grower to supply those who prefer the natural qualities of a plant to synthetics. "I want to help us grow old gracefully and live more," he says.
For Cobb, it's all about following his own path and
prioritizing skiing.
"Buck and I talk about this quite a bit," says McKenney.
"It comes back to sticking with your passions. No matter what your passions are, you stick to them and the universe will take you where you want to go."
25 Seasons
The Avalanche Specialist: John Reller leads avalanche rescue and dog training in Summit County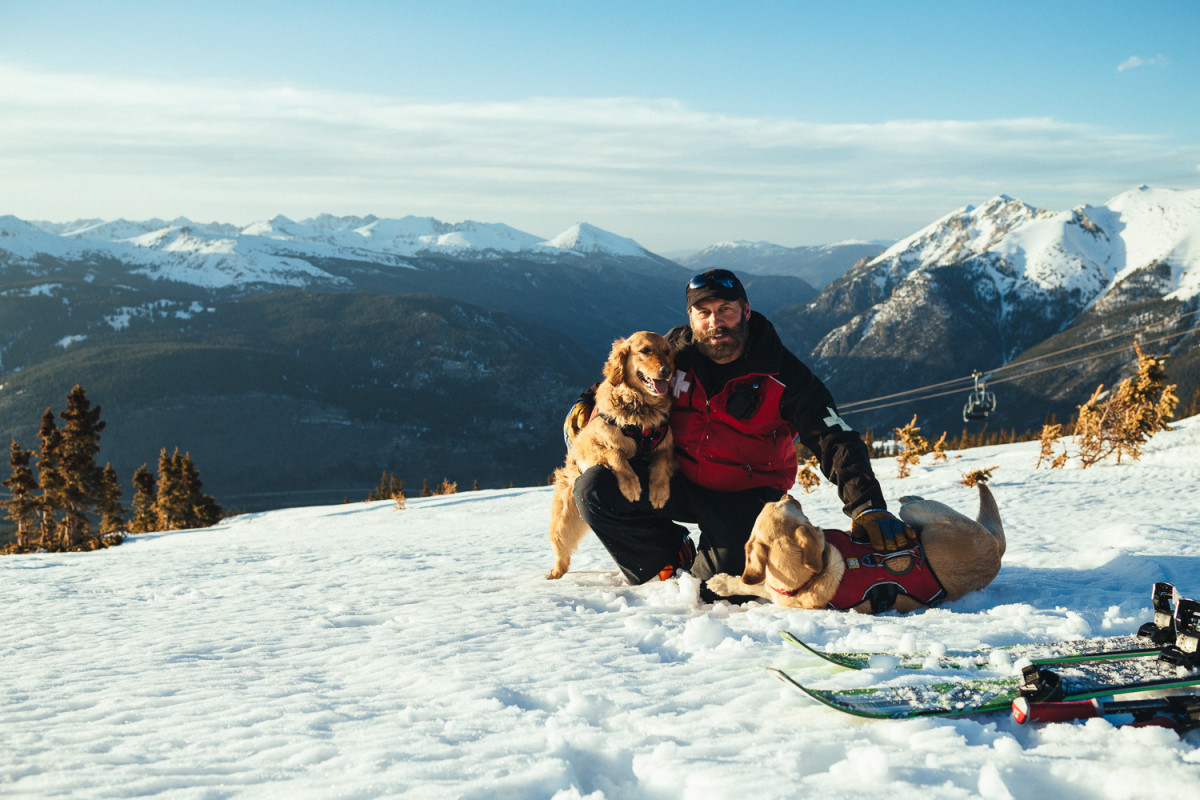 Life in a ski town is not always a party. People make poor decisions and experience bad luck all the time. They misjudge the size of jumps, crash into trees, get lost out of bounds, and buried by avalanches.
Meaning, there needs to be someone to come to the rescue. In Summit County, whose four ski areas draw millions of visitors every winter, one of those helping to organize and coordinate this essential service is John Reller. Characterized as thoughtful, calculated, and as big as a bear with a beard to match, Reller, 50, is a ski patroller, lead trainer for the avalanche dog program at Copper Mountain, and the coordinator for the Colorado Rapid Avalanche Deployment (CRAD). Reller not only organizes the program, but he is frequently in the field conducting emergency response.
"You wouldn't know it from talking to him but he has been on more real-life, big-deal avalanche rescues, with and without his dogs, than anyone around here," says Janie Marickel, ski patrol supervisor at Copper. "A lot of people train dogs, but it's an altogether different thing when you're out there doing it during a rescue. But what's so cool about Reller is that he doesn't brag about it."
Reller is also a carpenter (to help pay the bills), husband (he and his wife met as rookie patrollers in 1989), and father of two (the oldest of whom is in college). As part of Copper's avalanche program, he cares for and trains two dogs at his home in Silverthorne, which make up a third of the resort's dog team.
It's a fulfilling life, and one he didn't expect when he moved to Copper in 1988 from his native Pennsylvania. Like so many others, he planned to stay just one ski season.
"I didn't know this life existed other than watching a Warren Miller film," says Reller.
As a young patroller trying to make it work in a ski town, Reller knew he'd found "the best job in the world." Eventually, he got a golden retriever he named Skadee, after the Norwegian goddess of winter, skiers, and hunters. Skadee was his first avalanche dog and made an indelible impact on his life. He and his wife, Andrea, are now on their fourth and fifth dogs.
"It takes a whole lot of people to train a dog," says Reller. "They are amazing to work with and you can learn so much from a dog."
The same could be said about Reller, who is frequently seen skiing down a run at Copper with one of his dogs slung over his shoulders. He's part of a team that shows up when something needs to be done. Like opening the mountain after a storm so you can worry more about fresh tracks and less about inherent dangers. That's his job, an often thankless one, but nonetheless rewarding.
"People say, 'Man, I wish I could do that,'" says Reller. "Well, you can, you just gotta move out there. But it's a choice, and I probably wasn't aware of it at the time, but I wanted quality of life other than standard of living. To me, that balance is there. There's probably a lot more money to be made in the corporate world, but I don't know if they're half as happy."
35 Seasons
The Cookie Monster: For nearly 35 years, Susan Lopez has been giving skiers a reason to take shelter from the storm, one cookie at a time.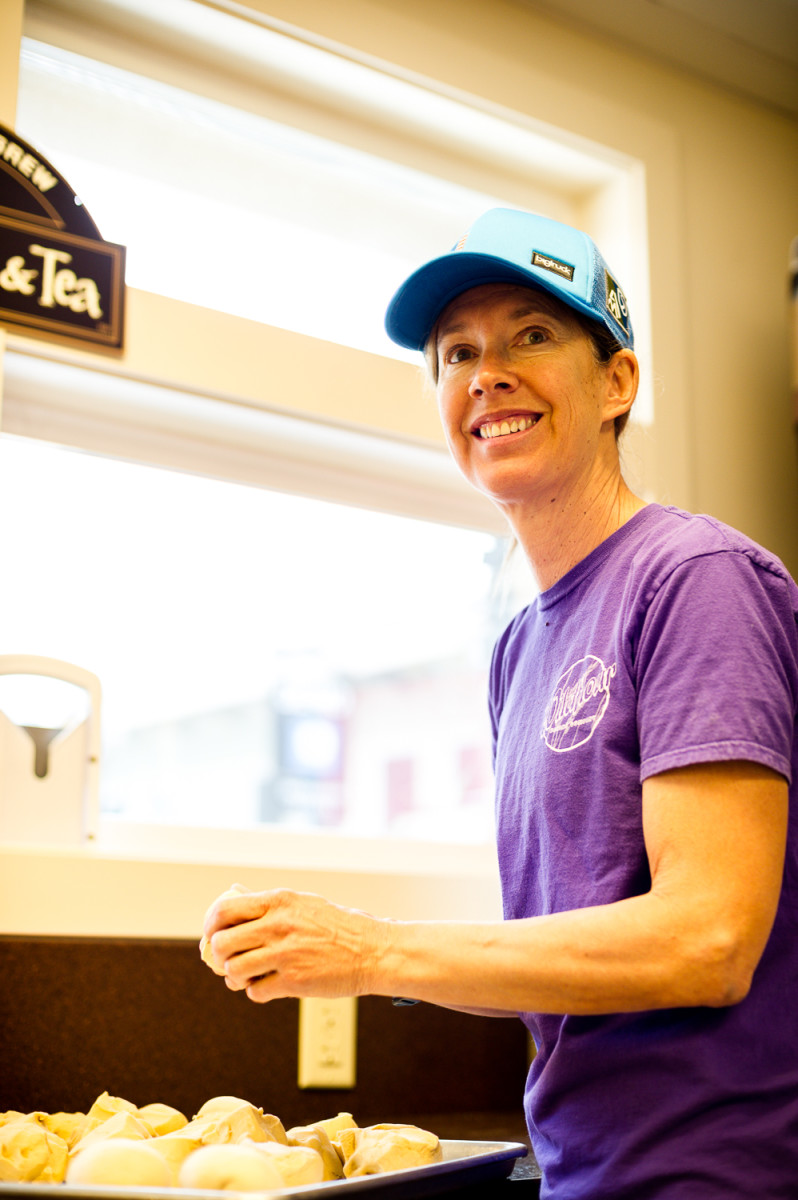 When Susan Lopez moved from her hometown of Long Beach, California, to Vail, Colorado, in January 1981, she lived in seven different places in one season. As
she moved to and fro, her future uncertain, she spotted a help-wanted ad that stated: "Happy outgoing person to be Cookie Monster. Excellent ski hours. Excellent pay."
She answered the ad and, as she recalls, bluffed her way through the interview to get the job. Her primary duty was to welcome skiers into the store and offer them free samples of cookies.
"Being a monster was one of the best things that happened to me," she says. "I was a bit shy. If I needed a burst of extrovert-power, I envisioned myself as 'Cookie Monster.' Monsters can
get away with anything. Everybody loves a good monster."
Lopez eventually became general manager and helped open another bakery in the Vail Valley. But she grew restless and wanted her own shop. Lopez looked around for another ski resort where she could plant some roots. In 1983, she moved to Squaw Valley, California, and founded Wildflour Bakery in the ground floor of the old Olympic Plaza building. Wildflour renovated three years ago but still sits in its original spot, and Lopez still gets covered in flour. Over the years, it has become a central gathering spot for generations of Squaw Valley skiers.
"It's like a second home," says Amie Engerbretson, who was raised on the slopes of Squaw. "My mom went into labor at
Wildflour and my dad would leave me there on powder days."
Working for Wildflour, as Engerbretson did for a season, or owning a Cookie Pass—a season pass for discounted baked goods—is a rite of passage for Squaw Valley kids. As is entering the shop's Valentine's Day poetry contest. Cody Townsend and George Hjelte, who used to wash dishes for free cookies, once wrote: "Roses are red, Violets are pink, All cookies compared to Wildflour's really stink." Jonny Moseley and Julia Mancuso credit Wildflour for keeping them fueled for success. And every weekend, when Mitey Mites get out at 10 a.m. and 1 p.m., the place is a madhouse of kids in ski gear, waving their Cookie Passes at the counter to get their hands
on yet another gooey morsel.
"Together, we are slowly changing the world—cookie by cookie," says Lopez. "At first, I used to say this tongue-in-cheek, but now I believe that lives have been influenced by
a simple Wildflour cookie."
40+ Seasons
The Wild One: Bill Bowen inspires through his youthful spirit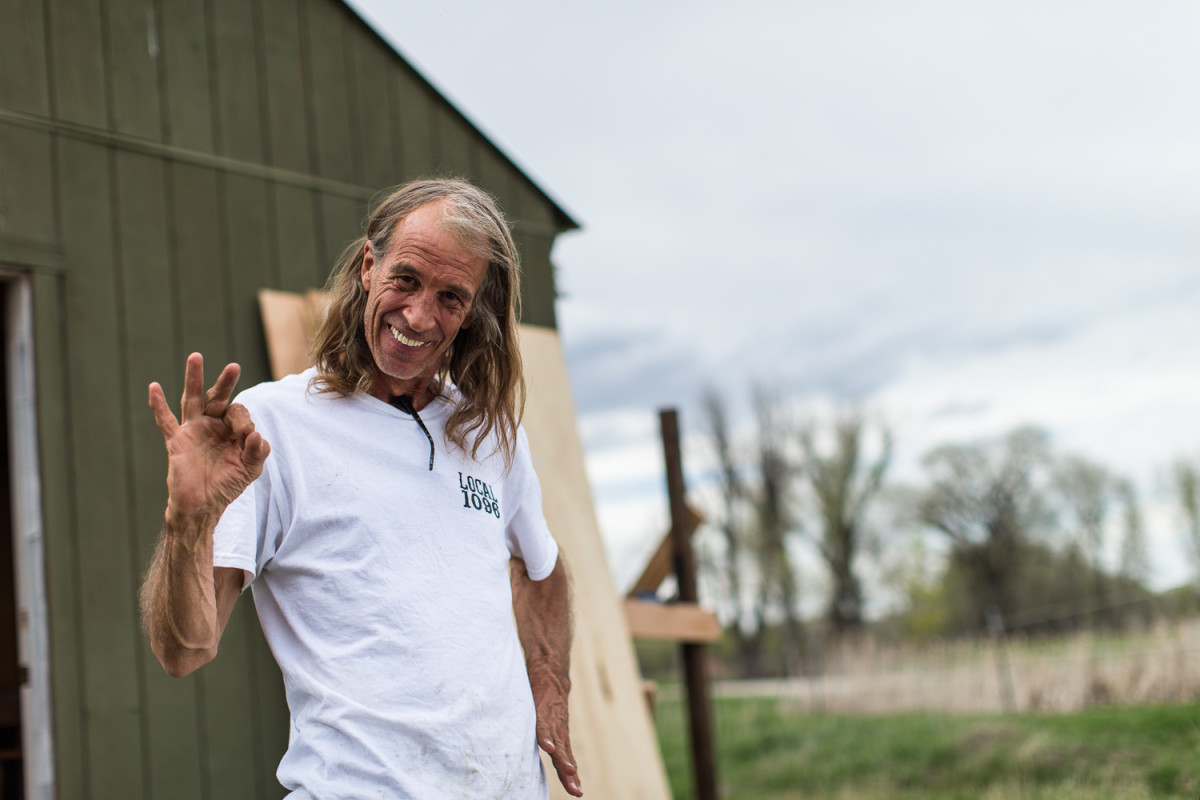 A week after his 61st birthday, in February 2014, Bill Bowen skinned up 4,100 vertical feet to the top of the Jackson Hole Tram and leaped into S&S Couloir. On his feet were a pair of 175cm skis he built himself—with help from the local boutique brand Igneous—out of old-growth Douglas fir he scavanged from the forest. The skis were mounted with lightweight Dynafit bindings, and his boots were backcountry-specific Dynafit TLT6s, hardly the tools recommended for such a rowdy line.
The bigger and more menacing neighbor of Corbet's Couloir, S&S requires a mandatory 15- to 30-foot drop and mid-air right turn to avoid smacking a sheer rock wall on the left. It is the most committed line on the mountain and has a way of giving all skiers, no matter how good, a serious reality check. Wearing his goggles strapped around the outside of his hood (his trademark style), Bowen stuck it as he always does and skied away in style. It was tradition, after all, a ritual he has performed on his birthday every year for the last 25 years.
"I've known Bill since the 1970s," says Wade McKoy, the longtime Jackson photographer. "I remember he always loved dropping into S&S. He still does, which seems amazing considering he's kinda old. It's inspiring for me, also kinda old. I don't think I'll be skiing S&S ever again and haven't since I was a 20-something. But Bill Bowen does inspire me—to see someone that still loves skiing as much as he does after all these years."
It would be easy to say the S&S ritual is how Bowen earned the nickname "Wild Bill." But there are other reasons, such as his ability to persuade his much younger female ski partners to get naked. Or that he'll regularly wear Carhartt and denim jackets while skiing, an ode to his blue-collar roots. In the summers, he explores caves, the deeper and darker the better. He says it gets him closer to the powerful energy he feels emanating from the mountains. That energy, he says, is what compels him to do the things he does. In order to be first on the hill on 4/20 (an annual gathering atop the Jackson tram, a few weeks after the resort's closing) he skinned up to the cave inside Corbet's Couloir to spend the night, solo.
At 6-feet-2 and about 155 pounds, with shoulder-length brown hair framing his long weathered face, Wild Bill is hard to miss. He's also easy to misread. He's a ski bum but not a derelict. He's worked hard for decades as a skilled wood-worker and home builder. As a longtime Jackson local, Bowen represents the old-school ski bum culture that will never be duplicated.
Today's rookies enter a different world than when Bowen started skiing, one driven by quarterly returns, uphill capacity, and over-sharing on social media. Even at a throwback like Alta. Which is where Wild Bill himself started as a ski bum, his first full season in the early '70s . He had been going through a tough time in high school in his home state of Pennsylvania. "Spent some time in the nut house," he says. "I ended up quitting high school and moving to Alta. I had my draft card, but the army wouldn't take me because they thought I was crazy."
That was a good thing, he says, because he probably wouldn't have made it out alive. Instead, he found skiing. "Some friends of mine took me up on High Rustler, and that was the first time I had ever seen slow-motion turns," he says. "It was that moment."
In 1979, he landed in Jackson, got married, and moved over Teton Pass to Victor, Idaho. When his marriage fell apart, he came back to Jackson and is currently renting a room in Wilson, at the base of the pass. During the summers, he works as a carpenter to pay for the winter.
For a guy who's seen it all over 40-plus seasons, he defines success not by money or possessions, but by how content he is when he goes home at night. More often than not, it depends on whether he went skiing that day, which is just about every day in the winter. "Being happy is the greatest thing ever found in this galaxy," he says. "Maybe not the universe, but definitely this galaxy."
---