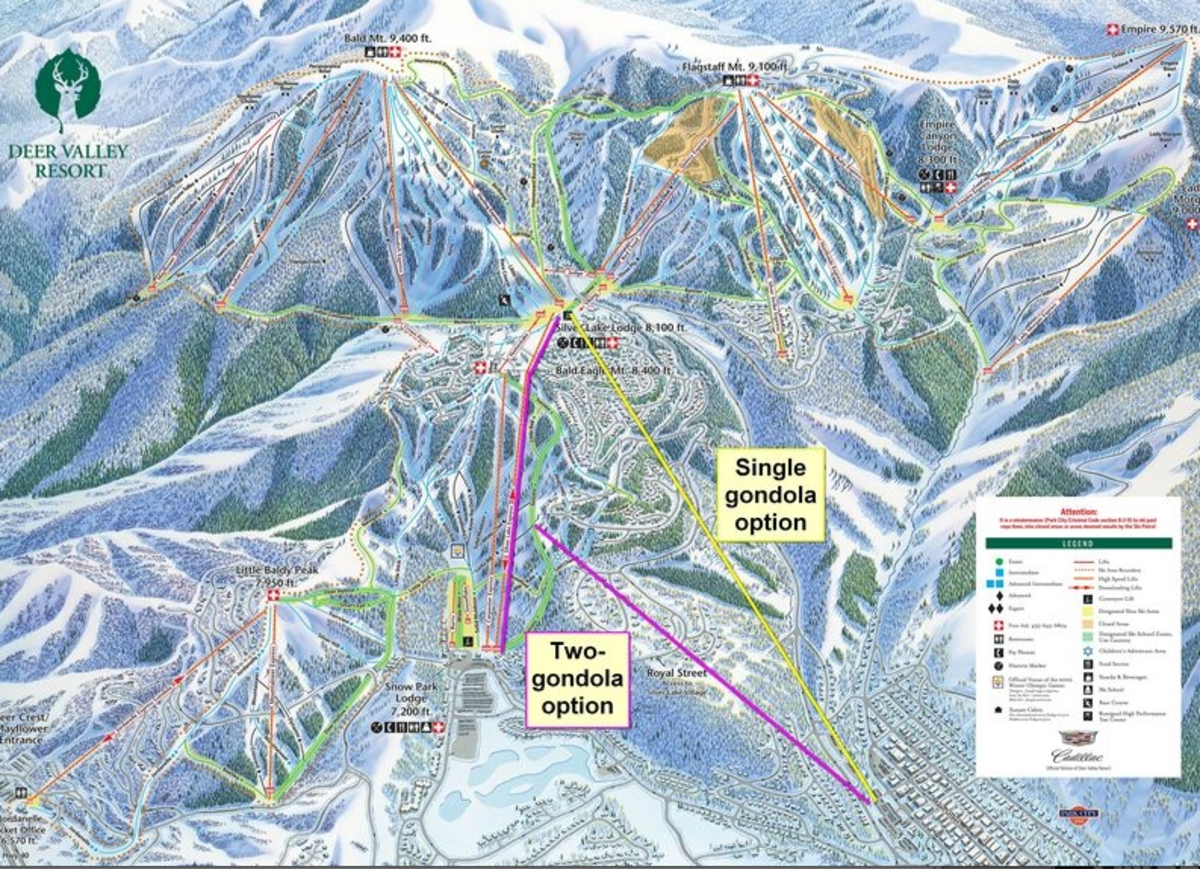 Park City may change name to Gondi City
Not really, but Vail Resorts and Deer Valley both made announcements this week that pointed to the installation of new gondolas in and around town. Vail announced its plans to interconnect Canyons and PCMR with a gondola starting from Canyons Flat Iron lift and ending in PCMR's Motherlode area. Not to be outdone, Deer Valley decided it needed a gondola of its own (everybody gets a gondola!). The proposed people mover would go from the resort directly into the heart of town. The Deer Valley gondola would work either one of two ways—a long single gondola or two smaller gondolas that connect at the resort. It looks like sleepy ole Park City is in for some big changes.
East Coast white washed
For those that haven't looked up this week, the East Coast is going B-A-N-A-N-A-S right now. Some resorts got the snicklefritze with a bit of rain crust, but Vermont, New Hampshire, and parts of Maine have all gotten the goods from Winter Storm [Matt] Damon. Jay, the Golden Standard in East Coast pow paradise, is reporting upwards of two feet and expecting more. Game on.
Meanwhile in Vermont…
Burke Mountain patrollers aren't messing around this season. If you don't have a ticket, she WILL find you.
Surf's up in Tahoe
As Tahoe waits for it's healthy pow dosage, the front edge of a storm predicted to drop over two feet of snow has a few brave souls grabbing their surfboards, with waves approaching overhead on the north shore. Lake waves today, the white wave this weekend, surf is up in Tahoe country.
Lindsey Vonn stamps comeback with World Cup win
Looks like Lindsey Vonn is back on track, topping the podium in just her second race back since knee surgery last winter. The win was her 60th on the World Cup circuit and also the 15th at Lake Louise, capping a U.S. women's podium sweep. Meanwhile on a freshly manicured lawn somewhere in the world, hubby Tiger Woods couldn't figure the whole golf thing out in his own comeback bid. Should have gone with the five-iron, bud.
I competed and Linds won.

— Tiger Woods (@TigerWoods) December 6, 2014
Ski the East Spectral
More East Coast ski porn from Ski the East. Looks like it might be time to move back.
Krazy Karl blows up new ON3P video
Faction, you're officially on notice. In what is arguably his best segment of 2014, Karl Fostvedt dropped a hammer of a commercial edit this week detailing his new ON3P ski, the Kartel. Pretty weird that the best park segment of the week was from an ad spot, but watch this and you'll probably agree.