Skiers under investigation after shooting polar bear
Four Finnish skiers might be out in the cold after shooting a polar bear during a backcountry mission in Svalbard, Norway. After skiing to the northernmost portion of the island, the group of skiers came across a large bear. When a warning shot failed to spook the animal, the group shot at the bear, mortally wounding it before calling the incident in to local authorities. The bear, part of an endangered and protected species on the island, was later killed by police. The four skiers are currently under investigation, as is protocol with deaths involving an endangered species.
Candide imitator is the new Candide
Carter McMillan took Candide Thovex's challenge to create a One of those Days-inspired video to the next level. Dude, you're on Dynafits, chill out! Is it too early to say that this might be my favorite POV edit of 2016? There's tough, then there's Carter tough. This guy is an animal.

Pit Viper fan duel
Okay, this somehow slid under my intricate Inter-Net radar this fall and I'm here trying to make up for it. Pit Viper takes its fun seriously, and this ad may be my favorite ski commercial of the season.

Summer ski resort closed for second season in a row
Montana's Beartooth Basin, long a haven for those of us who just aren't willing to let winter go, will be closed for the second summer season in a row. Only open from Memorial Day through July, the two-poma bowl just couldn't get to proper base depths to open up this summer, leaving us all to wonder what the future holds for good old Beartooth. Fingers crossed for a better 2017.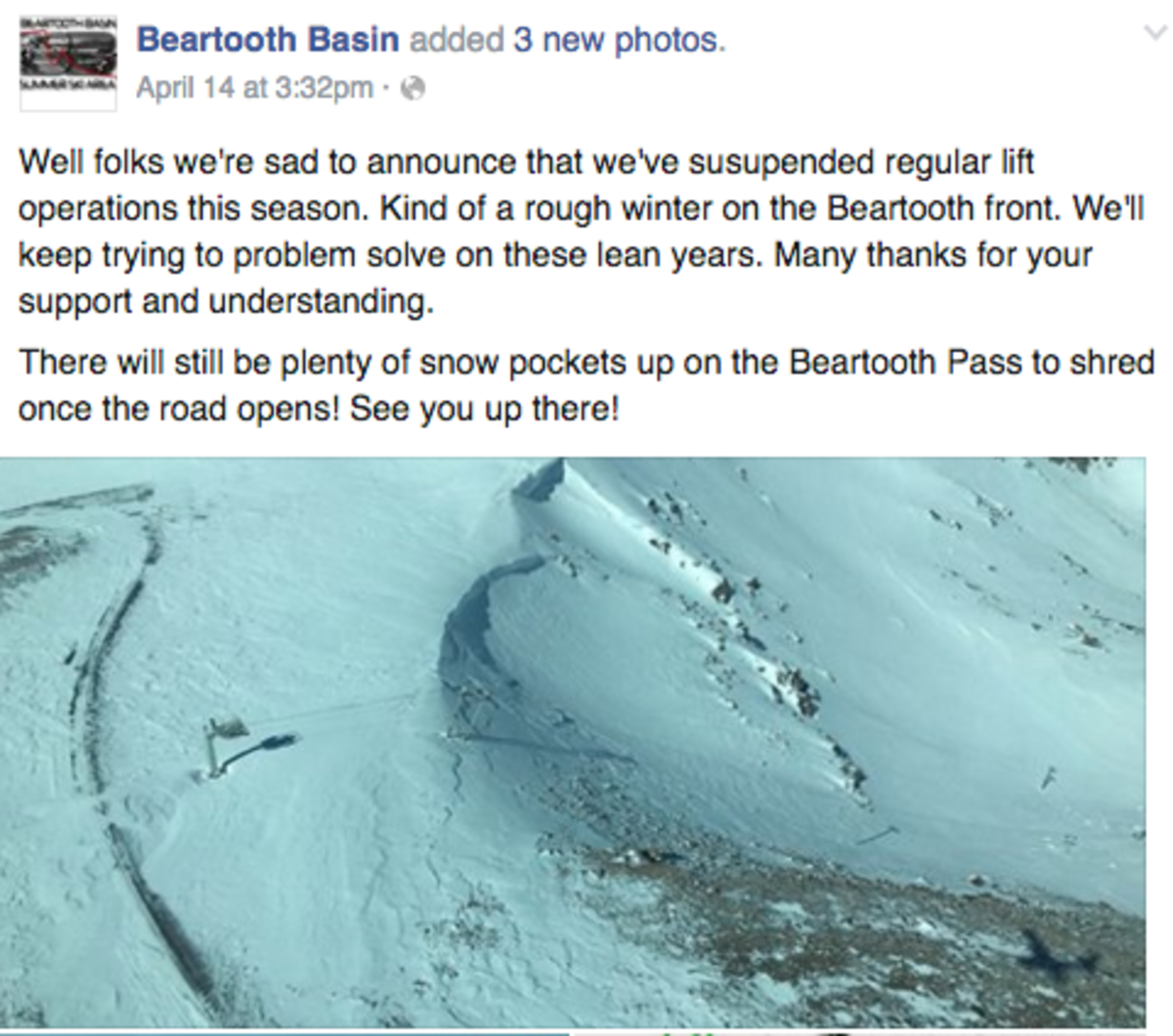 And your ADD pow edit of the week
Short attention span? That shiny thing in the corner of the screen distracting you already? Fear not! Here is all the powder you need in one single-minute dose thanks to Flo Bastien and Old Man Winter.

Squaw Valley offering free parking for car pools
In collaboration with Protect Our Winters, Squaw Valley and Alpine Meadows will offer free premium parking next season for cars with four or more people according to Curbed Ski. This is good news for Squaw locals, many of whom are still looking for a spot to park to pick up their 2015-2016 season pass.
Do the Snow Ski!
Count on the guys and gals filling up the Caribbean dance halls to finally come up with a move we can all get behind. Dance floors may never be safe again.
P.S. what kind of bouncer is letting people bring ski poles into the bar these days? Seems a little suspect.