This story originally published in the October 2014 issue (43.2).
WORDS: Molly Loomis
In the backcountry Bible, Freedom of the Hills, originally published in 1960, the authors weave poignant threads about the soul-satisfying liberation found in the land beyond manicured slopes. It's just you, your friends, and the mountains. This concept remains accessible, but the growing trend of conflicts in the backcountry has led some to question whether we're dealing with an outdated, romanticized ideal. Longtime Utah Avalanche Center Forecaster Drew Hardesty thinks so. After an ever-growing list of skier- and snowboarder-triggered avalanches endangering others, Hardesty argues it's become more like "Anarchy in the Backcountry."
Hardesty fears that unless skiers come up with a social contract to govern themselves—as is the case in nearly every other aspect of our lives, from how we cross the street to how we store food in bear country—they run the risk of someone else doing it for them.
"With freedom comes responsibility," writes Hardesty in an email, explaining how the privilege of being in the mountains requires specific knowledge, awareness, and wisdom. "Without it, as the 17th century English philosopher Thomas Hobbes reckoned in Leviathan, 'Life in the state of nature'—or in this case the backcountry—'is nasty, brutish, and short.'"
Over the last 20 years, things have changed significantly in the backcountry, first and foremost with the number of people accessing it, thanks to lighter and better equipment. According to Snowsports Industry America, sales of backcountry gear (AT boots, skins, beacons, etc.) have increased 16 percent from 2013-14 to 2012-13. As competition increases for a finite resource, like fresh powder, conflicts are bound to surface. It's not enough just to take a class and have the right gear; you need to show some responsibility to your fellow skiers. Unless you tour in deep, remote ranges, the days of simply worrying about your own group are over.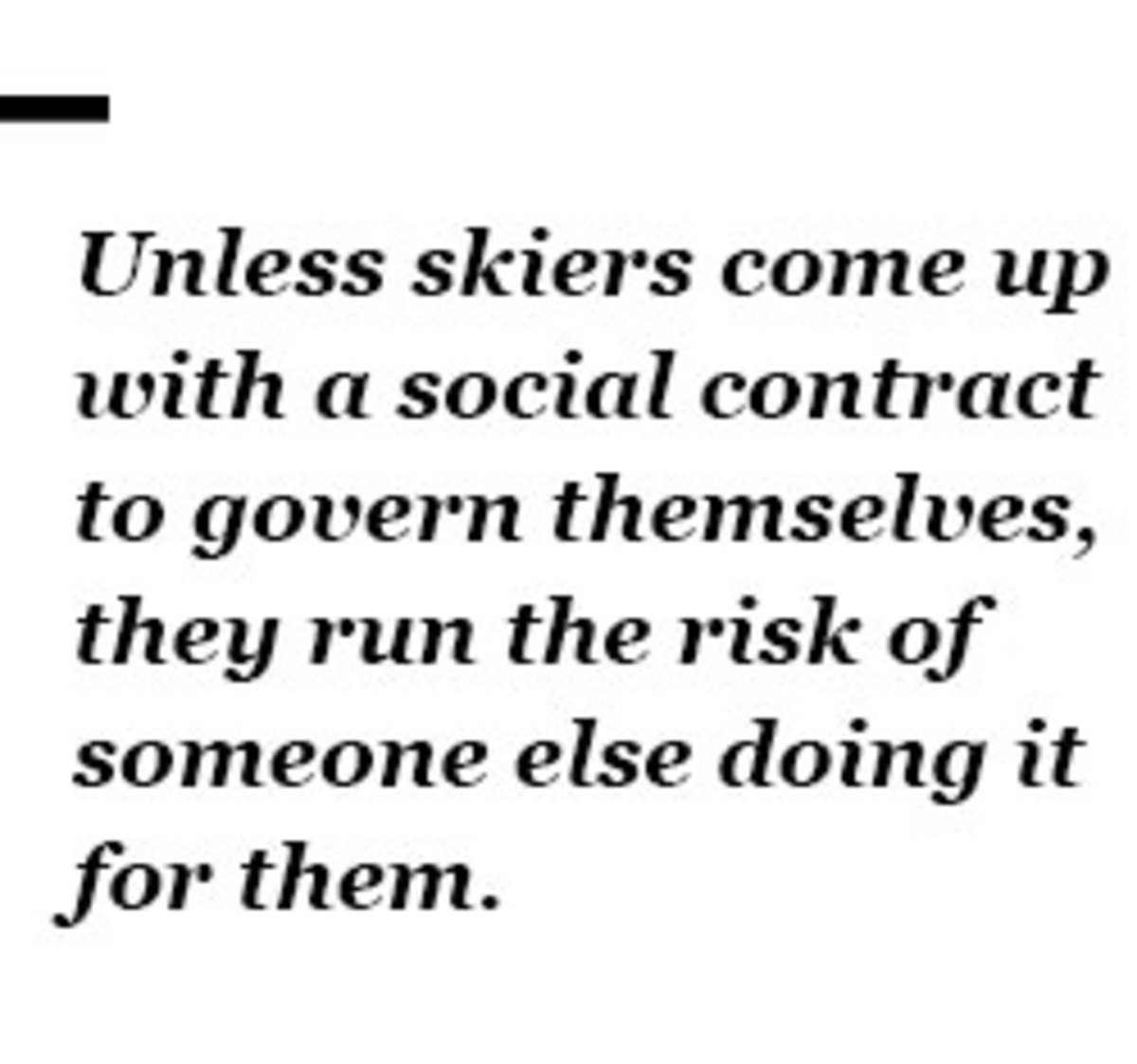 Last winter's avalanche triggered by a snowboarder in Missoula that buried a house and killed a woman and 2012's massive skier-caused slide on Mount Taylor in the Tetons, which ignited a regional debate about risk and responsibility, are just two examples in a list of accidents that illustrate the importance of defining a new backcountry ethic. And unless our community gets on the same page and figures out how to minimize risk to others, we run the risk of finding our precious stashes susceptible to closures, rules, and regulations. Worse, those stipulations could be crafted by people who don't get the difference between skinning and booting. Before it turns into a punishment, Hardesty encourages we embrace it as a unique opportunity to define our sport's evolving ethics.
"If we choose to do nothing, then we have to assume that when that bus full of school kids goes off the road because we've decided to ski Superior or Monte Cristo [in the Wasatch] and trigger the avalanche that puts the bus in the creek, we have to acknowledge that this is OK, because we have intentionally decided that this is the path in which we're going to walk," says Hardesty. "When that happens, backcountry access may become restricted altogether for the greater good. It's up to the community at large to have the intentionality to decide what kind of culture they want to have."
Whistler/Blackcomb patroller Wayne Flann is one skier trying to help define his local culture. Concerned by repeatedly watching unprepared people head out of bounds and triggering slides onto other skiers, Flann initiated a public blog to discuss backcountry ethics and interests.
The result was a 10-point sign placed at different backcountry gates around Whistler/Blackcomb intended to educate people to the unspoken rules that have reigned for generations, like being educated, taking the appropriate gear, descending one at a time, and not dropping in on other parties. Flann hopes the signs will get users thinking about what they might encounter when leaving the resort.
While anarchy is appealing in some ways, it's hard to imagine an arena indoors or out where it's realistic. Whether the codes of conduct are written or tacitly acknowledged, they're there. Rights of way have been hashed out on single track and bike paths; Leave No Trace principles protect wilderness values; rock climbers have long accepted that throwing rocks, while fun, is not OK unless you can be damn sure no one is below you. So when will skiers come to define their own ethic?
Having just one person on a slope at a time to minimize risk has traditionally been one of the backcountry's Ten Commandments, but with huge numbers of skiers leaving resort gates and crashing down on touring parties below, no one argues that sticking to the old tenant becomes increasingly complicated and difficult. But we can't afford a hall pass to tough topics.
For skiers unwilling to accept the risk or responsibility that comes with touring in crowded areas, the irony is that places like Wyoming's Teton Pass, Utah's Wasatch, and B.C.'s Rogers Pass wouldn't have such fantastic access (and problems with crowding) if it weren't for the road being there in the first place. Given that these areas have become major transportation corridors, it's not just skiers who are impacted by their own decisions.
"Is that really the backcountry experience they're shooting for? Does that really conjure up 'freedom of the hills'?" asks Liam Fitzgerald, manager of the Utah Department of Transportation (UDOT) Avalanche Safety program. "Doesn't seem like it to me."
Two years ago, UDOT began initiating mandatory backcountry closures for bombing. (Rogers Pass has been closing the backcountry for avie control work since 1995.) Several close calls preempted the closures, including when a skier triggered a Class Three slide on Mount Superior that stopped just short of the road.
"We need to do everything in our power to keep that from happening," says Fitzgerald.
With user-friendly gear and more resorts jumping on the lift-served backcountry bandwagon, the flow of skiers isn't going to stop. If we can't accept that our actions will impact others, it's time to rediscover the real freedom in the depths of the backcountry. Though in today's busy world, such true autonomy may only exist much farther from where most people are willing to go.
Backcountry Checklist
Whistler/Blackcomb ski patroller Wayne Flann created a signpost to increase safety awareness and etiquette among backcountry users. The 10 steps form a foundation for what everyone should know before heading to uncontrolled slopes.
1. Have you read the current local avalanche bulletin?
2. Do you know where you are and where you are going?
3. Does someone else know where you are going?
4. Do you have your shovel, probe, and transceiver?
5. Can you call out in an emergency?
6. Be aware of people above and below you!
7. Be prepared to spend the night!
8. Get trained. Practice often. Have a mentor.
9. The conservative choice is never the wrong choice.
10. If you don't know, don't go.