When the call for help goes out in Chamonix, France—the world mecca for mountaineering and steep skiing—it's the Peloton de Gendarmerie de Haute Montagne (PGHM) who respond. This group, part of the French military, serves as the local search and rescue organization and is widely known for being the busiest search and rescue team in world. The team rescued 6,980 people from 2006 to 2013 and about 1,200 people in 2013 alone. To put that into perspective, the Teton County Search and Rescue, a volunteer operation that serves the area of Jackson Hole, Wyoming, did 83 rescues in 2013.
"We aren't here to have an opinion about the amount of work, we're just here to do a job," says Olivier Fernandez, a former rescuer, PGHM trainer, and now administrator.
If weather permits, the team flies up the Valle Blanche, to Mont Blanc, or wherever they're called into, in one of two Eurocopter helicopters with dual-700 horsepower engines. On a normal day the chopper gets called out four or five times. On a busy day, it's more like 18 times. On those kinds of days the pilots eat their lunch in the heli because they know they'll likely have to fly off again in 15 minutes.
According to the PGHM, skiers and snowboarders make up about 30 percent of the rescues. Generally speaking, hikers are rescued the most. Climbers, who tend to be more experienced, only make up two percent of the rescues. Sometimes it's as simple as landing the helicopter on the glacier and loading the victim in. But other times the PGHM finds themselves in totally hair-raising situations.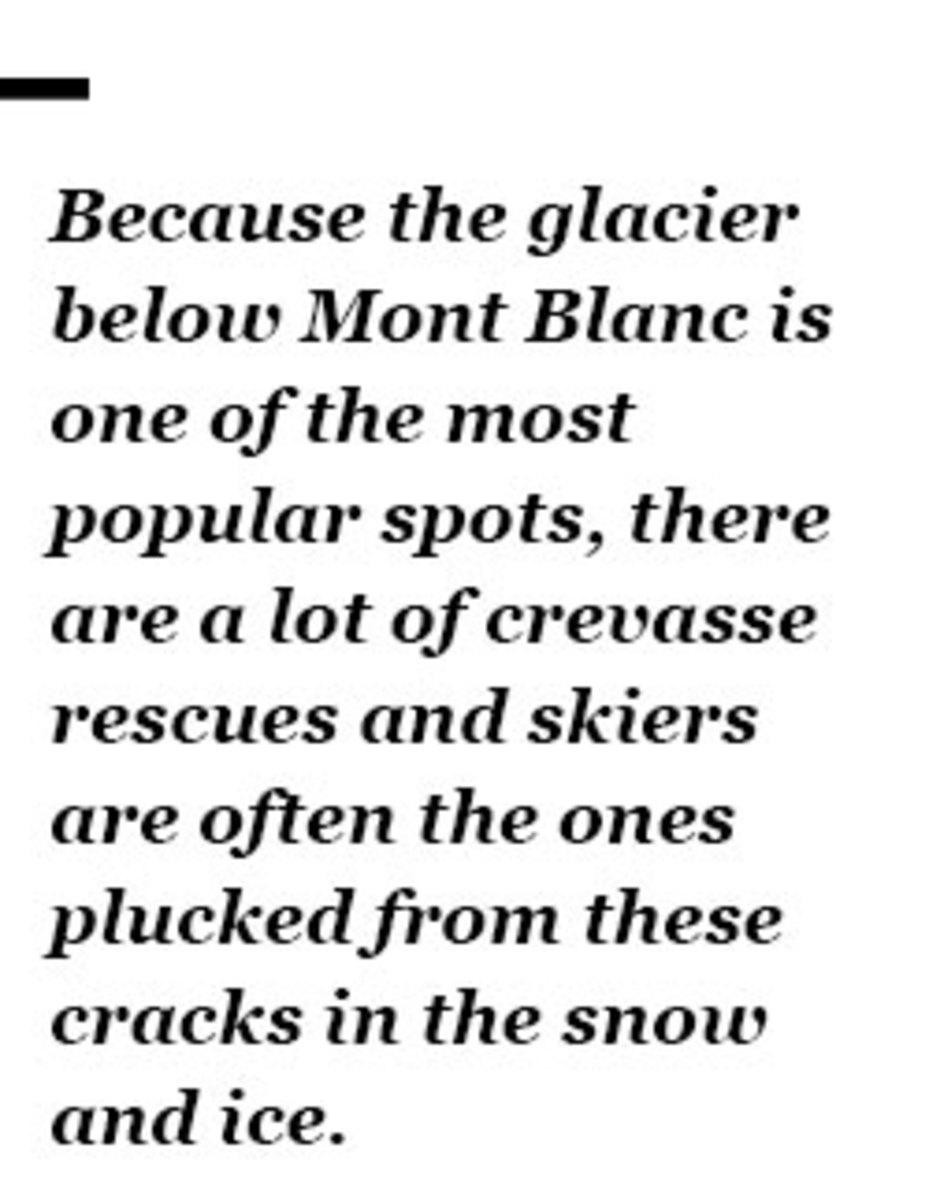 The rescue workers are often lowered by cable below the helicopter and are versed at picking up people stuck on rock walls or steep snow faces. The team uses all the standard tools available, including Gamow bags and lightweight rescue backets, but because they're so busy and they are often dropped into crazy spots in Chamonix's steep, exposed terrain, they've started reaching out to brands to develop tools that more specifically meet their needs. At the moment, the PGHM is helping develop a proprietary device that will ensure a rescuer hanging from the helicopter can be cut loose from an anchor in the rock at a moment's notice if the helicopter he's attached to has to fly away quickly. They're also working with Arc'teryx on a specially designed vest that places all their gear—ropes, lights, radios—in just the right place for when they're hanging and have to work fast to rescue someone.
Because the glacier below Mont Blanc is one of the most popular spots, there are a lot of crevasse rescues and skiers are often the ones plucked from these cracks in the snow and ice. Sometimes it's a fairly straightforward rescue, but other times people get wedged into tight, skinny crevasses that are difficult to reach. One trick the PGHM uses in these instances is wax. They'll dress up in special plastic clothes and cover themselves with paraffin so they can slide in and out more easily. If that doesn't work they have a special fishing pole-like devise they try and hook people with so they can drag them out.
"If there's a tool we need, we just imagine it and develop it," Fernandez says.
No two rescues are ever alike. One time Fernandez was on the glacier below Mount Blanc and saw a skier fall in one of these crevasses. He had a GPS, so he figured out the exact coordinates, called the helicopter, and within 10 minutes the skier was being extracted.
A while back, Fernandez says the PGHM team was using binoculars to watch someone ski the North Face of the Aiguille du Midi where many of the area's most famous ski lines are located. All the lines are no-fall zones and unfortunately the skier lost his balanced and started sliding. When this happens the skier almost always dies, but this time the person slid into a sun crater that had formed and stopped. The PGHM flew up to get him and when he complained about two broken legs, they reminded him that he was lucky to have survived.
"The rescuers told him, 'You must be only happy because what happened was completely crazy,'" Fernandez says.
Currently, there are about 45 rescuers plus three pilots and seven mechanics that work at the PGHM in Chamonix. It's a premier placement because the team is so busy and the terrain they work in so dangerous.
"If people play music, they want to play [in] the most famous venue," Fernandez says. "If you are a rescuer, you want to work in the rescues that are the most technical."
Fernandez says some of the rescuers in Chamonix will work for decades before retiring. He was a rescuer in Chamonix and other PGHM locations around the country for 27 years before he moved on to be a trainer and administrator.
"After 20 years in Chamonix you get tired," he says. "And it's never easy to see people die." About 70 people die in the Chamonix area each year.
At the moment, all the rescues performed by the PGHM are free. At local ski areas, users pay insurance because rescues inbounds are often performed by private search and rescue teams. But if a skier needs to be rescued out of bounds, or if the private team is not equipped, the PGHM comes in and they never charge for their help.
But that might change. It costs an average of €8,700 per rescue, or almost $12,000. About 50 percent of the people rescued are foreigners, so the French state is spending a lot of money on people who might not pay the taxes that help keep the program running. Fernandez says the PGHM just wants to do their job, but understands that at the current rate, with more than a thousands rescues per-year, it's not sustainable.
"This is a beautiful thing that the French state provides, but it costs money, it's not a joke," he says.