The following are a selection of some of the best work published to Powder.com throughout the year. They are posted in chronological order, from January to December, and follow winter, as it surged, receded, and came back once again. May as many stories come with 2016. —Ed.
In Focus
Photographer portfolios from Lee Cohen, Nic Alegre, Daniel Rönnbäck, Reuben Krabbe, and Mattias Fredriksson. Click here.
Pure Joy
Katahira Takashi lives in Tokyo when it's not snowing. He's been coming to this spot on Japan's northern island of Hokkaido every winter since 1965, photographing snow crystals. Inside a makeshift tent with a macro setup pitched outside his Toyota van, Takashi, wearing a large insulated jacket and gaiters around expedition-style boots, shoots the snow using a Pentax camera and Canon macro lenses.
Tracing the sacred path around Daisetsuzan National Park on Japan's Hokkaido Island. Read the feature by John Stifter, with photographs by Robin O'Neil and Adam Clark, here.
Storm Dispatch
Relive the monster blizzards and deepest pow days across the globe with the photo gallery series, Storm Dispatch, featuring photographs by Mattias Fredriksson, Reuben Krabbe, Brett Shreckengost, Erik Seo, Justin Cash, Ryan Turner, Daniel Rönnbäck, Jeff Cricco, and Greg von Doersten.
The Jaded Local: Hubristics
The Ski Media Industrial Complex is excited about the whole concept of heuristics lately, and for good reason. Modern analysis has revealed that most avalanche encounters are not the result of imprecise snowpack diagrams or poor pit analysis, but of the decision-making processes used by people blundering around in avalanche terrain. Or, as I like to call it, fun. And sometimes when you're having fun, you do stupid shit, especially if you have reason to believe that the shit in question is cool because a) other people have done it, b) it will look sick on the P.O.V. cam, or c) it will get you sponsored and/or laid. That's heuristics in a nutshell: the so-called human factors that lead to Bad Times.
Which leads us to Hubristics. The science of the effect of cameras, free goggles, sex, cocaine, and other Incentives on Heuristic Factors In Avalanche Terrain. In other words, the things you think about immediately before shrugging and saying (out loud or otherwise), "Fuck it."
Smog Lake City
Cobalt blue skies surround the upper reaches of Little Cottonwood Canyon. It has been a week since the last storm rolled through. Powder stashes are replaced by laps of High Rustler buff. But the lull in snowfall is the least of concerns for skiers who live in Salt Lake City. Down canyon, a thick layer of brownish amber coats the valley. A veil of smog and pollution so thick you can't decipher the landscape. The realization that we have a serious problem is further demonstrated while passing a Snowbird billboard headlining: "Inversion Diversion."
Salt Lake City chokes on its own smoggy air, an opinion piece written by Erme Catino.
Is There a Better Way to Ski the Grand Teton?
Recently, on a blustery Thursday morning, I found 20 backcountry skiers and split-boarders lined up to descend Turkey Chute in Wyoming's Grand Teton National Park. Broad and scenic, the chute is the bunny-slope of Teton couloirs, so you expect to share it when conditions are good, but it's still a four-mile, 3,000-vertical-foot trudge from the trailhead. To find such a sizeable glut of shredestrians double-checking their GoPros and airbags at Turkey Chute's brink made it clear: The Tetons are officially wadded.
As skiers crowd this iconic peak, some are looking to a new route. By David Gonzalez.
Inhale, Exhale
Still out of breath from the frantic climb, I drew a deep gulp of frozen air. I stood still over mountains stretching vast in every direction, every cell vibrating within me. It's hard to digest the mental change that comes with that last step onto the summit and off of exposure. Life can go from crazed to calm, panicked to peaceful in seconds. The dangerous, demanding descent still awaited, but for this brief moment, all I felt was gratitude.
Five peaks in five days in Colorado's most remote range. By Ian Fohrman.
The Hardest Yard: A profile of Ruedi Beglinger
He navigates the blanket of whiteness with uncanny ease, and I wonder just how many times he's made these exact steps. Meandering through the alpine in near-zero visibility, he's confident and natural in his stride. Over his 30 years here he's watched forests burn, glaciers recede, and mountainsides crumble. His tenure has lasted long enough to see the landscape physically change, but he still knows it intimately. Ruedi Beglinger walks with the cadence and stamina of a man half his age—purposeful and driven.
After 40 years of guiding people through the world's biggest mountains, Ruedi Beglinger's biggest challenge remains his naysayers. By Matt Coté.
Photo Gallery: The Pain McShlonkey
The Pain McShlonkey Classic returned to Squaw Valley last weekend for its fifth year of snowblade shenanigans and libations. This year, the PMS included a mass downhill and a slalom course. After an unrivaled performance, Barry the Blader took home the event's top honors.
Snowblades descend on Squaw Valley for the fifth annual Pain McShlonkey Classic. A photo gallery by Jason Abraham.
An Ode to Backcountry Bob
I only skied with him once, but the memory still lingers. We were at a "poachable" ski hut in Colorado's Never Summer Range, a place he lived in for a month once after convincing backcountry rangers to let him stay.
Bob Casper held court the entire cramped night, partying like a rockstar, enough that he fell off the top bunk with a clap of thunder at 3 a.m., while still leading the crack-of-dawn charge up and down No Name Peak the next morning. That day, we followed Casper down one of the most aesthetic lines I've ever skied.
Twenty-two years later and my buddy, John, who spent two years skiing the backcountry of St. Anton with Casper, brought the memory back with bad news. "Did you hear Casper died?" he asked.
The grand adventures and tragedy of backcountry ski legend Bob Casper. By Eugene Buchanan.
A Ski Dad's Angst
Skiing is a big part of my life, and I want to share that with my daughter. I want her to feel as jittery as I do on our first ski day of the year. I want her to love sitting in the car for hours on our way to Colorado in search of skiing when New Mexico doesn't have any snow. I want her to love chasing first chair on a powder day. And eventually, I want her to love all the hard work it takes to ski carefully in the backcountry.
One dad's thoughts about teaching his daughter how to ski. By Jakob Schiller.
The Jaded Local: How to Fix Everest
Even before this spring's tragic earthquake(s), the outdoor media has been obsessed with "fixing" Mount Everest. Outside Magazine and National Geographic have built a virtual empire of deeply concerned essays on the topic. The mountain is covered in poo and dead people. The standard commercial route runs under the seracs that killed Sherpas last year and blasted base camp this year. There have been physical confrontations between commercially employed Sherpas and professional alpinists. And now more deaths, and a massive (and heroic) rescue effort that may have been a huge waste of helicopter time when thousands of Nepalis were dying or stranded with fewer resources and less safety than the 100-odd climbers flown down from base camp.
Am I going there? Am I actually going to joke about this? Yes. But I'm joking seriously.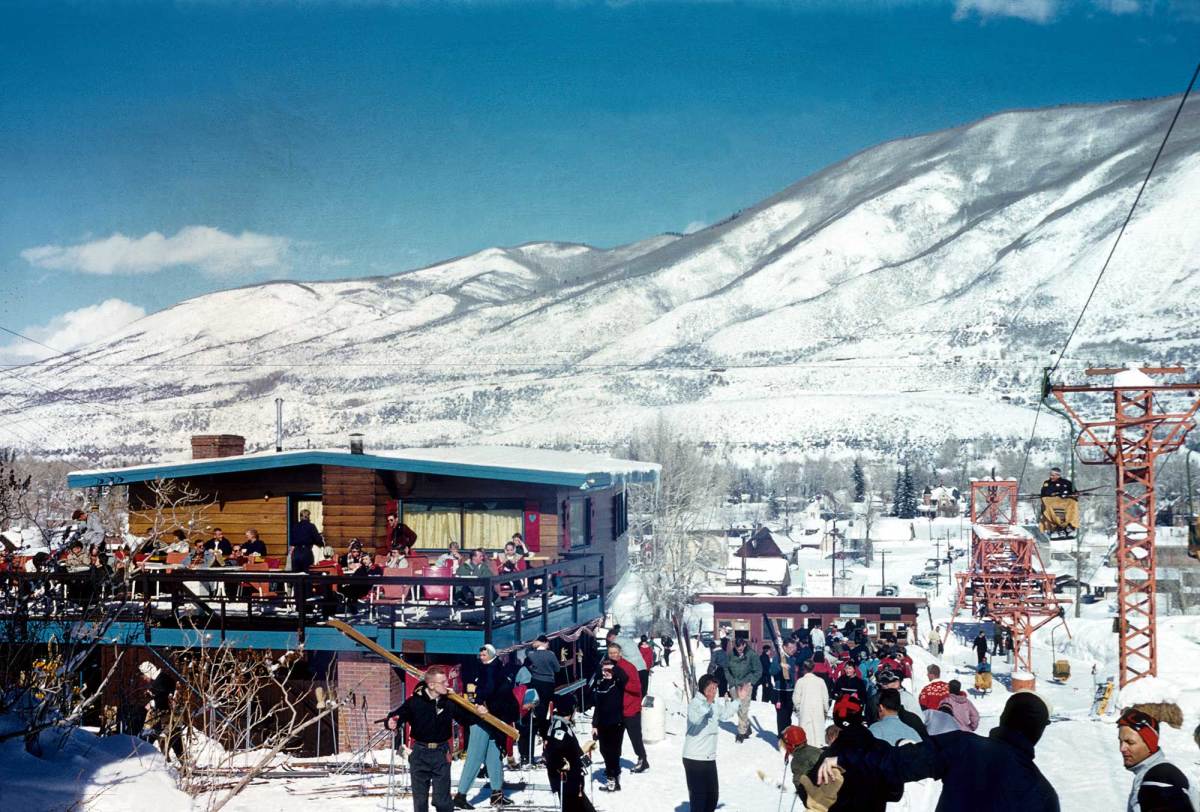 Never, Never Land
The sun is already by the time Pat Sewell steps out of his room onto the balcony of the Skier's Chalet, on Aspen's Gilbert Street. Surveying the new day, he washes away the night with rapid blinking and a large cup of coffee. He worked the late shift last night at The Red Onion saloon—a holdover from the silver mining days right in the middle of town—and didn't get home till 3 a.m. It's a decent job—slinging drinks to locals, wealthy tourists, and lots of girls. He complains that the bouncer just gets drunk and hits on chicks, but what can you do. He's also a little disappointed that he couldn't join his friends Chris Tatsuno and Casey Vandenbroek on a midnight cat-ski session on the hill. They were at the Onion drinking when they got word that a cat driver was looking for company on his night shift. After downing a few more, they hitched a ride up the mountain under the glow of the moon with their gear in the flatbed. But, yeah, what can you do.
The Skier's Chalet in Aspen represents the last of a bygone era. By Matt Hansen.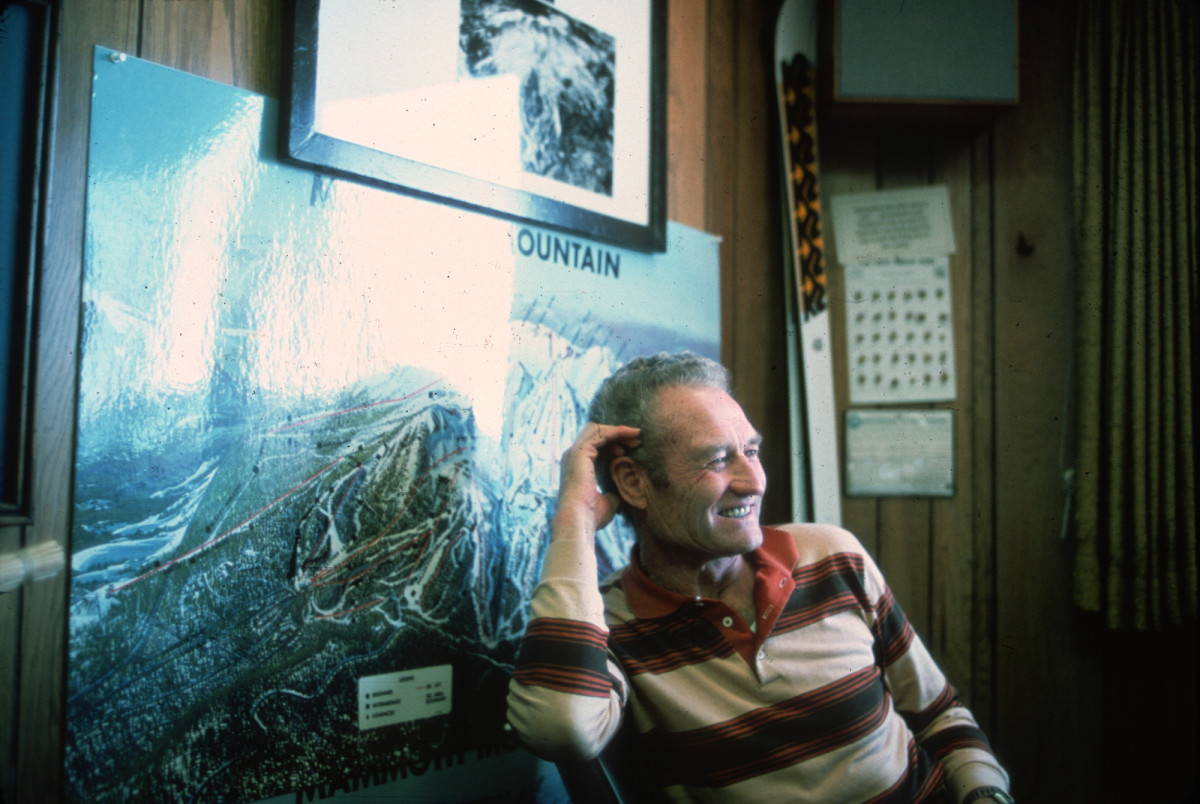 For the Love of Skiing
"Dave really wrote the book on contemporary California ski areas. He was always looking for ways to do things differently," says Michael Berry, president of the National Ski Areas Association. "He's an operational genius, a creative force. He set the standard for the whole industry."
Dave McCoy, founder of Mammoth Mountain, turns 100. By Sierra Davis.
The Local
In the life of a ski town local, there are hundreds of decisions to make but only one that really matters: do what it takes to keep skiing. In that respect, all locals share a similar path yet each contributes to the mountain lifestyle in his or her own way. The result is a rich culture containing a cast of characters found nowhere else in the world—a celebration of skiing that lasts a lifetime.
The people you want to know, the skier you want to be. By Matt Hansen.
The Most Determined Skier
Elyse Saugstad's voice is measured, and honest. She's smart, opinionated, and when she speaks, she settles her clear, intense blue eyes directly on you. Saugstad has a low tolerance for bullshit, a trait her closest friends appreciate but many misinterpret as her being difficult. She knows some have a hard time with her strength. However, she would rather cut to the chase, even if it costs her opportunities, than stay quiet and surrender to what she sees as unjust.
Elyse Saugstad is at the top of her career despite going at it mostly alone. What's her next move? By Julie Brown.
Dueling Editors: The State of Ski Design
Has ski design gone too far? Or not nearly far enough?
Former POWDER Editors John Stifter and Neil Stebbins go head to head.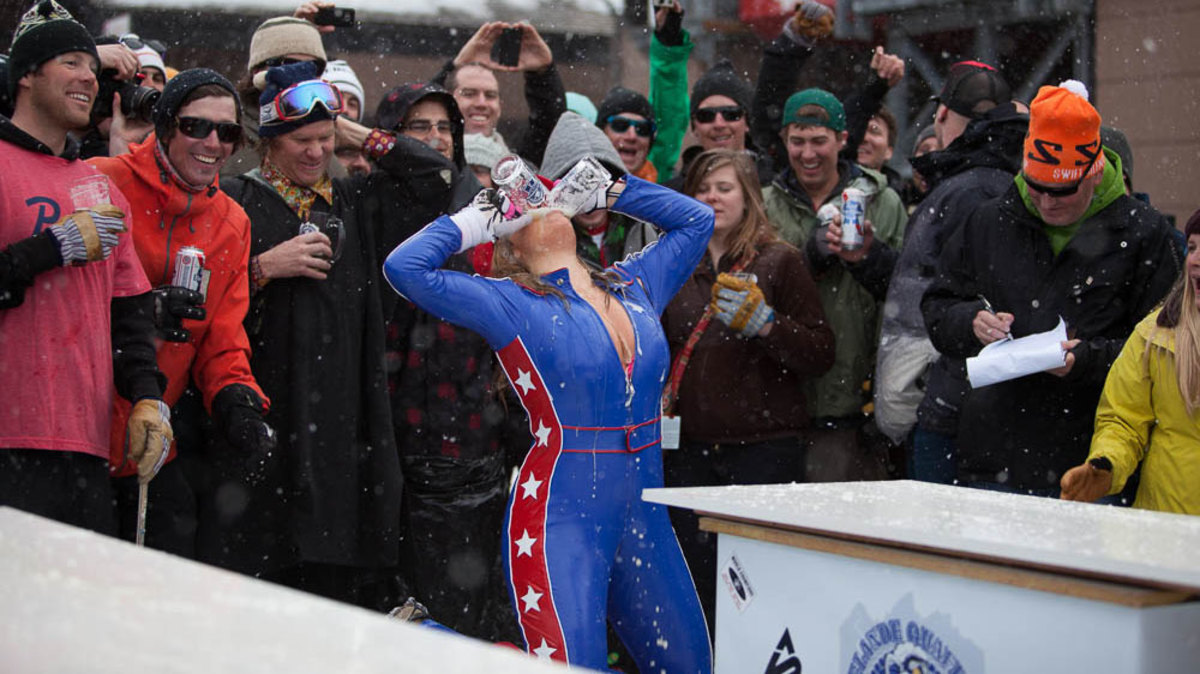 The Cult of Quaff
"When Pepi Steigler used to jump, they'd say gelandesprung," Howie Henderson, who passed away in 2011, recounts in a video shot during the filming of the Jackson Hole Air Force documentary Swift. Silent. Deep. "So we said 'gelande quaffing.' Quaffing is when you slam your beer."
How a late-night drinking game invented by the Jackson Hole Air Force become a national sensation. By Derek Taylor.
The Human Factor 2.0
Olivia Buchanan panned the telescope across the top of Kendall Mountain, looking for slide activity. From her friend's living room in downtown Silverton, Colorado, she could make out what looked like a half-decent approach to the summit ridge, 4,000 feet above town. She saw open, wind-loaded powder shots funneling into Idaho Gulch on looker's right and—as a potential Plan B if the gulch proved sketchy—the twin entrances to the Rabbit Ears (also known as the Arcade Chutes) funneling straight to 12th Street. She saw two sets of tracks on the summit, beckoning, It's good to go up here! The day was Monday, January 5. The sky was clear; the wind had eased and the temperature in town was in the low 40s. Tomorrow would be her last day to sneak in a ski tour in her home mountains before taking off.
Changing the way we look at risk: Glory and survival in avalanche terrain. By David Page.
You Have Arrived
A new moon concealed the massif. We had read the stories, listened to the tales, and watched the movies of the magic carpet ride. But as our friend Turbo chucked our luggage off Switzerland's Glacier Express and onto the cobblestone streets of Andermatt, expectations lingered in darkness.
Threading the Swiss Alps on the Glacier Express. By John Stifter, with photos by David Reddick.
Passing Through
Vignettes of ski towns across North America. Read the series here.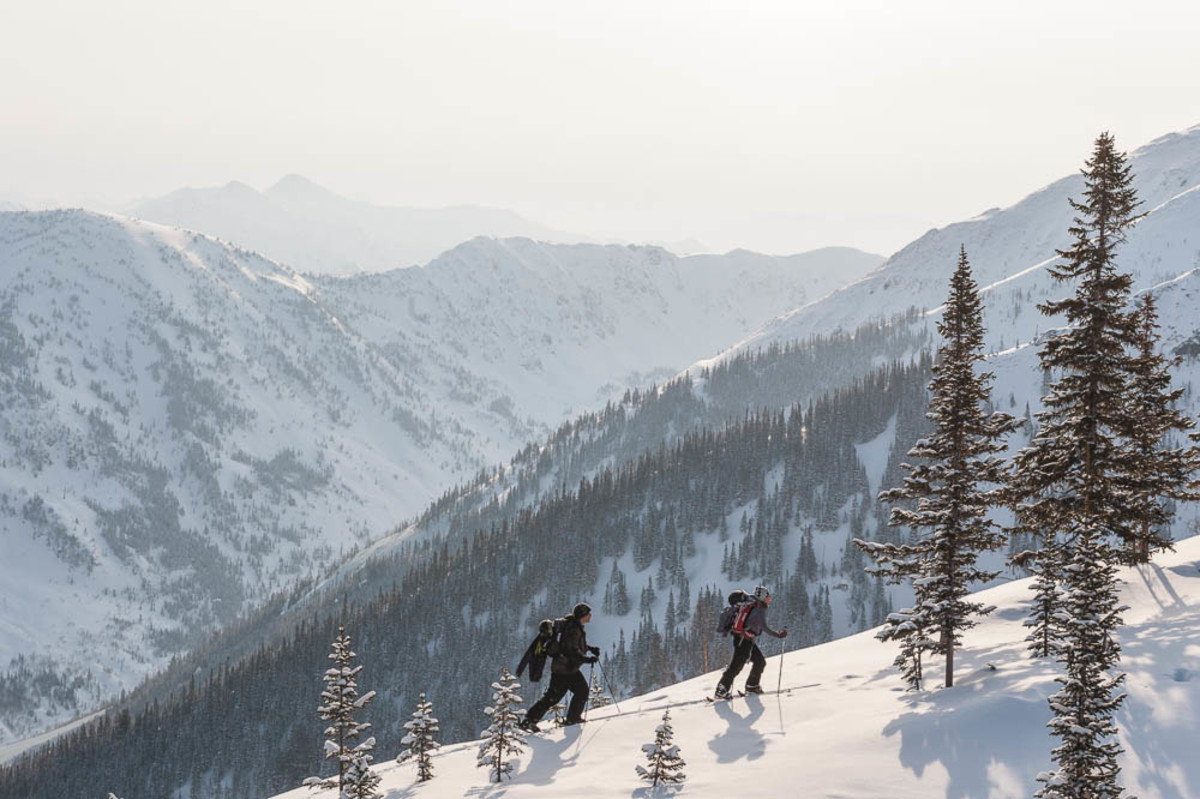 Dawn in Siberia
In an indigenous village deep in the mountains of Siberia, Vitaly Kiskorov walked uphill and into the woods on his skis. He made the skis himself. Vitaly whittled the wood with an axe, then smoothed it with a planer. He used a homemade mold to maintain their shape. Vitaly's bindings were leather. His skins were just that—skin and hair from a horse's leg nailed to the base, and they allowed Vitaly to ascend over the deep snowpack with exceptional grace and power. His dog was at his side. His 10-year-old son, Vladic, skied his own homemade boards not far below.
Discovering a fringe freeride community, deep powder, and skiing's origins along the Trans-Siberian Railway. By John Clary Davies. Photos by Kari Medig.
Engelberg: Angel Mountain
It's not in a ski bum's nature to be on time. Or to be early or late for that matter. Ski time is measured in storms, temperature, lift openings, road closures, avalanche danger, happy hour, hangovers, work shifts, etc. But for most Swiss, meeting them 10 minutes late is like showing up with their wife's underwear hanging out of your pocket. Thankfully, Snowflake is cool in a 1968 way—meaning he never wears a hat, no matter how cold it is, and just being alive and in the mountains is reason enough to be happy. It helps that the only thing he cares about, or has seemingly ever cared about his entire life, is flying downhill on skis.
A resurgence in Engelberg, Switzerland's best-kept secret. By Porter Fox.
Girl, Skier
I called Lindsay Rider a week ago to let her in on my plans to tour the West and tap into the ski girl revival that is taking over ski towns. "You should come," I said. Rider hung up the phone, covered her shifts at the restaurant where she worked in Salt Lake City, rallied two more—Katrina DeVore and Vanessa Aadland—and hit the road to Jackson. Others would meet up with us along the way.
Touring the West to infiltrate the girl scene in Jackson, Big Sky, and Revelstoke. By Julie Brown, with photography by Keith Carlsen.
Baja Ski Club
One spring we came up with a different plan. I had read about a mountain in Baja, Mexico, a big one that that held snow on its north face. Picacho del Diablo in the Sierra de San Pedro Mártir was the tallest mountain on the Baja Peninsula at 10,157 feet. From the summit you could see the Pacific Ocean and the Sea of Cortez at the same time. Storms rolling off of both coated the mountain with snow all winter long, especially in an El Nino year.
A quest to find snow leads to Picacho del Diablo in Baja, Mexico. By Porter Fox.
Josephine's Passage
I was alone on the col, the last to drop into the milky fishbowl. Shadows of the surrounding peaks floated in and out of view. Massive piles of stone were there for a moment, obscured the next. Far below, Rogers Pass cut a 90-mile line from Revelstoke to Golden, British Columbia, through the vast, glaciated, and alpine terrain of the Selkirk Mountains.
A rolling odyssey through British Columbia's high alpine passes. By Ian Fohrman, with photography by Bruno Long.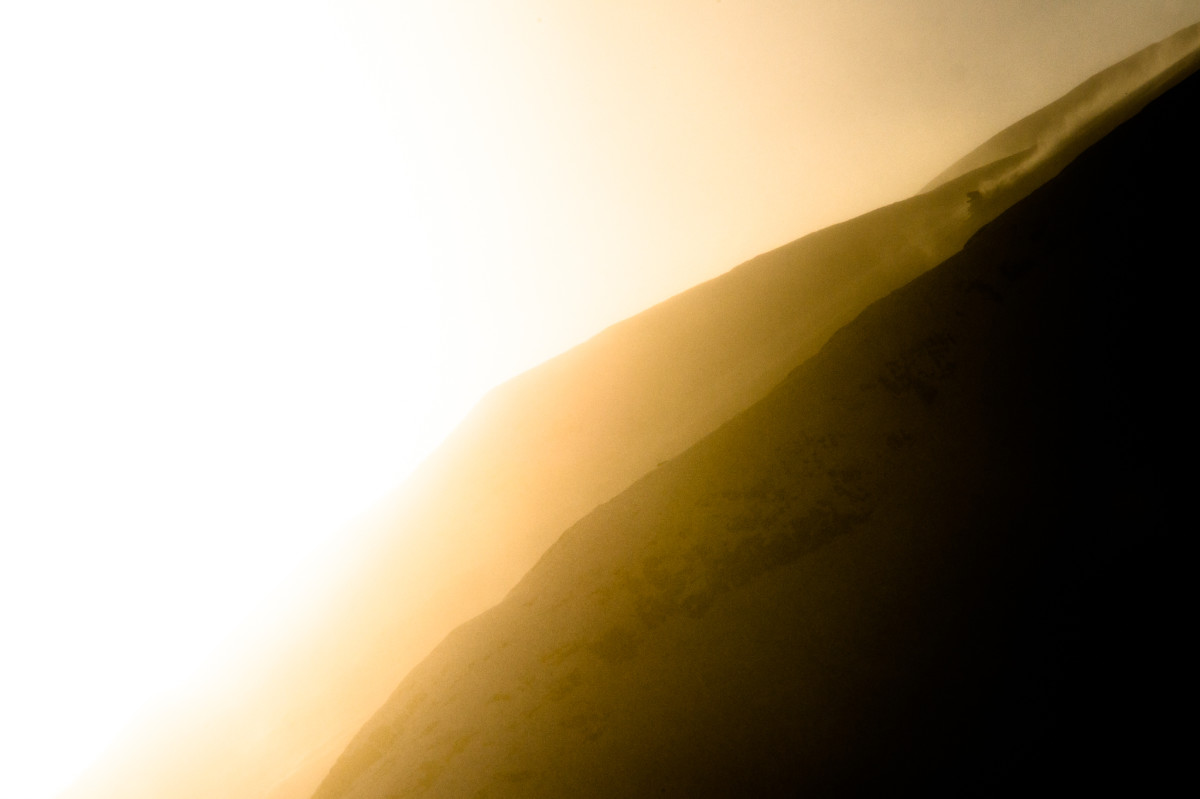 Sliver
Cody Townsend stood over Reuben Krabbe, shaking him awake at 1 a.m. for an unceremonious chang­ing of the guard.
"Reuben, get up. Bear watch."
It was the photographer's turn to patrol for polar bears.
Shielding his eyes from Townsend's head­lamp, Krabbe struggled to crawl out of his sleeping bag and quickly zip into enough down layers to ward off the subzero wind gusts outside the tent.
An unlikely journey to capture a rare celestial event. By Sierra Davis, with photography by Reuben Krabbe.