The morning air has regained a chill. Somewhere, on a mountaintop near you, snow will soon fall. It won't be long until the hills have enough of the good stuff for you to slide down them on a couple of wooden planks. Where are you going to go? Where do you wish you could go? We used P5 (or P-Pentupled), which factors vertical, snowfall, lift ticket price, skier visits, night skiing acreage, vote totals from previous Ski Town Throwdowns, brown bag policies, and wicket ticket availability, to seed the top 28 places to ski by region. The remaining 8th seed for each region will be decided by a popular vote on October 7-8. Where's the best place to ski in North America? Last year it was Crested Butte. The year before, Rossland/Nelson shared the title. It's time for Ski Town Throwdown III. It's time for you to decide a new champion.
In addition to the play-in games to decide the final seed in each region, we have a number of other changes:
1. No more Facebook voting. Sorry Zuck. Everything will happen on Powder.com. A new voting platform will be in place when it starts October 7.
2. We're scaling back down to a 32 team bracket so we all don't lose our minds again.
3. Not a change, but a friendly reminder to fill out your own bracket after the play-ins, but before the bracket starts on 10/13, for a chance to win a dream trip.
4. More awesome.
A full bracket and schedule can be seen below.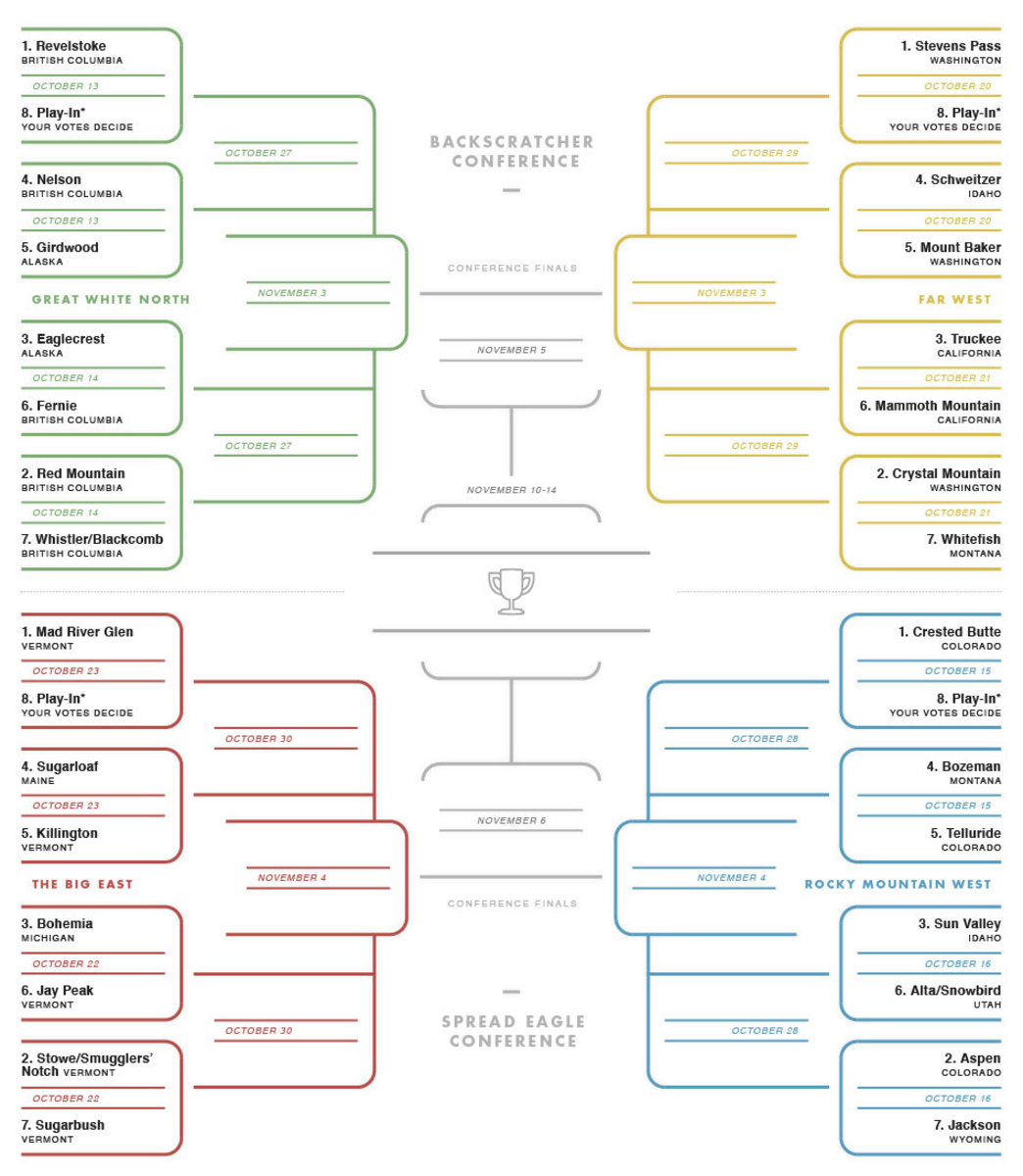 Play-In Teams Eligible for the 8th Seed, by region:
Great White North: Cypress, Panorama, Big White, Sun Peaks, Banff, Silverstar, Kimberley, Kicking Horse, Mount Washington
Far West: Mount Baldy, Mount Hood Meadows, Mount Bachelor, Alpental, Sierra-at-Tahoe, Kirkwood, Lost Trail, Snowbowl, Big Bear
Rockey Mountain West: Taos, Silverton, Park City, Summit Co., Steamboat, Flagstaff, Ogden, Grand Targhee, Brighton/Solitude
East: Mont Tremblant, Whiteface, Stratton, Okemo, Sunday River, Loon, Cannon, Marquette, Cochrans
Ski Town Throwdown III Schedule:
October 7-8: Play In Round
Vote for the final ski area for each region
October 8-13: Make your picks
Fill out your bracket for a chance to win a dream trip
October 13: Great White North, Round 1
Revelstoke Vs. TBD (determined by Play-In Round)
Nelson Vs. Girdwood
October 14: Great White North, Round 1
Eaglecrest Vs. Fernie
Red Mountain Vs. Whistler Blackcomb
October 15: Rocky Mountain West, Round 1
Crested Butte Vs. TBD (determined by Play-In Round)
Bozeman Vs. Telluride
October 16: Rocky Mountain West, Round 1
Sun Valley Vs. Alta/Snowbird
Aspen Vs. Jackson
October 20: Far West, Round 1
Stevens Pass Vs. TBD (determined by Play-In Round)
Schweitzer Vs. Mount Baker
October 21: Far West, Round 1
Truckee Vs. Mammoth
Crystal Vs. Whitefish
October 22: The Big East, Round 1
Bohemia Vs. Jay Peak
Stowe/Smugglers' Notch Vs. Sugarbush
October 23: The Big East, Round 1
Mad River Glen Vs. TBD (determined by Play-In Round)
Sugarloaf Vs. Killington
October 27: Sweet 16/Great White North Semifinals
TBD Vs. TBD
TBD Vs. TBD
October 28: Sweet 16/Rocky Mountain West Semifinals
TBD Vs. TBD
TBD Vs. TBD
October 29: Sweet 16/Far West Semifinals
TBD Vs. TBD
TBD Vs. TBD
October 30: Sweet 16/Big East Semifinals
TBD Vs. TBD
TBD Vs. TBD
November 3: Elite Eight/Great White North and Far West Finals
TBD Vs. TBD
TBD Vs. TBD
November 4: Elite Eight/The Big East and Rocky Mountain West Finals
TBD Vs. TBD
TBD Vs. TBD
November 5: Final Four/Great White North Vs. Far West
TBD Vs. TBD
November 6: Final Four/The Big East Vs. Rocky Mountain North
TBD Vs. TBD
November 10-14: Ski Town Throwdown III Finals
TBD Vs. TBD