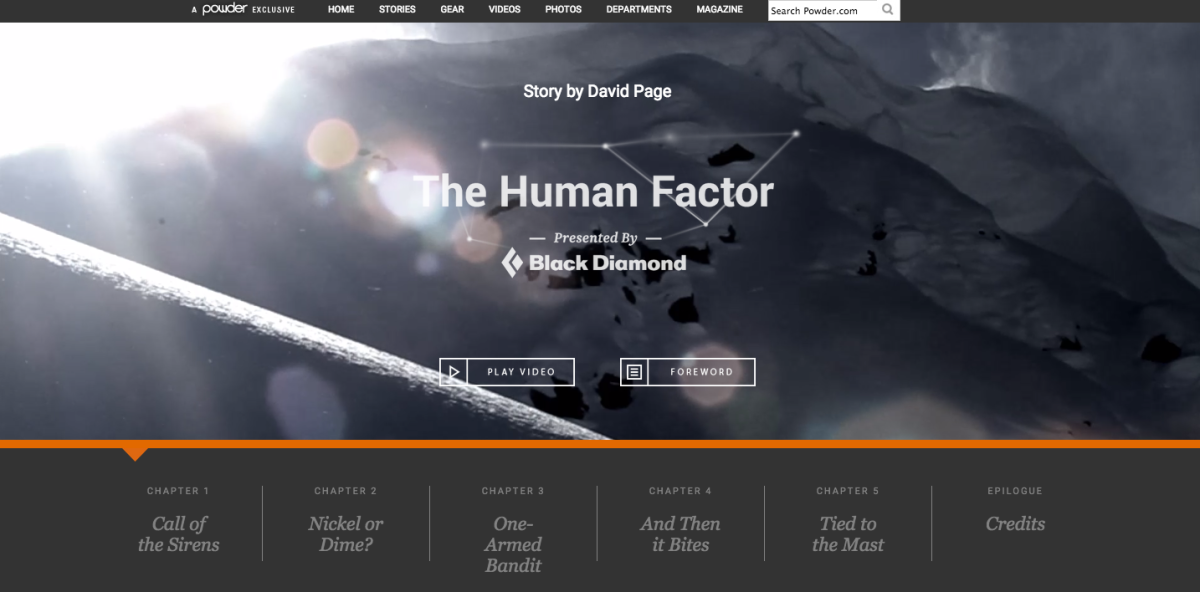 On Friday, the Western Publishing Association recognized POWDER at the 65th Annual Maggie Awards in Los Angeles. POWDER received the award for Best Digital Edition/Tablet Article for The Human Factor, a project presented by Black Diamond.
A five-part multimedia series published last fall, The Human Factor investigates the decisions backcountry skiers make that lure them into avalanche terrain. Written by Mammoth-based journalist David Page, The Human Factor was also one of five finalists in the multimedia category at the National Magazine Awards.
"Everyone on the POWDER staff, as well as the greater skiing community, has been affected by the loss of remarkable individuals to avalanches in backcountry skiing accidents. We created The Human Factor to address the psychology and decision-making that leads to these tragedies," says POWDER Associate Editor Julie Brown."To receive so much recognition for The Human Factor and this cause is a tremendous honor, but it is also bittersweet. This award is dedicated to our fallen friends."
This is the seventh Maggie Award that POWDER has received since 2013. POWDER attended the awards ceremony in Los Angeles with some of its sister publications who were also nominated for awards, including TransWorld Motocross, Canoe & Kayak, SUP, Surfer, Bike, and TransWorld Snowboarding. Here is a complete list of the winners at the 2015 Maggie Awards.

About the Western Publishing Association
The Western Publishing Association is a non-profit business trade association dedicated to the advancement of the media publishing industry in the western United States. With 62 year's experience, the Western Publishing Association offers a variety of services and benefits to its members. Our primary mission, to provide continuing education to the media publishing industry, is accomplished through individual seminars, an annual publishing conference, publishers and executive management roundtables, and partnering with other groups and associations to offer online audio and video conferences.