Editor's Note: Passport is an online department featuring stories from the road. This one from POWDER contributor Dan Kostrzewski from an assignment that took him to South America.
WORDS: Dan Kostrzewski
The pool at the Hotel Portillo is, in my book, one of the most spectacular places on earth. A landlocked bright yellow cruise ship high in the Chilean Andes, Ski Portillo was unseasonably 60-degree warm for early September and very, very dry. Laguna Inca had already melted out and Los Tres Hermanos—the 15,000-foot peaks above the lake—were more rocky brown than windblown white. The storm season at Portillo was done and we had missed the last gasp by one week. Portillo was melting and our view was the consolation prize. Photographer Grant Gunderson and I were deep in the pool, drinking gringo-rate beers, admitting story defeat, and enjoying Chilean après during Brazilian week at 9,450 feet.
"Hey Grant," boomed a voice from the balcony. "What the hell are you doing here?"
Standing on the deck was a face from both of our pasts: Craig Merrill, a former Baker local who had moved to Colorado nearly a decade ago for a job or a girl or some combination of the two. He and his buddy, Cody, were on a South America migration. Insufficient rental car paperwork thwarted their border crossing into Argentina and a Chilean border agent turned them back around. Holed up in a cheap rental down the steep beast of a highway that wound 30 switchbacks toward Los Andes, they spent their remaining ski days cracking into a gray zone between the customs terminal and the actual international border at the Tunnel de Cristiano Rentador. Over their first eight-buck beer in the hotel bar, they assured me they'd found pow above 12,000 feet, but there was a catch.
"Bring your passport," Craig said.
The next morning I was hip deep, out of breath, and out of hiking shape, bootpacking up a steep final slope at 13,000 feet in the Andes to a high point with a view of 22,841-foot Aconcagua, the highest point in the Western and Southern Hemispheres. We'd started skinning at the tunnel, switchbacking into this no man's land in hot, mushy spring corn then rising around a corner to higher ground, thick fog, breakable crust, and then finally deep, unconsolidated pow in a disorienting Andean swirl. It was a long way and a few years from Baker, but Craig's presence pulled me up the final pitches, breaking trail, setting the pace, then finally handing over his last remaining Gu.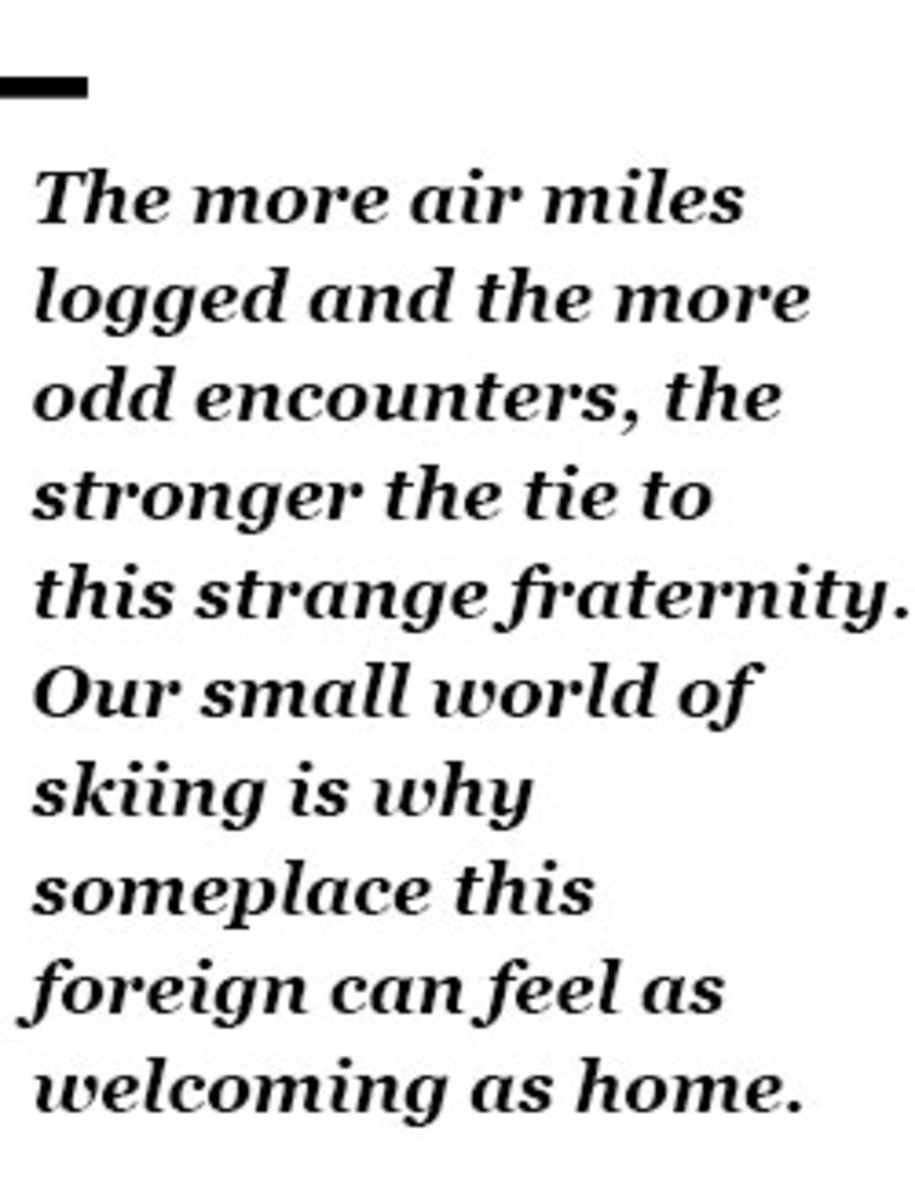 Even thousands of miles from home, skiers travel in a small circle. Like a failsafe, past connections have resurfaced on every foreign trip I've taken. An Icelandic farmhouse, a Chamonix gondola, a Bariloche hut, or a Smithers ice cave—each place, the crew I've run with has bumped into friends, friends-of-friends, and true brothers from some mission in the past. These chance encounters are the best unknown of packing the ski bag. The more air miles logged and the more odd encounters, the stronger the tie to this strange fraternity. Our small world of skiing is why someplace this foreign can feel as welcoming as home.
That hit me hard in this foggy, swirling gray zone, because one of us was not here. Chris Rudolph, who died tragically and suddenly in the 2012 Tunnel Creek slide at Stevens Pass, set my wheels in motion for this Southern Hemisphere tour. The last time I'd skied with him—on that same Tunnel Creek slope three weeks before he was killed—we were planning this exact ski trip to South America. If Rudolph were here, in the Andes with us, he'd be making those connections, breaking trail…and probably handing me his last beer.
Four thousand vertical feet of pow, slop, crust, and corn later, our crew landed back at the border checkpoint of the Chilean International Police. Unlike bus passengers riding the mainline shuttles between Mendoza and Santiago who cruised through customs, the three of us unshaven Americans in ski pants landed in the back office.
"Me y mis hermanos esqui a Tunnel de Cristiano Rentador (Me and my brothers ski at the tunnel)," explained our tour leader. Our goal was three re-entry stamps in the passport and Craig had his phrasebook story down. Since we had left Chile but not entered Argentina, the agent was justifiably confused and Craig's phrasebook Spanish did nothing to clear up the lack of comprehension.
I reached into my cargo pocket and we each handed him our passports. He leafed past our tourist cards and poured over our stamped pages. I watched the officer move on a different cultural time clock with the thought that I'd be screwed if I were rolling solo, but like the rest of the trip I was drafting my way through South America. I've cruised through plenty of tense or odd ski-trip border crossings from RV searches and redneck interrogations south of Nelson to an Icelandic agent distracted by Facebook while granting us EU entry. In this memorable instance, I was clearly letting Craig break trail through the high Andean pass of the customs office.
"Me y mis hermanos esqui a Tunnel de Cristiano Rentador (Me and my brothers ski at the tunnel)," Craig repeated with more of a Colorado Spanglish accent.
This exchange continued in circular fashion, with carving hand gestures added for emphasis and questions that went quizzically unanswered. Eventually, the guard gave up the three stamps and let the gringo skiers go. At the car, another customs agent asked—in fluent English—about the hard-currency price of Craig's touring setup and quizzed us about how we'd skied without lifts, before he let us loose.
I'd again found the international brotherhood of skiing and sleuthed out some deep pow—with one friend in mind—somewhere in the borderlands. Me y mis hermanos esqui, indeed.