This story originally published in the February 2015 issue of POWDER (44.6).
"It happened in Sun Valley, not so very long ago. There were sunbeams in the snow and a twinkle in your eye." Glenn Miller crooned these lyrics in 1941, only five years after Sun Valley opened as America's first destination ski resort. Little did he know, a lot would happen in this little ski town in Idaho in the decades to come.
The world's first chairlift was installed in Sun Valley in 1936. Warren Miller lived in a trailer in the ski resort parking lot for two winters. Ed Scott, who invented the first aluminum ski pole, started Scott Sports in Sun Valley in 1958. Dr. Bob Smith, an orthodontist who designed the first ski goggle, founded Smith Optics in Ketchum in 1965. This magazine first published there in 1971.
Sun Valley reached its cultural peak in the '70s, then it dipped throughout the following 35 years as property values rose, jobs moved out of town, and high-end developments replaced the affordable A-frames. Like ski towns throughout the West—including Tahoe City, Crested Butte, and Telluride—it's hard to make a life in modern-day Sun Valley, especially on a ski bum's salary. Ski towns and their communities will always change and evolve, but many argue that the golden era of Sun Valley is behind us. This winter, the resort's 80th ski season, the town is pushing through one of its biggest transitions ever. But skiers will always gather in this place and yearn to call it home for the same reasons my parents moved there in the early '70s.
In November 1971, my dad drove into town in a red VW Vanagon with shoulder-length hair. My mom, a surfer from Maui, came in her own VW in 1975 with four friends and an Irish setter named Bridgette. Neither had much of a plan when they arrived; they wanted to ski and had heard this place was heaven. They met on the chairlift.
We have opinions. Read them here.
Though my parents moved to Sun Valley to ski, they stayed for the lifestyle—the short lift lines, the 10-cent beers, the blue sky, and the mountains. They were attracted to the community because it wasn't California and there was only one grocery store. They skied every weekend and on weekdays before work; and ultimately, skiing became their job. (My mom was on the ski patrol for 15 years, then a ski instructor for another 15; my dad has been the Dollar Mountain manager for nearly 30 years.) Sun Valley offered them a life with likeminded people in a beautiful place with an abundance of sun and opportunity, with the Boulder, Sawtooth, and White Cloud ranges as a backdrop. As they grew older, my mom started a small gardening business and my future stepdad opened one of the first ski shops in town, called Sun Summit Ski and Cycle, in 1982.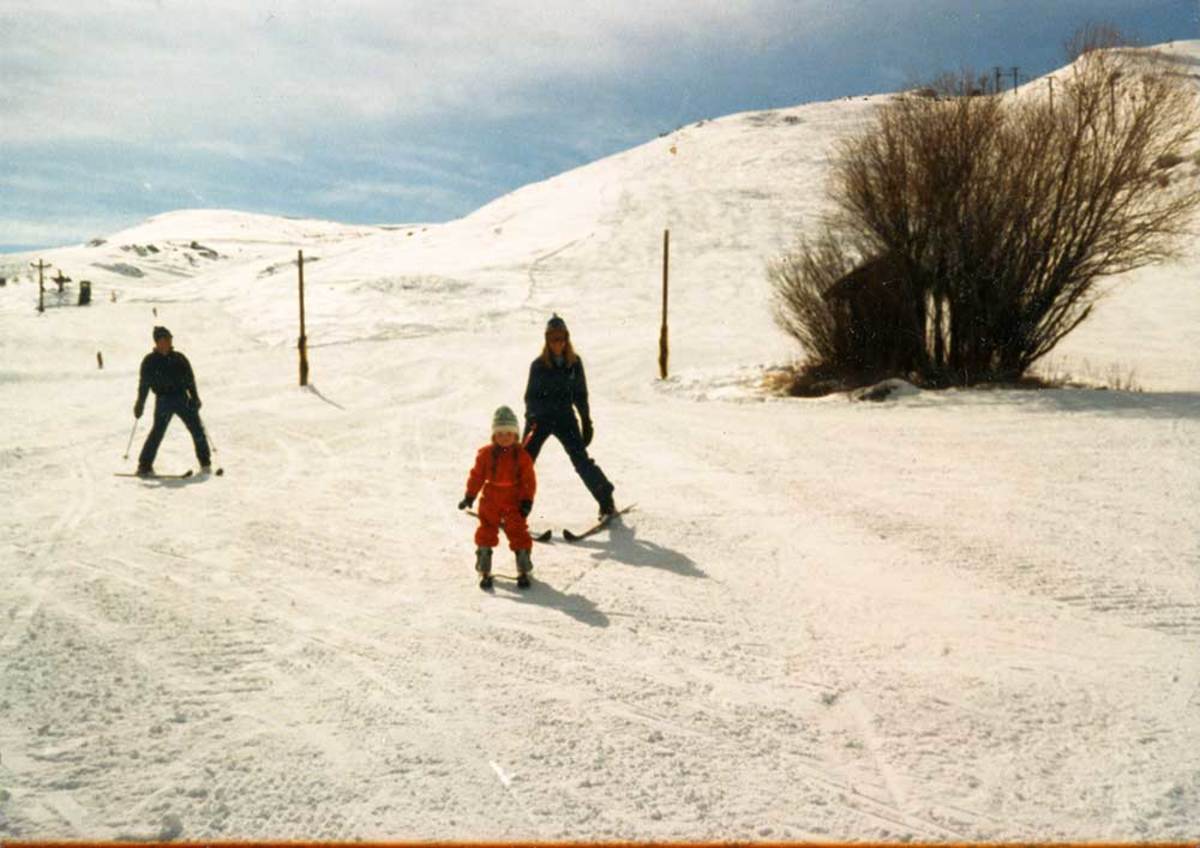 Sun Valley is not the same place. Like other ski resorts all over the West, single lifts became doubles and triples, and then high-speed quads and gondolas. McMansion-like lodges selling $4 hot cocoas replaced modest cabins. Snowmaking and roads expanded, and in the last 40 years, the population of Blaine County, which encompasses the surrounding area, nearly quadrupled, from 5,749 in 1970, to 21,482 today.
In 2013, Scott Sports left Sun Valley and moved to Salt Lake City, citing accessibility issues and travel inefficiencies in the winter months, and taking dozens of jobs with them. "As much as we liked Ketchum, we started to outgrow it," Scott Marketing Manager Nic Sims told the local newspaper. Last summer, another ski industry staple and Sun Valley-born company, Smith Optics, moved to Portland, Oregon, taking some 85 jobs and almost 50 years of history with it. Their reasoning was much the same as Scott's, and company representatives said publicly they decided on Portland because of its "proximity to the outdoors and a major airport, talent and labor force available, and access to marketing and key consulting firms."
And yet, despite the loss in jobs and the discouraging numbers, a new chapter in Sun Valley is taking root.
It makes sense. Flights into Sun Valley's tiny airport are often canceled or rerouted. According to research conducted at the University of Idaho in 2006, "starter homes" in Hailey and Ketchum were non-existent, so attracting new, young talent was becoming increasingly difficult.
And yet, despite the loss in jobs and the discouraging numbers, a new chapter in Sun Valley is taking root. Jon Duval, executive director of the Ketchum Community Development Corporation, which recently started a small business incubator, points to the pool of overeducated and underemployed young people in town. Even with Smith and Scott gone, he lists a slew of new Sun Valley brands that are making big pushes in the outdoor industry, like Mtn Approach, Decked, First Lite, and Club Ride. Duval says it's inevitable to see Scott and Smith grow up and move on, that it's an inherent part of capitalism and something for which the small town should be proud.
It's true that town feels a little empty. There is uncertainty of the future. Decade-long Smith employees had to start new careers and others made the plunge to start their own businesses. Scott's former offices still stand empty, and large "For Sale" signs flank the building. On April Fool's Day last year, someone revived a 10-year-old bike share program called Ketchum Cruisers—but with green spray-painted walkers, a comment on the aging retiree population seemingly taking over the community.
But when I go home to visit, I don't see empty coffee shops, quiet bars, or groomers filled only with white-hairs. I see second-generation ski bums who moved back to Sun Valley, much like their parents, and work three jobs to keep the dream alive. Like Ashley and Trey Knox, a ski coach and bar manager/volunteer firefighter, who work odd hours so they can ski together in the backcountry nearly every day. I see professional skiers like Lexi DuPont, Banks Gilberti, Tai Barrymore, Collin Collins, Karl Fostvedt, and Cody Barnhill, who all call Sun Valley home. And Drew Daly, a Vail native, Sun Valley ski patroller, and IFMGA-certified mountain guide, who bought his first home two years ago, a condo in Ketchum.
I meet newcomers like Tori Hartman, who interned at Smith and thought she was going to have a career in the ski industry but instead got her real estate license. She says the different life experience in Sun Valley proved to be much more enriching than anywhere else. "Living in Sun Valley created a space for doing something I wouldn't have expected to be doing," says Hartman. "This lifestyle, the skiing, hiking, and mountain biking, and this community pushes me forward and teaches me things I couldn't learn anywhere else."
Sun Valley is the same "fertile ground" it was when Warren Miller and Bob Smith first ski bummed there. "I can't wait to see what comes next," says Tyo.
It's still not easy to live in Sun Valley. Julian Tyo, the events and trail coordinator for Sun Valley Resort who was named to the list of top 10 ski industry professionals under 30 by Ski Area Management in 2012, works up to 50 hours a week year-round and has a second night job to afford his lifestyle. Yet Tyo says that Sun Valley is the same "fertile ground" it was when Warren Miller and Bob Smith first ski bummed there. "I can't wait to see what comes next," he says.
Like my parents, and skiers all over, the people in Sun Valley still live here for a lifestyle. They ski on weekends and before work. There might be a few more stop lights, lift tickets are way more expensive, and there's a bit more traffic, but there is still only one grocery store. Most importantly, their values and priorities—blue sky and mountain life— remain the same.
Despite the lack of jobs and the upside down equation of income and home prices, these exuberant people who love Sun Valley and make it their home are carrying on its legacy. They are buying houses, raising children, and starting businesses. They are mortgage brokers, gardeners, and pastry chefs. They are coaches, professional guides, artists, teachers, and skiers. They are making it happen in Sun Valley.
Katie Matteson is the sales and marketing coordinator for POWDER. Photos courtesy of the Matteson family.