Hybrid ski slope/power plant coming to Denmark
Zany Danish architects Dezeen Studios have decided to mix business with pleasure in downtown Copenhagen, planning the first ski slope power plant hybrid in the world. Designed to incorporate a black, blue, and green run, and twice the length of the Sochi halfpipe, the slope will sit atop a clean energy plant that releases non-toxic smoke from a chimney at the mountain's 'peak.' Copenhagen still gets natural snow in winter so that shouldn't be an issue, and skiers can access the slope via elevator at the base of the power plant. Dezeen is also working to turn the back of my Subaru Outback into a Turkish bathhouse. We'll let you know how it goes.
Olympic officials suspended for rigging qualifying races
Four Slovenian judges, including the country's head of Alpine, were suspended this week after reportedly fabricating race results in order to get Thai pop violinist turned skier Vanessa-Mae into the 2014 Sochi Games. According to a report by the Associated Press, the Thai skier needed to compete in official events in Norway, Sweden, Switzerland, and Slovenia—the latter of which is landing the pop princess in a bit of hot water after Slovenian events were found to contain falsified times and rankings. As of publication, Vanessa-Mae has not been implicated in any wrongdoing, but if found guilty, she will be forced to listen to her own music with a nasty white wine hangover.
Only Turkish ski jump collapses
When Stevie Nicks told us a landslide would bring it down, I highly doubt she was referring to Turkey's only ski jump facility. But her words rang incredibly prescient this week when the two-jump facility in Erzurum, Turkey, collapsed after heavy rains swept through the area. No one was seriously hurt in the slide, but officials fear the 600 million Turkish Lira (roughly $281 million) venue is beyond repair. Erzurum was preparing to host the 25th World University Games this winter, but there have been no reports thus far on plans moving forward.
Okemo introduces luxury chairlift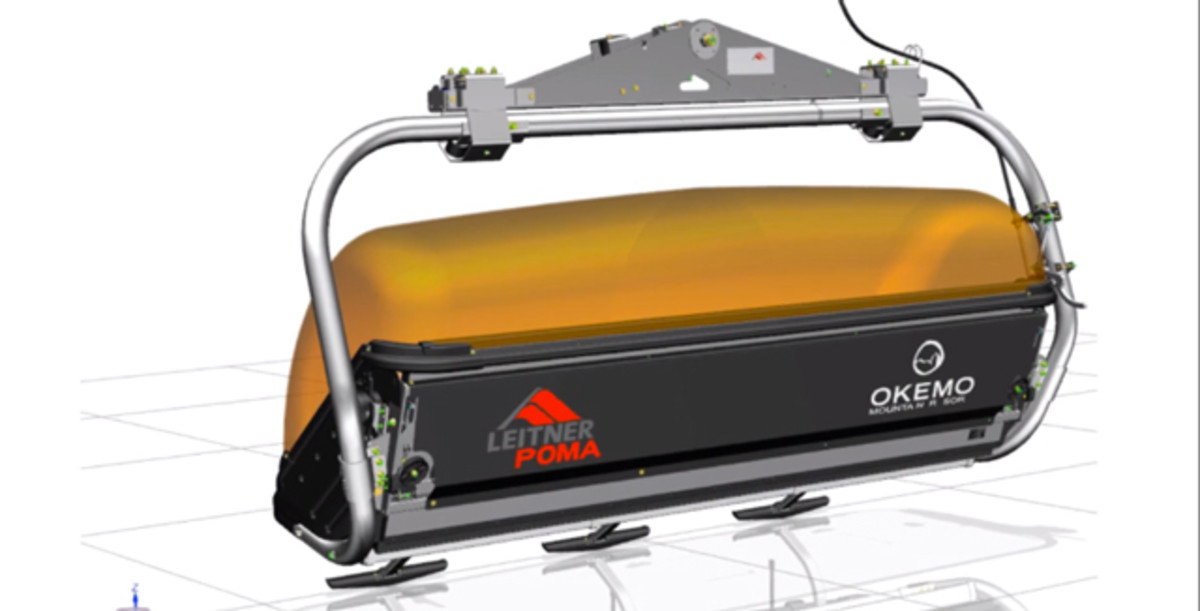 Vermont's Okemo Mountain Resort is upping the ante on people moves this year, investing in the first-ever six person, heated bubble chair. Capable of moving 1,000 feet per minute, the lift features heated seating pads and a retractable acrylic dome similar to the space ship chairlifts currently flying up Utah's Canyons Resort. The higher capacity chair should decrease lines and will offer an endless supply of toasty buns—and that's something we can all support.

Who skied it better? Brand Week
Glacier season is popping off like post-4th clearance bottle rockets, and some of our favorite brands are laying it down thick. In this week's edition of, "Who Skied it Better?", the competition of the people, 4FRNT takes a trip to Hammertown, while Saga produces its cleanest offering yet down at Mount Hood. Who ya got?
4FRNT

Saga

Australia enjoying record winter
Yes it's snowing in South America, but how about Australia, huh? A 165-centimeter base in a matter of weeks has stacked up at Falls Creek Resort in Eastern Aussieland, with more snow in the forecast. It's the Powabunga Down Unda'!
18cm of fresh dry #powder has fallen in 24hrs at #FallsCreek Base now 165cm. #Powderday @janesweather @MissSnowItAll pic.twitter.com/XeQvzTyEli

— Falls Creek Official (@fallsaustralia) July 17, 2014