Last week, NOAA is called for extraordinary precipitation on California's Sierra Nevada. This is one skier's account from the epicenter, Mammoth Mountain. Read the first installment here.
Thursday: 9 am
Oh man. With bands of snow showers still moving through, the town of Mammoth Lakes wakes up on Thursday to a major clean-up job. The streets are an empty cratered moonscape, and then the stomping grounds of saurian front-end loaders roaring and beeping and dropping their buckets with a thumping clank that shakes the ground. The shoveling in my driveway has been epic yet again, the aptness of the term "Sierra cement" keenly felt in various spasming back muscles. I got a group text from a friend today referring everyone to a guy who needed snow shovelers for $25 an hour. I'm guessing that the hourly rate will be going up.
Of course the hype machine has still been burning, with all kinds of internet outlets and fools on Instagram spraying about how great it's going to be and how you should get up here for the storm. Meanwhile the Town of Mammoth Lakes released a statement yesterday that says "Travel is not advised and residents/visitors are encouraged to stay off the streets and in their homes or accommodations." Mono County has chimed in as well: "Power failures should also be anticipated. Do not attempt to drive through moving water and stay off of frozen lakes and ponds. If the weather comes in as predicted, travel should be limited to emergencies only. People already in Mono County should stay home if at all possible, and travelers coming into Mono County should postpone their travel until the weather has passed." Epic, bro.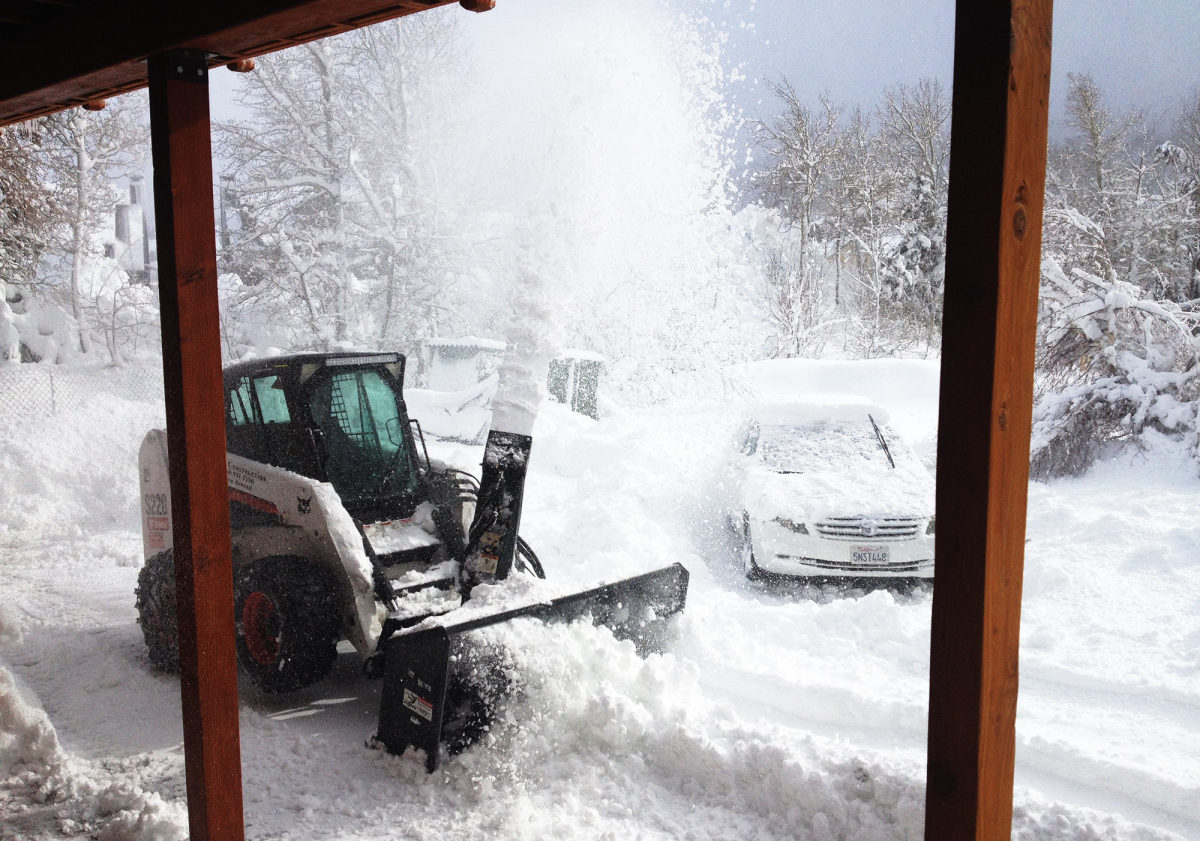 My snowfall prediction (made at the last minute with the aid of a not-so-useless-after-all government agency called NOAA) turned out to be just about right: Mammoth Mountain is reporting 50 to 84 inches of snowfall out of the first Hammering. The Ski Patrol says that about half of that fell in cooler temperatures at about 11 percent density, while the other half (which fell when it was near 32 degrees) was a whopping 20 percent water, which is about as wet as snow can be.
Tahoe seemed do have done better than expected regarding rain levels, with the resorts and mountains picking up major snowfall—83 inches total for Squaw at 8,000 feet. No doubt the highways in the area have been rather stimulating. One hapless backcountry enthusiast couple managed to trigger a slide onto the Mount Rose Highway in North Lake; one of them (and possibly their unfortunate German Shepards) was flushed but more or less unharmed, leaving the highway blocked by debris and one car trapped. It must be said: It doesn't matter what your impression of the stability is the day of or the day after a huge storm. Trying to make stability estimates right now is just an exercise is rationalizing high-risk skiing. Just don't. If you can't limit yourself to the flattest runs right now, you're a victim and you might victimize people trying to rescue you.
The observations page from the local avalanche center's page tells a similar tale about the reactiveness of the snowpack. In one of what I consider to be one of the coolest things that any resort is doing, the Mammoth Ski Patrol is sharing info about their control work with ESAC, and thus you and me. While results on the mountain don't necessarily reflect the backcountry all the time, the results up there are a great indicator.
In this case, the Eastern Sierra Avalanche Center reports regarding mid-storm control work:
"Hand charges and ski cuts producing widespread avalanche activity at low to mid mountain. 12-18 inch crowns, wind slabs, and storm slabs in sheltered locations, some running quite far, up to R4-D3; 18-22 inches of new snow early this morning, with upside-down structure (denser snow on top). Strong SW winds, loading leeward features quickly. Evidence that natural slides occurred before control efforts as well. Several patrollers caught in slides while ski cutting, no serious injuries but multiple lost skis." (my emphasis)
I'm expecting massive, possibly destructive, results from upper mountain control work if it clears tomorrow.
10 p.m.
The skies are indeed clear, there's no wind at all, and the temperature at 9000 feet is 7 degrees, 25 less than during yesterday's storm. The cement snow around town has now set up rock-hard; every berm around town is like a little glacier. Locals scuttle to preemptively shovel roofs and decks, to empty the dumpsters and stock the shelves for a town that's currently hosting many thousands of vacationers. It's going to be a race against the clock in Mammoth and Tahoe to clear as much snow as possible before the next round comes in.
Friday: 10 a.m.
Friday dawns clear and warming quickly as Mammoth kicks the clean-up from round one into high gear. In the morning I click into my touring rig in the driveway and skin over the the Sherwins, the local front country powder zone on the south side of town, to check out the snowpack.
Let's just say it's not exactly powder. In the lower open areas the snow has both a two-inch thick ice-glazed barely breakable crust. Part way up the ridge, in north facing trees, the crust continues but becomes gradually buried by dense but powder-ish wind-deposited snow. The snow quality is decent for skiing starting about halfway up, but even in this relatively benign terrain I'm getting the willies. I thread my way home through the old growth, carefully avoiding every little rollover and gaping tree well. We've still got a lot of snow to come from this cycle, and there's still a ton of hang-fire out there waiting to slide.
1 p.m.
Meanwhile the real story is up on the mountain, where avalanche control work has generated results as large as you will ever see at a ski resort, despite obvious signs of many large slides releasing during the storm. With the sunny respite, patrol is able to actually complete AC procedures on the upper mountain—extensive gunning from the 105-millimeter howitzer does produce some results, but the north half of the upper mountain remains unmoved even after being hit multiple times with 40-pound warheads right on the trigger zones. When the patrol moves on to on-snow control work with hand charges and ski cuts, a single 2-pound hand charges causes everything from Cornice Bowl north to the end of the Paranoids to fracture and release on a 12-foot-tall crown line—one the biggest avalanches ever on the mountain, triggered with a single small hand charge. It is approximately 2000 feet wide and runs 1,500 feet. A single skier hucking onto that spot with a little force would probably have set off that slide just as effectively as a 2 pound charge.
There are other major crowns scattered around the upper mountain, including a monster right under the top gondola station, and on Dave's Run where a huge overhanging cornice had formed. Another massive slide coming off Dragon's Back took out dozens of trees and ran impressively far into the flats by Chair 9.
Thousands of holiday skiers were out there having fun, most without the slightest inkling of all the destructive power around them, or just how much dangerous work the redcoats were doing to keep them alive (not to mention all the backbreaking work from lift crews, maintenance, snow removal, and all the other behind the scenes staff). And despite the high-density, upside-down snow, it was skiing well, even the bed surfaces.
The word from the Tahoe area is the same: massive avalanche control results and crowns at Squaw, Kirkwood, Alpine, and other resorts.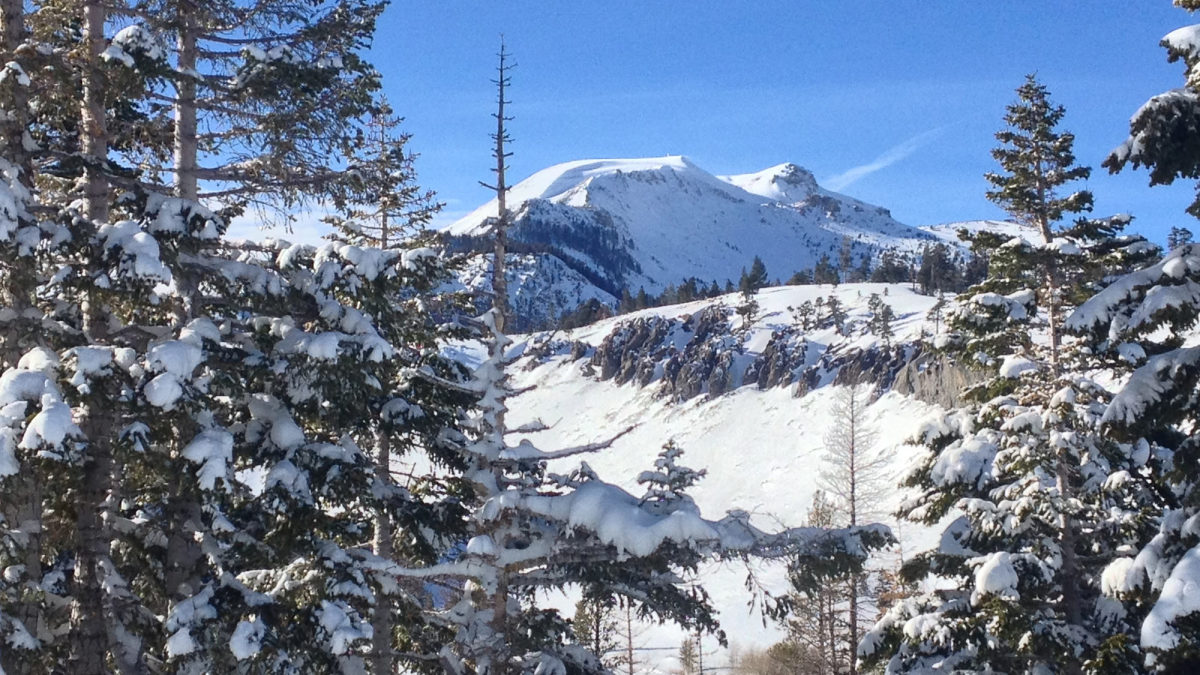 9 p.m.
At the Clocktower bar I run into a couple of shellshocked patrollers, both exhausted and muttering about "One hand charge, man, just one hand charge…"
Saturday: 10 a.m.
Snow started up again early morning, and there's about four inches of nice cold pow in town, with snow falling steadily, if not terribly hard. The forecast remains unchanged—we might get a foot of snow (say two on the mountain) before it switches to rain sometime this evening and the madness begins. The NOAA is predicting about 11 inches of water equivalent precip over the next 24 hours, with another 5 in the 24 after that, followed immediately by a colder storm that should drop a couple of feet of snow, and then another good size storm that hopefully clears out next Friday. Personally, I don't know what to expect, but it's going to be a mess here for at least a couple of days.
Assuming we still have an internet connection, stay tuned for the next installment and the rain that started a flood.