Alpine Meadows and Squaw Valley, two iconic North Tahoe ski resorts, have long held a connection. You can see one mountain from the top of the other. But for most of the ski resorts' history, Alpine and Squaw skiers were separated by two distinct ski passes and two distinct cultures. That changed in 2011 when Squaw Valley's owners, KSL Capital Partners, purchased Alpine Meadows, uniting the two mountains into one ski resort, although you still have to drive from one parking lot to the other to ski each mountain.
Tahoe skiers may not have to make that drive for much longer.
The base-to-base gondola would operate in three parts, starting at the bottom of Squaw Valley, up and over the ridge between the two mountains, and down to the bottom of Alpine Meadows.
On Monday morning, Squaw Valley Ski Holdings announced plans to build a gondola that would connect Squaw Valley to Alpine Meadows. The base-to-base gondola would operate in three parts, starting at the bottom of Squaw Valley, up and over the ridge between the two mountains, and down to the bottom of Alpine Meadows. "Connecting Squaw Valley and Alpine Meadows is something skiers and snowboarders both who live here and who visit have dreamed of for decades," says Squaw Alpine CEO Andy Wirth on the Squaw Alpine website.
The plans to connect the two ski resorts should come as no surprise to Tahoe skiers. Rumors of a lift-served connection have circulated since Squaw and Alpine merged, a move reminiscent of Whistler/Blackcomb. Troy Caldwell, who owns the land situated between the two ski areas—a 460-acre stretch known as White Wolf that includes the top of Squaw's famous chairlift, KT-22—held the key to making that connection a reality.
Monday's announcement revealed that Wirth and Caldwell reached the agreement they both had been waiting for. The new gondola will border the Western edge of Caldwell's property, right along on the boundary White Wolf shares with the undevelopable Granite Chief Wilderness Area. The local independent newspaper, Moonshine Ink, reported this morning that part of the proposed gondola would travel through U.S. Forest Service land.
The news of the gondola comes at time when Squaw Valley is pushing through controversial plans to expand their base-area village. Squaw Valley has encountered resistance from local skiers toward their development proposal. On their website, Squaw Alpine is asking for public support for the proposed gondola. Squaw Alpine will submit plans for the gondola to the U.S. Forest Service and Placer County this summer. —Julie Brown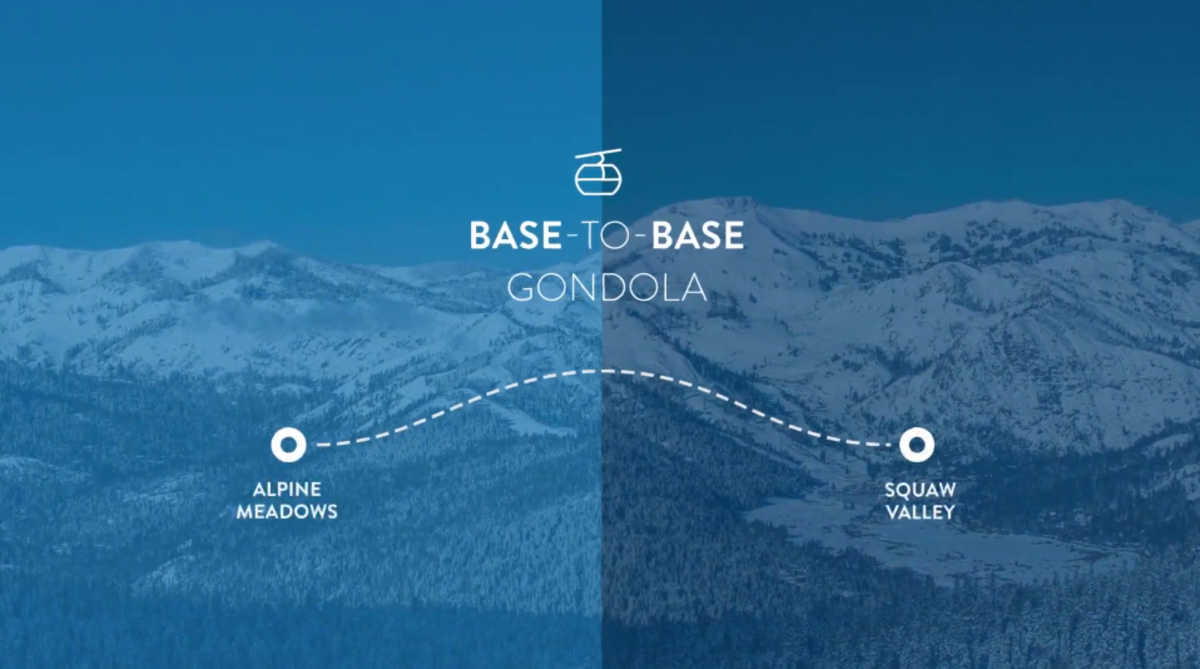 POWDER Senior Correspondent Mike Rogge caught up with Squaw Alpine CEO Andy Wirth to ask about the origins of this plan, making his dream to ski from Squaw to Alpine a reality.

POWDER: Andy, you have been talking about connecting the two mountains since Squaw and Alpine merged in 2011. Where did this idea come from?
Andy Wirth: It originates with founder of Squaw Valley Wayne Poulsen's vision decades ago. Many people have had the vision and dream since then. Advancing it to the present tense, when I came into Squaw Valley, Troy Caldwell and I sat down and we began a friendship as much as anything else.
It's quite commonly known how my predecessors did business was primarily through lawyers and litigation. I committed to Troy that I saw that approach as being abject failure. For us to work together as neighbors, I saw developing a friendship. As we developed that friendship, it'd be fair to say we became aligned in terms of a vision to connect Squaw Valley and Alpine Meadows. They're two unique and very special places. We worked toward taking that vision, that dream, of virtually all of our customers and those who preceded us, and making it a reality.
What does this mean for KT-22? It looks like one of the loading/unloading terminals is near Dead Tree.
If you know the area well, it's actually near Skunk Rock, kind of where the saddle is. That's where we're contemplating an on-load/off-loading station. That'll be along the KT ridge.
Snowpack has affected KT's ability to operate this winter. Are you concerned with the snowpack's ability to get skiers from Squaw to Alpine and back again?
The snowpack won't affect the gondola running from base to base. There will be circumstances where if we are not able to run KT-22, from the base of Squaw to the KT ridge could run as a stand-alone autonomist segment of the gondola, as can the base of Alpine to the Alpine located angle on load/off load station. Current designs are to operate those independent of each other even if we don't operate the middle section that enables the crossing.
How will construction affect the Granite Chief Wilderness Area and Five Lakes? You've been up there. It's a great hike to access McConkey's in the summer time.
KT-22 and McConkey's are on Troy's land. All of the contemplative line of construction will not affect the wilderness area.
I was a wilderness ranger in my younger years. My grandfather helped write the Wilderness Act of 1963, so I'm very, very familiar with that very important piece of legislation. All construction would be on private land, which would include our land and Troy's land with the exception of down toward Alpine Meadows, which operates on U.S. Forest Service land.
Will this make Squaw Valley/Alpine Meadows the largest ski area in the Lower 48?
It depends. This is one of those circumstances where timing is a part of construction. Frankly, it's not of great concern to us. It's not about size. It's more analogous to turn-for-turn, acre-by-acre, when Alpine Meadows and Squaw are joined. I think we have one of the preeminent ski experiences in North America. Perhaps the only other mountain resort that I can think that would compare favorably is Whistler/Blackcomb.
My next question to our community would be, "How can we best activate that intent of managing, protecting, and respecting the heritage, history, and vibe of each mountain?"
You guys have provided one lift ticket for both ski areas, one season pass, and there is free transportation between the two ski areas right now via a bus. Does this gondola really change anything?
I can tell you right now, by way of when you purchase a lift ticket or season pass, we're able to track where people ski. We know that as many as 20 to 25 percent of our customers ski both mountains on the same day. That initially struck me as high. Consider one in four of our customers on any given day ski both mountains on the same day. It's interesting to contemplate how this gondola would eliminate travel via rubber-tired vehicle between the mountains. We're quite confident, but we don't know to what extent, that this gondola will reduce traffic on Squaw Valley and Alpine Meadows roads. It's a little too soon to estimate how much.
I'm sure it'll change how people ski the mountains. I'm actually up in Whistler right now at my mother-in-law's house in Vancouver. There are people who have been skiing Whistler/Blackcomb since the '60s and '70s and '80s. There are families who are exclusively Whistler households and those who are exclusively Blackcomb. The vast majority ski both mountains.
In our case, it'll change how people ski and view our mountains. How that evolves is subject to time.
How much input did you get from the local community on this? Do you plan on getting the communities surrounding Olympic Valley and Alpine Meadows to help with the planning of this project?
We recognize that we are very much at the beginning stages of advancing this concept. We will be seeking with this announcement a great deal of community input and involvement. Constructive input and involvement is something we'll be seeking immediately.
After this gondola goes in, what's next for Squaw Valley and Alpine Meadows?
I couldn't answer that question at this point. What's next is to continue to improve the snow service levels. The ongoing effort is to work on the quality of the product, quality of the service, and the quality of the experience.
I took to Twitter and Facebook to allow a few POWDER readers to ask you questions in light of this morning's announcement. Robert Cummings III via Facebook asks: What new G.N.A.R. bonus points do you see developing as a result of this project?
[laughs] Tell him that is the best, most relevant question today. Far be it from me to assign G.N.A.R. points. I will leave that up to Dr. Gaffney and J.T. Holmes and others. I would no sooner try and scribe G.N.A.R. points than jump off a cliff. Well, actually, I would jump off a cliff as long as I had a canopy on.
That's not my place. I will respectfully yield that calculus to the founders of G.N.A.R.
Josh Mishell via Twitter asks: Are we going to see more European-style connected resorts? How hard is it to set up these partnerships?
It's possible to see more European-style connections. I mentioned this in an interview about four years ago: what you will see, and they may not be European-style connections, is to continue to see the propagation of more alliances, as is the case with the Mountain Collective. You have to understand the regulatory environmental infrastructure in the West from the European continent is materially different. Europe enables those types of connections to take place much more so than private companies seek or don't seek. Each situation in the Western United States is so different from property owners to lease holds to regulatory environmental requirements, state governments, federal governments, etc…It's hard for me to outguess whether or not their may be more of this.
Connor Davis via Twitter asks: What's the biggest downside to this development?
That question might have been asked of Whistler/Blackcomb. There are still people who choose to ski one ski area of the other. We're students of history. We respect the legacies of each mountain.
There might be an initial response that the connection might compromise the unique vibe, feel, legacy, heritage, and history of each mountain. I expect we'll hear that from our communities and customers. My next question to our community would be, "How can we best activate that intent of managing, protecting, and respecting the heritage, history, and vibe of each mountain?"
I'm anxious to hear from our community and our customers what they might see the downsides being so we might be able to address if not mitigate those.
Click here to read more about the controversy surrounding Squaw Valley's plans to develop.