Editor's Note: POWDER contributors Griffin Post and Drew Tabke just landed in Santiago, Chile. Their plan: head south and shred whatever they can find. (Sound familiar? Road tripping through Chile and Argentina in a van in search of skiing is becoming a thing.) Check back on the regular for live dispatches from South America's winter.
Wednesday, September 17
We are stuck. Again. What started as a few flurries this morning turned into a raging blizzard and it's becoming apparent our van is not making it to our theoretical destination. That really doesn't matter though; we have food, all our ski gear and at least enough Escudos to get us through the rest of the afternoon. Plus, the storm is supposed to break sometime during the night. All in all, we're in a pretty good situation: stuck on the side of a Chilean road, in a snowstorm, poised for one more day of shredding powder.
While the wind relented sometime in the middle of the night, I hesitantly open the van door at first light to check the weather. Clear and cold, perhaps one of the best mornings of the trip. After a slower start, proportionate to the cold temps, we start making our way toward the lower slopes of Volcan San José. The fresh coat of paint gives the mountains that mid-winter look despite being nearly spring. The snow is light, and our skin track trenches several inches deep, a sure sign of a good day to come. As the snow glistens like a field of Swarovskis in the still mountain air, I can't help but think how perfect the day is lining up.
And then the clouds begin to roll in.
High, light clouds at first, but then thicker ones as the day rolls on. What was once a bright, sun-soaked landscape with the nuances of every detail highlighted, is now a white slate. But, again, it doesn't matter. We push on, slowly making our way toward a patchwork line, which consists of a variety of open fields and tight chokes. Not a couloir but not an open face either.
Toward the top, the light's so flat that it's difficult to determine the slope angle when breaking trail. The snow, however, is still holding up, so in the end it's more of an inconvenience than a day-ender. It's about as dark as it can be by the time we drop in, but the snow's still good, the company great, and, after all, it's September.
We milk the several-thousand foot powder run, in no real rush to get anywhere. The unspoken last run of the trip, we savor each turn just a little more as we drop back down to the valley. It's not the best run of the trip, but the turns still surpass the threshold of what qualifies for a good run in September.
What seemingly had the potential of an amazing day, turned out to be sort of a bust. However, in Chile, one doesn't quantify success by the amount of quality turns, but rather the adventure, and idiosyncrasies, which go along with finding turns in the middle of the summer. While we may have gotten lost, sick, and stuck, dealt with broken chains, bindings, and stoves, eaten extremely questionable meat, and embraced pantless men, it wouldn't have been much of a trip without that stuff. Hell, if it were easy, everyone would be doing it.
Tuesday, September 9
After a couple days spent waiting out conditions and battling a serious case of FOMO, we split from Nevados de Chillan and headed towards more favorable weather patterns in the mountains near Santiago—or so we hoped. We have no idea what the weather or snow is actually doing, but driving into the mountains on a rugged dirt road feels just right.
We have a destination in mind…sort of. Drew's been out here before and thinks there's some pretty good access from the road. Climbing higher and higher, we finally reach a large lake, and for the first time, the road grants us sweeping views of the terrain in the area. Rising straight up from the lake, the mountains are massive, offering descents that we figure are upwards of 5,000 feet of consistent fall-line powder. There are options for the rest of our trip, and we're the only ones out there.
Variety aside, it's difficult to ignore the massive face running from one of the ridges of the more predominant peaks. We all agree that if conditions line up, there's no reason not to go after that prize. It's not a matter of chasing after trophies, but rather taking advantage of the fickle conditions of the Andes.
An early start and a several-hour struggle around the shore of the lake puts into perspective the scale that we're dealing with. Slowly, we make process and arrive at the terminal moraine of the face. The snow is strangely light and not wind effected for the Andes, and the assessments that we make as we hike gives us confidence in the snowpack. It's not until the final push near the top that we're forced to back out due to snow depth and terrain. There's a little disappointment of not being able to top out, but we all agree it will be a footnote to the run we're about to have.
Dropping in, I start laughing by the third turn. The snow is dry and bottomless, which seems uncharacteristic for the terrain we're dealing with. With sweeping views looking down toward the lake and the Southern Andes, it's like shredding into a postcard. Who knows, maybe the snow's like this all the time here, but somehow I don't think so.
Thursday, September 4, 2014
In a winter that has been plagued by low snowfall, high pressure and unseasonably warm temps, Nevados de Chillan seems to be the one glimpse of normalcy in an otherwise dire winter in Chile. Several hundred kilometers south of Santiago, Chillan has benefited from storms following a more southern track and, despite temps still being above average, the upper mountain has continued to build a deep snowpack.
So, it was with little hesitation that we made a beeline from the Cajón to the south, in hopes of catching a storm that was forecasted to drop more than a foot of snow on the upper mountain. Good base + new snow = good times, ¿No? Well, as anyone who has chased snow before knows, things rarely are as straightforward as showing up, clicking in, and shredding powder.
We skied and we eyed amazing terrain, but the actual skiing of the amazing terrain never happened. Our vision of our trip—to roll in, ski powder for three days, and roll out—wasn't realized thanks to high winds and a storm that was a bit more potent than forecasted. The day we had touring around the resort before the storm hit still justified the drive, even if we were skiing perfect corn instead of perfect powder. Make no mistake, someone is going to get it good once this next system (and the next one after that) rolls though leaving the mountain caked, it just wont be us.
Spirits are still high, however, as the skiing we got was still far better than most peoples' September skiing. The terrain around Chillan looks like a skier's daydream and even though we didn't get it this go around, it's not going anywhere. What would an adventure be if the seeds of future adventures weren't planted along the way? Plus, getting shut down in one place makes it that much more likely that you're going to get it in the next place…or at least I think that's how it works.
Monday, September 1, 2014
Two things have happened in the past several days that I'll likely remember for the rest of my life: skiing a 2,500-foot couloir in near-perfect August powder and getting enthusiastically hugged by a Chilean man wearing nothing but a down jacket and boxer-briefs.
Let me elaborate…
After picking up skier, mountaineer, and filmmaker Noah Howell, and having an equally hectic day driving around Santiago in our eye-sore of a van that we've named Herbie (pronounced the Chilean way, with a silent "H"), we headed east for the cordillera. Cajón del Maipo cuts deep into the Andes and the rough dirt road is maintained (well, sort of), year round due to an ongoing hydrological project at the end of the road. While rugged, the road provides access to terrain that envies any roadside access available in North America.
Driving up the road, reaching the snowline for the first time, I could feel the anticipation of scratching an itch that's been nagging me all summer as we checked out the terrain that's seemingly a quick tour and hike away.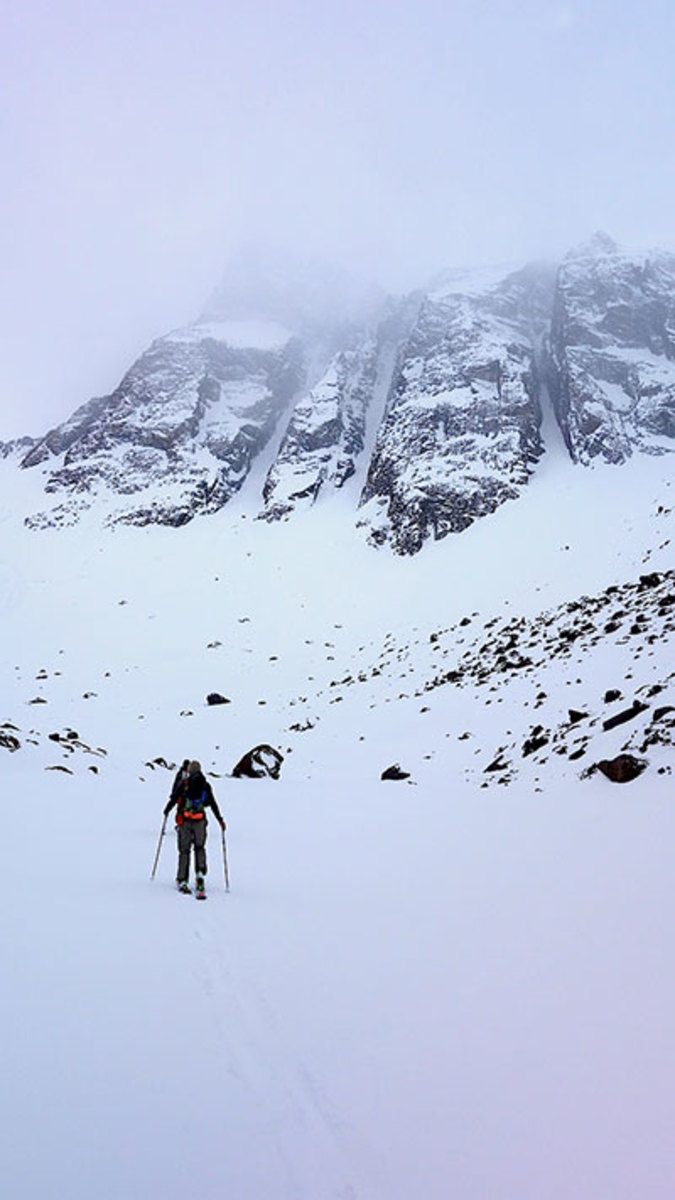 Maybe it's the travel or perhaps our bodies are unaccustomed to the colder temps, either way we don't get off to an exactly blistering start the next morning. That's okay though, because it's only going to be "about four hours," we say, as we began up the muddy road that looks squarely at three massive couloirs. Six hours later we finally top out in the central couloir, completely humbled by the scale of the mountains.
That first powder turn was as sweet as they come: light, steep, and at the end of August. We cruise down the couloir that varies in width from tip-to-tail at the top, to wide enough to set a GS course in near the bottom, leap frogging each other the entire way. It's easily some of the best skiing I've ever had in Chile and the combination of snow, location, and timing might make it one of the best couloirs out there. As the excitement from our first line of the trip begins to fade, we immediately begin to discuss what's next, and in the twilight that's settling in, some ski-in-ski-out hot springs up the way sound pretty good.
Any adventure in Chile is accompanied by a good bit of uncertainty: accurate information is limited, distances are roughly estimated, and, more often than not, some situation that one doesn't even account for drastically changes the plan. While the hot springs were indeed spectacular—turquoise pools carved into a mountainside overlooking ski terrain one could dream about for days—the storm that rolled into our camp in the middle of the night stifled any ski plans. Worried about getting Herbie out of the storm before we got really stuck, we packed up our tent and made a break for it first thing in the morning.
As the snow stacked up we stressed about traction, wind drifts, and if we remembered to turn off the van's lights the afternoon before. The one thing that never crossed our minds was if there'd be another truck stuck in the middle of the road, occupied by three drunk Chileans, two of them missing pants and shoes. One learns to expect the unexpected in Chile.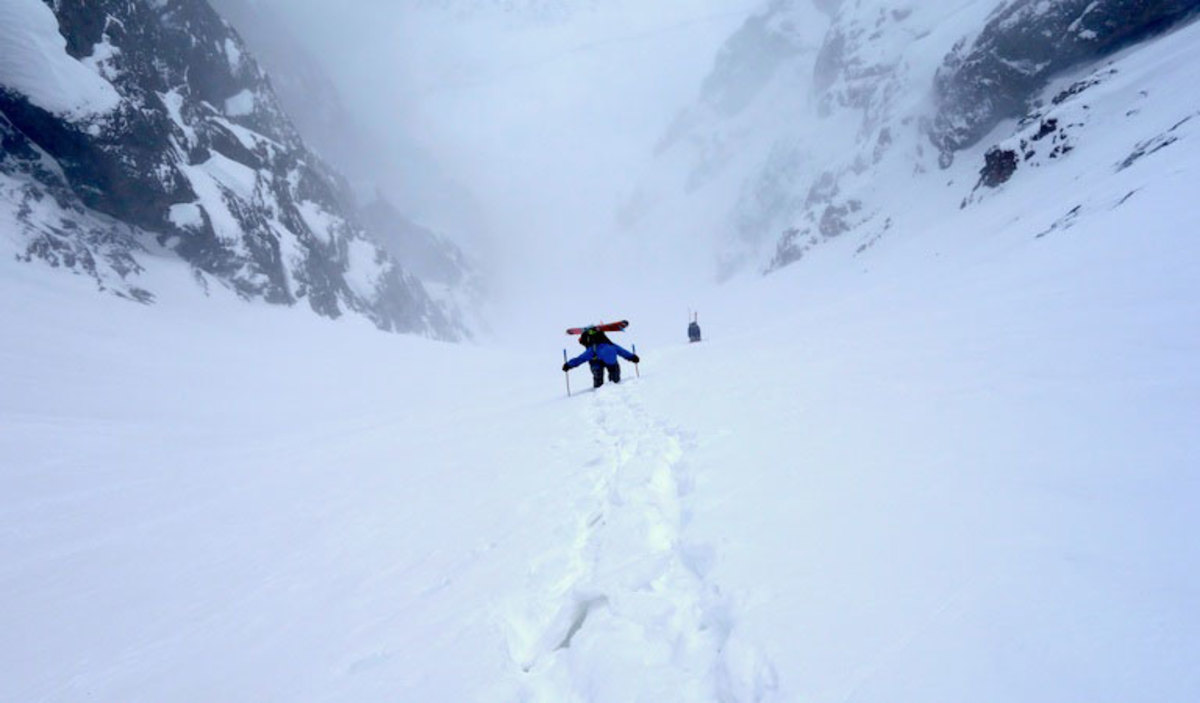 Our new friends were having quite the morning. After getting stormed out of their camp in the middle of the night and drenching their jeans and shoes, they'd resigned to their fate of being trapped in the storm and decided they may as well finish off their beers and huckleberry vodka. Drunk and without shovels or chains, our amigos watched as we spent the better part of the next three hours getting them, and us, back to the main road. Occasionally offering us some of their hooch for our hard work, we finally accepted some beers once we made it back to the dirt.
After some hugs, we offered some quick winter travel tips to our new friends and started working our way south, to Nevados de Chillán, where hopefully they'll be some more memorable skiing—and not as many pantless Chileans—in our future.
Wednesday, August 27, 2014
Our rental van is wedged, floor to ceiling, in a parking garage. While we knew we were pushing the height limits when we pulled into the underground garage in downtown Santiago, Chile, we are now paying the price and having to reverse out of the corkscrew structure. This mishap is the culmination of several hours or running around one of the most congested cities in South America, trying to pull together last minute provisions for a several week tour through the Andes.
To make matters worse, err, more hilarious, our van is tattooed with the battle cry: Toca la bocina si te gusta el doggy style, or: "Honk if you like it doggy style," in giant letters across the back. I'm not sure which marketing genius came up with the idea of putting that phrase on a rental car, but we can't help but laugh every time we hear a car horn.
Accompanying me through theses trials is fellow gringo Drew Tabke, who is no stranger to the nuances of making things happen in a country that seems to be the definition of Murphy's Law. Drew is a seasoned Chilean traveler with the right mix of humor, resourcefulness, and tenacity to make things happen in a place where even the most pedestrian of tasks become unnecessarily complicated. Plus, he speaks fluent Spanish, something not to be overlooked.
The winter in Chile hasn't exactly been off the charts. Despite a strong start, a month long high-pressure had many resorts sweating it out, questioning if they'd be able to make it to September. That all changed last weekend when a more powerful than forecasted storm dropped close to three feet of snow in parts of the Andes. With more snow forecasted through the week, things seem to be on the up and up for a winter that most people had nearly written off.
We'll hopefully be in the mountains in less than 24 hours, camping in a remote backcountry area that's supposedly holding good snow: untouched August snow easily justifying any hassle that comes along with finding powder. For now, however, it's back to getting out of this parking garage and the jigsaw puzzle of putting together a ski trip in Chile, a puzzle that always seems to be missing at least one piece.
Stay tuned…