WORDS: Erin English
On the afternoon of September 5, Crested Butte Mountain Resort's base area—normally a busy place—was a mob scene. Hundreds of people swilling beer were unloading off giant Bud Light charter buses, signing liability waivers, and scoping out the goods, all the while trying to manage a buzz that had been going strong since mid-morning when they loaded the plane to "Whatever, USA."
Outside Camp 4 Coffee, a muscley dude in a tank top yelled into his phone: "Bro! It's crazy, wherever I go, I walk into one building and out of another and they give me a beer!" He punctuated his sentence with a sip from his frosty beverage.
And so kicked off an epic three-day event, "Whatever, USA," put on by the marketing team at Anheuser-Busch.
Crested Butte, a great ski town with great parties and the winner of last year's Ski Town Throwdown, agonized excessively about this shindig, mostly because the cat came out of the bag to residents just weeks before the bash was to begin. Once the town council gave the official green light and asked Bud Light to pay not just $250,000 but $500,000 to hand over the keys to their town, residents waited anxiously—some with an unexplainable sense of doom—for Whatever to happen. But when all was said and done, it turned out to be the greatest ski town party ever.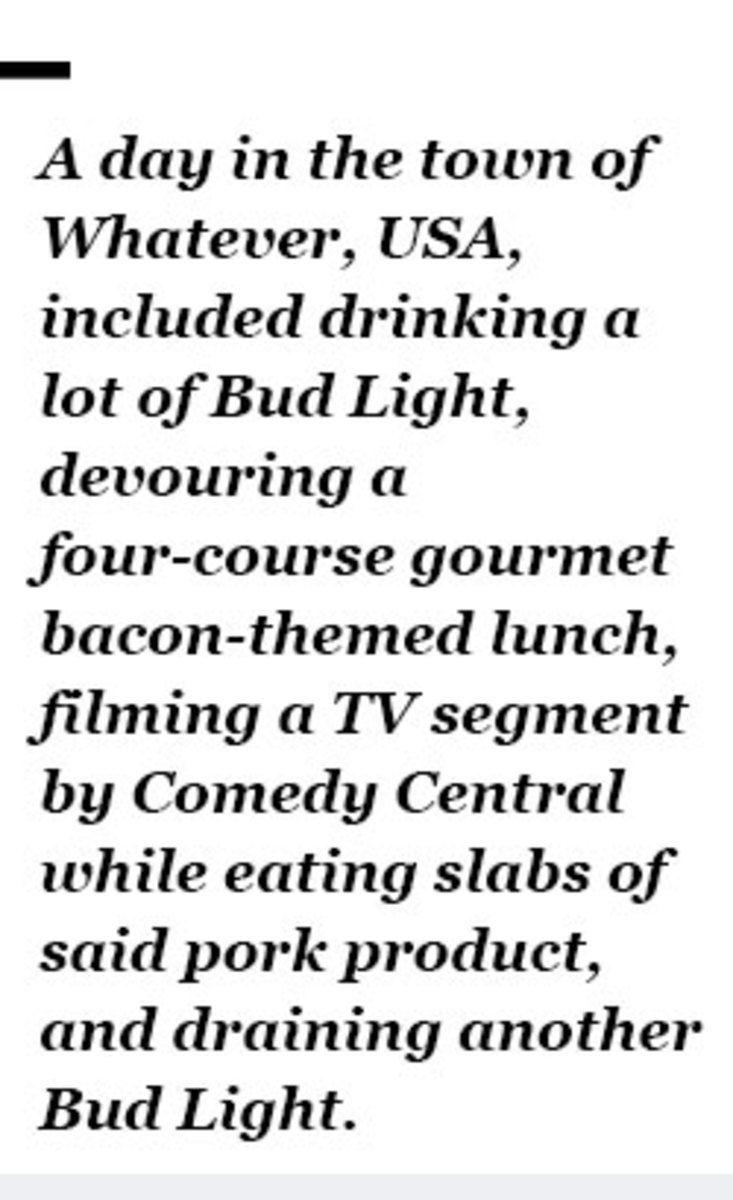 Downtown Crested Butte was transformed into a Bud Light paradise where live music thumped all day long and beer and Lime-a-Ritas flowed freely. With five blocks of Elk Avenue painted entirely in blue, elaborate sound stages constructed, businesses renamed, and every bar in town outfitted with Bud Light taps, the historic district became virtually unrecognizable for roughly 72 hours. Media crews swarmed the town and drones buzzed overhead. The town's namesake mountain seemed to be the only thing that remained untouched.
Anheuser-Busch designed the party for 500 contest winners and their plus-ones, who were flown in from all over the U.S., and for several thousand residents of Crested Butte, Colorado. The goal was to create a virtual playground for adults, capturing curiosity, child-like fun, creativity, and spontaneity by filming for an upcoming beer commercial.
A day in the town of Whatever, USA, included drinking a lot of Bud Light, devouring a four-course gourmet bacon-themed lunch, filming a TV segment by Comedy Central while eating slabs of said pork product, and draining another Bud Light. Oh, and maybe making out with someone you just met, taking hilarious selfies in front of a giant blue plastic gorilla, and getting down to rapper Lil John with a few hundred of your new best friends. Bonus: everything was free.
A yet-uncalculated boost of revenue came in to the town of Crested Butte during one of the slower times leading up until ski season. A portion of residents complained about selling out to a corporate giant, the secrecy of the planning process, and the fact that there was an unforeseen limit on locals' entry wristbands. But the picketers that people expected to appear next to the several-stories-high beer can at the event entrance never did.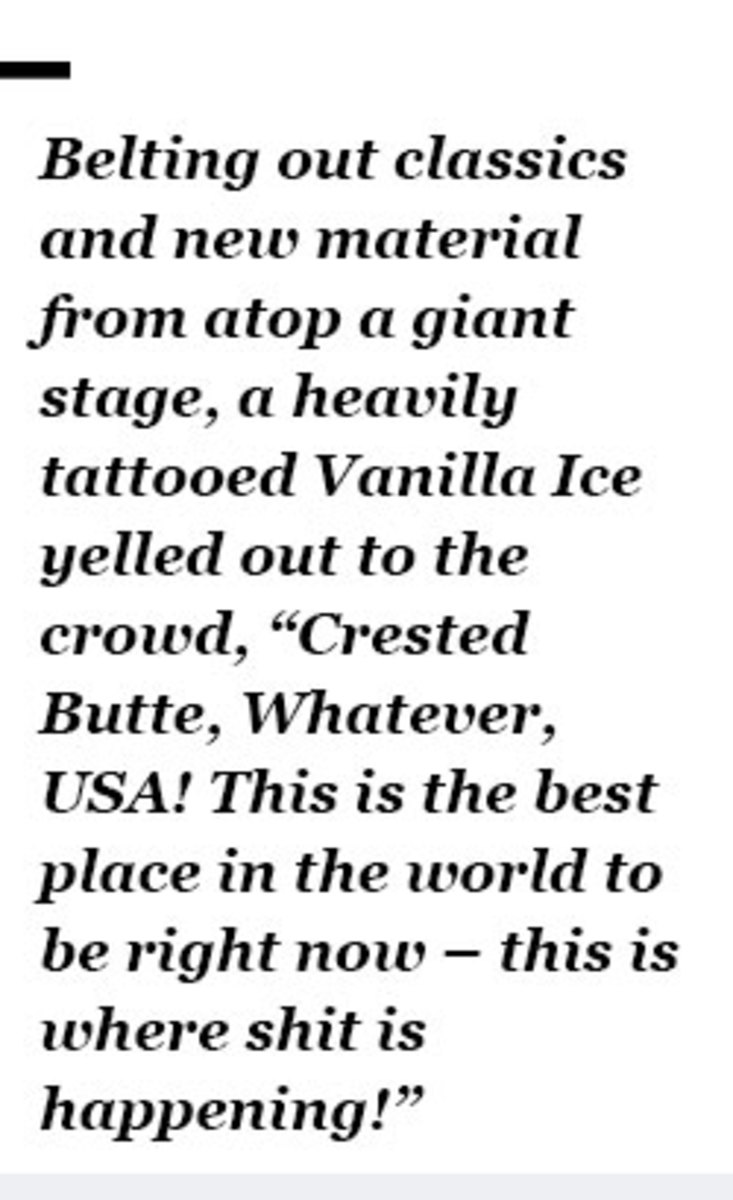 Taking cues from Disneyland, Las Vegas, and MTV's Spring Break, Whatever town roused perma-grins on adults of all ages, and not just because of the high-altitude beer buzz. Surprise after surprise unfurled at a dizzying pace. Vanilla Ice showed up via ice-cream truck and handed out cones to a throng of cheering fans and broadband temporarily maxxed out because so many people were trying to upload their snaps of the rapper to social media at once. A local commented incredulously, "He just doesn't age!"
Belting out classics and new material from atop a giant stage, a heavily tattooed Vanilla Ice yelled out to the crowd, "Crested Butte, Whatever, USA! This is the best place in the world to be right now—this is where shit is happening!"
"[The spontaneity of the event] is like getting the timing of a rope drop; sometimes when you are really lucky you get the goods," said Crested Butte photographer Alison White, whose face registered pure delight as she bounded down "Main Street" alongside Internet sensation and Prancercise creator Joanna Rohrback.
On Saturday evening, locals were still clamoring for wristbands for the final exclusive concert to cap off the event. Some people hawked the bracelets on Craigslist and Facebook.
A local bartender supplied with just a "worker" entry wristband got creative (and perhaps desperate) by snipping off the tail ends of a half dozen customers' blue all-access wristbands and taping them together into a ridiculous-looking bracelet. He hoped that a flash of blue would get him past security guards and into the '70s themed soiree headlined by K.C. and the Sunshine Band (Bud Light supplied racks of polyester clothes and encouraged participants to get a retro haircut at the Whatever town salon for the event, which many did).
One thing was for certain: some time past midnight, heading into day three, the effects of a beer-fueled weekend were clearly evident: foul-smelling farts cleared the dance floor; contest winners sloppily mashing their lips together; a woman's floral panties were exposed as her S.O. for the night caressed her barely-there lace mini dress.
The next morning, as crews dismantled Whatever and swept the streets clear of the omnipresent blue bottles, 30-year Crested Butte resident Rob Quint sat on the bench in front of his house, barefoot and wrapped in a plaid bathrobe, recapping the weekend's events with a friend.
"It was like Shangri-La," Quint said, soaking up the sunshine on a bluebird day while sipping a cup of coffee. "I had a wonderful weekend. I went someplace completely different and still came home to my own bed."
Quint said he slept like a rock the night before, and planned to take his dog for a hike later in the day. When asked, "What's next after 'Whatever'?" Quint didn't hesitate to respond:
"Winter."