By Bruce Fessenden | Photos by Eric Perlman
In celebration of POWDER's 45th Anniversary, we are releasing select stories from every volume. This story originally published in POWDER's December 1977 issue (Volume 6, Issue 4).
Life at Squaw Valley certainly hasn't readied me or my wife, Christina, for the high-paced Hades of urban Mexico. Our taxi fights through the incredibly dense Mexico City traffic all the way across town and then gets lost. I guess alpinism isn't real popular down here. Nobody seems to know where the Mexican Alpine Club office is located. We ask a banana vendor for directions; he gesticulates in one direction, someone else points the exact opposite way. Our taxi motors at a breakneck clip, tires screeching madly, up alleyways, down one-way streets the wrong way, sudden stops with honking horns, frantic gestures, obscenities. Finally, by merest chance, we find our address.
Our plan is to climb and ski three large Mexican volcanoes, an idea appealing to us creatures of fantasy, upholders of the outrageous, the unique, the truly imaginative. But, in researching the trip, I came up with very little information on these mountains. So, as most California skiers sat around twiddling their thumbs, victimized by the drought, we headed south filled with high hopes, but with our itinerary still vague. Perhaps this Sergio Zambrana, president of the Mexican Alpine Club, can fill in some of the missing pieces. Initially, however. Sergio, a handsome man with sensitive intelligent eyes is somewhat reticent, hesitant. Why, I wonder? Maybe it's Christina; she's a petite lovely blonde but hardly the type to climb and ski 19,000-foot peaks. Turns out, though, it's our timing. Sergio explains that Mexico gets its weather in the summer; the dry snow will be compacted and icy, thus dangerous to ski.
At this point the door explodes open; our companions, Eric and Steve, stride into the room radiating virile energy. More questions get asked, Sergio forced us to repeat much of what he has told me, and things are still not coming together. Then I notice a little medallion, which served as Sergio's keychain, hanging from his pocket. I nudge Steve—he gawks—Sergio pulls the medallion out. What a coincidence! The medallion is a bronze skier in a tuck, a speed-skier going for the world's record in the Flying Kilometer run every summer on the alpine glaciers of Cervinia, Italy. And speed-skiing is Steve McKinney's cup of tea, his livelihood; he has finished first or second every year since 1974. Turns out Sergio had been in Italy last year watching the trials where Steve had taken second place. When Sergio realized who he was dealing with, his whole act changes. He figures anyone who can ski 119 mph is capable of getting down these volcanoes. No more are we viewed as a group of looney gringos. The tang of excitement is in the air. We spend the afternoon discussing our adventure, swapping tales, back-slapping. By the time we step out the door, we have been given the treatment; as if we are foreign dignitaries, our trip is planned out down to the smallest detail by Sergio and his friends.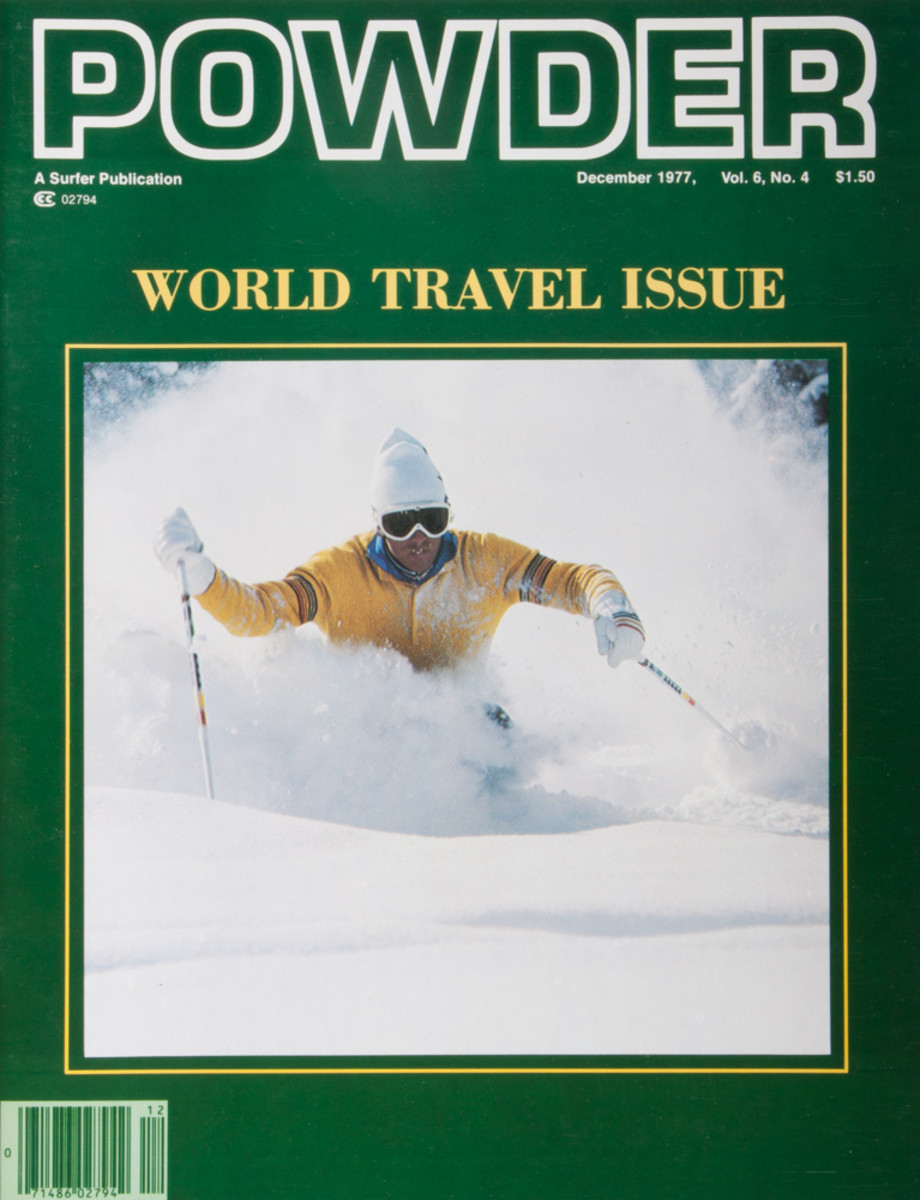 First, we rent a VW bus to avoid traveling on the Mexican public bus lines with our skis, ski boots, climbing boots, ice axes, crampons, ropes, and juniors for crevasse rescue, tents, cooking gear, sleeping bags, parkas, food, goggles, gloves, etc. We load up our vehicle and wait for Eric's girlfriend, Bobbi, who's gone off for some necessary provisions, like algae powder, algae cookies, bee pollen, honey, and protein powder. I'm really looking forward to algae soup after a hard day's hike up to some wind-swept camp at 16,000 feet—I am strictly a meat-and-potatoes man. Bobbi and Eric, on the other hand, are really into their health food, a preference in keeping with a lifestyle which encompasses spiritual growth through yoga and meditation all designed to foster high energy and enhanced awareness. In Eric's case, this goal has been literally augmented by a quest after ever-more outrageous stunts, which by their very nature are a guaranteed rush. Skiing 19,000-foot volcanoes falls loosely in this category. In the last few years, he has undergone a bit of a change; the long hair has been cut and the spiritual community supplanted by a career as a filmmaker/journalist; however the core idea of "high energy" remains. Lately, he's been active in the Save the Whales movement having written many articles toward this end and is in the process of making a feature-length movie on the annual whale migration. After we returned from Mexico, Eric flew to Japan for Whale Week of celebration and festivity which culminated in him skiing Mount Fuji with the Japanese madman who skied Everest, Yuichiro Miura.
Steve burns with a cold fire; reflective and keenly observant, he is a charter member of the Aquarian Age. I remember him boarding the plane, long blonde hair and wearing a blue silk vest with embroidered dragons, ski boots slung over his shoulder with a paperback "Beyond God: Chinese Taoist mysticism" stuffed inside.
Sweet, innocent Boni, a beneficent spirit who profits greatly from the hours of yoga she does daily, is currently bouncing around the planet with Eric as he follows his whales. She had been looking for an introduction into the currently popular "wilderness experience" movement when the opportunity to join us arose. An impressive introduction she's in for the third, fifth, and seventh highest peaks of North America. Another blonde, with more enthusiasm than a pack of dolphins, Bobbi is our breath of fresh air in times of need.
Steve's accompaniment is somewhat unexpected. He was meditating in Marin County when suddenly he got the revelation that he really should be in Mexico, so he calls me at 2 am, just four-and-a-half hours before our flight leaves. The ensuing hasty preparations result in him forgetting some very necessary items of equipment. He definitely adds spice to our eclectic band—as speed-skier extraordinaire and hand-glider enthusiast, he mixes well with the basic pattern of our group energies. Steve burns with a cold fire; reflective and keenly observant, he is a charter member of the Aquarian Age. I remember him boarding the plane, long blonde hair and wearing a blue silk vest with embroidered dragons, ski boots slung over his shoulder with a paperback "Beyond God: Chinese Taoist mysticism" stuffed inside.
Then there's me. Eric always asks a few famous personages to join his expeditions, and they refuse, so then he asks me. I've been skiing for 25 years, too old to race seriously, not really attracted to the flash of hot-dogging, so I get my kicks doing ski descents of mountains that are difficult, intriguing, or hold good skiing—like 19,000-foot volcanoes in Mexico. I go largely unnoticed by the world as I spend most of my time in places unknown or uninteresting to the general populace.
Our first two targets are but 50 miles outside of Mexico City—the two volcanos, Popocatepetl (17,887 feet) and Iztaccihuatl (17,334 feet), are situated adjacent to each other. These two dominate the region, rising high above the surrounding plain, their snowy summits visible for hundreds of miles. They have quite dissimilar demographic, Popo being a perfect volcanic cone with a deep, ragged crater, and a long, undulating ridge marked by glaciers and high rock buttresses. Indian legend has labeled Ixta the "sleeping princess," a logical designation as from some angles the junta's resemblance to a reclining women is uncanny. Only a few miles away, proud and fierce, Popo stands guard over the princess, a rejected suitor waiting for a second chance at his one true love.
Finally underway, we motor through the tangles and confusing traffic out of town toward the village of Amecameca, tucked in against the base of our two volcanoes. What a perfect slice of rural Mexico this town is! Mexico City swarms with tourists but nobody goes to these offbeat out-of-the-way places. All of the ingredients are here: the cobblestone streets, whitewashed adobe, burros laden with firewood, produce, or cornstalks, inquisitive children, and overlooking all the inevitable centuries old, twin-spired Catholic church. In the center of town is a marketplace, the economic hub of the whole region. This marketplace is quite a sigh: great heaps of varied produce, acres of makeshift stalls with colored fabric for roofing billowing in the breeze swarms of Mexican and Indian children, the smell of beans and cornmeal cooking. This is a long way from the local Safeway, but with the warm sun, the wind, the clouds, and those looking volcanoes behind us, it looks fine to me. We stock up on a week's worth of provisions, concentrating on beans, tortillas, avocados, tomatoes, and the excellent fruit–like papayas and mangoes the size of watermelons.
Then we motor up a good road to its end at Tlamacas, a stone refugio situated at the base of Popo, elevation of 12,800 feet. The place is large enough to house an army so plush, you wonder why the local villagers don't move up here. As an aid in forming a mental picture of this Sheraton in the clouds, try a 30-foot-high beamed ceiling with walls and floor of stone and five fireplaces all large enough to walk into. Perhaps a medieval Scottish castle or, as Steve suggests, the crown court of a lost civilization. Too bad nobody ever uses the place.
Twilight arrives and the golden light of the hour lends this area a mythic quality, the location of our dreams, where our hopes and idea will finally be realized. Tlamacas and its environs is truly one of the most beautiful spots I have ever seen with the idyllic forests below and the mighty cone of black rock and ice above. I sit on a hillock and gaze upward looking for the best skiing. The wind comes up; I am touched by the austere setting so poignant, graceful. In moments likes these, one encounters a sense of tragedy and sadness. I am filled with the essence of this mountain, filled with the wind and the stars, the sunlight, the volcanic soils, and the grass filled with the vital substance that animates this hallowed place, lonely and essential. My thoughts and feelings are quiet without motion or goal I am free.
But we have to wait, as Mother Nature throws a monkey-wrench into our plans. A brief storm hits during the night, leaving a few inches of snow; and, although the sky clears by morning, a howling wind remains. Moved by a restless spirit, Eric and I bundle up and head outside, intent on investigating the hits higher on the mountain. Throughout our preparations, Steve snores contentedly, oblivious to our efforts. With cheeks reddening and noses running in the Arctic blasts, we trudge up the sandy trail reaching the higher hut quickly. This hut is as miserable as Tlamacas, a shabby tin hovel located in the middle of a shit-pile of litter and buffeted by hurricane force winds. We had discussed moving our base of operations up here but now with first hand experience, we scratch the idea. The view from here is awesome despite the winds, crystal clear visibility from horizon to horizon. Above us, like some huge dome is the wind-scoured icy headwall, the summit blocked from view by a lenticular cloud. A few hundred feet below, the hut lies in the gully which hopefully will mark the end of our ski descent.
Most climbers would feel lost up on these icy glaciated slopes without crampons and ice aces, but Steve, who mistakenly left these items back home in Squaw Valley, is unconcerned. Though the years he has worked out a very close relationship with this ski equipment and is satisfied what will be all that is necessary for the job at hand.
There is no place for a picnic so we head down. Soon, however the weather changes; the tropical sun dents the frigid morning air, the wind winds down from drag-race velocity to merely an occasional buffering gust. We shed parkas and slog down and emerge from under the melting powder. The lo!… Two figures approach… Recognizable yes, Steve and Bobbi. Steve finally manages to stumble out and ran into Bobbi and the two of them headed mountain ward. Now Steve just happened to bring his skis and boots along; no big plans, he says, just a turn or two at snowline. Yeah, sure Steve, anything you say.
As usual, Steve engages in the unexpected. He explains that his legs are a bit stiff from the days of inactivity and need some stretching. So he stretches out past the hit Eric and I visited earlier that day right up the mountain with Bobbi tagging along behind. Such textbook mountaineering, a start at noon for a climb of over 5,000 vertical feet on a mountain close to 18,000-feet high. Most climbers would feel lost up on these icy glaciated slopes without crampons and ice aces, but Steve, who mistakenly left these items back home in Squaw Valley, is unconcerned. Though the years he has worked out a very close relationship with this ski equipment and is satisfied what will be all that is necessary for the job at hand.
From Tlamacas, Eric and I see the two dots disappear into the clouds, which have been transmuted from boiling maelstroms to fluffy white cats. We read, eat, sun, eat, sleep, eat, wait, and eat; and finally around sunset they return. Bobbi went up a short distance, but the ice proved to be too much for her, so she waited at some rocks for Steve to return. Steve had gotten close to the summit but was forces to stop by the whiteout conditions for fear of getting lost. So he put on his skis and meandered down the 3,500 vertical feet in two or three minutes making maybe 10 turns with a mile of high-speed tavern in between each one. He called the run the greatest of his life, a statement not to be taken lightly from someone who's made many 115 mph-plus runs in Europe. He adds that, in places, conditions were so icy he couldn't stop and that whenever he hit a patch of powder, he'd do a deliberate nosedive so he could rest, as skiing at such high elevation is breathlessly hard work. I worry about the ice, as Steve is a very good skier and what for him is merely interesting might prove troublesome to us mere mortals.
The food, of course, is of the sort required by this hearty crew: super high-energy algae bars concocted by Bobbi, containing sunflower seeds, sesame seeds, bee pollen, and protein powder balled up into a muffin-like thing by using honey blended with algae bars—so appetizing with their slimy brown-green color. By eating these little atom bombs, we all feel assured of success.
The next morning, we arise a little too late, linger over breakfast a little too long, but the day is still early, with that crisp clear alpine feel. We sling packs over shoulders and head up the switchback trail. Bobbi, who yesterday attempted the peak wearing rubberized jungle booties which proved to be very slippery on the ice, is prudently using Eric's hiking hooks which happily, her crampons will fit. I stumble on behind, laden down with extra warm water and food. The food, of course, is of the sort required by this hearty crew: super high-energy algae bars concocted by Bobbi, containing sunflower seeds, sesame seeds, bee pollen, and protein powder balled up into a muffin-like thing by using honey blended with algae bars—so appetizing with their slimy brown-green color. By eating these little atom bombs, we all feel assured of success.
We arrive at the higher hut in good time, stash our tennies, and put on ski boots and crampons. Ahead of us, a towering wall of ice and snow. The wind has done its scouring work; in places the endless fields stretch out above, gleam-like mirrors, hard as rock and slippery as glass. However, snow conditions are not on my mind. I am only concerned with getting up this mammoth snow slope, rising at least 3,500 vertical feet to the summit directly above. Never have I experienced altitude like this; already we are higher than any peak in the United States, with exception to Alaska, and we are just beginning the climb.
I begin at a slow, deliberate pace. Each step is carefully planned in advance to achieve the maximum elevation gain with minimum effort. I take small mincing steps—three steps where another might take one—so that precious energy is conserved. Slow and even rhythm. Into a space somewhere between sleep and satori, a space that yogis and marathon runners might be acquainted with, where awareness is focused chiefly in one's deep breathing. Today I am lucky, I feel good, a Zen-like clarity emerges as I go on and on, step after step without stop. The rhythmic crunching of my crampons, the ice spray unleashed by the chink of my ski pole into the hard snow surface, powder breeze blown into my face, all this catches me, caresses me, hypnotizes me. I abandon myself to the performance of a useless act. I sit only occasionally for picture taking and reach the summit before noon. Once my body stops moving, however, I come out of my reverie of stupor and slowly fill my quieted mind. I wonder about the Spaniards, who climbed this volcano to get the sulphur necessary for the production of gun powder to use against the Aztecs. Seeing Popo's crater with its vertical wall hundreds of feet high makes it hard to figure how those Spaniards descended into it. I imagine 20 or 30 of them lowering some poor soul in a big bucket.
I traverse over a little ridge, looking for some of that residual powder from yesterday's storm, and run into McKinney who is struggling on his hands and knees after having again side-stepped the entire mountain, swearing next time he'll use crampons.
Of more current interest is how our space-age Huck Finn, McKinney, managed to get himself up here yesterday. His tracks from the day before tell the story. For aways, he kicked steps with his boots, but the higher he got, the harder the snow got, so he put on his skis and side-stepped. This worked but it's slow going, so to hurry things up he started skating, pushing off his downhill ski and pulling hard uphill, tacking like a sailboat up the side of the volcano. Roughly equivalent to skiing up the walls of the Grand Canyon, except for the thin air here. Presumably, he's doing the same thing now.
Soon Eric and Bobbi arrive; we eat algae bars, drink the water, snap photos with Ixta looming just a few miles away. I've been building an adrenalin reserve thinking about skiing this miles-long ice hockey rink, so I ready myself for the takeoff. A cornice jump provides a suitably flashy start then a couple of bone-jarring ankle-rattling turns—Geez! It's icy! I traverse over a little ridge, looking for some of that residual powder from yesterday's storm, and run into McKinney who is struggling on his hands and knees after having again side-stepped the entire mountain, swearing next time he'll use crampons. My search yields a fine crop: a thick skin of satin-white powder in a spectacular setting just a few feet from the crater's edge. This stuff is really fast and smooth, like little ball bearings compacted into a perfect glassy surface, only a half-inch deep atop the ice. My worries are forgotten as I concentrate my entire being into carving up this unexpected cheesecake. I lose several hundred feet of vertical in a couple of seconds, then proceed more cautiously as the slope steepens. I clatter to a stop, peer over the edge: The scale of what I see is truly awe-inspiring. Directly below me is the snow gully where I will finish my run, a straight-shot of maybe 3,800 vertical feet, nearly the entire vertical of the largest ski areas of North America, all in one continuous line, one totally open uninterrupted half-mile-wide slope, which would be any skier's ultimate wet dream—except for the ice. Not an insignificant exception, I might add, seeing how a fall would result in a wildly careening, ever-accelerating slide up to terminal velocity until the rocks a couple of miles below are met. What exposure! My one-eighth-inch steel edges are all that's between me and that shark's mouth void below. Like an idiot, I brought my rock skis—three years old, railed, no camber—because I expected the usual high mountain, crusted-over, old powder. Eric and Steve, those lucky dogs, have brand new racing skis ideal for this hard stuff.
I think about readying the ice axe for a self-arrest in case of a film but the distinct possibility of accidentally impaling myself convinces me not to. A nerve-knotted stomach impels action. I push off, find some more new fluff, and crank off a hundred turns, pushing through my ankles, reaching far downhill for pole plants, spray from my edge sets rooster-tailing under my chin. Ah, this is good, the black-blue sky of 17,000 feet, the sun reflecting off the rippled high-altitude snow surface, the gentle afternoon breeze. I lean over my pole to catch my breath, then traverse over to some more new snow. I run out a few more turns—boy, this is great stuff! Bit by bit, though, the ratly, edge-chattering turns supersede any magazine cover-photo powder glides. Slowly and with great respect for my environment, I GS my way down to where the angle of the slope eases. My involvement has been so total that I completely forget my tiredness, forget the altitude. Now my concentration gives way, disintegrates into a cascade of joy.
I sit on a rock, waiting for what should be dramatic visuals as Eric and Steve work their magic. They do not disappoint, either; two soundless figures slipping over the horizon far above me, tiny shapes silhouetted by the afternoon sun, powder spray flying high over their heads and glittering. With the mathematical balance of an eagle swooping for prey, Steve skis the headwall directly. He seems to have made a quick recovery from his semi-comatose arrival at the summit a few minutes ago. While Eric mans the camera, he glides with an even grace that belies high rates of speed and demanding conditions. Long, swooping turns made without heed for where or on what snow they are made, turns made only to maintain the perfection of form which his run has taken. He eats up the distance between us like greyhounds on the rabbit's tail but he is still a ways off when I hear the scraping, chatter-sound of edges on hard pack. Eric is next, attacking with usual bold, aggressive style. He, too, is yielding nothing to the mountain, skiing better than I've ever seen him before. We dig each other for a microsecond or two, then the impulse toward movement proves too great to rise. Like others, we chase after each other. Steve makes those beautiful, gliding, high speed GS turns at the top of the gully, and I nearly eat my lunch emulating him, as conditions are still pretty tasty—breakable crust mixed with ice. Then some velvet corn; we steam down the gully. Finally slush rock, a small glacier-fed stream, and a band of curious Mexicans mark the end of the snow. The Mexicans gesticulate happily in wide-eyed wonder, skiing being less common than flying saucers down here. We sit and watch Bobbi pick her way down, then after we can be sure of her safety, we put on our tennies and swagger back to Tlamacas.
We take a day of needed recuperation, including a morning down at the marketplace, where we ply ourselves with deer fruit, coffee, and avocados. A relaxing day of eating, reading avant-grade or metaphysical literature, sleeping, drinking coffee, illness. This torpor ends in an early bedtime, with the alarm set for another early start in anticipation of our next goal: Iztaccihuatl.
Our resident activity junkie, Eric troops us out into the cold morning air at first light. After my usual coffee fix we stuff the bus with gear and bounce over the rutted approach road toward Ixta, spewing dust, scattering a stray herd of sheep, and finally arriving at the trailhead. An inspection of the mountain convinces us to leave skis and boots behind as the limited skiing available is not worth the effort of carrying our gear to the top. So Steve pulls on his Adidas and Bobbi her jungle boots and off we go. The trail winds up through mist, crag and an occasional brush-stroked pine tree. Above high, empty valleys of grass and wind we traverse, then up a long, thrilling ridge. Through the vapors we encounter three overnight huts in an amazing situation, perched high atop a cliff with glaciers and black rock now far below. More ridge. Then an endless traverse across the assorted anatomical parts of the sleeping princess: the knees, pelvis, then the mile-wide icy, flat stomach, finally up sulfurous rock and cornice to another endless plain with the highest point at the far end, the summit being recognizable by the litter of rusty beer cans and empty wine bottles. A day of reflection with Bobbi's fast ascent the only event of note. Bobbi, this is 17,400 feet! It's suppose to be bustlingly difficult up here—not a romp on the beach. Those years spent developing physical flexibility and subtle spiritual energies through yoga have paid dividends for her.
After Ixta, it's time to take leave of our beloved Tlamacas, that whacked-out castle in the sky, possessing a charm all its own that's hard to describe. Definitely a place to visit if the travails of day-to-day life are rutting you out. Right now,though, my thoughts are running ahead to Mexico City where clean sheets, hot showers, and belly-stretching food are to be found. Not that algae soup is bad… but it gets wearisome. A couple of days later finds us once again heading out of town, struggling for survival in the helter-skelter Mexico City traffic. Our heroic quest has in its radar the last and the greatest volcano, Pico de Orizaba.
After stopping to see the pyramids of the sun and moon and making a few appropriate sacrifices, we fortify our spirits with a dinner of beer and bananas, and high-tail it down the road toward Tlachichuca. This village presents another aspect of rural Mexico, a dreary, dispirited place with no apparent reason for existence, except for the towering volcano looking above. We are seeking a service namely a ride up to the climbing hut. The man to see is the well known Señor Reyes, a climber's friend in Tlachichuca for 20 years and and owner of a corner general store. We slide through the store's door and I am immediately taken aback by the acrid smell of battery acid mixed with stale dust. The story is dark and dingy, filled with varied merchandise, such as bins of beans and corn, garlic cloves, candy, pop and beer, crampons, auto parts, cheap nylon clothing, plastic toys, and a rack of Mexican magazines, which are all undisguised imitations of their American counterparts and all at least a year old. Señior Reyes is a slender, sensitive Mexican gentleman of the old school, a man of dignity and reserve, quite different from the child-like, playful nature of most Mexicans. He seems somehow out of place in this little forgotten village, like a man below his class.
A driver and his four-wheel-drive truck arrive, required equipment for the poor road up to the hut. The driver, who reeks of liquor, is not yet sufficiently fortified for the arduous task ahead, so we all have a few beers and socialize. After being thoroughly loosened up by the alcohol, the ride isn't so bad. I am able to be philosophical about the dust instead of letting it drive me absolutely crazy. Looking like Lawrence of Arabia's desert commandos isn't the problem however, the dust that coats our lungs is far more worrisome than our outer skin covering. I've inhaled so much of the stuff, my lungs feel like sandbags.
The glare-ice conditions necessitate some interesting techniques by our wonder boy, Mr. McKinney. He half runs, half crawls, frantically kicking steps with his ski boots and clawing with his gloved fingers until he comes to an indentation in the snow where he can safely rest without sliding backwards.
The hut is located in a stunning treeless basin with views into the tropical forests in the east as well as the highlands to the west from whence we came. Immediately in back of the hut is Orizaba, a great white dome filling the sky. We fork down a quick meal of raisins and papayas, then it's outside for the sunset, the elements, that special inspiration.
The next day begins in the normal fashion. Eric and Bobbi, who both rate highly on the enthusiasm index, are out the door at sunup, while Steve and I linger over our preparations. Eventually the realities of over 5,000 feet of vertical up to an 18,851-foot summit motivates us out the door and up the trail. A spot of moraine is quickly ascended, then its crampons on at about 15,000 feet—except for Steve, of course—Señor Reyes not having anything that would fit his ski boot. My unusual abilities at altitude result in another nonstop beeline blitz to the top but with minor deviations around some crevasses at 18,000 feet. The glare-ice conditions necessitate some interesting techniques by our wonder boy, Mr. McKinney. He half runs, half crawls, frantically kicking steps with his ski boots and clawing with his gloved fingers until he comes to an indentation in the snow where he can safely rest without sliding backwards. Dramatic for sure, but also a burnout after a couple of miles at the altitude.
Bobbi, who's been at my heels for most of the way, is now a few minutes behind having detoured some crevasses that I crossed via snow bridges. On the summit, I drape myself over the twisted remains of a huge Catholic cross and lazily unzip my parka for better exposure to the warm still sun. Like Popo, Orizaba has a vertical-walled, cylindrical-shaped crater, but much smaller. If Popo hadn't blown its top off, it would be about the same height. Bobbi appears in the distance, a blue parka-clad speck against an ocean of cumulous clouds for below. Then Eric appears, extolling the virtues of not eating before such a climb, as the energy required for the digestion of food is better utilized for us during the hike up. Last, but not least, comes Steve who eventually opted of side-stepping up with his skis on.
Our rag-tag disjoined group—more a collection of individuals than a unified whole—comes together briefly on the summit and then, regrettably, leaves one by one, separately. Steve kicks his skis on, wishing to get on with the anxiety inducing descent down the icy mount. I ready myself to accompany him, while Bobbi informs Eric that she will go down a rocky ridge to the north and then traverse back to our snow slope lower down where the angle is less severe, as the icy conditions have spooked her. Steve and I set off. Be careful here! Only one rule and that's "Don't fall." Slow careful turns with much side-slipping as we clatter down to the crevasses, then some careful threading between the frozen yawning mouths, our total concentration mobilized for the delicate and risky work at hand. Seeing Steve, the ultimate burner on the board, ski so cautiously you know it's tough going.
After a few more turns, the need for prudence disappears as the sun has turned the ice into buttered corn. What a perfect ending to an incredible trip! We are still high upon the mountain, with most of the run beneath us, and what a run! A huge slope, miles wide and miles long, a slope never skied before. My eyes, drunk on this volcanic grandeur, the boiling clouds and sullen crags below, the lonely white-domed summit against the blue-black sky, my singing nervous system, healthfully stoked on the adrenalin of a few moments ago, all this energy with but one possible outlet. Steve, with his totally integrated style—the product of years and years of downhill training–is a constant source of inspiration for me. We cavort like dolphins linking turns, skiing with total abandon, satisfied with the success of our venue. Soon we are enveloped in the mists; however, our play proceeds at the same frenzied clip. We wait for Eric, the three of us then burst out from under the cloud into a long, shallow gully under a towering black buttress. Down we go to the snow line, the three of us in telepathic synchronicity for one of the few times on the trip, as we complete this unforgettable run. The spirit of adventure has been observed. I have skied for thousands of runs, yet this is the one that will stick in my memory banks, uncorrupted by time.
We leave the hut quite early in the morning, and the air is still sparkling and fresh when we arrive in Tlachichuca. Our stomachs are lonely and need accompaniment; so, following a suggestion of Señor Reyes, we head over to Margarita's. There, for about fifty cents each, we enjoy hot showers and a scrumptious breakfast—huevos, frijoles, and coffee. The place isn't much—Margarita kicks the kids out into the street and sets up a couple of tables and chairs, but she keeps filling our plates and coffee cups as fast as we empty them, which is all I'm interested in. The local rescue team has breakfast with us. They're curious about our unique mode of descent. Their humor transcends the language barrier and I'm in stitches all morning. With our bellies full and our ribs hurting from all the jokes, we head out the door and back to Mexico City.