In celebration of POWDER's 45th Anniversary, we are releasing select stories from every volume. This story originally published in the March 1998 issue (26.7).
Kristen Ulmer is a bitch, and she knows it.
"I've spent the first 29 years of my life being sweet and nice and everybody's friend, but now I'm ready to be an asshole like everyone else," she says during one of our frequent hour-long phone calls. It's hard to say how I maneuvered her to the brink of this admission—a reference to some outlandish behavior, dismay at the harsh judgment passed on one of the few decent boyfriends she's had, a sudden chaffing at one of the decidedly rightwing stances spewing from her 24-hour opinion fountain? Who knows. And, really, who cares. It's not the kind of statement you expect someone to consciously follow through on. Besides, if I—and most others, including Kristen herself—didn't take these all-too-frequent Ulmerisms with a basketball-sized grain of salt, there'd be nothing to laugh at the next time.
ULMERISM #1 "Screaming is fun. Life's too short not to scream as loud and as often as you can. If you're going to trip and fall or if you see a mouse or if you're on a carnival ride or something you may as well scream."
Mostly, we've been analyzing my life, sitting at opposite ends of the continent, like a couple teenagers, she on her princess phone with feet in the air in Salt Lake, me wandering the floorspace of my cabin in Ontario with a long-wired headset. We've solved nothing, of course, but I feel better than when the phone first rang, despite being another hour behind on a critical deadline. With the ease and manner of a phone-sex practitioner and the genuine interest of a mother, she's managed to tease up things from deep within my soul that a $200-an-hour therapist couldn't unearth with a cold chisel.
This is all accomplished with a sensitivity and willingness to listen that seems to fly in the face of a decidedly manic public persona. It's a side conveniently overlooked by those who would turn Ulmer into a poster chick for female extremism. In fact, if you peer between the lines of what you read and hear, Kristen Ulmer—climber, dancer, tartress, paraglider, writer, film star, and skier extraordinaire—is a loose cannon with no conscience, poor judgement, and an insatiable appetite for sketchy outdoor enterprises. In other words, a wingnut who's lucky to be alive. Nothing, however, could be farther from the truth. Opinions of Ulmer, however, have become an industry unto itself, and so perhaps that's why, after a decade in the limelight, the press is suddenly fascinated with the biggest icon the ski industry never expected.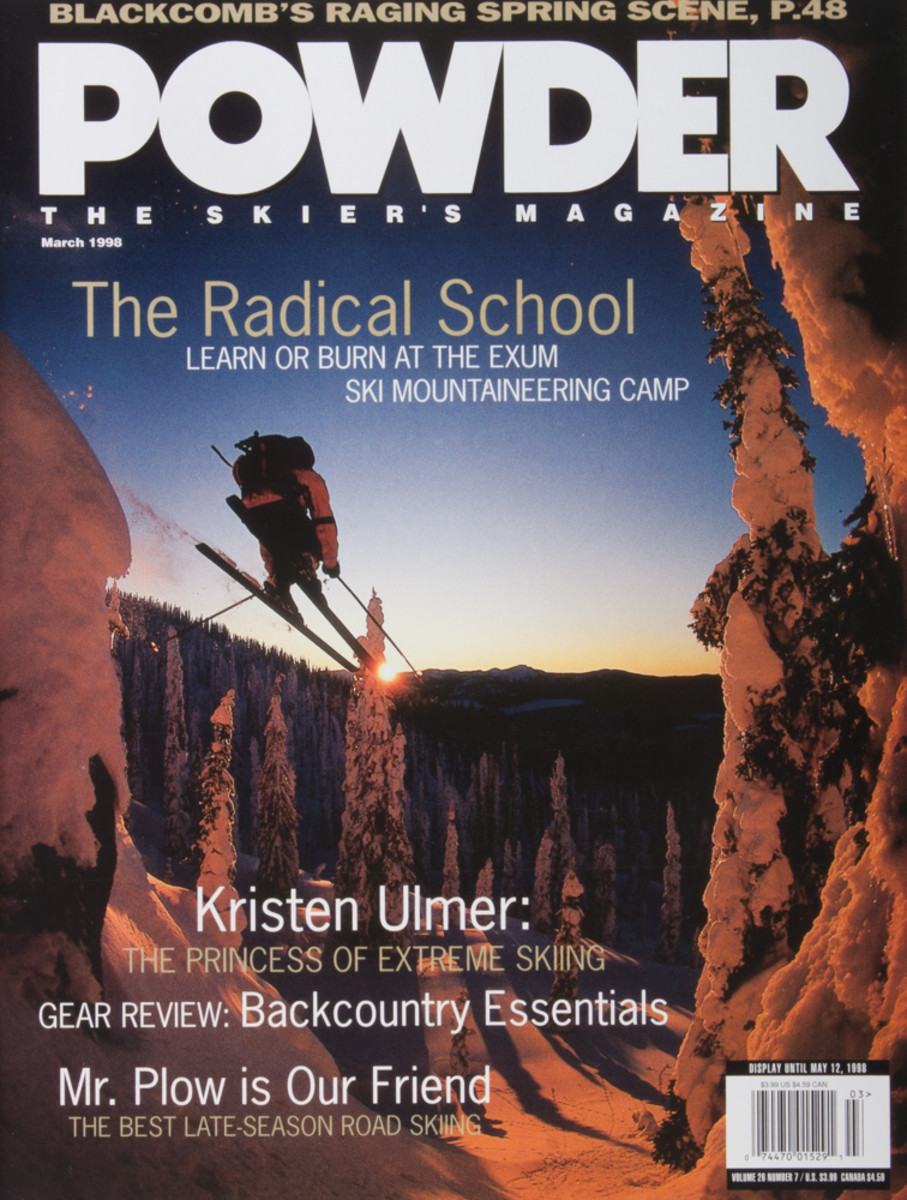 ULMERISM #2 "I'm addicted to excitement, not adrenaline. I'm full of energy and need to go out and do something interesting, not something that will necessarily make adrenaline flow. All these quotes of me saying I'm an 'adrenaline junkie,' I never said that shit—ever."
Back in the Day
It seems like I was a kid who had just started watching ski videos when Ulmer's star began to rise (actually impossible since I'm a decade other than her 30 years), but I remember her Tales From the Snow Zone performance on a stepping-stone pillow drop in the Selkirks with Trevor Petersen and Kirk Jensen as one of the most insane segments ever. I'm thinking about that one day in the Alps last winter, on the Geltyberg glacier at Engelberg, Switzerland. I'm thinking about it because our guide, former coach to the great Swiss racer Erica Hess, has just watched Ulmer shred 1,000 feet of sponge toffee at mach speed and been rendered practically speechless. "She is…ahhh…a quite strong skier," he chokes out in typical Swiss understatement. Three days before, at France's Val Terces, I'd felt about the same as I watched her erase a line on a steep, big-ass face like a teacher at a blackboard. Gordy Peifer had dropped in first and flashed the most obvious open route, leaving Ulmer the choice of following him or taking on a whole lot more rock-garden exposure; Ulmer had spend a mere 30 seconds staring down from her pole straps before cutting into the latter line.
An ex-U.S. Ski Team mogul specialist, Ulmer was one of the first recognizable female freeskiers. In a string of RAP, Warren Miller, and Eric Perlman films in the late-'80s, she shone as a strong, fast skier who few could keep up with and who had no qualms about dropping what could politely be termed "male" air. Finding the water of traditionally male sports to her liking, Ulmer dove into the panoply of extreme adventures. She became a licensed paraglider with first descents in Alaska, a gifted ice and rock climber, and a mediocre mountain biker. Uniquely, she has been able to portray these skills both in images and through her writing in one of the five different magazines for which she is a frequent contributor. And, though she never played herself as a woman doing man's work, the industry saw opportunity aplenty in her free-spirited exploits and beat a hasty path to the Princess's door.
ULMERISM #3 "My definition of a friend is someone who knows how f–ed up you are and still wants to hang out with you."
This all makes perfect sense to our Swiss friend, but, perhaps because he hails from a continent where real princesses still exist, he's puzzled by Ulmer's frequently bandied nickname. "I was in South America once with Shane McConkey, Kent Kreitler, and T.R. Youngstrom," she explains. "Some macho Chilean guy puts his arm around me and held onto my elbow and helped me down some snowy stairs. I told Shane, Kent, and T.R. I expected that kind of treatment all the time. It became a big joke, and when I told Jim Conway and Scott Markewitz the story during a bike trip, they started calling me Princess. It stuck."
ULMERISM #4 "Essentially, I'm here because I hucked big. Plain and simple. I was the only woman doing that kind of stuff at a crucial point in time."
"Yes," nods our guide comtemplatively, and then, as if the humor is completely lost on him, "but there is no princess that skis like this!" Which, of course, technically speaking, is true. Especially if you're working with the literal image of some willowy half-wit waiting around in a tower somewhere for Prince Charming. Although she'll readily admit she's all too human on most counts, Ulmer isn't waiting anywhere for anyone, and she's no half-wit. She's erudite, widely read, a sharp businesswoman, strangely interested in people's sordid lives, and, if anything, only mildly naïve when it comes to the cold, hard realities of the world.
Some of the Princess's naiveté is charmingly feigned, however. I ask her why most of the male skiers she meets want to sleep with her. "I have no idea," she offers none too convincingly, when the answer seems clear enough: She's female (the only necessary criteria in a ski town), a babe, raging skier, open, friendly, gregarious, playful, funny, and capable of flipping shit with the best of them. In short, every dirtbag skier's dream.
Real Life with Princess
Ulmer's eyes are bright, clear, and enviously green. They sparkle with life, restlessness, and mischief. She's also as blind as a bat. One night in a sushi restaurant in Salt Lake I saw a flustered woman looking for her coat and squinting through Coke-bottle glasses, looking like Bill Gates trying to pick out a tie. I smiled politely and continued talking with my dinner companion, but something made me look back up: the lime-green bell-bottoms and gold-ring belt straight out of Rowan and Martin's "Laugh-in." It was, of course, Ulmer.
Whether she can see it or not, Ulmer's wardrobe rules: Her closet is packed with the wakiest kitsch you can imagine—a tiger-dyed rabbit-skin coat, wool button-up sailor pants, a dress made out of a Twister game, and thousands of shoes. Of course, they're all bargains, which brings up another point: Ulmer is hyper-conscious of money and deals, and, like your grandmother, she shops with coupons and works it whenever she can.
ULMERISM #5 "All this stuff about women's ski programs and marketing to women is crap. You keep women segregated like that and they'll continue to feel marginalized. I'm extremely disappointed that there are women's skis."
Some might find this profusion of pop paraphernalia strange for someone who is literally never at home. Ulmer makes a point of traveling six to eight months a year and with good reason, for it's on the road that she does her best work at gathering hairy experiences. Her traveling stories are constant and always epic—China, Europe, India, Nepal, South America, Tibet,–and chockfull of unbelievable events that invariably turn out to be truths. No matter the gig, however, or how cool a place is or how much fun, it always gets to a point for Ulmer where she's ready to go home and be alone—the next great paradox of her existence.
Though she says she values her quiet time, she can't sit still or relax for long. The day after she returns from a month in Europe, she calls and leaves a message that she's bummed nobody is around, and she's driving around SLC at 1 in the morning squealing her tires with energy to burn. A strange kind of loner, she wants privacy, but the first thing she does when she's alone is check her messages and start returning them. This is one way she maintains a constant sense of herself through other, so when even the smallest crack of self-doubt appears in her wall of will, the repair work is only a phone call away. In fact, Ulmer barely makes a move without consulting someone and usually all her close friends. Conversely, many of her friends won't make a move without consulting her.
When you first meet her, you're invariably struck by the fact that she knows absolutely everyone and appears to be everybody's friend. Her sensitivity to the ideas of others and ability to find good in almost anyone has indeed made her one of the most connected people you can imagine—a protoplasm at the center of a vast network that is the universe of adventure skiing. And it's likely her sponsors (Gordini, Leki poles, Nikon eyewear, PowerBar, Salomon, Serac)—who value her verve and photo images—have no idea of her importance to the life of the outdoor community.
ULMERISM #6 "extreme competitions attract really fun groups and are great for people who want to make a name for themselves. I competed in a couple just to show my sponsors I could win, but I have no desire to now. What's the point? I have nothing to prove—they're expensive and I hate being in the gate."
Ulmer doesn't like to play the corporate game or make a lot of concessions. She wants sponsors to understand and accept what she's all about and tries to make it clear that any value they get from her has to come from her being herself. She's also not shy about going nose to nose with them over it. Last year, Salomon had told her it likely wouldn't renew her long-standing contract. "Bullshit," responded Ulmer. "After all I've done for you, you've got to be kidding." Which was true, but the other part of it was that Ulmer had been with them so long she felt part of the family, had practiced great product loyalty throughout, and didn't really want to go elsewhere despite a bevy of companies eager to sign her. To its credit, Salomon promised to rethink its position. But while they were waffling, Ulmer forced the issue in a uniquely Princessian way. At the Outdoor Retailer trade show last August in Salt Lake, she walked up to the Salomon booth with a CBS "48 Hours" film crew in tow, cameras rolling, and confronted a product manager: "So. I hear you're dropping me from your program. What's up with that?" Needless to say, she now has a better deal with Salomon.
None of Your Business
Like the rest of us, at the core Ulmer is just an attention-seeking child. Unlike the rest of us, however, she's generally successful at it. And like most professional extroverts, she walks a fine line where she wants that kind of attention but is unsure if it's good for her. "It's a major problem in my life," she admits. "I know a lot of peaceful, happy people that I want desperately to be like, but I have so much energy that I can't. I'm waiting for my adult side to take over, but it's not happening; the more excitement I generate for myself the farther I get away from that."
"Her actions confuse so many people—like the way she dresses," laughs close friend and climbing/skiing partner Tom Jungst, who clearly siphons his own thrills from Ulmer's overflowing tank. "She's constantly throwing out one-liners that are misconstrued and get misquoted…The things people believe about her are outrageous."
And though Ulmer's uninhibited—only occasionally shocking—behavior gives good cause for rife speculation (usually by design) and plenty of embarrassed laughter, the fact is that she consistently delivers on the one image all her backers need desperately to wring from her: Danger Girl and Goddess of the Extreme. Über chick on skis.
ULMERISM #7 "Do I deserve all the attention? Absolutely. I'm skiing better than I ever have in my life and am taking significant risks. Anyone who can get anywhere in these kinds of sports—more power to them."
"Once Kristen gets her skis on, she's pretty solid and almost feels invincible," says Jungst, who, along with Ptor Spricenieks, was with Ulmer this summer when she became the first woman to ski Wyoming's imposing Grand Teton.
Being driven is a theme of Ulmer's professional life. But by what and toward what, not even she knows. And maybe this is something skiers can relate to: the next personal challenge, the next grade of difficulty or steepness, a step beyond the rope, bigger air, higher speeds, more attention. One part fuel for the soul, one part, "look at me." It takes a lot of hard work to acquire and maintain attention in the ski industry, and though she's not bashful about saying it's her job, sometimes she does become work weary. "In so many ways Kristen works at the business of being Kristen," says Jungst. "I realized just how much that takes after the CBS '48 Hours' crew followed us for two days. Afterward, Kristen collapsed, exhausted; she gives and gives the whole time in public. It's entertaining to be in her presence, and her ability to weave a great story from daily events—let alone her adventures—is legendary. Anyone critical of how Kristen approaches skiing as a profession only needs to hear her stories. There's no doubt she loves to ski."
And while he's serving as counsel for the defense in the public trial of Kristen Ulmer, Jungst rails over criticisms leveled by members of the Jackson climbing community that he "dragged" Ulmer up the Grand and that his team made an ill-advised ascent in dangerous conditions. "We analyzed conditions every step of the way," he counters, "and were fully confident in each other's abilities to deal with what we encountered." In other words, they followed a philosophy that's the basis of safe mountaineering. Jungst continues, "On the trip, Kristen showed her true ability by climbing and skiing with complete confidence. I'll never forget her pulling the big move [to step out of the avalanche] while ski-cutting the summit snowfield. Few people in the world could get off the top of a monster slide like that."
ULMERISM #8 "The ski industry has needed a big enema for a long time."
Or ski the rest of the route with such panache. Though Ulmer's prowess on snow is well-known, her capability in climbing generally isn't, and the Grand—despite pissing off a cadre of small-minded locals—blew open many other doors. Suddenly Ulmer was besieged with requests to join various high-pro expeditions, including Craig Calonica's second attempt on Everest's North Face. As usual, she came within a hair's breadth of signing on to each new venture, eventually realizing that, although flattered, she wasn't prepared for this kind of commitment on such short notice.
Running out and getting in over her head in the Himalaya wouldn't have been the coolest way to celebrate and savor her accomplishment on the Grand—something that had left Ulmer in an all too ephemeral state of contentment. "It's very obvious to me when I'm happy or not. And this summer I was happy."
And They All Lived Happily Ever After
And so, life in Princessville goes on. "Should I do this or that?" she wonders aloud to a hundred friends while the local phone company rubs its hands with glee. Whatever, her confidants chorus in not so many words, as long as we can share a little piece of you, oh Princess, and vicariate with the seductive edge on which you perch. To these voices she'll variously represent empathy, employee, momentary mother, mate, or spur-of-the-moment fun hog. Roles all happily shouldered as part of the business of being Kristen Ulmer. An Ulmer that the public—who buys the skis her image is used to sell—know nothing about. And, as always, in the background looms another huge, steep mountain face. But that kind of big bite requires planning, and the daily buzz that Ulmer needs to survive is usually found closer to home and in smaller doses.
ULMERISM #10 "I've climbed a lot of things and then skied down but before [the Grand] I'd never done a descent that involved something directly connected to the climbing community. What a turn-off to listen to all the trash talk about our trip afterward. I'm glad I'm not a pro climber."
Once we laugh late into the night at her home in Salt Lake. I eventually fall asleep sitting upright in her easy chair, an attempt to stop the throbbing of a broken nose suffered in a fall at Snowbird. Early next morning she throws a handful of vitamins down her throat then drives me to the airport in pink bunny slippers and a white terry cloth bathrobe, under which I'm certain there is nothing. She exits the car, a wicked wind tugging at the hem of the bathrobe and threatening to reveal the truth to a swarm of Mormon businessmen. We have a quick good-bye embrace under a hail of cold-eyed stares. Naturally they assume we're a couple. For Ulmer it's clearly the desired effect, though I'm struggling to drag my baggage to the curb as fast as possible to exit the vignette. But she won't get back in the car—yap, yap, yap. The bunny slippers are like neon road flares in the cold, gray dawn. Wind whips the bathrobe. I briefly entertain tearing it off her and letting it blow away like a tumbleweed.
What stops me isn't the chivalrous notion that I couldn't do that to a friend—or a woman. No, I pull up on the prank because I know that no matter how wide-eyed the stares, how loud the tittering, or how extensive the undoubted rehashing over a thousand three-Pepsi Mormon business lunches, that Ulmer would absolutely love it.