In celebration of POWDER's 45th Anniversary, we are releasing select stories from every volume. This story originally published in the November 2008 issue (Volume 37, Issue 3).
Mount Baker rises like a whitewashed steeple to the south. To the northwest, British Columbia's rugged Coast Mountains stretch to the Pacific. A cool, quiet wind tornadoes snow crystals in the foreground, eliciting feelings of remoteness. Except we're not removed. The metropolis madness of Vancouver sits below our ski tips, 80 miles to the southwest.
"Man, this is nice," says Mark Abma clearing his grimy blond hair from his bearded face. "I don't think I've skinned up a mountain in like two years."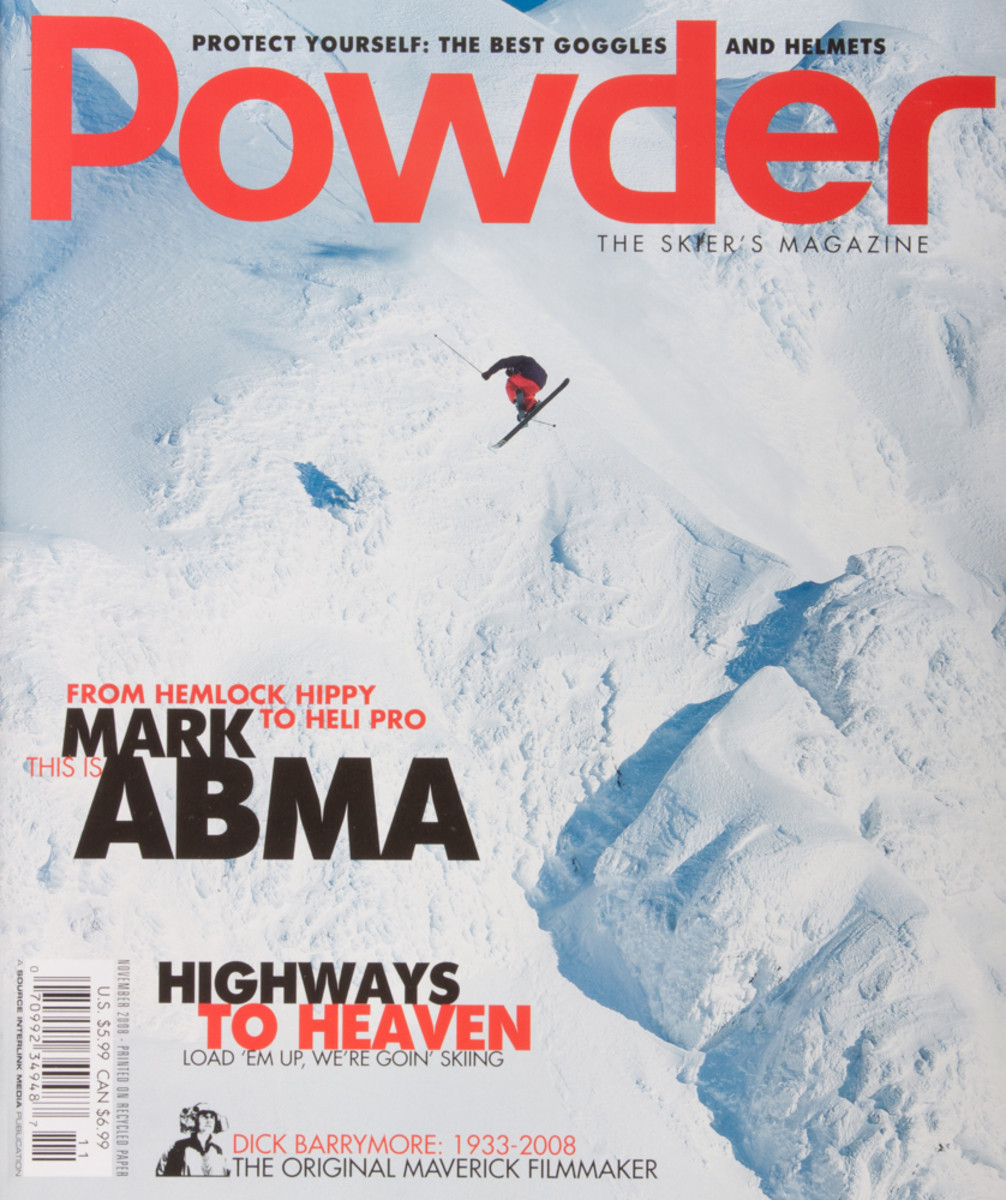 We're slogging our way toward Mount Keenan outside the boundary of Abma's home hill, Hemlock Valley Resort, a throwback family ski area with three lifts. Sitting at 4,500 feet at the end of a dirt road, Hemlock is in direct contrast to nearby Whistler/Blackcomb. Think Mount Baker without Shuksan and about five times smaller. The 27-year-old Abma calls the region "Sasquatch Country," as giant hemlocks provide a shady canopy producing a tacit eeriness common in this logging-rich region. He promises that the Ma-and-Pa hill has some legit Coast Mountain sidecountry, fluty lines that he and friends started skiing at age 15.
From the top of Keenan overlooking the ski area, we ogle the surrounding scenery. A blanket of serenity seems to envelop him. "It's so good to be skinning, especially here, man," he says. "Sleds and helis are so much noisier and faster. And with sleds, you're always pinned and throttled the whole time."
Mark drops a five-foot cornice and makes effortless arcs for 1,500 feet down a van-size chute. On the next pitch, we pop from pillow to pillow eventually landing on the slushy mud of the Hemlock Valley Road. Abma looks up at his run and soaks up the familiarities. "You need days like today," he says. "So you don't forget."
THE CLAIRVOYANT KID
"OK, boys, she's looking good," says Abma atop his line, his baritone voice, laced with the customary Canadian drawl, popping on the radio. "Count me in." The varied sub-alpine terrain of Selkirk Wilderness, a cat-ski operation outside Meadow Creek, B.C., acts as the venue. Two Matchstick Productions super 16mm cameras whine. In a flash, a pink-panted Abma skis straight fall line down a sun-lit rollover. Like a kid on a pogo-stick, he pops from one mushroomed pillow to the next, accelerating through each explosion of snow. Then, he widens his signature boxy stance before impact and stomps the landing.
With this ease and power, Mark Abma has solidified his place as one of the most well-rounded skiers in the world. He has won Best Male Performance at Powder's annual Video Awards twice (2005 and 2007) courtesy of versatile segments in MSP's Yearbook and Push. He travels the world over, hopping in and out of helicopters regularly. Lucrative sponsor contracts from Helly Hansen, Smith, and Salomon pay him handsomely for his inimitable ski skills. In addition to filming with MSP, where he has supplanted the likes of Seth Morrison and Shane McConkey as the marquee talent, he also appears in Poor Boyz Productions' 2008-09 film Reasons.
"You can shoot with some people and they'll get two of 10 shots, whereas Abma will get eight out of 10," says Scott Gaffney, a former pro skier and current MSP cinematographer. "It's rare to see him fall, 'cause he's smart and doesn't huck things he can't stomp. His style is so casual."
Indeed, the Kurt Cobain look-a-like revels in simplicity. He practices yoga nearly every morning and attends weeklong yoga retreats twice a year in Canada and abroad to stretch and reflect on Eastern teachings emphasizing balance. He keeps a didgeridoo in the corner of his bedroom in Squamish, B.C. His shoulder-length hair hasn't touched shampoo in two and a half years, and he only washed it then because his girlfriend said it reeked of snowmobile exhaust.
"I think I was a hippy in my past life," he laughs. It's now a dark night in March. Headlights stream by as we drive his black Chevy Silverado on the two-lane Sea-to-Sky Highway. "We live in a chemical-infested world, and the hippiness has more of a natural, organic way of living. Whether it's the clothing you wear, the food you eat, the organic route is pesticide-free and that goes a long way."
"We can't stop what we're doing, but we can become more efficient with the way we're doing things."
While it's relatively easy to nod and agree, it sounds like trendy window dressing. His lifestyle emanates hypocrisy, a reality that doesn't escape him.
"The way I'm thinking clashes with myself," he admits. "We're driving a V8 truck with a two-stroke sled in the back." To mitigate, he bought a '06 diesel truck last summer, which he converted to run on waste vegetable oil scavenged from Whistler/Blackcomb. And he plans to upgrade to a four-stroke snowmobile this winter. "To capture the footage we're trying to get, I can't drive a Smart Car up to the trailhead and skin 20 miles to go hit a jump when it's blue for only a day," he reasons. "It's a formula, film-wise, and it's really the only way." He pauses allowing the veracity to hang in the air for a moment. "We can't stop what we're doing, but we can become more efficient with the way we're doing things."
About 25 miles east of Vancouver, we drive past Langley, a town that has swelled to the size of a couple hundred thousand. Mark and his three younger sisters grew up here while their dad installed ventilation systems in greenhouses and mom looked after the family. His resourceful aptitude and humble work ethic commenced at a young age while assisting his dad in stuffy work environments. For three summers he welded and hauled equipment for his father's business.
By the time Mark was 14 years old, the Abma family would make the relatively short drive to Hemlock, establishing his eternal affinity for the area.
"It would be shitty weather, and instead of running home to play Nintendo like all the other kids, he'd be out there skiing or be like, 'Let's build a jump and session something.'"
Guided by the glow of a full moon, we meander through a maze of 10-foot-high snowbanks and arrive at Abma's snow-covered cabin. Mark's parents and sisters moved to California when he was 18. The sagging structure acts as a reminder of fond memories. Immediately, the musty smell of the cabin invites us inside. Pictures of his neon-clad sisters racing through gates with red and white ribbons designating second-and third-place finishes litter the wall. Upstairs in the bunkroom, posters of Alberto Tomba and Marc Girardelli line the ceiling. A juvenile Mark smiles for the Hemlock Valley Freestyle Team photograph.
Old Style Pilsners crack open, Neil Young jams from the iPod dock, and we toss cardboard scraps from old beer cases into the iron-stove replace. Wearing untied black winter boots, a Dakine cap, and a striped hoody, Mark stokes the fire. Able to see his breath in the cold cabin, he explains how his dad had been installing water-heating systems in California and exhausted himself commuting from B.C., hence the family's move to San Luis Obispo. His blue eyes radiating thought, he discloses how his dad started a new business--an eco-friendly waste heat recovery system--and has hit hard times.
Soon enough, Hemlock friends interrupt us. Since Abma rarely finds time during his busy winter to escape to the cabin, friends maintain it by crashing here every so often. One of those is Hemlock Valley Freestyle coach Je Fairbairn, Abma's first freestyle coach in 1994. "It would be shitty weather, and instead of running home to play Nintendo like all the other kids, he'd be out there skiing or be like, 'Let's build a jump and session something,'" says the 32-year-old Fairbairn. "Mark de nitely put Hemlock on the map. He was able to take his passion and skill and make it happen."
Hemlock, in turn, is responsible for keeping Mark grounded, imparting a zealous initiative and humility.
DOMINO'S TO DOMINATION
Like many 18-year-olds, the scrappy Abma had no definitive post-high school plans. Auspiciously, the B.C. Freestyle Team coach called him up and invited him to join the team for the summer and following winter up in Whistler. "I pretty much survived off the change in my car console," he remembers of that first winter. The ensuing summer, Mark threw a magnetic Domino's Pizza light atop his '87 Pathfinder and delivered pies to fund another Whistler season.
The snowball grew in size quickly. The following winter, while working at a ski shop during the week and coaching moguls on the weekends, he started winning a few small halfpipe and big air comps, grossing anywhere from $200 to $500. "After winning a few, I got away from moguls and realized I didn't have to work at the ski shop any longer," he says. Amongst his many salt-of-the-earth jobs, Abma worked for the provincial government on a mop-up fire crew for three summers, which afforded him a beater truck and a snowmobile complete with a duct-taped hood.
Before long, seminal freestylers J.P. Auclair and Anthony Boronowski took notice of Abma's skills at High North summer ski camp. That winter, he found himself living on the couch of J.P., Anthony and Julien Reigner's house. "We all liked him right away," says Auclair. "His skiing was talking for itself, and he was a polite, mellow kid, so we took him in." The 2003 winter expedited his burgeoning career as he finished fourth and fifth at the U.S. Open Big Air and Slopestyle, respectively, and scored his first Poor Boyz segment. The influential trio shaped his skiing while instructing him on the art of sculpting features in the backcountry. "I was mainly following J.P.'s lead that winter," Abma says. "But Boronowski set me up. He lined me up with K2, brought me to [POWDER's] Superpark and even paid my rent that year."
That would be the final season anyone would pick up the tab for Mark Abma. Amid the hob-nobbing and incessant spillage of Red Bull Vodkas, MSP co-founder Steve Winter approached Mark at the 2004 POWDER Video Awards in Aspen's swanky St. Regis Hotel. Abma, in Aspen for the Winter X Games, where he finished seventh in Slopestyle, received the pitch of his career. "Winter came up to me, and asked me if I like skiing big mountain," Mark recalls. "I hadn't really filmed any big mountain at that time, but I was like, 'Sure.'"
A month and a half later, Abma found himself on a yacht with an A-star helicopter, floating in an isolated inlet of coastal British Columbia. MSP heavies McConkey and Hugo Harrisson and new-girl Ingrid Backstrom accompanied the "park" kid from Whistler. They say a few seconds can change a person forever and what transpired in Bella Coola undoubtedly transformed Abma. He laid down a stunning performance, charging lines like a big-mountain veteran. "A lot of Abma's shots came back from Bella Coola," says MSP's Murray Wais, "and Winter and I assumed it was McConkey."
They say a few seconds can change a person forever and what transpired in Bella Coola undoubtedly transformed Abma.
In the opening shot of the film, Abma flashes two turns on an exposed snowfield before straightlining to a sizeable cliff. "I was actually super comfortable for never stepping foot in a heli before," Abma remembers.
"After the Bella Coola trip, he filmed a park shoot at Whistler with Tanner [Hall] and C.R. [Johnson]," recalls Wais. "He was doing shit that they weren't even doing."
The Bella Coola and Whistler footage earned him the opening segment in Yearbook, a defining achievement in any professional skier's career. The next winter, Abma returned to the Powder Video Awards, this time to accept Best Male Performance. "All of a sudden, I'm being 'classified' as the skier-equivalent to all these guys I watched in the movies as a kid," Mark says. "I was taken aback by how fast it evolved."
But a narcissistic attitude failed to muddy his modest outlook. Gaffney, who was a filmer on that Bella Coola trip, calls to mind a separate story. "For some reason, he didn't have a car in Whistler one day, but there's Abma, side of the road, thumb in the air, rain coming down," he says. "I'm picturing some starry-eyed kid, who can't believe that he just picked up Mark Abma--two-time skier of the year--on the side of the road. But Abma doesn't think anything of it. He doesn't act like he's owed anything. He appreciates it and that's why he gets so many shots and has such killer segments. He takes advantage of every day and works super hard."
SUSTAINABLE IMPACT
On a rainy Squamish morning, Abma cooks mashed potato pancakes and blends his signature smoothy drink, consisting of blueberries, strawberries, a banana and avocado. By 8 a.m. we're in the Brandywine parking lot inhaling two stroke and listening to the cacophony of braaaaaaps as cracks of blue peek through snowy clouds. Resembling a Ski-Doo dealer lot, Brandywine acts as one of the premier backcountry hotspots within an hour of Whistler. A guilty conscious aside, the sleds make the spectacular terrain of the Whistler region easier to access.
We stand on the rails of Abma's 2008 Ski-Doo Rev (he buys and sells a sled each year to avoid labor costs) doubling up the drainage before he and Mike Douglas find a perfectly felled tree directly off the sled track. After setting a quick bootpack, Abma skis onto the massive log with a lot of heat, spins a 3 and lands in a spot with about five feet of room between colossal cedars.
It's fair to say Abma has found a home here. In 2006, he purchased a townhouse in Squamish, a beautiful 20,000-person town dwarfed by granite spires about a half hour south of Whistler and 40 minutes north of Vancouver. He shares his tidy three-bedroom place with two friends and long-time girlfriend Kristi Richards, the 2007 World Champion mogul skier whom Mark met his first summer on the glacier. "It's funny," Abma says. "I left Whistler to escape the scene and get some space in Squamish, and now I want some more space."
During the summer of 2008, with a goal of sustainability, Mark purchased a home north of Whistler in the rural community of Pemberton, a place of regression where landline telephones debunk mobile technology. Despite planning to build a straw bail-insulated house that he spent days self-designing using SketchUp, a free Google program for 3D-model designs, he and Kristi found a pre-existing home with a "raging creek" in the backyard. "We're going to install a micro-hydro system from the creek, so we can eventually live off the grid," he says. "In Pemby, you can essentially survive from what is grown in the valley with the beef and the vegetables and avoid a lot of the transportation costs involved."
In addition, he's currently designing more progressive outerwear for Helly Hansen using their toxin-free renewable Ekolab material. But he's most excited about his new pro-model Salomon ski made out of renewable bamboo, which should hit shop racks in 2009. Stipulated by Abma, a portion of the sales will go to a non-profit he's starting to aid companies investing in green technology. "It's the most meaningful thing I've ever done in my life," he asserts.
He says this while we linger in the cloudy Selkirks. It's nearing the end of the most meaningful winter in recent memory. Or maybe meaningless. Like a good album, his infectious verve provides a melody of release and thoughts transcend to a better place.
Abma stands at the top of a corniced ridge. Despite his status as possibly the best skier in the world, often times his mind is far from skiing--ironically heightened when surrounded by such quiet enigmatic beauty. He takes a deep breath, scans the majestic mountains one more time and skis off. He leaves two tracks in the snow. They leave a remarkable impression.