In celebration of POWDER's 45th Anniversary, we are releasing select stories from every volume. This story originally published in POWDER's December 1990 issue (Volume 19, Issue 4).
Story by Steve Casimiro
Henni was driving like a lunatic. Well, more like a French man, actually, which is odd, because she's a Finn.
She slung her coupe around the rain slickened-hairpin turns on the narrow road to the Chamonix Valley, tires chattering in protest. It was a black January night. Cars whizzed past from the opposite direction—French, by the yellow headlights that made everything seem like a Vuarnet dream. Behind us in a little Fiat, hanging on like the child at the end of a playground game of Crack the Whip, was Furio Dutto, an Italian friend who was following us and the storm to Chamonix.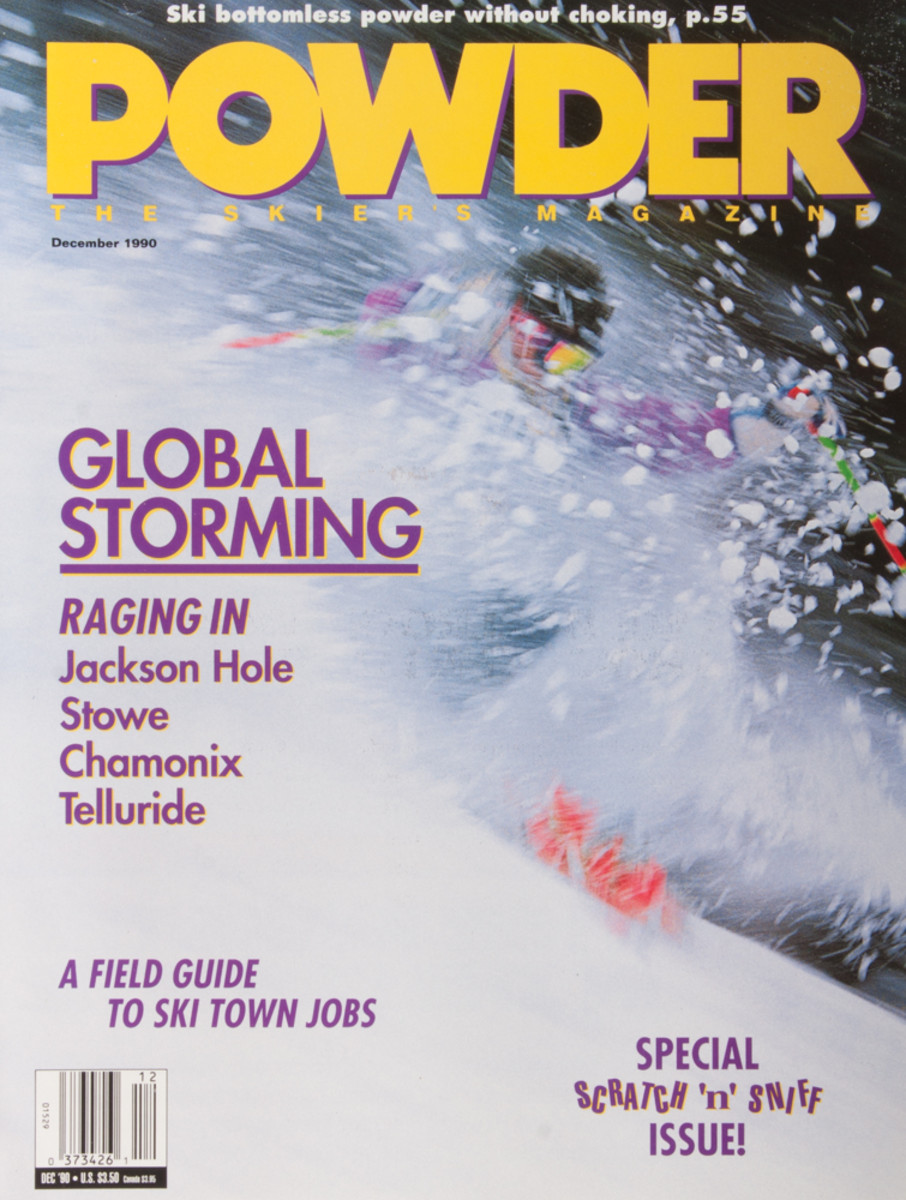 We skidded into town around 9 p.m., dumped our gear at a three-star, parked the car in a private underground lot—a major score—and headed for Le Brévent, the internationally known dive bar, Swede-run Mexican restaurant, ski bum hangout, and, for Hunni, a onetime Chamonix resident, home away from home.
Chamonix spoke of towering needles of rock, oceans of snow, of brave and hardy adventures who climbed and skied and sometimes died on the roof of Western Europe.
A blast of the Doobie Brothers "China Grove" hit me as we pushed through the door. Henni spied buddies and immediately wedged through the crowd, leaving Furio and I stunned for a moment y the contrast between the quiet outside and the storm within. We gazed up at the 240cm speed skis hanging from the ceiling, at the beautiful blonde Swedish ski models, at the handsome bartenders and their glowing white teeth.
I was boggled by the internationalness of it all–an Italian and an American… traveling with a Finn.. ordering a Mexican beer from a Swedish bartender in a French restaurant..
Furio had to have been thinking the same thinking that same thing. He leaned over and said in his accented English, "We must be in Chamonix."
Chamonix. The first time I saw the word—this was well before I spoke Francis like a native, excusezmoi?—I thought it was pronounced Chm-oh-nicks What did I know?
Then I hear it spoken, spoken by a Chamoniard, drawn out in all its softness, the first syllable coming in like the whisper of skis in a storm, the last syllable lingering like cold white smoke: "Shahm-on-neee."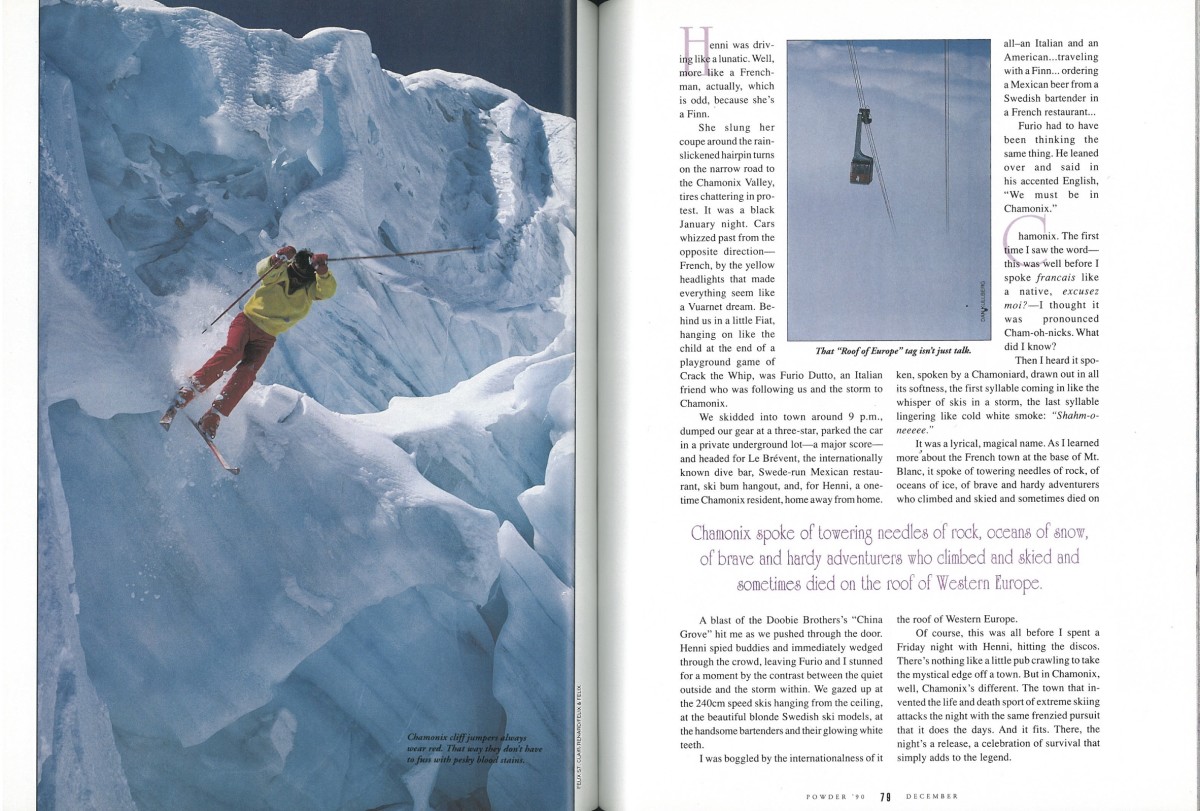 It was a lyrical, magical name. As I learned more about the French town at the base of Mount Blanc, it spoke of towing needles of rock, of oceans of ice, of brave and hardy adventurers who climbed and skied and sometimes died on the roof of Western Europe.
Of course, this was all before I spent a Friday night with Henni, hitting the discos. There's nothing like a little pub crawling to take the mystical edge off a town. But in Chamonix, well, Chamonix's different. The town that invented the life and death sport of extreme skiing attacks the night with the same frenzied pursuit that it does the days. And it fits. There, the night's a release, a celebration of survival that simply adds to the legend.
Not that legends are much good on three hours sleep. Bleary-eyed at 7:30 on a surly grey Saturday morning, I said goodbye to Furio, who was heading home to the Dolomites for a ski tour, and scurried to catch up with Henni. I stumbled unseeing past the sculpture of Michel Gabriel Paccard and Jacques Balmat that commemorated the two Chamoniarde' first ascent of 15,771-foot Mt. Blanc. I knew that their successful return to town launched the entire sport of mountaineering, which more than 200 years later saw the rise of such super-athletes as Vallencant, Boivin, and Gouvy. But, no offense to Messieurs Paccard and Balmat, all I wanted was a big fat croissant and stiff café au lait.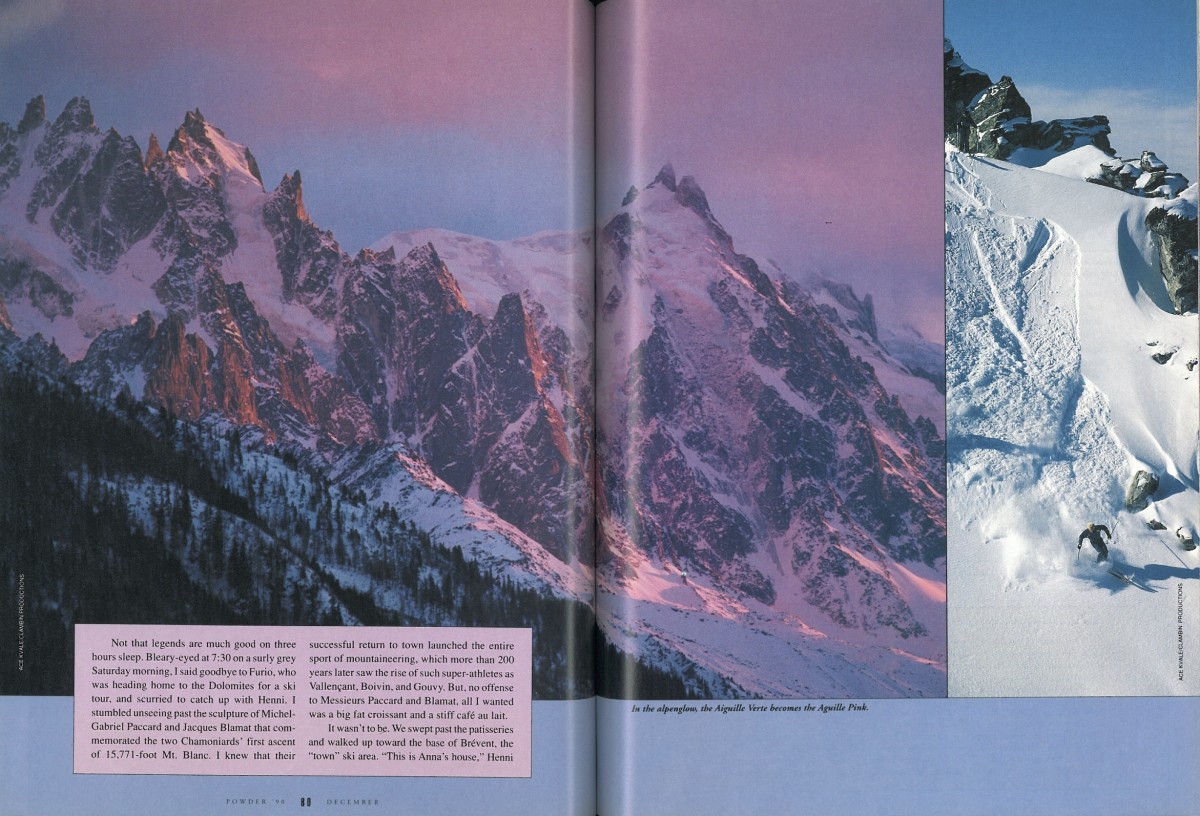 It wasn't to be. We swept past the patisseries and walked up toward the base of Brevent, the "town" ski area. "This is Anna's house," Henni said as she marched in the door of a squat bungalow. (No quaint chalets here–despite expectations you might have of Old World charm, Chamonix is a collection of generally ugly, squared-off buildings.
In its favor, at least it doesn't have the hideous high-rise monstrosities of the "modern" French ski resort, and decides, when you're 9,000 feet above town staring down through your ski tips, it really doesn't matter, does it?) We'd met Anna the night before–actually, a couple hours before–and agreed to hook up with her early to go skiing at the Grands Montets, one of the wildest, most uncontrolled ski areas in the world. Anna, one of the ubiquitous Swedish ski models in town, lived with her boyfriend, Gilles, a mountain guide.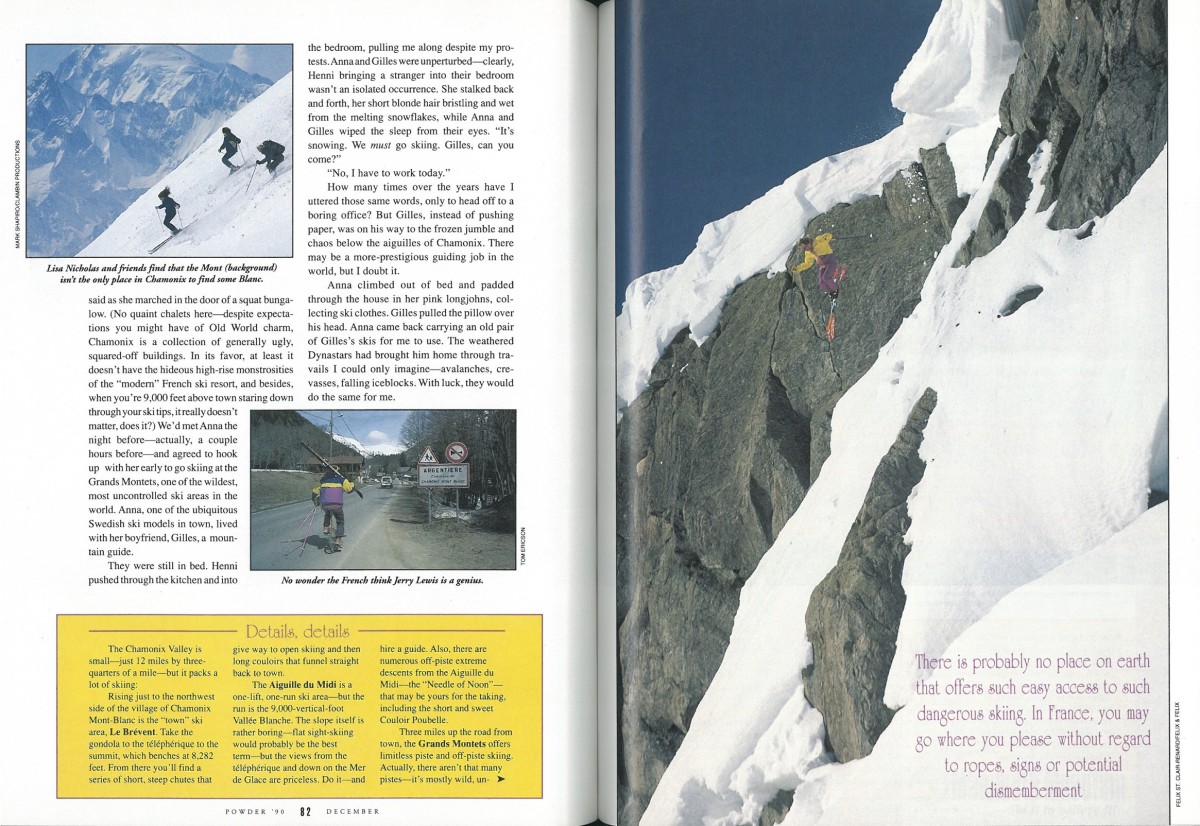 They were still in bed. Henni pushed through the kitchen into the bedroom, pulling me along despite my protests. Anna and Gilles were unperturbed–clearly, Henni bringing a stranger into their bedroom wasn't an isolated occurrence. She stalked back and forth, her short blonde hair bristling and wt from the melting snowflakes, while Anna and Gilles wiped the sleep from their eyes. "It's snowing. We must go skiing. Gilles, can you come?"
"No, I have to work today."
How many times over the years have I uttered those same words, only to head off to a boring office? But Gilles, instead of pushing paper, was on his way to the frozen jumble and chaos below the aiguilles of Chamonix. There may be a more-prestigious guiding job in the world, but I doubt it.
Anna climbed out of bed and padded through the house in her pink long johns, collecting ski clothes. Giles pulled the pillow over his head. Anna came back carrying and old pair of Gilles's skis for me to use. The weathered Dynastars had brought him home through travails I could only imagine–avalanches, crevasses, falling iceblocks. With luck, they would do the same for me.
"Here," Anna said, "The bindings are stuck on 14, but you should be OK, don't you think?"
The clouds in my head cleared by the time we reached the mid station of the Grand Montets, but not so the clouds in the valley, and the téléphérique to the summit was closed in the whiteout. The massif of the Aiguille Verte and its attendant fang, Les Drus, which arc so dramatically above the Grand Montets, were hidden in the fog.
The accomplishments of the mountaineers and skiers on the huge chunk of rock were obscured by time and memory, but a few stood out–Patrick Vallencant descent of the Couloir Cordier, jean-Marc Boivin epic first descent of the South Couloir of the Drugs (pronounced "drew") in 1987, and bruno Gouvy 1988 snowboard descent of the Niche, a 55-degree pact of white slabbed on the north face of the Drus.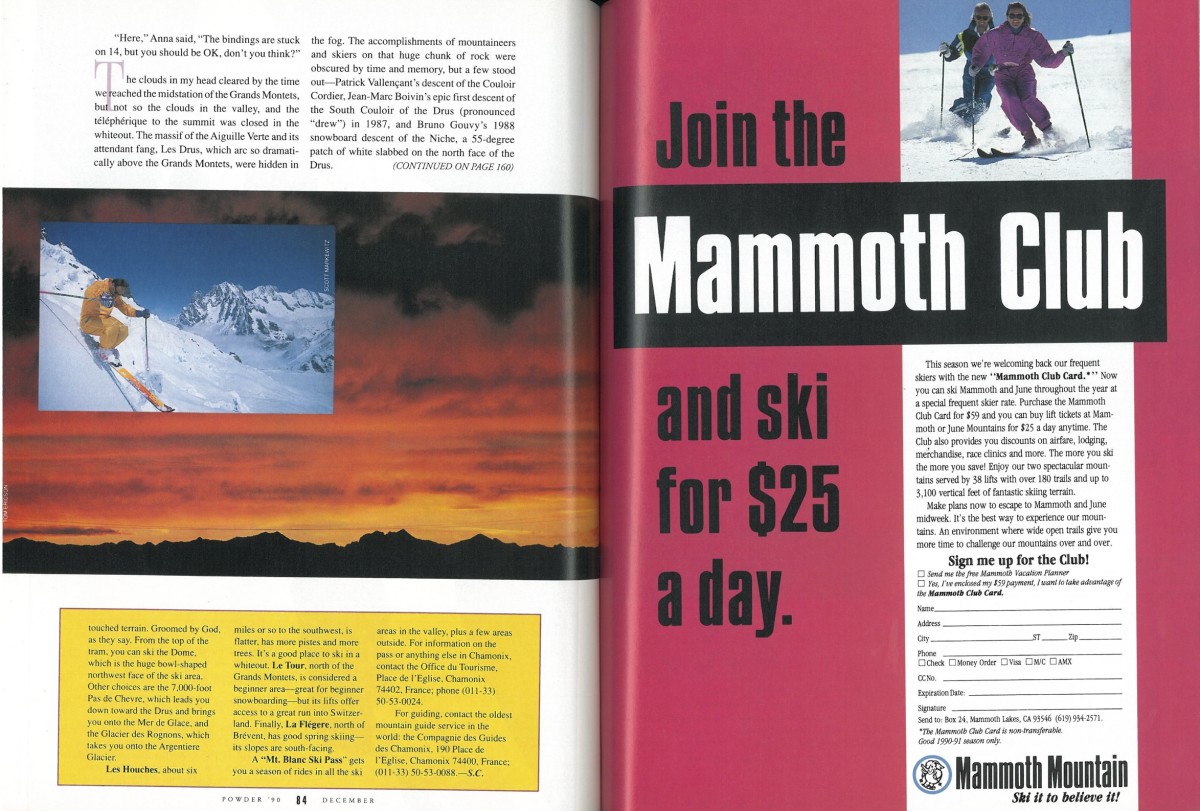 Beyond, in the mist, was the rounded crown of Mt. Blanc, the apollo rocker-like peak of the Aiguille du Midi, and, in the foreground, the 12-mile-long Mer de Glace glacier. The Mer de Glace ("Sea of Ice") is home to the Vallee Blanche, at 9,000 vertical feet the longest lift-serviced run in the world. Below the Grand Montets summit station to the northeast was the Glacier des Rognons, a 3,000-foot ski down and across the Argentiere Glacier to the Col du Chardonnet that makes up the first leg of the Haute Route. The world's most famous ski tour– the "High Route" to Zermatt, Switzerland–has been down so many times that it's now considered the world's most famous slog.
There is probably no place on earth that offers such easy access to such dangerous skiing. In France, you may go where you please without regard to ropes, signs or potential dismemberment, and probably nowhere is the temptation to cross the line so strong. It's an allure that's been part of Chamonix probably as long as there's been a Chamonix. For an American used to skiing in the stifling world of mass grooming and inviolate boundaries, the French willingness to let you do as you damn well please is a breath of laissez-faire fresh air.
The catch, of course, is that you're a lot more likely to die going off-piste in Chamonix than you are if you dick the rope at Killington.
And people do die with great regularity in and above Chamonix–in crevasses, avalanches, climbing falls, paraglider accidents–some 40 to 50 a year. More than 2,000 people have in some way met their marker on Mt. Blanc since the first successful ascent. And yet they keep throwing themselves at and off the mountains–both regular folks just testing themselves and extremists testing the limits of their sport.
There is probably no place on earth that offers such easy access to such dangerous skiing. In France, you may go where you please without regard to ropes, signs or potential dismemberment.
The first ones to make a career of extremism were Sylvain Saudan and Patrick Vallencant, who in the late '60s and early 70s skied slashes of snow once considered barely safe to climb. Saudan and Vallencant were a new breed–not only did they push far beyond what anyone thought was possible, but they also were tireless promoters of their own deeds. It was a sharp contrast to the low-key tradition of mountaineers. Then in the 1980s came a creature of modern extremism and modern publicity–Jean Marc Boivin, who took both extremism and self-promotion one step further with enchainements– series of extreme descents designed for maximum attention by the media.
Chamonix created heroes, and the commercialism of heroics created a monster. On every mountaineering storefront, I saw posters of Boivin, Vallencant and the rest. In the trendy video bars, I saw Chamonix version of MTV, only instead of moussed glam rockers and bimbos it was high angle skiing and narrow-margin climbing. It's perhaps appropriate that the stature of Paccard and Balmat shows the tow looking up toward Mt. Blanc: The eyes of the town are always upon you. It's a tend at once lamented and embraced by Chamoniarde. These days, criticism of "public extremities" is more poignant than ever: Since I was in Chamonix, Vallencant, Boivin, and Gouvy were all killed in separate mountaineering accidents.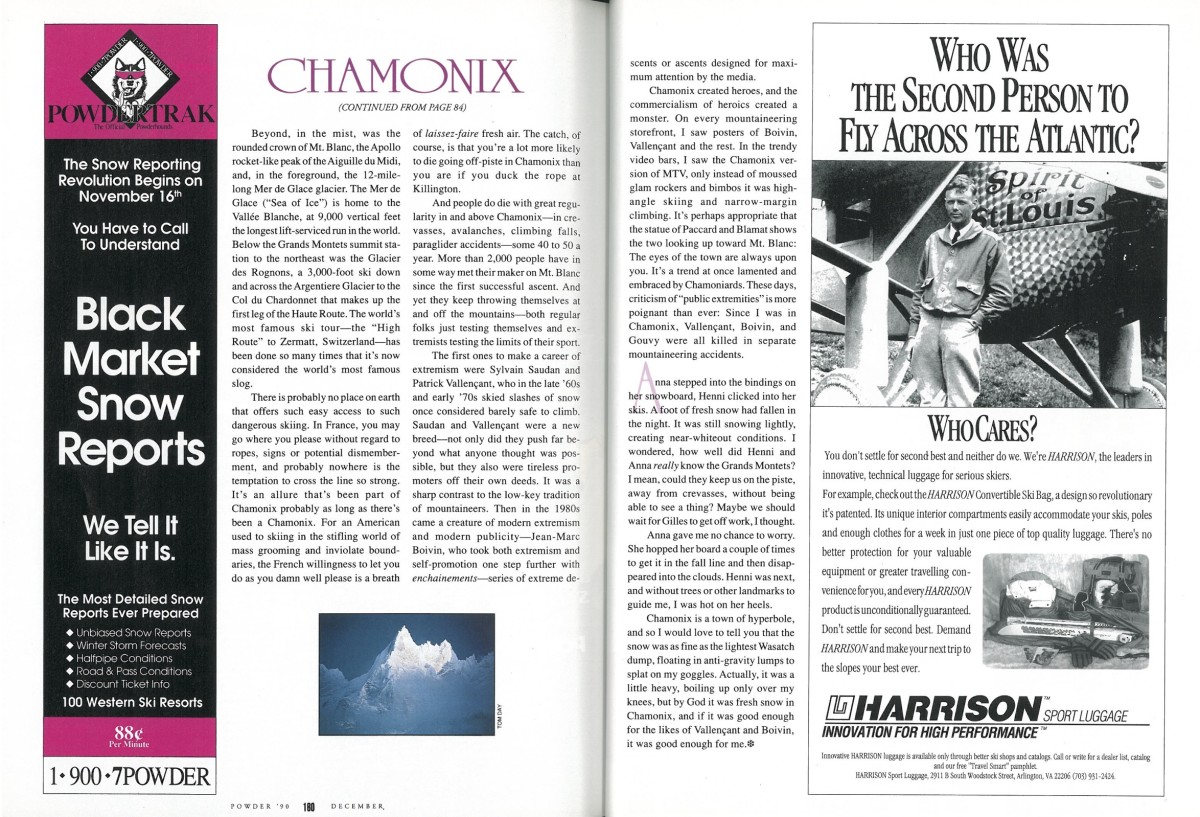 Anna stepped into the bindings on her snowboard, Henni clicked into her skis. A foot of fresh snow had fallen in the night. It was still snowing lightly, creating near-whiteout conditions. I wondered, how well did Henni and Anna really know the Grand Montets? I mean, could they keep us on the piste, away from crevasses, without being able to see a thing? Maybe we should wait for Gilles to get off work, I thought.
Anna gave me no chance to worry. She hopped her board a couple of time to get it in the fall line and then disappeared into the clouds. Henni was next, and without trees or other landmarks to guide me, I was hot on her heels.
Chamonix is a town of hyperbole, and so I would love to tell you that the snow was as fine as the lightest Wasatch dump, floating in anti-gravity lumps to play on my goggles. Actually, it was a little heavy, boiling up only over my knees, but by God it was fresh snow in Chamonix, and if it was good enough for the likes of Vallencant and Boivin, it was good enough for me.