In celebration of POWDER's 45th Anniversary, we are releasing select stories from every volume. This story originally published in the December 2010 issue (Volume 39, Issue 4).
The skier in this shot is Dave Rosenbarger, an American who splits his time between Squaw Valley and Chamonix. Dave is out at the end of that diving board to set up an anchor so that he, Arne Backstrom, and Christian Pondella can rappel into the direct entrance of the rarely skied West Couloir. They've just gone left off the upper tram station, dropping onto the hanging north face of the Aiguille du Midi. The couloir is stacked with powder.
It's been storming in the Alps, back-to-back cycles. The snowfall has been tapering off, but it hasn't cleared yet in the Chamonix Valley; the clouds are in and out, unpredictable. Along with Italian Giulia Monego, the three Californians have already skied one line off the north face of the Aiguille du Midi that morning, the Eugster Couloir.
If the terrain on the north face of the Midi isn't extreme skiing, then nothing is—every one of its routes features thousands of feet of complex high-angle terrain…
Aiming for the airy Mallory Route on their second tram lap, Rosenbarger, Backstrom, and Pondella have instead traversed over the yawning void beneath their skis to the West Couloir. The clouds have swirled in again and engulfed the Mallory; bumbling off-route on the more open and complex terrain there would be easy, and likely fatal. The West will have better visibility, and perhaps lower odds of another party blindly dropping in above them. Which has already happened that morning—the crew was almost flushed on the Eugster by skier-triggered slough from above.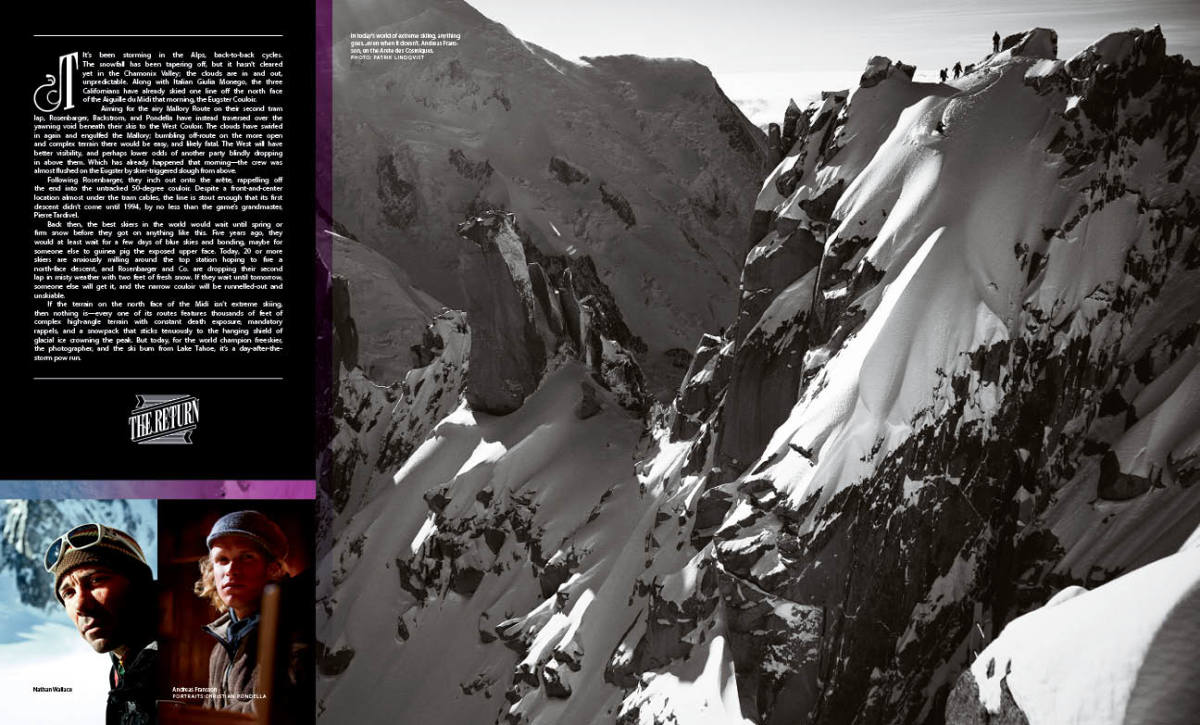 Following Rosenbarger, they inch out onto the arête, rappelling off the end into the untracked 50-degree couloir. Despite a front-and-center location almost under the tram cables, the line is stout enough that its first descent didn't come until 1994, by no less than the game's grandmaster, Pierre Tardivel. Back then, the best skiers in the world would wait until spring or firm snow before they got on anything like this. Five years ago, they would at least wait for a few days of blue skies and bonding, maybe for someone else to guinea pig the exposed upper face. Today, 20 or more skiers are anxiously milling around the top station hoping to score a north-face descent, and Rosenbarger and Co. are dropping their second lap in misty weather with two feet of fresh snow. If they wait until tomorrow, someone else will get it, and the narrow couloir will be runnelled-out and unskiable.
If the terrain on the north face of the Midi isn't extreme skiing, then nothing is—every one of its routes features thousands of feet of complex high-angle terrain with constant death exposure, mandatory rappels, and a snowpack that sticks tenuously to the hanging shield of glacial ice crowning the peak. But today, for the world champion freeskier, the photographer, and the ski bum from Lake Tahoe, it's a day-after-the-storm pow run.
Over the last couple of seasons, wild rumors and cryptic secondhand accounts had been floating around the circuit with increasing frequency:
"Someone repeated the Aiguille du Plan."
"Davenport skied the Landry Route on Pyramid in full powder."
"Arne Backstrom straight super-G'ed the Couturier."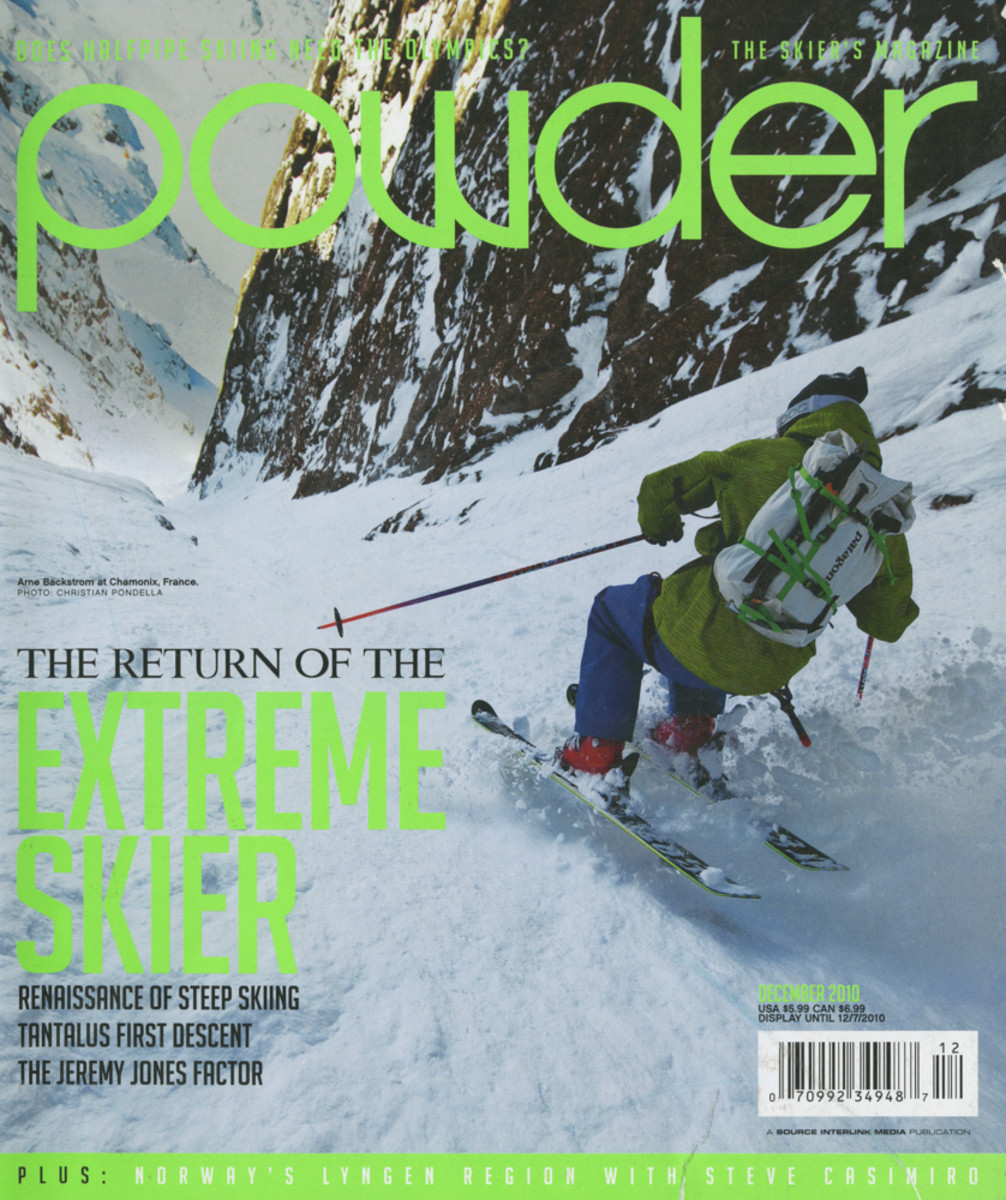 Time after time, the rumors were confirmed—scary lines that hadn't been repeated in 20 years were being re-opened, people were getting on the burliest terrain in powder conditions. Several names kept popping up: Backstrom, Rosenbarger, Nathan Wallace, Andreas Fransson, Fred Ericsson, and others like them. There were a few pro skiers, but mostly it consisted of low-profile ski bums.
Taking a break from skinning cold Nevada powder on a peak called Bunker Hill, Salomon pro Cody Townsend tells me: "Oh yeah. All the skiers know who Nathan is. We know who those guys are (in Chamonix), but the public doesn't."
Even Glen Plake sounded a little stunned—and he'd been in on it, joining Wallace and Rémy Lécluse for a rare and coveted repeat of a high-exposure line off Mont Blanc's Peutery Ridge last year. "I don't know what it is, if it's the gear, or the knowledge, or what, but…things have changed," says Plake.
Just like the old days of neon and skinny skis, the stakes are high. And they only get higher the longer you stay in the game.
When you consider that Plake has been watching it go down in Cham for more than 25 years, and that his good friend and partner, Lécluse, is one of the most prolific extreme skiers in history, the context starts to become clear. Something has changed out there on the steeps, and not just in Cham. Even the word, the one that was appropriated for tacos and jeans, the one that the Today Show will use to describe a razor scooter segment, even that word is being used un-ironically again.
Rosenbarger is a little wary. "I prefer to call it backcountry skiing," he says.
But Whistler heavy J.D. Hare, who takes on no-fall zones deep in the Coast Mountains of British Columbia, isn't. "During my entire ski career, ever since I was a kid, that word has been so out of fashion," he says. "I've always struggled to come up something else to replace it. I've called it super alpine skiing or big wall skiing. But really the word 'extreme' is the only word that differentiates what I do with the movie guys and comp skiers, many of whom don't really know what they're doing in the mountains."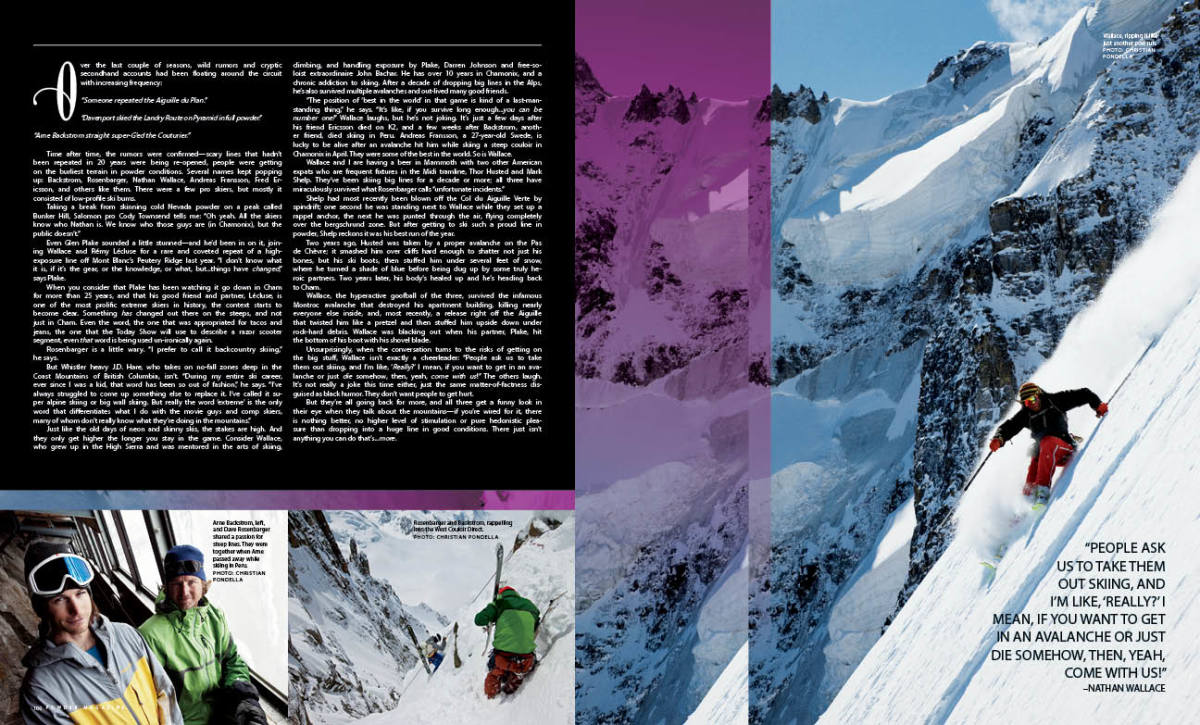 Just like the old days of neon and skinny skis, the stakes are high. And they only get higher the longer you stay in the game. Consider Wallace, who grew up in the High Sierra and was mentored in the arts of skiing, climbing, and handling exposure by Plake, Darren Johnson, and free-soloist extraordinaire John Bachar. He has over 10 years in Chamonix, and a chronic addiction to skiing. After a decade of dropping big lines in the Alps, he's also survived multiple avalanches and out-lived many good friends.
"The position of 'best in the world' in that game is kind of a last-man-standing thing," he says. "It's like, if you survive long enough…you can be number one!" Wallace laughs, but he's not joking. It's just a few days after his friend Ericsson died on K2, and a few weeks after Backstrom, another friend, died skiing in Peru. Andreas Fransson, a 27-year-old Swede, is lucky to be alive after an avalanche hit him while skiing a steep couloir in Chamonix in April. They were some of the best in the world. So is Wallace.
Wallace and I are having a beer in Mammoth with two other American expats who are frequent fixtures in the Midi tramline, Thor Husted and Mark Shelp. They've been skiing big lines for a decade or more; all three have miraculously survived what Rosenbarger calls "unfortunate incidents."
Shelp had most recently been blown off the Col du Aiguille Verte by spindrift; one second he was standing next to Wallace while they set up a rappel anchor, the next he was punted through the air, flying completely over the bergschrund zone. But after getting to ski such a proud line in powder, Shelp reckons it was his best run of the year.
Two years ago, Husted was taken by a proper avalanche on the Pas de Chèvre; it smashed him over cliffs hard enough to shatter not just his bones, but his ski boots, then stuffed him under several feet of snow, where he turned a shade of blue before being dug up by some truly heroic partners. Two years later, his body's healed up and he's heading back to Cham.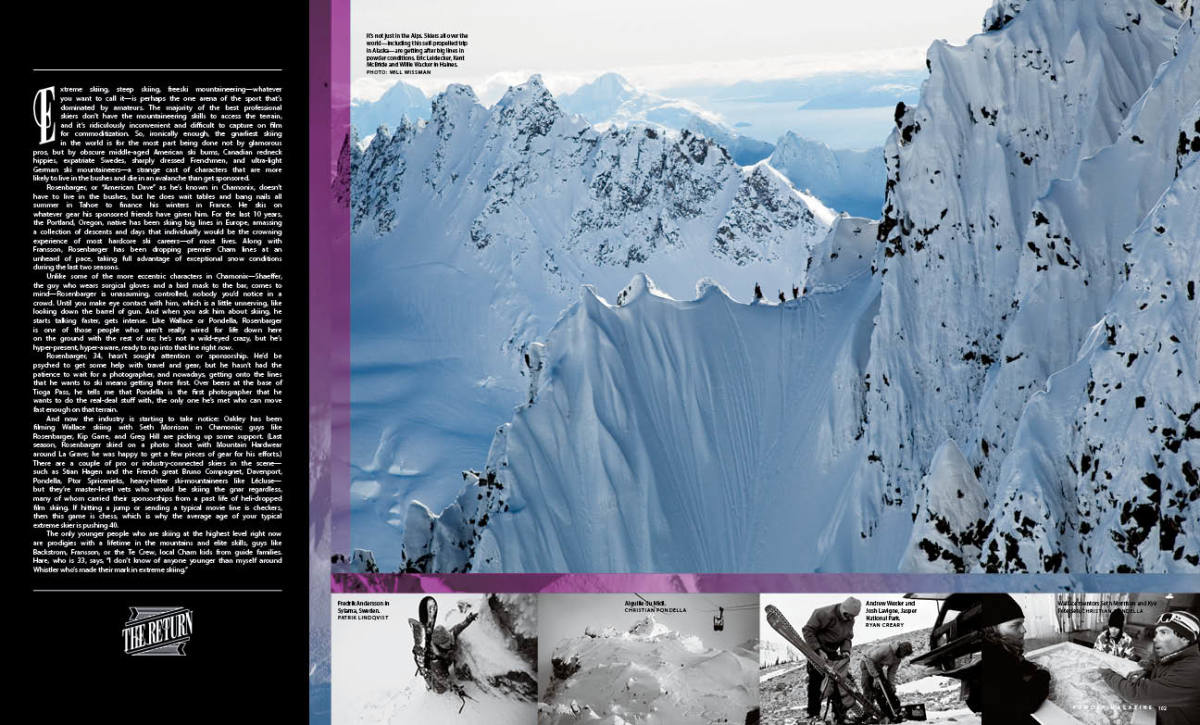 Wallace, the hyperactive goofball of the three, survived the infamous Montroc avalanche that destroyed his apartment building, killing nearly everyone else inside, and, most recently, a release right off the Aiguille that twisted him like a pretzel and then stuffed him upside down under rock-hard debris. Wallace was blacking out when his partner, Plake, hit the bottom of his boot with his shovel blade.
Unsurprisingly, when the conversation turns to the risks of getting on the big stuff, Wallace isn't exactly a cheerleader: "People ask us to take them out skiing, and I'm like, 'Really?' I mean, if you want to get in an avalanche or just die somehow, then, yeah, come with us!" The others laugh. It's not really a joke this time either, just the same matter-of-factness disguised as black humor. They don't want people to get hurt.
They're all going back for more, and all three get a funny look in their eye when they talk about the mountains—if you're wired for it, there is nothing better, no higher level of stimulation.
But they're all going back for more, and all three get a funny look in their eye when they talk about the mountains—if you're wired for it, there is nothing better, no higher level of stimulation or pure hedonistic pleasure than dropping into a huge line in good conditions. There just isn't anything you can do that's…more.
Extreme skiing, steep skiing, freeski mountaineering—whatever you want to call it—is perhaps the one arena of the sport that's dominated by amateurs. The majority of the best professional skiers don't have the mountaineering skills to access the terrain, and it's ridiculously inconvenient and difficult to capture on film for commoditization. So, ironically enough, the gnarliest skiing in the world is for the most part being done not by glamorous pros, but by obscure middle-aged American ski bums, Canadian redneck hippies, expatriate Swedes, sharply dressed Frenchmen, and ultra-light German ski mountaineers—a strange cast of characters that are more likely to live in the bushes and die in an avalanche than get sponsored.
Rosenbarger, or "American Dave" as he's known in Chamonix, doesn't have to live in the bushes, but he does wait tables and bang nails all summer in Tahoe to finance his winters in France. He skis on whatever gear his sponsored friends have given him. For the last 10 years, the Portland, Oregon, native has been skiing big lines in Europe, amassing a collection of descents and days that individually would be the crowning experience of most hardcore ski careers—of most lives. Along with Fransson, Rosenbarger has been dropping premier Cham lines at an unheard of pace, taking full advantage of exceptional snow conditions during the last two seasons.
Unlike some of the more eccentric characters in Chamonix—Shaeffer, the guy who wears surgical gloves and a bird mask to the bar, comes to mind—Rosenbarger is unassuming, controlled, nobody you'd notice in a crowd. Until you make eye contact with him, which is a little unnerving, like looking down the barrel of gun. And when you ask him about skiing, he starts talking faster, gets intense. Like Wallace or Pondella, Rosenbarger is one of those people who aren't really wired for life down here on the ground with the rest of us; he's not a wild-eyed crazy, but he's hyper-present, hyper-aware, ready to rap into that line right now.
Rosenbarger, 34, hasn't sought attention or sponsorship. He'd be psyched to get some help with travel and gear, but he hasn't had the patience to wait for a photographer, and nowadays, getting onto the lines that he wants to ski means getting there first. Over beers at the base of Tioga Pass, he tells me that Pondella is the first photographer that he wants to do the real-deal stuff with, the only one he's met who can move fast enough on that terrain.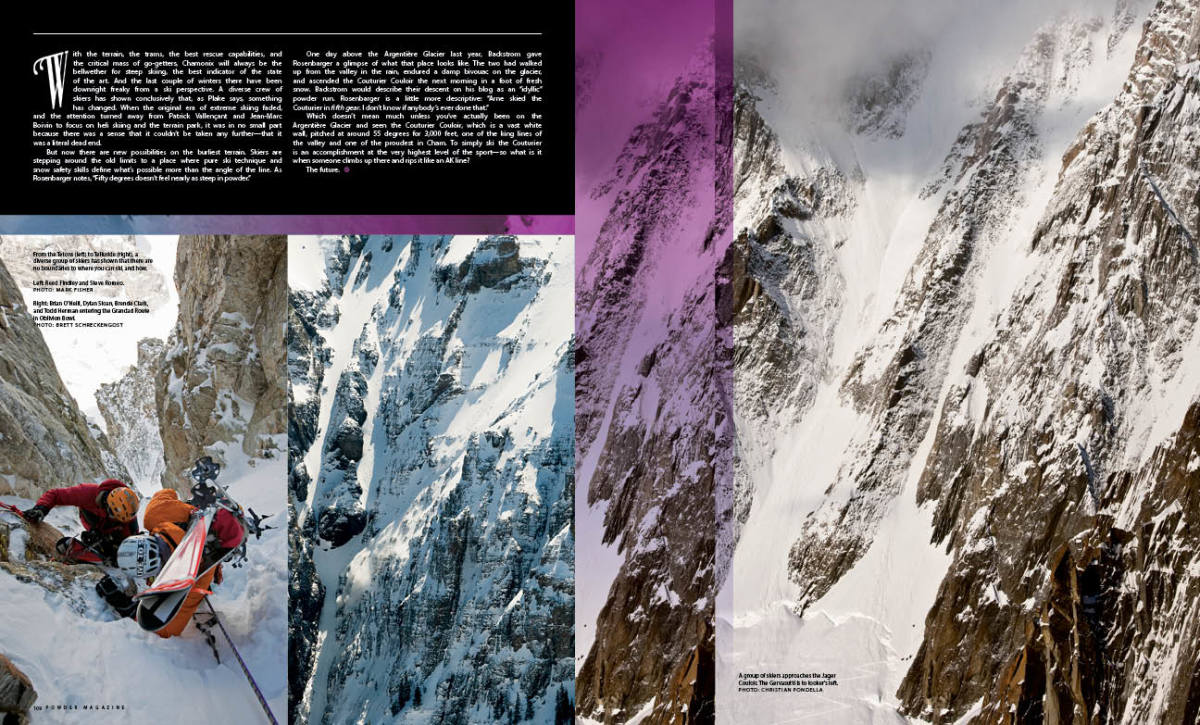 And now the industry is starting to take notice: Oakley has been filming Wallace skiing with Seth Morrison in Chamonix; guys like Rosenbarger, Kip Garre, and Greg Hill are picking up some support. (Last season, Rosenbarger skied on a photo shoot with Mountain Hardwear around La Grave; he was happy to get a few pieces of gear for his efforts.) There are a couple of pro or industry-connected skiers in the scene— such as Stian Hagen and the French great Bruno Compagnet, Davenport, Pondella, Ptor Spricenieks, heavy-hitter ski-mountaineers like Lécluse—but they're master-level vets who would be skiing the gnar regardless, many of whom carried their sponsorships from a past life of heli-dropped film skiing. If hitting a jump or sending a typical movie line is checkers, then this game is chess, which is why the average age of your typical extreme skier is pushing 40.
With the terrain, the trams, the best rescue capabilities, and the critical mass of go-getters, Chamonix will always be the bellwether for steep skiing…
The only younger people who are skiing at the highest level right now are prodigies with a lifetime in the mountains and elite skills, guys like Backstrom, Fransson, or the Te Crew, local Cham kids from guide families. Hare, who is 33, says, "I don't know of anyone younger than myself around Whistler who's made their mark in extreme skiing."
With the terrain, the trams, the best rescue capabilities, and the critical mass of go-getters, Chamonix will always be the bellwether for steep skiing, the best indicator of the state of the art. And the last couple of winters there have been downright freaky from a ski perspective. A diverse crew of skiers has shown conclusively that, as Plake says, something has changed. When the original era of extreme skiing faded, and the attention turned away from Patrick Vallençant and Jean-Marc Boivin to focus on heli skiing and the terrain park, it was in no small part because there was a sense that it couldn't be taken any further—that it was a literal dead end.
But now there are new possibilities on the burliest terrain. Skiers are stepping around the old limits to a place where pure ski technique and snow safety skills define what's possible more than the angle of the line. As Rosenbarger notes, "Fifty degrees doesn't feel nearly as steep in powder."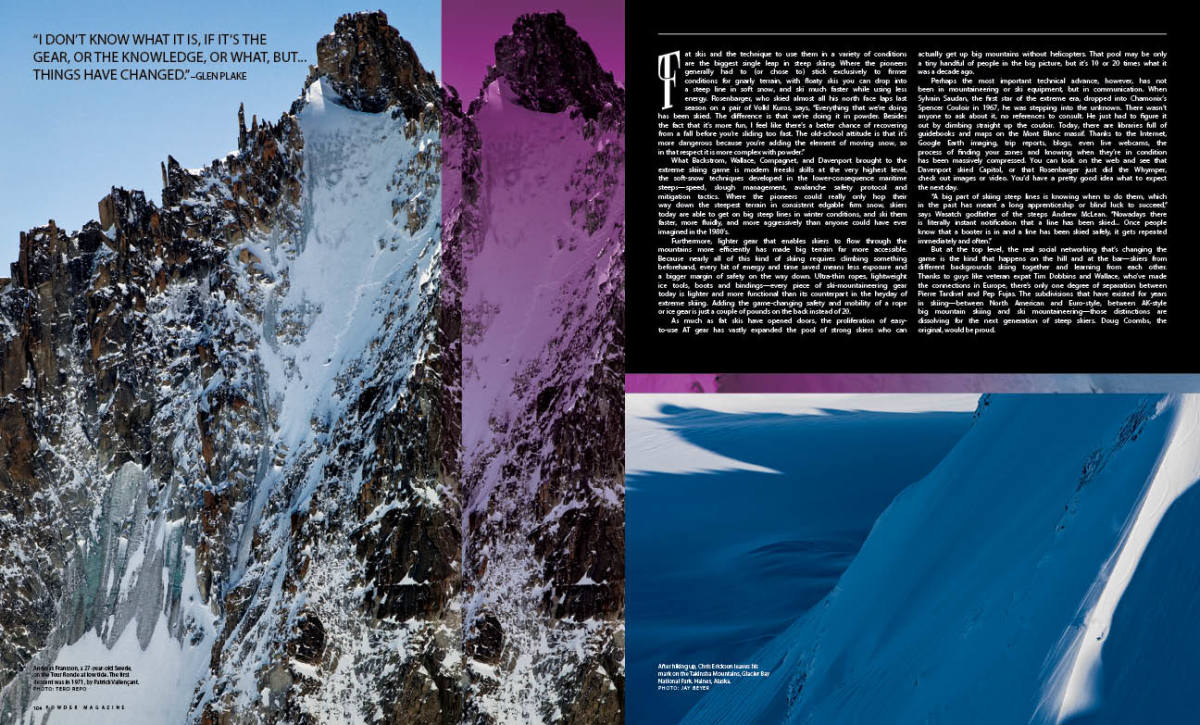 One day above the Argentière Glacier last year, Backstrom gave Rosenbarger a glimpse of what that place looks like. The two had walked up from the valley in the rain, endured a damp bivouac on the glacier, and ascended the Couturier Couloir the next morning in a foot of fresh snow. Backstrom would describe their descent on his blog as an "idyllic" powder run. Rosenbarger is a little more descriptive: "Arne skied the Couturier in fifth gear. I don't know if anybody's ever done that."
Which doesn't mean much unless you've actually been on the Argentière Glacier and seen the Couturier Couloir, which is a vast white wall, pitched at around 55 degrees for 3,000 feet, one of the king lines of the valley and one of the proudest in Cham. To simply ski the Couturier is an accomplishment at the very highest level of the sport—so what is it when someone climbs up there and rips it like an AK line?
The future.