In celebration of POWDER's 45th Anniversary, we are releasing select stories from every volume. This story originally published in the December 2012 issue (Volume 41, Issue 4).
In the early hours of March 7, 2012, Steve Romeo and Chris Onufer set out across a frozen Jackson Lake, in Grand Teton National Park, Wyoming. Their goal was to ski a remote couloir in the northern Tetons. From the parking lot at Colter Bay, their route included a three-mile skin across the lake and a climb of more than 4,000 vertical feet to the southeast ridge of 11,355-foot Ranger Peak and its massif. They intended to be back well before supper, as Onufer was scheduled to pick up his father at the airport that evening.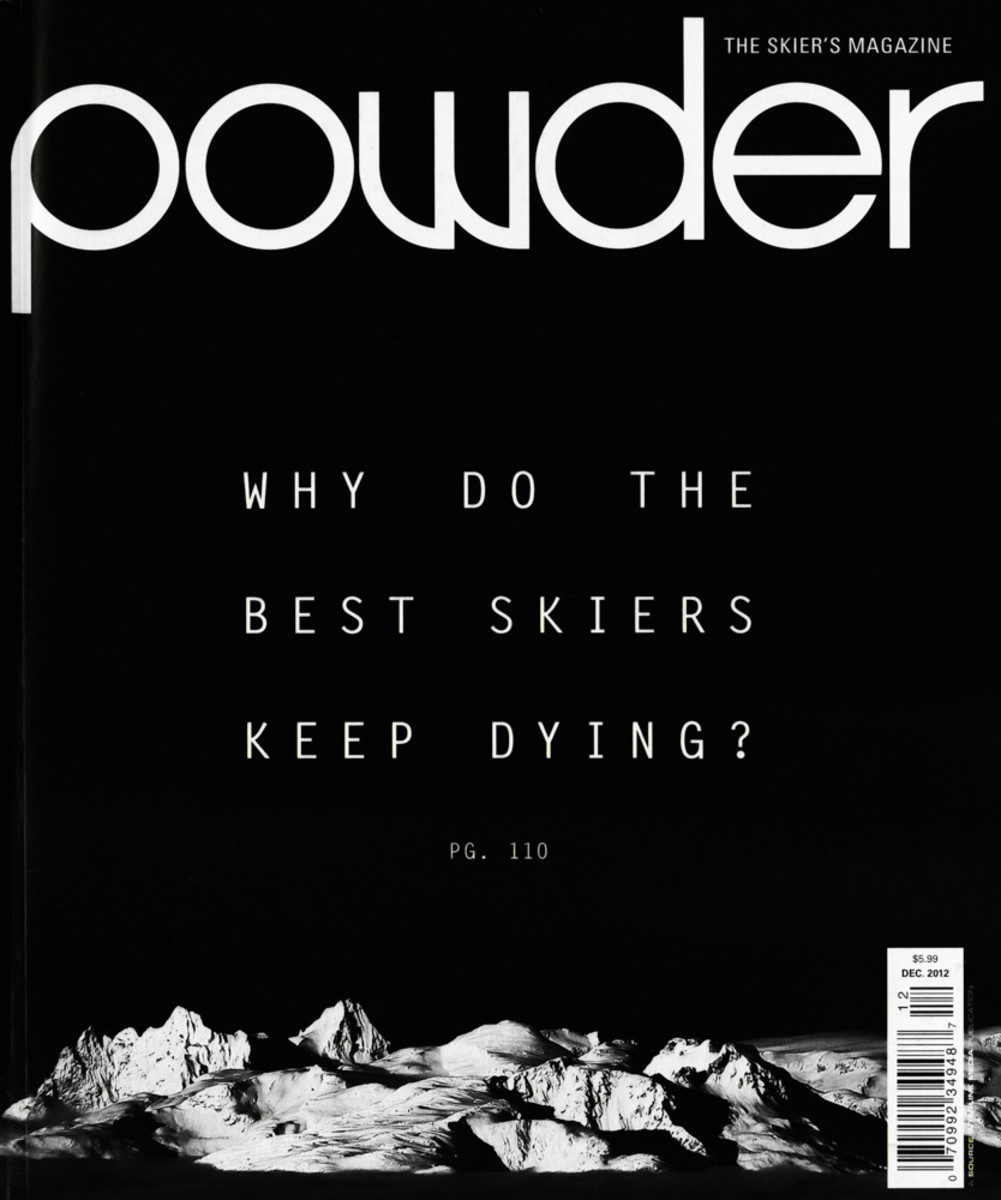 Ten years ago, a quick tour to Ranger in the middle of winter would have been unthinkable for all but a handful of skiers—mostly due to the distance involved and the relatively cumbersome gear available at the time. But today, with lightweight technology allowing skiers to move swiftly across snowy landscapes and online weather and snow conditions providing instant updates, a peak like Ranger has never been more accessible. For skiers like 40-year-old Romeo, the author of the popular ski mountaineering blog called TetonAT, and 42-year-old Onufer, a longtime tram maintenance manager at Jackson Hole Mountain Resort, Ranger was in their wheelhouse.
Romeo was one of the most experienced ski mountaineers in the Tetons, and his blog became known as the authoritative voice for steep skiing in Wyoming. Onufer had exceptional skills in the high alpine and was considered a valuable and reliable ski partner due to his calm demeanor and training as an EMT and second lieutenant in the Teton Village Fire Department. Together, Romeo and Onufer had skied all over the Tetons, including the Grand Teton, and were about a month away from embarking on a ski expedition to Baffin Island.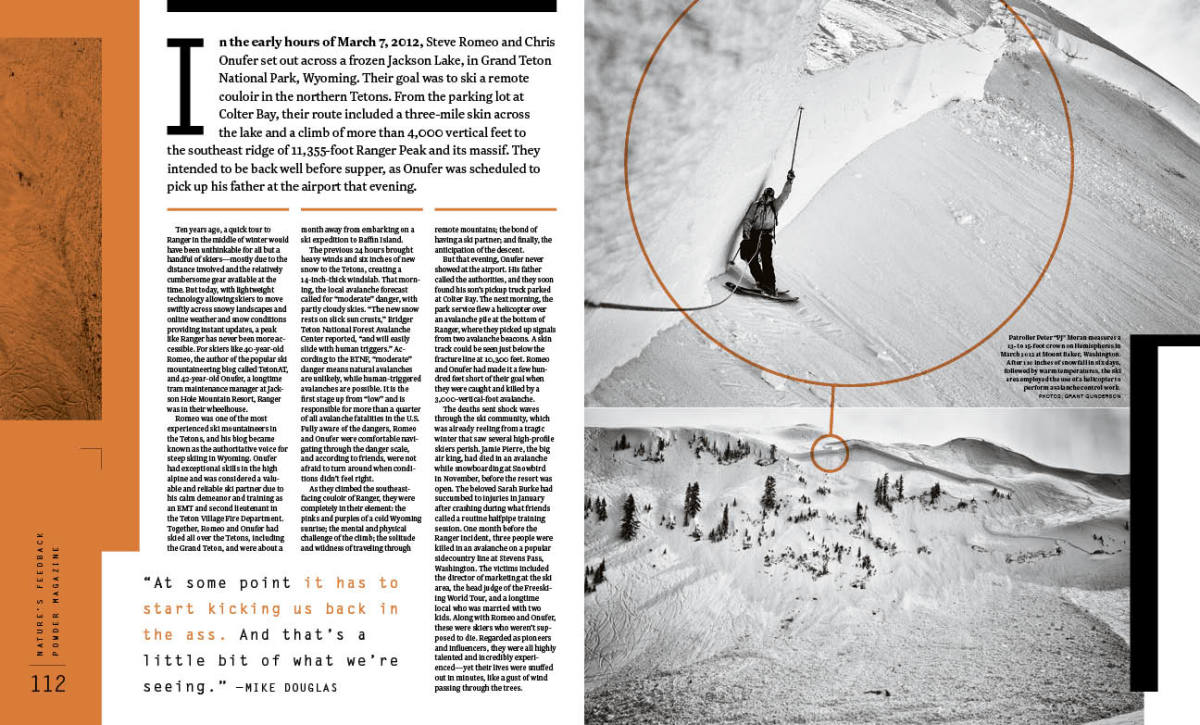 The previous 24 hours brought heavy winds and six inches of new snow to the Tetons, creating a 14-inch-thick windslab. That morning, the local avalanche forecast called for "moderate" danger, with partly cloudy skies. "The new snow rests on slick sun crusts," Bridger Teton National Forest Avalanche Center reported, "and will easily slide with human triggers." According to the BTNF, "moderate" danger means natural avalanches are unlikely, while human-triggered avalanches are possible. It is the first stage up from "low" and is responsible for more than a quarter of all avalanche fatalities in the U.S. Fully aware of the dangers, Romeo and Onufer were comfortable navigating through the danger scale, and according to friends, were not afraid to turn around when conditions didn't feel right.
As they climbed the southeast-facing couloir of Ranger, they were completely in their element: the pinks and purples of a cold Wyoming sunrise; the mental and physical challenge of the climb; the solitude and wildness of traveling through remote mountains; the bond of having a ski partner; and finally, the anticipation of the descent.
But that evening, Onufer never showed at the airport. His father called the authorities, and they soon found his son's pickup truck parked at Colter Bay. The next morning, the park service flew a helicopter over an avalanche pile at the bottom of Ranger, where they picked up signals from two avalanche beacons. A skin track could be seen just below the fracture line at 10,300 feet. Romeo and Onufer had made it a few hundred feet short of their goal when they were caught and killed by a 3,000-vertical-foot avalanche.
"At some point, it has to start kicking us back in the ass. And that's a little bit of what we're seeing."
The deaths sent shock waves through the ski community, which was already reeling from a tragic winter that saw several high-profile skiers perish. Jamie Pierre, the big air king, had died in an avalanche while snowboarding at Snowbird in November, before the resort was open. The beloved Sarah Burke had succumbed to injuries in January after crashing during what friends called a routine halfpipe training session. One month before the Ranger incident, three people were killed in an avalanche on a popular sidecountry line at Stevens Pass, Washington. The victims included the director of marketing at the ski area, the head judge of the Freeskiing World Tour, and a longtime local who was married with two kids. Along with Romeo and Onufer, these were skiers who weren't supposed to die. Regarded as pioneers and influencers, they were all highly talented and incredibly experienced—yet their lives were snuffed out in minutes, like a gust of wind passing through the trees.
Even before last winter, the ski industry had been quietly grappling with a troubling trend: Too many of its best athletes were getting killed. Memorials and remembrances were becoming all too frequent. Squaw Valley alone has memorialized eight skiers in three years. Tight mountain communities enriched by passionate, kind, and genuine people have been left trying to fill gaping holes. Every fall, magazines like this one roll out yet another tribute to another dead skier—the editors trying to balance paying respect to a hero and a friend while celebrating the search for deep powder, big air, and the next phenomenal athlete willing to go bigger, faster, farther than the last guy.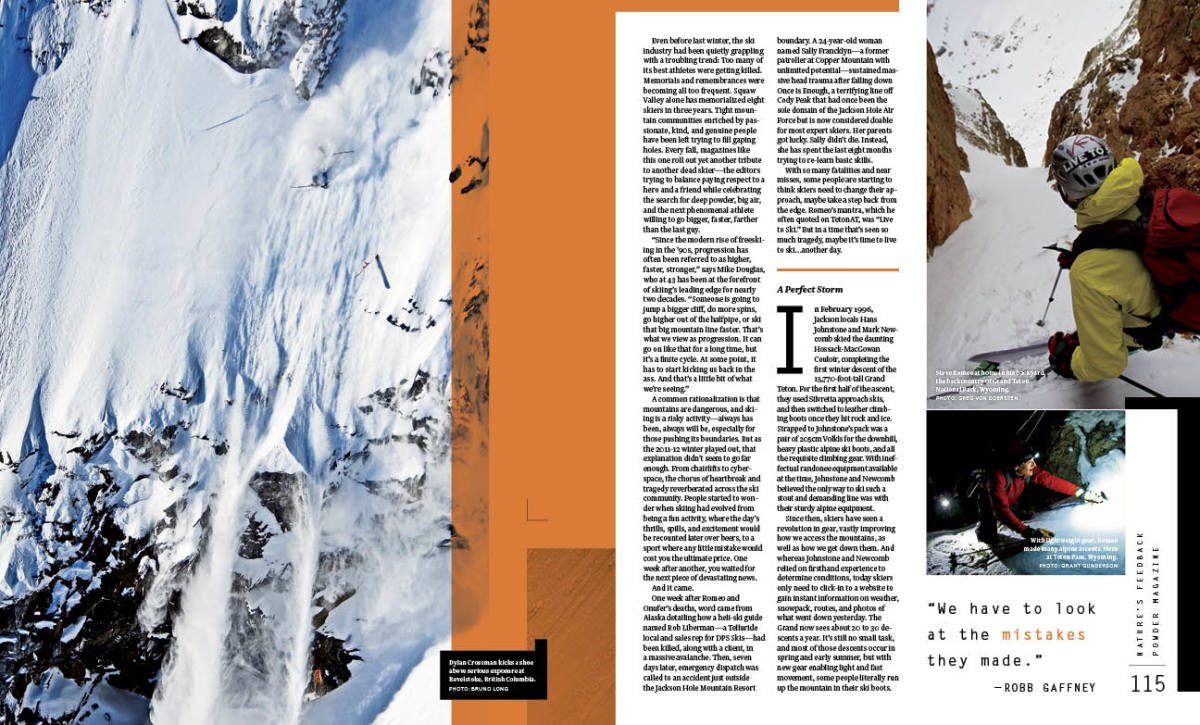 "Since the modern rise of freeskiing in the '90s, progression has often been referred to as higher, faster, stronger," says Mike Douglas, who at 43 has been at the forefront of skiing's leading edge for nearly two decades. "Someone is going to jump a bigger cliff, do more spins, go higher out of the halfpipe, or ski that big mountain line faster. That's what we view as progression. It can go on like that for a long time, but it's a finite cycle. At some point, it has to start kicking us back in the ass. And that's a little bit of what we're seeing."
A common rationalization is that mountains are dangerous, and skiing is a risky activity—always has been, always will be, especially for those pushing its boundaries. But as the 2011-12 winter played out, that explanation didn't seem to go far enough. From chairlifts to cyberspace, the chorus of heartbreak and tragedy reverberated across the ski community. People started to wonder when skiing had evolved from being a fun activity, where the day's thrills, spills, and excitement would be recounted later over beers, to a sport where any little mistake would cost you the ultimate price. One week after another, you waited for the next piece of devastating news.
And it came.
One week after Romeo and Onufer's deaths, word came from Alaska detailing how a heli-ski guide named Rob Liberman—a Telluride local and sales rep for DPS Skis—had been killed, along with a client, in a massive avalanche. Then, seven days later, emergency dispatch was called to an accident just outside the Jackson Hole Mountain Resort boundary. A 24-year-old woman named Sally Francklyn—a former patroller at Copper Mountain with unlimited potential—sustained massive head trauma after falling down Once is Enough, a terrifying line off Cody Peak that had once been the sole domain of the Jackson Hole Air Force but is now considered doable for most expert skiers. Her parents got lucky. Sally didn't die. Instead, she has spent the last eight months trying to relearn basic skills.
With so many fatalities and near misses, some people are starting to think skiers need to change their approach, maybe take a step back from the edge. Romeo's mantra, which he often quoted on TetonAT, was "Live to Ski." But in a time that's seen so much tragedy, maybe it's time to live to ski…another day.
A Perfect Storm
In February 1996, Jackson locals Hans Johnstone and Mark Newcomb skied the daunting Hossack-MacGowan Couloir, completing the first winter descent of the 13,770-foot-tall Grand Teton. For the first half of the ascent, they used Silvretta approach skis, and then switched to leather climbing boots once they hit rock and ice. Strapped to Johnstone's pack was a pair of 205cm Volkls for the downhill, heavy plastic alpine ski boots, and all the requisite climbing gear. With ineffectual randonee equipment available at the time, Johnstone and Newcomb believed the only way to ski such a stout and demanding line was with their sturdy alpine equipment.
Since then, skiers have seen a revolution in gear, vastly improving how we access the mountains, as well as how we get down them. And whereas Johnstone and Newcomb relied on firsthand experience to determine conditions, today skiers only need to click-in to a website to gain instant information on weather, snowpack, routes, and photos of what went down yesterday. The Grand now sees about 20 to 30 descents a year. It's still no small task, and most of those descents occur in spring and early summer, but with new gear enabling light and fast movement, some people literally run up the mountain in their ski boots.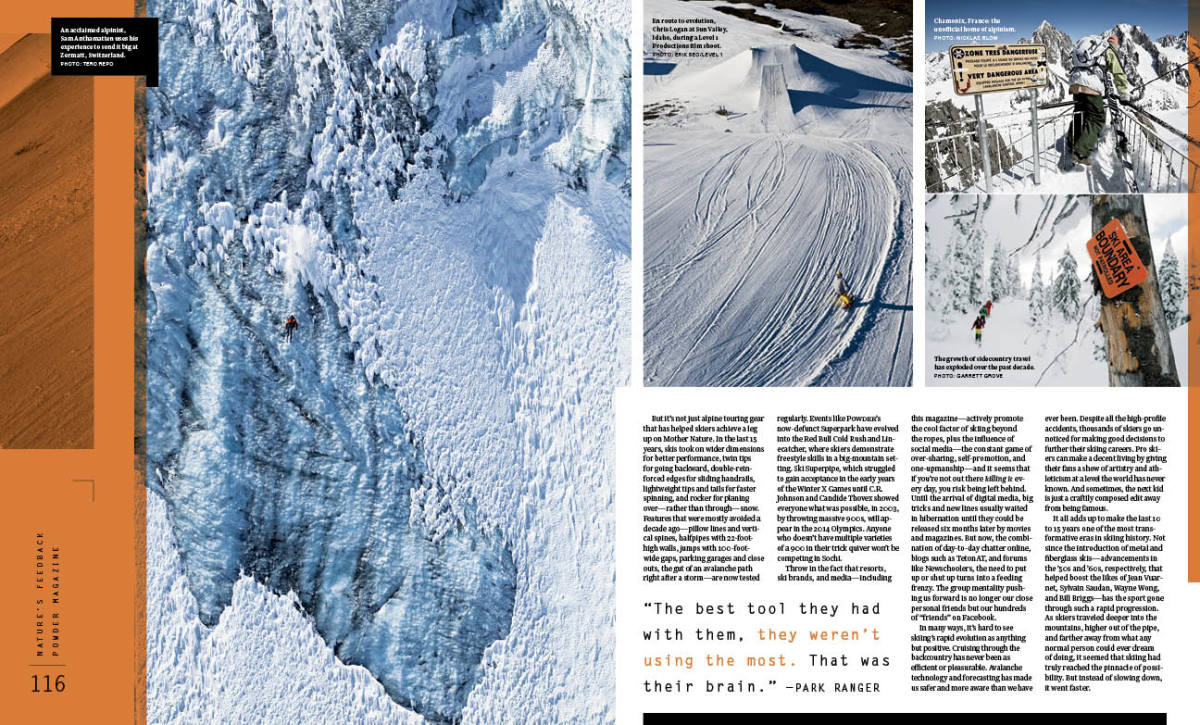 But it's not just alpine touring gear that has helped skiers achieve a leg up on Mother Nature. In the last 15 years, skis took on wider dimensions for better performance, twin tips for going backward, double-reinforced edges for sliding handrails, lightweight tips and tails for faster spinning, and rocker for planing over—rather than through—snow. Features that were mostly avoided a decade ago—pillow lines and vertical spines, halfpipes with 22-foot-high walls, jumps with 100-foot-wide gaps, parking garages and close outs, the gut of an avalanche path right after a storm—are now tested regularly. Events like POWDER's now-defunct Superpark have evolved into the Red Bull Cold Rush and Linecatcher, where skiers demonstrate freestyle skills in a big-mountain setting. Ski Superpipe, which struggled to gain acceptance in the early years of the Winter X Games until C.R. Johnson and Candide Thovex showed everyone what was possible, in 2003, by throwing massive 900s, will appear in the 2014 Olympics. Anyone who doesn't have multiple varieties of a 900 in their trick quiver won't be competing in Sochi.
Throw in the fact that resorts, ski brands, and media—including this magazine—actively promote the cool factor of skiing beyond the ropes, plus the influence of social media—the constant game of oversharing, self-promotion, and one-upmanship—and it seems that if you're not out there killing it every day, you risk being left behind. Until the arrival of digital media, big tricks and new lines usually waited in hibernation until they could be released six months later by movies and magazines. But now, the combination of day-to-day chatter online, blogs such as TetonAT, and forums like Newschoolers, the need to put up or shut up turns into a feeding frenzy. The group mentality pushing us forward is no longer our close personal friends but our hundreds of "friends" on Facebook.
"That's part of our whole society. Everything has to move faster, has to grow. And it's a pretty destructive cycle."
In many ways, it's hard to see skiing's rapid evolution as anything but positive. Cruising through the backcountry has never been as efficient or pleasurable. Avalanche technology and forecasting has made us safer and more aware than we have ever been. Despite all the high-profile accidents, thousands of skiers go unnoticed for making good decisions to further their skiing careers. Pro skiers can make a decent living by giving their fans a show of artistry and athleticism at a level the world has never known. And sometimes, the next kid is just a craftily composed edit away from being famous.
It all adds up to make the last 10 to 15 years one of the most transformative eras in skiing history. Not since the introduction of metal and fiberglass skis—advancements in the '50s and '60s, respectively, that helped boost the likes of Jean Vuarnet, Sylvain Saudan, Wayne Wong, and Bill Briggs—has the sport gone through such a rapid progression. As skiers traveled deeper into the mountains, higher out of the pipe, and farther away from what any normal person could ever dream of doing, it seemed that skiing had truly reached the pinnacle of possibility. But instead of slowing down, it went faster.
"If I look back, in the 1990s, we never used to get out in a heli the first day after a storm," says Douglas. "We were building a jump somewhere to wait for the snow to settle. It's not like that anymore. Things are getting chased down minutes or hours after a storm breaks. That's part of our whole society. Everything has to move faster, has to grow. And it's a pretty destructive cycle."
That cycle resulted in a perfect storm brewing across all segments of skiing. The result has been an ever-increasing stream of influential skiers paying with their lives.
Blame it on the gear. Blame it on the internet and movies and magazines. Blame it on sponsors and competition. Blame it on personal initiative. Blame it on climate change, which has caused erratic weather patterns and snowpack analyses that baffle even the most experienced forecasters. Argue that this list is apples and oranges, because Shane was ski-B.A.S.E. jumping, C.R. was skiing a familiar line inbounds, and Sarah was performing a routine trick. The reality is that no matter the discipline, the level had gotten so high, the commitment so fierce, that any little mistake, stroke of bad luck, or curveball from Mother Nature proved fatal.
The reality is that no matter the discipline, the level had gotten so high, the commitment so fierce, that any little mistake, stroke of bad luck, or curveball from Mother Nature proved fatal.
As bad as it looks, the list doesn't even include the dozens of hometown heroes, such as Jackson's "Everyday" Wray Landon, Squaw's Allison Kreutzen, Whistler's Duncan MacKenzie, Stevens Pass' Johnny Brenan, or 20-year-old Will Schooler, who last year became the first urban skier to die as a result of hitting his head while trying to slide a rail in Nelson, British Columbia. Nor does it reflect all the close calls that occur to every professional skier that continues to walk the line despite knowing full well the consequences.
In the spring of 2011, Ian McIntosh was in such a situation. Known for his aggressive style, McIntosh, who is built like a defensive end, epitomizes modern big-mountain skiing. His chosen discipline is straightlining near-vertical slopes, usually with huge cliff drops with massive consequences. He was in the midst of the best Alaska filming session of his career that spring and had skied several big descents successfully. On his next drop, he misjudged a spine-riddled face pock-marked with rock and ice. Losing control, he took a horrific tumble and broke his femur—all of which was caught on film, including the emergency evacuation. McIntosh says the injury occurred because he cut corners by not scouting the line more thoroughly. He knows it could've killed him.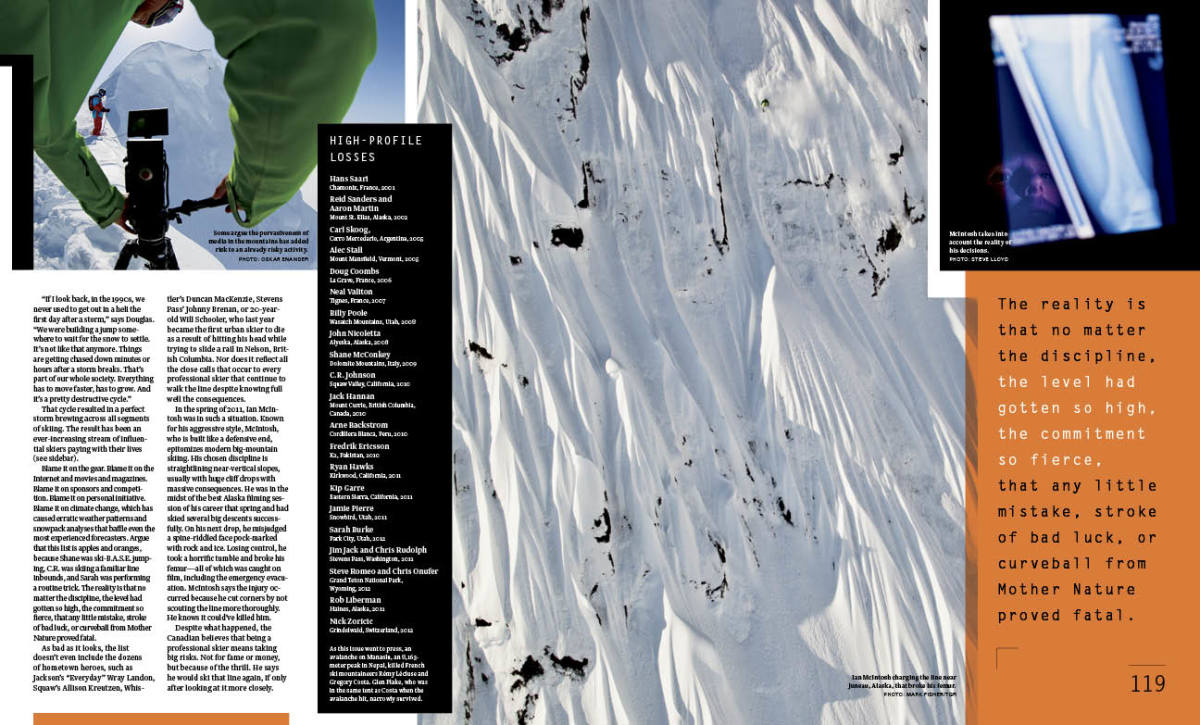 Despite what happened, the Canadian believes that being a professional skier means taking big risks. Not for fame or money, but because of the thrill. He says he would ski that line again, if only after looking at it more closely.
"I'm hoping that as we move forward, people will consider how many loved ones and heroes we've lost, and continue to make smarter decisions," says McIntosh. "But the bottom line is this is the level we're at. Everyone's idea of what is acceptable is different, but I think as skiers we all accept some level of risk because we love pushing ourselves and doing what we do. But I think for the most part, people in the sport accept that any day they go out in the mountains, it could be their last."
This kind of thinking, aside from being maddening to mothers, fathers, spouses, and friends, is not as rare as one might think. Professional skiers know what they are up against. They say the risks they take are carefully calculated, and that the only thing worse than dying is not skiing. They say that skiing gives them their reason for being, and that they'd do it for nothing, with or without the cameras.
"Part of that is being older and having three kids. I really do want to keep doing it, but I've seen the aftermath of close friends dying out on the hill. And it's a disaster. It's just not acceptable."
Which is how Johnstone has existed for his entire ski-mountaineering career. Soft-spoken and camera shy, Johnstone, a 51-year-old innkeeper and Exum guide, is the only person to have skied every route down the Grand Teton. In May this year, he snagged the devastating Otterbody Couloir with fellow Jackson local Christian Beckwith. His gear that day was exceptionally lightweight compared to his past exploits with Newcomb—specifically, a pair of Scarpa Maestrale AT boots, lightweight Black Diamond skis, and Dynafit tech bindings. Beckwith wrote an account of the descent on his website, called the Outerlocal, where he described being scared shitless while Johnstone skied it like a stone-cold ninja.
Though he appreciates the historical significance of the Otterbody descent, Johnstone says it was not worth dying over. He'd been patiently eying the route for two decades and only attempted it when everything lined up. As the two skiers entered the crux, they used a rope to rappel the dicey sections. Johnstone says he's seen enough carnage in the mountains already to not take the utmost in safety precautions. When you get to a certain point, he says, it's not just about you anymore.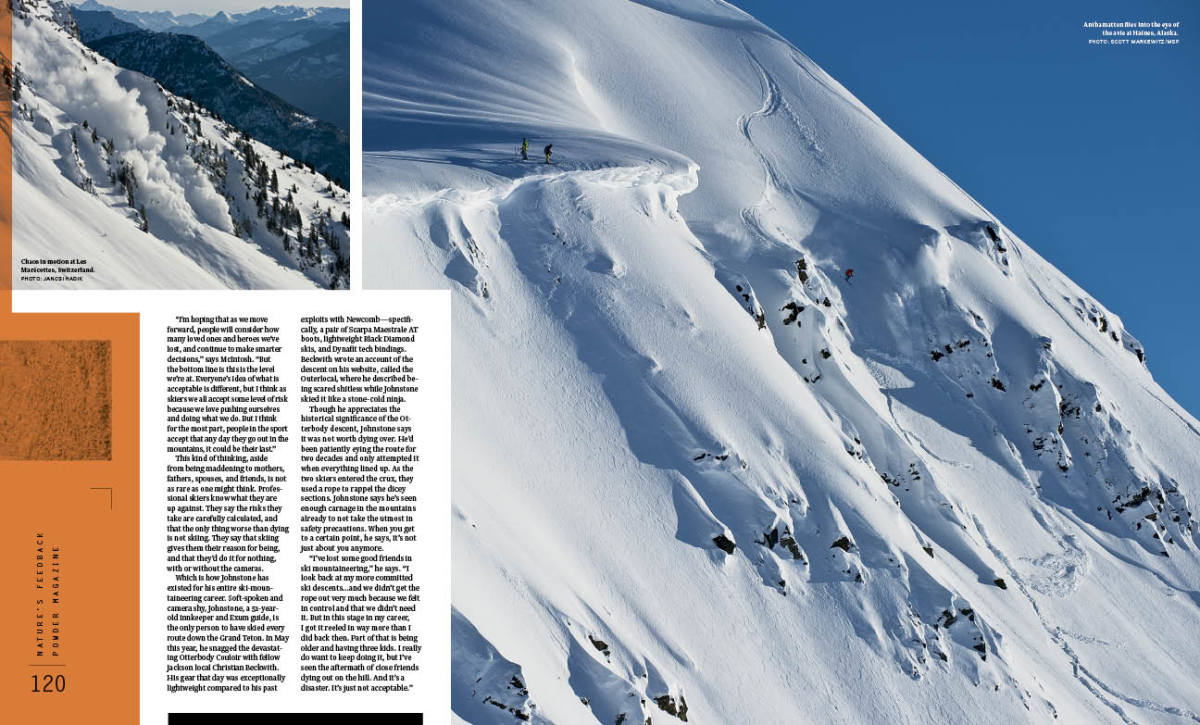 "I've lost some good friends in ski mountaineering," he says. "I look back at my more committed ski descents…and we didn't get the rope out very much because we felt in control and that we didn't need it. But in this stage in my career, I got it reeled in way more than I did back then. Part of that is being older and having three kids. I really do want to keep doing it, but I've seen the aftermath of close friends dying out on the hill. And it's a disaster. It's just not acceptable."
Longevity in Mind
Last winter, NBC News broadcasted a nine-minute expose called "The Death Zone," which detailed the recent spate of fatalities in next-level skiing. Robb Gaffney, a doctor who specializes in psychiatry, author of "Squallywood:A Guide To Squaw's Most Exposed Lines" and the director of "whacking your pole" in G.N.A.R., The Movie, was integral to the piece. Not just because he has been on both sides of the equation—he appeared in ski films in the late '90s and has lost numerous friends recently—but because he raised questions that nobody had been asking, at least not publicly. When he suggested the possibility that Red Bull had been partly responsible for McConkey's death, NBC zeroed in on that sentiment, leading viewers to believe that Gaffney blames sponsorship for all of skiing's latest tragedies.
A day or two later, Romeo posted the video on TetonAT and wrote, "It is pretty wild (and sorta cool) to see skiing all over the mainstream media recently. Too bad it took a bunch of awesome people dying for the bigger audience to realize the risks many skiers take every day. Unfortunately, I think Rob (sic) Gaffney speaks a lot of truths in this MSNBC video and I sure hope we can all survive the next 10 years. LIVE TO SKI!!!"
In the comments section below the post, someone calling himself Randy Marsh wrote: "F that! I disagree with you. Rob (sic) Gaffney speaks like a sell-out bitch. I remember him growing up and have now lost respect for him. A bunch of awesome people have been dying and trying for a very long time; skiers, climbers, boaters, surfers, soldiers, etc… What has changed is the widespread publicity and shear (sic) numbers willing to try. The line in the sand is most of this (sic) people would have done their passions despite the camera and glory. Personal enjoyment, progression, and responsibility can't really be measured at the f-ing news desk!"
What Gaffney believes is that sponsorship is just one element of a highly complex equation that influences risk-taking in skiing. His main argument points to a continual cultural shift that has raised the level for all skiers, which thereby puts the sport's influencers even farther out on the edge. With more skiers taking more risks, the probability increases for what Gaffney calls "nature's feedback." Essentially, the consequences of our actions.
"The margin for error is so much smaller now and we're seeing nature's feedback at an ever-increasing rate," he says. "We knew we were going to get here, we just didn't know when. With Shane's death, that was the first indication that it started. And to see all these other guys get picked off very quickly through the years supported that idea."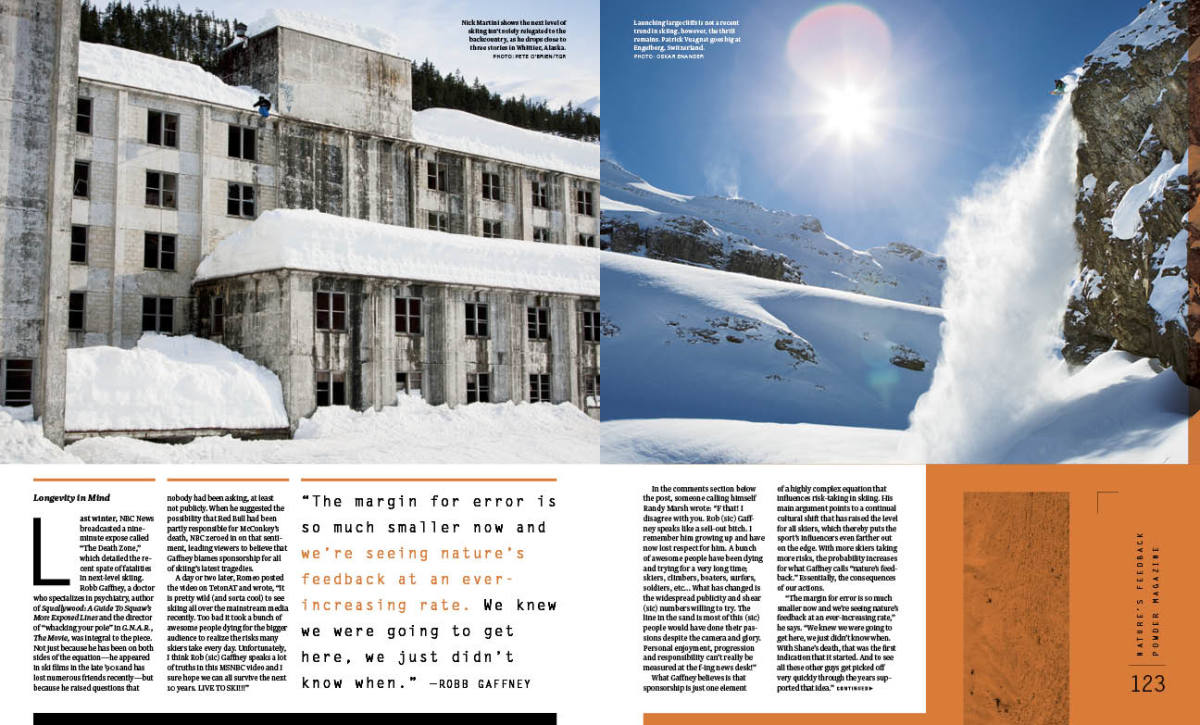 In hopes of reversing the trend, Gaffney launched a campaign called Sportgevity this fall. His goal is to instigate a movement that promotes athletic progression but also longevity in one's career. This means slowing down to make better decisions that serve long-term goals. While he doesn't expect today's top-level athletes to step back, he is at least hoping to reach the next generation, who he says have grown up in an environment that glorifies the deaths of their heroes.
The bottom line, he says, is that a successful ski career does not end in tragedy. Rather, it ends when you say it ends, looking back not at years or seasons, but decades. This ultimately means being honest about how and why our skiing heroes died. "We don't have to demean them and devalue what they've done," says Gaffney, "but we have to look at the mistakes they made. If you're a person that wants to have a long career in skiing, you're gonna have to do things differently than the guys who died. You can still respect who they were, but what they did didn't necessarily define success, if you're looking at a career that you want to be 80 years long."
"The margin for error is so much smaller now and we're seeing nature's feedback at an ever-increasing rate. We knew we were going to get here, we just didn't know when."
Personifying that success, Gaffney says, are skiers like Douglas, Wayne Wong, Billy Kidd, Klaus Obermeyer, Chris Davenport, and Glen Plake, guys who have been around and continue to influence the sport.
"We believe there is a beauty in being able to experience your athletic career over decades," he says. "If you can ski for a lifetime, what you're going to see in terms of where skiing has come from and where it's gone to, that's just an amazing experience. To cut that short, I think, is tragic. To cut that short because of the decision you made, or because your inability to say 'no' to a group when they are marching into avalanche terrain, is tragic."
For Douglas, the message is about having enough patience and smarts to know when to scale it back, and when to push it. "I wait until I feel the conditions are right and everything is lined up," he says. "On those days, it's time to go for it. And I think that's great. But a lot of people are out there pushing every day, and sometimes it's a matter of taking that step back. We want everything so quick right now, so instantly. My love for getting out on a powder day has not wavered in the least. But I'm willing to give up a few along the way to get a hundred more."
To a certain extent, this is already happening. Kaya Turski, the world's top-ranked female slopestyle skier, argued on her blog this spring that women should not be expected to do the same tricks on the same features as men. She says women's skiing would progress faster, and lead to fewer injuries, if they were able to practice their runs on smaller jumps. "Personally, I would be more confident throwing my hardest tricks if I didn't think that if I came (up) short, or went a little too big,
I might explode from the impact," she wrote. "I would prefer to see a nice cork 900 on a 50- to 60-foot table than a 360 or 540 on something 30 feet bigger."
Ever so slowly, appreciation grows for not just the crazy, but the creative. Sean Jordan, a 19-year-old phenom featured in the last three Stept Productions films, has made a name for himself as one of the most gifted park and urban skiers of his generation. Many believe that the biggest and best among his crew is yet to come. But as the other aspects of skiing have shown, being at the top also carries significant risk. Mix a discipline that includes three-story drops to concrete, kinked metal rails descending icy steps, and a group mentality that seeks to one-up the impossible, all while being wrapped in the pioneering spirit, it's scary to think about what's down the road.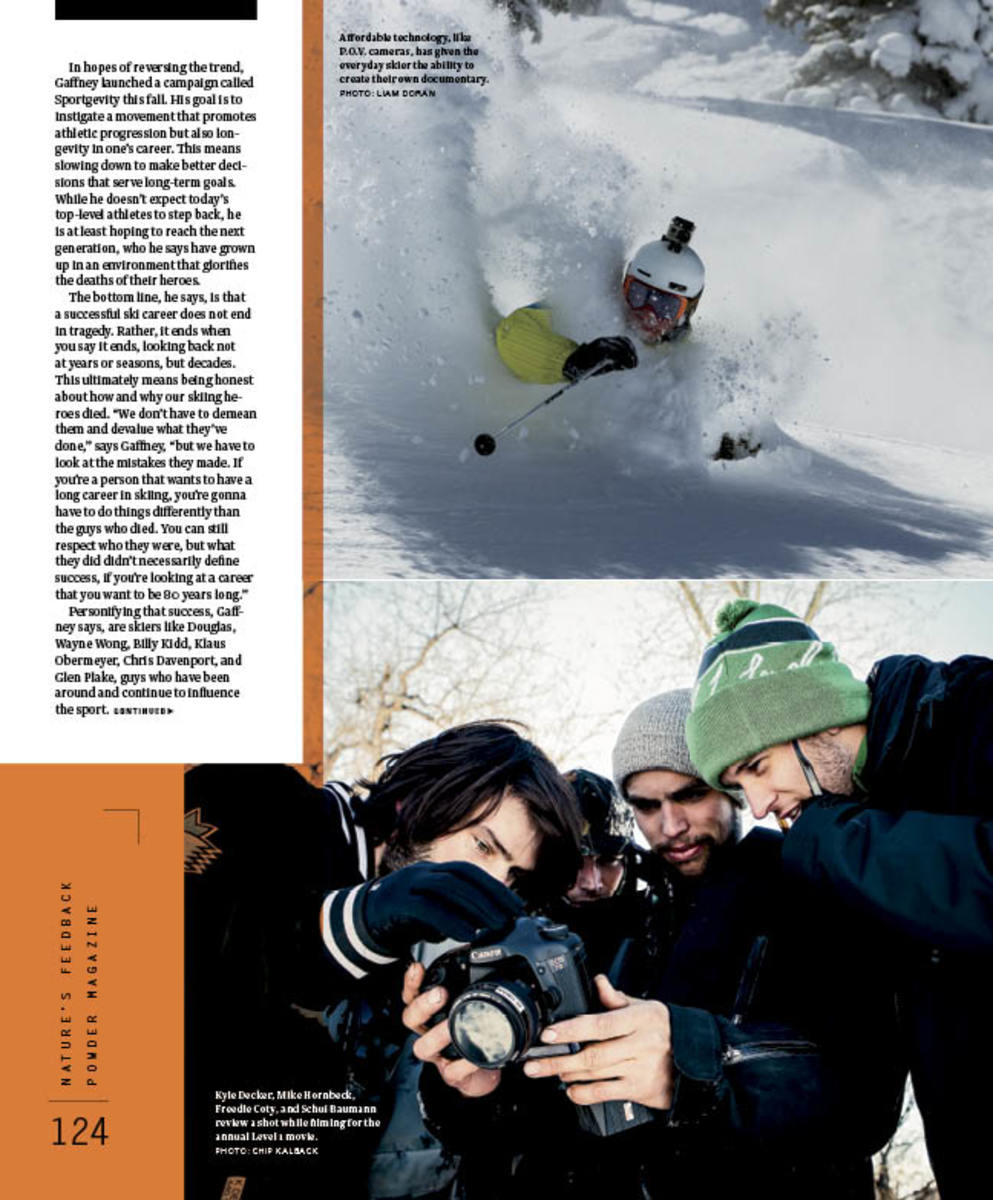 But Jordan believes the future shouldn't just be about cheating death by hitting the biggest features. "Someone's always going to be looking to hit the biggest rail," he says, "but if you do something creative on a smaller feature that's never been done before, it'll give you just as much respect."
Though he's never met the man who produced G.N.A.R., The Movie, Jordan sounds like he's already on board with the ideas behind Sportgevity.
"I want to be out there skiing as best as I can and competing, but I also want to continue to ski for as long as I can," he says. "I've seen how quickly things can turn badly. But I do think people can be progressing the sport and doing big things, but also stay out of the hospital. You want to ski your whole life, so be reasonable."
Past and Future Partners
In the fall of 1992, Reed Finlay moved to Jackson Hole from North Carolina and got a job as a liftie on the upper mountain. A year later, another rookie showed up to work the same shift. His name was Steve Romeo, from Vernon, Connecticut. The two skiers quickly formed a bond and started exploring the Tetons together. Over the years, skiing drew them as close as brothers, and together they accomplished some of the burliest descents in the Tetons.
As Romeo evolved from resort skier to one of the finest ski mountaineers of his generation, he also survived his share of close calls. He had escaped at least three avalanches, including one a year earlier, according to his girlfriend at the time. That avalanche instilled in him a level of fear that he had never felt before. He discussed it with her openly, even while maintaining a confidence that had never waivered. He knew that if something didn't feel right, he could turn around. He pointed to the fact that it had taken him seven attempts to finally ski the Grand Teton. The devotion, discipline, and skill to mark such an achievement made him a proud skier.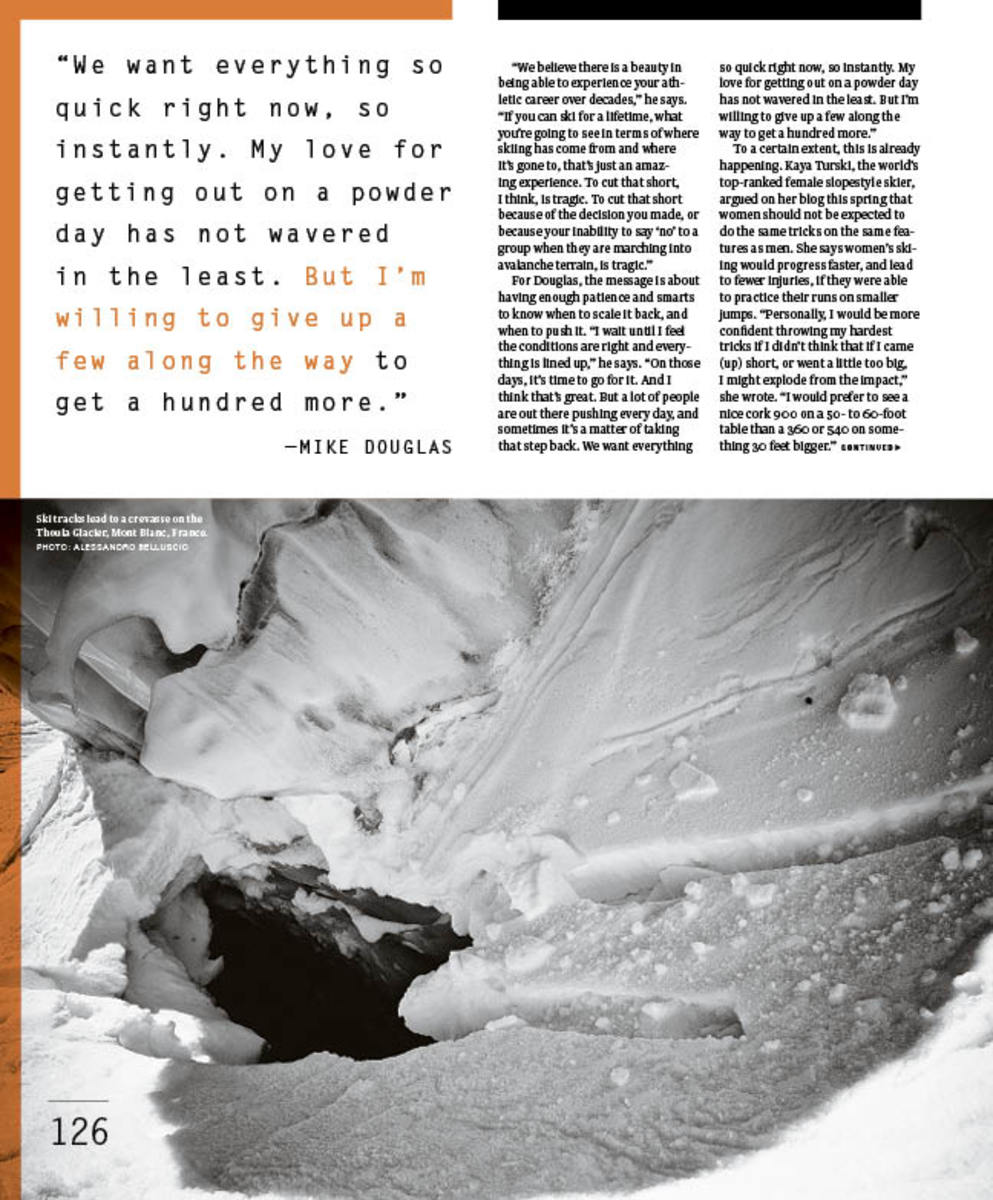 On March 1, 2012, Romeo went to St. John's Medical Center in Jackson to see Finlay. The day before, Finlay's wife had given birth to a boy, and Romeo gushed over the parents and their newborn. He was especially happy to meet the infant and quickly saw the young skier's future. "He let him grip his finger like a ski pole and joked about teaching him to pole plant," says Finlay.
Six days later, Romeo and Onufer set out across Jackson Lake to meet their fate. Work and new fatherly duties dictated that Finlay could not go with them. As a ski patroller at Jackson Hole Mountain Resort, Finlay had noticed strong winds the day before, loading the upper elevations that weren't noticeable from the valley. Nevertheless, he was surprised at the route his friends had chosen for their ascent, which led them right into the starting zone of the avalanche path.
An investigation of the accident led to a scathing report in the Jackson Hole News and Guide. In it, park rangers questioned Romeo and Onufer's decision making and implied the two had a cavalier attitude about their objective that day. Asked whether an avalanche airbag could've saved their lives, since neither skier was fully buried by the slide, a ranger answered, "The best tool they had with them, they weren't using the most. That was their brain."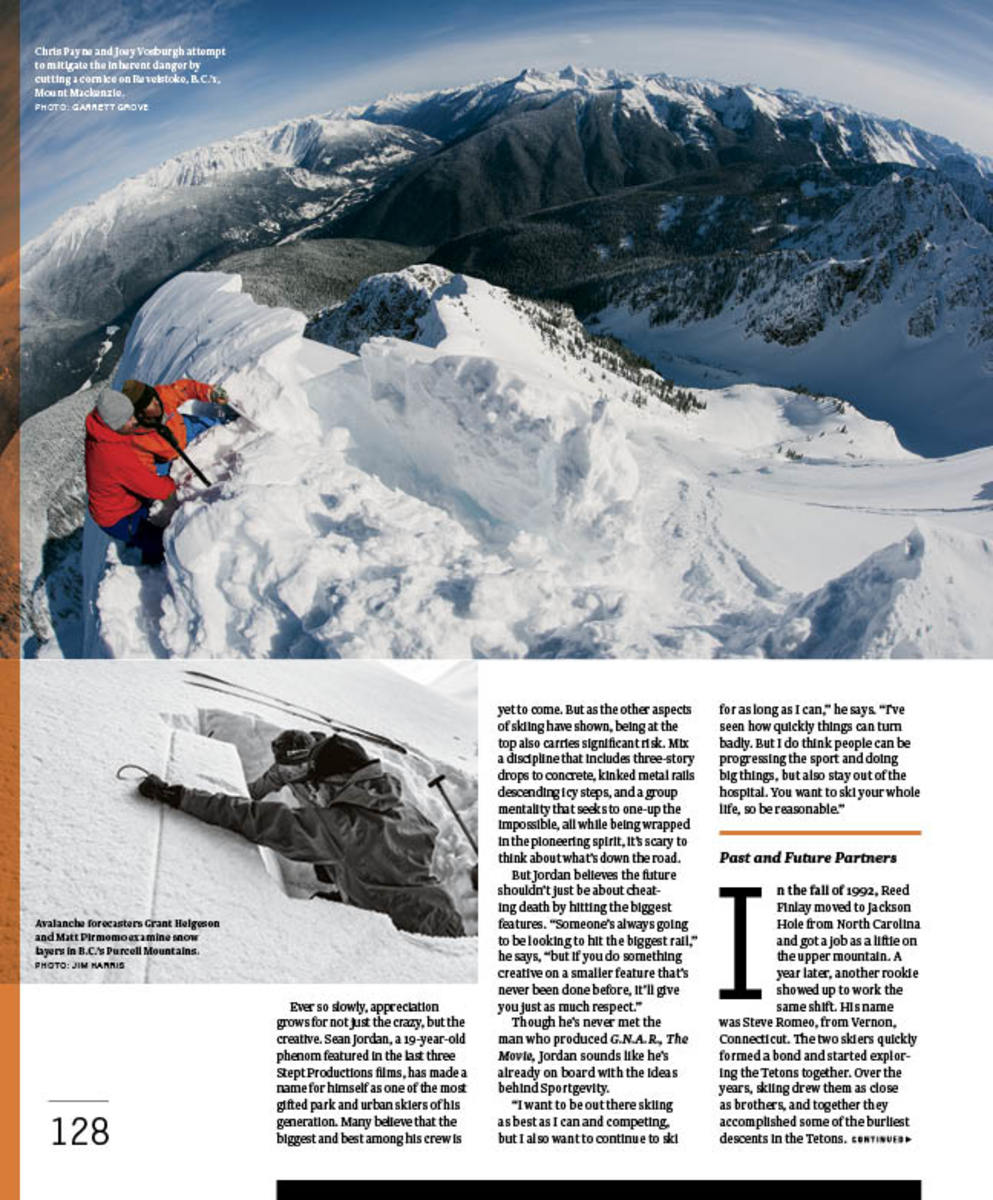 It was a hurtful comment to the skiers' friends and families. But Finlay says even Romeo would've agreed with that assessment. "If it was someone else who'd died, and Steve and I had read that article, we'd have agreed with it," he says. "We would've said, 'These people messed up.' They could've made the right decision. But because they were in a hurry, and because it wasn't sliding on them as they went up, and because they had to get Chris's dad from the airport, they let their guard down."
Finlay then pauses to reflect on what it means, and adds, "Even experts make mistakes. If you're a kid, it's a good lesson."