In celebration of POWDER's 45th Anniversary, we are releasing select stories from every volume. This story originally published in POWDER's September 1992 issue (Volume 21, Issue 1).
Kevin's bangs fell with a "90210" flair over his tan forehead and he reached--for the umpteenth time-across the blackjack table to grab every player's chips. All in a day's work to Kev, who repositioned the bangs with a practiced little flip, posed briefly, and resumed dealing. Little did he know that when those slender, manicured fingers next came skipping across the felt, visions of industrial strength bolt cutters danced in our heads.
Resenting the dealer is nothing new to the blackjack tables of South Lake Tahoe, but Kevin-his shiny little name tag volunteered no last name--was special. If a gambler didn't display her cards to his licking, he'd whine, "No, no, no, no. Like this." He either didn't care or didn't bother to notice that one perplexed player was hearing-impaired. If someone doubled down on an 11 and pulled a very-respectable nine, Kevin would dispense the position in wax-laminated paper that was his cards: A two, a three, another three, a four another tow, an ace, topped off with a six. "Ooohh, 21 again!"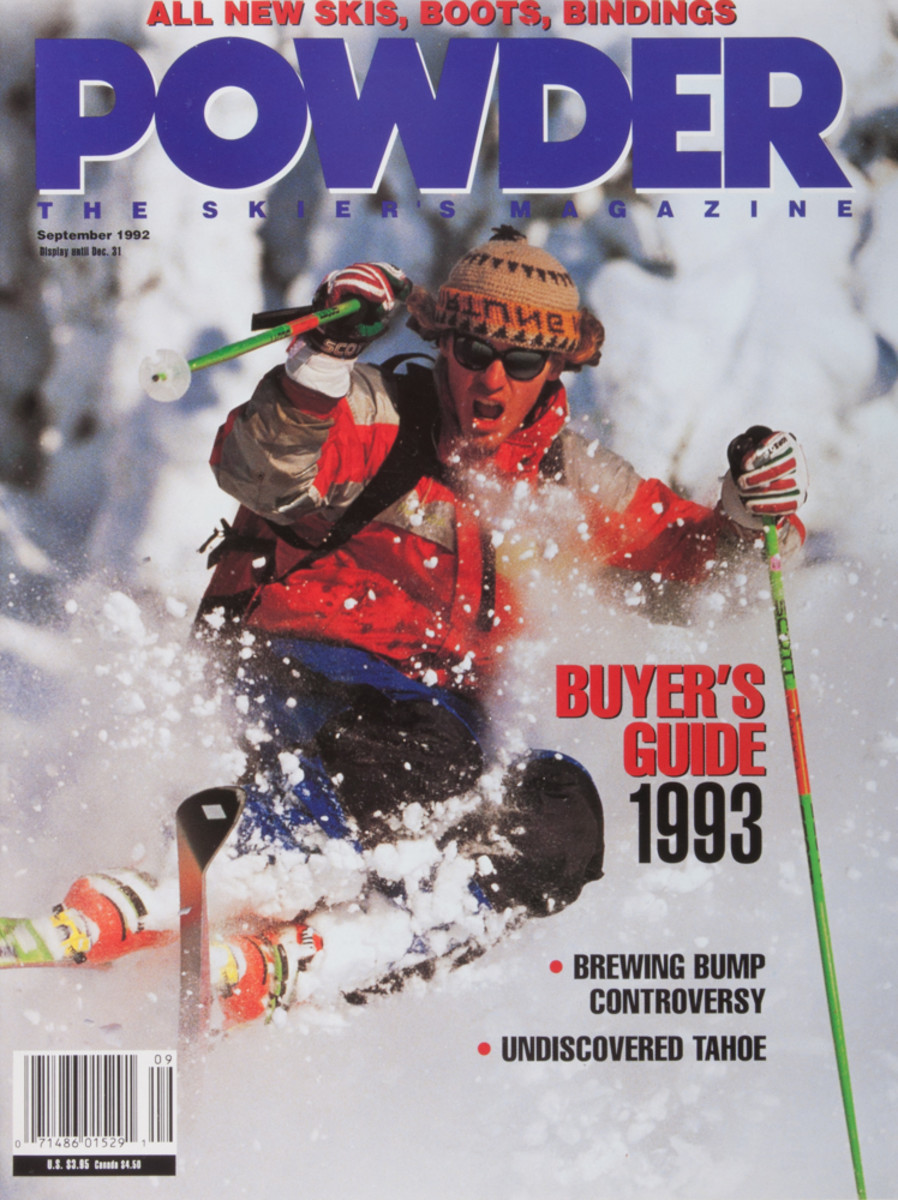 Life is a succession of gambles. Some are planned, like betting that Kevin will bust. Others are unknown, but with just as bad of consequences. Before the 10-hour drive north, for example, I went to Alamo Rent a Car and gambled that I wouldn't drive out in a baby blue Chevrolet Caprice-a rounded space-age monstrosity so pretentiously misguided that it labels the heater a "climate control center."
I got reamed.
Similarly, every skier who plans a trip in advance gambles that the skiing will pass muster. In the last few years unfortunately, many Tahoe skiers have lost that bet. Many others, though, improved their odds. They went to Kirkwood.
Mention Kirkwood to a non-Californian and you're liable to receive a stare as blank as an Irish setter's. Or, if you're lucky, you'll get an "Oh, yeah... the place where that record cliff jump [115 feet] happened and where Plake grew up." Apparently, these two bits of information do not attract great numbers of skiers. Maybe skiers don't wish to catch 11-story-building-sized air. Maybe skiers don't wish they grew up with Plake. Probably both. But neither adequately explains why Kirkwood isn't overrun with the teeming masses.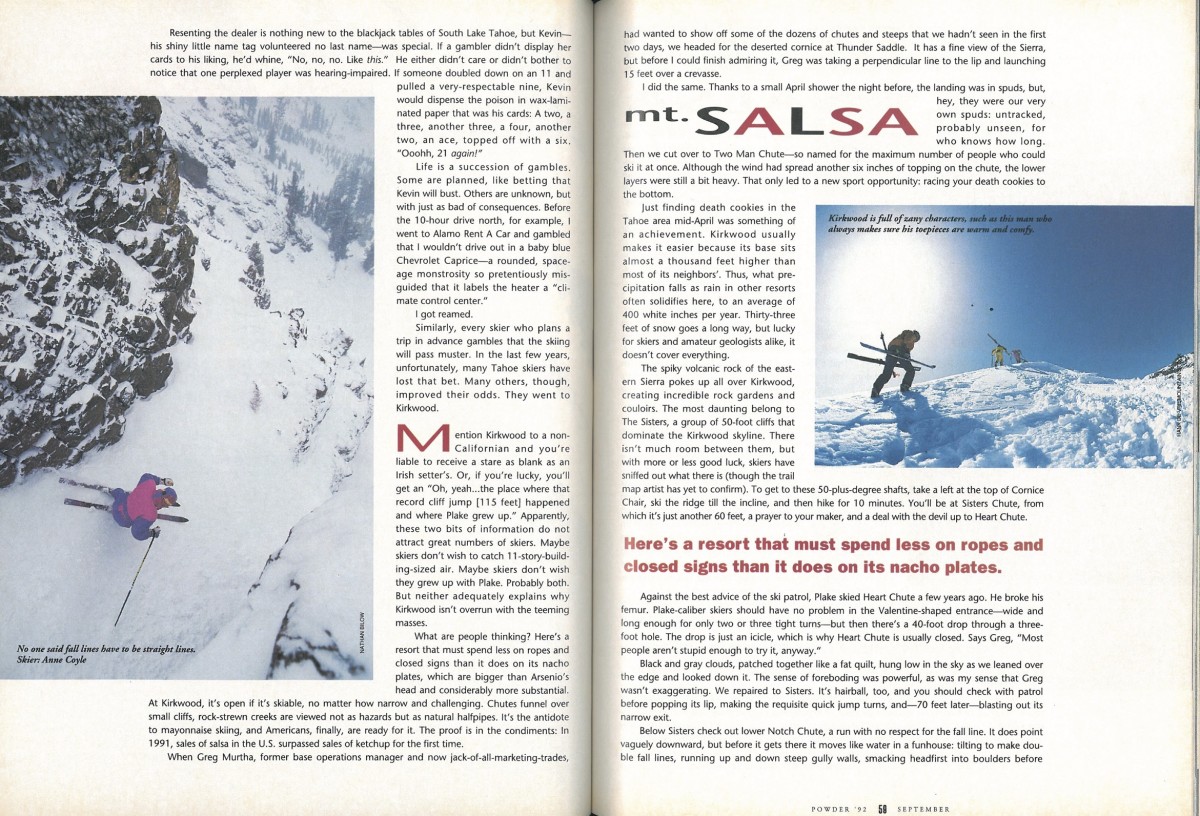 What are people thinking? Here's a resort that must spend less on ropes and closed signs than it does on its nacho plates, which are bigger than Arsenio's head and considerably more substantial. At Kirkwood, it's open if it's skiable, no matter how narrow and challenging. Chutes funnel over small cliffs, rock-strewn creeks are viewed not as hazards but as natural halfpipes. It's the antidote to mayonnaise skiing, and Americans, finally, are ready for it. The proof is in the condiments: In 1991, sales of salsa in the U.S. surpassed sales of ketchup for the first time.
When Greg Murtha, former base operations manager and now jack-of-all-marketing-trades had wanted to show off some of the dozens of chutes and steeps that we hadn't seen in the first two days, we headed for the deserted cornice at Thunder Saddle. It has a fine view of the Sierra but before I could finish admiring it, Greg was taking a perpendicular line to the lip and launching 15 feet over a crevasse.
I did the same. Thanks to a small April shower the night before, the landing was in spuds but, hey, they were our very own spuds: untracked probably unseen, for who knows how long. Then we cut over to Two Man Chute-so named for the maximum number of people who could ski it at once.
Although the wind had spread another six inches of topping on the chute, the lower layers were still a bit heavy. That only led to a new sport opportunity: racing your death cookies to the bottom.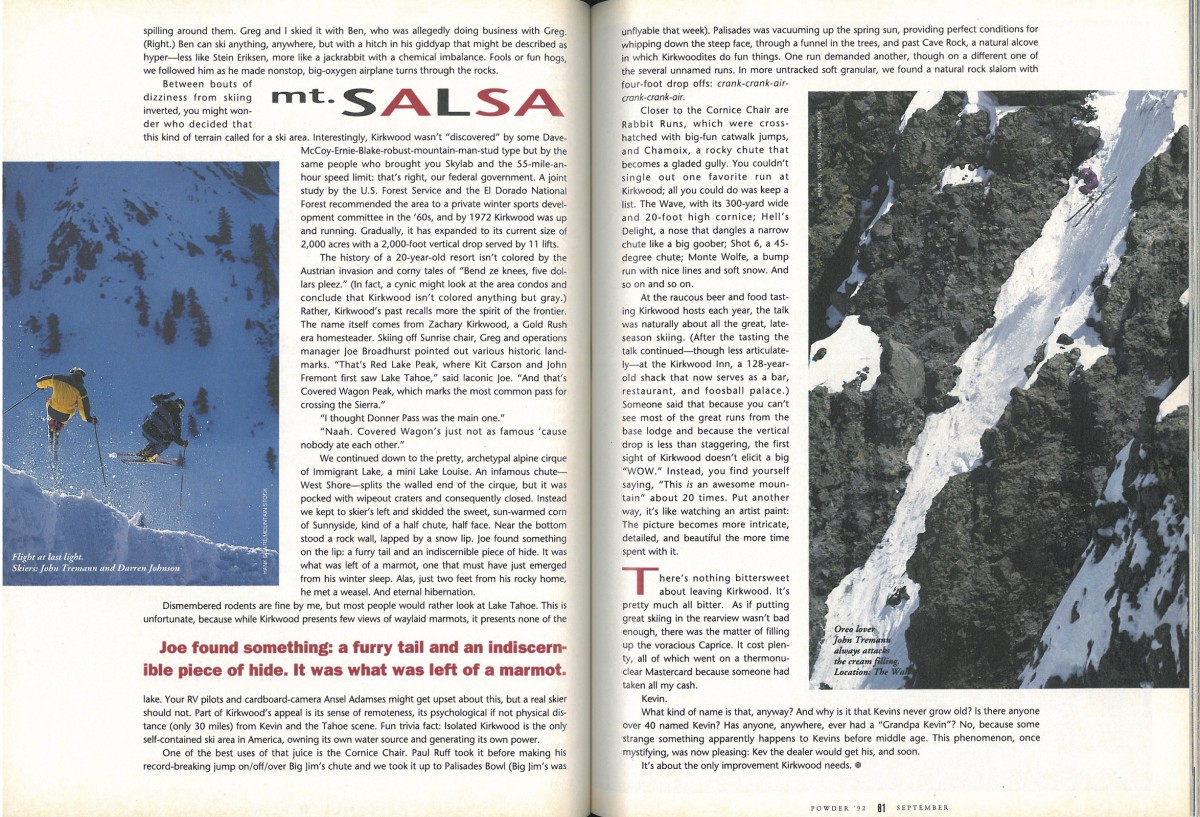 Just finding death cookies in the Tahoe area mid-April was something of an achievement. Kirkwood usually makes it easier because its base sits almost a thousand feet higher than most of its neighbors'. Thus, what precipitation falls as rain in other resorts often solidifies here, to an average of 400 white inches per year. Thirty-three feet of snow goes a long way, but lucky for skiers and amateur geologists alike, it doesn't cover everything.
The spiky volcanic rock of the eastern Sierra pokes up all over Kirkwood, creating incredible rock gardens and couloirs. The most daunting belong to The Sisters, a group of 50-foot cliffs that dominate the Kirkwood skyline. There isn't much room between them, but with more or less good luck, skiers have sniffed out what there is (though the trail map artist has yet to confirm). To get to these 50-plus-degree shafts, take a left at the top of Cornice Chair, ski the ridge till the incline, and then hike for 10 minutes. You'll be at Sister Chute, from which it's just another 60 feet, a prayer to you maker, and deal with the devil up to Heart Chute.
Here's a resort that must spend less on ropes and closed signs than it does on its nacho plates.
Against the best advice of the ski patrol, Plake skied Heart Chute a few years ago. He broke his femur. Plake-caliber skiers should have no problem in the Valentine-shaped entrance--wide and long enough for only two or three tight turns-but then there's a 40-foot drop through a three foot hole. The drop is just an icicle, which is why Heart Chute is usually closed. Says Greg, "Most people aren't stupid enough to try it, anyway."
Black and gray clouds, patched together like a fat quilt hung low in the sky as we leaned over the edge and look down it. The sense of foreboding was powerful, as was my sense that Greg wasn't exaggerating. We returned to Sisters. It's hairball, too, and you should check with patrol before popping its lip, making the requisite quick jump turns, and-70 feet later--blasting out its narrow exit.
Below Sisters check out lower Notch Chute, a run with no respect for the fall line. It does point vaguely downward, but before it get there it moves like water in a funhouse: tilting to make double fall lines, running up and down steep gully walls, smacking headfirst into boulders before spilling around them. Greg and I skied it with Ben, who was allegedly doing business with Greg. Be can ski anything, anywhere, but with a hitch in his giddyup that might be described as hyper--less like Stein Eriksen, more like a jackrabbit with a chemical imbalance. Fools for fun hogs, we followed him as he made nonstop, big-oxygen airplane turns through the rocks.
Between bouts of dizziness from skiing inverted, you might wonder who decided that this kind of terrain called for a ski area. Interestingly, Kirkwood wasn't "discovered" by some Dave-McCoy-Ernie-Blake-robust-mountain-man-stud type, but by the same people who brought you Skylab and the 55-mile-an-hour speed limit: that's right, our federal government. A joint study by the U.S. Forest Service and the El Dorado National Forest recommended the area to a private winter sports development committee in the '60s, and by 1972 Kirkwood was up and running. Gradually, it has expanded to its current size of 2,000 acres with a 2,000-foot vertical drop served by 11 lifts.
The history of a 20-year-old resort isn't colored by the Austrian invasion and tales of "Bend ze knees, five dollars pleez." (In fact, a cynic might look at the area condos and conclude that Kirkwood isn't colored anything but gray.) Rather, Kirkwood's past recalls more the spirit of the frontier. The name itself come from Zachary Kirkwood, a Gold-Rush-era homesteader. Skiing off Sunrise chair, Greg and operations manager Joe Broadhurst pointed out various historic landmarks. "That's Red Lake Peak, where Kit Carson and John Fremont first saw Lake Tahoe," said Iconic Joe, "and that's Covered Wagon Peak, which marks the most common pass for crossing the Sierra."
"I thought Donner Pass was the main one."
"Naah. Covered Wagons just not as famous 'because nobody ate each other."
We continued down to the pretty, archetypal alpine critique of Immigrant Lake, a mini Lake Louise. An infamous chute--West Shore--splits the walled end of the cirque, but it was pocked with wipeout craters and consequently closed. Instead we kept to skier's left and skidded the sweet, sun-warmed corn of Sunnyside, kind of a half cute, half face. Near the bottom stood a rock wall, lapped by a snow lip. Joe found something on the lip: a furry tail and an indiscernible piece of hide. It was what was left of a marmot, one what must have just emerged from his winter sleep. Alas, just two feet from his rocky home, he met a weasel. And eternal hibernation.
Dismembered rodents are fine by me, but most people would rather look at Lake Tahoe. This is unfortunate, because while Kirkwood presents few views of waylaid marmots, it presents none of the lake. Your RV pilots and cardboard-camera Ansel Adamses might get upset about this, but a real skier should not. Part of Kirkwood's appeal is its sense of remoteness, it's psychological if not physical distance (only 30 miles) from Kevin and the Tahoe scene. Fun trivia fact: Isolated Kirkwood is the only self-contained ski area in America, owning its own water source and generating its own power.
One of the best uses of that juice is the Cornice Chair. Paul Ruff took it before making his record-breaking jump on/off/over Big Jim's chute and we took it up to Palisades Bowl (Big Jim's was unflyable that week). Palisades was vacuuming up the spring sun, providing perfect conditions for whipping down the steep face, through a funnel in the trees, and past Cave Rock, a natural alcove in which Kirkwoodites do fun things. One run demanded another, through on a different one of the several unnamed runs. In more untracked soft granular, we found a natural rock slalom with four-foot drop offs: crank-crank-air-crank-crank-air.
Joe found something: a furry tail and an indiscernible piece of hide. It was what was left of a marmot.
Closer to the Cornice Chair are Rabbit Runs, which were crosshatched with big-fun catwalk jumps and Chamonix, a rocky chute that becomes a gladed gully. You couldn't single out one favorite run at Kirkwood; all you could do was keep a list. The Wave, with its 300-yard wide and 20-foot high cornice; Hell's Delight, a nose that dangles a narrow chute like a big goober; Shot 6, a 45-degree chute; Monte Wolfe, a bump run with nice lines and soft snow. And so on and so on.
At the raucous beer and food tasting Kirkwood hosts each year, the talk was naturally about all the great, late season skiing. (After the tasting, the talk continued-though less articulate talk continued-though less articulately-at the Kirkwood Inn, a 128-year-old shack that now serves a bar, restaurant, and foosball palace). Someone said that because you can't see most of the great runs from the base lodge and because the vertical drop is less than staggering, the first sight of Kirkwood does not elicit a big "WOW". Instead, you find yourself saying, "This is an awesome mountain" about 20 times. Put another way, it's like watching an artist paint: The picture becomes more intricate, detailed and beautiful the more time spent with it.
There's nothing bittersweet about leaving Kirkwood. It's pretty much all bitter. As if putting great skiing in the rear view wasn't bad enough, there was the matter of filling up the voracious Caprice. It cost plenty, all of which went on a thermonuclear Mastercard because someone had taken all my cash.
Kevin.
What kind of name is that, anyway? And why is that Kevins never grow old? Is there anyone over 40 named Kevin? Has anyone, anywhere, ever had a "Grandpa Kevin?" No, because some strange something apparently happens to Kevins before middle age. This phenomenon, once mystifying, was now pleasing: Kev the dealer would get his, and soon.
It's about the only improvement Kirkwood needs.