By Richard Barnum Reece
In celebration of POWDER's 45th Anniversary, we are releasing select stories from every volume. This story originally published in POWDER's first issue, published in 1972 (Volume 1, Issue 1).
In the white brick courtyard of the 16th century Catholic Church in Managua, Nicaragua, a dark mob of angry Central Americans were screaming two familiar epithets: "Yankee go home," and "Yaya Gringo." Inside the church, yours truly, a very blue-eyed, blonde-headed gringo ski patrolman from Stowe, Vermont, was kneeling down in sanctuary in one of the ancient black pews. Save for "Donde esta el bano, por favor?" (where is the bathroom please?) I did not speak Spanish. My Indian hitching partner, Sincere Smiling Wolf of the Sun Valley Ski Patrol, was last seen on the outskirts of Mexico City wildly swinging his gold Scott ski poles in mock anticipation of our arrival at Portillo and the end of an 11,000 mile hitch-hike. The Indian, as he was called, had not made our proposed meeting in Guatemala City. He'd either been abducted by guerrillas in Guatemala or he had grabbed a boat in Vera Cruz, Mexico, and was waiting for me in Panama City—our alternate "if things fall through" plan. I did not know where he was. I did know that Portillo was 7,000 miles away and that things were falling through.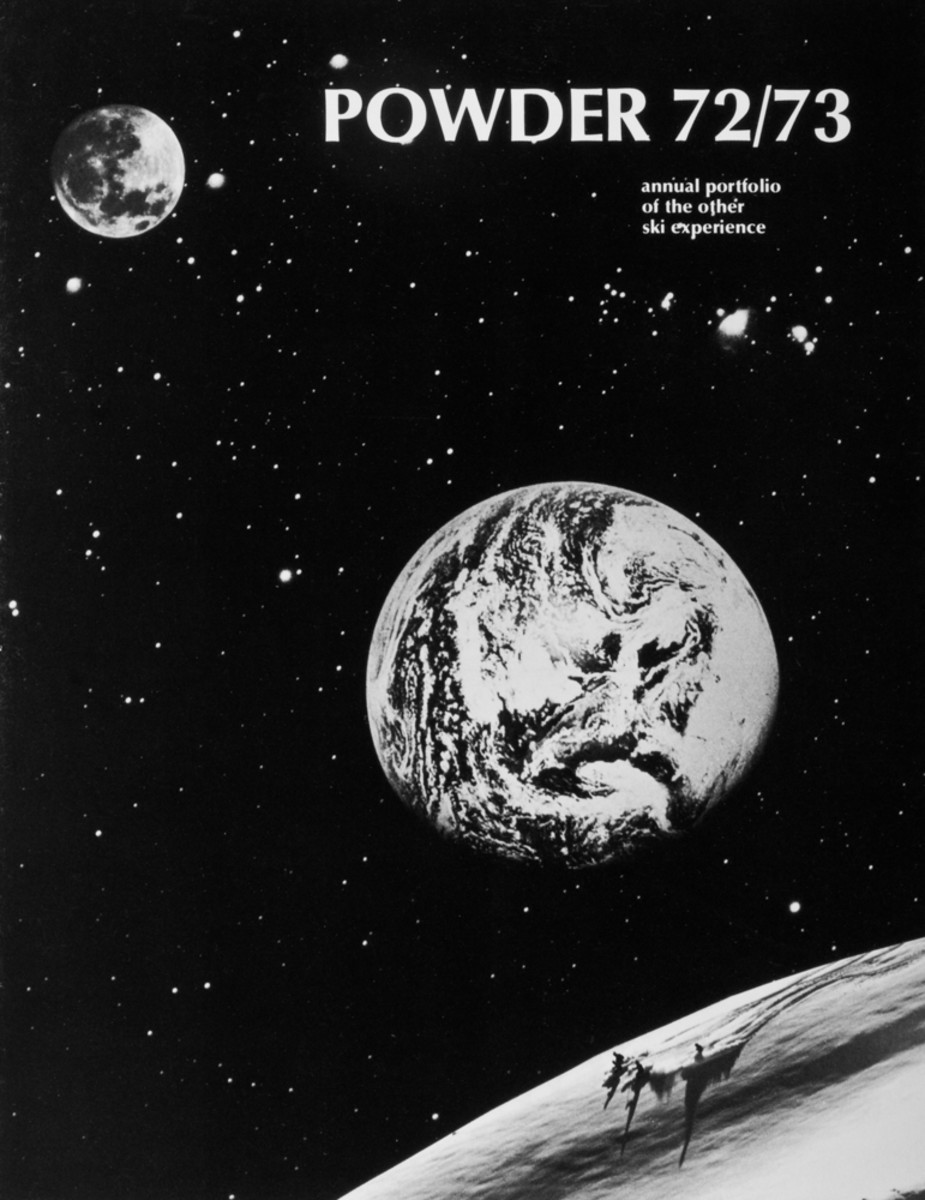 Now, however, outside the people in the courtyard were becoming more vehement. I pressed my head against the pew in front of me to supplicate the Norse ski god. An elderly silver-dressed woman stopped in the aisle next to me, reached out and gingerly touched my shoulder.
"Are you a North American?" she asked in English.
"Yes," I replied.
"A tourist?"
"Yes."
"How wonderful," she said, "I pray that more North Americans come to our country as tourists."
I moaned and moved my head back onto the wooden pew again. Maybe The Indian had joined the Cubco/Gresvig demonstration team and split for Hawaii, I thought.
Suddenly out of the ceiling an ominous resonant voice boomed, "Can I help you my son?"
I turned to look into the dark eyes of a red-frocked priest.
"Yes," I replied, "I'm going in the direction of Panama City and my ride let me out here somehow: Is there another way out?" I pointed sideways out toward the courtyard in an unnecessary explanation of my plight.
"This way," he said, and led me through an enclosed compound to another exit where he hailed a cab that took me to the outskirts of Managua and dropped me off on the Pan-American highway. At the highway I stopped a bus full of chickens and chicken farmers, (one chicken per farmer) and was again, I hoped, moving in the general direction of Portillo via Panama City and my scheduled meeting with The Indian. I was determined to ski in South America after two years of procrastination and despite the slow progress of the chickens and chicken farmers I was zooming in on Chile by ox cart, train, bus, car, and plane at a rate of 200 miles a day.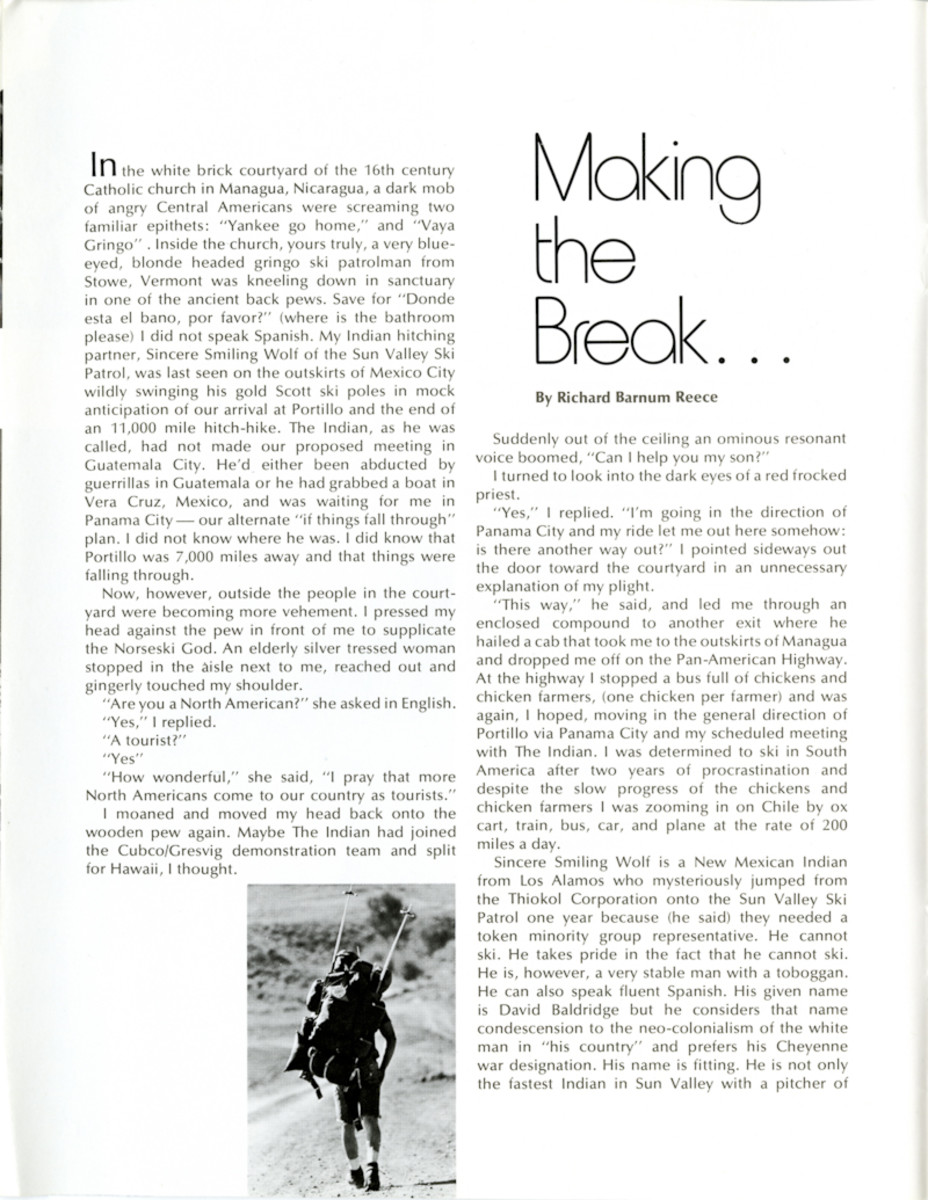 Sincere Smiling Wolf is a New Mexican Indian from Los Alamos who mysteriously jumped from the Thiokol Corporation onto the Sun Valley Ski Patrol one year ago because (he said) they needed a token minority group representative. He cannot ski. He takes pride in the fact that he cannot ski. He is, however, a very stable man with a toboggan. He can also speak fluent Spanish. His given name is David Baldridge but he considers that name condescension to the neocolonialism of the white man in "his country" and prefers his Cheyenne war designation. His name is fitting. He is not only the fastest Indian in Sun Valley with a pitcher of beer but can also out-smile anyone there. He has a set of screaming white teeth that are the modus operandi of his persuasion. He is an Indian Diplomat out of place and time. He would have complimented Crazy Horse at the conference table. Too bad for the Indians; good for Sun Valley.
I met The Indian at Alta, Utah, where we both had journeyed for the National Gelande Contest. I had come from Stowe, Vermont, where I had been the token Western Powder Hound the Mount Mansfield Ski Patrol takes on for amusement each year. At Stowe I had learned what ice REALLY was and I was anxious to recall the more prosaic ecstasy of powder and hitched out to Alta in hopes of finding some and maybe even making enough money to ski the summer in Portillo. That is, if I finished high enough in the contest.
The Indian had come to Alta to laugh at the people who were jumping in the National Gelande Contest. One day he helped me off the out run after a practice crash that I was perfecting. The other jumpers called it "burning out." I was becoming very practiced at the art and The Indian had been watching my development.
"You're insane," he said as he waved the next jumper off.

"I know," I replied, "but I like money."
"What the hell for?"

"I want to ski Portillo this summer."
"I'd rather walk," he said.
"So would I," I replied.
"One more of these and you won't be able to crawl," he pointed out.

"Yup," I said.

"Have some wine," he smiled.
I took the wine and one thing led to another as one step led to another and we were in Alta's Shallow-shaft drinking beer and planning our summer escape to Portillo.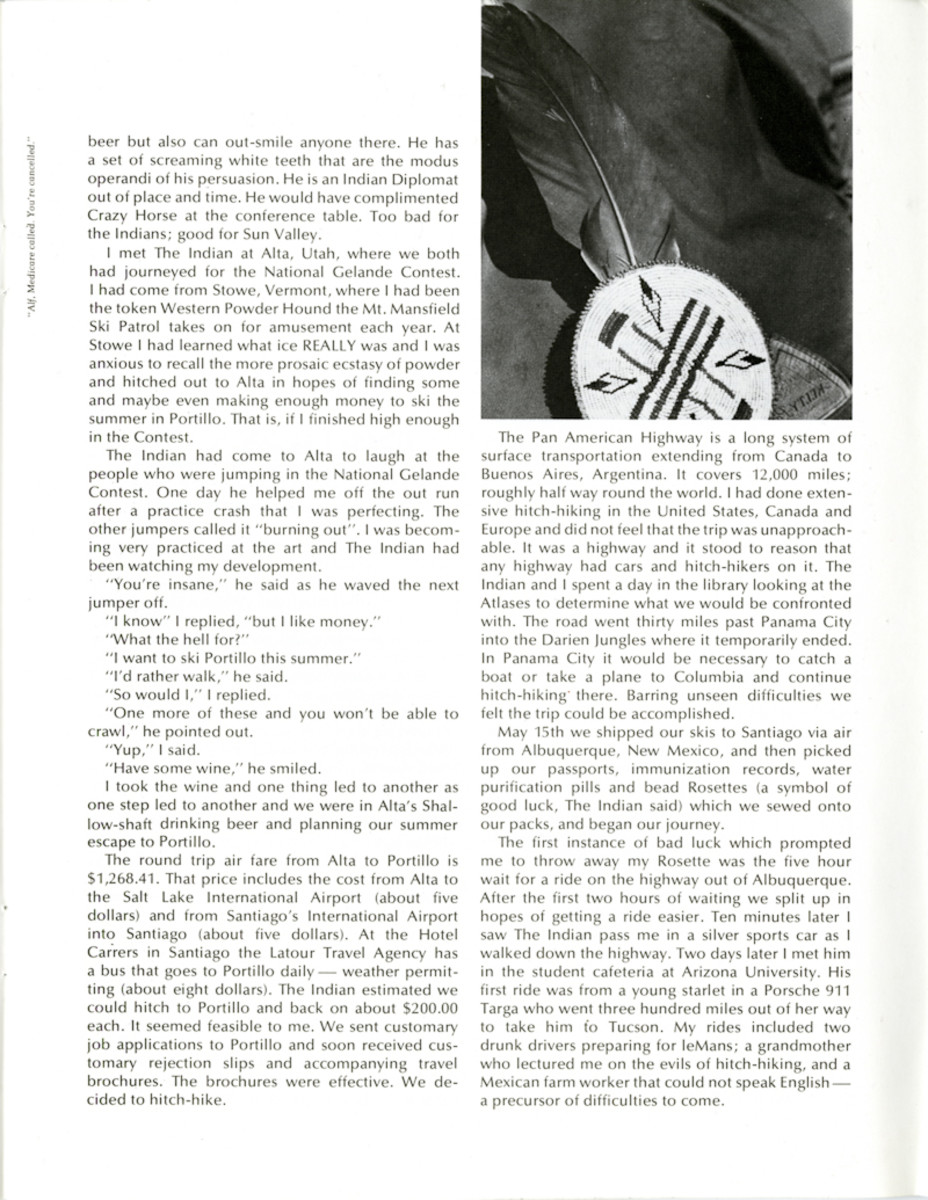 The round trip air fare from Alta to Portillo is $1,268.41. That price include the cost from Alta to the Salt Lake International Airport (about five dollars). At the Hotel Carrers in Santiago the Latour Travel Agency has a bus that goes to Portillo daily—weather permitting (about eight dollars). The Indian estimated we could hitch to Portillo and back on about $200 each. It seemed feasible to me. We sent customary job applications to Portillo and soon received customary rejection slips and accompanying travel brochures. The brochures were effective. We decided to hitchhike.
The Pan American Highway is a long system of surface transportation extending from Canada to Bueno Aires, Argentina. It covers 12,000 miles; roughly half way round the world. I had done extensive hitchhiking in the United States, Canada, and Europe and did not feel that the trip was unapproachable. It was a highway and it stood to reason that any highway had cars and hitchhikers on it. The Indian and I spend a day in the library looking at the Atlases to determine what we would be confronted with. The raid went 30 miles past Panama City into the Darien Jungles where it temporarily ended. In Panama City it would be necessary to catch a boat or take a plane to Columbia and continue hitchhiking there. Barring unseen difficulties we felt the trip could be accomplished.
May 15th we shipped our skis to Santiago via air from Albuquerque, New Mexico, and picked up our passports, immunization records, water purification pills, and bead Rosettes (a symbol of good luck, The Indian said) which we sewed onto our packs, and began our journey.
The first instance of bad luck which prompted me to throw away my Rosette was the five hour wait for a ride on the highway out of Albuquerque. After the first two hours of waiting we split up in hopes of getting a ride easier. Ten minutes later I saw The Indian pass me in a silver sports car as I walked down the highway. Two days later I met him in the student cafeteria at Arizona University. His first ride was from a young starlet in a Porsche 911 Targa who went three hundred miles out of her way to take him to Tucson. My ride included two drunk drivers preparing for leMans; a grandmother who lectured me on the evils of hitchhiking, and a Mexican farm worker that could not speak English—a precursor of difficulties to come.
Mexico was a disaster. The Indian and I found it was possible to take a train or bus to Mexico City for twenty-five dollars. Why hitchhike? The Indian was right. May 18th we sweat-boxed by Mexican National Railroad to Mazatlan where we stopped to check out the fabled Mazatlan beach. It was infested with sand flies. Despite our diligent search for a comfortable campsite we were unsuccessful. The next morning we were on a bus to Guadalajara.
To combat the "Revenge of Montezuma" The Indian would drink nothing but Coca Colas or mineral water. He was continually taking pills or reading a tour guide book that explained the local diseases. This was sound policy. However, his reasons were not to avoid being ill. I later discovered he felt it was necessary to set a good example for me.
"I'm immune," I said.
"How can you be immune?"
"Indians no longer fight each other; our enemy is forked tongue white eyes. Los Coyotes Rubies. The blond coyotes."
In Mexico City we split up to make faster time. We would meet in Guatemala City in a week, or if we got a through ride, send a note to the American Express and meet in Panama City in two weeks. I felt that I had picked up enough Spanish and local "Machismo" to get along. As I hitched to Vera Cruz I realized I had made a mistake. A bus pick up going toward what I thought was Pueblo. It left me 20 miles from the road. In Vera Cruz an 8-year-old Pancho Villa hustled a Swiss Army Knife out of my pack while teaching me the language. Later I caught a bus in Vera Cruz that dropped me off in Villa Hermosa—150 miles off my route. At Villa Hermosa I caught a bus that took me the circuitous route to the Mexican/Guatemalan border town of Tapachula. I arrived in Tapachula at 12 o'clock at night and managed to find an available room in a "pension." The "pension" was a relief not only because of the Latin ambiance of the open courtyard which the building was built around but also because Tapachula signaled the end of the Mexican segment of my journey.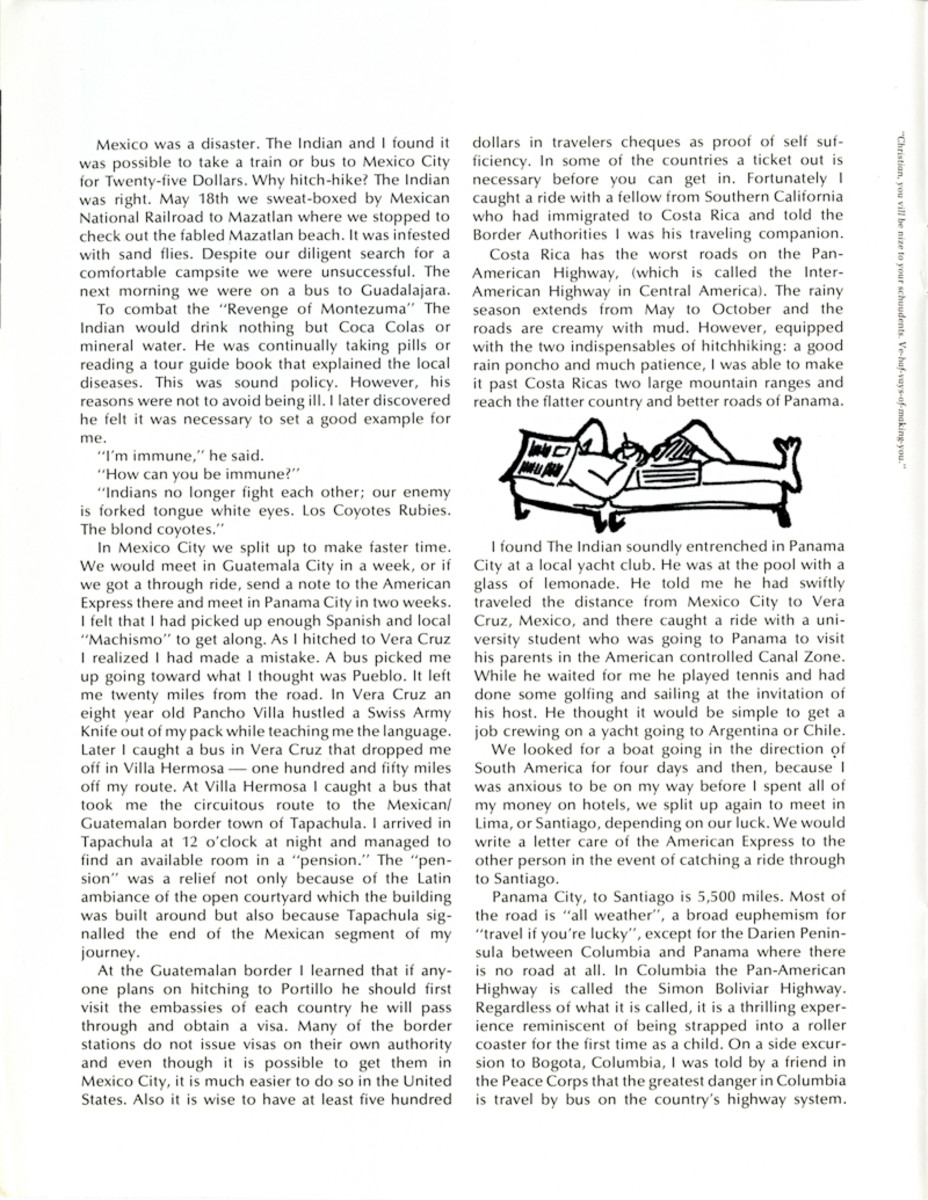 At the Guatemalan border I learned that if anyone plans on hitching to Portillo he should first visit the embassies of each country he will pass through and obtain a visa. Many of the border stations do not issue visas on their own authority and even though it is possible to get them in Mexico City, it is much easier to do so in the United States. Also it is wise to have at least five hundred dollars in travelers cheques as proof of self-efficiency. In some of the countries a ticket out is necessary before you can get in. Fortunately I caught a ride with a fellow from Southern California who had immigrated to Costa Rica and told the Border Authorities I was his traveling companion.
Costa Rica has the worst roads on the Pan American Highway, (which is called the Inter-American Highway in Central America). The rainy season extends from May to October and the roads are creamy with mud. However, equipped with the two indispensables of hitchhiking: a good rain poncho and much patience, I was able to make it past Costa Ricas two large mountain ranges and reach the flatter country and better roads of Panama.
I found The Indian soundly entrenched in Panama City at a local yacht club. He was at the pool with a glass of lemonade. He told me he had swiftly traveled the distance from Mexico City to Vera Cruz, Mexico, and there caught a ride with a university student who was going to Panama to visit his parents in the American-controlled Canal Zone. While he waited for me he played tennis and had done some golfing and sailing at the invitation of his host. He thought it would be simple to get a job crewing on a yacht going to Argentina or Chile.
We looked for a boat going in the direction of South America for four days and then, because I was anxious to be on my way before I spent all of my money on hotels, we split up again to meet in Lima, or Santiago, depending on our luck. We would write a letter care of the American Express to the other person in the event of catching a ride through Santiago.
Panama City to Santiago is 5,500 miles. Most of the road is "all weather," a broad euphemism for "travel if you're lucky," except for the Darien Peninsula between Columbia and Panama where there is no road at all. In Columbia the Pan-American Highway is called the Simon Bolivar Highway. Regardless of what it is called, it is a thrilling experience reminiscent of being stripped into a roller coaster for the first time as a child. On a side excursion to Bogota, Columbia, I was told by a friend in the Peace Corps that the greatest danger in Columbia is travel by bus on the country's highway system.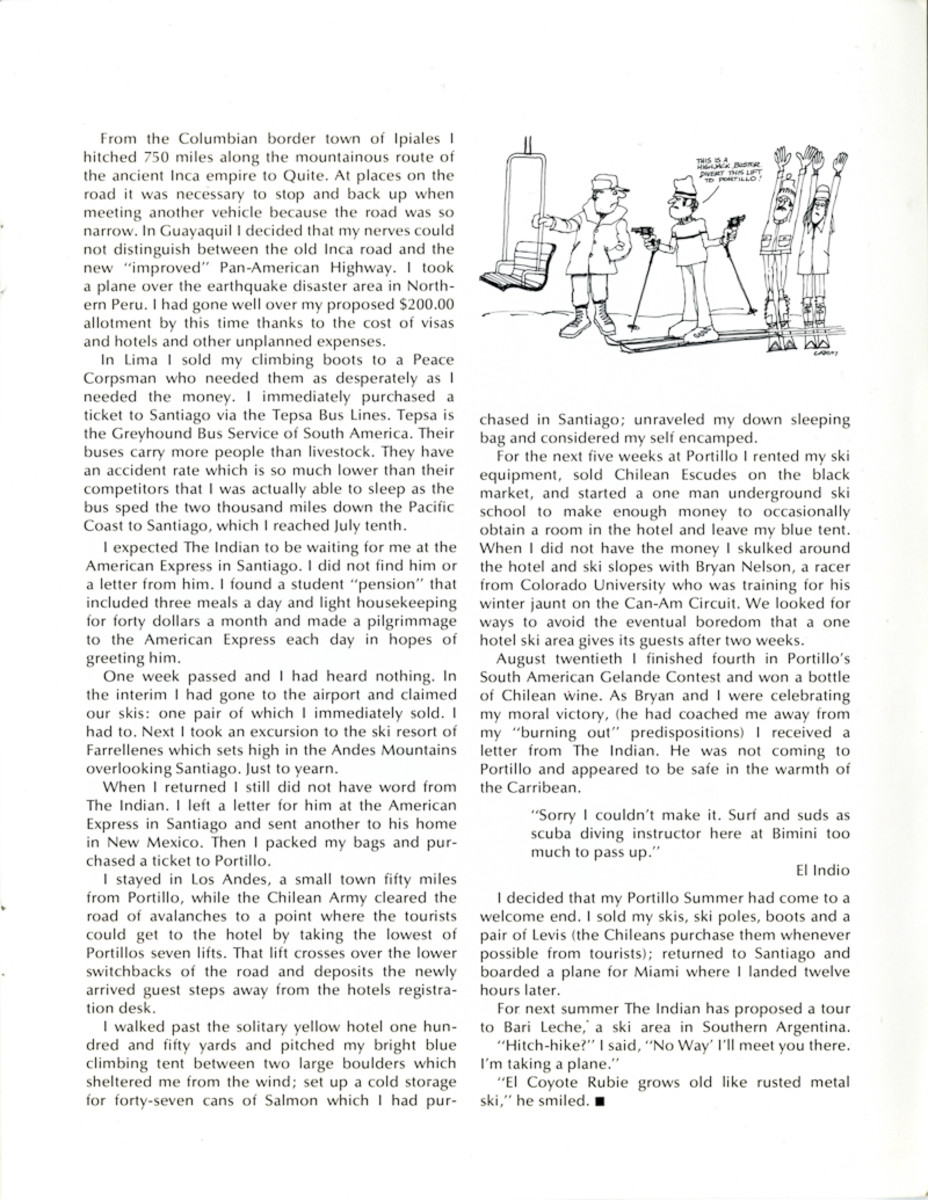 From the Columbian border town of Ipiales I hitched 750 miles along the mountainous route of the ancient Inca empire to Quito. At places on the road it was necessary to stop and back up when meeting another vehicle because the road was so narrow. In Guayaquil I decided that my nerves could not distinguish between the old Inca road and the new "improved" Pan-American Highway. I took a plane over the earthquake disaster in Northern Peru. I had gone well over my proposed $200 allotment by this time thanks for the cost of visas and hotels and other unplanned expenses.
In Lima I sold my climbing boots to a Peace Corpsman who needed them as desperately as I needed money. I immediately purchased a ticket to Santiago via the Tepsa Bus Lines. Tessa is the Greyhound Bus Service of South America. Their busses carry more people than livestock. They have an accident rate which is so much lower than their competitors that I was actually able to sleep as the bus sped the two thousand miles down the Pacific Coast to Santiago, which I reached July 10th.
I expected The Indian to be waiting for me at the American Express in Santiago. I did not find him or a letter from him. I found a student "pension" that included three meals a day and light housekeeping for forty dollars a month and made a pilgrimage to the American Express each day in hopes of greeting him.
One week passed and I heard nothing. In the interim I had gone to the airport and claimed our skis: one pair of which I immediately sold. I had to. Next I took an excursion to the ski resort of Farrellones which sets high in the Andes Mountains overlooking Santiago. Just to yearn.
When I returned I still did not have word from The Indian. I left a letter for him at the American Express in Santiago and sent another to this home in New Mexico. Then I packed my bags and purchased a ticket to Portillo.
I stayed in Los Andes, a small town 50 miles from Portillo, while the Chilean Army cleared the road of avalanches to a point where the tourists could get to the hotel by taking the lowest of Portillo's seven lifts. That lift crosses over the lower switchbacks of the road and deposits the newly arrived guest steps away from the hotel's registration desk.
I walked past the solitary yellow hotel 150 yards and pitched my bright blue climbing tent between two large boulders which sheltered me from the wind; set up a cold storage for 47 cans of Salmon which I had purchased in Santiago; unraveled my down sleeping back and considered myself encamped.
For the next five weeks at Portillo I rented my ski equipment, sold Chilean Escudes on the black market, and started a one man underground ski school to make enough money to occasionally obtain a room in the hotel and leave my blue tent. When I did not have the money I skulked around the hotel and ski slopes with Bryan Nelson, a racer from Colorado University who was training for his winter jaunt on the Can-Am Circuit. We looked for ways to avoid the eventual boredom that a hotel ski area gives its guests after two weeks.
August 20th I finished fourth in Portillo's South American Gelande Contest and won a bottle of Chilean wine. As Bryan and I were celebrating my moral victory, (he had coached me away from my "burning out" predispositions) I received a letter from The Indian. He was not coming to Portillo and appeared to be safe in the warmth of the Caribbean.
"Sorry I couldn't make it. Surf and suds as a scuba diving instructor here at Bimini too much to pass up." —El Indio
I decided that my Portillo Summer had come to a welcome end. I sold my skis, ski poles, boots, and a pair of Levis (the Chileans purchase them whenever possible from tourists); returned to Santiago and boarded a plane for Miami where I landed 12 hours later.
For next summer The Indian had proposed a tour to Bariloche, a ski area in Southern Argentina.
"Hitchhike?" I said, "No Way, I'll meet you there. I'm taking a plane."
"El Coyote Rubie grows old like rusted metal ski," he smiled.