In celebration of POWDER's 45th Anniversary, we are releasing select stories from every volume. This story originally published in POWDER's March 1994 issue (Volume 22, Issue 7).
The day started with low expectations. After all, it was overcast and about 75 degrees in L.A.—standard weather for the Saturday before Easter. What was the potential for good snow? Let me put it this way: The number of Southern Californians who believe in local skiing on Water is probably dwarfed by the number that believe in huge, benevolent, Christian bunnies who worship the Lord Jesus by delivering children baskets of candy and eggs, despite an obvious lack of prehensile fingers.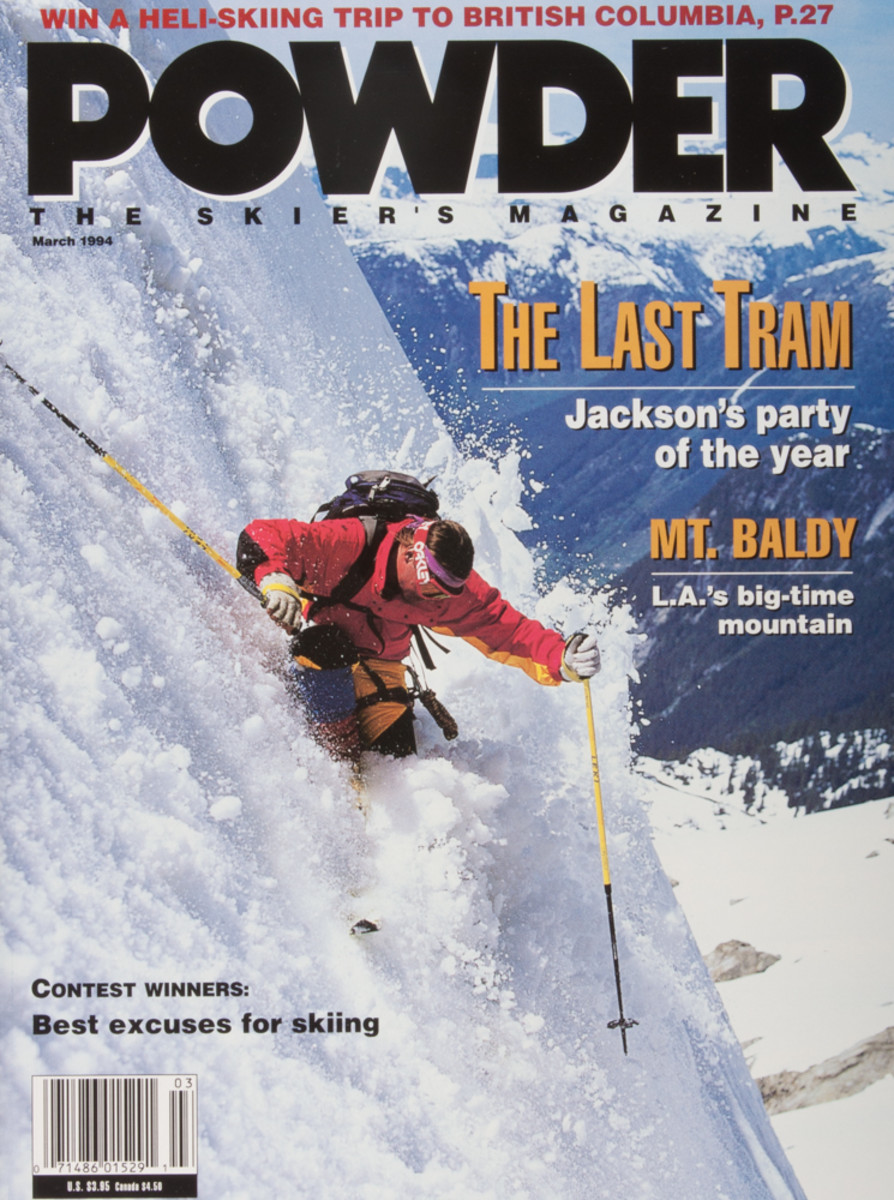 I had never been to Mount Baldy but had heard good things about it from people in the office. These people, however, had no desire to ski Baldy on Easter weekend: too hot, too late, should have gone in January. I was looking seriously at going alone before the new guy said he had nothing better to do. Even he almost backed out when I told him I was bringing my snowboard. "Around here," I told him, "you use anything that makes the mountain bigger."
What I didn't know is that the mountain is plenty big enough already. Mount Baldy Ski Area rises from a 6,500-foot base to a lift-served 8,600 feet, and the peak itself tops out at 10,040 feet. Though the latitude may be a little low, the elevations are higher than Whistler and every New England resort. The San Gabriels make for a spectacularly steep, folded, and gnarly-looking range, and if they have a flaw it's just that they went a bit thirsty for a while. But as these photos show, they drank their fill last winter.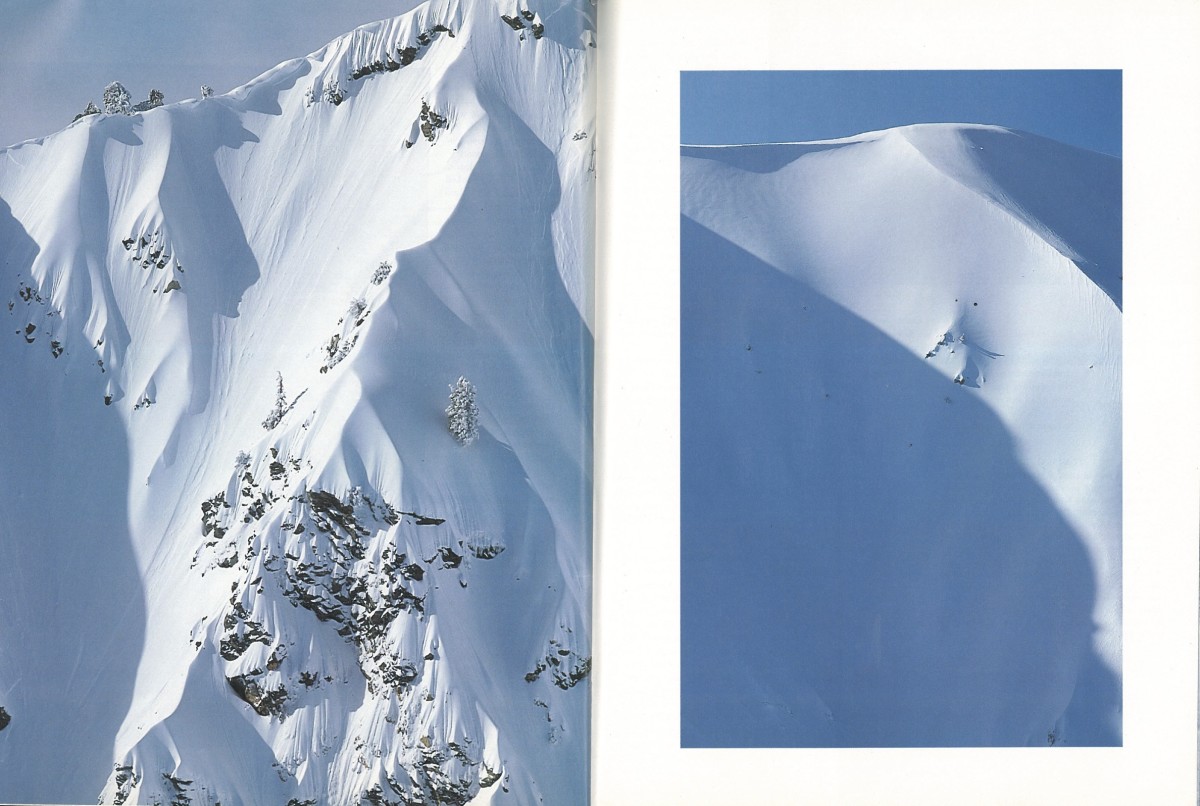 As steep and alpine-looking as Baldy looked from the access road, I still expected to see the usual SoCal brand of skier on the slope: a yahoo in jeans and a Raiders' jacket jumping stiff-legged over a bump before crashing on the flat landing and bowling over innocent waifs. But the place was empty of those types and just about every other kind. Only skiers with a serious jones for turns were battling the heat and the quickly liquefying snow.
After a full morning, the new guy and I took lunch on Baldy's eagle nest of a deck, as much for the view as for the food. Every Southern California owes it to herself or himself to gaze at the big vertical drops and plum-bob escarpments up there, to see what mountains can look like when developers don't level them into boring mesas—which the pigs do so they can cram on more and more colonies of condos, all with identical pseudo-adobe wall and red tiled roofs.
The afternoon went pretty much like the morning: Me trying to make my snowboard turn, Baldy's inclines throwing me 100 yards down the slope with each transition from heel inside to toeside. I could tell the new guy was getting a little bored with the spectacle but out of nowhere he was saved. Our name suddenly appeared on the "Call Ski Patrol" chalkboard at the lift. As we wondered aloud what the hell for, a bearded guy with a gleam in his eye taped us on the shoulder.
He said he was John Koulouris, a promoter for Baldy, and had left the chalkboard message because he wanted to show us the magnificent backside. His big selling point was mentioning the photos you see here, which he swore I had seen in the office. "Yunno, yunno, the Prosor shots?" I didn't, but mumbled something about "lots of shots in the office, probably saw 'em somewhere" just to get that gleam off my back.
In no time, John radioed for someone to start up the closed Chair 4 and for someone else to drive to a remote pick-up point. We soon boarded our own private lift and rode off into the hot California sky. Below us was a raging Spring Fling keg toss and its hoots and hollers chased us all the way up the mountain. I was on a snowboard and we were going spontaneously o.b. with someone we had never met. It's fair to say that it was the oddest start to a backcountry trip I'd ever experienced.
We hiked briefly up the ridgeline you see on page 57, and while the cornice had withered substantially in the six weeks between Proser's visit and ours, a misstep with the right foot still promised an exciting tumble. We clicked onto our respective boards and then dropped into the yawning, east-facing bowl.
The snow was unsurprisingly wet but wonderfully consistent–like a perfectly compacted Mr. Misty. We broke through, but we broke through so evenly and predictably that it took little effort to dial in the appropriate weighting. After sweating packed and skied–off slopes all day, swerving around in the untracked was joyous.
Alas, the runout ran out much quicker than when Prosor visited. We could stay in the main bowl all the way down, but John said it would force us to make a long walk back to the rendezvous. His solution: link a series of five hanging bowls to skier's right, which were more shaded and thus extended lower to the valley floor. This was the perfect solution for skiers, who had no problem crossing the small ridges into each bowl.
It was hell on a snowboard.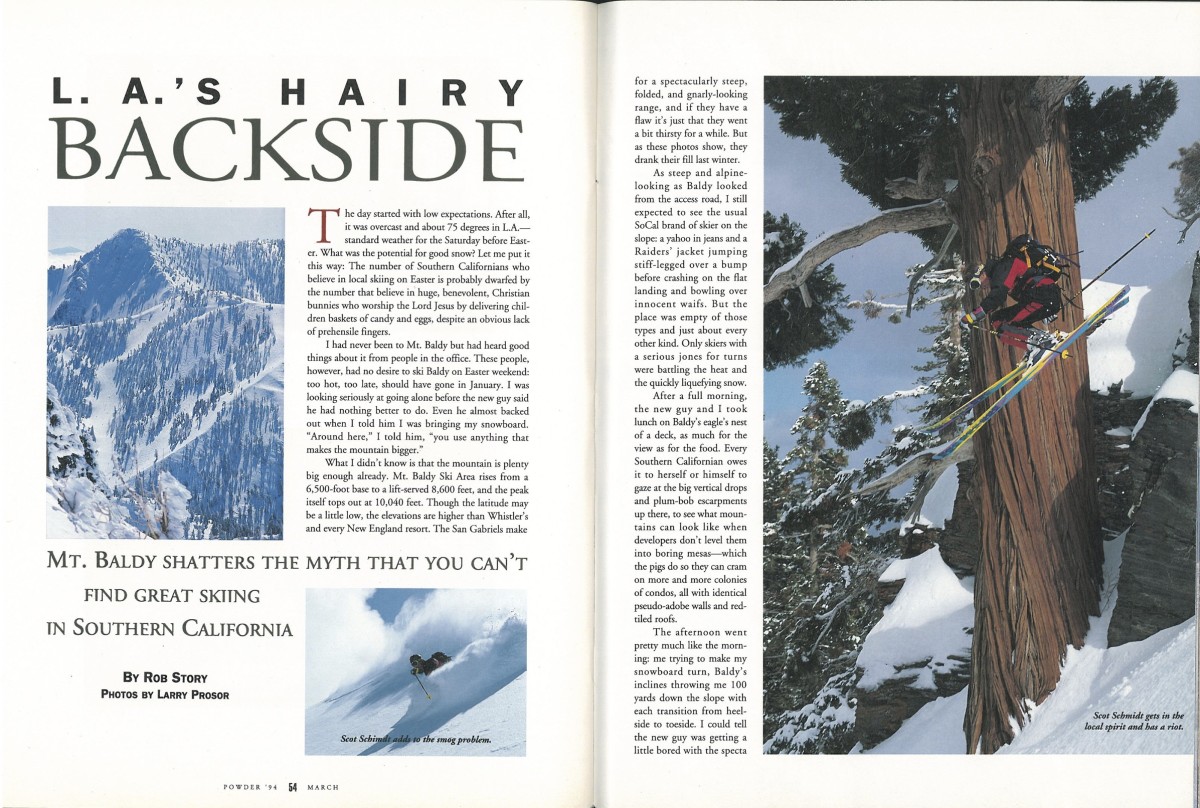 Not only could I not make the small skates necessary on the uplifts of the ridges, but as a goofy footer I was always traversing on my heelside. The sensation was like walking a mile while wearing stiletto-heel pumps backwards (not that I truly know what that feel like but my publisher says it really hurts). Although a better boarder could have dealt, I often had to unbuckle and hike. The other guys' whoops rang in my ears the same way police sirens and poodle barks do.
When the snow finally stopped and we started hiking down, I wasn't quite as bummed as the new guy to hear John talk about the conditions a month earlier. "Yeah the snow came all the way down here. If you started high on Mount Baldy, you could ski 4,000 vertical feet. But you can see that in Prosor pictures." The Prosor shots say it better than I could, but to sum it up, the backside of Baldy is one of those wonderfully long, 35-degree pitches that strictly adheres to the age-old equation: vast quantities of snow=vast quantities of fun.
I kind of expected the adventure to end when we got to our rendezvous, but it didn't. John got behind the wheel of his Trooper and started showing off some of the tricks that he used in a career as a race car driver. We raced down the bumpy dirt road, then began catching air over water bars. When the water bars ran out, the unofficial shooting range started. No kidding, tons of people in the fields pumping lead into abandoned refrigerators and the like. When the shooting range disappeared into the rearview and the road turned to asphalt, we stopped at a roadside bar. Inside, we bought a six-pack from a teenager while older people, their faces the color of cave-dwelling crawfish, nursed Manhattans in the dark, almost unaware of our presence or the glorious sunshine just beyond the heavy door.
We had come a great distance from Baldy, from the mountains to the desert, from the sublime to the strange. But still, it didn't take that long to her back. We took a freeway. There's always a freeway in L.A.