In celebration of POWDER's 45th Anniversary, we are releasing select stories from every volume. This story originally published in POWDER's December 1990 issue. (Volume 19 Issue 4)
Story by David Goodman
It was just like I imagined. Big mountains. Big cowboys. Big ski areas. Jackson Hole was the Wild West, where everything is larger than life, and I had big plans for how I was going to see it.
Jackson's reputation as a legendary mountain town enticed me. I had heard about its cowboy bars, its silver dollar saloons, and its world-class skiing. I wanted to experience all of it: to ski powder by day and hang out with cowboys by night. I had come far to get there and was determined that nothing would get in the away of my ambitious agenda. But a place like Jackson doesn't fit easily into other people's schedules; as I was to learn, this town has a way of making visitors dance to its tune.
My plane delivered me to Jackson too late in the day to ski, so I called an old friend who lived nearby. Sensing my desire to experience local culture to the fullest, she offered to meet me that evening at Jackson's Million Dollar Cowboy Bar. I was ecstatic: a cowboy bar, and it was only my first night in town.
The Million Dollar Cowboy Bar belonged to the Old West of my dreams. Standing outside were women in boots and fringed leather jackets and men in cowboy hats. The fact that all this was fake didn't matter—I wanted to believe it. I was reliving boyhood fantasies and I did my best cowboy swagger imitation, pushed open the swinging doors, and strutted into the bar. My friend Elaine was sitting on a bar stool directly in front of me, cringing.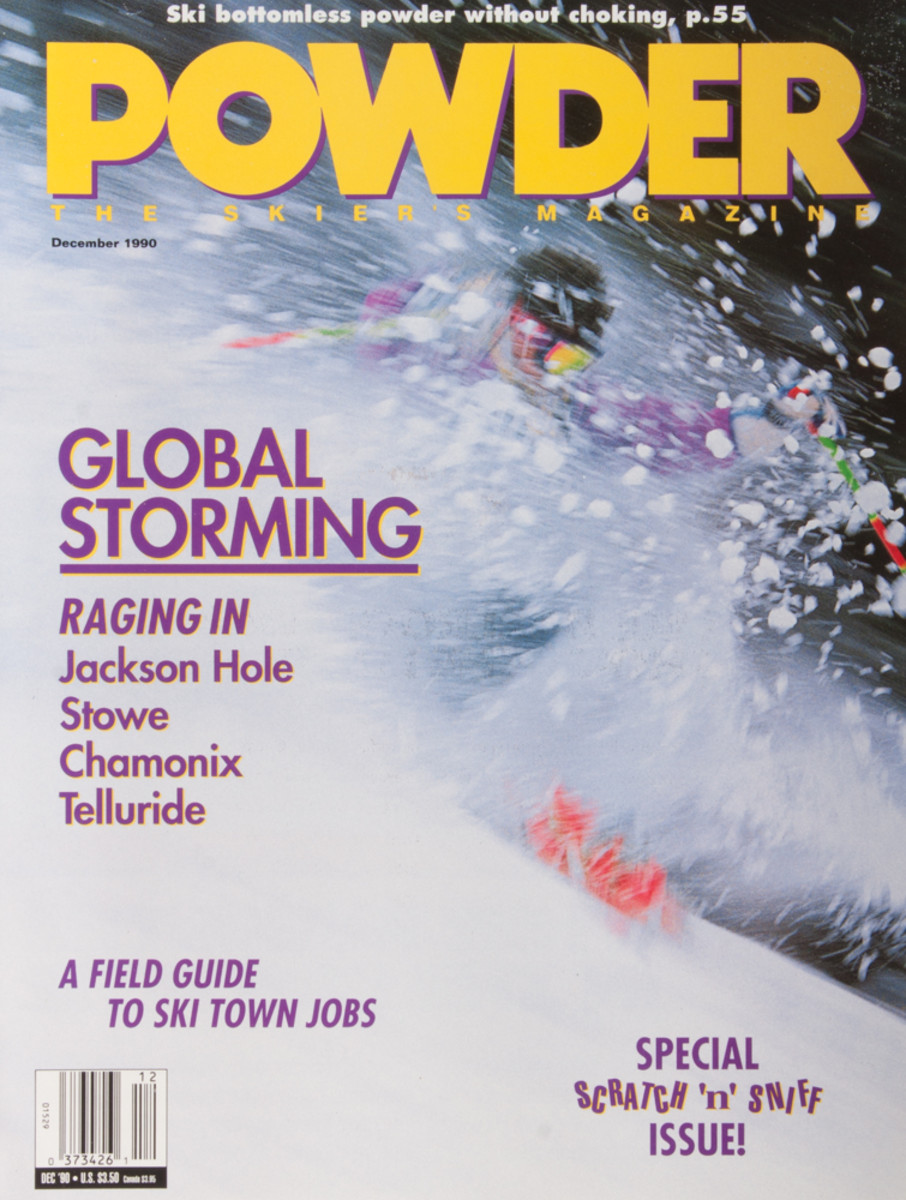 "Howdy, pardner!" I said in my best Wyomingese, slapping her on the back.
"Nice to see ya, Goodman," she said, staring self-consciously into her beer. "You keep walkin' and talkin' like that around here and the locals are gonna punch your lights out just for the fun of it."
She wasn't kidding. I looked around to see some unamused ranch hands sneering at me. I took the hint. I slithered over to the bar, ordered up some margaritas, and struck up a game of pool with a couple of New Yorkers to try to look a little more inconspicuous.
I soon settled into a Mexican dinner downstairs at La Chispa with several more friends. I outlined for them my detailed schedule for skiing everything in Jackson during my week there. I planned to start by catching the first chairlift at the Jackson Hole ski area the next morning.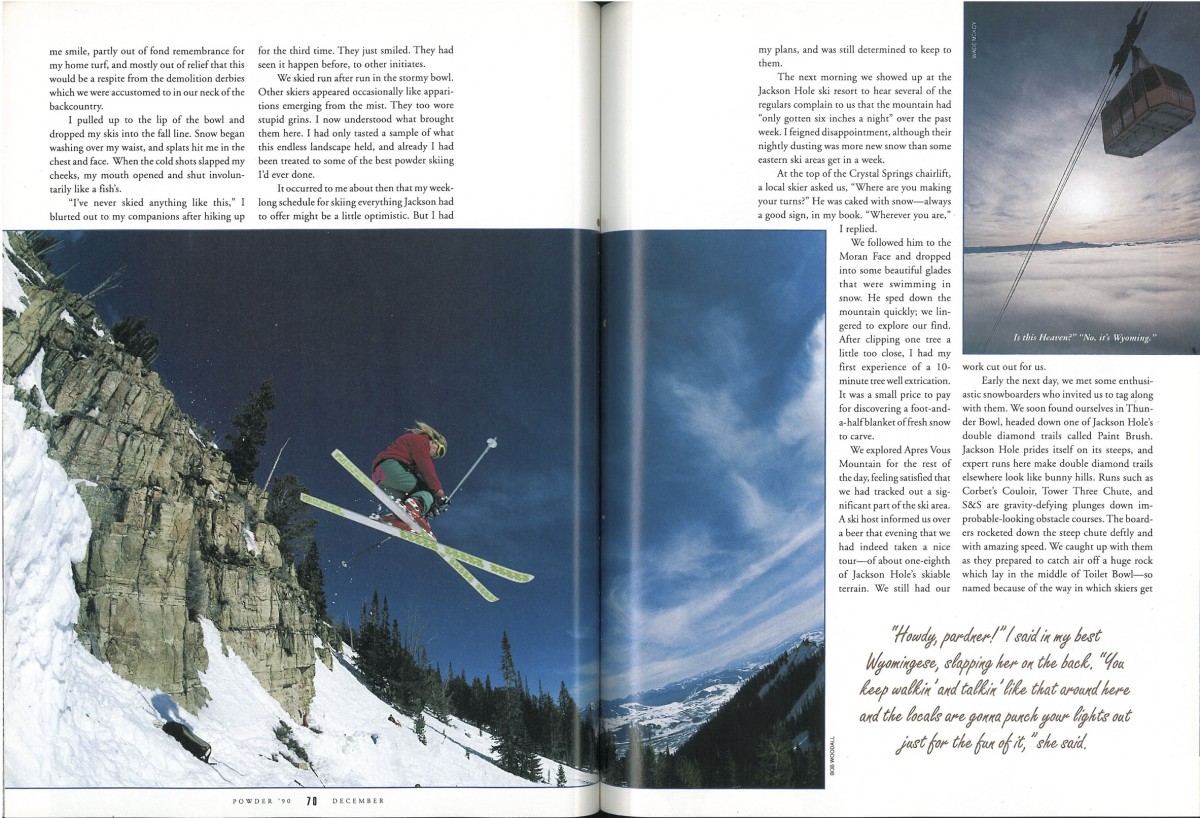 Mark interrupted me. "Teton Pass has gotten three feet of snow in the last 24 hours. Ya wanna do it?" I began explaining why I wanted to stick with my schedule, but even I couldn't convince myself of what I was saying. My partners smiled as I squirmed. They'd seen it before: another out-of-towner with his grand plans, choking on the full-course buffet of options. My schedule begin to unravel rapidly.
"I need to use the phone," I said, standing up abruptly. "I think I better change my appointments for the next few days."
The traditional jumping off point for skiing Teton Pass is the cafe at Nora's Fish Creek Inn. We mingled with the other off-piste skiers while wolfing down enormous portions of eggs and coffee. We then drove up the winding pass road and stopped at the top in a blowing storm. Mark, Peter, Elaine, and I happily let some eager skiers pass us so they could pack out the trail.
We took leisurely pace over to Edelweiss Bowl, passing Thanksgiving Bowl, Black Canyon, and famous runs such as Triple Direct on our way. I had heard backcountry skiers speak reverently of these places since long ago. Powder Hounds had given up homes, jobs, and relationships just so they could live out of their pickup trucks and ski at Teton Pass for a winter. I was eager to see why the place inspired such sacrifice.
"Howdy, pardner!" I said in my best Wyomingese, slapping her on the back.

"Nice to see ya, Goodman," she said; staring self-consciously into her beer. "You keep walkin' and talkin' like that around here and the locals are gonna punch your lights out just for the fun of it."
We reached the top of Edelweiss in minimal visibility. I could see the vague outline of town other skiers dropping in, their torsos moving up and down through the powder like a pair of side-by-side pistons. I was awed by how deep the snow looked. Elaine, a friend from Maine who was spending the winter skiing the pass, shuffled over to offer some advice.
"You don't have to worry about rocks, stumps. and ice out here," she assured me. "You can just relax in this stuff." The thought made me smile, partly out of fond remembrance for my home turf, and mostly out of relief that this would be a respite from the demolition derbies which we were accustomed to in our neck of the backcountry.
I pulled up to the lip of the bowl and dropped my skis into the fall line. Snow hit me in the chest and face. When The cold shots slapped my cheeks, my mouth opened and shut involuntarily like a fish's.
"I've never skied anything like this," I blurted out to my companions after hiking up for the third time. They just smiled. They had seen it happen before, to other initiates.
A place like Jackson doesn't fit easily into other people's schedules; as I was to learn this town has a way of making visitors dance to its tune.
We skied run after run in the stormy bowl. Other skiers appeared occasionally like apparitions emerging from the mist. They too wore stupid grins. I now understood what brought them here. I had only tasted a sample of what this endless landscape held, and already I had been treated to some of the best powder skiing I'd ever done.
It occurred to me about then that my weeklong schedule for skiing everything Jackson had to offer might be a little optimistic. But I had my plans, and was still determined to keep to them.
The next morning we showed up at the Jackson Hole ski resort to hear several of the regulars complain to us that the mountain had "only gotten six inches a night" over the past week. I feigned disappointment, although their nightly dusting was more new snow than some eastern ski areas get in a week.
At the top of the Crystal Springs chairlift, a local skier asked us, "Where are you making your turns?" He was caked with snow–always a good sign, in my book. "Wherever you are," I replied.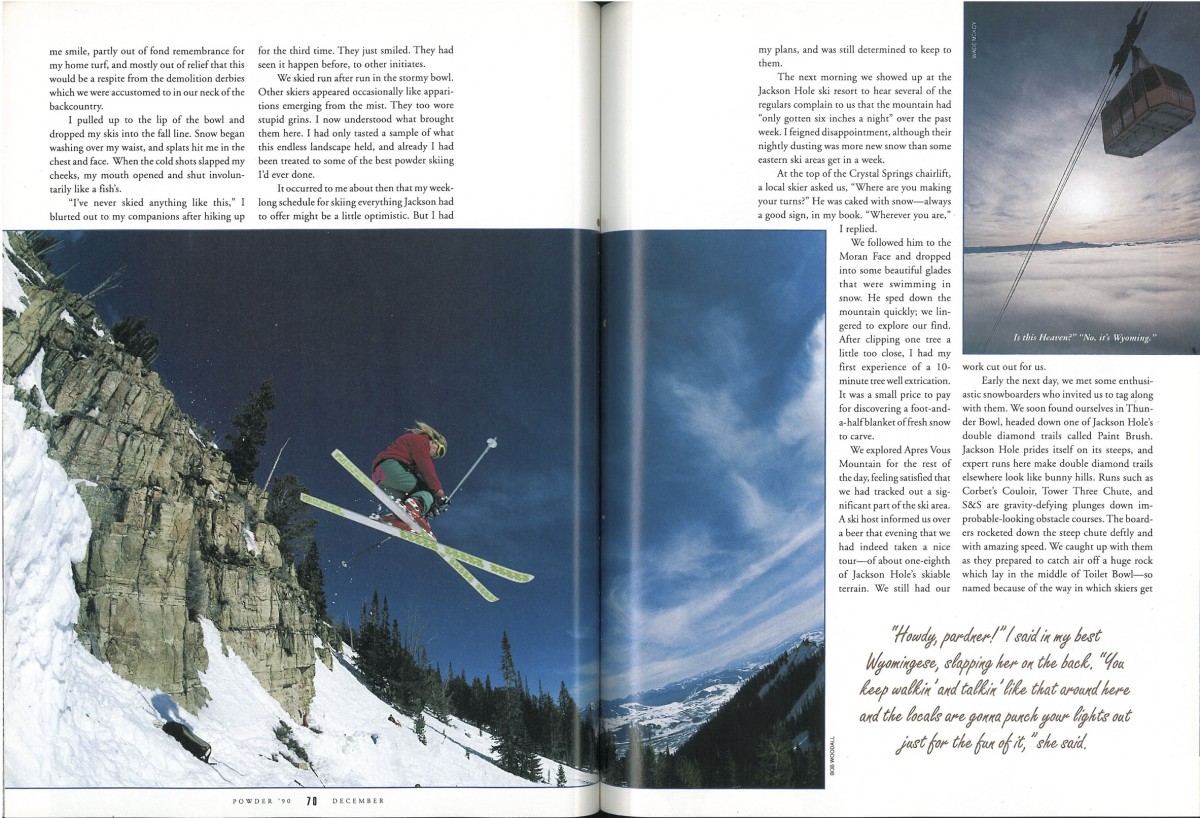 We followed him to the Moran Face and dropped into some beautiful glades that were swimming in snow. He sped down the mountain quickly; we lingered to explore our find. After clipping one tree a little too close, I had my first experience of a 10-minute tree well extrication. It was a small price to pay for discovering a foot-and-a-half blanket of fresh snow to carve.
We explored Après Vous Mountain for the rest of the day, feeling satisfied that we had tracked out a significant part of the ski area. A ski host informed us over a beer that evening that we had indeed taken a nice tour—of about one-eighth of Jackson Hole's skiable terrain. We still had our work cut out for us.
Early the next day, we met some enthusiastic snowboarders who invited us to tag along with them. We soon found ourselves in Thunderbowl, headed down one of Jackson Hole's double diamond called Paint Brush. Jackson Hole prides itself on its steeps, and expert runs here make double diamond trails elsewhere look like bunny hills.
Runs such as Corbet's Couloir, Tower Three Chute, and are gravity-defying plunges down improbable-looking obstacle courses. The borders rocketed down the steep. We caught up with them as they prepared to catch air off a huge rock which lay in the middle of Toilet Bowl—so named because of the way in which skiers get flushed down it.
"Welcome to Jackson Hole, where the people are mellow and the skiing is extreme," bubbled Morgan James, the friendly ringleader of the crew. A Jackson veteran, James is one of a crew of older local snowboarders who have mastered alpine and telemark skiing and have now moved on to push the limits of the newest snow game.
My day of playing cowboys and Indians were over; this frontier was not about to be tamed by me or anyone else.
The boarders lined up like lemmings and proceeded to catapult one after another. They would catch 20 feet of air before rolling and edging their way to a stop. Their acrobatic recoveries were as impressive as their jumps.
After being fully entertained by the boarders, we decided to extend our tour of the mountain into a third day. Riding up the tram we saw and soon skied steeps that made us shudder, powder glades that we could wiggle through, narrow trails that tested our reflexes and wide open bowls where we could carve long, fast turns through new powder. The more I skied, the more I realized that my plan to sample everything here was being hopelessly overwhelmed by the vastness of the task.
Our long days blended into long nights, which can be equally fun in Jackson. Every day when the lifts closed, we drove into the distinctly western brand of nightlife in the town. The Mangy Moose Saloon was a favorite, with its relics of cattle rustling and frontier history. We also stumbled across the Stagecoach Bar, a genuine cowboy bar where conversation at the tap varied from tall tales about skiing to working on the range.
Our nightly forays revealed what sets Jackson Hole apart from so many other mountain towns: this place is a real town with a colorful history that predates chairlifts and skiers.
For all our efforts, we still had more ground to cover. The skiing in the Jackson area does not stop at Teton Pass. Jackson also serves as a base for skiing on the side of the Tetons. I still hoped to see it all—and Grand Targhee beckoned.
Targhee is Jackson Hole's alter ego. Where Jackson is a bustling tourist destination, Driggs, Idaho, the nearest major town to Targhee, is a backwater. Where Jackson Hole is known for its immensity and steeps, Targhee is renowned for its intimacy and its cruising terrain. But perhaps the most important feature that distinguishes the two areas is this: where Jackson Hole might get a foot of snow out of a storm, the same storm will often drop two to three times as much on Grand Targhee.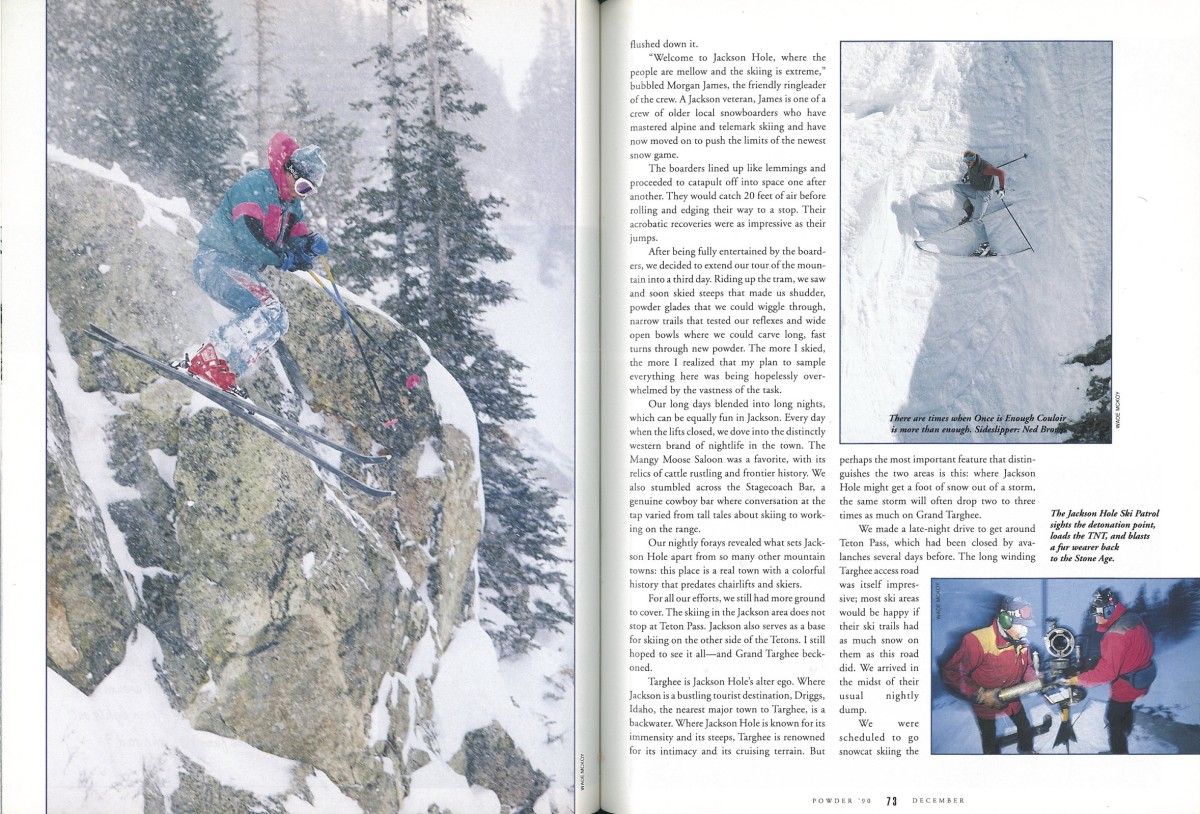 We made a late-night drive to get around Teton Pass, which had been closed by avalanches several days before. The long winding Targhee access road was itself impressive; most ski areas would be happy if their ski trails has as much snow on them as this road did. We arrived in the midst of their usual nightly dump.
We were scheduled to go snowcat skiing the next morning. I had tweaked my knee the day before at Jackson Hole and vowed to rest my leg at Targhee, powder or not. I would have to satisfy myself by cheering on my friends from the safety of the snowcat. This was to be a rigorous test of self-discipline. I flunked miserably.
Our group consisted of an open-minded assortment of downhill skiers, telemarkers, and a monoskier. The cat driver and I dropped them off at the top of the peak, from where the lift serviced ski trail on the neighboring mountain were visible. It was a beautiful sunny day, and the snowflakes twinkled.
Watching my friends slice through the untracked snow was more than I could bear; I sat out just one run before grabbing my skis, which I had secretly stashed in the back of the snowcat in case of just such an emergency.
"Powder heals," I announced to my colleagues on the cat. "Where's the next run?"
The snow seemed to be twice as feathery as what we had been skiing all week. It was like carving turns through a foot of styrofoam pellets as we descended run after run. Looking back up the valley, we could see a hint of the Tetons, most of which were covered by clouds. The day ended 12 runs and some 22,000 vertical feet later with wine and cheese on the snowcat.
My friends planned to ski the lift-served mountain the next day; I would again play it safe and stay off the boards. Once again I tried, and once again Targhee broke me down completely.
This time I made it all the way to 2 p.m. when Elaine and Sue, glazed brown by the sun, came swooshing down to where I was sitting. Because our entire stay at Jackson Hole had been spent skiing in blowing storms, they were reveling in the precious fine weather. "It's a Teton day. You gotta see it!" they insisted.
I protested for a full 10 seconds before running to suit up. When I arrived at the top of the mountain, I witnessed something I had never seen before–some two dozen skiers standing still, gawking at a spectacular vista of the Grand Teton and its sister peaks. The pyramid-shaped summits jumped out of the snowy landscape and struck and dramatic pose against the blue sky. I lingered to admire the view, and then took a slow run down a scenic trail appropriately named Teton Vista.
The scenery drew me back up the mountain for a last run. The view of the Tetons against the cloudless sky was the most breathtaking backdrop for an alpine ski area that I had ever seen.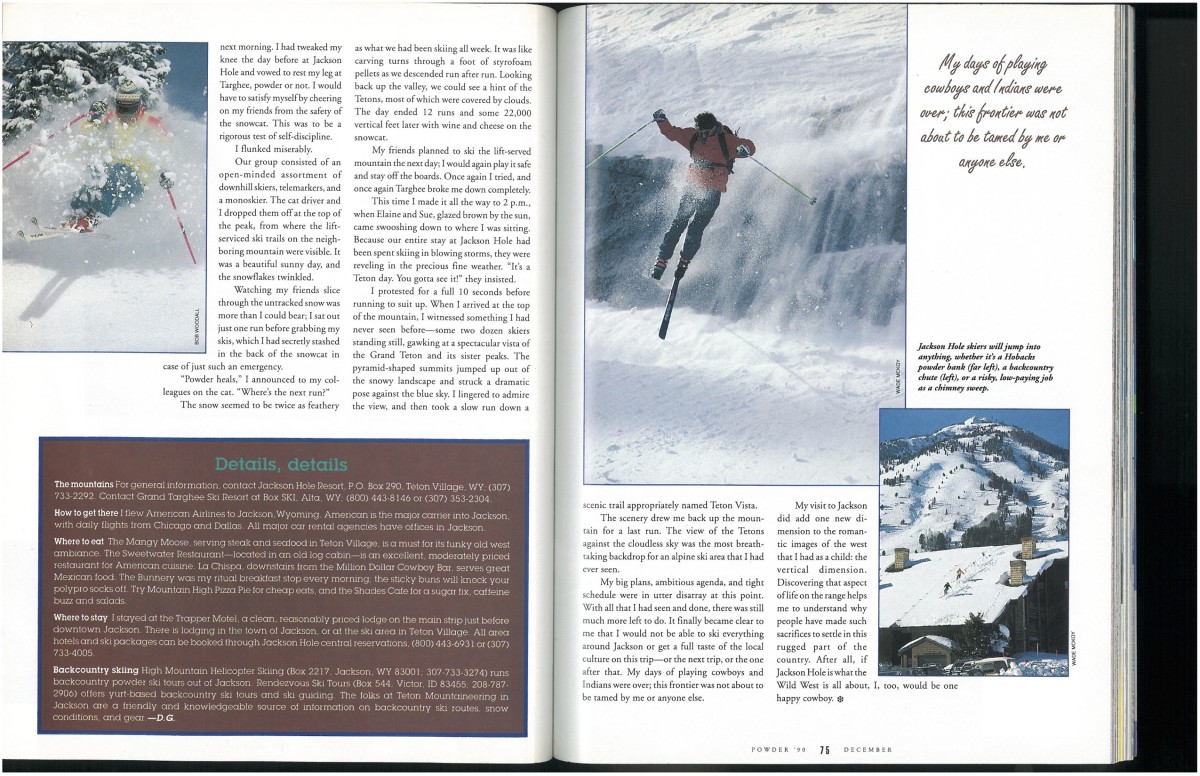 My big plans, ambitious agenda, and tight schedule were in utter disarray at this point. With all that I had seen and done, there was still much more left to do. It finally became clear to me that I would not be able to ski everything around Jackson or get a full taste of the local culture on this trip or the next trip, or the one after that. My days of playing cowboys and Indians were over; this frontier was not about to be tamed by me or anyone else.
My visit to Jackson did add one new dimension to the romantic images of the West that I had as a child: the vertical dimension. Discovering that aspect of life on the range helped me understand why people have made such sacrifices to settle in this country. After all, if Jackson Hole is what the Wild West is all all about I, too, would be one happy cowboy.