In celebration of POWDER's 45th Anniversary, we are releasing select stories from every volume. This story originally published in POWDER's 40th anniversary issue.
Photo: In 1206, two Birkebeiner (birch-wrapped footwear and leggings) warriors named Torstein and Skervald rescue Prince Haakon Haakonsson and carry him 55 kilometers over two mountain ranges to safety during the Norwegian Civil War of 1206. The prince is later crowned King of Norway, ending the civil war.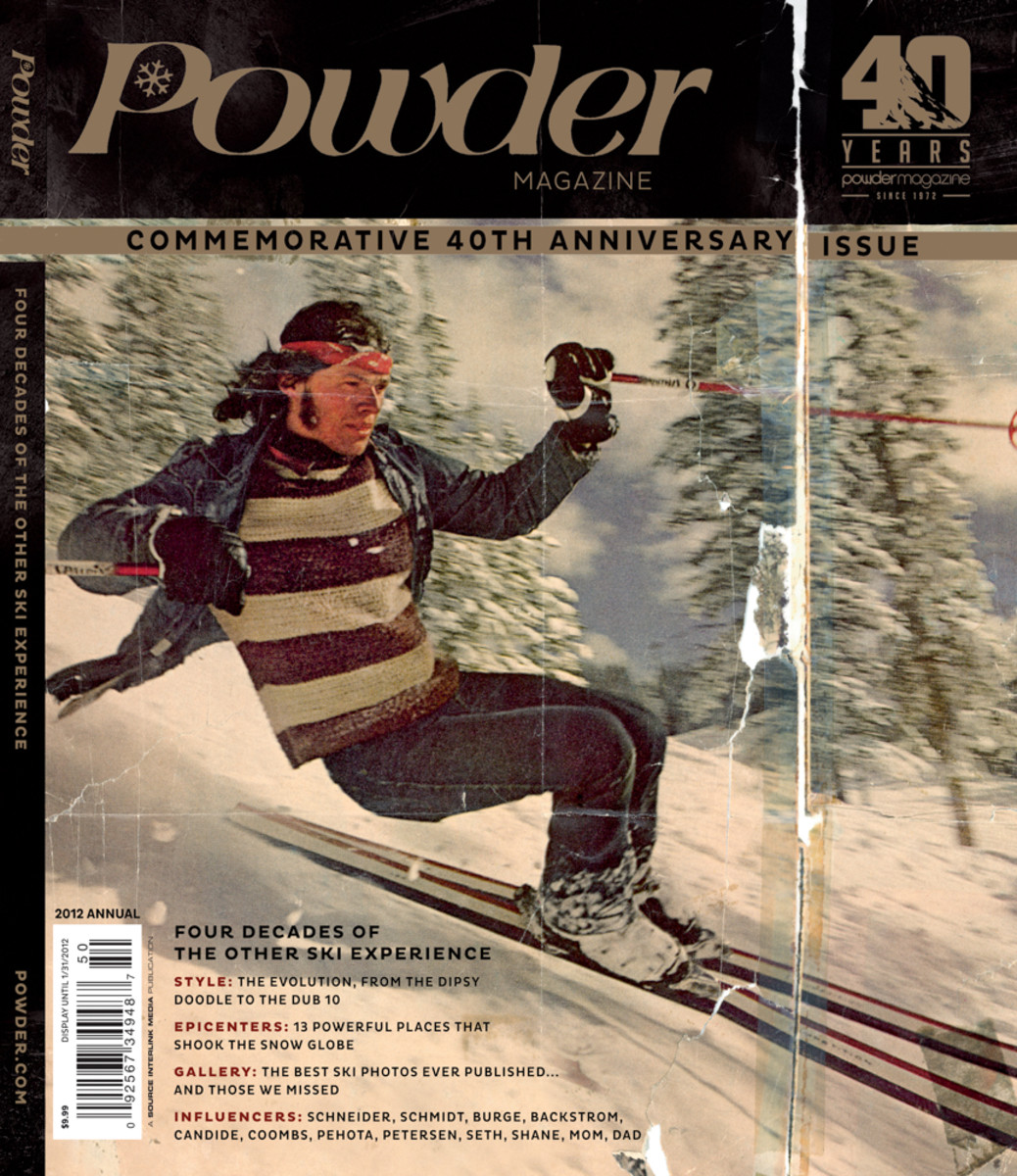 5000 B.C.: Rock paintings show hunters and gatherers using skis 5,000 years ago.
1850: Woodcarvers in Telemark, Norway, invent the cambered ski.
1861: Onion Valley, CA, hosts the first organized downhill ski race. Skiers use eight-to 10-foot hickory sticks.
1868: Considered the "Grandfather of Skiing," Sondre Norheim won the first national ski competition in present-day Oslo, Norway, pioneering the telemark and Christiana turns. Norheim is also credited with inventing the telemark binding.
1894: Fritz Huitfeld introduces the toe iron, providing more control on steeper slopes.
1899: Ferdinand Porsche designs the first four-wheel drive car.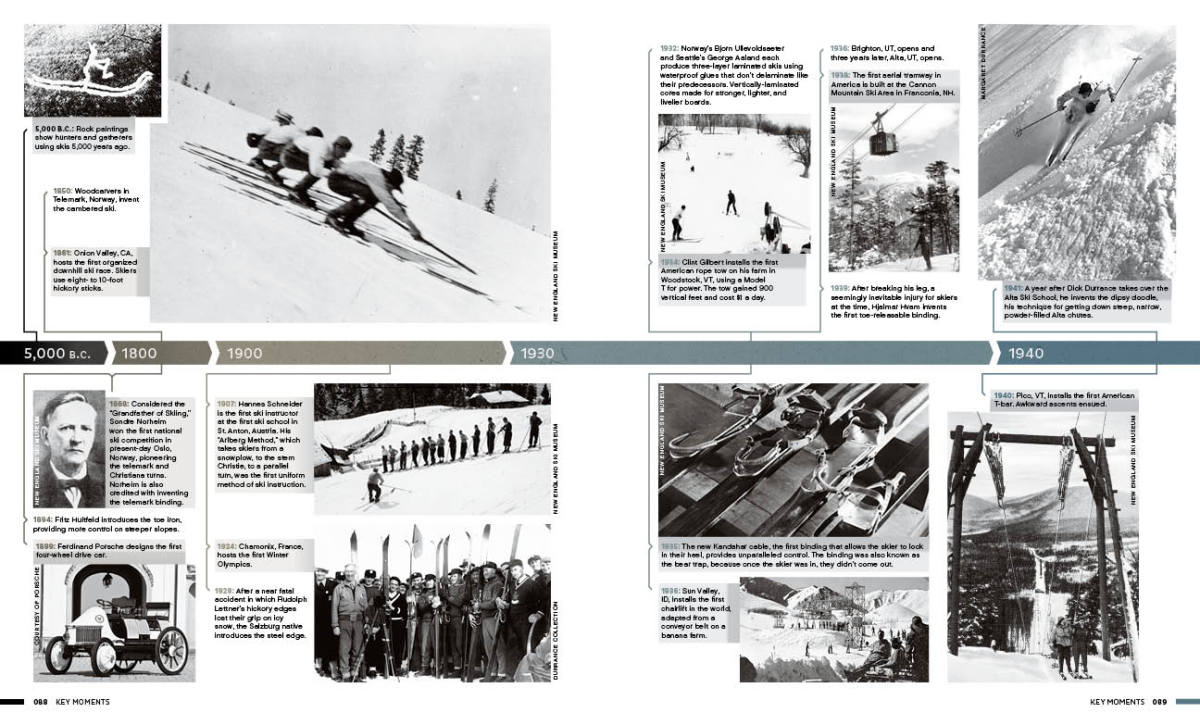 1907: Hannes Schneider is the first ski instructor at the first ski school in St. Anton, Austria. His "Arlberg Method," which takes skiers from a snowplow, to the stem Christie, to a parallel turn, was the first uniform method of ski instruction.
1924: Chamonix, France, hosts the first Winter Olympics.
1928: After a near fatal accident in which Rudolph Lettner's hickory edges lost their grip on icy
snow, the Salzburg native introduces the steel edge.
1932: Norway's Bjorn Ullevoldsaeter and Seattle's George Aaland each produce three-layer laminated skis using waterproof glues that don't delaminate like their predecessors. Vertically-laminated cores made for stronger, lighter, and livelier boards.
1934: Clint Gilbert installs the first American rope tow on his farm in Woodstock, VT, using a Model T for power. The tow gained 900 vertical feet and cost $1 a day.
1936: Brighton, UT, opens and three years later, Alta, UT, opens.
1938: The first aerial tramway in America is built at the Cannon Mountain Ski Area in Franconia, NH.
1939: After breaking his leg, a seemingly inevitable injury for skiers at the time, Hjalmar Hvam invents the first toe-releasable binding.
1935: The new Kandahar cable, the first binding that allows the skier to lock in their heel, provides unparalleled control. The binding was also known as the bear trap, because once the skier was in, they didn't come out.
1936: Sun Valley, ID, installs the first chairlift in the world, adapted from a conveyor belt on a banana farm.
1940: Pico, VT, installs the first American T-bar. Awkward ascents ensued.
1941: A year after Dick Durrance takes over the Alta Ski School, he invents the dipsy doodle, his technique for getting down steep, narrow, powder-filled Alta chutes.
1943: FDR authorizes the formation of Camp Hale's 10th Mountain Division. Upon return from WWII, its members become a major force in the development of skiing.
1944: The first cellulose plastic bottom, called cellulix, replaces pine-tarring as ski bases.
1945: Montgomery Atwater is discharged from the 10th Mountain Division, and over the next season, starts the first avalanche research center in Alta, UT.
1946: The Gomme ski, with a laminated wood core sandwiched between a top plastic layer and a bottom metal layer, is the first ski with three different layered materials.
1948: Bogner introduces the first stretch pant. Skiers everywhere rejoice.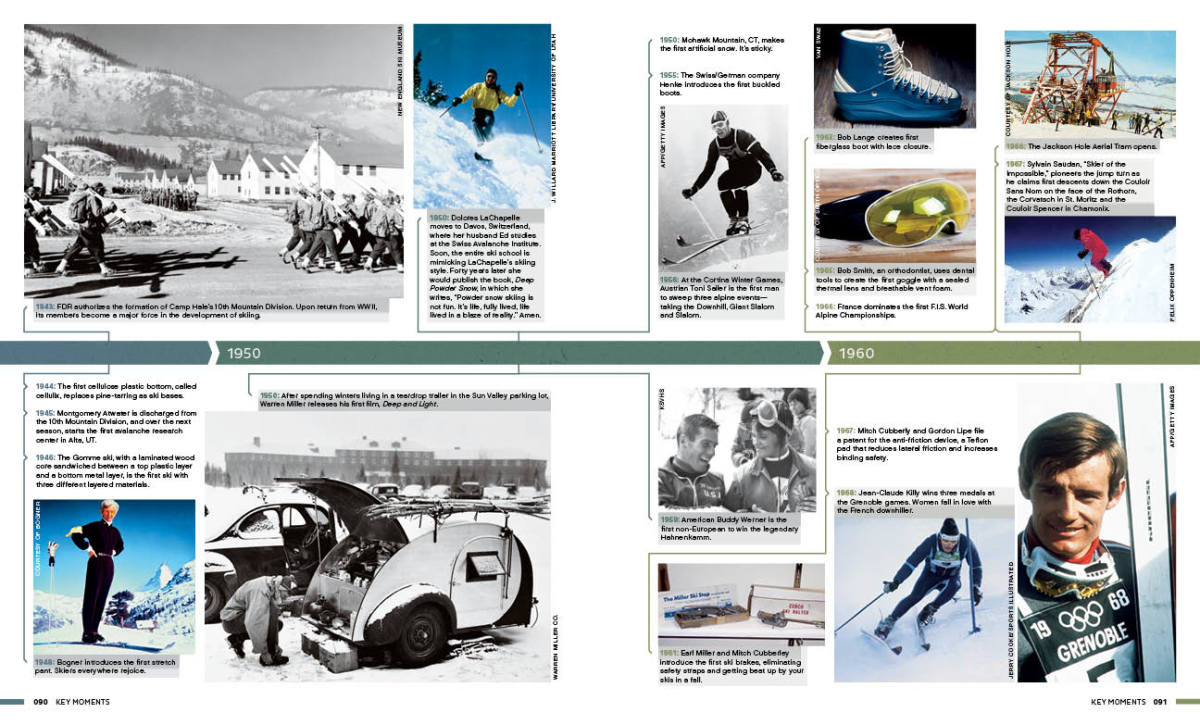 1950: Dolores LaChapelle moves to Davos, Switzerland, where her husband Ed studies at the Swiss Avalanche Institute. Soon, the entire ski school is mimicking LaChapelle's skiing style. Forty years later she would publish the book, Deep Powder Snow, in which she writes, "Powder snow skiing is not fun. It's life, fully lived, life lived in a blaze of reality." Amen.
1950: After spending winters living in a teardrop trailer in the Sun Valley parking lot, Warren Miller releases his first film, Deep and Light.
1950: Mohawk Mountain, CT, makes the first artificial snow. It's sticky.
1955: The Swiss/German company Henke introduces the first buckled boots.
1956: At the Cortina Winter Games, Austrian Toni Sailer is the first man to sweep three alpine events— taking the Downhill, Giant Slalom and Slalom.
1959: American Buddy Werner is the first non-European to win the legendary Hahnenkamm.
1961: Earl Miller and Mitch Cubberley introduce the first ski brakes, eliminating safety straps and getting beat up by your skis in a fall.
1963: Bob Lange creates first fiberglass boot with lace closure.
1965: Bob Smith, an orthodontist, uses dental tools to create the first goggle with a sealed thermal lens and breathable vent foam.
1966: France dominates the first F.I.S. World Alpine Championships.
1966: The Jackson Hole Aerial Tram opens.
1967: Sylvain Saudan, "Skier of the Impossible," pioneers the jump turn as he claims first descents down the Couloir Sans Nom on the face of the Rothorn, the Corvatsch in St. Moritz and the Couloir Spencer in Chamonix.
1967: Mitch Cubberly and Gordon Lipe file a patent for the anti-friction device, a Teflon pad that reduces lateral friction and increases binding safety.
1968: Jean-Claude Killy wins three medals at the Grenoble games. Women fall in love with the French downhiller.
1969: Dick Barrymore releases The Last of the Ski Bums, an influential film that chronicles the dying lifestyle embodied by Run Funk, Mike Zuetell and Ed Ricks.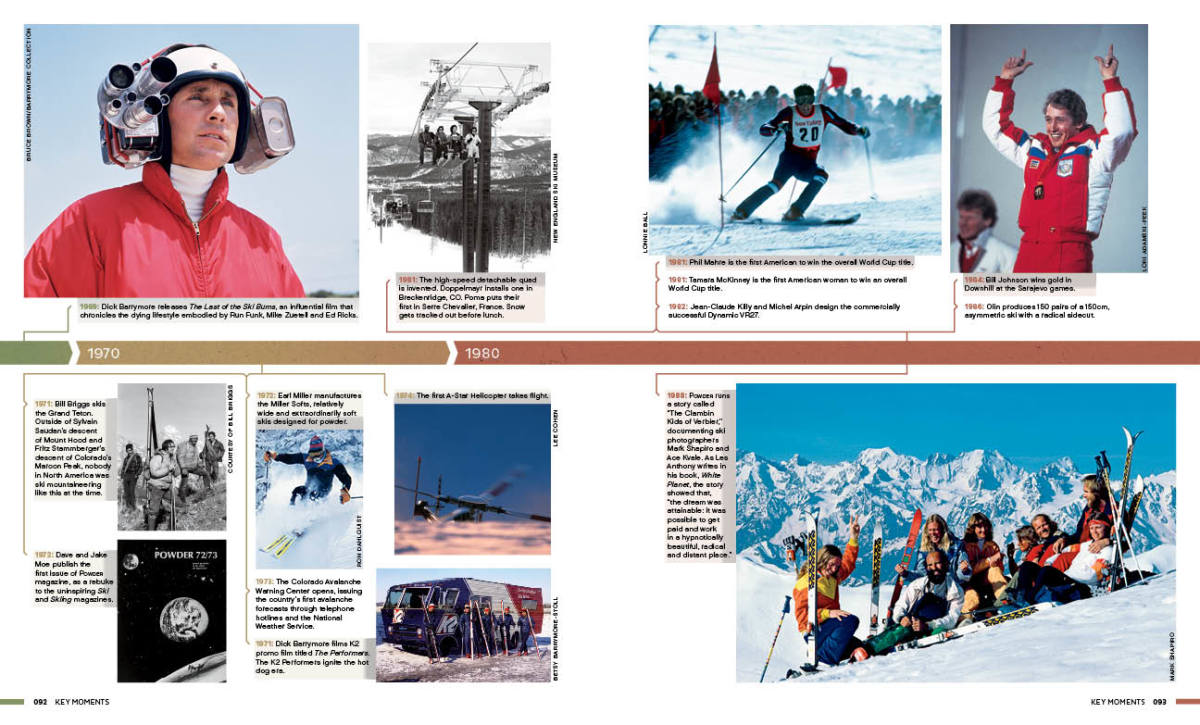 1971: Bill Briggs skis the Grand Teton. Outside of Sylvain Saudan's descent of Mount Hood and Fritz Stammberger's descent of Colorado's Maroon Peak, nobody in North America was ski mountaineering like this at the time.
1971: Dick Barrymore films K2 promo film titled The Performers. The K2 Performers ignite the hot dog era.
1972: Dave and Jake Moe publish the first issue of POWDER magazine, as a rebuke to the uninspiring Ski and Skiing magazines.
1972: Earl Miller manufactures the Miller Softs, relatively wide and extraordinarily soft skis designed for powder.
1973: The Colorado Avalanche Warning Center opens, issuing the country's first avalanche forecasts through telephone hotlines and the National Weather Service.
1974: The first A-Star Helicopter takes flight.
1981: Phil Mahre is the first American to win the overall World Cup title.
1981: Tamara McKinney is the first American woman to win an overall World Cup title.
1982: Jean-Claude Killy and Michel Arpin design the commercially successful Dynamic VR27.
1984: Bill Johnson wins gold in Downhill at the Sarajevo games.
1986: Olin produces 150 pairs of a 150cm, asymmetric ski with a radical sidecut.
1988: POWDER runs a story called "The Clambin Kids of Verbier," documenting ski photographers Mark Shapiro and Ace Kvale. As Les Anthony writes in his book, White Planet, the story showed that, "the dream was attainable: it was possible to get paid and work in a hypnotically beautiful, radical, and distant place."
1988: Greg Stump releases The Blizzard of Aahhh's.
1988: Rupert Huber creates the Atomic Powder Plus by band-sawing a snowboard in half. At 115mm underfoot, it was the first fat powder ski.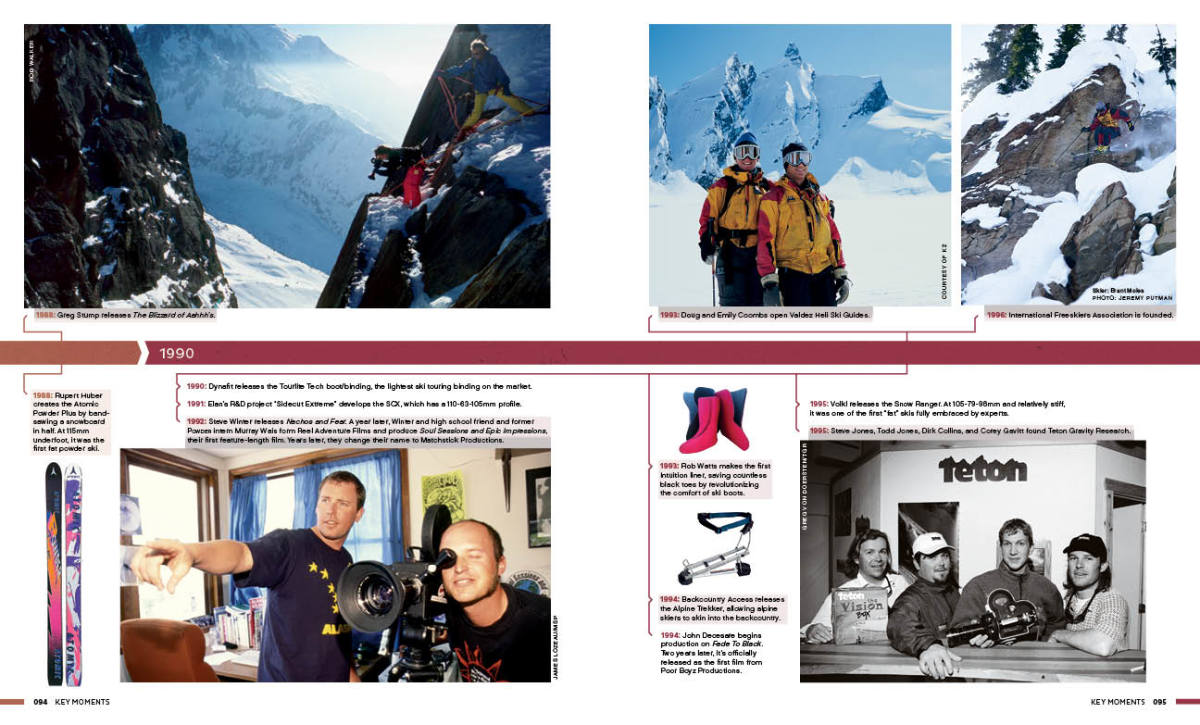 1990: Dynafit releases the Tourlite Tech boot/binding, the lightest ski touring binding on the market.
1991: Elan's R&D project "Sidecut Extreme" develops the SCX, which has a 110-63-105mm profile.
1992: Steve Winter releases Nachos and Fear. A year later, Winter and high school friend and former POWDER intern Murray Wais form Reel Adventure Films and produce Soul Sessions and Epic Impressions, their first feature-length film. Years later, they change their name to Matchstick Productions.
1993: Doug and Emily Coombs open Valdez Heli Ski Guides.
1993: Rob Watts makes the first Intuition liner, saving countless black toes by revolutionizing the comfort of ski boots.
1994: Backcountry Access releases the Alpine Trekker, allowing alpine skiers to skin into the backcountry.
1994: John Decesare begins production on Fade To Black. Two years later, it's officially released as the first film from Poor Boyz Productions.
1995: Volkl releases the Snow Ranger. At 105-79-98mm and relatively stiff, it was one of the first "fat" skis fully embraced by experts.
1995: Steve Jones, Todd Jones, Dirk Collins, and Corey Gavitt found Teton Gravity Research.
1997: Winter X Games starts in Big Bear, CA. Skiing is introduced in 1998, with Denis Rey winning Skier X. J.F. Cusson wins the first Ski Big Air in 1999. Tanner Hall wins the first Slopestyle event in 2002. Candide Thovex wins the first Superpipe in 2003.
1997: Mike Douglas produces an eight-minute video on the design and vision of the first twin-tip ski. He sends it to ski companies. Salomon calls him. The Teneighty is born.
1998: Jonny Moseley wins a gold medal with a 360 mute grab at the Nagano Winter Games mogul competition.
1999: Chad Zurinskas hits "Chad's Gap," a 120-foot backcountry gap between two mining tailings near Alta. He comes up short a couple of times, before Candide Thovex asks to hit it, and clears it. The gap becomes a proving ground for years to come.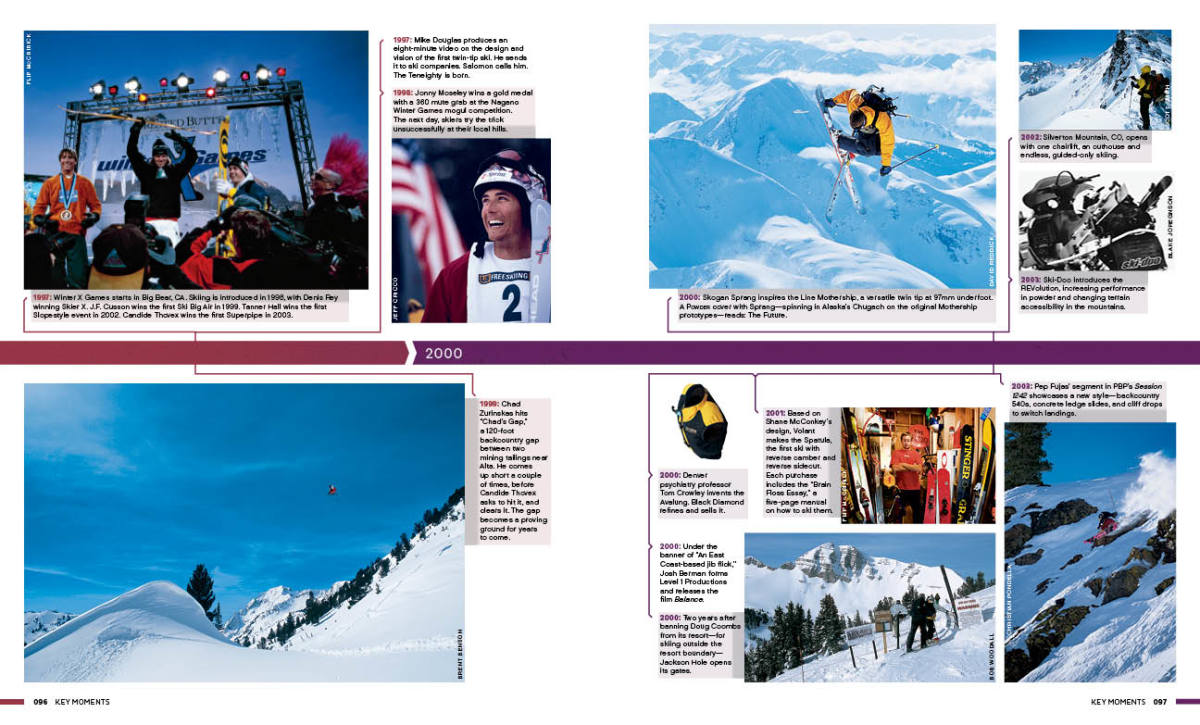 2000: Skogan Sprang inspires the Line Mothership, a versatile twin tip at 97mm underfoot. A POWDER cover with Sprang—spinning in Alaska's Chugach on the original Mothership prototypes—reads: The Future.
2000: Denver psychiatry professor Tom Crowley invents the Avalung. Black Diamond refines and sells it.
2000: Under the banner of "An East Coast-based jib flick," Josh Berman forms Level 1 Productions and releases the film Balance.
2000: Two years after banning Doug Coombs from its resort—for skiing outside the resort boundary— Jackson Hole opens its gates.
2001: Based on Shane McConkey's design, Volant makes the Spatula, the first ski with reverse camber and reverse sidecut. Each purchase includes the "Brain Floss Essay," a five-page manual on how to ski them.
2002: Silverton Mountain, CO, opens with one chairlift, an outhouse and endless, guided-only skiing.
2003: Ski-Doo introduces the REVolution, increasing performance in powder and changing terrain accessibility in the mountains.
2003: Pep Fujas' segment in PBP's Session 1242 showcases a new style—backcountry 540s, concrete ledge slides, and cliff drops to switch landings.
2006: Target Corporation signs Simon Dumont.
2007: Eric Iberg and Eric Pollard direct the film Idea. Soon after, Pollard, Pep Fujas, Andy Mahre and Chris Benchetler start the film company, Nimbus Independent.
2008: Americans Bode Miller and Lindsey Vonn sweep the men's and women's overall World Cup titles.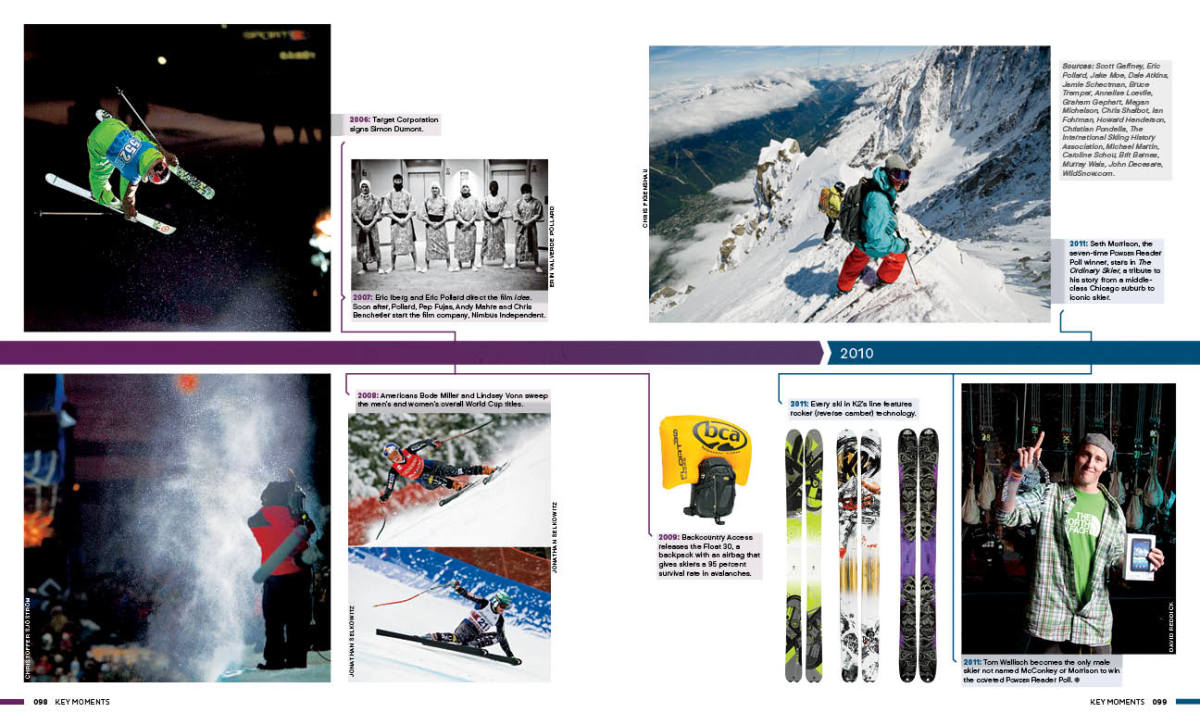 2009: Backcountry Access releases the Float 30, a backpack with an airbag that gives skiers a 95 percent survival rate in avalanches.
2011: Seth Morrison, the seven-time Powder Reader Poll winner, stars in The Ordinary Skier, a tribute to his story from a middle-class Chicago suburb to iconic skier.
2011: Every ski in K2's line features rocker (reverse camber) technology.
2011: Tom Wallisch becomes the only male skier not named McConkey or Morrison to win the coveted Powder Reader Poll.