By Jack White
In celebration of POWDER's 45th Anniversary, we are releasing select stories from every volume. This story originally published in POWDER's December 1979 issue (Volume 8, Issue 4).
You didn't always need a helicopter to enjoy a full day of deep powder skiing. There was a time at Alta when you could carve long, sweeping turns in nearly un-broken powder from dawn to dusk almost any day of the winter. Sound good? Then return with me now to that golden age of powder skiing, the late 1940s and early '50s.
At that time, those few of us who had learned the joys of deep powder tried desperately to keep it a secret. We created a powder mystique; powder skiing was for the expert only, you had to be in perfect physical condition, it was terribly dangerous, it was just a whole lot more trouble than it was worth. In the lift line we made disparaging remarks—"Wildcat is terrible today, big drifts and wet snow," "I barely escaped an avalanche on Gunsight," or "That's Godawful breakable crust in Greeley Bowl."
We would do or say anything to keep other people off "our" runs. The more unscrupulous even joined the ski patrol in order to be the first to run the avalanche danger areas. And more than one closed sign was put up just long enough for the ski patrolmen to get one more run in the virgin snow.
During the first years after World War II there were probably less than 100 of us real powder nuts skiing regularly at Alta. After a night of good snowfall, we were up at dawn to be first on the old Collins single chair lift. We would make a few quick runs down Corkscrew before the ski bunnies got to it, shift over to Collin's Face, switch to Nina Curve, then make a few trips across the Catwalk over to lower Rustler. You could usually get in 10 runs before the powder was messed up and the lift line too long. By then, Fred Speyer's hard working crew would have dug out the bottom chairs of the old Peruvian lift. This lift later burned down mysteriously one winter night, leaving its wooden towers to stand forlornly for several seasons. A rope tow partially replaced it until the present Collin's double chair was built to its top terminal and beyond. Some suggested that a member of the lift crew, tired of all that digging after every snowfall, set the fire.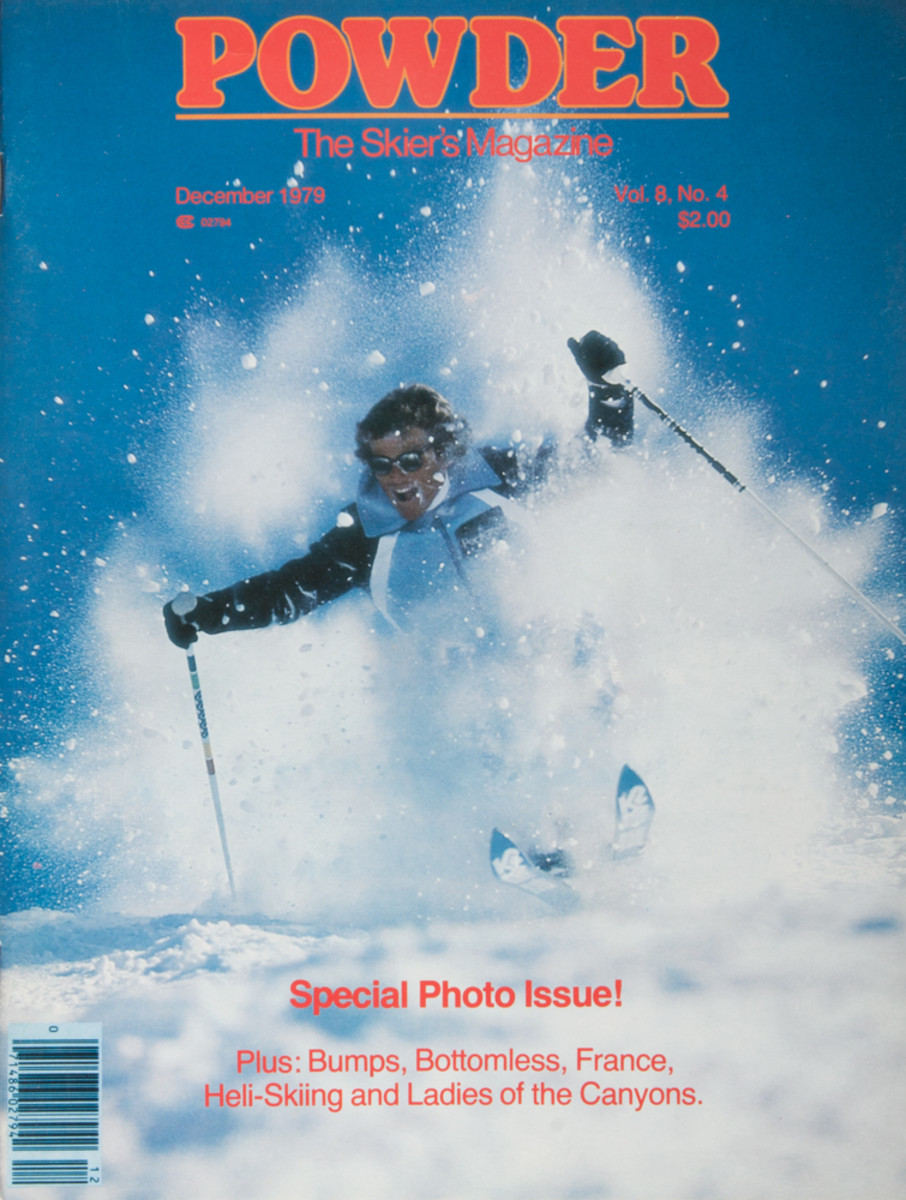 Getting to the Peruvian lift required a vigorous 100-yard mush through deep snow from the top of Collin's terminal; this effort pretty well kept out the non-powder riffraff for an hour or two. It was easy to cut a dozen runs down the steep hill served by this lift by 11 am when the powder fraternity would knock off to beat the crowds to the tiny, original Watson Shelter.
After thawing our frozen jaws enough to much a couple of Chic Morton's sizzling hamburgers, we'd head back to the slopes for some whooping and screaming from the top of Peruvian all the way down to the foot of Collins. The liftline thinned magically at noon, and the real powder bangers could get four or five of these great long runs in before the common folk finished lunch.
In the expanse of West Collins Gulch with its tree-crowned knolls, you would get only glimpses of other skiers, but you could hear their screams of joy all over the canyon. There would be Emilie Segil flashing by in her green-plumed pixie hat, pausing atop a knoll to sound her distinctive yodel, then disappearing down the other side. Her brother Adrian was usually not far behind, skiing bare-chested on sunny days, ignoring the stinging cold powder streaming from his ski tips. Even more impressive: rugged Dorde Wright, her shapely legs bare beneath a short kilt.
You shussed straight down the fall line, lifting one ski, then the other. It was called the dipsy doodle, as I recall.
Other images come to mind: me, helplessly mired in deep snow after an egg-beater fall, until powerful Jim Shane stops to lift me out. Then a half-hour dig to find a lost ski. Or another time, floundering down wildcat on one ski after breaking the other one.
On weekdays you could usually ski virgin powder for the rest of the day—or for as long as your legs held out.
But on weekends, even then, you had to work a bit for your afternoon powder. A long climbing traverse under Mount Baldy could put you on top of Rustler Mountain where you could show off for the folks in the lodges or make your figure eights on any of the great steep slopes of West Rustler. With a little more effort, you could get over to Gunsight and Greeley Bowl on the east side. These were all such fantastic runs that no one gave a second thought to the long walk back to the bottom. Oh, you could sometimes regain a bit of elevation from the old Rustler chair lift, but most of the time it was out of commission from avalanches. Eventually, a level rope tow was installed along the valley floor to transport skiers between lodges, which was a great help in getting back to the Collins terminal.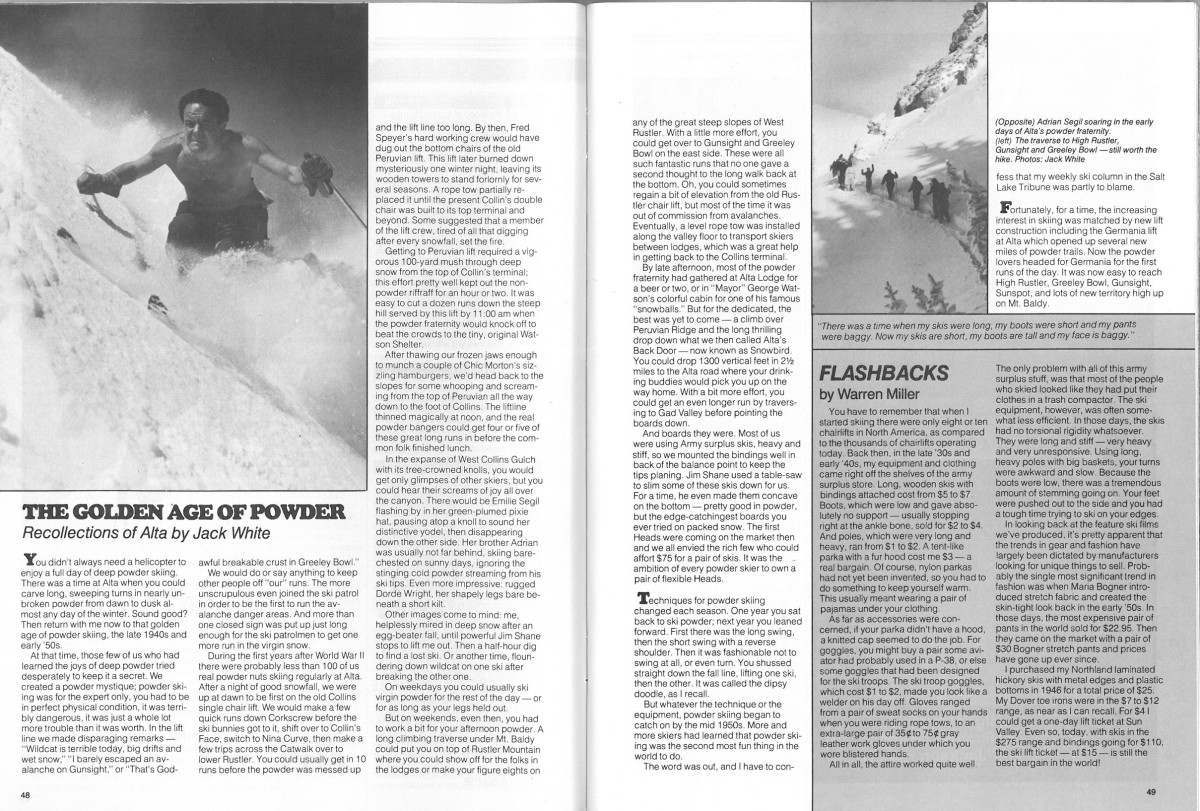 By late afternoon, most of the powder fraternity had gathered at Alta Lodge for a beer or two, or in "Mayor" George Watson's colorful cabin for one of his famous "snowballs." But for the dedicated, the best was yet to come—a climb over Peruvian Ridge and the long thrilling drop down what we then called Alta's Back Door—now known as Snowbird. You could drop 1,300 vertical feet in two-and-a-half miles to the Alta road where your drinking buddies would pick you up on the way home. With a bit more effort, you could get an even longer run by traversing to Gad Valley before pointing the boards down.
And boards they were. Most of us were using Army surplus skis, heavy and stiff, so we mounted the bindings well in back of the balance point to keep the tips planing. Jim Shane used a table saw to slim some of these skis down for us. For a time, he even made them concave from the bottom—pretty good in powder, but the edge-catchingest boards you ever tried on packed snow. The first Heads were coming on the market then and we all envied the rich few who could afford $75 for a pair of skis. It was the ambition of every powder skier to own a pair of flexible Heads.
Techniques for powder skiing changed each season. One year you sat back to ski powder; next year you leaned forward. First there was the long swing, then the short swing with a reverse shoulder. Then it was fashionable not to swing at all, or even turn. You shussed straight down the fall line, lifting one ski, then the other. It was called the dipsy doodle, as I recall.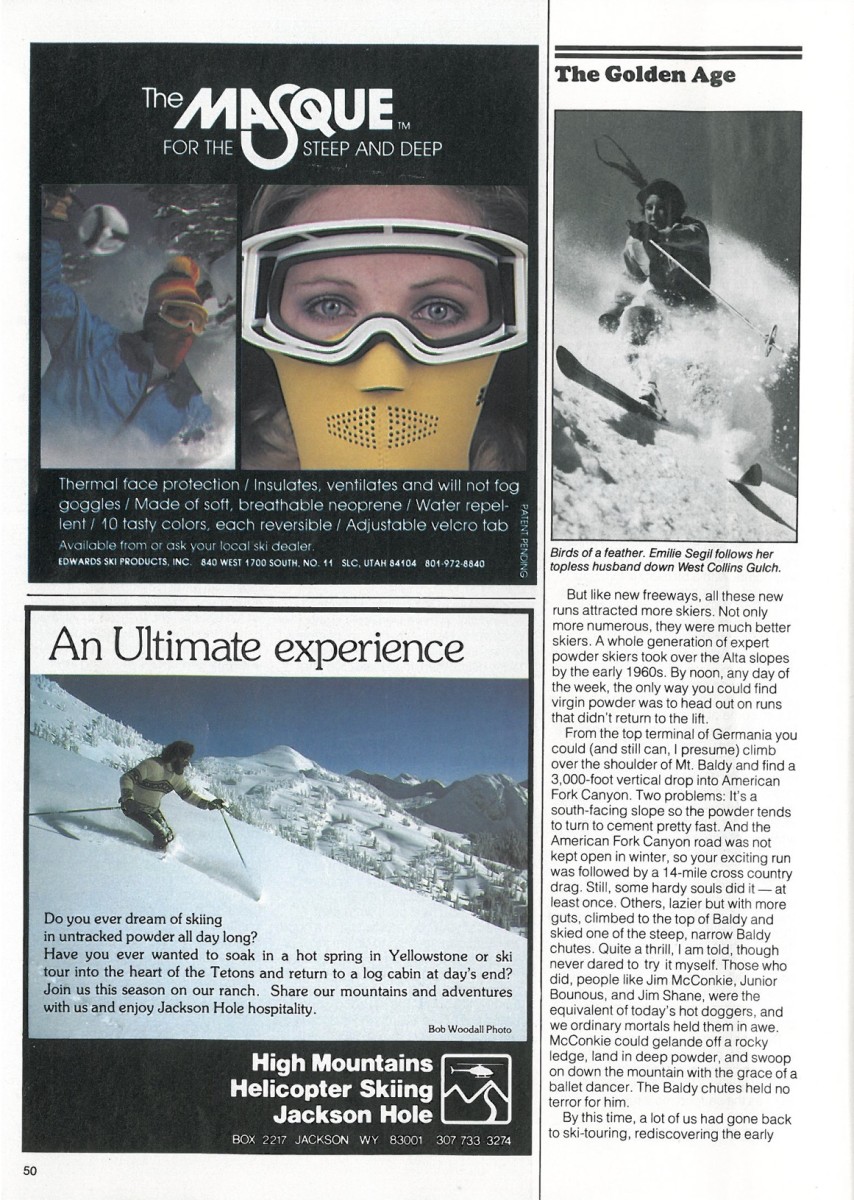 But whatever the technique or the equipment, powder skiing began to catch on by the mid 1950s. More and more skiers had learned that powder skiing was the second most fun thing in the world to do.
The word was out, and I have to confess that my weekly ski column in the Salt Lake Tribune was partly to blame.
Chic Morton doesn't fry hamburgers anymore; he runs the entire Alta lift complex. Ted Johnson created his own huge ski resort. Hans Gmoser used to put people on the Alta chairs, now he puts them on helicopters in British Columbia.
Fortunately, for a time, the increasing interest in skiing was matched by new lift construction, including the Germania lift at Alta which opened up several new miles of powder trails. Now the powder lovers headed for Germania for the first runs of the day. It was now easy to reach High Rustler, Greeley Bowl, Gunsight, Sunspot, and lots of new territory high up on Mount Baldy.
But like new freeways, all these new runs attracted more skiers. Not only more numerous, they were much better skiers. A whole generation of expert powder skiers took over the Alta slopes by the early 1960s. By noon, any day of the week, the only way you could find virgin powder was to head out on runs that didn't return to the lift.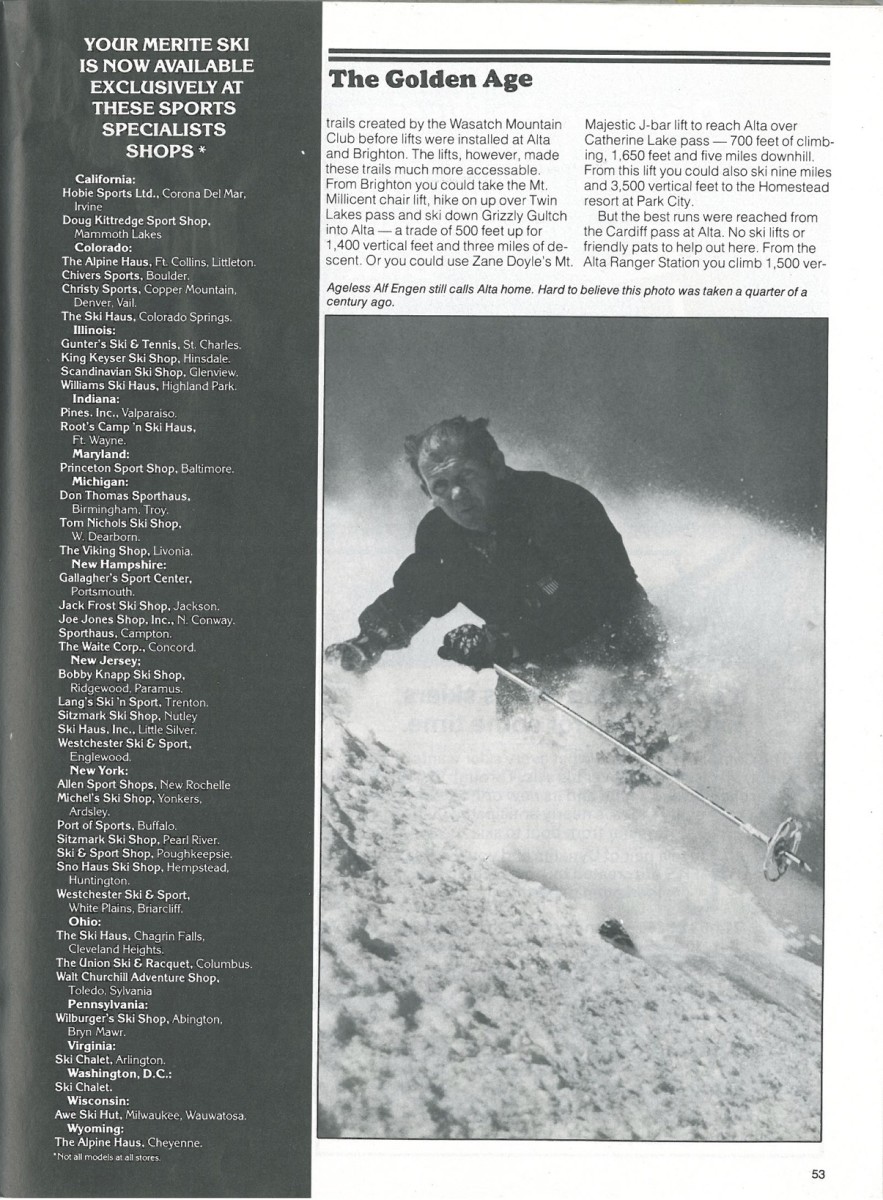 From the top terminal of Germania you could (and still can, I presume) climb over the shoulder of Mount Baldy and find a 3,000-foot vertical drop into American Fork Canyon. Two problems: It's a south-facing slope so the powder tends to turn to cement pretty fast. And the American Fork Canyon road was not kept open in winter, so your exciting run was followed by a 14-mile cross-country drag. Still, some hardy souls did it—at least once. Others, lazier but with more guts, climbed to the top of Baldy and skied one of the steep, narrow Baldy Chutes. Quite a thrill, I am told, though never dared to try it myself. Those who did, people like Jim McConkey, Junior Bounous, and Jim Shane, were the equivalent of today's hot doggers, and we ordinary mortals held them in awe. McConkey could gelande off a rocky ledge, land in deep powder, and swoop on down the mountain with the grace of a ballet dancer. The Baldy chutes held no terror for him.
By this time, a lot of us had gone back to ski-touring, rediscovering the early trails created by the Wasatch Mountain Club before lifts were installed at Alta and Brighton. The lifts, however, made these trails much more accessible. From Brighton you could take the Mount Millicent chairlift, hike on up over Twin Lakes pass, and ski down Grizzly Gulch into Alta—a trade of 500 feet up for 1,400 vertical feet and three miles of descent. Or you could use Zane Doyle's Mount Majestic J-bar lift to reach Alta over Catherine Lake pass—700 feet of climbing, 1,650 feet, and five miles downhill. From this lift you could also ski nine miles and 3,500 vertical feet to the Homestead resort at Park City.
But the best runs were reached from the Cardiff pass at Alta. No ski lifts or friendly pats to help out here. From the Alta Ranger Station you climb 1,500 vertical feet to the pass. From there it is seven-and-a-half miles and 3,000 feet to the Brighton Road via Cardiff mine and Mill D, but this is a relatively tame run with few steep slopes. A little more climbing along the ridge of Mount Superior will get you to some really fine steep powder slopes and a nine mile, 5,000 vertical foot drop via Lake Blanche to the Brighton road.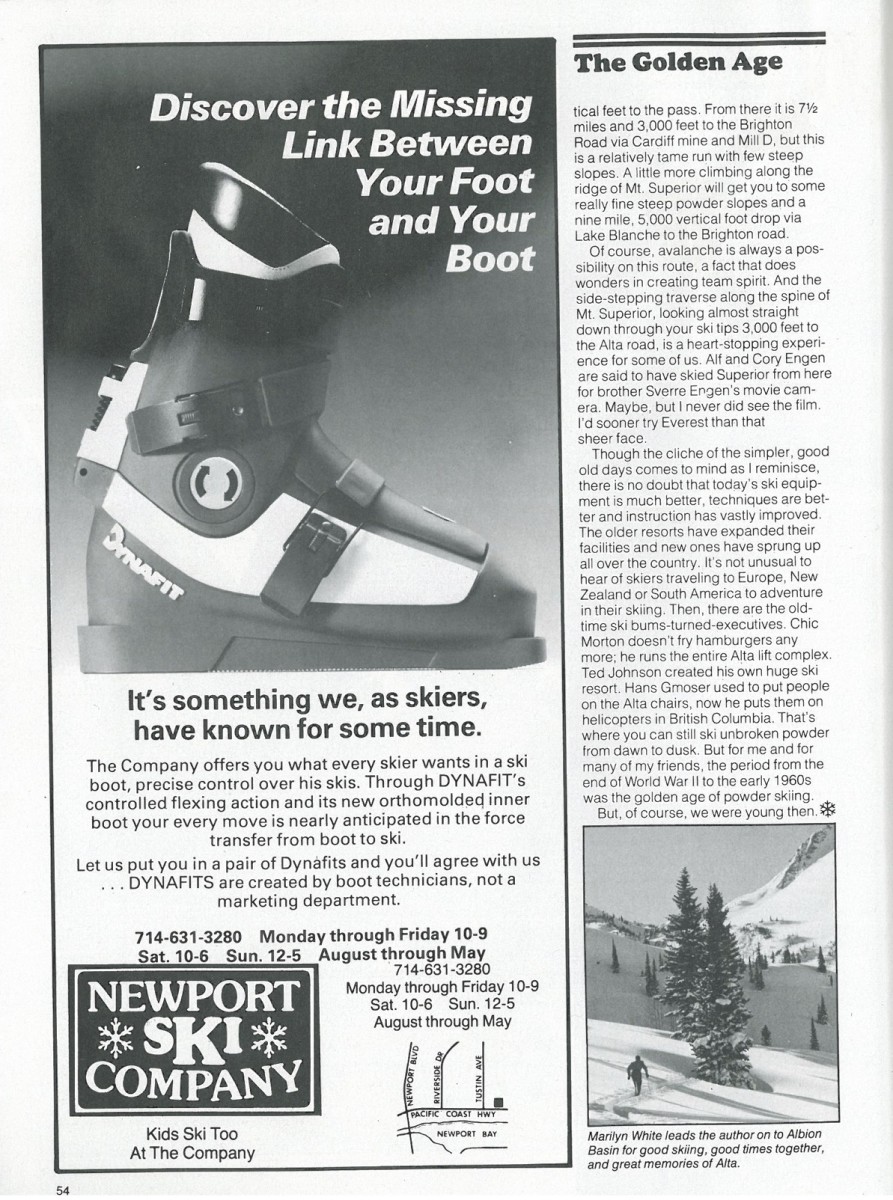 Of course, avalanche is always a possibility on this route, a fact that does wonders in creating team spirit. And the side-stepping traverse along the spine of Mount Superior, looking almost straight down through your ski tips 3,000 feet to the Alta road, is a heart-stopping experience for some of us. Alf and Cory Engen are said to have skied Superior from here for brother Sverre Engen's movie camera. Maybe, but I never did see the film. I'd sooner try Everest than that sheer face.
Though the cliché of the simpler, good old days comes to mind as I reminisce, there is no doubt that today's ski equipment is much better, techniques are better, and instruction has vastly improved. The older resorts have expanded their facilities and new ones have sprung up all over the country. It's not unusual to hear of skiers traveling to Europe, New Zealand, or South America to adventure in their skiing. Then, there are the old-time ski bums-turned-executives. Chic Morton doesn't fry hamburgers anymore; he runs the entire Alta lift complex. Ted Johnson created his own huge ski resort. Hans Gmoser used to put people on the Alta chairs, now he puts them on helicopters in British Columbia. That's where you can still ski unbroken powder from dawn to dusk. But for me and for many of my friends, the period from the end of World War II to the early 1960s was the golden age of powder skiing. But, of course, we were young then.