In celebration of POWDER's 45th Anniversary, we are releasing select stories from every volume. This story originally published in the September 2013 issue (Volume 42, Issue 1).
BUD VALIAN LIKES TO TELL STORIES. The 79-year-old is tight-lipped at first, but once you get him going he doesn't want to stop. Valian has owned Valian's Ski Shop in Government Camp, Oregon—perched on the southwestern slope of Mount Hood—since 1968. He spends seven days a week at the tuning bench in the back of the shop, while his wife, Betsy, works the till and takes care of the books. Valian wears his long, gray hair in a ponytail and uses an Ace Hardware brace on his hand when he tunes—which he does better than just about anyone in Oregon. He is not a large man, but one look into his owlish brown eyes gives one the impression that his mind and soul are expansive, enhanced by a half century of living 4,000 feet closer to the heavens than the rest of us.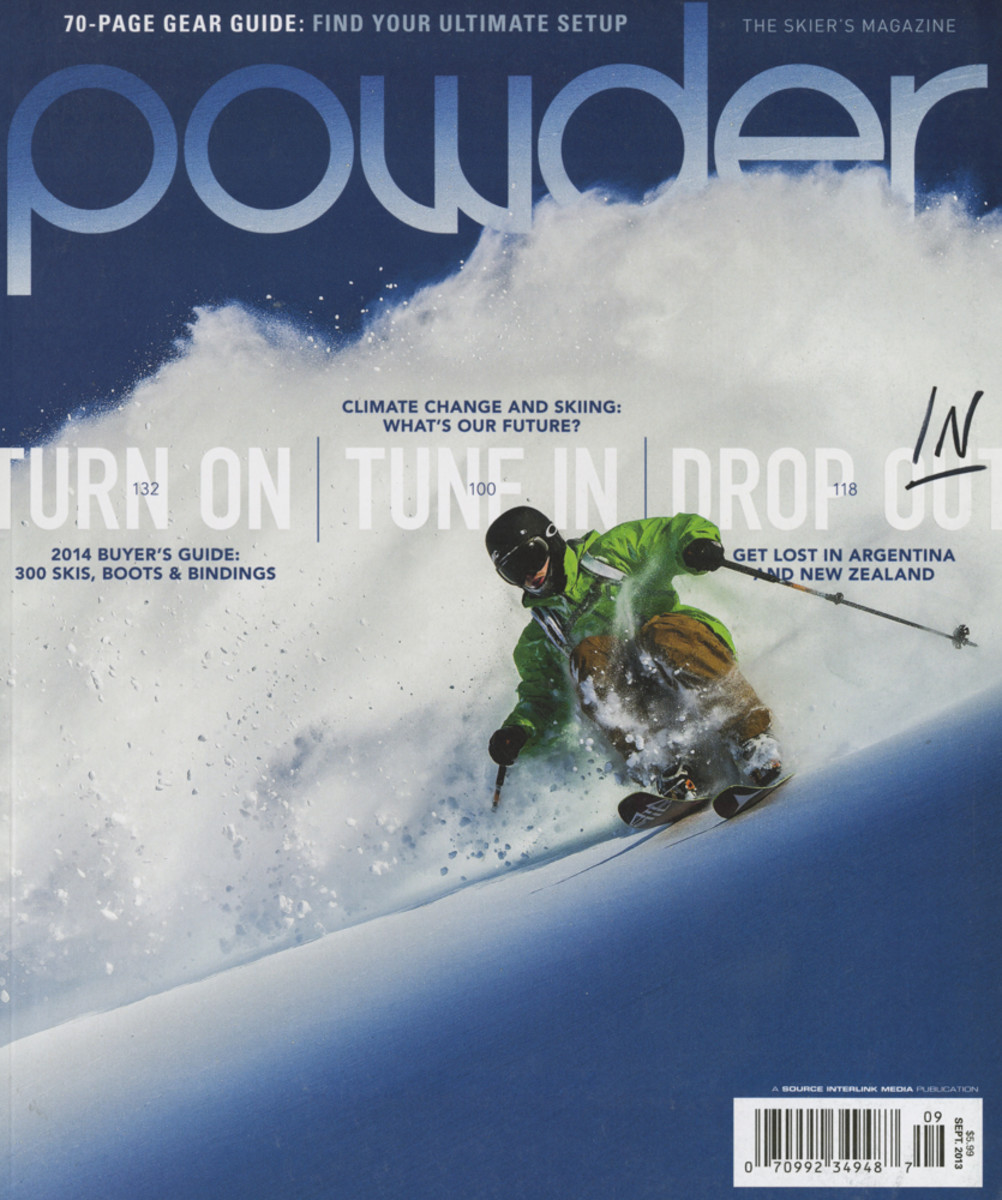 Valian learned to ski in British Columbia in 1947—on wooden boards with wire coat hangers holding the toe of his boots in place. After becoming an accomplished racer, he moved to Mount Hood to teach skiing in 1954—16 years after F.D.R.'s Works Progress Administration completed the Timberline Lodge, transforming Hood into one of the hippest winter resorts in the Northwest. He used to snowshoe to the top of the Magic Mile chairlift, shovel off the exit ramp, and ski back to the lodge for breakfast before starting his day. He remembers there weren't any stop signs or streetlights in "Govy" and that there were more restaurants and businesses. He also remembers there was a lot more snow. "The one thing I do know," he said, "is that the average elevation of the snowline is 1,200 to 1,400 feet higher now than it was back then."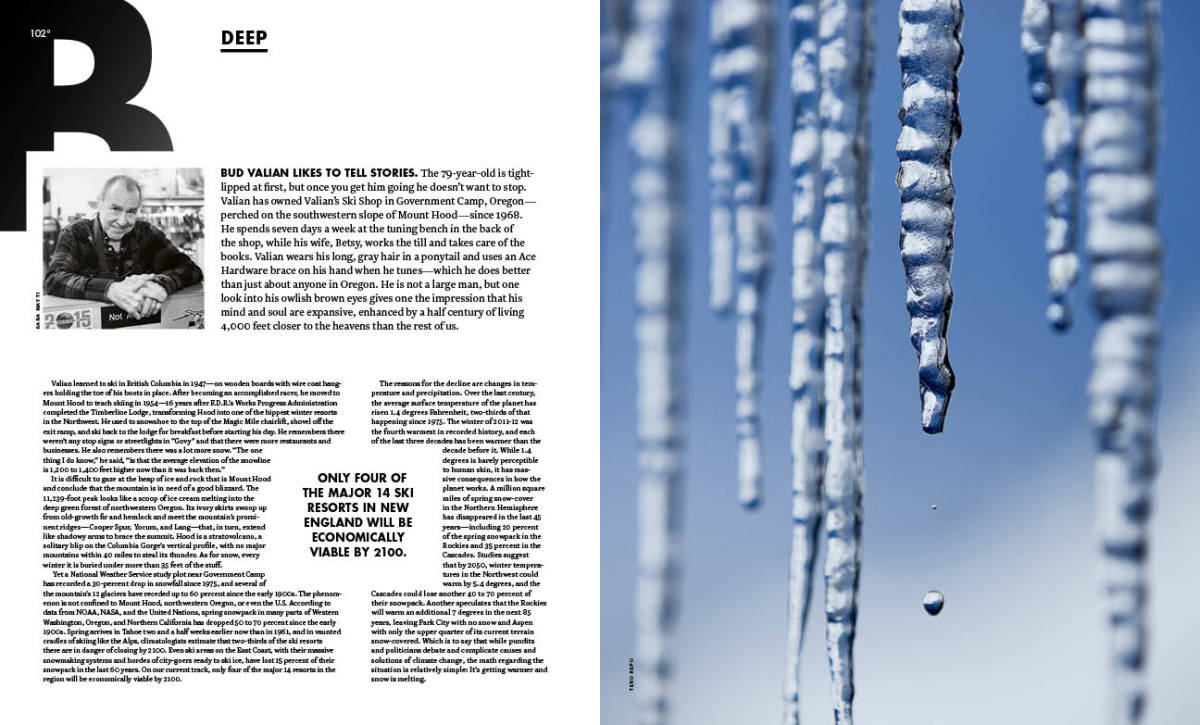 It is difficult to gaze at the heap of ice and rock that is Mount Hood and conclude that the mountain is in need of a good blizzard. The 11,239-foot peak looks like a scoop of ice cream melting into the deep green forest of northwestern Oregon. Its ivory skirts swoop up from old-growth or and hemlock and meet the mountain's prominent ridges—Cooper Spur, Yocum, and Lang—that, in turn, extend like shadowy arms to brace the summit. Hood is a stratovolcano, a solitary blip on the Columbia Gorge's vertical profile, with no major mountains within 40 miles to steal its thunder. As for snow, every winter it is buried under more than 35 feet of the stuff.
Yet a National Weather Service study plot near Government Camp has recorded a 30-percent drop in snowfall since 1975, and several of the mountain's 12 glaciers have receded up to 60 percent since the early 1900s. The phenomenon is not confined to Mount Hood, northwestern Oregon, or even the U.S. According to data from NOAA, NASA, and the United Nations, spring snowpack in many parts of Western Washington, Oregon, and Northern California has dropped 50 to 70 percent since the early 1900s. Spring arrives in Tahoe two and a half weeks earlier now than in 1961, and in vaunted cradles of skiing like the Alps, climatologists estimate that two-thirds of the ski resorts there are in danger of closing by 2100. Even ski areas on the East Coast, with their massive snowmaking systems and hordes of city-goers ready to ski ice, have lost 15 percent of their snowpack in the last 60 years. On our current track, only four of the major 14 resorts in the region will be economically viable by 2100.
A National Weather Service study plot near Government Camp has recorded a 30-percent drop in snowfall since 1975.
The reasons for the decline are changes in temperature and precipitation. Over the last century, the average surface temperature of the planet has risen 1.4 degrees Fahrenheit, two-thirds of that happening since 1975. The winter of 2011-12 was the fourth warmest in recorded history, and each of the last three decades has been warmer than the decade before it. While 1.4 degrees is barely perceptible to human skin, it has massive consequences in how the planet works. A million square miles of spring snow-cover in the Northern Hemisphere has disappeared in the last 45 years—including 20 percent of the spring snowpack in the Rockies and 35 percent in the Cascades. Studies suggest that by 2050, winter temperatures in the Northwest could warm by 5.4 degrees, and the Cascades could lose another 40 to 70 percent of their snowpack. Another speculates that the Rockies will warm an additional 7 degrees in the next 85 years, leaving Park City with no snow and Aspen with only the upper quarter of its current terrain snow-covered. Which is to say that while pundits and politicians debate and complicate causes and solutions of climate change, the math regarding the situation is relatively simple: It's getting warmer and snow is melting.
Traffic was light the day I navigated around the skyscrapers, sex shops, and lime-green bike lanes of downtown Portland and hit I-84 toward Mount Hood.
Over the last century, the average surface temperature of the planet has risen 1.4 degrees Fahrenheit.
It was a Wednesday in mid-February, and the mountain was masked behind a sheet of gunmetal gray clouds. It was the first day of a 1,000-mile road trip through the Cascades and Northern Rockies to document the future of snow in America. After reading about climate change for months, and watching senators, environmentalists, and lobbyists debate it endlessly, I wanted to talk to people who actually lived in the snow—ski bums, patrollers, avalanche forecasters, ranchers—about what they were seeing. So I packed my skis and headed out West, hoping to find answers at Mount Hood, Stevens Pass, Big Sky, and Jackson Hole—and birddog a few powder stashes along the way.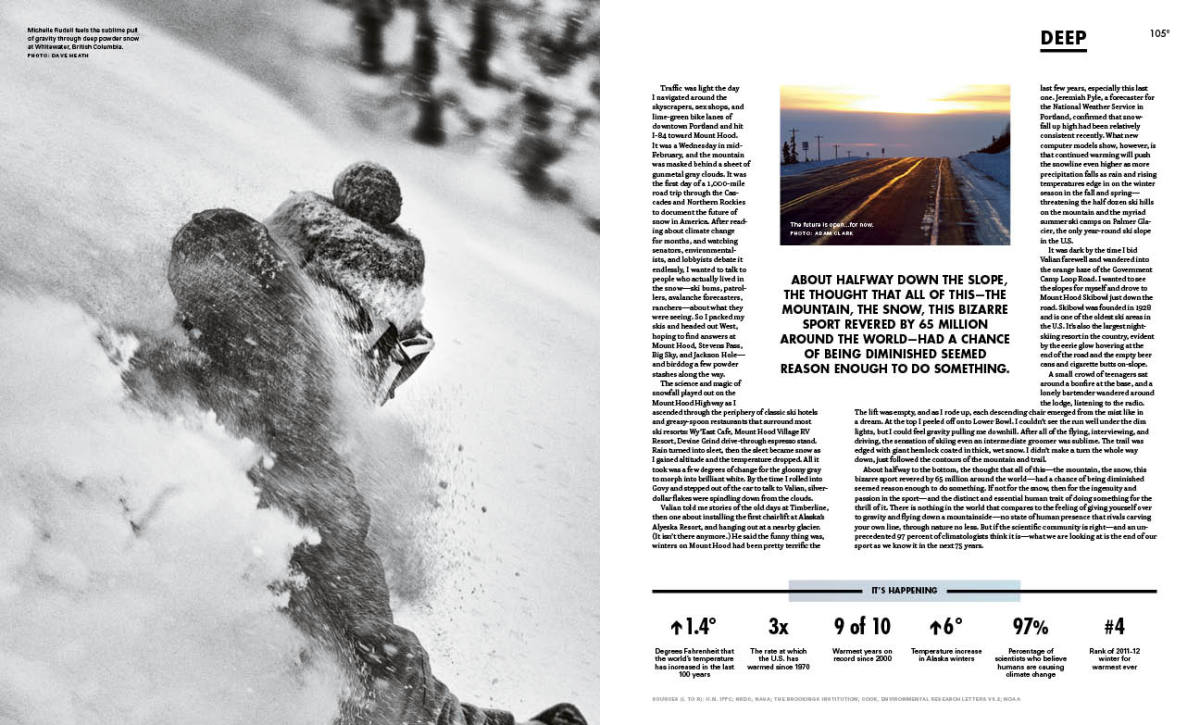 The science and magic of snowfall played out on the Mount Hood Highway as I ascended through the periphery of classic ski hotels and greasy-spoon restaurants that surround most ski resorts: Wy'East Cafe, Mount Hood Village RV Resort, Devine Grind drive-through espresso stand. Rain turned into sleet, then the sleet became snow as I gained altitude and the temperature dropped. All it took was a few degrees of change for the gloomy gray to morph into brilliant white. By the time I rolled into Govy and stepped out of the car to talk to Valian, silver-dollar fakes were spindling down from the clouds.
Valian told me stories of the old days at Timberline, then one about installing the first chairlift at Alaska's Alyeska Resort, and hanging out at a nearby glacier. (It isn't there anymore.) He said the funny thing was, winters on Mount Hood had been pretty terrific the last few years, especially this last one. Jeremiah Pyle, a forecaster for the National Weather Service in Portland, confirmed that snowfall up high had been relatively consistent recently. What new computer models show, however, is that continued warming will push the snowline even higher as more precipitation falls as rain and rising temperatures edge in on the winter season in the fall and spring—threatening the half dozen ski hills on the mountain and the myriad summer ski camps on Palmer Glacier, the only year-round ski slope in the U.S.
The thought that all of this—the mountain, the snow, this bizarre sport revered by 65 million around the world—had a chance of being diminished seemed reason enough to do something..
It was dark by the time I bid Valian farewell and wandered into the orange haze of the Government Camp Loop Road. I wanted to see the slopes for myself and drove to Mount Hood Skibowl just down the road. Skibowl was founded in 1928 and is one of the oldest ski areas in the U.S. It's also the largest night-skiing resort in the country, evident by the eerie glow hovering at the end of the road and the empty beer cans and cigarette butts on-slope. A small crowd of teenagers sat around a bonfire at the base, and a lonely bartender wandered around the lodge, listening to the radio.
The lift was empty, and as I rode up, each descending chair emerged from the mist like in a dream. At the top I peeled off onto Lower Bowl. I couldn't see the run well under the dim lights, but I could feel gravity pulling me downhill. After all of the flying, interviewing, and driving, the sensation of skiing even an intermediate groomer was sublime. The trail was edged with giant hemlock coated in thick, wet snow. I didn't make a turn the whole way down, just followed the contours of the mountain and trail.
About halfway to the bottom, the thought that all of this—the mountain, the snow, this bizarre sport revered by 65 million around the world—had a chance of being diminished seemed reason enough to do something. If not for the snow, then for the ingenuity and passion in the sport—and the distinct and essential human trait of doing something for the thrill of it. There is nothing in the world that compares to the feeling of giving yourself over to gravity and flying down a mountainside—no state of human presence that rivals carving your own line, through nature no less. But if the scientific community is right—and an unprecedented 97 percent of climatologists think it is—what we are looking at is the end of our sport as we know it in the next 75 years.
THERE HASN'T ALWAYS BEEN SNOW ON EARTH. When dinosaurs roamed the forests and swamplands of the Arctic, there wasn't a crystal of ice on the planet. Earth has gone through many warming and cooling cycles in the past, all due to natural causes like wobbles in its orbit, solar activity, or volcanic eruptions. Air bubbles caught in ice core samples show that significant changes in atmospheric CO2 levels correlate with warming and cooling trends. When CO2 levels are high, the earth is warm; when they're low, it's cooler. Meaning, the gas acts as a thermostat for the world's climate—and the 500 billion tons of CO2 that humans have pumped into the air since the start of the Industrial Revolution in 1750 is turning up the heat.
I watched the climate change the next morning on Highway 35 as I glided over Hood's glacial moraines, rockslides, and streams on the way down to Hood River Valley. The snow thinned as I descended, hundreds then thousands of feet to the valley foor. There, skeletal apple and pear trees reached back from the road in perfect rows. Back in the day, fruit trees were about the only crop you could find down here. As the Northwest warmed over the last 30 years, though, the area started growing grapes that once made Napa Valley famous—600 miles to the south.
The number of extreme snowstorms in the U.S. has doubled since 1963, but total snowpack is down.
I followed Highway 97 to Yakima and Ellensburg, then cut through the Wenatchee National Forest to Blewett Pass on the old Yellowstone Trail. The mountains around Leavenworth and Stevens Pass were coated in white. The entire Northwest was hammered early in the 2012-13 winter, with three to five feet
of snow during Thanksgiving week, then 10 feet in December. January and the first half of February were largely dry, except for a few storms, then the snow started again and didn't stop until May.
The next morning the sky was so blue that it looked like a mural on one of Leavenworth's Bavarian chalets. The canyon was still dark, though, as I worked my way up the Stevens Pass Highway. Former Northwest Weather and Avalanche Center Director Mark Moore explained a phenomenon that makes Washington's low-elevation passes, like Stevens, skiable. When low-pressure systems track east from the Pacific, cold high-pressure air from eastern Washington simultaneously flows west through the passes—freezing Cascadian summits and allowing precipitation to fall as snow instead of rain.
One of the tricky things about climate change—and one reason why people have such a hard time understanding it—is that it doesn't happen uniformly; rather, it comes in step changes over a long period of time. So a region can see terrific back-to-back winters—like the Northwest and parts of New England have experienced recently—while, overall, warming accelerates and total snowpack declines. Another anomaly is that warmer air holds more moisture, so while there will be fewer winter storms in the future, the ones that hit the U.S. will bring more snow. Case in point: The number of extreme snowstorms in the U.S. has doubled since 1963, but total snowpack is down.
In the Northwest, a predominant northerly jet stream that left much of the Rockies dry brought Washington and Oregon prodigious dumps the last two years. But the Arctic Oscillation that influenced the jet stream may well be related to climate change. Likewise, Europe had an epic winter last year—though climatologists say it was caused by unusually warm air over the Barents Sea, due to unprecedented melting sea ice. The resulting high-pressure system then steered cold air down on Europe. As Senior Research Scientist Dr. Richard Armstrong, from the National Snow and Ice Data Center (NSIDC) in Boulder, Colorado, says, "If you look at 20 different models of climate prediction, you've got a plot without a lot of scatter. If you do the same models with precip, there's no agreement whatsoever. Because they haven't figured out how to handle clouds."
Leavenworth local Tiffany Abraham met me at Stevens' Skyline Lift on her lunch break and showed me around the mountain. Abraham was the longtime life-partner of Jim Jack—legendary skier, head judge of the Freeskiing World Tour, and all-around mountain sage who passed away in the Tunnel Creek avalanche in 2012. She grew up in Leavenworth and is a skier to her core. Her nickname in town is Tinker Bell, because she takes care of the Lost Boys of Stevens Pass, and her bungalow in town is covered with paper cutout snowflakes. "They never come down," she said.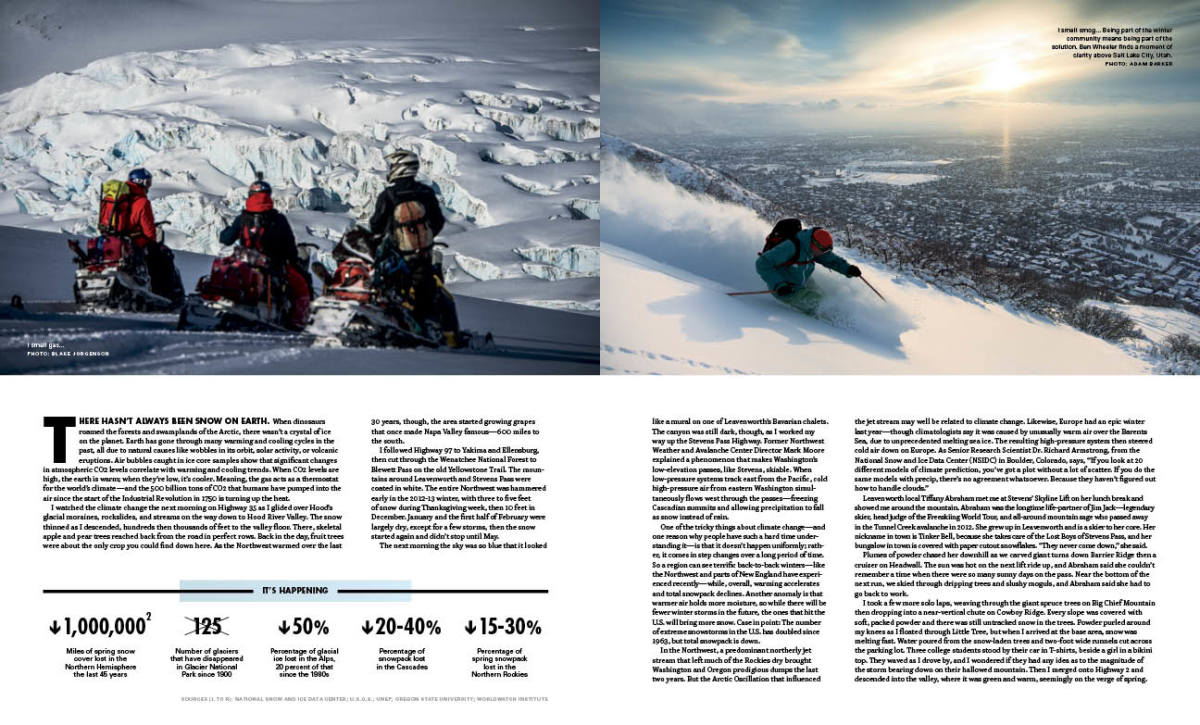 Plumes of powder chased her downhill as we carved giant turns down Barrier Ridge then a cruiser on Headwall. The sun was hot on the next lift ride up, and Abraham said she couldn't remember a time when there were so many sunny days on the pass. Near the bottom of the next run, we skied through dripping trees and slushy moguls, and Abraham said she had to go back to work.
I took a few more solo laps, weaving through the giant spruce trees on Big Chief Mountain then dropping into a near-vertical chute on Cowboy Ridge. Every slope was covered with soft, packed powder and there was still untracked snow in the trees. Powder purled around my knees as I floated through Little Tree, but when I arrived at the base area, snow was melting fast. Water poured from the snow-laden trees and two-foot wide runnels cut across the parking lot. Three college students stood by their car in T-shirts, beside a girl in a bikini top. They waved as I drove by, and I wondered if they had any idea as to the magnitude of the storm bearing down on their hallowed mountain. Then I merged onto Highway 2 and descended into the valley, where it was green and warm, seemingly on the verge of spring.
WHITE MIST OBSCURED THE WHIPSAW RIDGELINES surrounding Stevens Pass the next morning as I headed east. Weather forecasters were tracking a major system moving in from the Pacific, and I had 600 miles to cover to get to Bozeman. Hours later, near the Idaho border, a long line of dark clouds moved in from the south. The feathered edge of the front extended west-east and I sped up to stay in front of it, cruising over the wide prairies and steep passes of Idaho and Montana, then over the Continental Divide and on to Bozeman. By the time I checked in to my hotel at midnight, it was snowing hard, and the weather advisory was calling for a foot of fresh by morning.
Before heading to Big Sky in the morning, I stopped in to see a man who knows snow as well as anyone in Montana. Doug Chabot is the director of the Gallatin National Forest Avaanche Center. He moved to Montana 26 years ago and ski patrolled at Bridger Bowl before starting at the center. He is an avid skier and climber and has spent 24 years in the snow business in Montana.
"I've definitely noticed a shift. It's just so bizarre in January or February to be talking about rain."
The Northern Rockies sit at the confluence of several storm flows, he said, and typically does well with snow no matter what large circulation patterns are doing. El Niño and La Niña are not as influential here. Still, though, spring snowpack in the Northern Rockies is down about 15 to 30 percent and spring snowmelt arrives 10 to 30 days earlier than it did in 1950. Chabot said he'd seen the change. "I've definitely noticed a shift," he said. "Rain events in the middle of the winter used to be rare. In the last eight years or so, it seems we're getting them at least once a year, if not multiple times. And it's not just at the lower elevations. We'll have rain events up to 8,000 to 9,000 feet. It's just so bizarre in January or February to be talking about rain."
Chabot has also recorded warmer temperatures earlier in the season and seen more "manic" storms, with radical shifts in temperature before and after. The situation has led to more wet avalanches in March instead of April, and as it warms more, he said, there will undoubtedly be more avalanche risk in the area. With climatologists predicting more sun and rain crusts and winter warming events in the future, every avalanche forecaster I spoke with agreed that avalanche risk was bound to spike. As for Montana, Chabot said, one of the more incredible things he's seen, and expects to continue, is a slow transformation of the state's entire snowpack from a deep, relatively stable "intermountain" pack to a shallower, more avalanche-prone "continental" pack, like in Colorado. According to high-emissions computer models—that assume people keep pumping greenhouse gases into the air—snow depth in southwestern Montana is predicted to drop more than 50 percent by 2100.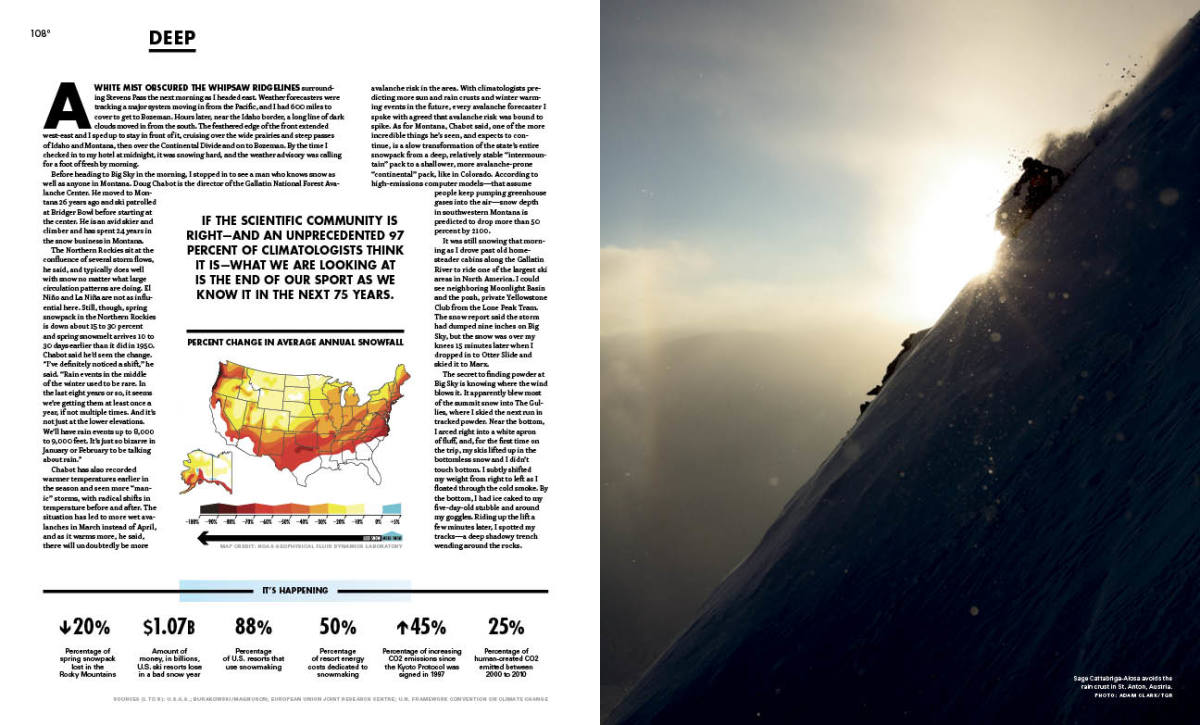 It was still snowing that morning as I drove past old homesteader cabins along the Gallatin River to ride one of the largest ski areas in North America. I could see neighboring Moonlight Basin and the posh, private Yellowstone Club from the Lone Peak Tram. The snow report said the storm had dumped nine inches on Big Sky, but the snow was over my knees 15 minutes later when I dropped in to Otter Slide and skied it to Marx.
The secret to finding powder at Big Sky is knowing where the wind blows it. It apparently blew most of the summit snow into The Gullies, where I skied the next run in tracked powder. Near the bottom, I arced right into a white apron of fluff, and, for the first time on the trip, my skis lifted up in the bottomless snow and I didn't touch bottom. I subtly shifted my weight from right to left as I floated through the cold smoke. By the bottom, I had ice caked to my five-day-old stubble and around my goggles. Riding up the lift a few minutes later, I spotted my tracks—a deep shadowy trench wending around the rocks.
With signs of change apparent in most of America's mountain ranges, it's surprising how slow the ski industry has been to react.
After the lifts closed that afternoon, I stopped at the ski patrol shack to talk with Bob Dixon. Dixon has worked and skied at Big Sky for more than 30 years and seen much of what Chabot pointed out. He's been the ski patrol director for most of that time and has perhaps the most marvelous hair in the sport—coiffed into a perfect sandy brown wave after a lifetime of skiing sans chapeau. He said that he too had seen more rain events in the winter—like four years ago when it rained to the summit six times in the first two months of the season. He'd also noticed the Gallatin didn't flood the road in the spring anymore and that, overall, his little corner of Montana was just warmer.
"The first year I was here, in 1974, we had a cold snap where the still air temperature got down to 62 be- low," he said. "And that was for six or seven days. That's when I learned to heat the oil pan underneath my car to warm up the engine enough to start it. We see a couple days at 20- or 30-below now, but nothing continuous."
With signs of change apparent in most of America's mountain ranges, it's surprising how slow the ski industry has been to react, given that it may well be facing an economic meltdown this century. National Ski Area Association campaigns—like "Keep Winter Cool," "Sustainable Slopes," and "Climate Challenge"— are moving in the right direction, but overall have done little to move the needle on climate change mitigation. Some resorts, like Berkshire East (solar), Aspen/Snowmass (methane generator), and Jiminy Peak (wind), have engineered low-carbon energy production to power their operations. But the reality is, with skier numbers relatively at since 1979, most ski area executives spend their time keeping the business a oat—and have few resources left to lead the kind of nationwide sea change needed to force climate change legislation.
There are a few who have made an impact, like snowboard icon Jeremy Jones and the organization he founded in 2007, Protect Our Winters (POW). Jones was given a Champions of Change award by President Obama at the White House last April. POW followed up with a hand-delivered letter signed by 75 winter-sports athletes that pointed out: "At risk are the economies of tourist-dependent states where winter tourism generates $12.2 billion in revenue annually, supports 212,000 jobs, and $7 billion in salaries." Some of the athletes who signed it were on their way home from training in Sochi, Russia, for the 2014 Winter Olympics—where two events in February were cancelled due to lack of snow, and Russian authorities were stockpiling snow in case the region has another dry winter.
"The window to save skiing, and perhaps our way of life on Earth, is closing, and symbolic gestures no longer cut it."
POW's approach is not simply to save winter sports, rather to use the influence, economic clout, and passion of the winter-sports community to push Congress to pass large-scale climate change legislation. Some of POW's primary targets: U.S. Representatives from ski states who still don't believe that anthropogenic global warming exists, like Colorado's Cory Gardner, Utah's Jason Chaffetz, Wyoming's Cynthia Lummis, and Washington's Cathy McMorris Rodgers. (For context, climate change believers now include major insurance firms like Lloyd's of London, several Forbes 500 companies like Nike and Levi Strauss & Co., and the U.S. Department of Defense, which considers climate change an imminent threat to U.S. security.) The bottom line, says POW board member and Aspen Skiing Company Vice President of Sustainability Auden Schendler, is that the window to save skiing, and perhaps our way of life on Earth, is closing, and symbolic gestures no longer cut it.
"What has to happen is things like a national carbon tax or action by the EPA on existing power plants that's discussed and made national policy overtly by the President," he said. "We can't just do stealth emissions reductions. We have to talk about it so China and India can see that we're leading. The policy fix is not all that complicated… You have to have incentives for clean energy; you have to have state and national energy standards. There needs to be some kind of pricing on carbon. That's what we're trying to use the ski industry to push."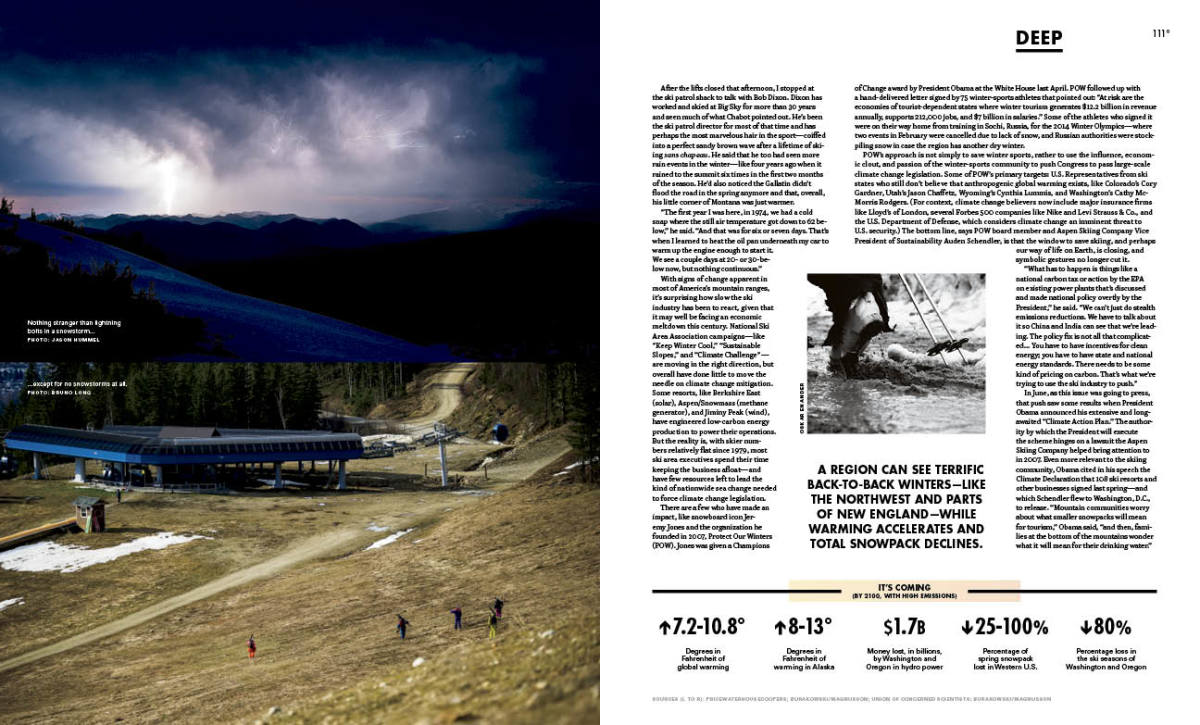 In June, as this issue was going to press, that push saw some results when President Obama announced his extensive and long-awaited "Climate Action Plan." The authority by which the President will execute the scheme hinges on a lawsuit the Aspen Skiing Company helped bring attention to in 2007. Even more relevant to the skiing community, Obama cited in his speech the Climate Declaration that 108 ski resorts and other businesses signed last spring—and which Schendler flew to Washington, D.C., to release. "Mountain communities worry about what smaller snowpacks will mean for tourism," Obama said, "and then, families at the bottom of the mountains wonder what it will mean for their drinking water."
NEARLY HALF OF ALL AMERICANS don't believe that humans are causing the climate to change. There are also some scientists who think that snow and skiing will do just fine over the next century, even as the planet warms. Armstrong, who skis in Colorado when he's not working at NSIDC, said that snowfall will depend on shifts in moisture flow—that, again, climatologists have yet to figure out. Meteorologist Jim Woodmencey, who has called the weather around Jackson Hole for more than 20 years, predicts that it will be snowier there in 50 years than it is today. Daniel Scott at the University of Waterloo in Ontario—where researchers have been modeling climate change's effect on ski resorts since the 1980s—points out that most snow loss to date has been at low elevations, and spring snowpack measurements are better for water resource purposes than skiing. Snow depth every month of the season, he said, is more important than one measurement on April 1. Not to mention, most computer models are built for water resource purposes and don't include snowmaking in their mix.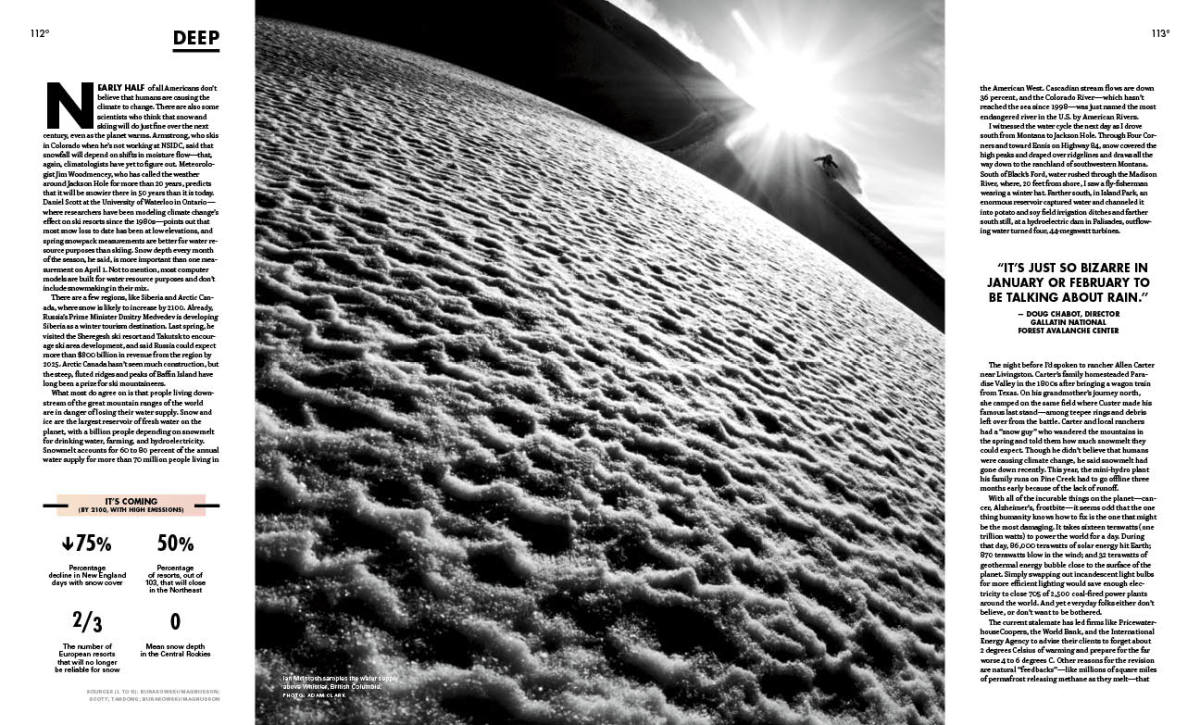 There are a few regions, like Siberia and Arctic Canada, where snow is likely to increase by 2100. Already, Russia's Prime Minister Dmitry Medvedev is developing Siberia as a winter tourism destination. Last spring, he visited the Sheregesh ski resort and Takutsk to encourage ski area development, and said Russia could expect more than $800 billion in revenue from the region by 2025. Arctic Canada hasn't seen much construction, but the steep, fluted ridges and peaks of Baffin Island have long been a prize for ski mountaineers.
What most do agree on is that people living downstream of the great mountain ranges of the world
are in danger of losing their water supply. Snow and ice are the largest reservoir of fresh water on the planet, with a billion people depending on snowmelt for drinking water, farming, and hydroelectricity. Snowmelt accounts for 60 to 80 percent of the annual water supply for more than 70 million people living in the American West. Cascadian stream flows are down 36 percent, and the Colorado River—which hasn't reached the sea since 1998—was just named the most endangered river in the U.S. by American Rivers.
With all of the incurable things on the planet—cancer, Alzheimer's, frostbite—it seems odd that the one thing humanity knows how to fix is the one that might be the most damaging.
I witnessed the water cycle the next day as I drove south from Montana to Jackson Hole. Through Four Cor- ners and toward Ennis on Highway 84, snow covered the high peaks and draped over ridgelines and draws all the way down to the ranchland of southwestern Montana. South of Black's Ford, water rushed through the Madison River, where, 20 feet from shore, I saw a fly-fisherman wearing a winter hat. Farther south, in Island Park, an enormous reservoir captured water and channeled it into potato and soy field irrigation ditches and farther south still, at a hydroelectric dam in Palisades, out flowing water turned four, 44-megawatt turbines.
The night before I'd spoken to rancher Allen Carter near Livingston. Carter's family homesteaded Paradise Valley in the 1800s after bringing a wagon train from Texas. On his grandmother's journey north, she camped on the same field where Custer made his famous last stand—among teepee rings and debris left over from the battle. Carter and local ranchers had a "snow guy" who wandered the mountains in the spring and told them how much snowmelt they could expect. Though he didn't believe that humans were causing climate change, he said snowmelt had gone down recently. This year, the mini-hydro plant his family runs on Pine Creek had to go offline three months early because of the lack of runoff.
With all of the incurable things on the planet—cancer, Alzheimer's, frostbite—it seems odd that the one thing humanity knows how to fix is the one that might be the most damaging. It takes sixteen terawatts (one trillion watts) to power the world for a day. During that day, 86,000 terawatts of solar energy hit Earth; 870 terawatts blow in the wind; and 32 terawatts of geothermal energy bubble close to the surface of the planet. Simply swapping out incandescent light bulbs for more efficient lighting would save enough electricity to close 705 of 2,500 coal-fired power plants around the world. And yet everyday folks either don't believe, or don't want to be bothered.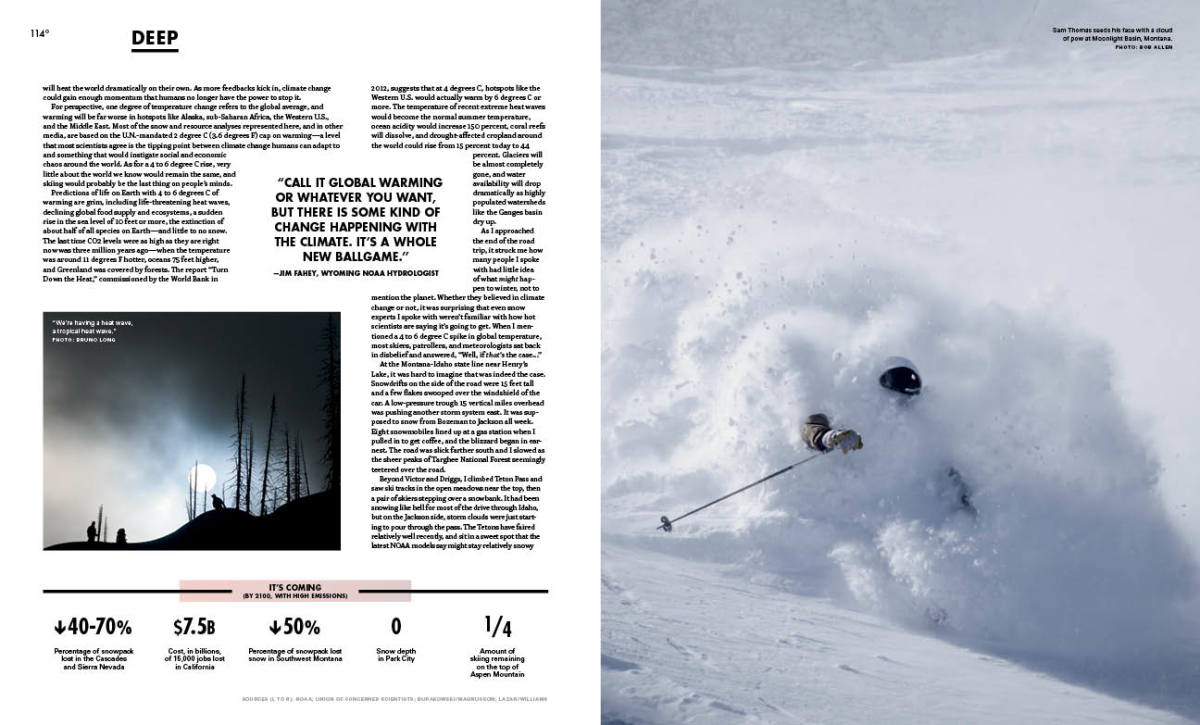 The current stalemate has led firms like Pricewaterhouse Coopers, the World Bank, and the International Energy Agency to advise their clients to forget about 2 degrees Celsius of warming and prepare for the far worse 4 to 6 degrees C. Other reasons for the revision are natural "feedbacks"—like millions of square miles of permafrost releasing methane as they melt—that will heat the world dramatically on their own. As more feedbacks kick in, climate change could gain enough momentum that humans no longer have the power to stop it.
For perspective, one degree of temperature change refers to the global average, and warming will be far worse in hotspots like Alaska, sub-Saharan Africa, the Western U.S., and the Middle East. Most of the snow and resource analyses represented here, and in other media, are based on the U.N.-mandated 2 degree C (3.6 degrees F) cap on warming—a level that most scientists agree is the tipping point between climate change humans can adapt to and something that would instigate social and economic chaos around the world. As for a 4 to 6 degree C rise, very little about the world we know would remain the same, and skiing would probably be the last thing on people's minds.
Predictions of life on Earth with 4 to 6 degrees C of warming are grim, including life-threatening heat waves, declining global food supply and ecosystems, a sudden rise in the sea level of 10 feet or more, the extinction of about half of all species on Earth—and little to no snow. The last time CO2 levels were as high as they are right now was three million years ago—when the temperature was around 11 degrees F hotter, oceans 75 feet higher, and Greenland was covered by forests. The report "Turn Down the Heat," commissioned by the World Bank in 2012, suggests that at 4 degrees C, hotspots like the Western U.S. would actually warm by 6 degrees C or more. The temperature of recent extreme heat waves would become the normal summer temperature, ocean acidity would increase 150 percent, coral reefs will dissolve, and drought-affected cropland around the world could rise from 15 percent today to 44 percent. Glaciers will be almost completely gone, and water availability will drop dramatically as highly populated watersheds like the Ganges basin dry up.
As I approached the end of the road trip, it struck me how many people I spoke with had little idea
of what might happen to winter, not to mention the planet. Whether they believed in climate change or not, it was surprising that even snow experts I spoke with weren't familiar with how hot scientists are saying it's going to get. When I mentioned a 4 to 6 degree C spike in global temperature, most skiers, patrollers, and meteorologists sat back in disbelief and answered, "Well, if that's the case…"
At the Montana-Idaho state line near Henry's Lake, it was hard to imagine that was indeed the case. Snowdrifts on the side of the road were 15 feet tall and a few akes swooped over the windshield of the car. A low-pressure trough 15 vertical miles overhead was pushing another storm system east. It was supposed to snow from Bozeman to Jackson all week. Eight snowmobiles lined up at a gas station when I pulled in to get coffee, and the blizzard began in earnest. The road was slick farther south and I slowed as the sheer peaks of Targhee National Forest seemingly teetered over the road.
I'd skied the run hundreds of times, but it still took my breath away—accelerating downhill, the feeling of nothingness as my skis floated in the powder.
Beyond Victor and Driggs, I climbed Teton Pass and saw ski tracks in the open meadows near the top, then a pair of skiers stepping over a snowbank. It had been snowing like hell for most of the drive through Idaho, but on the Jackson side, storm clouds were just starting to pour through the pass. The Tetons have faired relatively well recently, and sit in a sweet spot that the latest NOAA models say might stay relatively snowy over the next 70 years. Still, 2012 was the warmest year in Wyoming history, and the snowline is clearly moving up. Snowfall in the town of Jackson is down around 7 percent over the last 50 years, and those numbers do not include the warm years of 2000 to 2013. Glaciers in the Wind River Range and Tetons have been receding, and the state is funding cloud-seeding and snowmaking projects—including a grant to expand snowmaking at downtown Jackson's Snow King Resort.
Gaps in climate and snowfall data in the region have made long-term assessments di cult. Wyoming NOAA Hydrologist Jim Fahey has been studying snowpack across the state since the 1990s, and said the numbers on his end are pretty clear. "The snowpack from 7,500 to 11,000 feet has been below average since 1999, by 15 to 20 percent," he said. "It's warming up earlier in the spring, two to three weeks ahead of schedule. The snowpack calendar used to run from mid-October to the middle of May, now it's mid-November or early December to early May or late April. That's a month and a half to two months less snow accumulation. That's a big deal. Call it global warming or whatever you want, but there is some kind of change happening with the climate. It's a whole new ballgame."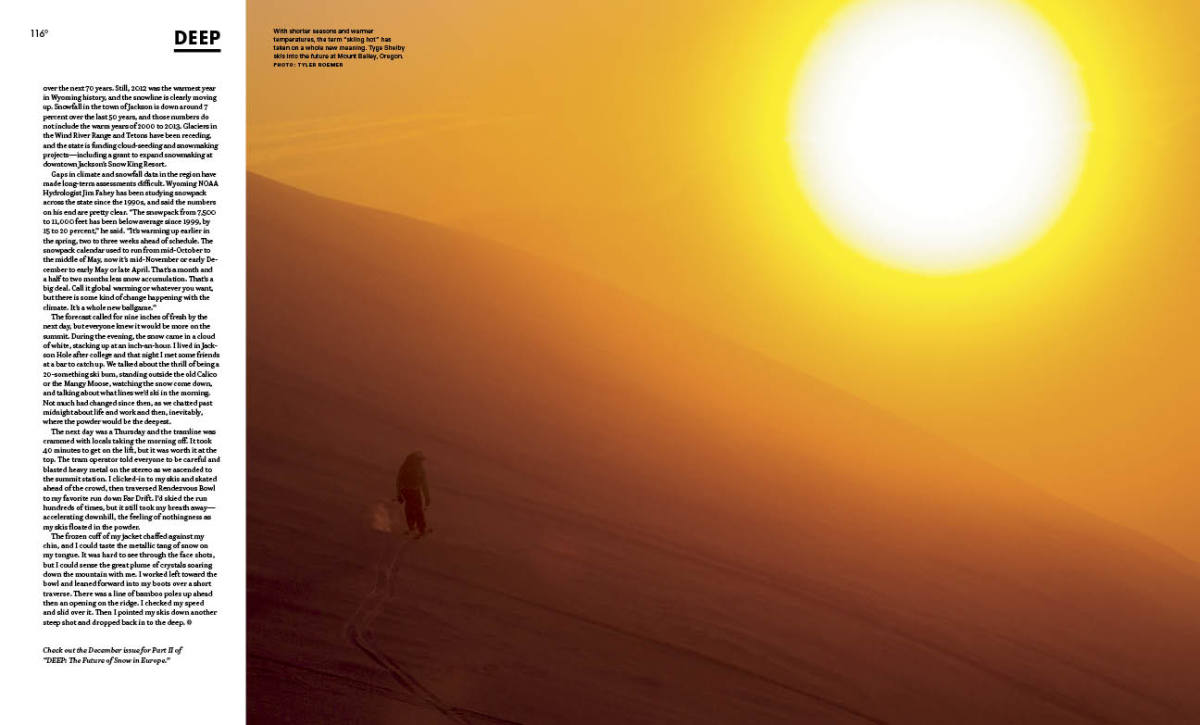 The forecast called for nine inches of fresh by the next day, but everyone knew it would be more on the summit. During the evening, the snow came in a cloud of white, stacking up at an inch-an-hour. I lived in Jackson Hole after college and that night I met some friends at a bar to catch up. We talked about the thrill of being a 20-something ski bum, standing outside the old Calico or the Mangy Moose, watching the snow come down, and talking about what lines we'd ski in the morning. Not much had changed since then, as we chatted past midnight about life and work and then, inevitably, where the powder would be the deepest.
The next day was a Thursday and the tramline was crammed with locals taking the morning off. It took 40 minutes to get on the lift, but it was worth it at the top. The tram operator told everyone to be careful and blasted heavy metal on the stereo as we ascended to the summit station. I clicked into my skis and skated ahead of the crowd, then traversed Rendezvous Bowl to my favorite run down Far Drift. I'd skied the run hundreds of times, but it still took my breath away—accelerating downhill, the feeling of nothingness as my skis floated in the powder.
The frozen cuff of my jacket chafed against my chin, and I could taste the metallic tang of snow on my tongue. It was hard to see through the face shots, but I could sense the great plume of crystals soaring down the mountain with me. I worked left toward the bowl and leaned forward into my boots over a short traverse. There was a line of bamboo poles up ahead then an opening on the ridge. I checked my speed and slid over it. Then I pointed my skis down another steep shot and dropped back into the deep.