By Mike Doyle
In celebration of POWDER's 45th Anniversary, we are releasing select stories from every volume. This story originally published in POWDER's Fall 1974 issue (Volume 3, Issue 1).
The idea of a single ski for snow was a natural progression from my years in surfing. I put together the first prototype about four years ago. I took it up to Mammoth Mountain to see if my idea would work and got about three feet up the Pulma lift when both front tow pieces ripped out. I fell backwards on my tailbone and rolled around in pain. It was a very embarrassing experience because a lot of people were watching to see if this "single ski" would work. I think they enjoyed my first attempt. At least they did get a good laugh.
That afternoon, the bindings were remounted and we put the toe-piece bolts all the way through the ski. Thanks to a guy named "Rhubarb," I was able to secure the bindings so they would never come off again.
Our skis were barely touching the snow. We were planing high, almost flying. I felt that if I were to stand up, I would blow over backwards.
Later that afternoon my friend Jon and I were carving some pretty good turns considering the snow conditions and the crude "single ski." It was exciting and everyone watching knew something new was happening in skiing. I remember one man's comment, "That's a million dollar idea."
Well, I learned that an idea isn't worth two cents unless you follow it through and that's what Bill Bahne and I have been doing for the past four years. The construction of the single ski has progressed from a wood and glass ski to a honeycomb and glass and finally to a glass and foam ski. The materials used in the ski are the same as those used in surfboards. It is a far concept and in the last two years, with the advent of short skis and hotdogging, the public has a more liberal attitude in regard to new ideas and equipment.
The Single Ski is the ultimate powder ski. You can do anything—a million little tight turns in steep places or go straight. Last year, using the Single Ski, I lead the way to what a friend and I think must be a world record: 187 perfectly linked figure eights. However, I like a minimum of turns and a maximum of speed. I look for trees and wind rolls to bank turns around. It gives me a very similar feeling to surfing a large wave. After the powder is tracked up or turns into crud, I still enjoy the Single Ski because I have the power of two legs to carve a turn on one surface.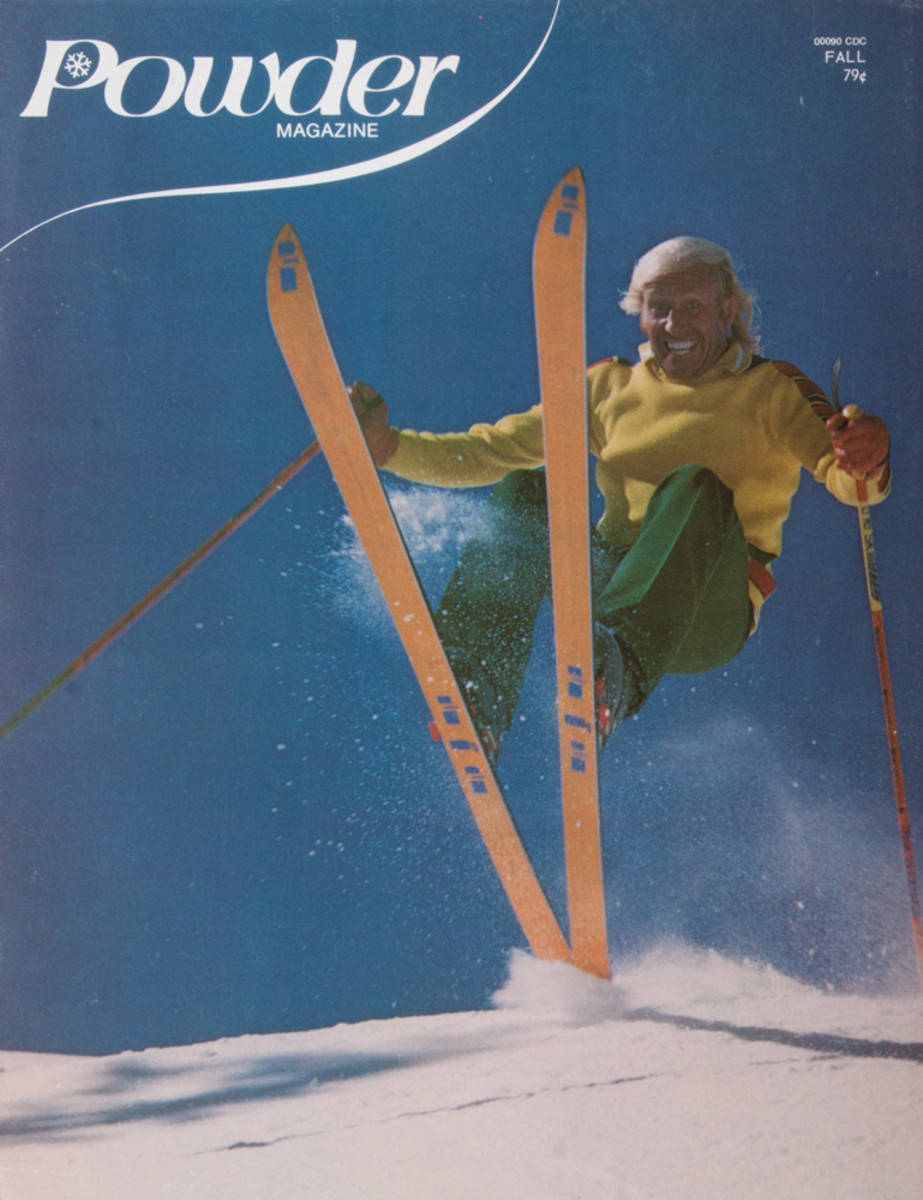 My greatest experience came this year in Jackson Hole. Champion surfer Joey Cabell and I met there last winter. He had just returned from using the Single Ski in the Bugaboos and I heard from some of the people that were with him that he was really turning on.
On the way up the tram, the attendant announced that the Hoback Ridge had just opened. The Hobacks are a series of runs that are a mile in width and at least are a series of runs that are one and a half miles in length. The pitch is steep and consistent and there are very few trees. If you have ever been to Jackson you know what this means—perfect powder skiing. We both knew we would be the first to get there.
Joey and I had our skis on in half the time and took Rendezvous Bowl almost straight, maybe three turns, 40-45 miles an hour. We were pushing each other hard. He was about ten feet in front of me and every time we crisscrossed, I ate his spray and my vision was blocked. We rounded the turn coming into the Hobacks. There they were—the sun was shining on this huge vast area of untouched powder. There were a thousand lines we could have chosen. It was so awe inspiring that Joey slowed down slightly to absorb the significance of it all. I roared past him going faster than I've ever gone, maybe faster than anyone has ever gone in deep powder. I bore down even harder thinking that I was stretching the lead. I couldn't believe my eyes when I looked over my shoulder and Joey was about ten feet behind me. Our skis were barely touching the snow. We were planing high, almost flying. I felt that if I were to stand up, I would blow over backwards.
What a tremendous day! Joey and I felt as longtime surfers that we had found the perfect counterpart to surfing. Deep powder, sunshine and the Single Ski.
Mike Doyle is a champion surfer and has been designing and building surfboards with his friend Bill Bahne for several years. He has also been designing the single ski for snow the past four years.