In celebration of POWDER's 45th Anniversary, we are releasing select stories from every volume. This story originally published in the September 2001 issue (Volume 30, Issue 1).
DEAN CUMMINGS DOESN'T CARE ABOUT AN AFTERLIFE. According to him, heaven is life on Earth. To some this might sound a bit cliché, but considering the location where he made this statement even the harshest cynic would back his words as God's truth.
The 32-year-old professional athlete and heli-ski mogul stands on the top deck of the four-story Ocean Explorer I, a refurbished 110-foot fishing vessel. While the 200-ton yacht retains all the features of a commercial workhorse—two 360-horsepower diesel engines, high-powered generators, heli pad, hydraulic crane, concrete bollards for remote dockings, and high-tech communication devices—a '91 makeover has also yielded lavish amenities such as leather couches and a five-person, outdoor hot tub. At this point, aside from the sound of gurgling chlorinated water in the tub, the boat's presence disappears as Cummings, perma-grin slapped to his face, points his video camera through the Pearly Gates:
At 7 p.m. in early February, the light turns the placid, frigid water into golden syrup that eventually fades to pink and red before nightfall. Bald eagles swoop and scan the water for dinner before coming up empty to rest on the highest points of large cedar trees towering over the beach. A cluster of small birds flutters spasmodically while a gaggle of white trumpeter swans floats in unison. Framing this idyllic setting are mountains rising 7,000 feet straight out of the water, their flanks covered with thriving, verdant forests and summits topped with snow and glacial ice. There isn't a wisp of wind—only calm air that reeks of purity. Maybe Cummings is onto something.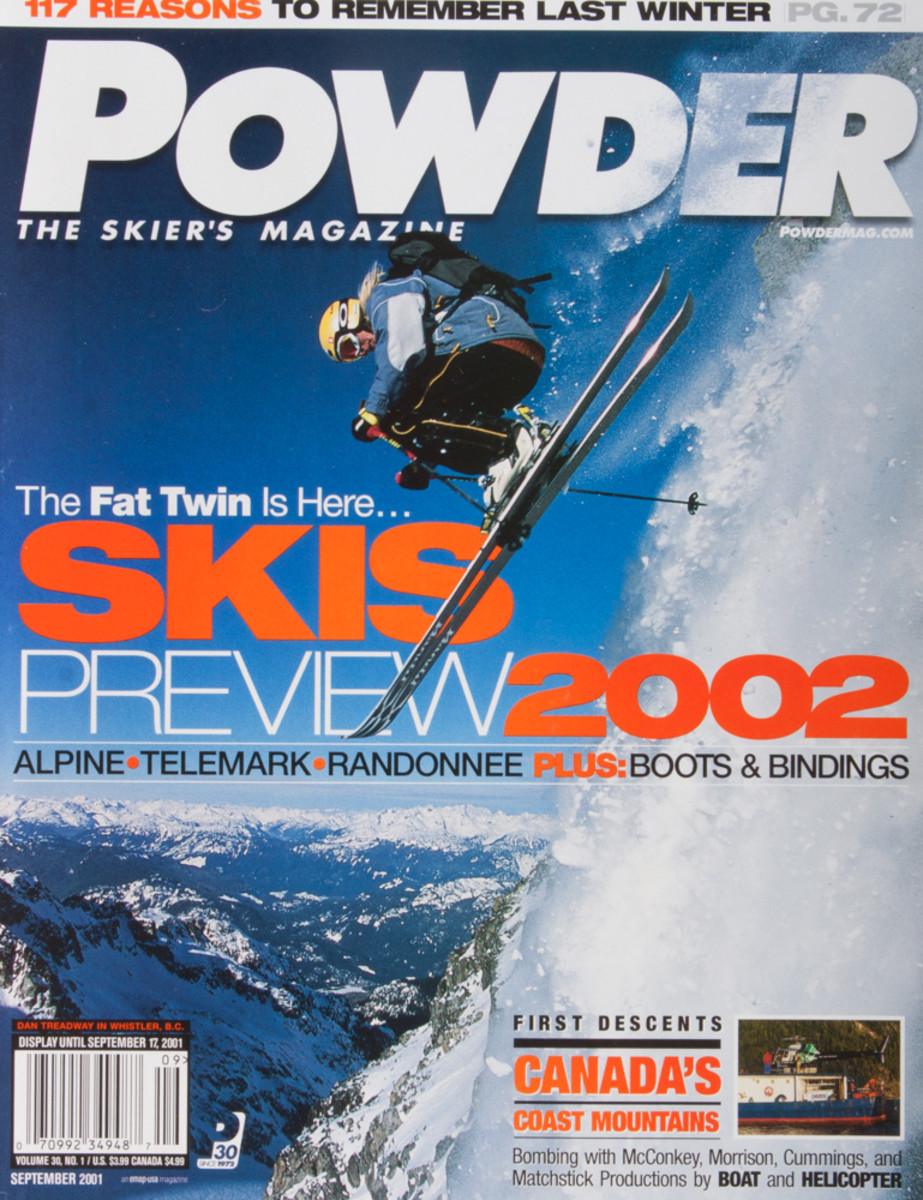 Two days' travel and over 120 nautical miles north of Vancouver, British Columbia, the Ocean Explorer sits anchored 30 miles up Toba Inlet. Deeming this majestic channel of water an inlet is another example of Canadian modesty. The Toba, and dozens like it that cut deep into British Columbia's coastline, are proud, damn-near Norwegian fjords. The Toba, specifically, pulls north out of the Strait of Georgia—a sliver of Pacific Ocean slipping between Vancouver Island and the mainland—then winds inland for 50 miles before stopping where the Coast Mountains begin. Our heli pilot just finished a three-hour flight from the native-village-cum-burgeoning-heli-ski-hot-spot of Bella Coola, landing an A-Star B2 on the back of the boat. At the moment, the weather is perfect—almost too good to be true. We were prepared to sit for days waiting for clear weather just so the helicopter could make it to the boat. Instead, we watch joyfully as it slides into position just hours after we arrive. Still, with only 10 possible ski days—a window that, given local averages, would provide about two clear days—verbal celebration by the superstitious is kept to a minimum.
… The sky is clear tonight with first descents on the horizon…
For everyone involved, this is the trip of a lifetime, but also a major financial crapshoot. While it is in the business of magazines and film crews to fund costly expeditions, said trips normally come with some degree of guaranteed success; ours is a complete gamble. We hope to document first descents via helicopter in one of the world's wettest, largest, and most heavily glaciated ranges. If the weather cooperates and stable snow exists, we'll make out like James Bond in a high-speed chase. But if the naysayers are right, and the heli doesn't move, we, the posing high rollers, might as well have poured $100,000 overboard into the Pacific Ocean.
Tonight, a crew of optimists fills the salon: Seth Morrison, Shane McConkey, and Cummings are three of today's most talented big mountain skiers and each brings a distinct style to the table. There's Morrison's smooth, straightline and trick-influenced aggression; Shane McConkey's creative and bold billy-goating; and Cummings' technical savvy and mountaineering technique. Shooting stills on the other side of the lens is POWDER Photo Editor Dave Reddick, plus three cinematographers: MSP co-founder and shoot director, Steve Winter; self-made, cinematic prodigy Scott Gaffney; and still photographer gone up-and-coming filmer, 26-year-old Guilluame Tessier. Lead guide and trip visionary Peter "The Swede" Mattson, a Swedish ex-pat become Whistler fixture, and his right-hand man, fellow Whistlerite Jia Condon, specialize in guiding film crews in remote locations. Navigating the ship in and out of inlets and keeping us anchored once we stop, is the job of life-long seaman and seven-year Captain Mike McKee, Richard Lapointe, our heli pilot with 25 years of experience including a stint as the former team coordinator of Canada's Snowbirds (equivalent to America's Thunderbirds), was prepared to make first landings on unmarked LZs. Chef Bruce is on a working vacation from his regular job of cooking for several hundred loggers a day in remote camps around British Columbia.
Each person's job is ultimately centered on the one goal of capturing incredible action on film. Still, no matter how good the food tastes, how securely the boat is anchored, or how talented the cameraman's eye, without perfect weather, nothing will happen. And while the sky is clear tonight with first descents on the horizon, tomorrow we could wake up in a snowstorm that might last a week.
Cummings has the honor of making the initial scratch in two feet of three-day-old powder the next morning. "Cameras ready! Skier's ready!" The Swede barks into his handset, his voice booming out of nine other radios and echoing off an opposing granite wall. "Three!…Two!…One!" Cummings pushes off a wide ridge and drops onto a tame, 40-degree slope. Riding high on a small ramp of powder, he slides a turn and sends a torpedo of snow flying as cameras rattle and hum from four different angles. His run is over almost instantly, but successfully skiing the first 500 feet of the trip without issue calms a million nerves.
"This is pure exploration at its finest," says Swede, puffing on a hand-rolled cigarette while Morrison and McConkey scout their lines. "Nobody's even been here before. We'll ease into it and then find 'the stuff.' There's a lot of snow—over 12 feet, but we haven't found anything suspicious [of avalanches]. Still, it's going to vary a lot and we'll need to keep our eyes open." From the top of the first run, Swede looks left to catch a last look at the rich blue Pacific waters. To his right unfold the endless Coast Mountains whose glaciated peaks rise up to 13,000 feet from equally glaciated valleys.
Today the sky remains blue, the wind nonexistent as Morrison and McConkey fire off two warm-up lines just left and right of Cummings' tracks. The runs are a great start, but a far cry from the terrain these athletes desire. The triumvirate quickly loads the helicopter to move deeper into the range, which, according to John Baldwin's newly published bible Mountains of the Coast, is "one of the most heavily glaciated subpolar mountain ranges on earth." This dominant feature instantly becomes our second biggest obstacle behind the weather.
Unlike the ski descents of Alaska's Chugach Mountains, which run between 1,500 and 4,000 feet before funneling onto huge aprons perfect for high-speed run-outs, the majority of the Coast Mountains start on a skiable pitch, but then fall nearly vertical for thousands of feet. This, as Baldwin describes, is due to glacial advances during the past ice age: "All but the highest summits of the eastern part of the [Coast Mountains] were covered by ice, and the glaciers carved out deep U-shaped valleys and bowl-shaped hollows." In addition to its glacial ruggedness, the size of this range is equally intimidating. Stretching over 900 miles from southern British Columbia to Alaska, the Coast Mountains are approximately three times the size of the Sierra Nevada or the European Alps.
Needless to say, the hunt for the second run is lengthy. No one in our group, save for the limited travels of our guides, has skied in this range. In fact, documented accounts are few and details sketchy. The most significant and well-chronicled expedition was Eric Pehota's 1989 first descent off the northwest summit of 13,185-foot Mount Waddington, provincial Canada's highest peak. The feat was shot for Reel Radical, an Adventurescope Film, directed by Beat Steiner and co-produced by the notorious Peter Czranowski. Sylvain Saudan, the grandfather of extreme skiing, was with Pehota that day but would have nothing to do with skiing the peak. "This area is was too extreme for ski descents," Pehota recalls Saudan saying. "This is a climbing area."
At first the break is a relief. Life today is so fast-paced you almost have to take a boat ride into the middle of nowhere to find solace. We read, eat, master video games, watch movies, eat, drink, sleep, eat again, then—one by one—start freaking out.
More recently, three professional snowboarders—Brian Savard, Jason Ford, and Jonoven Moore—were based at the Homathko Camp, a logger's base near the head of Bute Inlet in March 2000. They approached the range for the first time—just as we are—with a helicopter and pointing fingers. While they made some of the first, progressive descents in the Coast Mountains, they only rode for two days, barely scratching the surface. Baldwin, who's spent 20 years of his life exploring these mountains, writes that many of the areas photographed for his book have never been seen by humans, let alone skied by world class athletes. In the end, determining which of the Coast Mountains have been skied is left to speculation. Pehota, who calls this area "Chamonix with no lifts," said this much: "More than 90 percent of the Coast Mountains haven't been skied. Every time you ski something over 40 degrees, you can bet it's a first descent."
During a 20-minute flight, the first group finds the second run of the trip—a chunk of mountain with a long ridge that offers about a dozen small lines from the top, each well-over 40 degrees. The lower mountain funnels into a rocky section with a few technical lines down a rock band, before ending on a frozen lake. Back on land, Morrison is the first to announce over the radio that he's got his line picked. It has an air and he's ready to go. Following Swede's countdown, Morrison carves long, powerful GS turns down a ramp leading to a 30-foot cliff, its backside covered in massive icicles (see sequence, pages 64-65). Without hesitation he boosts off the rock, floats a perfect Lincoln loop, sticks the landing in moderately deep powder, and skis off with a solid shot in the can. Cummings and McConkey—the dueling billy-goaters—follow suit, choosing similarly technical lines that involve several large drops through the lower cliff area.
The second ski day is as clear and windless as the first. However, after endless searching, the first day's second run remains the best find. We work the run again, and it proves worthy of more shooting, but we're still not finding the gems we know to exist. Swede recommends that we move the boat from Toba Inlet north to Bute Inlet a few days earlier than planned. From Bute, which extends deeper into the mountains than Toba, we can access the heart of the Coast Mountains known as the Waddington Region. That is, if the weather continues to cooperate.
Lying in bed on the basement level, I can hear, for the first time in several nights, the ocean sloshing about and crashing against the sides of the boat. Gale-force winds started late last night and, at the 6 a.m. wake-up call, the ski is clear, but the gusts still blow strong. As Captain McKee explained, outflows of up to 100 mph sweep down the mountainsides to fill warm air pockets over the ocean. Having the boat anchored securely when this phenomenon strikes, especially with a $1.4 million helicopter sitting on the stern, is our captain's first concern.
During the second ski day, Captain Mike had pulled the boat out of Toba inlet and moved it 50 miles to Waddington Harbor, our final destination at the head of Bute Inlet. Luckily this harbor attracts logging activity in the summer, so 100-foot-long log booms would prove worthy for recreation a few days later—are plentiful. On the morning of the third possible ski day, Mike checks his seven boom lines before giving the heli pilot the OK to lift off with a small group that decides to brave the weather for a wind check. Two hours later they return with frozen tails between their legs. "You wouldn't want to let go of your skis up there!" proclaims Cummings. "We found some good powder down in the trees, but it's hell up on the ridges."
And so it starts. For that day and four more after, we hardly leave the boat. At first the break is a relief. Life today is so fast-paced you almost have to take a boat ride into the middle of nowhere to find solace. We read, eat, master video games, watch movies, eat, drink, sleep, eat again, then—one by one—start freaking out.
One can learn a lot about people by the way they handle cabin fever. Especially when interaction outside the immediate group is limited to a 60-year-old man and his wife in a logging camp and two stoned, toothless hosers guarding a mining claim in a house with no power or running water. All four of these strangers are either a five-minute helicopter or 20-minute skiff ride away, making interaction nearly impossible. So for the most part, we interact with ourselves—or by ourselves.
If Morrison isn't fishing, he's perfecting his repertoire of skate tricks on his Sony Playstation. Cummings organizes his mountaineering gear about 47 times before deciding Morrison's video games are pretty cool. McConkey, on the other hand, swiftly switches from ski star to action hero of random acts that stimulate the adrenal gland. First he makes a flawless 2,500-foot skydive out of the helicopter; the next day he struggles a bit to entertain himself, then dons one of the ship's survival suits (a thick dry suit similar to those worn by Coast Guard rescuers). Like any accomplished menace, he coerces several of us to join him in hurling bodies off the boat into 35-degree water. Amidst 50-mph gale-force winds we swim in the frigid ocean, joust on the log booms, and practice tricks by flipping off the boat's highest deck. With the suits, our bodies stay warm. Without them, a person goes hypothermic in about 20 minutes. A few days earlier, Morrison had to jump off the boat in just his bathing suit, after losing the "rubber chicken game." (The orange chicken, which Swede affectionately refers to as "George," is in essence, the lead guide.) The game starts when George mysteriously enters someone's pack in the morning. If you discover George in your pack, the object is to move him to someone else's pack without them noticing. Whoever lands back on the boat with the chicken in his pack has to jump overboard in swim trunks. Ironically, Swede's game—really an ingenious way to keep skiers aware of packs and each other—bit him in the ass halfway through the trip.
At dinner that night McConkey is still at it. This time I'm the victim. He challenges—for the questionable prize of "fastest eater"—that he can eat an entire three-course meal faster than I can. The contest is over in a minute. I lose, but manage to keep from barfing Chef Bruce's fine cooking back onto my plate. While circus antics and small wagers help pass the time, they're really just a silent cry for help—a need for good weather.
On the fourth day in a row, most of the crew flees the Ocean Explorer on the skiff to fish a nearby river. The wind is calm, but now, as we walk down a birch-lined logging road in brown hip waders and felt-soled fishing boots—a scene that could've made a fine cover shot for Maine Today if it wasn't for Morrison's pink hair—the snow begins to fall. It seems as if we're doomed. Lumbering up and down the river we try our best to enjoy fishing and the truly beautiful surroundings, but silently everyone prays for a clearing. Everyone knows our days are numbered and we risk losing out to the many who said this trip couldn't be executed successfully.
"Bluebird! Rap! Rap! Rap! Bluebird!" The Swede's bellowing squak-sounds shoot through thin, balsa doors and into our individual staterooms as he walks the boat's hallways, awakening us as he had on the first two days of skiing. At a pre-dawn breakfast, while it's still dark outside, the vibe has completely changed and we are actually happy to see each other. Chef Bruce is more excited than we've seen him. Today, he finally gets the boat to himself while we take another crack at the Coast Mountains. As quickly as bad weather had arrived, good weather reappears. With only three days left before we return to Vancouver, the extended weather forecast calls for multiple, clear, windless days.
During the down period, it snowed hard, but blew even stronger. Swede speculates that any solid accumulation was probably thwarted by the wind. In fact, the three-day-old powder we skied on the first two days will be heavily wind-affected. In a morning meeting, Swede cautions everyone while he and Condon prepare to walk on eggshells to put the athletes in position for shooting.
It's a slow start. The first two runs of the day are spent feeling out the new snowpack before determining that the dreaded danger fortunately doesn't exist. The snow quality is mediocre, but there are no slabs breaking, just heavy sloughing. With this information, McConkey claims he's tired of the small, insignificant lines and on the third run decides to make the most daring descent of the trip.
From an opposing angle, he appears as a speckle to the naked eye, peering down a hanging snowfield about the size of a small strip mall. McConkey plans to make a few turns above a 200-foot cliff, punch it left, then air 40 feet into a tame couloir. It's a moment that Winter despises, but knows too well. "I hate it when skiers get stuck in potential death zones," he says while preparing to shoot the run. While Winter always strives to get the best shots, the last thing he wants is an injured athlete—especially in a remote location. Swede shares his concerns and radios McConkey to be aware that there are no safe zones on this run. McConkey responds with confidence. The run will be skied as planned.
Nearing the bottleneck with speed, he commits a cardinal sin, turns into the moving snow and gets knocked over and pushed head-first at the cliff, while his skis twist and tangle uphill. Reddick, shooting from an opposing angle, drops his camera to get a visual in case McConkey goes over the rocks.
McConkey drops onto the hanging snowfield, makes several turns, executing perfect slough management that sends snow cascading hundreds of feet over the massive cliff's edge. Making the impossible look easy, he zigzags across the entire snowfield, pauses briefly, then airs 40 feet and sticks the landing before making calm, GS turns down the mountain's apron.
The next day, the fourth ski day, is the most stressful and unproductive of the trip. We fly multiple, very expensive, 40-minute recon flights in the Waddington region. The searching yields more questions than answers. On one lengthy flight we even circumnavigate Mount Waddington and, before abandoning the lofty goal, briefly entertain the idea of actually skiing the peak. While the skiers are tantalized by the idea, Winter finds it a waste of time. Arguments ensue as we stand in the middle of these beautiful mountains, debating the overall goal for the trip. Winter wants mini-golf; short, steep, interesting lines where athletes can rip hard and throw progressive tricks, yet most of these peaks—such as the giant that would almost take McConkey's life the next day—are not miniature.
The final ski day is moving along nicely, starting off mellow and slowly becoming more intense. The third run is a towering peak reminiscent of classic Chugach monsters. Morrison drops in first at the far skier's left, making three turns before straightlining two-thirds of the peak. He radios McConkey that the snow is extremely variable and that not turning was the safest way down. But McConkey's line doesn't have an easy out. The run is a massive chute that S-turns halfway down while simultaneously choking. He needs to execute perfect slough-management skills, or he'll get flushed off a 200-foot cliff when the chute turns. Nearing the bottleneck with speed, he commits a cardinal sin, turns into the moving snow and gets knocked over and pushed head-first at the cliff, while his skis twist and tangle uphill. Reddick, shooting from an opposing angle, drops his camera to get a visual in case McConkey goes over the rocks.
"We were freaking out," recalls Reddick who was shooting the run from an opposing peak. "The Swede was standing next to me screaming into his radio, "Watch your slough! Watch your slough!"
About 10 feet before the cliff's edge, McConkey swings his skis underneath him and stops, unharmed, while snow crashes over his body. "I thought I was going to watch my best friend die," says Gaffney after the incident.
"That was a total rookie mistake," Shane says of the incident. "I feel pretty stupid about it. I don't know where I would've tumbled…whatever the case, I'd be in a hospital. I'm totally embarrassed and lucky to be alive right now."
The same peak even stumps Cummings, the consummate big mountain master. Skiing last, he picks the farthest skier's-right line, which deceptively turns to ice 200 feet off the summit. Cummings whacks what looks like powder with his pole. The thrashing creates an eerie ping as it ricochets off a rock-hard surface. After investigating his options, while stuck in a precarious spot for 10 minutes, Cummings chooses to be heli-lifted off the peak.
With only three hours of light remaining, we make a decision to lower the intensity level. Winter and his crew have shot 81 rolls of 16mm film; Reddick has enough images to fill an entire issue of POWDER; and just hours from returning home safely, there is no reason to take any more big risks. So we hit a classic mini-golf ridge, that holds two lines for each skier and makes Winter very happy, before moving onto a natural gap jump that MSP's Tessier spotted days earlier. The 30-foot gap was created by heavy wind-loading through a notch in a rock wall, that left a perfect take-off and natural landing (see photo, page 67). As the light made its nightly transition from orange through pink to red, silhouettes of Morrison's back flips and McConkey's fronts filled the sky. Right there, in the heart of one of the world's largest, most rugged mountain ranges, with not another skier for 100 miles, we shot a kicker session before boarding the helicopter and returning to the Ocean Explorer for the last time.
Fourteen days ago, we'd left our chaotic, cell-phone and email-burdened lives at a dock in Vancouver Harbor. Slowly, with every nautical mile that passed, we forgot about that life. We found a new one that involved a mix of simple pleasures—like fishing and wildlife—changing experiences such as skiing first descents on remote mountains. All involved knew the experience was the best of our collective lives…that this trip would never happen again. Not like this anyway. During our two-day cruise back to civilization, there was an overwhelming sense of accomplishment and pride that came from knowing we had rolled the dice, hung our wallets and credibility out on a limb, and, in the end, hit the jackpot.