In celebration of POWDER's 45th Anniversary, we are releasing select stories from every volume. This story originally published in the October 1999 issue (Volume 28, Issue 2).
"Skiing off-piste today is not recommended. Avalanche danger is rated level 5. All skiers should proceed with caution."
The recording plays over Verbier's base-area intercom every few minutes, reverberating off the ticket-office windows, onto the gondola house, and into the boutiques and bars across the steet. It's repeated in French and English with the same tone as the droning airport warning, "This area is for loading and unloading only…no parking." Hordes of skiers, seemingly unaffected by the announcement, pour through the electronic turnstiles—inserting and removing their passes with confidence.
Shoppers slosh through the village streets carrying bags of merchandise while searching for more. Except for my wandering eyes, I'm frozen in the center of this chaos. In their bright red and orange jackets, Doug and Emily Coombs stand out from the crowd like chaperones at a high school dance. Not at all fooled by the busy, nervous energy, the two know exactly what's happening.
In the past three days, the mega-resort of Verbier, Switzerland, received over two meters of snow. Rumors volley around the village that six skiers have already died in an avalanche. Shuttle buses, that usually operate on a perfect schedule, don't even appear. The majority of the upper lifts haven't moved an inch in days. A dense fog replaces dumping snow, enshrouding the entire valley in a white mist.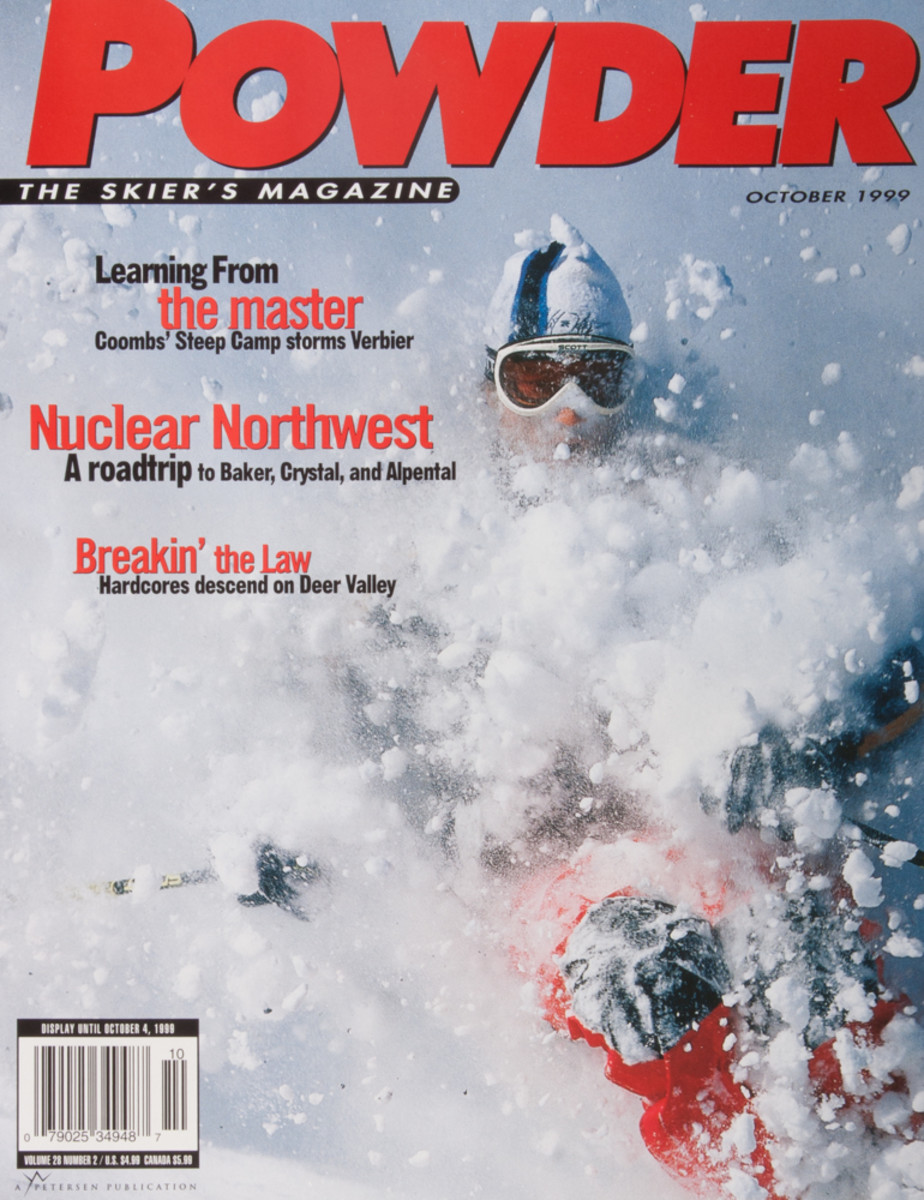 I'm in Europe, for my first time, to participate in the Coombs' second annual Verbier Steep Skiing Camp. For the next six days a fortunate few will follow the infamous couple, along with two world-class guides, around a resort Doug figures to be the size of 20 Jackson Holes. We've come to the heart of big-mountain skiing to learn from the masters. If we can hang for the next six days, we'll have survived skiing on one of the most unstable snowpacks ever encountered during a camp. Everyone is up for the challenge, mostly because we have no idea what that really means.
At the camp's opening meeting, skiers ranging in ages from 24 to 50 fill a hotel dining room. Two bottles of red wine, a slide projector, and piles of insurance waivers cover a polished wood table. Helmets, Pieps, shovels, probes, harnesses, and packs stamped with "Steep Skiing Camps Worldwide," cover the floor. The mood is serious with fleeting moments of awkward humor. A few people know each other, but most are skiers who have come to the camp in search of an adventure beyond anything they've ever experienced on skis.
Hugh, a 38-year-old Scottish geologist, traveled 24-hours straight from a job in Cambodia. Tony, a soul-searching, retired investment banker, escaped the chaos of New York City. Francois, who's owned a chalet in Verbier for 10 years, popped over from his home in London. Yorg, a retired commercial airline pilot, who now runs a bed and breakfast in Mallorca, drove down from Munich. In his third consecutive camp, 24-year-old Chad VanderHam from Fort Collins, Colorado, sits in the corner silently gulping wine. We study a small screen illuminated by Doug and Emily's slides from past camps and recent European adventures. The questions are endless: Where will we go? Who will ski together? What does a level 5 avalanche warning indicate? But most importantly, what gear should we pack for the first day?
We've come to the heart of big-mountain skiing to learn from the masters.
"Everything," Doug answers with a smirk.
The next day, after two gondola rides, including a high-speed, futuristic lift in a rocket-ship-like gondola called the Funi Space, we stand above Verbier's infamous Attelas Couloirs. Bluebird skies have replaced the fog. Jagged peaks—every one of them renowned—encircle Verbier. On a typical day in the U.S., we'd have buckled our boots while skating toward the couloirs, quickly checked for other skiers, and dropped into the race for first tracks. But today, we wait on top while the guides poke around in the snow, trade thoughts in French, and finally give us the OK. We abandon our fear, embrace our ignorance, and rip trenches through waist-deep powder. The turns are some of the most exhilarating of my life. Every fragment of pent-up, Euro-newbie tension shoots out of my body, through my ski tips, and vanishes for the remainder of the descent. Before we can taste the melting face-shots, the guides tear by motioning us to follow. They race from the untracked slope, across a piste into more untracked, to break trail on a traverse. Their energy is contagious as we spastically attempt to follow their boot-track into another series of chutes.
Standing above a 2,000-foot couloir with a rocky, off-camber entrance, we discuss chute-skiing etiquette—always one at a time—and drop in accordingly. With Hans Solmssen as our guide, photographer Dave Reddick and I spend the day with Doug, Chad, Hugh, and Isabel, a 24-year-old Stanford student who's skied Verbier with her father since childhood. Our objectives for the day are simply to ski as many runs as possible with a stop for beacon drills.
We do it all—skiing couloir after couloir that start out steep and end with huge run-outs. Our legs burn and turn to rubber several times during a descent. Each run feels like 10, by typical lower-48 standards. Some take over two hours to complete.
We finally stop for lunch, and I'm surprised when it's not the wine-soaked, three-hour affair I've expected. I quickly devour baguette sandwiches, pomme frites, and suck down espresso shots served from a machine.
Hours later, with the sun an orange half-circle on the horizon, our group of five stands in a 20-foot-wide couloir while Hans and Doug ski out of sight. We wait until they give the word to ski lower into the belly of the couloir. During my run I slowly move toward Hans without expecting to find him with his skis off, rope in hand, and smile on his face.
Hans was the first American to ever pass the Swiss UIAGM guide test. Originally from Hawaii, he moved to Verbier 22 years ago as a ski bum. He never left. His fluent French and undying perseverance helped him survive two grueling years of ridicule and extensive testing.
At this moment, he's set up an anchor using his ski, and I'm supposed to rappel over the 20-foot chunk of rock below. He ties my skis to the end of the rope and throws them out of sight. The rappel isn't big enough to require clipping into the harness, so we use a technique of wrapping the rope once around the uphill arm, causing friction. I have complete control of my body in my left hand as I fumble to gain footholds on icy rock. I conquer my fears and start lowering down, only stopping to second-guess Hans' anchor.
"Be sure," he says sternly. "I set it."
In a few minutes he successfully lowers our group, including 225-pound Hugh, into the couloir. We ski into a partially tracked bowl that leads onto a piste where beginners still practice wedge turns in the fading light. Our bodies are limp, and my mind feels like it just finished a week of final exams.
"Not bad for the first day," Doug says with his usual child-like smile.
None of us expect to have life-changing experiences the second day of the camp. At breakfast we devour the purple, yogurt/cornflake combination that resembles pureed Barney. We run out the hotel door like Steve Martin in The Jerk, with gear falling off our bodies and boots half-buckled, attempting to catch the bus that punctually departs every 15 minutes. We wrestle through the free-for-all chaos of European lift lines—sometimes elbowing 60-year-old women for a spot. Our group makes small talk as we ride endless trams to follow our guides down thousands of untracked vertical. It's business as usual—until we come around a traverse to find a freshly fractured avalanche. Suddenly, everything normal about the day disappears.
The 500-foot slide path looks like the textbook photos we never wanted to see in person. Random rocks stick up, like chocolate chips scattered on perfectly smooth batter. A helicopter lands near a group of people huddled in a circle. Others are digging and searching on a shelf where the avalanche debris settled before ripping horizontally and running another 500 feet downslope.
"I have to go help now," says Gilbert. As a certified mountain guide, it's his responsibility to assist whenever he encounters a slide. As we stand there contemplating our next move, a skier unsuccessfully fights for his life under four meters of debris. Helicopters continually fly back and forth, trading rescue gear for damaged bodies.
At first we don't feel any sense of urgency. What's happening is really bad, but the situation seems under control. Chad, Dave, Emily, and I slowly ski to the base of the run-out where probe lines form. Dozens of people comb the slopes with beacons and shovels drawn. A guide immediately asks if we've turned our beacons from "SEND" to "RECEIVE." We remove our skis, assemble probe poles, and join the search. The helicopters continue flying back and forth. Avalanche dogs scour the slope, sniffing and barking as a guide swings a metal detector-like device over every foot of snow. Three skiers were buried up top, but the don't have any visuals on this lower run-out.
We follow the orders of our guide, shoulder to shoulder with strangers from around the world, searching for somebody and nobody at the same time. In French he commands: "En bas! En Haut! En pas en avant! Down! Up! One step forward!" We're pushing 12-foot probes into the ground, hoping and not hoping to feel anything. It seems to go on forever. At one point a searcher feels something grab his probe. The guide checks…and orders searchers to dig. Without hesitation, over 15 shovels tear at the snow while everyone else waits in terror for a dead body to surface. Thankfully, what was thought to be a grabbing hand is only a chunk of hard snow.
I can't believe what has happened. I want to be off the mountain. I want to go home, bury my head in a pillow, and sleep. Someone died just a few minutes ago. How can I keep skiing?
The guides thank us for our efforts with a lunch at a small, mid-mountain lodge. I sit alone eating my sandwich and lapping up spoonfuls of hot soup. I can't believe what has happened. I want to be off the mountain. I want to go home, bury my head in a pillow, and sleep. Someone died just a few minutes ago. How can I keep skiing?
"Every time I've been through a European avalanche cycle, someone has died," Emily laments. This has been her second experience with a probe search. During her two years of ski bumming in Verbier she said she finally got "it." That "it" she spoke of was a level of respect for these mountains. In the Alps, aside from being responsible for your own actions, there are no rules. Ropes and warning signs are just precautions—they don't mean "NO." But if you get injured or killed, there's no one to blame but yourself.
"Is it still Steep Camp?" Gilbert asks.
On the fourth morning I wake up feeling paralyzed. It seems like the avalanche happened weeks ago. Yesterday is already a blur of huge peaks, face shots, and endless terrain. Before there's time to reflect on one day's adventure, we go to bed, wake up sore, and have another. Today I don't want to move. Dave and I agree it's starting to feel like boot camp. We have trouble getting out of our beds, our small hotel room feels damp, and everything reeks of sweat. Piles of gear and wet clothing stretch from the bathroom, around our beds, and run up the outside doors. It's 8:30 a.m., and our bus to the base area leaves sharply at nine. Images of it pulling away, as I run after its grimy rear bumper, flash in scraps of dreams. Fifteen minutes later, we still haven't moved.
Mont Fort, Verbier's highest peak, stands 3330 meters above sea level. Accessing the peak requires riding two gondolas and then two trams back to back. The first tram, the Jumbo, is the size of a small living room, holds 150 skiers, and is large enough to allow for three full-length cartwheels across its floor. The summit tram, simply deemed Mont-Fort, is smaller, but it set us up for the biggest adventure of the week.
On the summit, after a five-minute boot from the tram station, we drop off the backside, leaving behind our view of Mont Blanc to the west, the Matterhorn to the south, and the majority of Verbier to the north. This new area contains the steepest chutes we've skied all week. Half the group descends one couloir with Doug, while the others go with Emily. Before Doug drops into our line, he stands on a knife-edge ridge yelling advice to other steep campers.
"Don't forget those pole plants, Hugh! Out in front of your body! Good, good."
According to Hugh, he came to this camp to improve his mountain knowledge, learn mountain craft—especially avalanche safety—and to ski with people who will take him on challenging routes he'd normally not try. He was getting exactly what he came for.
After giving the others some last minute advice, Doug turns from instructor to bonafide extreme skier in a matter of seconds. With the Alps spiking up behind him, Doug makes quick a precise hop-turns on a rib of snow only half a ski length wide. He then drops down a 60-plus degree ramp, into the main couloir, and out of sight. It's learn-by-example with the Coombs, so Dave, Chad, and I work our way down the main couloir. The entrance is off-camber and over 50 degrees steep. I'm shaking in telemark gear, grunting between each turn. I've chosen the wrong equipment, and watch Chad and Dave make love to locked heels as they turn out of sight.
Safely off Mont Fort, we apply skins and rope up like a chain gang for a tour over a distant pass. In the past, this camp had been dubbed "Couloirs to Bars," and we've decided to try and live up to the name. We're en route to a couloir that will hopefully bring us straight to the bars of Fionnay—a miniscule town 40 miles outside of Verbier.
Having skied untracked powder for days, we should've seen it coming. After skidding down a wind-scoured entrance, Francois sets off a toe-release avalanche that triggers the movement of refrigerator-sized chunks. Thankfully, the avalanche is slow and no one is caught. The worst snowpack in 20 years, according to Hans, forces an hour-long traverse down the valley to a 3,000-foot sideslip into a deserted Fionnay. Not only are all the bars closed, but the road in and out of the town hasn't seen a car in a week. Instead of using our recently perfected French phrase, "Un biere, s'il vous plait," the couloir-to-bar excursion ends with more of an American twist: "Taxi!"
Gilbert has that look—the one Hans had before the first day's rappel—when he pulls a 10-inch-long, one-inch-wide dowel from his pack.
"It's a piece of broomstick handle," he says. Gilbert's already wide smile is stretching canyons at this point. The smile wrinkles around his eyes above his sharp cheekbones. "We'll use this to rappel into the couloir."
We think he's pulling one of his best Swiss-guide practical jokes—until he starts wrapping his rope around the stick. It's at this point that I finally abandon all of my preconceived notions of what is possible in the mountains. The idea of rappelling 100 feet off of a chunk of broomstick is so absurd I hardly feel sane anymore.
The entire week had been a series of overwhelming experiences. I learned how to put on a harness that I'd trust with my life, work a rope on rappel, ski through no-fall zones, and better evaluate slope stability. Before coming to the camp, I thought these skills almost unattainable. I also never thought it possible to ski in the Alps eight hours a day, for eight days in a row. I couldn't have imagined that in one day I would experience the best powder of my life, a search for dead bodies in avalanche debris, some unforgettable evening runs, and then a rehashing of the whole thing over pints of beer that night. And as the last person in our group successfully touches his feet in the couloir below the rappel, I realize that I will never be able to look at a broomstick handle the same way again.