WORDS: Eliel Hindert
On an unseasonably warm July day, Ken 'Ach' Achenbach strolls into the front lobby of the Holiday Inn in the Whistler Village, the summer headquarters for Camp of Champions. Founder, owner, and operator of Camp of Champions since 1988, Achenbach takes a full five minutes to walk across the room. A social guy, he trades words, high fives, and general stoke with every employee, camper, coach, and grom he passes. Finally his bear claw of a handshake and brash voice greets me.
Achenbach holds one of the most unique positions in snowboarding's history as Canada's original preacher of the emerging sport during the '80s. While in skiing, he holds one of the most unrecognized positions, yet nearly as influential.
"He was operating way ahead of his time in terms of his open-mindedness toward skiing and snowboarding not being a conflict," says Jason Levinthal, founder of LINE Skis and, recently, J-Skis. "(He) was always of the mentality that if you're having fun on snow, I don't care what you're riding."
Before ski slopestyle and halfpipe entered the Olympics, skiers wore baggy pants, or skis featured twin tips, Achenbach opened a snowboard shop in 1980. He stocked the shelves with smuggled snowboard and skate equipment from the states, and moved the shop from Calgary to Whistler in 1987 on a whim after visiting the winter mecca. He almost closed the shop's doors one year later, when he was offered a seasonal job as a heli-ski guide. Luckily, an impromptu spark inspired him to start a summer camp on Whistler's Horstman Glacier in 1988.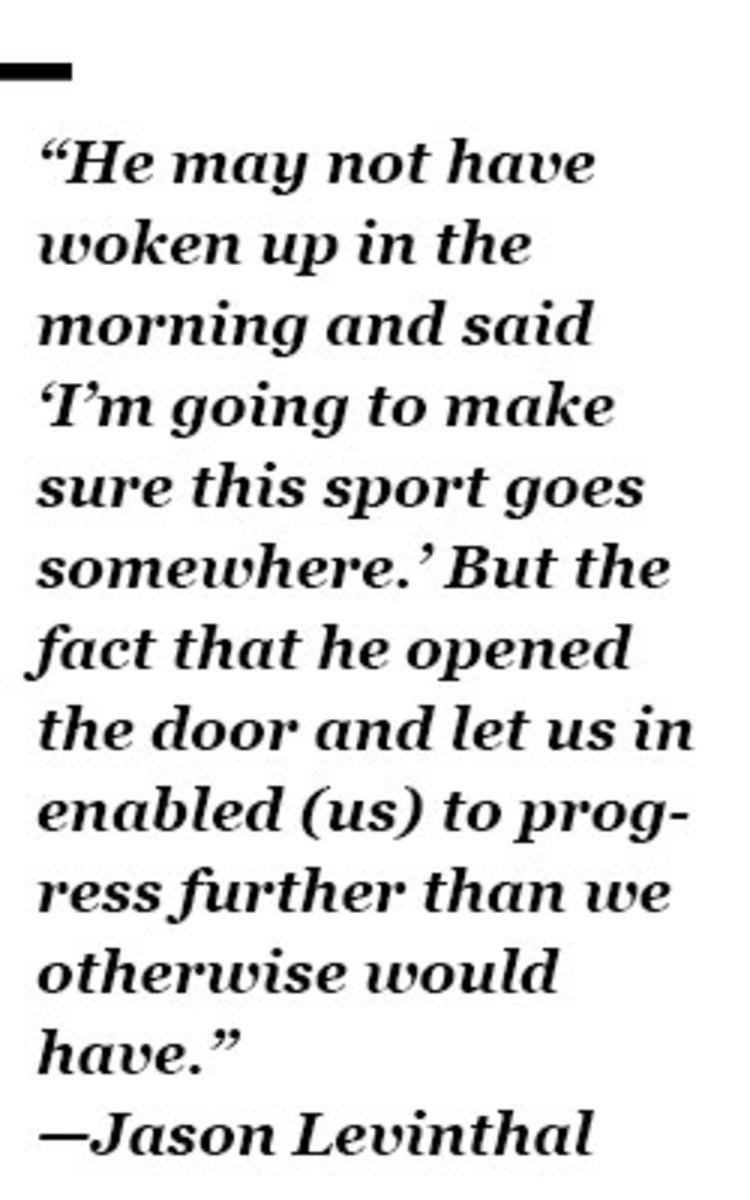 In its first 10 years, amidst an early park scene that was generally anti-skier, the Camp of Champions served as one of the few terrain parks where skiers were allowed to ride. "We came from skiing and had a bunch of ski friends. They were always hounding us to ride the park. We were like, 'Sure, we don't care.' We never had a hang-up on who rode what," Achenbach says.
In the following years, Achenbach fully adopted skiers into his camp. Without support from ski brands, he'd give snowboard clothes to skiers for swag—"cross breeding," as he calls it. Camp of Champions hosted nearly every pro, team manager, and media producer in skiing, more often than not, before they got their major break in the industry, or even before they hit puberty. "It's awesome just seeing the places kids go," says Achenbach.
"He often comments on how proud he is of me and the 4FRNT family for cultivating change in the ski industry," says Matt Sterbenz, founder of 4FRNT Skis. "He loves that it started at his camp and because of his camp, it (was) possible…That, in part, is because Ken is who he is."
In the span of two decades on the glacier, Achenbach has played a role in launching twin tip skis and indie brands like Line and 4FRNT. His camp was the venue where Salomon filmed its original 1080 video in the summer of 1997, which was a catalyst for Mike Douglas and the New Canadian Air Force to redesign skis. The venue he created helped skiing's freestyle revolution get off the ground and in front of young skiers by offering up a world class park to produce media and host weeklong sessions of camp. Achenbach recalls telling Levinthal and 4FRNT founder Matt Sterbenz that he'd help them do anything to promote their skis, "because you've got to steal your sport back from the golfers that own it."
"He may not have woken up in the morning and said 'I'm going to make sure this sport goes somewhere.'" says Levinthal. "But the fact that he opened the door and let us in enabled (us) to progress further than we otherwise would have."
With a hefty price tag running around $1,995 this summer—and that's not including lodging—a week at Camp of Champions is well beyond the discounted end of the spectrum in Canada, where YMCA camps run about $190 a week. Now, with pipe and slope making their Olympics debut, the summer camp tone has changed. The camp pushes Olympic trick accreditation for attendees and markets the presence of U.S., Canadian, and other national teams to attract campers. Although none of that sits well with Achenbach: "I think freeskiing's kiss of death is being in the Olympics, if you wanna know the truth. I mean it killed snowboarding. Look at us right now."
Today, Camp of Champions has surpassed 25 years of operation. The camp has grown, the sport has exploded, and the glacier has shrunk, of which he can prove with pictures from 1989 when the glacier appears some 40-feet thicker. But no matter the depth, his age, or what's on his feet, what doesn't change in those photos is Achenbach's genuine excitement and undying support of those activities he loves.
"People ask me, 'Well, what do you want to do when you're 60?'" Achenbach says. "Well, I'm doing it right now. I've got the same mags sitting on the toilet I had when I was 15. Fuck, I don't ever want a real job."
Skip to the 3-minute mark of this Vice doc for a look on Achenbach's role in bringing snowboarding to Canada:

Flash back to the present day at Camp of Champions: