WORDS: Adam Clark
Editor's Note: This story first appeared in the September 2013 issue of POWDER (42.1).
October 12: Aoraki/Mount Cook National Park, New Zealand
I twirl the postcard bundle at the Mount Cook National Park information center. Huge peaks stand out between photos of sheep and waterfalls. Outside, a storm obliterates any view of the mountains surrounding us. But in here, the postcards show perfectly aesthetic lines just waiting to be skied. I look over at my ski partner, Beau Fredlund, and ask, "Do all the mountains look like this?" Without looking up, he answers, "Yeah, man, heaps."
I'd met Beau briefly the previous winter. He was from Montana, living and ski bumming in Cooke City. Like a lot of skiers, he chased storms and seemed to live out of his ski pack. Here one minute, gone the next. I never knew if or when I'd see him again. Then from out of nowhere, he sent me an e-mail asking if I wanted to join him for a hut-based ski adventure in New Zealand's Southern Alps. I asked him what he wanted to ski. His response was simple: "I would like to ski Mount Sefton, but we will go wherever the wind takes us."
October 15: Mueller Hut
Getting around the Southern Alps, both in the car and on the trail, has its own set of challenges: The roads are steep, narrow, and, unlike the European Alps, mass transit is not readily available. It's actually cheaper to buy a car than rent one, so that's what we did, paying $1,500 for an old Subaru. Using the car to access the trailheads, we hoped to hit half a dozen or more huts across the range.
With easy access and proximity to heaps of safe ski touring, the Mueller Hut, inside Aoraki/Mount Cook National Park, is a good starting point. The hut is known for its jaw-dropping views of 12,316-foot Mount Cook and Mount Sefton. Named in honor of Captain James Cook in 1851, Aoraki/Mount Cook and the Southern Alps stretch 279 miles north-to-south and include 16 peaks over 9,800 feet, with Mount Cook being the tallest. The Alps are the spine of the island, jutting up steeply from dry plains on the east side and rainforest jungles on the west. With roughly 100 huts available to access this ski playground, the possibilities are immense.
While trudging through fresh powder to the Mueller and gaping at the Southern Alps, I think of one of those postcards: Mount Aspiring, also known as the Matterhorn of New Zealand. The postcard shows the mountain's west face awash in alpenglow and caked in temperate snow. But it's 200 miles to the south of Mueller, a long way to go. After enduring three days at Mueller and skiing abominable conditions in 100 mph winds and sastrugi, we decide to leave our perch in search of better weather, and maybe a shot at the Matterhorn.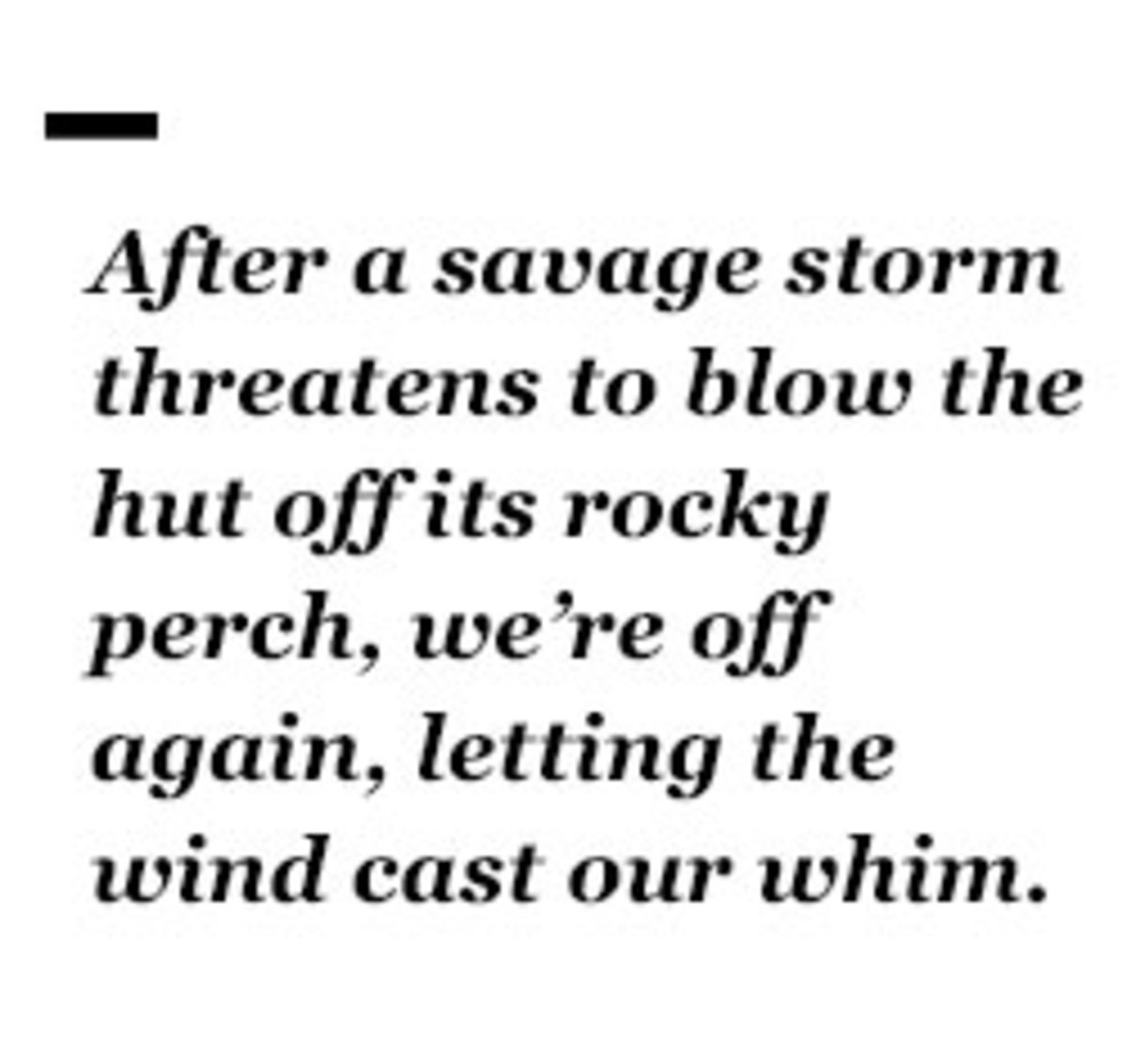 October 24-28: Centennial Hut
With high pressure in the forecast, Beau and I commit nearly 10 days to the Pioneer and Centennial huts, which provide access to everything from mellow glacier runs to some of the steepest skiing in New Zealand. Both huts are perched on cliffs surrounded by glaciers. Immediately east lie craggy peaks, while off to the west are views of the Tasman Sea.
Arriving at the Centennial Hut, we're met by a four-foot snowdrift covering the door. A thick layer of rime cakes the majority of the hut and the outhouse is a pillar of snow and ice. We spend two hours shoveling just to get in the door. Then in my dehydrated and cold state of mind, I accidently lock us inside by letting a gravity-fed latch shut from the outside. The only way back out is through a tiny window that overhangs a large cliff. Roped into the beam of the hut, I squeeze through wearing my harness and crampons, careful not to break the window or fall off the cliff. We celebrate the unlocked front door with stale crackers and some four-month-old peanut butter that had been kindly left behind.
In the morning, we click-in at the front door and ski 1,500 feet of smooth, fast powder on a slope wide enough for 100 friends to get fresh tracks. Over the next few days, fresh snow and wind keep us off the steeper objectives. But we're happy to pick the low-hanging fruit: mellow couloirs and faces surrounded by wild alpine peaks overlooking the sea. After a savage storm threatens to blow the hut off its rocky ledge, we're off again, letting the wind cast our whim.
October 29-November 1: Pioneer Hut
With a relatively easy half-day move to the Pioneer Hut, we find better spring conditions. Cold mornings and windless warm days let us climb Mount Grey and Lendenfield Peak. At the summit of Grey, we're greeted by a fantastic 500-foot-long couloir that dives into a playful field of ice blocks and wind spines all the way back to the hut. But with the forecast calling for a large storm, we pack our bags for a quick escape. I mention to a fellow hut skier that we are going to ski and hike to the trailhead. He gives me a puzzled look and says, "Why don't you use a helicopter?"
Turns out that most hut users pay around $350 per person for a helicopter bump, which bypasses the brutal trails and glacial crossings along the way. Even if we didn't find such conditions to be part of the adventure, the helicopter is out of our dirtbag budget.
Six hours into down-climbing mossy boulders and wet roots on the "trail," however, I'm starting to think the helicopter may have been worth it. But after seeing waterfalls leap from the steep jungle walls and gouging deep holes into a broken glacier, complete with green Kea parrots floating across the sky, it's clear that I wouldn't get this experience from the inside of a machine. 
November 5: Mount Aspiring National Park
Twenty-four days after seeing the postcard, Beau and I are standing atop 9,950-foot Mount Aspiring. Our line splits the middle on the Northwest Ridge, the easiest ascent and descent. Yesterday, we had to turn around due to the sound of "whumphing" under our feet. But today everything lines up.
Enraptured by the view, I can easily forget where I am and why I'm here. A simple string of moments lie delicately balanced between glaciers, ocean, mountains, and so much space on a relatively small island; a place on a rock with a view so astounding that it can make me forget about perfect powder turns I experienced just minutes before.
Our turns down Aspiring zigzag around rime patches and warm condensed powder on the 100-foot-wide, 35- to 40-degree upper ridge. Next, we make a few tentative turns on a 50-degree ramp to test the stability. It feels good, and our hoots and hollers echo all the way back to the Colin Todd Hut.
The wind never took us to Sefton, Beau's original goal. But that didn't matter now. All I know is that it led to one of the best runs of my life.
Details, Details:
General Info: Hut fees average $30 per night, $15 if you have a U.S. or N.Z. Alpine Club membership. Access to huts varies from four- to 15-mile treks, and up to 6,000 vertical feet of climbing. All huts are first-come, first-serve. For more info, click-in to AlpineClub.org.nz
How to Get There: Fly Air New Zealand or Qantas from North America to Christchurch, the largest city on the South Island. From there, shuttles can take you to Mount Cook National Park. Or you can hitchhike, a common practice in New Zealand.