Passport is an online department featuring stories from the road.
I wasn't supposed to be alone. The idea was to hike Mount Shasta with friends, lots of friends, stand on top, and celebrate all good things like snow, skiing, and frozen peaks. We were going to walk in formation up the 14,162-foot volcano at dawn then ski 9,000 vertical back down. Corn skiing with friends in Northern California. Epic descents and tall tales at the campsite. Good times!
But my friends bailed. All of them. So I skinned alone up Avalanche Gulch in the dark, backpack on, rented crampons tucked in a pocket, stove, food, tent, sleeping bag, compass, topo map, energy bars, socks sunscreen... The stars were so bright they made the snow look blue. Outwash of cinders, pumice, and ash had molded 1,000-foot-long moraines on either side of the trail. To the west, faint sunlight still glowed behind Casaval Ridge. On the right, Green Butte Ridge was speckled with rocks. Straight up, clouds strafed the rimed summit of the undeniably most mystical--mountain in the continental U.S.
A lone hiker with an external frame pack plodded up a boot pack a half-mile ahead of me. Beyond him, a few tents sat on the edge of a berm. The mission had become a personal quest to get to the top. It was no longer about camaraderie. Twenty-four hours ago I was online in my apartment in Brooklyn, checking the weather on Mount Shasta. It'd been snowing there for three months straight, a record spring. By the first week of June there were still mid-winter conditions from 8,000 feet up. When I saw high pressure forecasted for three days, I bought a ticket to San Francisco, drove five hours up the Central Valley in the middle of the night, slept a few hours in a hotel, then started up the boot pack three hours before sunset.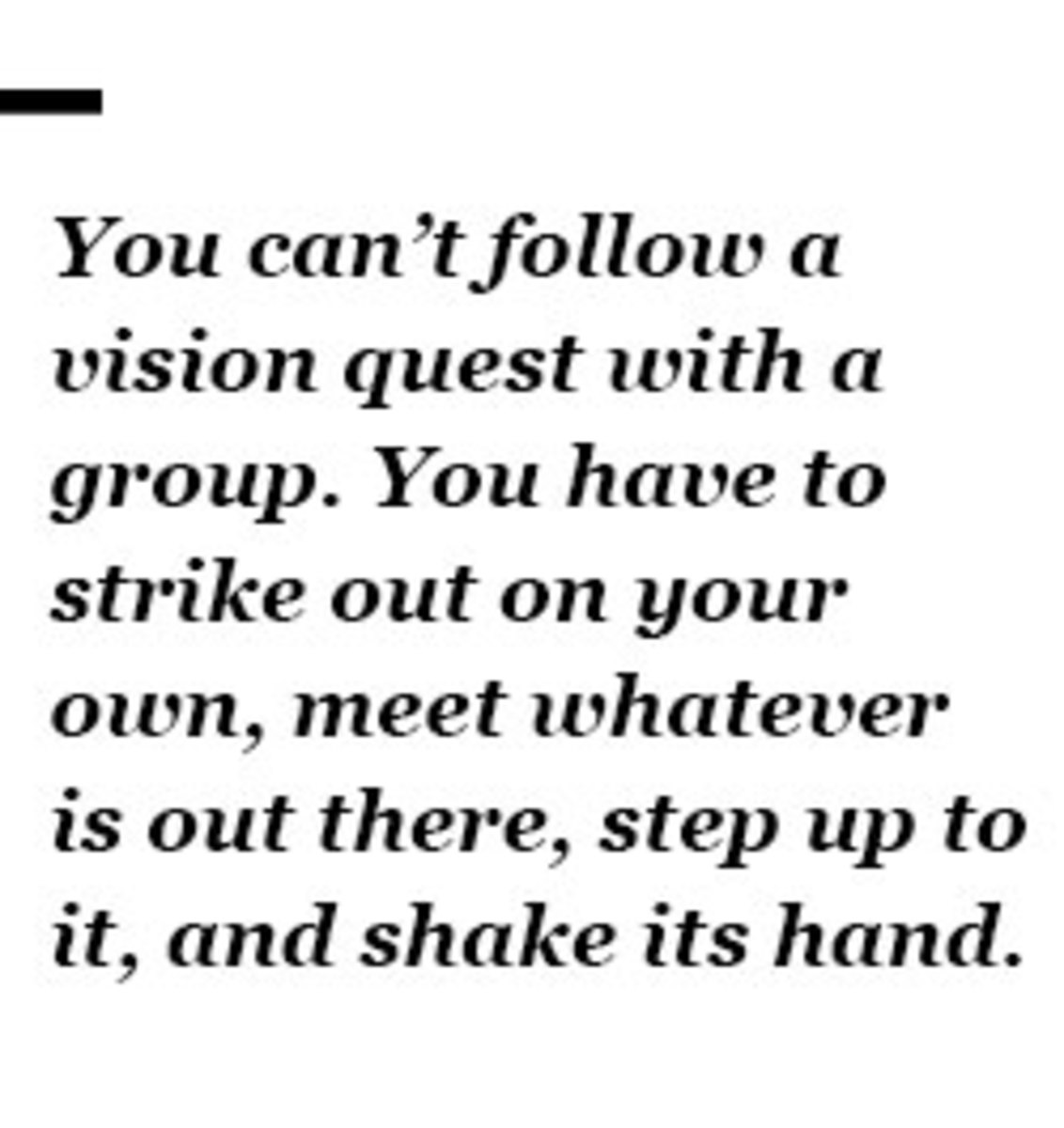 I skinned another 500 feet. Then another 1,000. Alpenglow lit up the ridges ahead. The Red Banks looked like the Cydonian mesas of Mars. Endless stars arced overhead. I heard voices, saw more tents. There was another cluster nearby, on a berm just below Helen Lake. Down low I could see streetlights flickering along Mount Shasta Boulevard in town.
I set up camp near the lake, on top of one of the icy berms. I couldn't see a thing, but my bivvy went up easy enough. It was cold. Incredibly cold, so I took my boots off, slipped into my sleeping bag and melted snow on the stove near the door of the tent.
Thirty minutes later I had hot tea, then soup with some bread and cheese that I bought in town. It didn't seem so lonely then. I was finally warm, dried off a bit. The food was warm and filling. The light continued to change, to a deeper hue of blue-purple. I could hear people talking in their camps. Two hikers nearly walked over my tent, late-comers who seemed to be lost, and scared. I pointed out a good berm for them to camp on and they trundled over and dumped their packs, then argued for an hour about what to do next.
After the meal I lay on my back and stared at the stars. A meteor shower started about eight minutes later, long white streaks blazing over Strawberry Valley and Lake Siskiyou. It was so entertaining, so comfortable and warm, that I wondered if I would sleep at all. When John Muir visited Shasta for the first time, he wrote about the energy that the mountain bestows to its guests: "When I first caught sight of it over the braided folds of the Sacramento Valley, I was 50 miles away and afoot, alone and weary. Yet all my blood turned to wine, and I have not been weary since."
I was weary too. Sleep came, a deep peaceful rest. In the morning the snow was white again and the sky was blue. Sunlight reflected off Green Butte Ridge and lit up the giant Douglas firs in Shasta National Forest. Above, the Avalanche Gulch ascent rose above Helen Lake--the classic line on Shasta, first climbed by Elias Pierce in 1854, first skied in its entirety by Oliver Kehrlein in the 1930s.
I melted snow, drank tea and felt the kind of joy you only get when you're alone. You can't find things like this in a crowd--the quiet and reflection. The doubt. You can't follow a vision quest with a group. You have to strike out on your own, meet whatever is out there, step up to it, and shake its hand.
Editor's Note: This article has been corrected. While Mount Shasta stands as the most mystical mountain in the continental U.S., it is not the third highest (unless you're counting the mountain's very large aura, which those kinds of numbers usually don't).