Pivot Point
For Kim Reichhelm, finding the sweet spot as a professional athlete meant breaking trail her entire life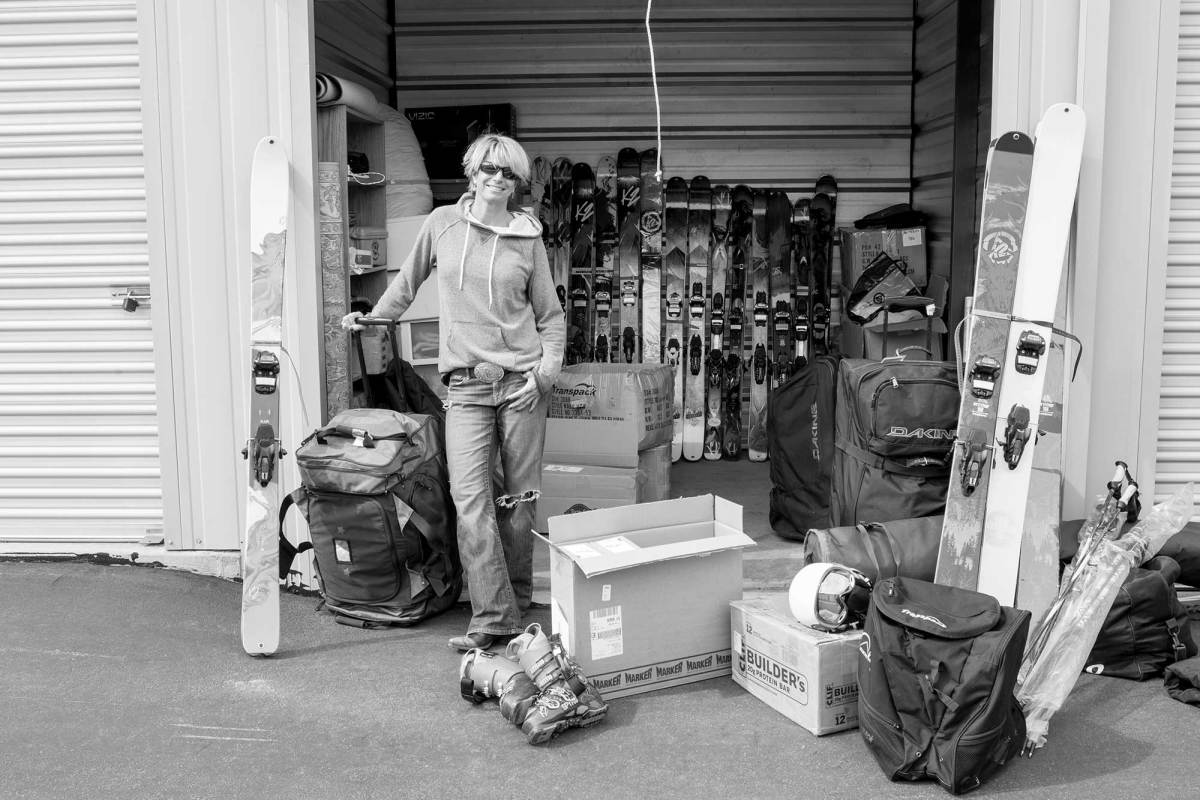 This story originally published in the December 2015 issue of POWDER (44.4).
KIM REICHHELM IS 50 FEET ABOVE ASPEN MOUNTAIN, applying shimmer lip balm and discussing the most practical way to fly from Fiji to Iceland—a trip she'll take in just a few weeks. She has a place in Baja and technically resides in Oregon, but Aspen is home in the loosest sense of the term, for now. And she hasn't been here in over a month. Instead, she taught clinics in Utah and Colorado and just spent two weeks scouting trip locations in Japan.
Despite her transience, we can't enter a single establishment in Aspen—not even this gondola—without running into someone she knows. Sure, the tall, tan blonde is hard to miss, but Reichhelm is magnetic. She bears a near-constant mischievous grin, a penchant for foul language, and the good-natured charm to flirt with even the most glassy-eyed liftie. In her pink Bogner jacket and denim pants, she's a throwback to the days when skiing was more glamorous.
Reichhelm was a defining force behind women's big mountain skiing in the late '80s and early '90s, cutting her teeth alongside legends like Scot Schmidt and Glen Plake. And she's still getting after it—sponsorships, heli trips, and all—at 55.
"My goal was to get rid of the barriers that exist, the excuses women could make about skiing, why they didn't like it or wouldn't do it."
We met in Vail two days ago, on the last night of a Kim Reichhelm Women's Ski Adventure. Within 15 minutes of shaking hands, we were clinking shots of tequila with a mass of middle-aged women, most of them dressed to the nines. Reichhelm founded the Women's Ski Adventure in 1989 when she was just 28, creating a space for women to hone their technique as well as find a community in which they felt comfortable asking about anything from boot adjustments to helmet hair.
"Skiing is not a muscle sport, it's not an ego sport, it's not a testosterone sport. It's this really graceful, beautiful sport," says Reichhelm. "My goal was to get rid of the barriers that exist, the excuses women could make about skiing, why they didn't like it or wouldn't do it."
Perhaps more importantly, Reichhelm sought to establish a skiing career with longevity. In pursuit of what no woman before her had accomplished, Reichhelm met unexpected obstacles with resilience and adaptability. With careful planning and creativity, she eventually built a small empire of guided heli trips in Alaska, Chile, and Iceland, and ski clinics across the North American West.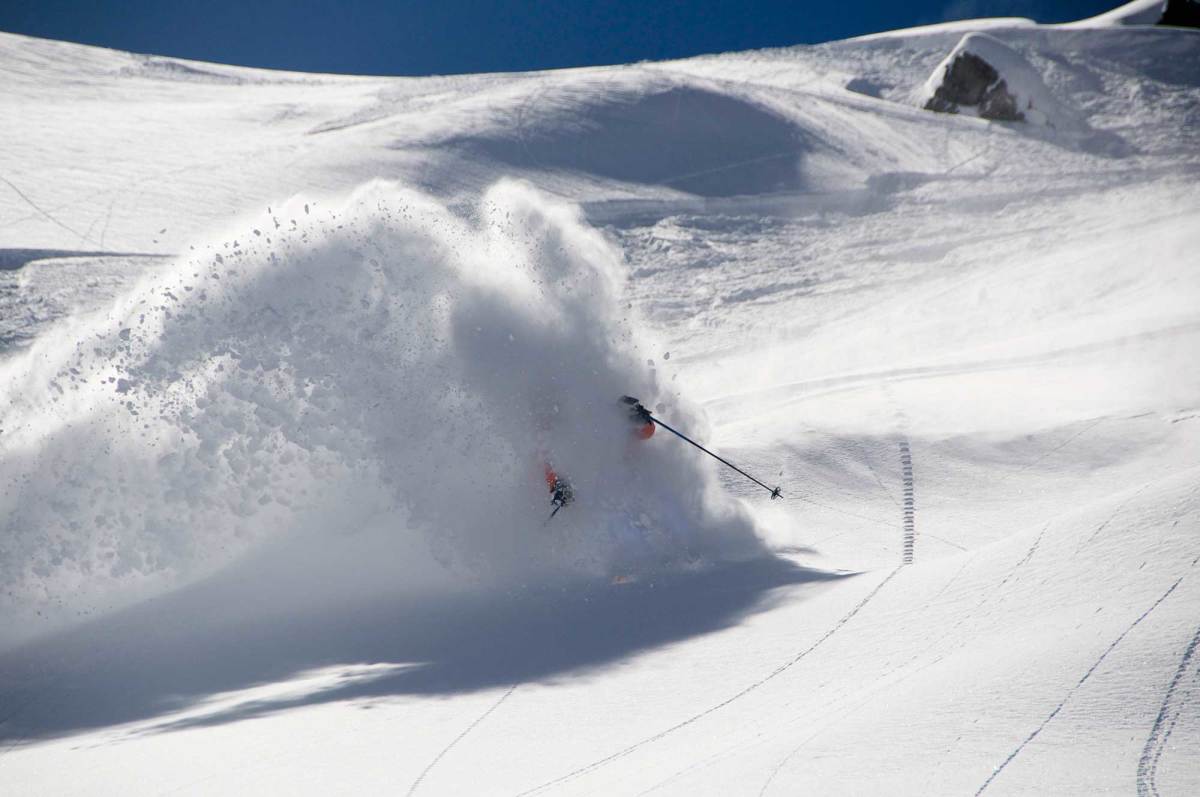 REICHHELM BEGAN HER SKIING CAREER as a fearless 5-year-old racer at Stratton Mountain, Vermont, in 1965. At 15, she earned a spot on the U.S. Ski Team. Her family was competitive; her father sailed, her mother was an equestrian, and Kim and her two brothers were natural athletes.
"I didn't like team sports because I was so much better than everybody," says Reichhelm. "I really struggled in school and I ruled the playground. That's where my confidence came from, where I grounded who I was as a person."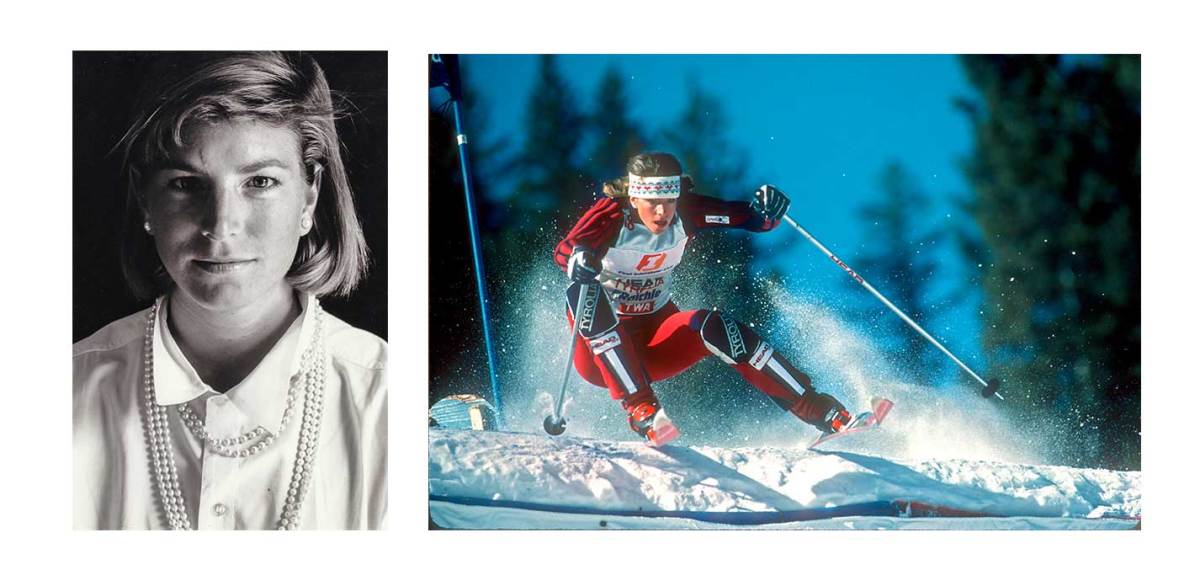 The spindly, talented slalom skier butted heads with her father, George Reichhelm. They were equally stubborn, and Kim struggled to earn his approval while pursuing a path she felt destined to follow. "Kimmy constantly fought for recognition," says George. "She spent a lot of time trying to please me, which is unfortunate. I was not easily pleased."
When Kim graduated from Stratton Mountain School at 18, she planned to continue her professional racing career but her father saw a Wall Street job in her future. They cut a deal: She'd give skiing a shot, but if it didn't pan out, she had to go to college.
A year before the 1980 Olympics, Reichhelm ranked fifth in the nation in slalom, and yet, she got kicked off the team entirely. George explains with pride that she refused to race the downhill, knowing she was too small and would hurt herself. Reichhelm simply says she told her coach to "fuck off."
REICHHELM AND I SKI A FEW INCHES OF FRESH SNOW in Aspen with a rotating group of friends—primarily young, attractive men, most of whom can't keep up with her. She's graceful, efficient, and startlingly fast. On the chairlift, she philosophizes: Skiing is a series of recoveries, and the best skiers are just good at regaining their footing. In a way, Reichhelm's life could be seen as a series of graceful recoveries, too.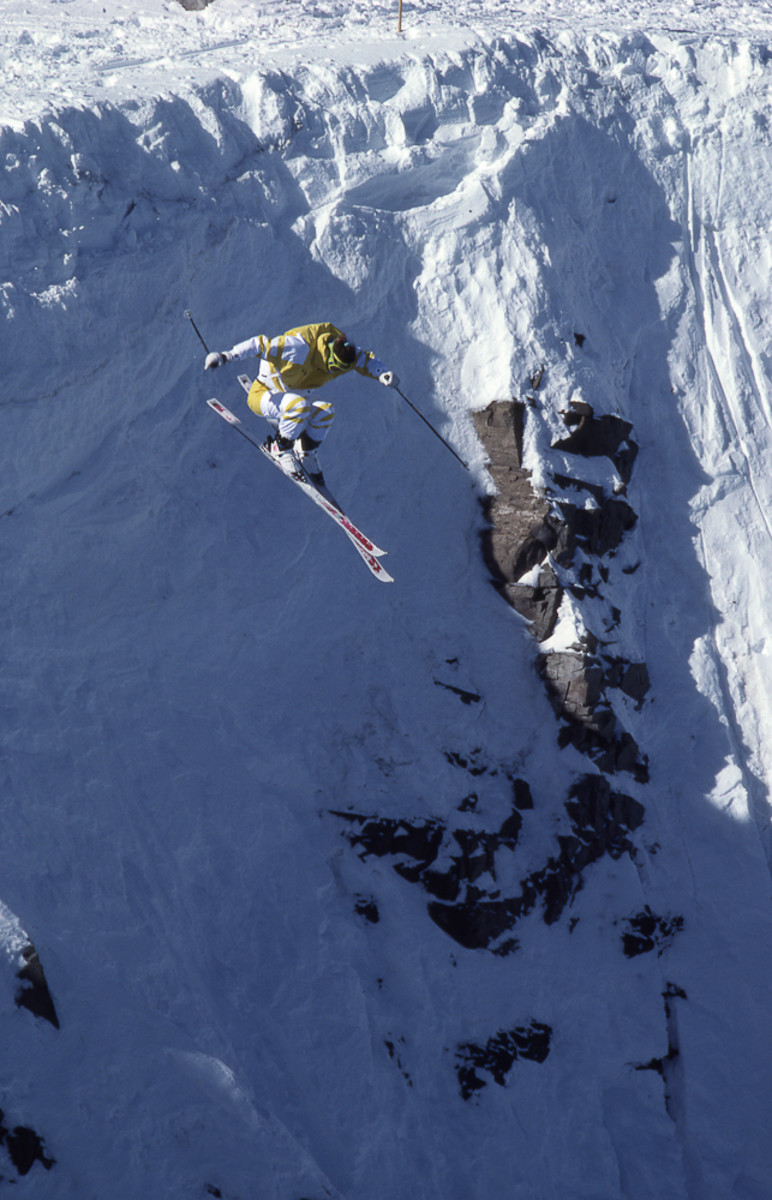 Recovery No. 1: an 18-year-old Reichhelm's response to getting kicked off the U.S. Ski Team at the peak of her career.
Her father refused to pay for anything but an East Coast education, but Reichhelm, determined to ski, applied to the University of Colorado, Boulder. She got a full-ride scholarship and a spot on the school's ski team, and headed west. After graduation, she earned a spot on the Women's Pro Tour, thanks in part to her penchant for PR. She was poised and well-spoken, willing to play sponsorship and product-placement games.
As she raced and traveled, Reichhelm sought a way to combine her passion for skiing, her love of helping others, and her talent for business. "I wanted so badly for my dad, who ignored me, to be proud of me," says Reichhelm. "One time he called me and he said…'What do you want out of life?' and I said, 'I want to have fun.' He said 'Kimberley, life's not about having fun.' But I hung up the phone going, 'I believe that it can be.'"
Eventually, Reichhelm landed on the idea of a women's ski clinic. It was a new formula at the time, and held the promise of full winters on the mountain even when her time in films and competitions ran out. "Success to me was being independent, being able to support myself, and being happy," says Reichhelm. "I had two backup plans: One was to be a river guide in the Grand Canyon and the other was to work on yachts. I was never going to get a real job."
In a 1992 episode of "Late Night with David Letterman," a fresh-faced Reichhelm winces as Letterman plays her segments from Greg Stump's License to Thrill (1989) for the audience. It was the infamous "tree shot" at Squaw Valley: Reichhelm skis into a tree and launches, unintentionally, over a cliff. Immediately afterward, she misjudges the angle of a steep chute and tomahawks—brutal wipeouts in a film produced by the man who shaped the public image of skiing at the time. The footage, in fact, was shot during her first few days of big mountain skiing. It was true Reichhelm style: jumping headfirst and confident, in front of cameras, important athletes, and filmmakers.
There were consequences—she blew out her knee the fifth day on set. But, somehow, she pulled off something spectacular enough—even if it was a big fall—to land on "David Letterman," educating the famous talk show host about the fledgling sport of extreme skiing. Recovery No. 2.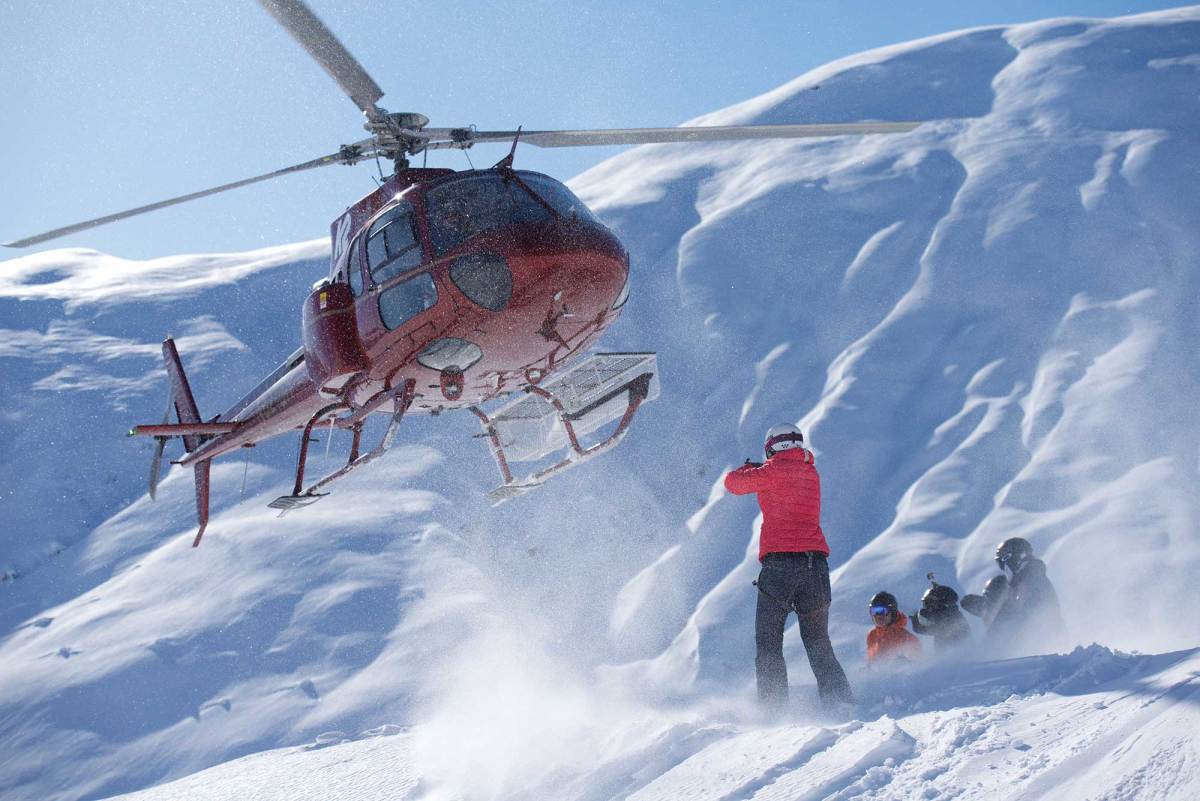 IN MAY, I VISIT REICHHELM at home in Baja, Mexico. She picks me up at the airport in a huge SUV with a cooler of beers and a tattooed, mohawked best friend in the backseat. We careen down a desert road for 20 miles to what she calls her "little slice of paradise."
Reichhelm opens a gate to two casitas and a kitchen encased in pink walls, connected by open-air walkways and porches fitted with outdoor beds and couches. Cacti, palms, and huge plumeria blooms fill the compound. White curtains blow in the breeze, and waves roll toward the shore from a perfect point break just in front of her house. "This is mine," says Reichhelm, with a hint of well-deserved pride. "It's very calming. I come here, and I open the gate, and I think, This is my home."
The next day begins at 6 a.m., pink light flooding the horizon. The air explodes with birdsong, and Reichhelm pads down the stairs to her kitchen to brew strong coffee and watch the waves. As soon as the caffeine hits, we paddle out.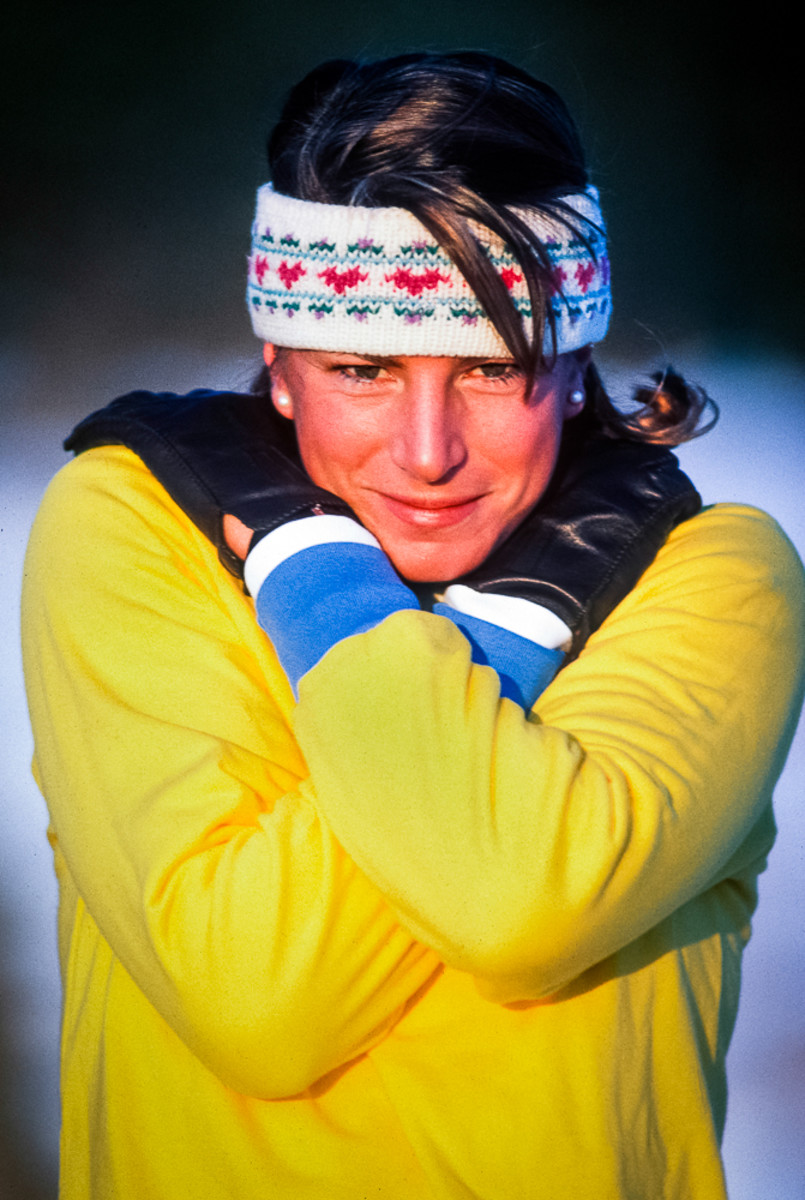 Reichhelm chatters the whole way, sharing beta about the swell she has surfed for nearly 15 years (a friend even shaped the eight-foot board she's on specifically for this break). The waves are big today—nearly double overhead—and 20 surfers bob on the shoulder. It's a motley crew: 75-year-old ex-professional surfers riding standup boards, a few younger shortboarders picking off the most aggressive sets, middle-aged women in Roxy rashguards grinning ear to ear. It's a tight-knit community that has a great deal of respect for Reichhelm, who catches every wave she paddles for that morning, tucking effortlessly into the pocket just as they crest. She encourages the other women while she waits for waves. They're intimidated by the uncommonly large sets, and Reichhelm shares knowledge and experience almost compulsively; pointing out exactly where to catch them, promising they don't move as fast as it seems. She never truly stops guiding people, trying to share the good time she's having with those around her.
OVER THE COURSE OF THE EARLY '90S, Reichhelm became the most accomplished and technical big mountain female skier of her time. Her first big win came in 1991, at the inaugural World Extreme Skiing Championships in Valdez, Alaska. The mountains that would become some of the most popular heli-accessed terrain were nearly untouched by the ski industry, and Reichhelm was captivated. She took first place and, too busy to train while getting her business off the ground, judged the competition for the next three years.
Though girls came up to compete, Reichhelm was one of few women involved in the organization of the event. Dave Hamre, snow-safety guru and soon-to-be owner of Chugach Powder Guides, took her under his wing. The pair went on scouting missions all over the Chugach, seeking out competition venues and skiing "shitloads" of first descents, according to Reichhelm.
"I got to know the very first people that were involved in that end of the business, and I guess I showed enough common sense and enough respect for them," says Reichhelm. "It was really easy for me to admit what I didn't know. I latched myself onto the most knowledgeable, experienced people all the time and did not leave their sides."
In 1995, Reichhelm was 35 and the field of women competing in WESC was the strongest it had ever been. Determined to earn a title against a worthy field of competitors, she stepped into her 200 GS race skis with derbyflexes, and won yet again. That year, she won the South American, U.S., and World Extreme Skiing Championships.
REICHHELM HAS BEEN COMING TO BAJA since 1986, and it's clear why—it's the first time I've seen her "off." She can wear a bikini and board shorts all day and has ample time to surf, kiteboard, tear around on ATVs, cook huge meals, and still go to bed at 10. It's her most stable relationship, this coastline.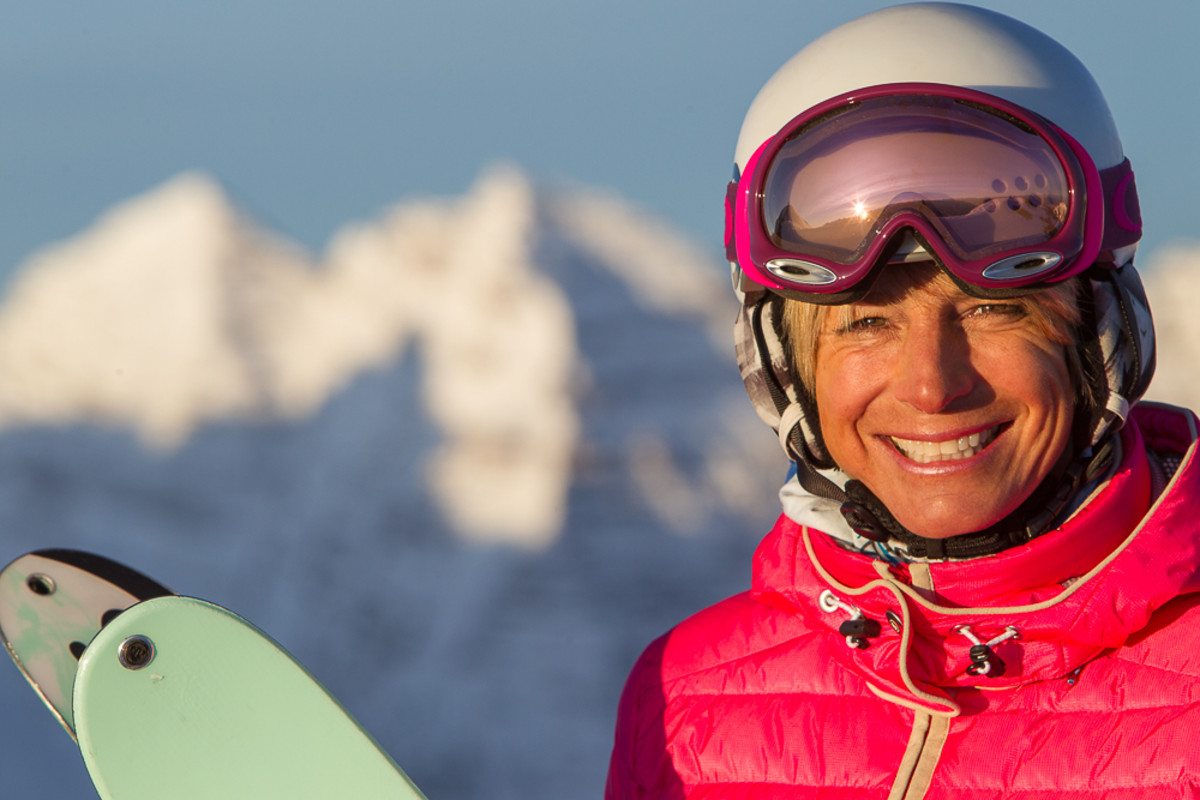 We grill burgers and fresh vegetables for dinner and eat on the balcony overlooking the water. The air is thick with salt and the day's remaining heat. As the evening winds down, Reichhelm tells me about the only other place that earned her attention for more than a decade: Crested Butte.
Reichhelm fell in love with other towns in other states, but she truly settled down—for a time—in the tiny Colorado haven. She moved there in the early '90s, as her business grew and her competitive skiing (after a triumphant 1995) waned. She laughs as she tells me about "nesting": the huge dinner parties she would throw, touring and mountain biking with her partner, decorating their home.
We discuss the seven-year-long relationship she had there, how they tried to have children but were unable to, and how things might have been different if they had been able to have a family. She is silhouetted against the horizon, her tousled hair just above where sky meets sea, her face dark and indiscernible.
It's Recovery No. 3: As life finally settled into a comfortable rhythm, Reichhelm's plans shifted drastically once more. No longer certain that children would be the next big adventure, she adopted a more nomadic lifestyle. In 2005, she moved once more, to Aspen. She ramped up the international travel, embraced her new path as wholeheartedly as possible, and engrained herself in yet another outdoor community.
It's her most stable relationship, this coastline.
From an unexpectedly childless adulthood to her premature departure from the U.S. Ski Team, Reichhelm absorbs shock and readjusts her path just as effectively as she does on the mountain. She's certainly a planner, hardheaded and hardworking, but she lives according to her own weird nirvana with a deep acceptance of the things that have passed. That acceptance, however, doesn't compromise the future.
Reichhelm tells me she envies the time of life I'm in: early 20s, with a hundred possible paths and hopefully many years ahead of me. I can't help but think she is in the same position, buzzing with the promise of the years to come. She'll build a pool, guide a ski trip in Japan, fall in love with a new and different guy, and master that 6-foot-6-inch shortboard in the garage. She'll keep reinventing herself. "I'm always learning something new," she says with a classic, toothy grin. "What happens when you stop? Are you dead?"
During the last session we spend together, the waves have calmed and Reichhelm and I are two of three people on the water. She catches her last wave before me, surfing a mellow, slate blue wave into shore. The low sun over the dunes lights the spray around her into airborne gold. Her paradise home in front of her, short blonde hair slicked back, stance strong and confident. Kim Reichhelm, a perfect picture of her own strange and constantly shifting success.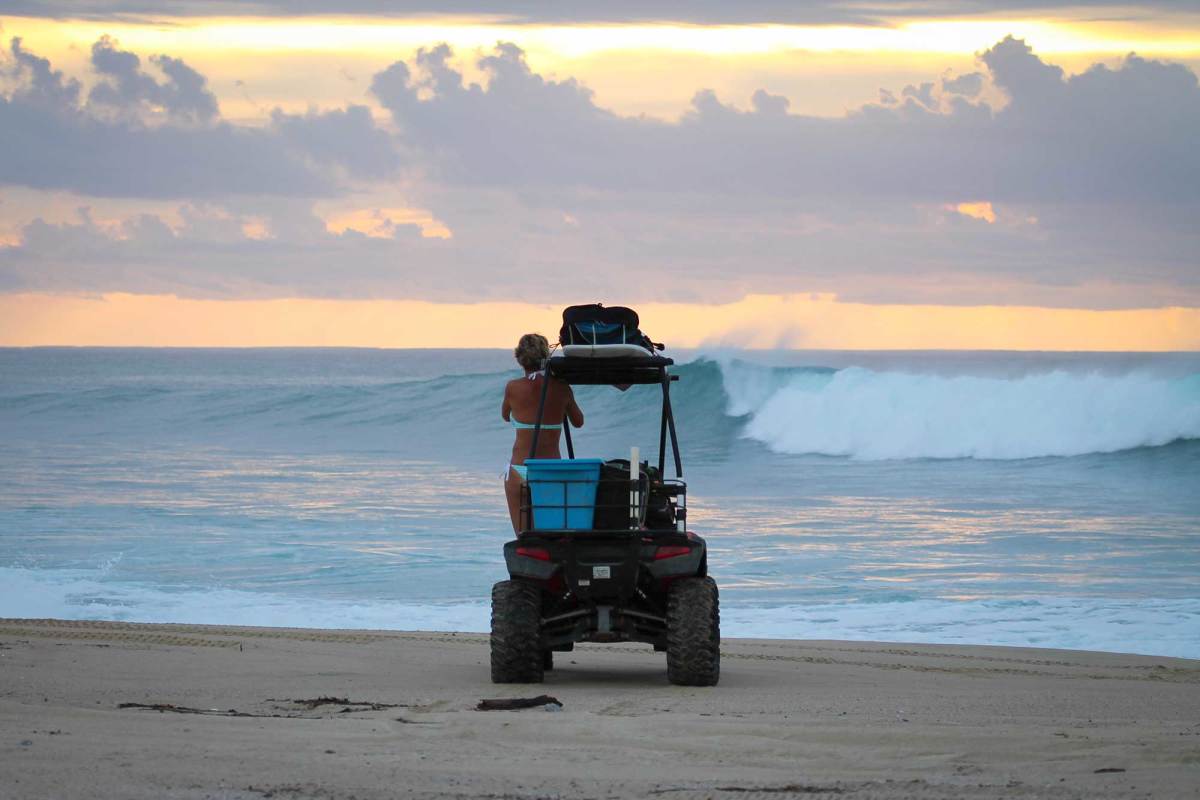 ---