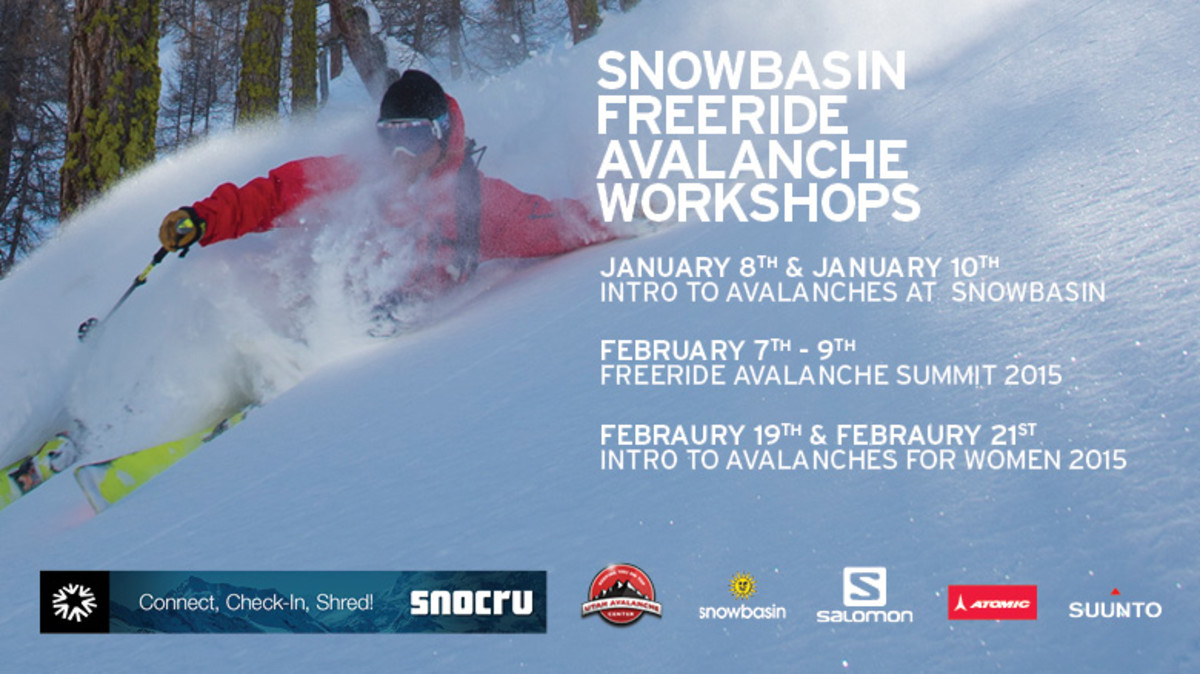 For immediate release:
The Utah Avalanche Center, Snowbasin, Amer Sports, and SNOCRU are teaming up to produce a series of avalanche workshops in the Ogden Mountains for those new to backcountry riding as well as experienced and aspiring pros.
An Introduction to Avalanches class will take place on January 8 and 10 with an evening (at Amer in Ogden) portion and a field day (at Snowbasin). The class is open to the public and teaches the principles of safe travel in and around avalanche terrain. It will be taught by avalanche professionals.
On February 7 thru 9, the Snowbasin Freeride Summit will provide a workshop designed and presented by pro riders for pro riders, advanced skiers, and anyone who likes to use backcountry terrain aggressively. The workshop will take place in an evening session followed by two days on snow and will cover critical topics like decision making, assessing snow stability, active terrain management, effective partner rescue, and situation management when things go wrong. We will focus on big mountain freeride issues—addressing steep complicated terrain, working with resort resources, quickly assessing unfamiliar terrain, filming issues, and balancing the desire to bag big dramatic lines with surviving to ride another day.
Finally, for women and by women, there will be another Introduction to Avalanches Workshop on February 19 and 21.
Along with legendary powder, Utah has some of the greatest avalanche danger on earth. The Utah Avalanche Center, Snowbasin, Amer Sports, and SNOCRU are committed to providing backcountry users with the skills and knowledge they need to stay on top of the Greatest Snow on Earthtm. Understanding avalanches and knowing when, where, and how to ride in avalanche terrain is the best and most fun way to enjoy Utah's powder safely.
For more information and registration, go to UtahAvalancheCenter.org/events.
Snowbasin Resort, SKI Magazine's number one resort for lifts and top four for customer service and on-mountain food, is located less than 35 miles North of Salt Lake City. It has one of the easiest drives from Salt Lake International Airport as well as quick access to the Park City Area and Downtown Ogden. With 3,000 skiable acres and 3,000 vertical feet, Snowbasin Resort is best known for wide-open bowls, gladed runs, manicured groomers, powder stashes days after a storm, seven terrain parks, and excellent service. Snowbasin Resort has world-class snowmaking and one of the most advanced lift systems in the West. Enjoy award-winning cuisine including mountaintop dining with spectacular views and magnificent day lodges. Discover why Snowbasin Resort is consistently recognized as one of the best family resorts in North America!