SKIER: Andy Frykberg | PHOTO: Ryan Turner
Best Day Ever. Blower. Deep. No, deeeeeep, man. Pow-diesel. Snowpacalypse. Overhead. Trench-town. Barreled. Blowtown. Holy shit. These are the best 2017 skis for one of those days. All reviews are by the POWDER Union, from Powder Week at Big Sky.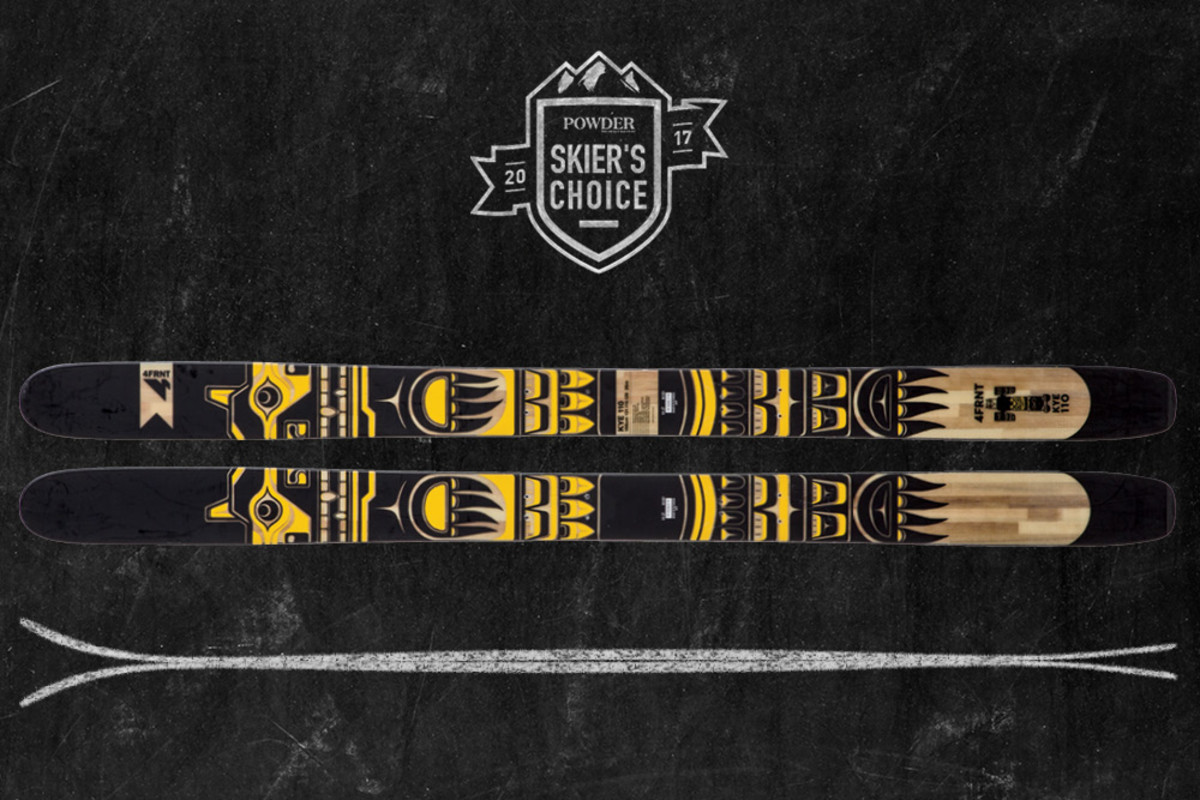 4FRNT KYE 110
MSRP: $710
Lengths: 174, 181, 188cm
Dimensions: 126-110-121mm
Radius: 25m (@181cm)
Designed to be Kye Petersen's big-mountain stick, the KYE 110 ski is suited for soft snow in dynamic terrain. Dave Stergar heaps praise on the ski, saying it "can handle super-high speeds, is very stable and damp, with a great profile." The 25-meter turn radius—with its bomber build of poplar and beech under a semi-cap construction—pushes you full speed ahead, and the tapered tip and tail prevent them from feeling hooky in turns. "With a slightly lower tip and tail profile than the KYE 120, they skied longer and gave you the full benefit of the camber," says Bend, Oregon-based ski tech Troy Walch. "The true ABS sidewalls and Vibe-Veil technology made this ski the most solid of any I tried all week."
To learn more about the 4FRNT KYE 110, watch this video from POWDER Week.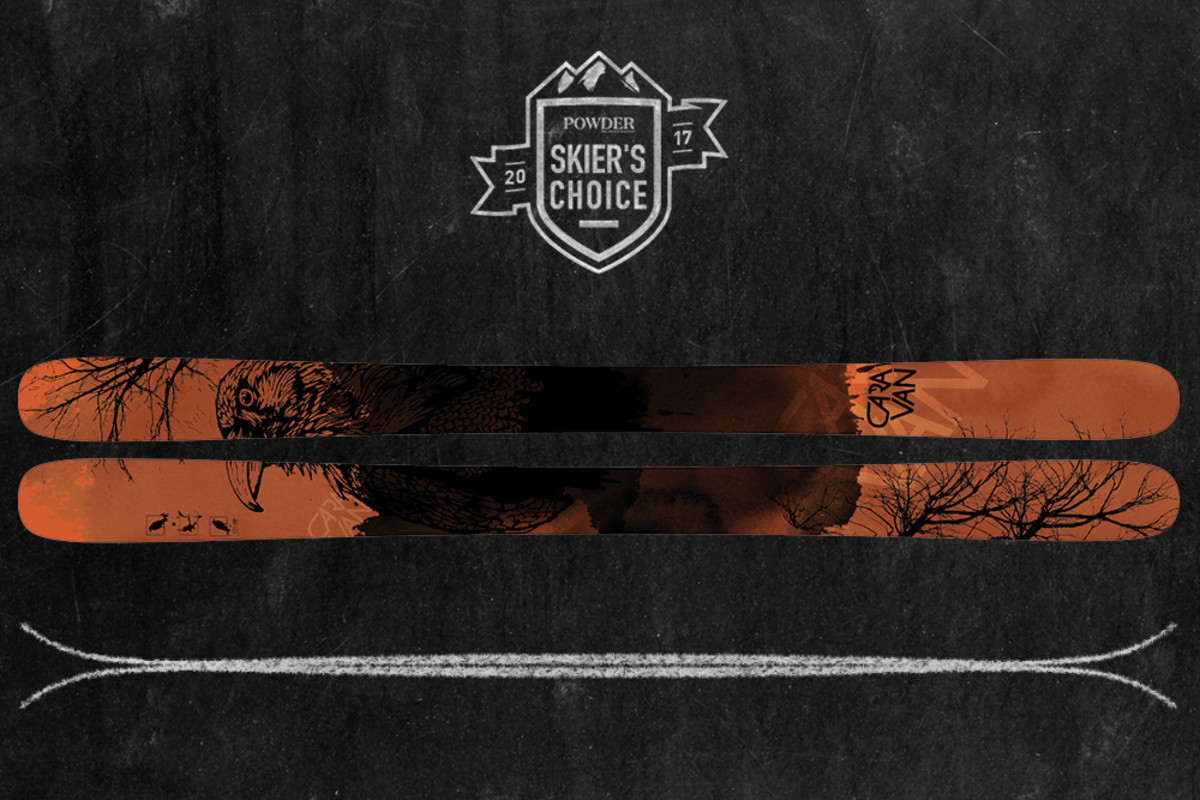 Caravan SB 110
MSRP: $679
Lengths: 176, 183, 190cm
Dimensions: 135-110-130mm
Radius: 19m
Last year, Caravan was the underdog indie brand that came out of the gates blazing with the SB 110. It was again a favorite. A bamboo core with basalt and carbon fiber, the SB 110 is suited for Western leftovers, big lines, and stomps with freestyle flair. "Combining a twin-style shape with a stiff layup and longer turn radius, the SB 110 demolished everything from one inch of wind-blown goodness to re-frozen chunder and baked-out afternoon faces," says Seattle skier and evo gear-tester Alex Meilleur. "From switch landings to steep upper-mountain faces, the Caravan SB 110 is quick to pivot with a smooth and stable arc when laid over."
To learn more about the Caravan SB 110, watch this video from POWDER Week.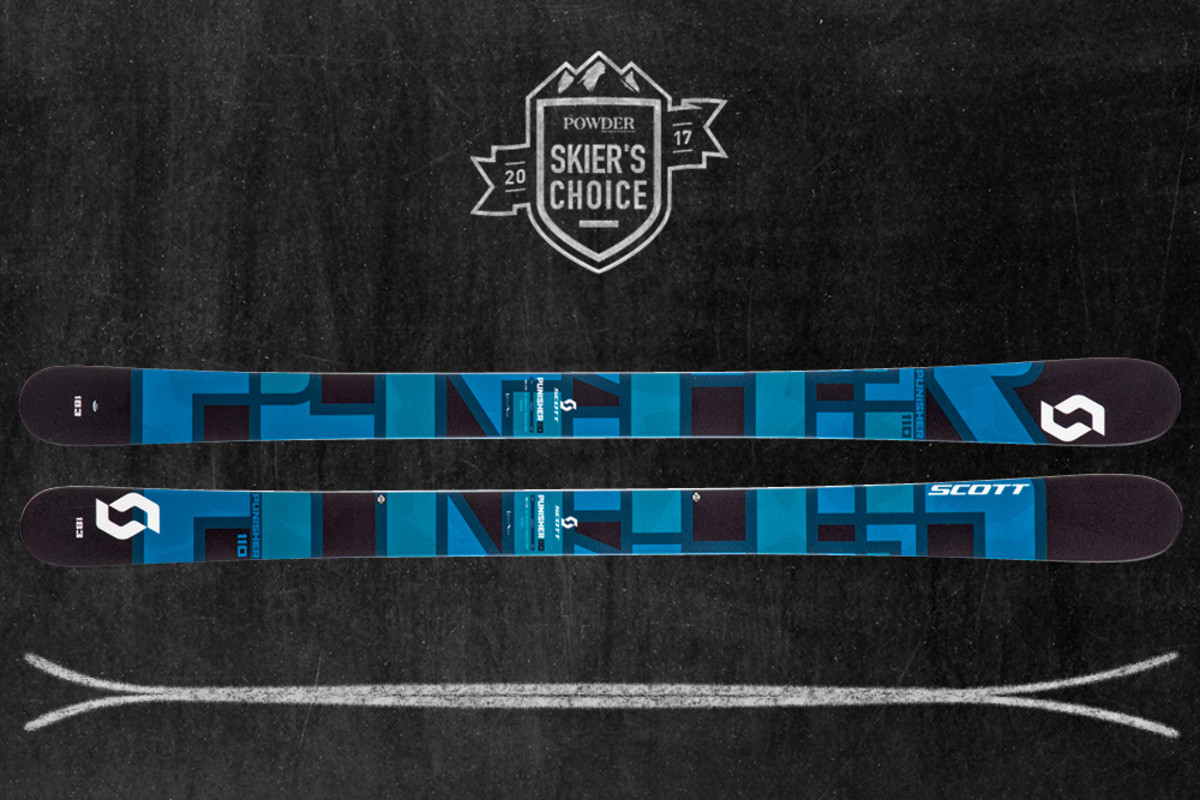 Scott Punisher 110
MSRP: $575
Lengths: 173, 183, 189cm
Dimensions: 144-110-132mm
Radius: 19m (@189cm)
The Punisher is stable underfoot thanks to a central flat line sidecut combined with a progressive rocker shape in the tip and tail. The combo makes turn initiation an afterthought, so what at first seems like a hard-charging, solid ski built for speed still becomes versatile and playful when asked. "Fun front and tail shovel that allows for that schmear, white-in-your-face spray," says Big Sky local Hannah Victory. "It's a great hero, smooth-snow ski."
To learn more about the Scott Punisher 110, watch this video from POWDER week.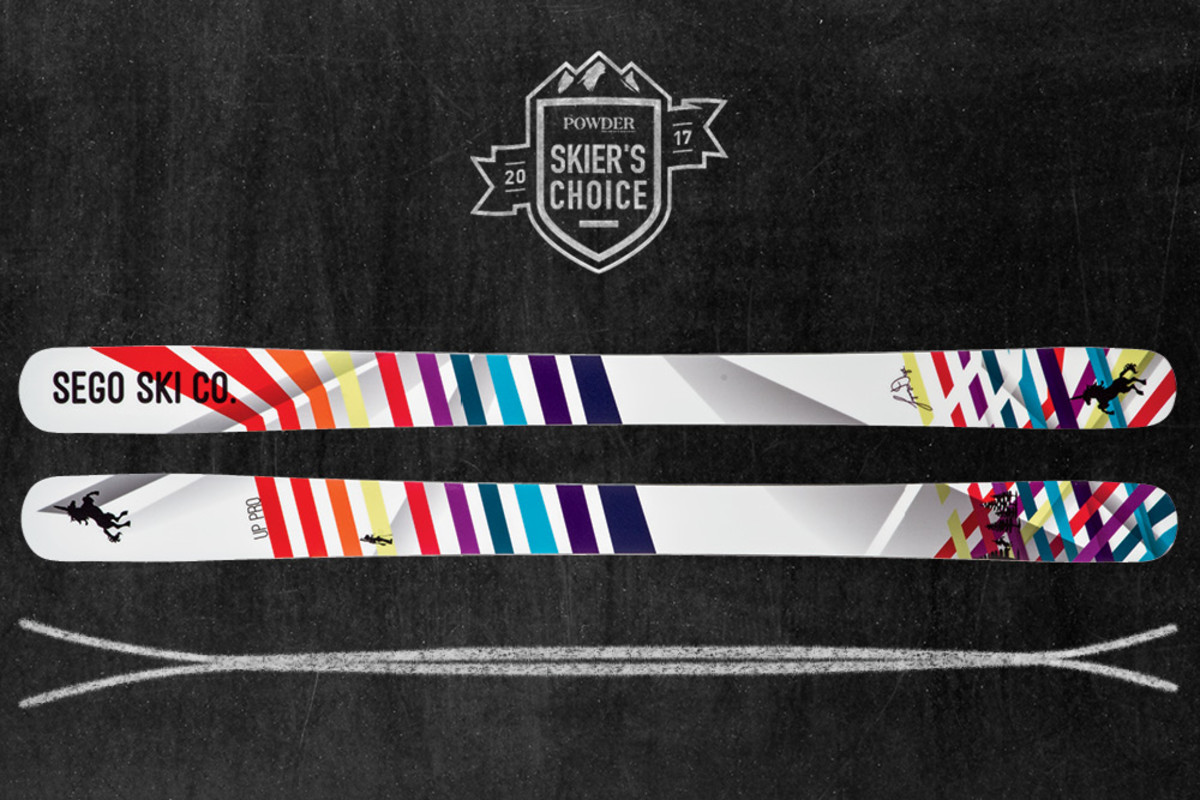 Sego Up Pro
MSRP: $799
Lengths: 159, 167, 174, 179cm
Dimensions: 136-110-127mm
Radius: 20m (@174cm)
Just below the rainbow and unicorn top sheet of Lynsey Dyer's pro model is one of the burliest women's skis at Powder Week. Built with a poplar core, the Sego UP PRO has the strength to cut through the chop and the stability to carry speed confidently. It's a damp, smooth ride, with good edge-hold on hardpack. Even with its rockered sidecut and 110 millimeters underfoot, it's still easy to hop out of turns. Power thighs are highly recommended. "It's a solid, heavy, stable, well-built ski with thick sidewalls that rips in all conditions," says Downtown Julie Brown.
To learn more about the Sego Up Pro, watch this video from POWDER Week.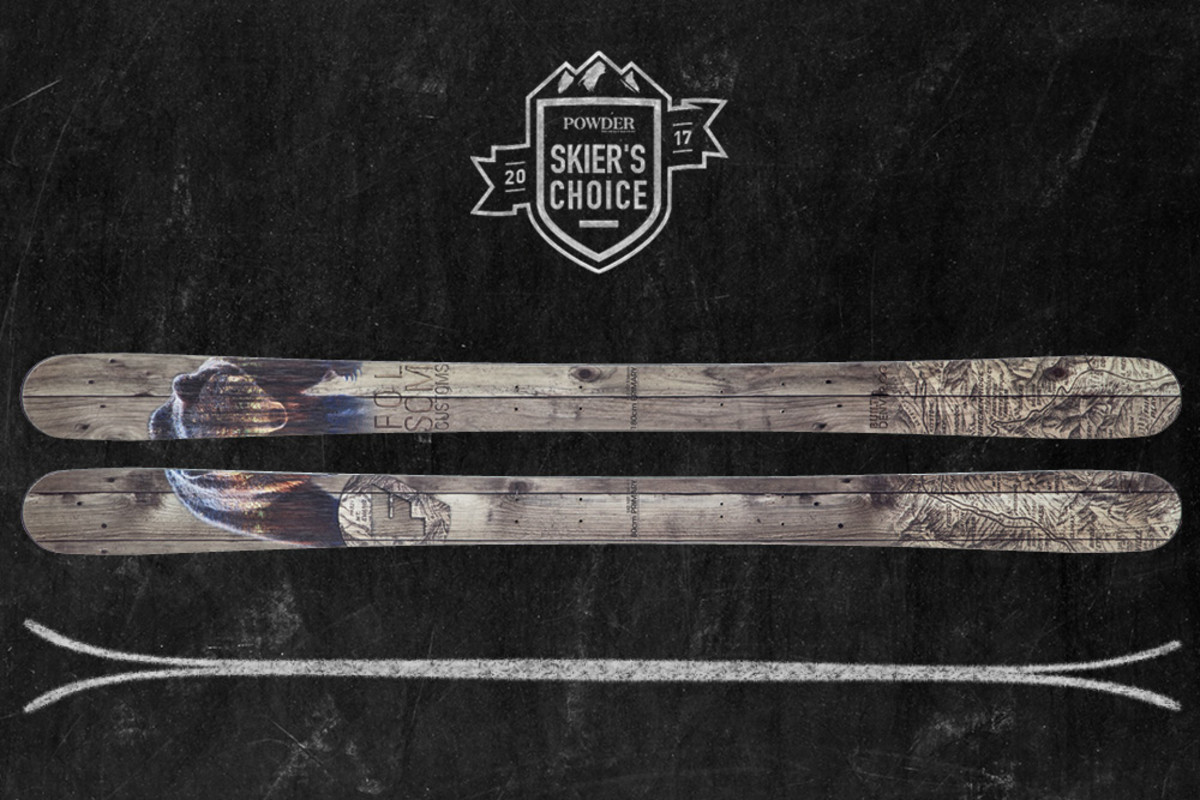 Folsom Primary
MSRP: $850
Lengths: 174, 182, 184, 188, 192cm
Dimensions: 141-110-131mm
Radius: 25m
One of the best, unintended consequences of the modern ski shape is the self-serve face shot: Build up speed, then throw them sideways. And the Primary—with its very subtle full-length rocker and hardly any camber—is better suited for buttering and sliding than charging full bore on edge. The core is a blend of maple, poplar, and bamboo, with carbon stringers for pop, giving it the personality of a fl ow rider. "Edge hold on groomers is slightly unpredictable," says school teacher Aaron Hansen. "The skier needs to pay attention to how much pressure they stick on these skis. Too much and the ski wants to spin. Back off and things will be fine."
To learn more about the Folsom Primary, watch this video from POWDER Week.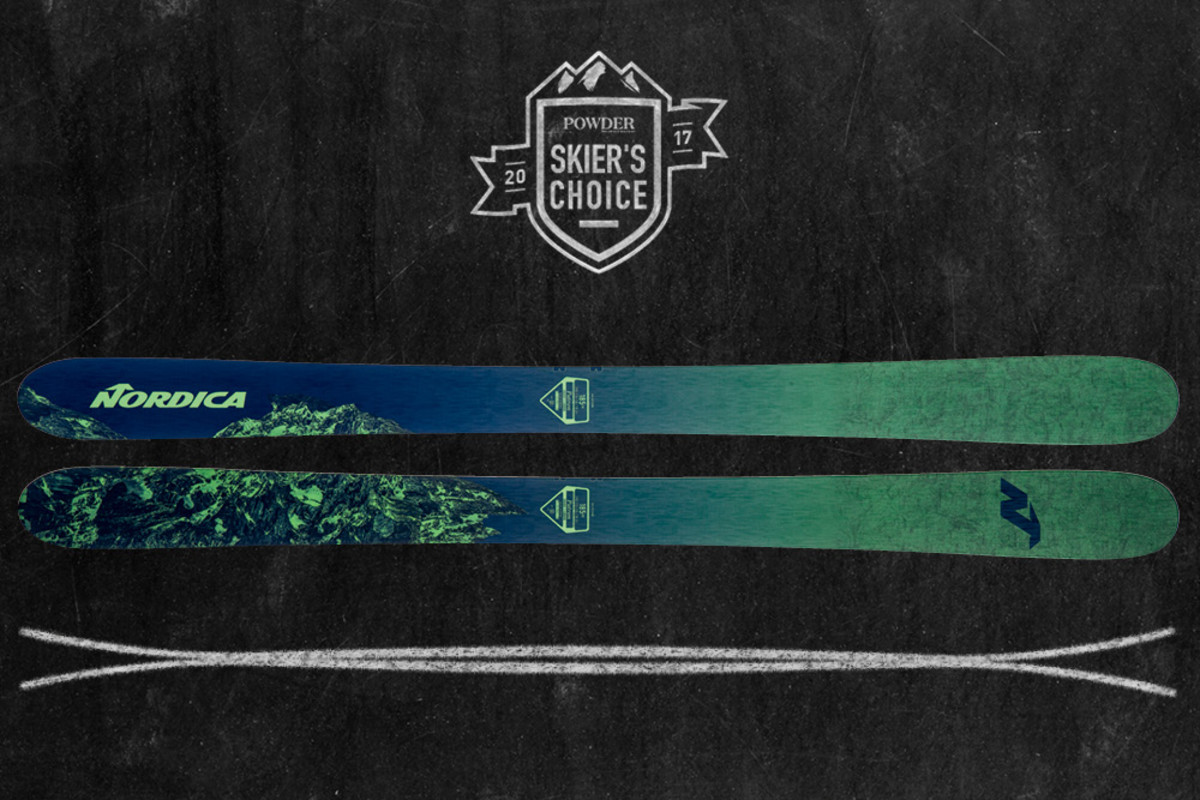 Nordica Patron
MSRP: $849
Lengths: 177, 185, 193cm
Dimensions: 143.2-113-135.1mm
Radius: 18.5m(@185cm)
The Nordica Patron continues to be a stalwart on the all-mountain scene, featuring a gradual early rise tip for flotation in deep snow and increased edge contact on hardpack. The Patron also comes in light for its class thanks to a race-inspired Energy 2 Carbon construction, cutting weight while providing the pop needed for dynamic turn transitions. "I opened this ski up through a little exit chute in the Bowl," says Big Sky local Jed Donnelly, "and it was really stable at high speeds on firm snow."
To learn more about the Nordica Patron, watch this video from POWDER Week.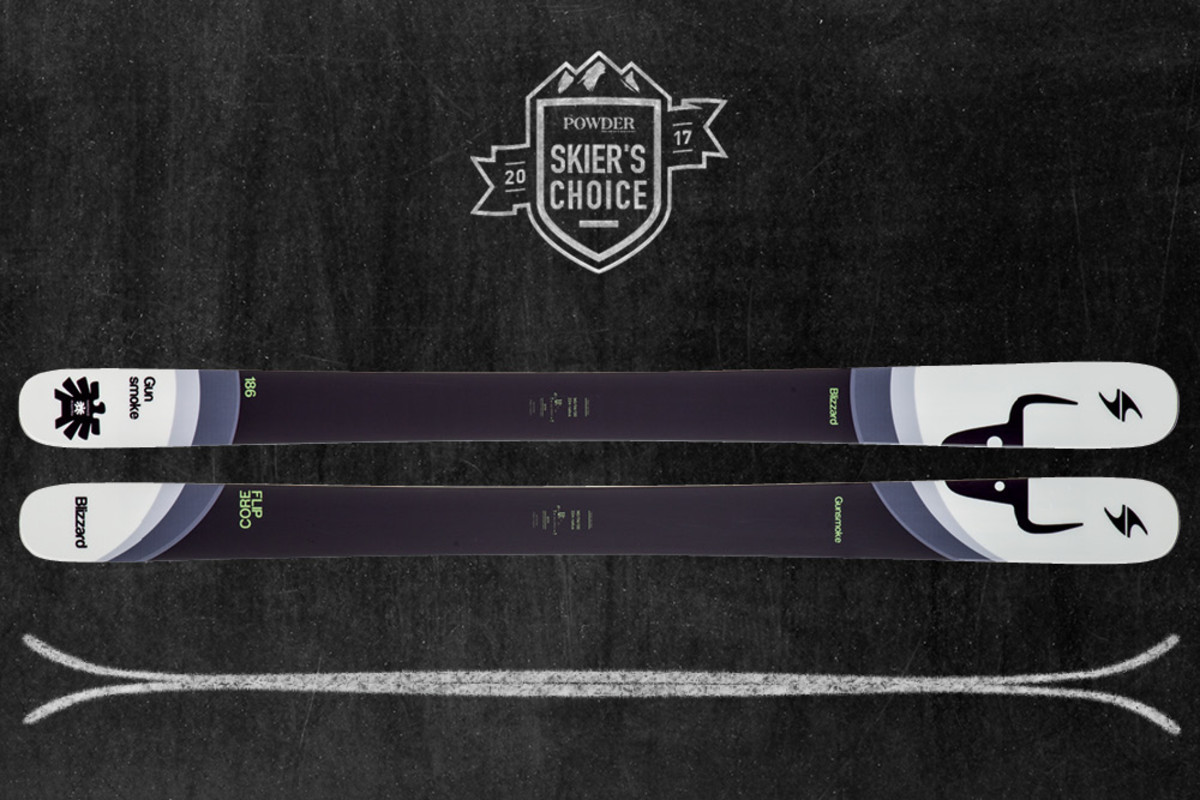 Blizzard Gunsmoke
MSRP: $840
Lengths: 179, 186, 193cm
Dimensions: 140-114-130mm
Radius: 22m (@186cm)
Blizzard's Gunsmoke, a regular Powder Union favorite, returns to the lineup with chameleonic powers to enable whatever your heart so desires, be it surfing the mountain, hauling ass down the steep and narrow, or lapping the park. Blizzard's trademark Flip Core technology (essentially, rocker-camber-rocker) sets the base to the Gunsmoke's sauce while the poplar-bamboo-ISO wood core adds the spice. "It's the best combo of playful and easy, but strong and chargey of anything I've been on this week," says Aspen regular Ian Fohrman.
To learn more about the Blizzard Gunsmoke, watch this video from POWDER Week.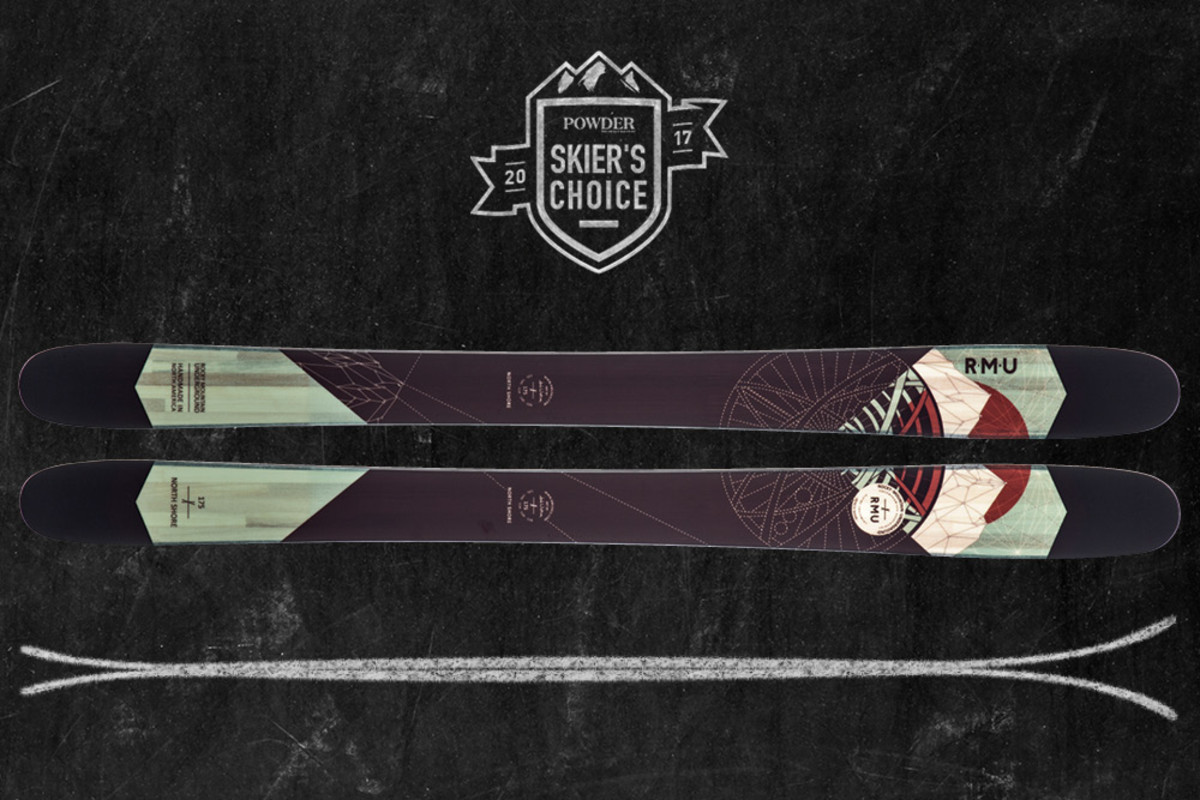 RMU North Shore 2.0
MSRP: $799
Lengths: 165, 175, 185, 195cm
Dimensions: 135-145-114-130-126mm
Radius: 18.7m (@185cm)
At 114-millimeters underfoot, the North Shore is "a great ski during a storm cycle," says Butte, Montana, native Jed Donnelly. Even still, Donnelly gave it credit for turning and burning in conditions that weren't exactly soft. It stands up against big lines with an aspen core, thick edges, and tip-and-tail rocker. It's a big, heavy ski, but the five-point sidecut makes it easy to drive. "The 2.0 has the stability you want when you're riding steeper terrain, but it is still incredibly fun when you get around to hitting natural poppers all around the mountain," says Dane Weister.
To learn more about the RMU North Shore 2.0, watch this video from POWDER Week.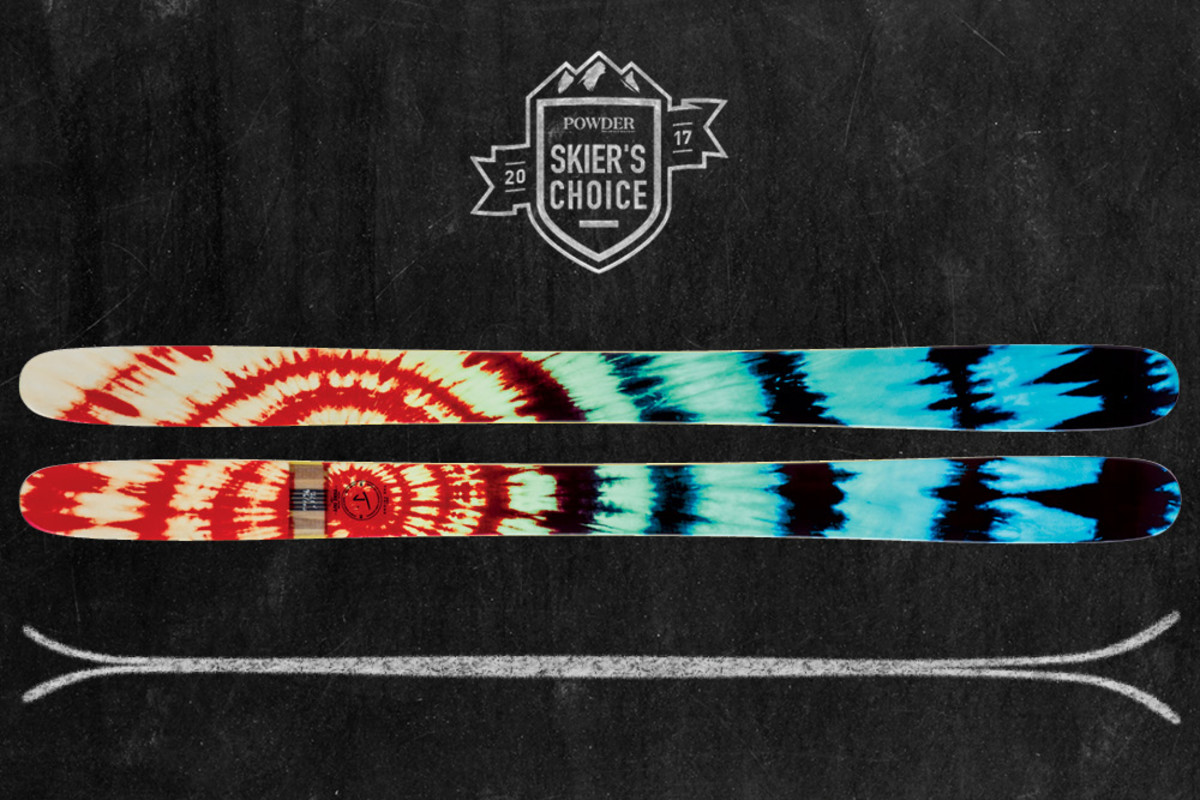 J Skis The Friend
MSRP: $749
Lengths: 173, 180, 186cm
Dimensions: 136-114-125mm
Radius: 19.5m
The Friend is big enough to be an exceptional powder ski, but where it really shines is how friendly it gets when everything is tracked out. "It carved well on hardpack despite being a powder ski," says Rocky Mountain native Sierra Davis. "It's maneuverable, easy to ski, and does a lot of the work for you." A solid, stable ski, The Friend has carbon stringers, a maple core, and two millimeters of camber. You're bound to get some tip flap, but it still holds solid on the turn. The Friend also knows how to make you feel special—only 100 pairs are made with each top sheet.
To learn more about the J Skis The Friend, watch this video from POWDER week.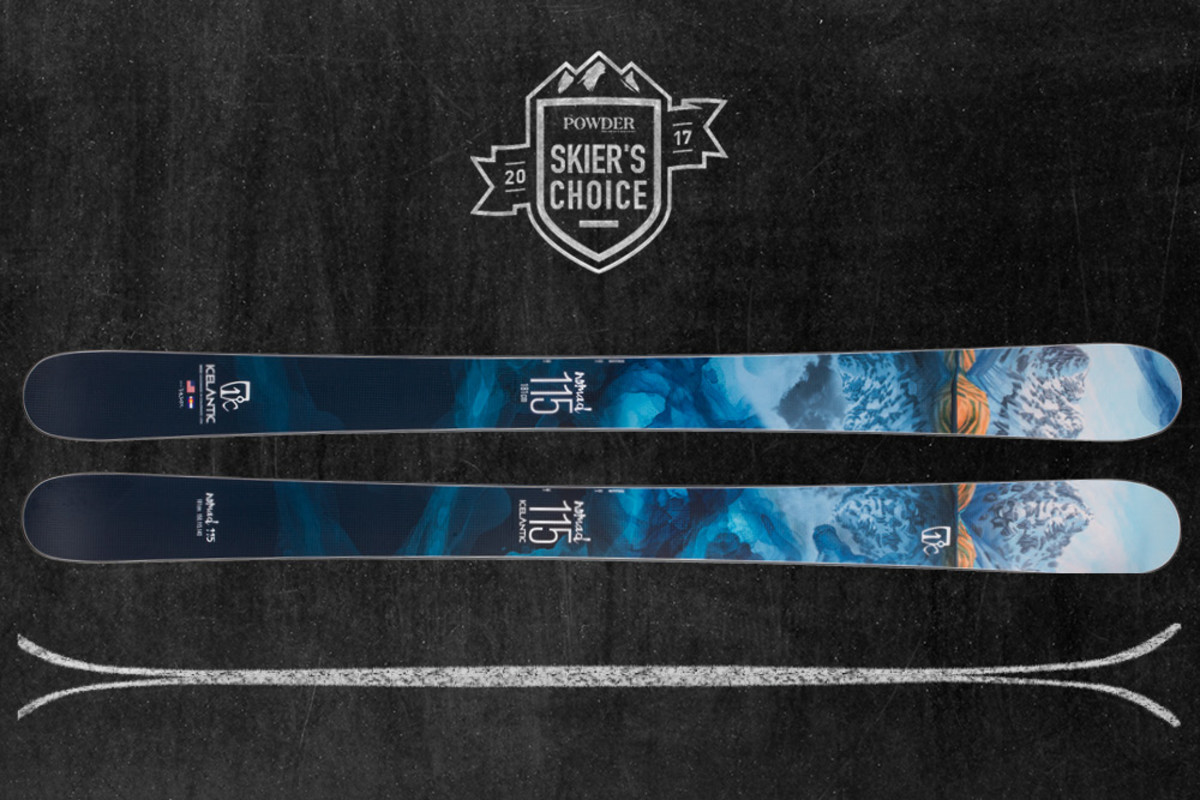 Icelantic Nomad 115
MSRP: $749
Lengths: 171, 181, 191cm
Dimensions: 150-115-140mm
Radius: 19m (@181cm)
Made with a poplar core and tip and tail rocker, the Icelantic Nomad is both buttery and light, great for slarving soft snow. It's also the most unique-looking ski in the lift line, thanks to designs created by Icelantic's artist and co-founder, Travis Parr. Union skiers said the Nomad skied narrower than its 115-millimeter width. "Like a nomad that's on a long dry spell, this ski is eager for action and is a little hooky in both the tip and tail," says Aaron Hansen. "I would have no problem putting this ski in the back of my truck for a season, never worrying about which boards to bring to the hill."
To learn more about the Icelantic Nomad 115, watch this video from POWDER week.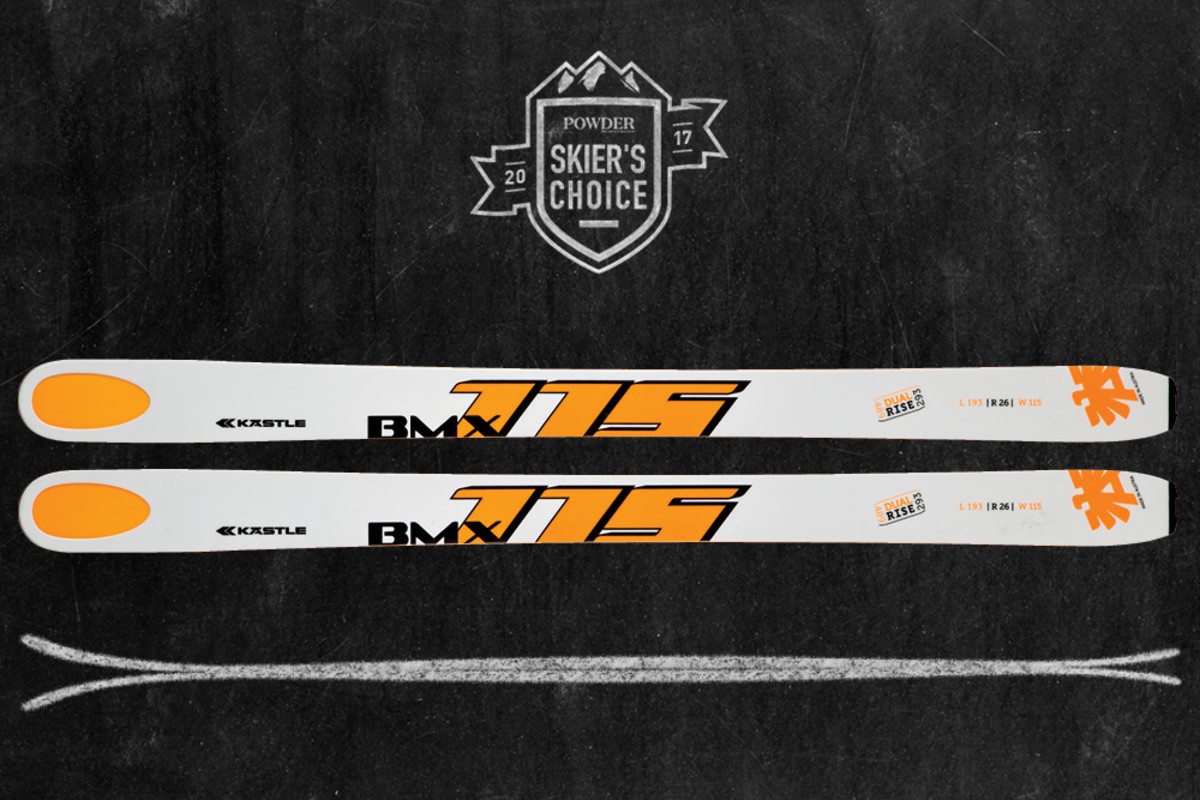 Kastle BMX 115
MSRP: $1,049
Lengths: 177, 185, 193cm
Dimensions: 141-115-130mm
Radius: 24m (@185cm)
Built with a sturdy sidewall construction, the Kästle BMX115 HP has camber with a slight early rise tip to yield some float in deeper snow. It charges straight down the fall line, but still maneuvers through a chalky tree stash at high speed. "Even with the long radius it can arc a turn in the tightest of places," says Dave Stergar, a man who knows how to hold an edge. "The construction makes this ski super stable and can rip every condition. In the 193, it's a big ski (and a little heavy), but that didn't bother me."
To learn more about the Kastle BMX 115, watch this video from POWDER week.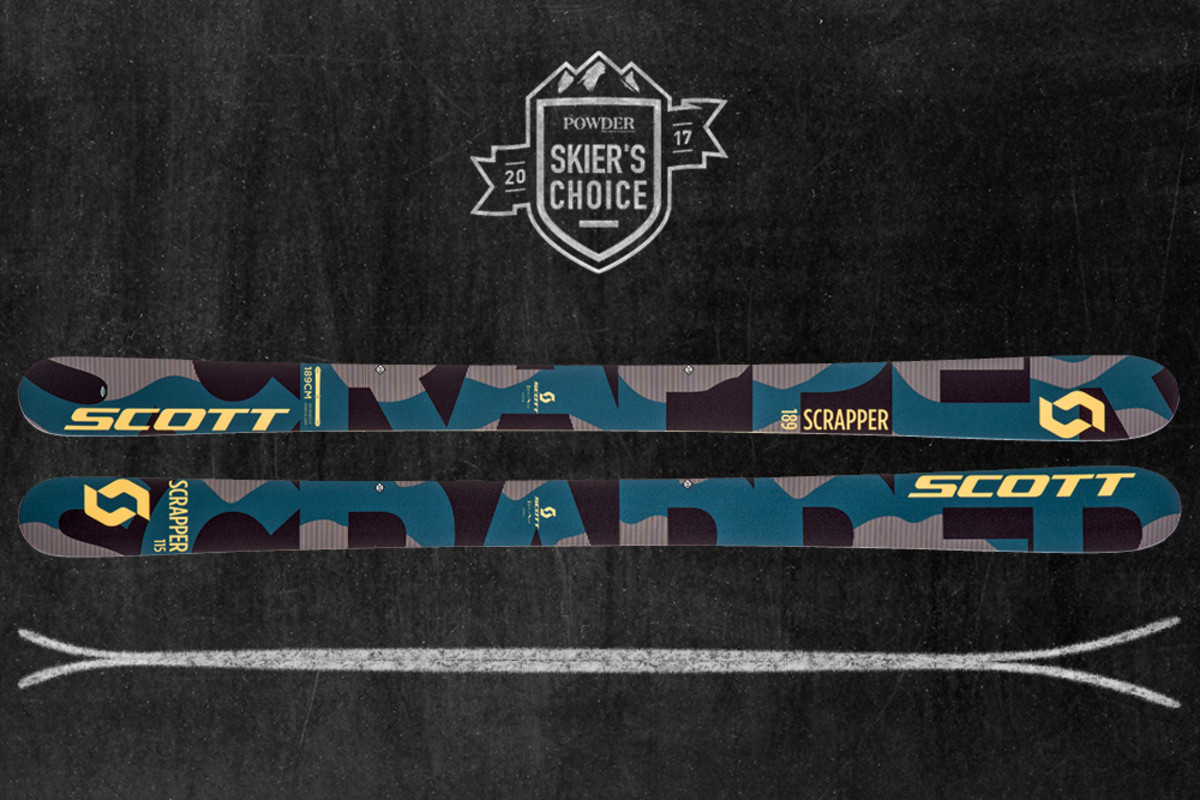 Scott Scrapper 115
MSRP: $600
Lengths: 182, 189cm
Dimensions: 142-115-131mm
Radius: 23m
Made to shred the cheese right out of the mountain, the Scott Scrapper, featuring Scott's 3Dimensional Sidecut, works pretty much every day except for the truly icy and firm. A paulownia wood core runs the length of the ski between sheets of carbon and fiberglass. A titanal strip reinforces the binding mount. Steel edges top the construction off. "Awesome, super light ripper," says Salt Lake City skier Spencer Harkins. "The Scott Scrapper can charge anything but still be fun and floaty."
To learn more about the Scott Scrapper 115, watch this video from POWDER Week.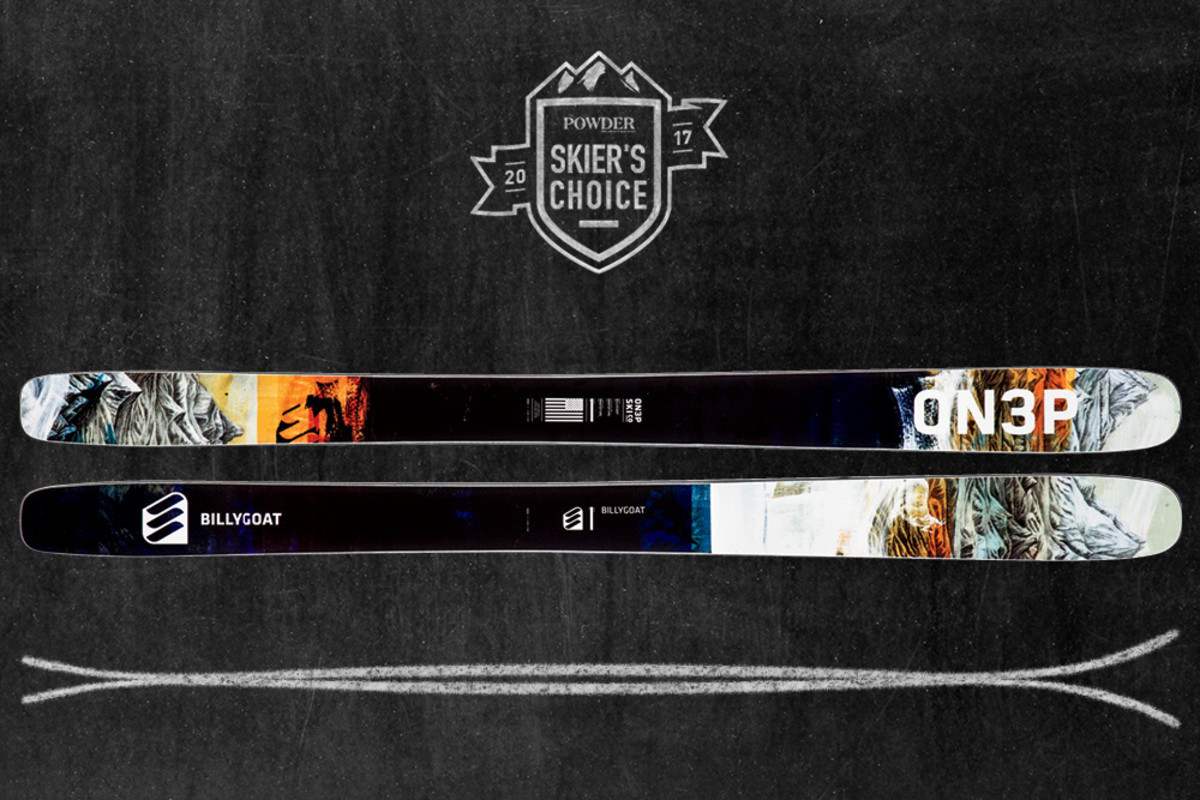 ON3P Billy Goat
MSRP: $799
Lengths: 174, 179, 184, 189cm
Dimensions: 142-116-126mm
Radius: 28.6m
The sixth edition of the ON3P Billy Goat comes updated with Reverse Elliptical Sidecut, which is best described in two acts. Act One: Reverse sidecut from the boot sole to the tip make this pivoty ski ideal for the steep and deep. Act Two: Cutting through the crud to get back to the lift is made easy with a more effective edge and traditional sidecut in the tail. "Easy turn initiation, loves speed, and charges through crud and junk snow like a boss," says bar owner/skier Crystal Sagan.
To learn more about the ON3P Billy Goat, watch this video from POWDER Week.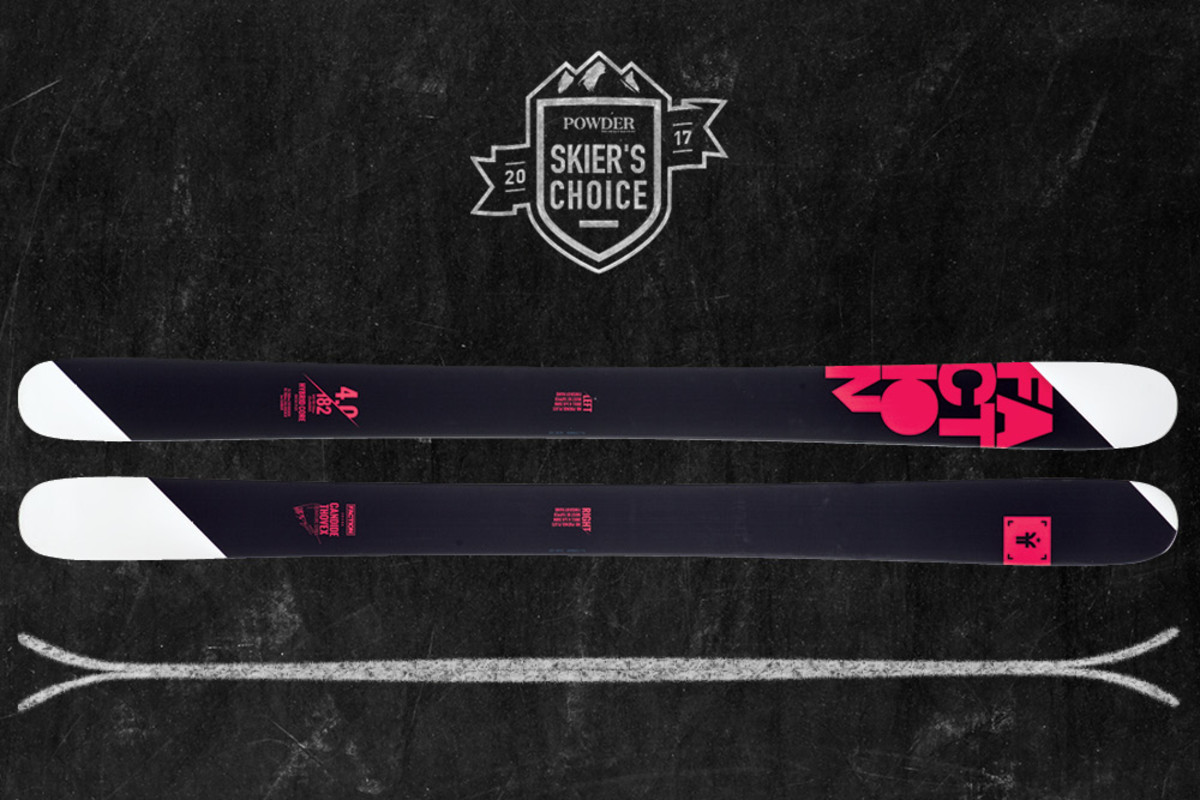 Faction Candide 4.0
MSRP: $1,009
Sizes: 176, 182, 188, 194cm
Dimensions: 140-118-134mm
Radius: 23m (@182cm)
Updated for the 2017 season, the Faction Candide 4.0 hits the pow sweet spot with a 118-millimeter waist and a multi- radius sidecut that caters to switch powder landings and enhanced deep snow turning alike. Titanal mounting plates provide a little stiffness to the 4.0 package, but a lightweight balsa core keeps the ski poppy and easy to manage even after the morning storm offerings. "This is a super playful jib ski that has the ability to carve like a directional charger," says Alex Buecking, shop manager at East Slope Outdoors in Big Sky.
To learn more about the Faction Candide 4.0, watch this video from POWDER Week.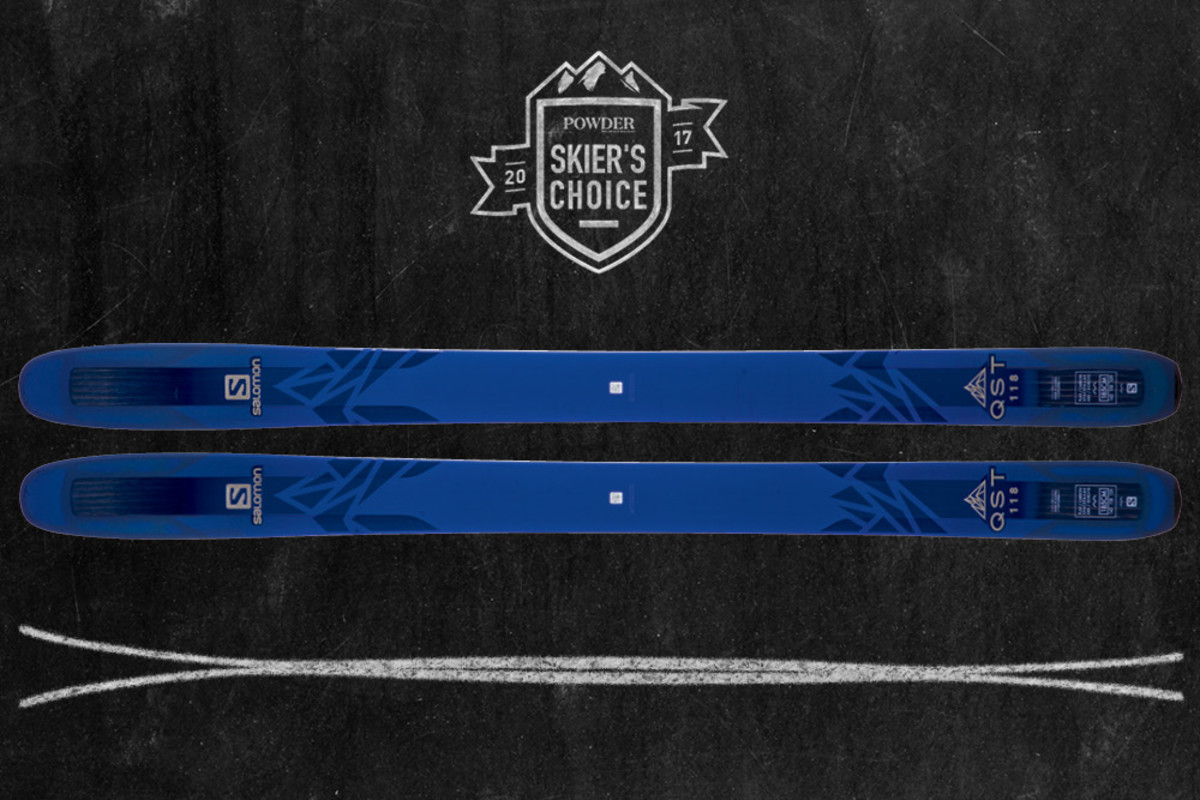 Salomon QST 118
MSRP: $900
Sizes: 171, 178, 185, 192cm
Dimensions: 142-118-129mm
Radius: 25.5m (@185cm)
Don't judge the QST 118 by its size—these thick-waisted bad boys can move. Twin-rocker profile makes for quick, easy maneuvering in powder and hardpack and a Spaceframe core (poplar wood, carbon and flax laminate fibers, plus a short titanal plate underfoot) keeps them responsive, light, and damp. It's an ideal contemporary ski, allowing you to "schmear and blow cold smoke all over the place," says Dane Weister. Brit Barnes calls it "a big, badass powder ski with a backbone that remains lightweight."
To learn more about the Salomon QST 118, watch this video from POWDER Week.