SKIER: Andrew Couperthwait | PHOTO: David Reddick
Most of us can't afford more than one pair of skis, which is more than OK because most of us don't really need more than one pair. Especially if you choose any one of these 17 slim all mountain skis that stood out at POWDER Week in Big Sky—a place where such nimble skis really shine on the steeps, the hard pack, and the hidden stashes in the trees. All reviews are by the POWDER Union.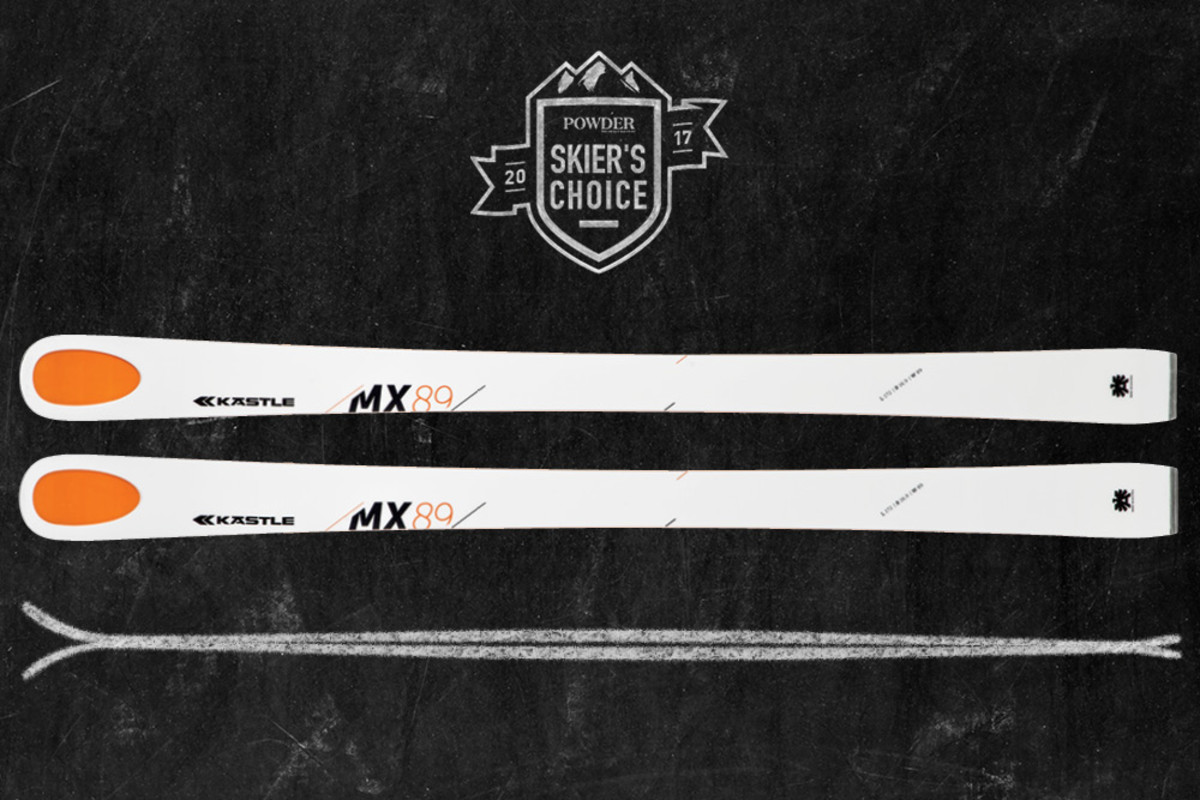 Kästle MX89
MSRP: $1,299
Lengths: 156, 164, 172, 180, 188cm
Dimensions: 129-89-113mm
Radius: 17M (@172cm)
Built with an ash and silver fir wood core sandwiched between sheets of titanal, camber underfoot, and a smooth tail profile, the MX89 stays true to Kästle's Austrian traditions of stiff, well-built skis. With unshakeable edge hold, this stable ski hooks up quick turns and lays down arcs. To drive this all-mountain carver, POWDER Union skier Hannah Victory recommends working the front of the boot. Thankfully, you don't need Victory's race background to ski the MX89 really fast.
To learn more about the Kästle MX89, watch this video from POWDER Week.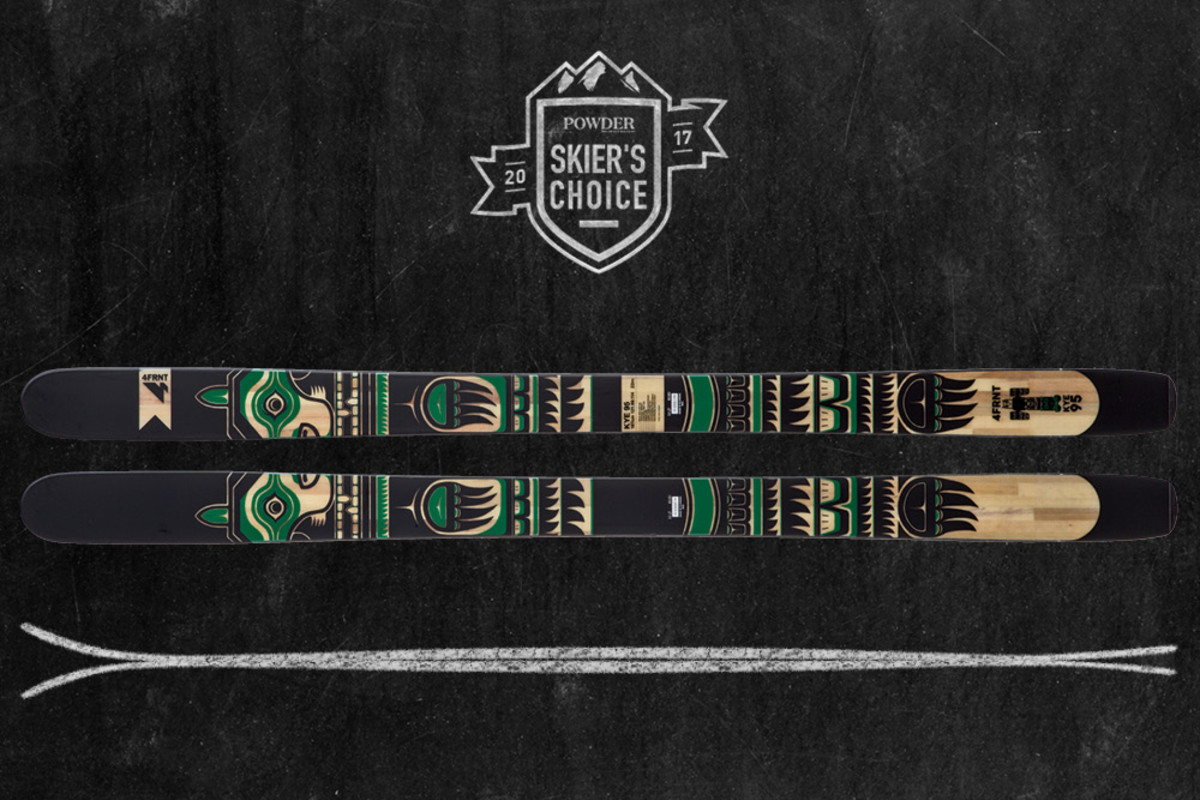 4FRNT Kye 95
MSRP: $610
Lengths: 173, 180, 187cm
Dimensions: 116-95-110mm
Radius: 21m (@180cm)
Weighing in at 1,800 grams, the 4FRNT KYE 95 is easier to maneuver and more versatile than other skis of similar design, especially at low speeds. However, when the dial turned up a few notches, some Union members reported trust issues. "It's super lightweight, with easy turn initiation, and a great short turn radius," says Tyler Bradford, a speed-flyer. "It didn't throw too much snow up while skiing naked in the Big Couloir." Yes, we recommend this ski. We also recommend skiing in clothes.
To learn more about the K95, watch this video from POWDER Week.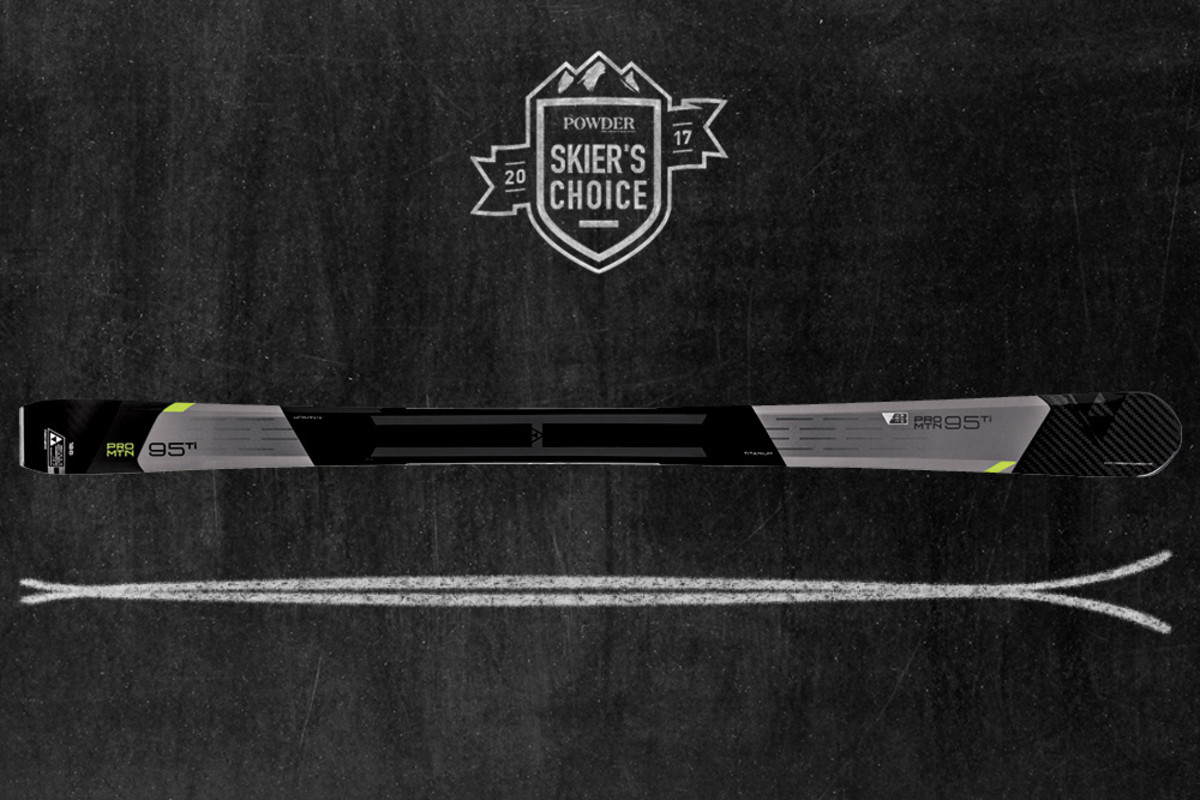 Fischer Pro Mtn 95 TI
MSRP: $849
Lengths: 170, 179, 186cm
Dimensions: 137-95-122mm
Radius: 18M (@178cm)
One word—metal. Two sheets of it and Fischer's new Pro Mtn 95 screams speed. But it's not a clunker. Carbon inserts in the tip and tail and Air Tec Ti—where grooves are cut out of the beech and poplar wood core—keep the weight down to 2,000 grams per ski without sacrificing structure and stability. Not many carving skis showed up at Powder Week, but for a crisp morning with hardpack groomers, these skis were the right choice. "I've never had so much fun ripping hot laps," says Julie Brown, a Tahoe-bred skier who prefers skiing in retro garb.
To learn more about the Pro Mtn 95 TI, watch this video from POWDER week.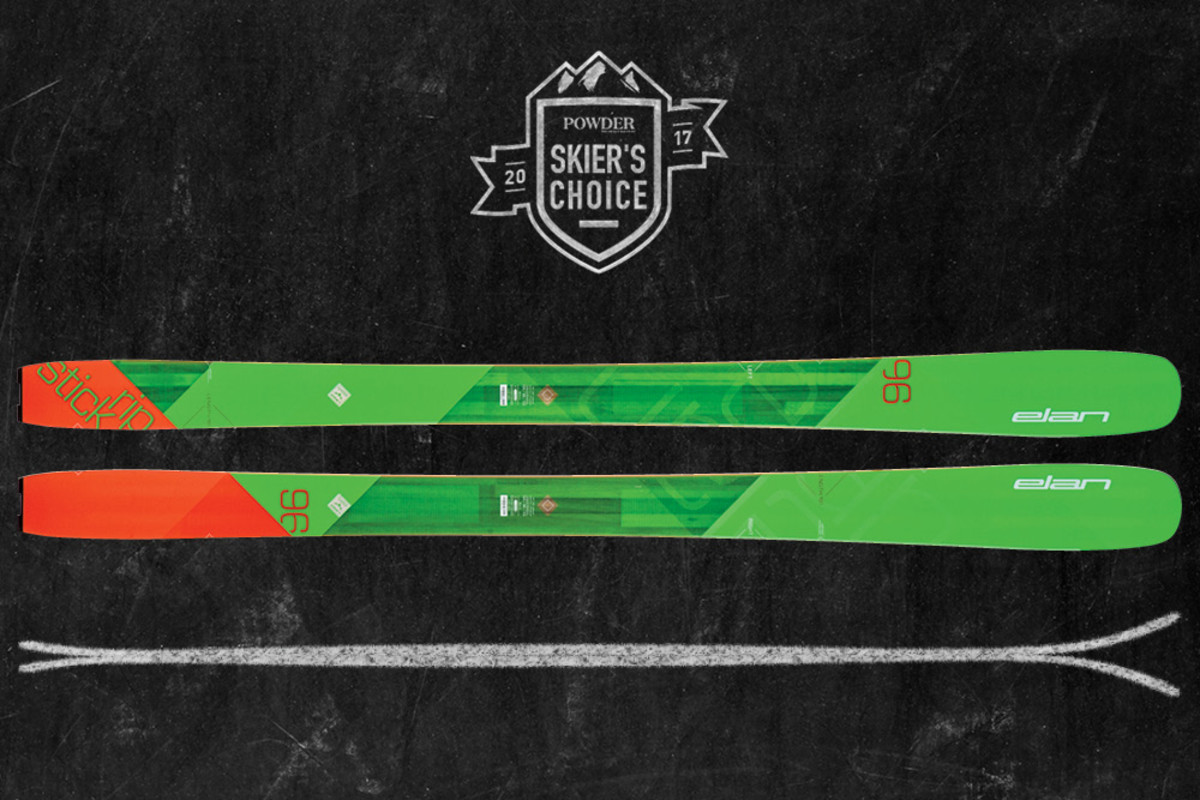 Elan RipStick 96
MSRP: $700
Lengths: 174, 181, 188cm
Dimensions: 134-96-113mm
Radius: 18m (@181cm)
The RipStick 96 takes the same Amphibio technology from its wider brother—an asymmetrical rockered outer edge and cambered inner edge—and squeezes it into a 96-millimeter-wide package. The end result is a more nimble, though more squirrely, version of the 106. "Solid on everything, super playful, responsive, fun, and carvy," says Crystal Sagan, a Boulder-based skier who runs a mobile cocktail bar. "I was surprised how much fun these were. I didn't want to take them off."
To learn more about the Ripstick 96, watch this video from POWDER Week.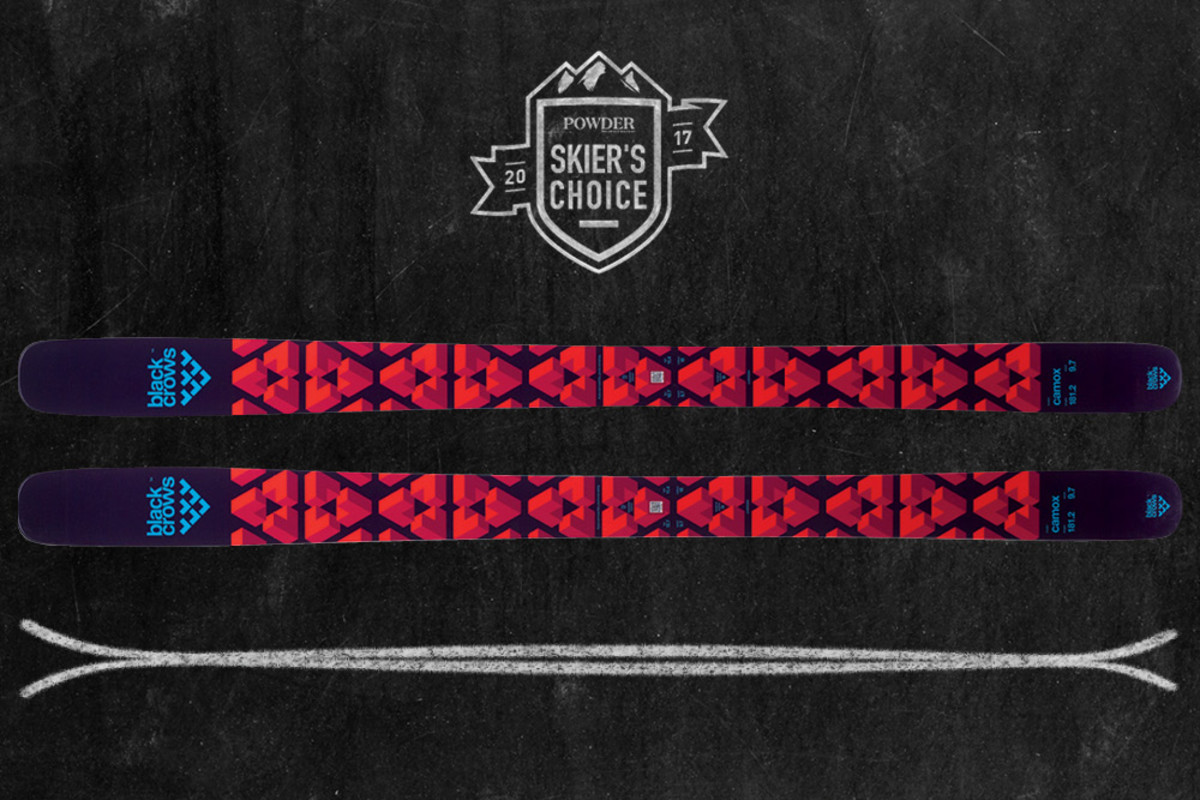 Black Crows Camox
MSRP: $700
Lengths: 174.6, 181.2, 186.1cm
Dimensions: 130-97-115mm
Radius: 18m
Black Crows is known for high-altitude skis designed to fly in the upper reaches of the French Alps. But on down days, when the flock stays close to home, the Camox comes out. With Double Beak rocker—more pronounced in the tip than the tail—plus camber underfoot, a poplar wood core, carbon-Kevlar strips running the length of the ski, and ABS sidewalls to absorb vibrations, the Camox pivots easily and rails turns on a firm edge. It's a lively ski that responds well underfoot. "This ski has no speed limit," says ex-racer Kelsey Barnes. "Ski it like a super G ski and it's still as stable as a rock, responsive, and energetic."
To learn more about the Camox, watch this video from POWDER Week.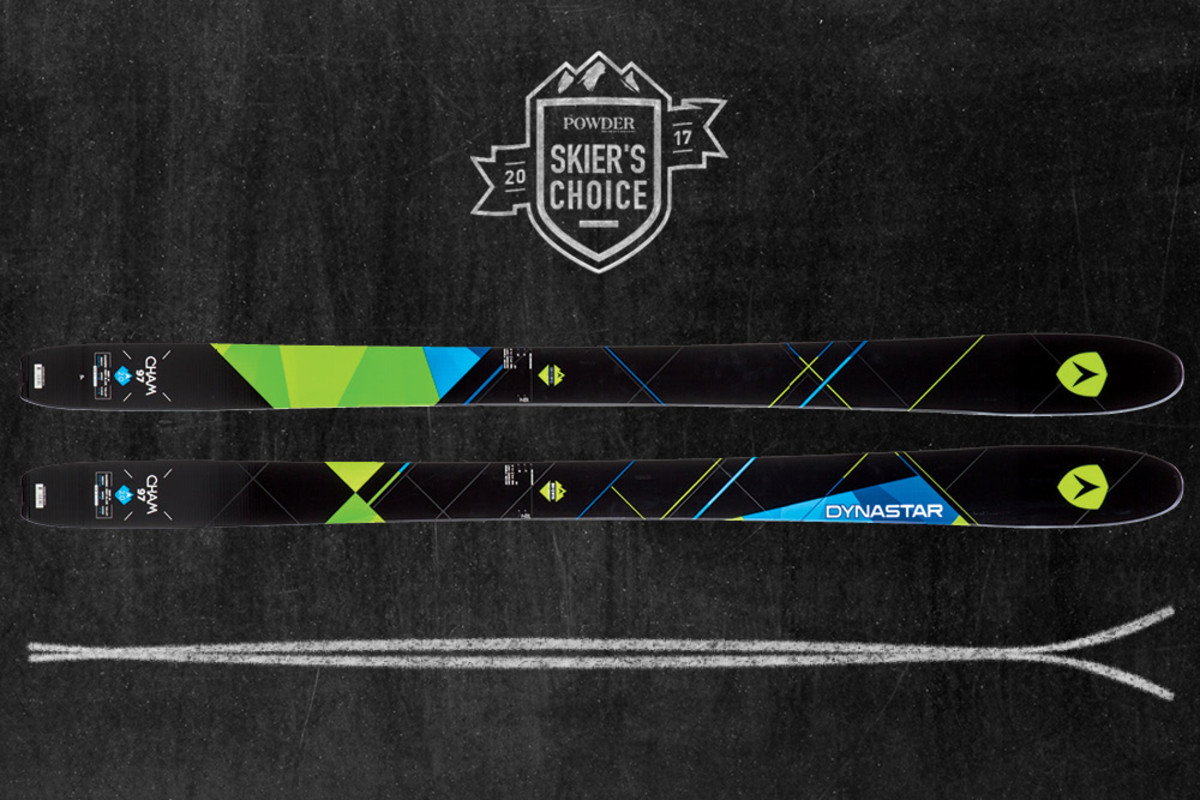 Dynastar Cham 2.0 97
MSRP: $700
Lengths: 166, 172, 178, 184cm
Dimensions: 133-97-113mm
Radius: 17m (@178@cm)
The quick, light, and agile Cham 2.0 97 didn't fool Crystal Sagan. She took this speed-loving ski for a ride. "I would ski them all day and have a good time, but it's all business, no pleasure," says Sagan. Moderate tip rocker shortens the ski's footprint for nimble turns, while camber underfoot helps it hold an aggressive edge through chop and chunder. Beware of the tail, which wants to take the wheel, making it hard to disengage from turns. Bonus: A paulownia wood core makes the ski light enough to use with a touring setup, which means you're not sacrificing performance for weight in the back- country.
To learn more about the Cham 2.0 97, watch this video from POWDER Week.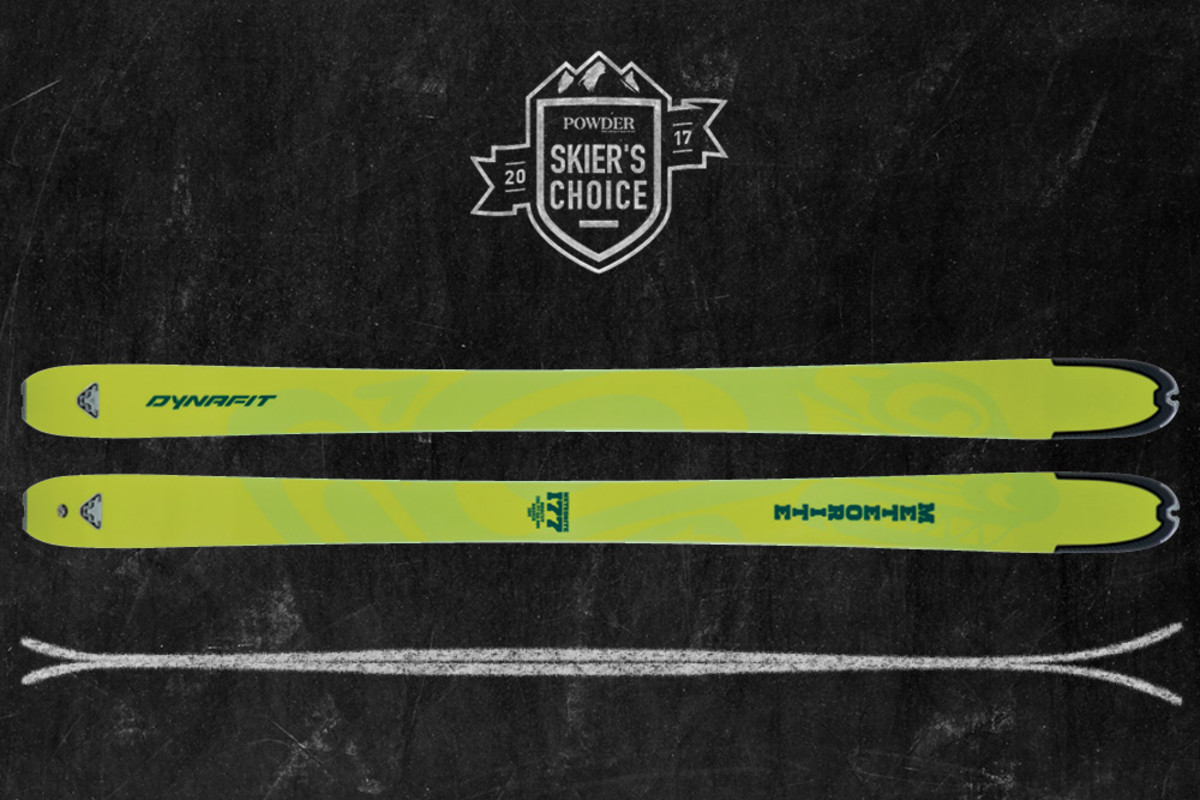 Dynafit Meteorite
MSRP: $799
Lengths: 170, 177, 184cm
Dimensions: 126-97-116mm
Radius: 18m (@177cm)
The Meteorite is everything one would expect from Dynafit in that it's a mighty yet light ski built for the backcountry. But what is unexpected—and much appreciated—is the Meteorite's ability to transition from bigger lines to groomers. "It held impressively well on firm and icy conditions and was fun in powder, too. Dynafit makes amazing big mountain skis," says Big Sky bootfitter Cory Calkins. The ash-poplar wood core with carbon reinforcements mean less chatter and more speed. ABS side- walls run the full length of the edges.
To learn more about the Meteorite, watch this video from POWDER Week.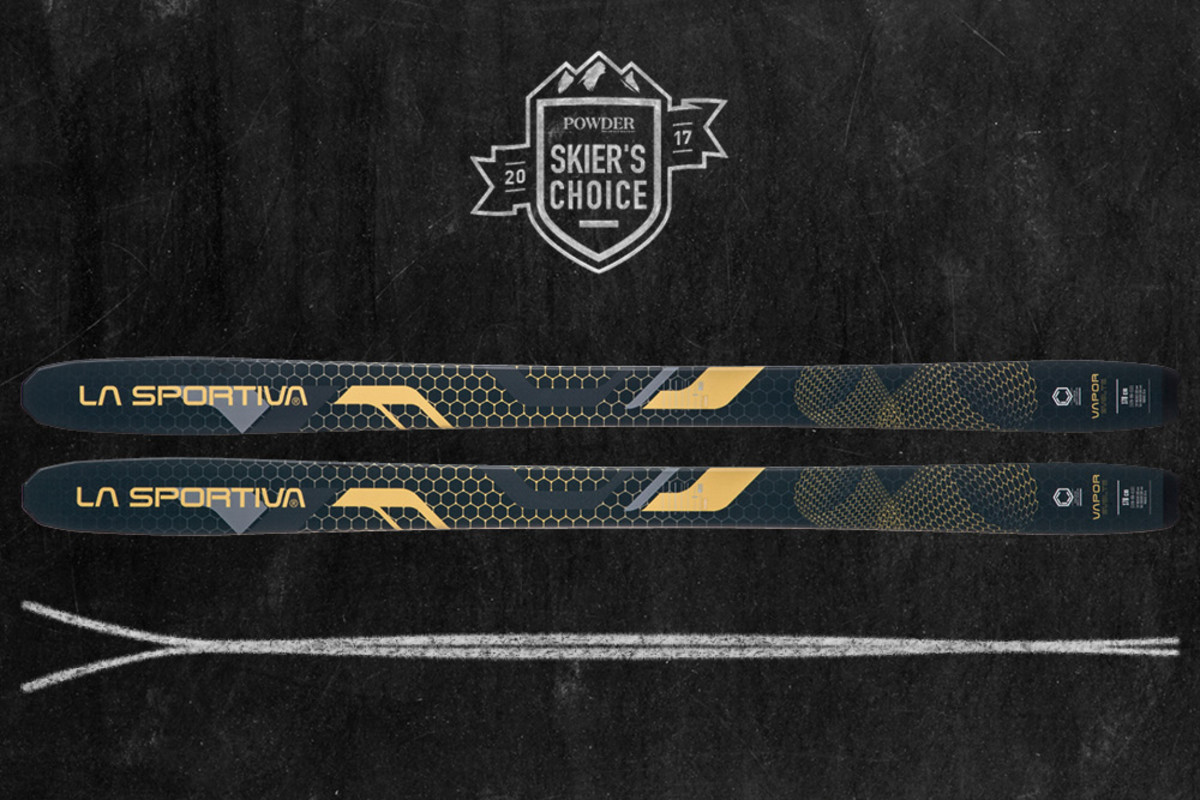 La Sportiva Vapor Svelte
MSRP: $1,200
Lengths: 168, 178, 188cm
Dimensions: 126-96-113mm
Radius: 19m (@188cm)
The younger brother to La Sportiva's hyper-light Vapor Nano, the new Svelte offers a thinner waist while featuring the same rigid build that has won the hearts of many backcountry skiers. Carbon Nanotube makes up a majority of the Svelte's core construction, providing more dampness than a traditional car- bon core, and a longer lifespan than its wood core competitors. The Svelte is a stable, yet lightweight ride with surprisingly minimal chatter that skis best in the backcountry. "As far as La Sportiva goes, the Svelte skied like a true alpine ski: The least chatter and best edge hold for a ski of this weight," says Kelsey Barnes.
To learn more about the Vapor Svelte, watch this video from POWDER Week.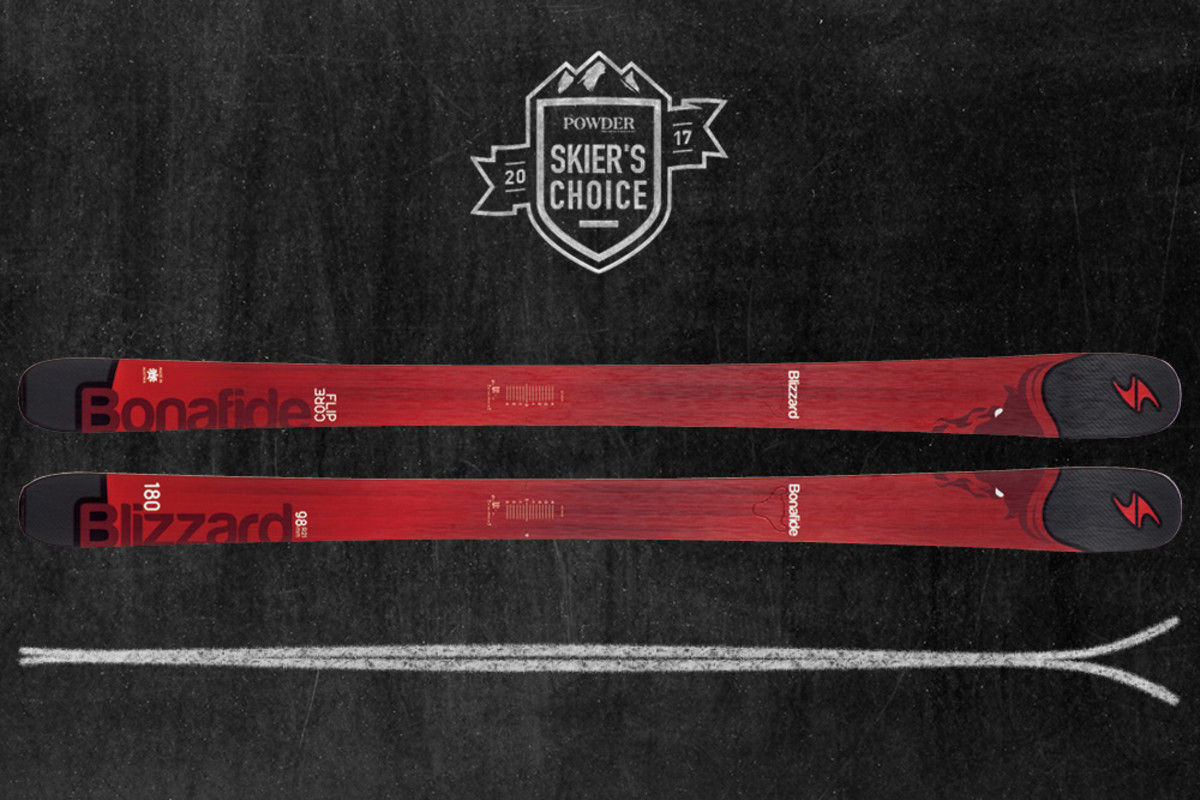 Blizzard Bonafide
MSRP: $840
Lengths: 166, 173, 180, 187cm
Dimensions: 133-98-118mm
Radius: 21m (@180cm)
Sometimes after a batch of hot laps, it's hard to form complete sentences. But, for Julie Brown, a few words were plenty. "Metal. Fast. Super clean, fluid turns. Quick through trees. So fun." Which is how she sums up the Bonafide, Blizzard's rocketship in the under 100-milimeter category. Rocker and carbon in the tip and tail, camber underfoot, titanal strips, and a poplar-beech wood core, the Bonafide is a tried and trusted companion, no matter the terrain or element.
To learn more about the Bonafide, watch this video from POWDER week.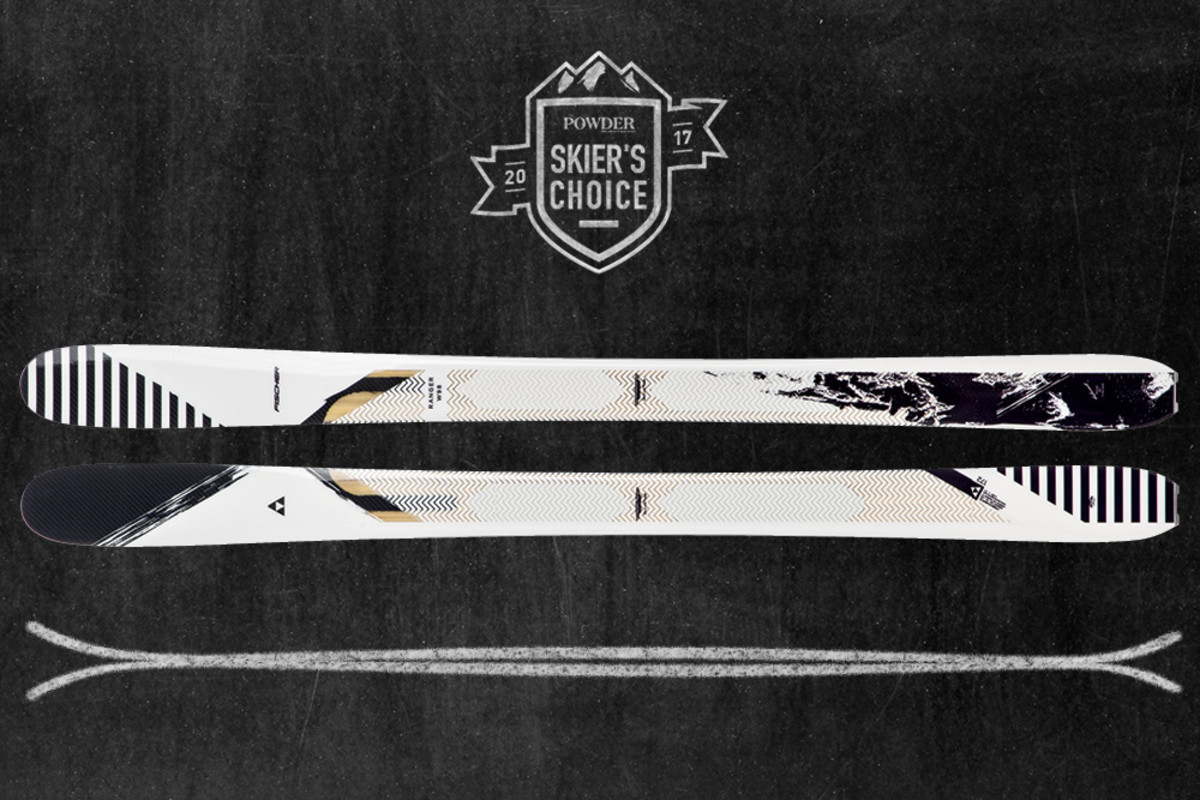 Fischer Ranger W98
MSRP: $750
Lengths: 156, 164, 172cm
Dimensions: 130-98-120mm
Radius: 17M (@172cm)
The Ranger W98 is a quintessential women's do-everything ski. A step lighter and more forgiving than the men's version, it opens up on wide turns, cuts through chalk, whips steep bumps, and can maneuver tight trees like a lady boss. Shaped with tip-and-tail rocker and traditional camber underfoot, the Ranger W98 sheds weight thanks to its carbon tip and Air Tec Ti—a milled-out beech and poplar wood core. Yet, titanium inserts keep the boards strong. For those who cranked up the speed, however, the 172-centimeter skied short. "It can take the heat of fast, tight turns," says Michelle Nicholson, a Driggs, Idaho-based teacher. "It's a ski that any lady could hop on and ski a day at the resort."
To learn more about the Ranger W98, watch this video from POWDER week.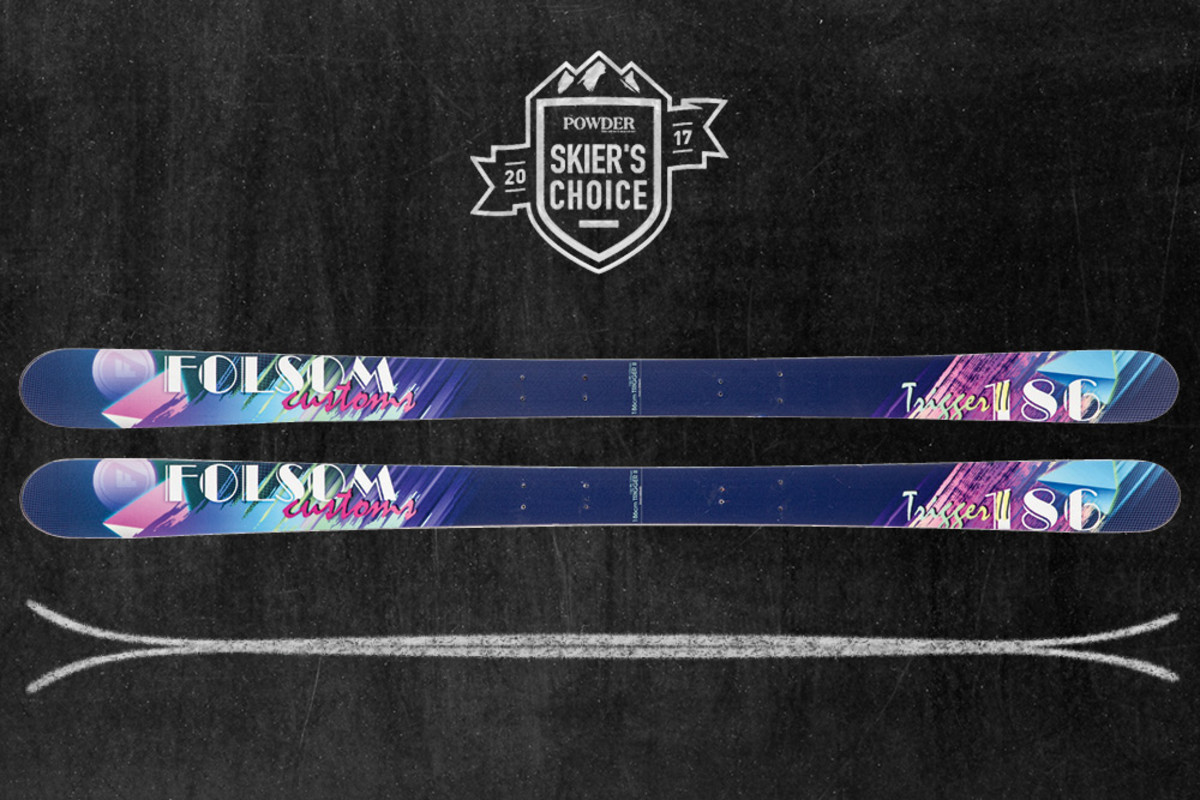 Folsom Custom Trigger II
MSRP: $800
Lengths: 163, 168, 172, 177, 180, 184, 189cm
Dimensions: 135-99-123mm
Radius: 22m
Built with care from the team at Folsom Custom, the Trigger II is an everyday ride that loves to be driven hard across variable terrain. After skiing on soft, heavily rockered skis that deflect off less-than-perfect conditions, the stout Trigger II is a welcome reprieve. "With its full wood core and long effective edge, this ski turned the steep Headwaters terrain into child's play," says Matt Hansen. "Very damp and stable, but playful and poppy when you wanted it."
To learn more about the Trigger II, watch this video from POWDER week.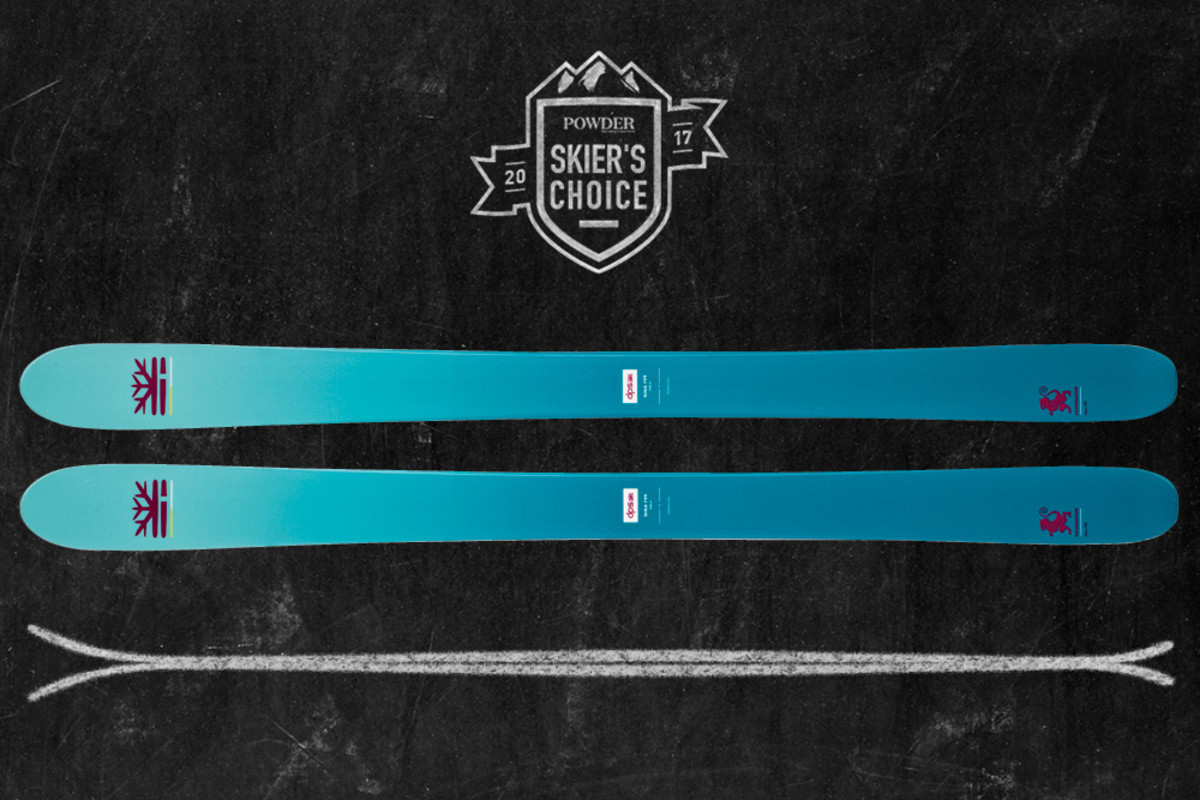 DPS Nina 99 Foundation
MSRP: $799
Lengths: 158, 168, 176cm
Dimensions: 123-99-122mm
Radius: 18m
The next evolution of the Hybrid, DPS' resort-oriented line of skis with a cost-effective core, the Foundation touts a mix of carbon, fiberglass, bamboo, and poplar in its new and re-engineered design. With a longer sidecut but the same rocker profi le as past Nina models, the new Nina 99 is more stable and powerful but just as fun as the original. "Love at first sight," says Abigail Barronian, a writer who grew up skiing White Pass Ski Area, Washington. "It keeps your weight forward and skis aggressively, but still pivots nicely."
To learn more about the Nina 99 Foundation, watch this video from POWDER Week.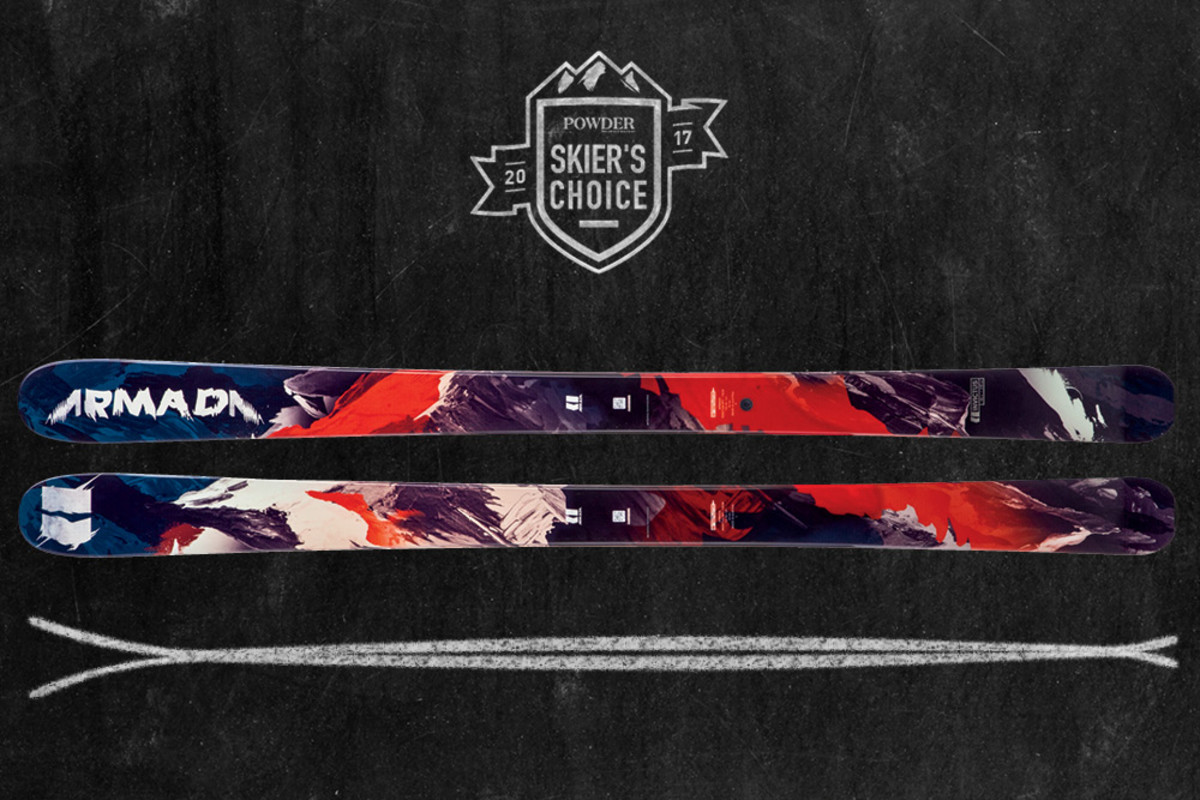 Armada Invictus 99 TI
MSRP: $825
Lengths: 171, 179, 187cm
Dimensions: 134-99-124mm
Radius: 21.5m (@187cm)
Power, performance, and, oh yeah, did we mention power? The Invictus 99 is constructed with two full-length, full-width sheets of titanal—so it is heavy. But point them downhill and it gallops like a trusty steed. The sweet spot is on edge, where a combo of carbon, Kevlar, poplar, and ash in the core add rebound and (even more) power to the turns. "I really didn't want to ski this ski—it felt too heavy," says veteran Gelande Quaffer Matt Hansen. "But as soon as I dropped into the fall line, I could tell this bruiser was worth the effort because it simply obliterated everything."
To learn more about the Invictus 99 TI, watch this video from POWDER Week.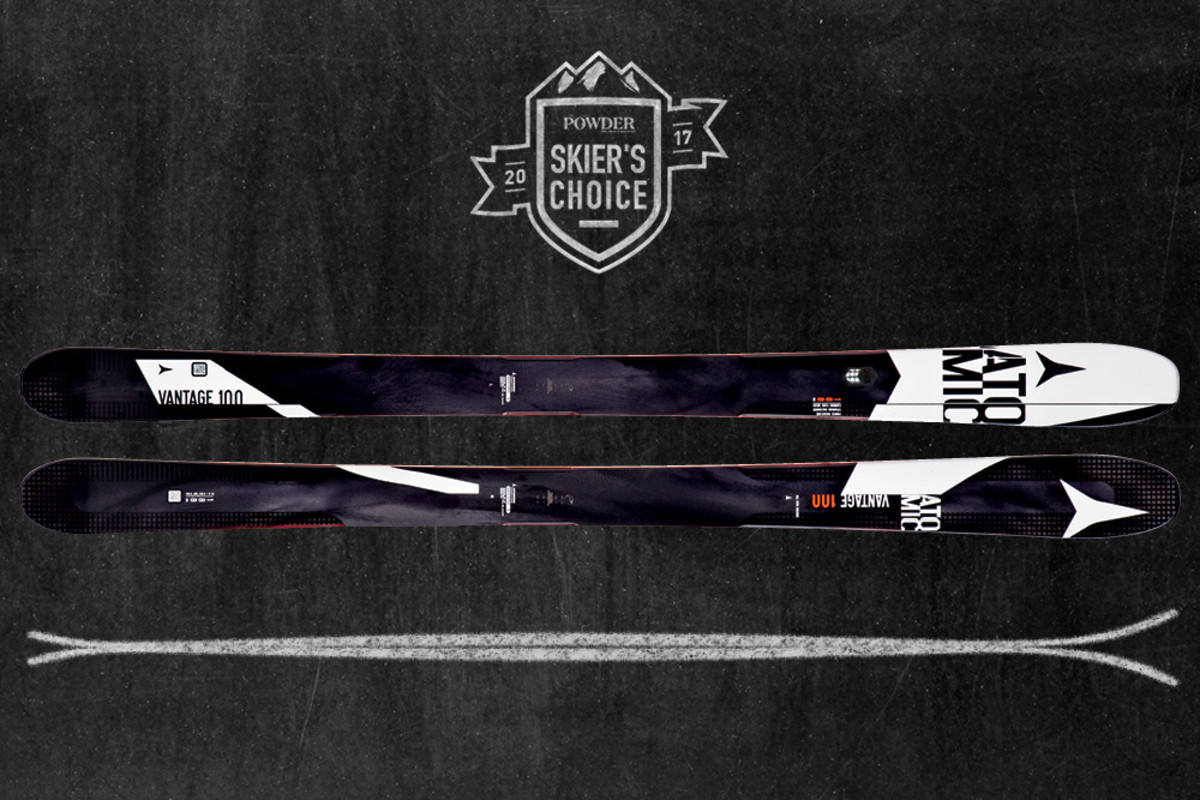 Atomic Vantage 100 CTI
MSRP: $850
Sizes: 172, 180, 188 cm
Dimensions: 136.5-100-123.5mm
Radius: 19m (@188cm)
The Atomic Vantage was a standout at Powder Week a year ago. In its sophomore year, it remains unchanged, as well as a model for the contemporary ski. "I was hesitant to step in to a 100-millimeter-waisted ski, but I was blown away with how it made corners," says Dave Stergar, who grew up skiing Wraith Hill in Anaconda, Montana. A wood core with a titanium sheet and a layer of carbon mesh make it quick and powerful. Its stout shovel can be a bit burdensome and chattery for non-powder skiing, but helpful for a skier looking for a do-it-all setup in a region that doesn't get too much snow—or, like most places, gets tracked out before lunch.
To learn more about the Vantage 100 CTI, watch this video from POWDER Week.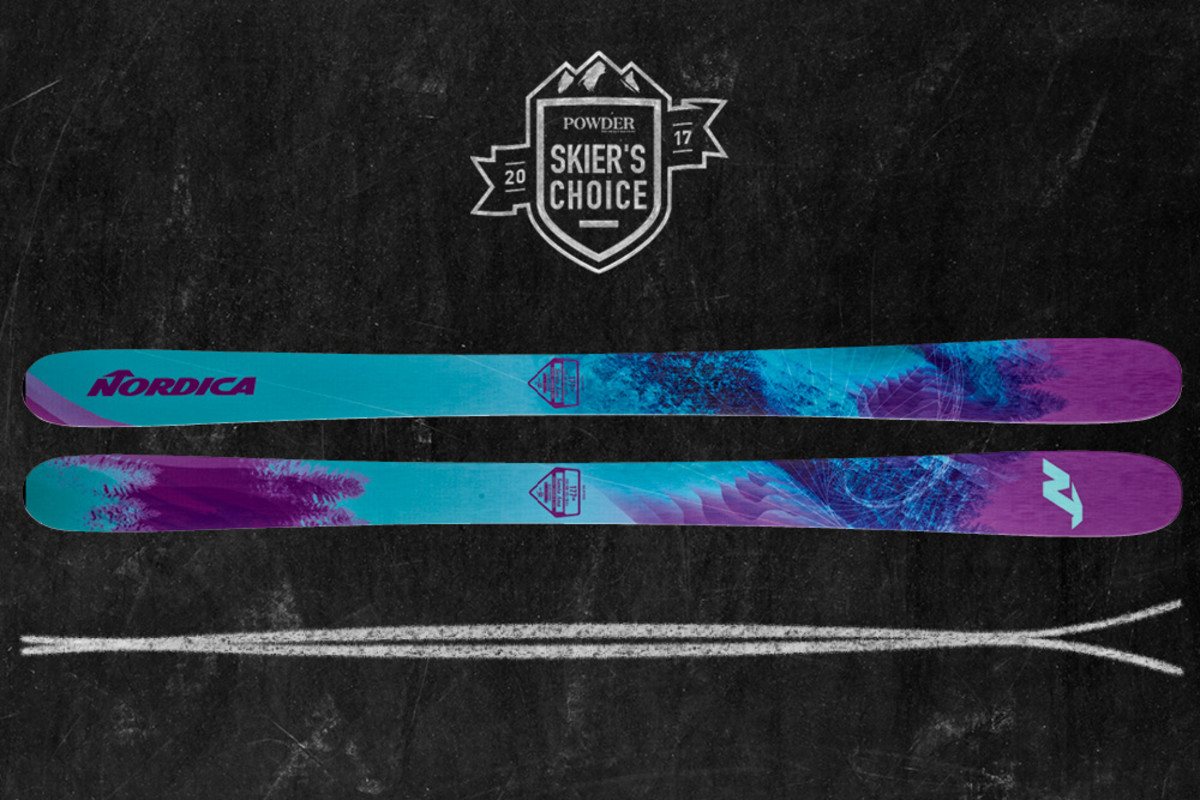 Nordica Santa Ana
MSRP: $799
Sizes: 153, 161, 169,177cm
Dimensions: 131-100-119mm
Radius: 15.5m (@169cm)
The Santa Ana replicates the shape of its brother, the Enforcer, with a good- sized shovel in the tip and camber underfoot that gradually gives way to subtle rocker at the ends. But where the Enforcer is built with metal and a heavier wood core, the Santa Ana subs in carbon and a lightweight balsa core that is both forgiving and easier to steer, without sacrificing too much oomph. "So fun, playful, light but super damp—the balsa core helps maintain that balance—and well-shaped for big, smooth turns," says one-piece-wearing Abigail Barronian.
To learn more about the Santa Ana, watch this video from POWDER Week.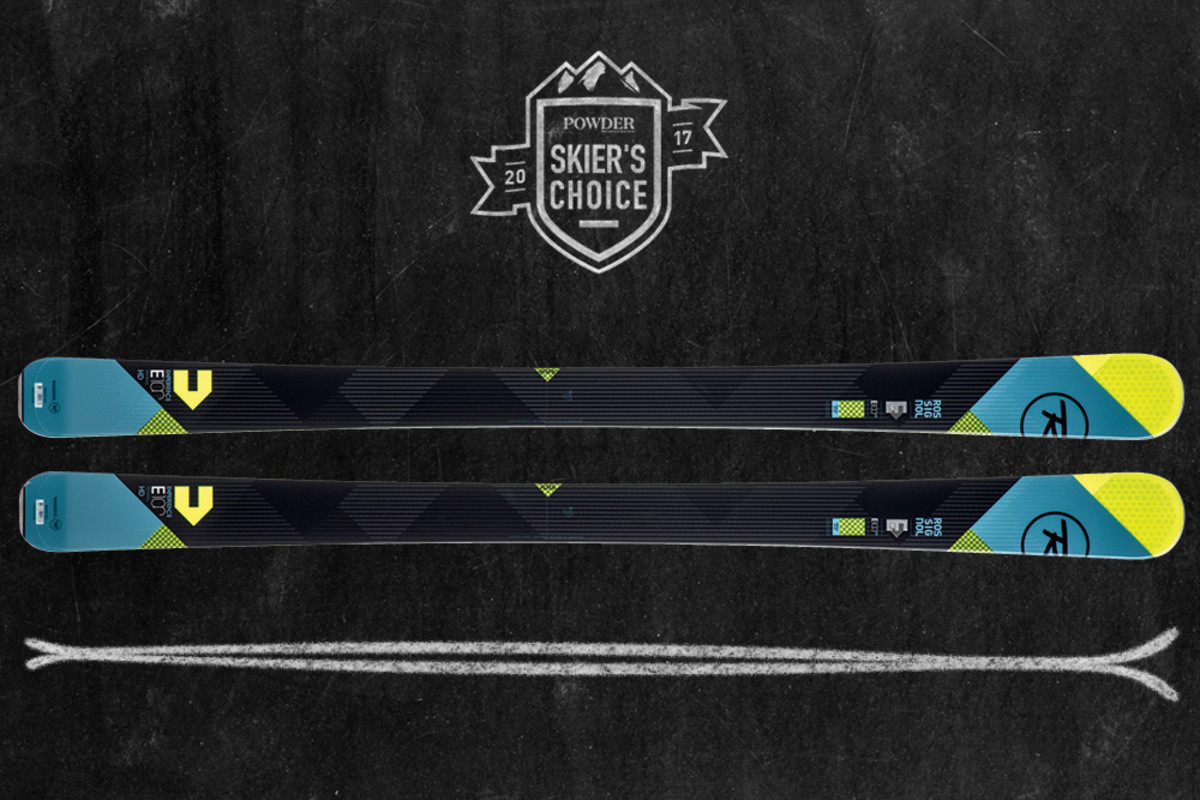 Rossignol Experience 100 HD
MSRP: $850
Sizes: 166, 174, 182, 190cm
Dimensions: 140-100-130mm
Radius: 20m (@182cm)
With its easy frontside shape, the Experience 100 HD had high marks for its performance on groomers. "The ski was easy to engage," says John Clary Davies, who founded the Anti-Donkey Ball Rocker movement. "I found the sweet spot immediately." Adds Aaron Hansen, "This ski is snappy and holds its edge very well." The new "HD" version has a carbon fiber and basalt matrix weave with a poplar core, which means that while it is lacking in energy and playfulness, it is a solid ride for firm snow. "This ski just wants to slide back and forth on a nice, long groomer," says Davies. Doesn't everyone?
To learn more about the Experience 100 HD, watch this video from POWDER Week.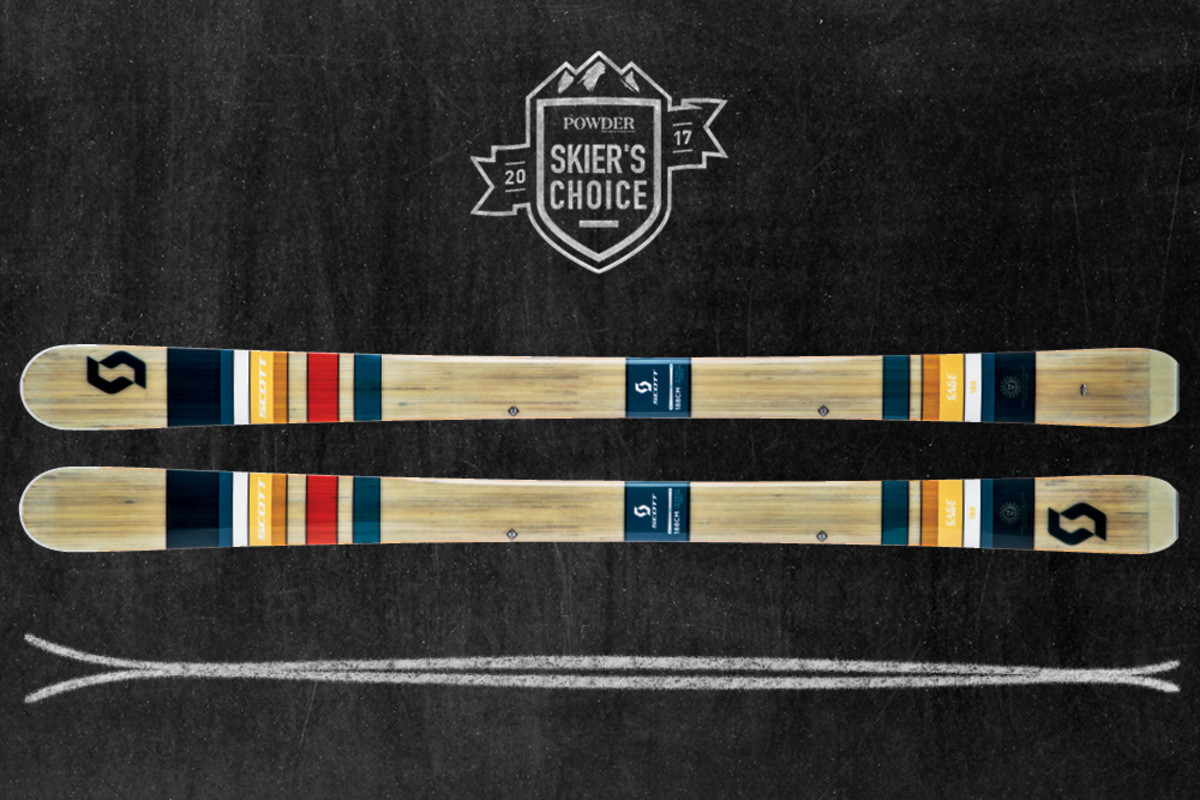 Scott Sage
MSRP: $650
Sizes: 168, 178, 188cm
Dimensions: 139-100-129mm
Radius: 18m
Formerly known as the Sagebrush, the Sage continues the pleasure-skiing legacy of hot dogger Bobbie Burns. With a midfat platform and robust construction underfoot, the Sage "absolutely rips," according to former carnie Brit Barnes. "The ski has edge hold for days; very stable and forgiving. Smooth feel, very low vibrations. This ski is a favorite of mine." Scott's 3D sidecut, progressive tip shape, and increased tip height make it easy to find the sweet spot and feel at ease on long, rolling groomers or bump lines.