Community Service
Once an endangered species, the local ski hill is making a comeback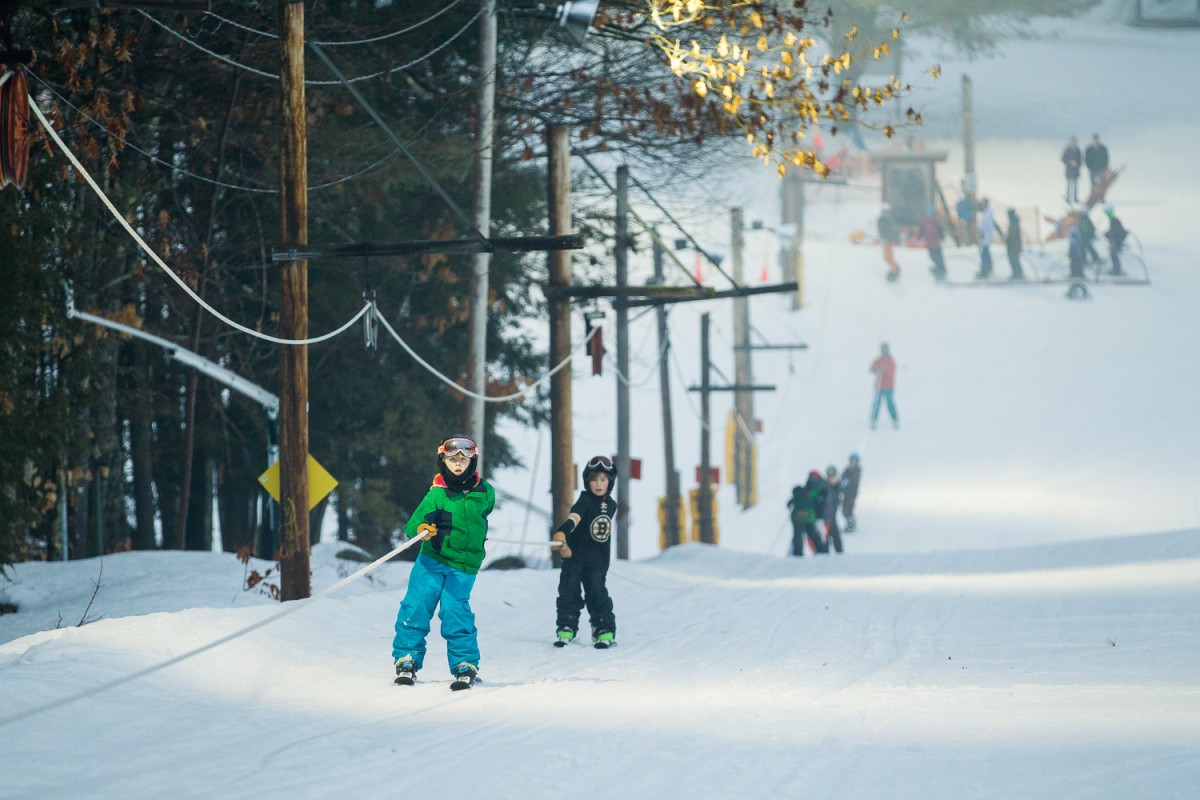 Editor's note: This story originally published in the October 2014 issue of POWDER (43.2).
I'VE SEEN PEOPLE YELL IN THE LIFT LINE. This is the first time I've seen an entire lift line get yelled at. "If the pushing and shoving doesn't stop," the stern voice says, "I'm going to shut this whole thing down." The entire queue of skiers, about 30 people deep, coming from both sides of the rope tow, goes silent. Heads duck into jacket collars to hide the smirks spreading across their faces. Next to me, a girl in her early teens nudges the boy in front of her. He leans back and shoves her with his elbow. They both violently suppress laughter.
A smirk comes across my face as well. For once, I'm the tallest person in line. I'm also the only adult. If the lady doing the scolding sounds like a teacher, it's because she is, and the kids in line are mostly past, present, or future students in the Governor Wentworth Regional School District.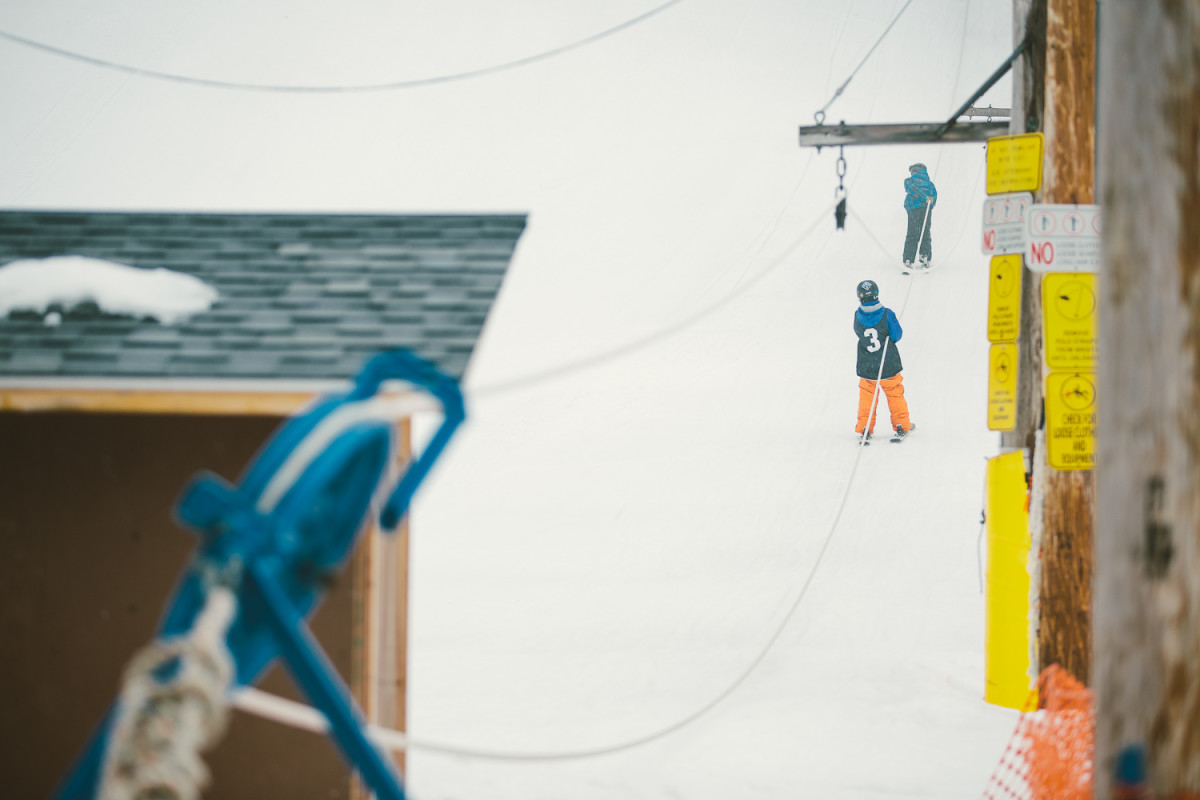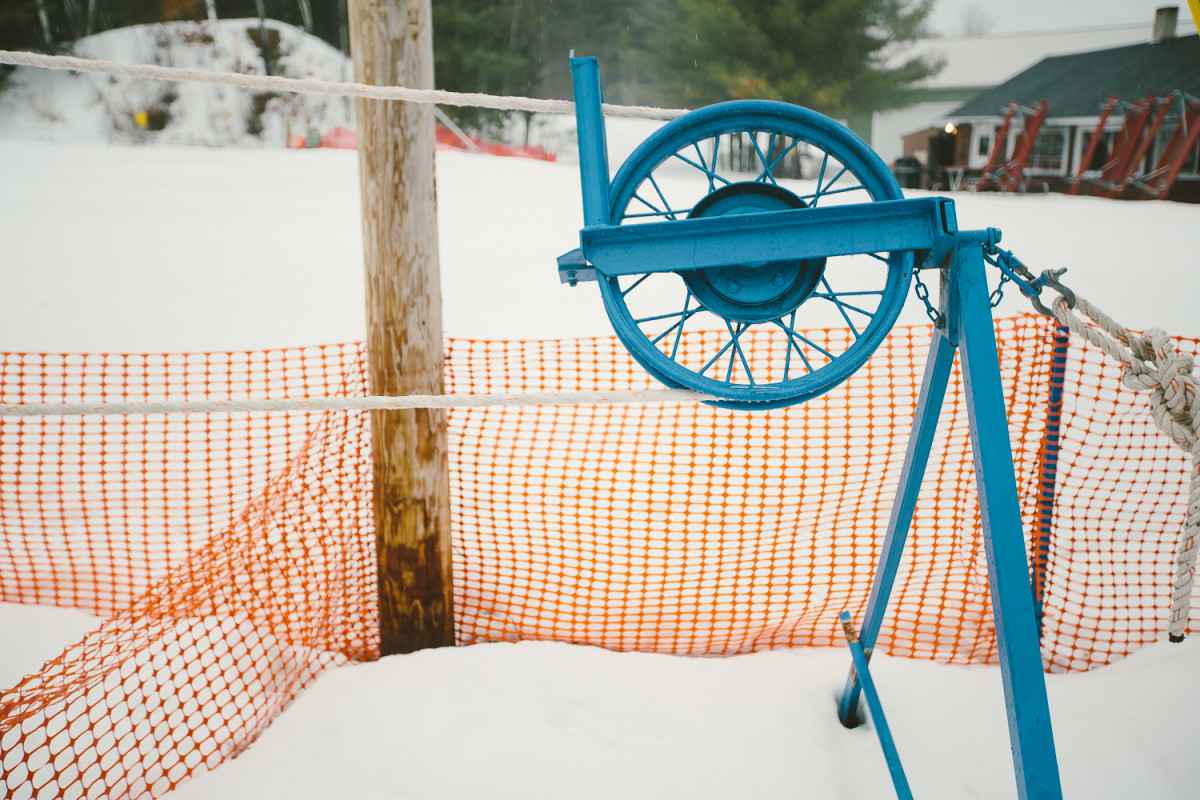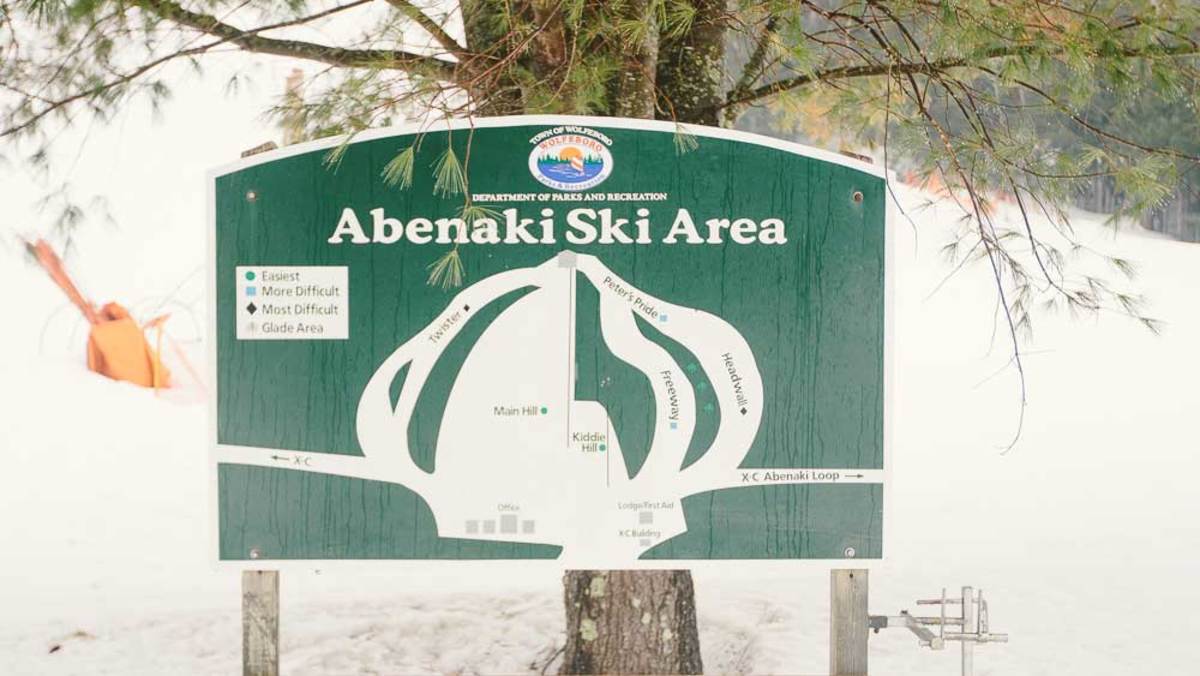 At 5 p.m. in February, it's dark at Mount Abenaki in central New Hampshire. And it's cold. The teacher-volunteer retreats to the wood stove-heated base lodge, a small wooden building tucked behind the local hockey arena. The lift op—another parent-teacher-volunteer type—goes back to directing traffic, alternating sides as she shuffles young skiers to the tow. A girl about 5 duck-walks up, grabs hold, and is yanked at close to 20 mph into the shadows where the lights of Abenaki don't reach.
With 200 vertical feet and 18 skiable acres, Mount Abenaki in the town of Wolfeboro is smaller than the base villages at most ski resorts. But these 18 acres may be the most important ski terrain in America. Metaphorically, Abenaki represents hundreds of hometown hills where most Americans learn to ski—the feeder grounds that for generations have hooked us on the notion there is no better place to spend a winter day than a snowy hillside. Specifically, Mount Abenaki is standing proof that a small, town-run ski hill cannot only survive in the shadows of corporate resort takeovers, it can flourish.
Of the 87 ski areas in New England, maybe 18 are true destination resorts. The remaining 70 are mostly places like Abenaki—areas such as Cochran's in Richmond, Vermont, and Titcomb in Farmington, Maine. They are small, cheap, and local.
From Wolfeboro, a summer resort town on Lake Winnepasakie with about 6,000 residents, you can see Gunstock Mountain across the lake. Waterville Valley, Loon, Sunapee, Cannon, and Bretton Woods are all within two hours. There is no shortage of nearby places to ski. Yet on Wednesday night, in this town, Abenaki is the place to be. Little kids wedge down the bunny hill. Pre-teens practice freestyle moves on jumps and rails. Middle-schoolers flirt on the empty side trails.
It's mostly locals here, lured by $5 day tickets and $30 youth season passes for residents of the three adjacent towns ($17 and $102 for out-of-towners), and by Abenaki's new high-performance snowmaking system. But they're also here because this is what you do when the days get short in a northern New England lake town that empties out after Labor Day. Abenaki has been woven into the communal fabric since the Abenaki Outing Club founded it in 1936.
In the current landscape of the ski industry, where development often bullies community, it may seem amazing that places like this still exist. To the kids here every day after school, to the generations before who were "dropped off at age 9, and picked up at 15," as the local saying goes, the remarkable thing would be this area without Abenaki. Yet eight years ago, that almost happened.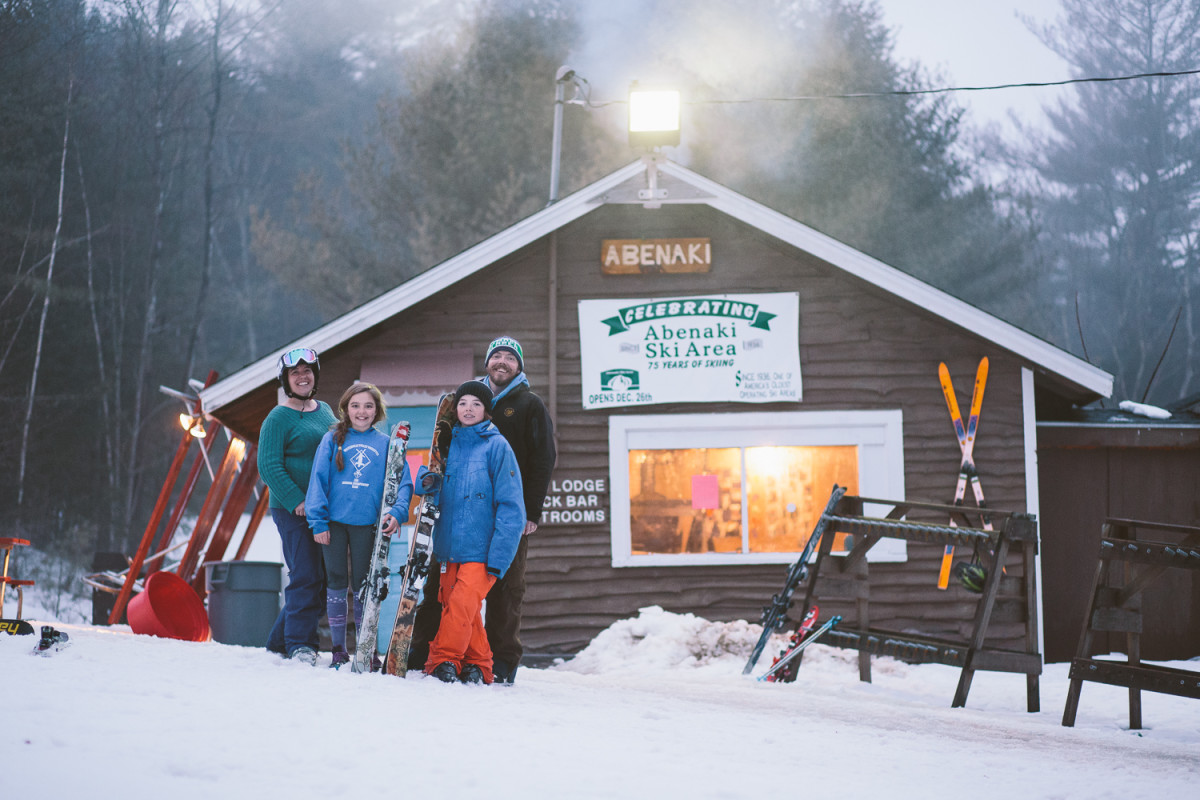 IN AN APRIL 2014 SURVEY of 1,400 skiers and snowboarders orchestrated by the Mountain Riders Alliance (MRA), 70 percent said they learned to ski at mom-and-pop ski areas or smaller—hills defined in the survey as less than 1,600 feet of vertical with six or fewer lifts. More than a quarter learned on small local hills of less than 600 vertical feet and three lifts or fewer.
The MRA was started in 2010 to advocate for smaller, independent, community-focused ski areas. It aims to help by sharing best practices, providing centralized services, and giving them an economy of scale when purchasing equipment, uniforms, and insurance. Today, the group manages Mount Abrams, Maine, and is helping to revive Antelope Butte Ski Area in Wyoming and restore Manitoba in Alaska.
"With the weekend average window ticket now over $93, and with baby boomers exiting faster than Gen X and Y are entering skiing, the industry is cannibalizing itself. Now more than ever, these smaller, feeder-breeder ski areas are important to the ecosystem."
—Jamie Schectman, Mountain Riders Alliance
"The overall well-being of the community benefits from having a vibrant ski area," MRA CEO Jamie Schectman says. "With the weekend average window ticket now over $93 per day, and with baby boomers exiting faster than Gen X and Y are entering skiing, the industry is cannibalizing itself. Now more than ever, these smaller, feeder-breeder ski areas are important to the ecosystem of our sport." Vail Resorts, the king of American ski resort conglomerates, acknowledged as much when it bought Afton Alps, Minnesota, and Mount Brighton, Michigan, in 2012, and started marketing them as "Where Epic Begins."
According to the New England Lost Ski Areas Project (NELSAP), more than 600 defunct ski areas spread across New England. "The real hemorrhaging occurred in the '70s," says NELSAP founder Jeremy Davis. By contrast, 478 ski areas currently operate in the U.S., according to the National Ski Areas Association—70 fewer than there were in 1992.
Perhaps not coincidentally, since the late 1970s, U.S. skier visits haven't kept pace with population growth. In a five-year period from 1978-79 to 1982-83, the U.S. averaged 47.2 million skier visits. From 2008-09 to 2012-13, that average was 57.2 million, for a growth rate of 21.1 percent. (In 2014, that number dropped slightly, with 56.2 million visits). During that period, the U.S. population grew by 40 percent. Over the last 18 years, the number of active skiers and snowboarders has also remained flat in the U.S.
In other words, despite snowboards, fat skis, the Olympics, heated high-speed lifts, and every other innovation the industry has mustered to make skiing cooler, easier, or more comfortable, there has been little to no growth in more than 30 years. Meanwhile, of those 57 million skier visits, 30 percent are concentrated at the top five percent of resorts.
There is a bright side, though. While the number of ski areas nationally has stayed flat over the last decade, local and regional hills in the Northeast are making a resurgence. "It's not a huge number," says Davis of this trend, "but it's net positive." Davis also cites several areas, like Abenaki, that were on the brink of closure, but have rallied back.
In Wolfeboro, some wonder if most kids here would be skiing at all if not for Abenaki. "We have a ski and skate sale every fall where you can get used equipment really cheaply," says Bill Swaffield, president of Friends of Abenaki, a nonprofit set up to support the ski area. "But if you can't get to ski fairly cheaply, a lot of these kids wouldn't be able to do it. Also, it's two and a half miles out of town. So the cost is low, and the availability, the convenience, is perfect."
Despite the communal benefit, in 2005, after several poor snow years where Abenaki opened only sporadically, the Wolfeboro town council began to question the cost of insurance for the ski area. When the budget committee met to discuss cutting funding, residents jammed the council chambers in support of the ski area.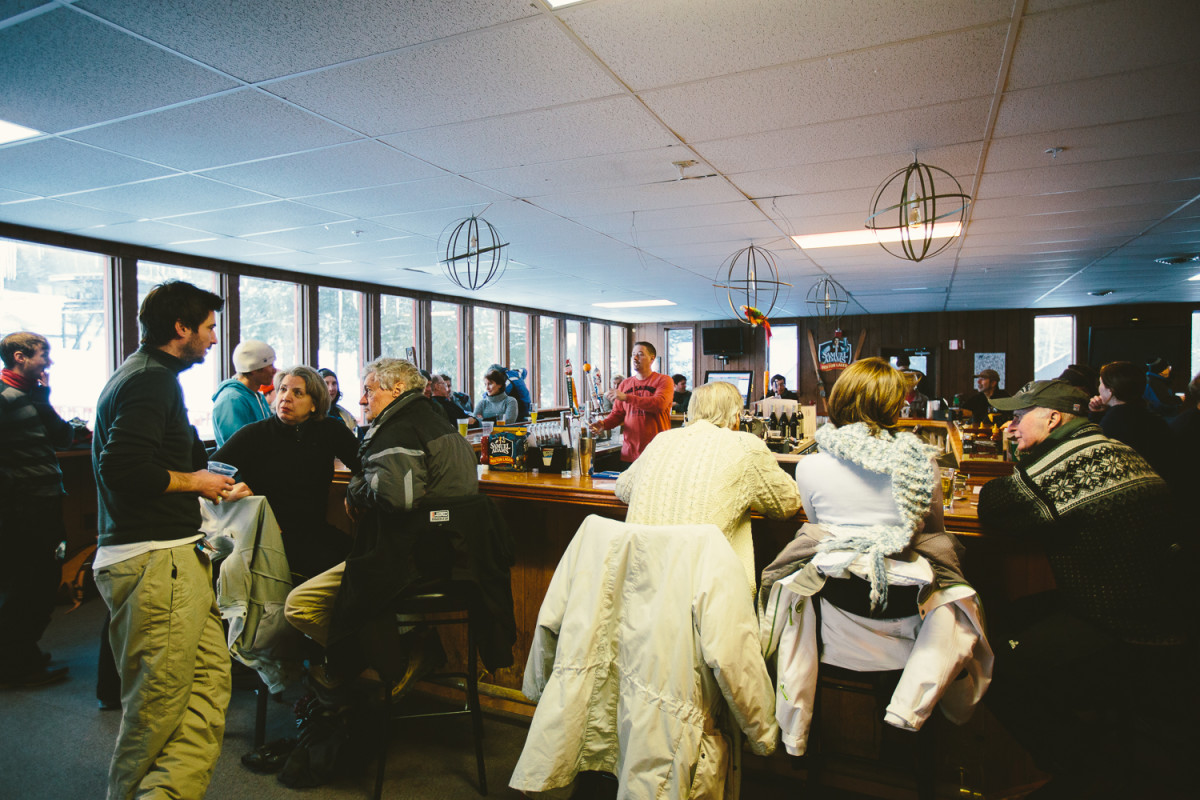 "We all grew up there. Everyone in town did," says Swaffield. "To have it go under for that reason was something we didn't want to see happen. Some of us got together and decided that we either step up to the plate and come up with some snowmaking, somehow, or this place is going to be closed forever."
Over the eight years since, Friends of Abenaki purchased a refurbished Bombardier groomer, installed a $330,000, 13-gun HKD snowmaking system, and are raising money to replace the lodge, built in 1940 when the rope tow first went in.
"We have more snow than we know what to do with," says Ethan Hipple, who by virtue of his job as Parks and Rec director is the defacto general manager at Abenaki. On top of the hill, the groomer formed a 20-foot high mound so racers can get two more gates in. Tabletops, fun boxes, and rails litter the main slope. This year they blew enough snow to also cover a mile of cross-country trails. The terrain park now draws kids from nearby coastal communities such as Portsmouth, and the local high schools use Abenaki for race training.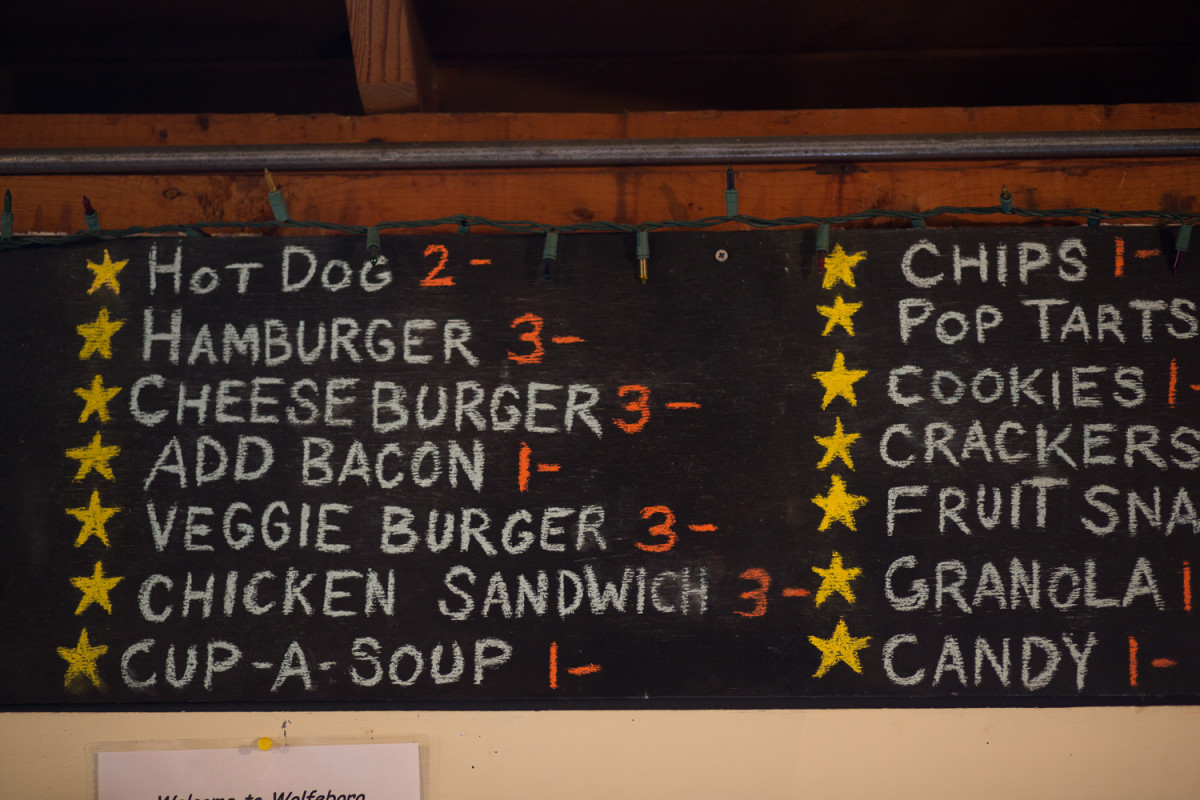 As a result of the snowmaking, Hipple says Abenaki has flourished, with skier visits growing from less than 1,000 nine years ago to more than 7,000 in 2014.
"It really becomes the heart of the community in the wintertime," says Hipple. "We live in a great town. But there are limits to what you can do in the winter, so this really gives you an outlet. [Kids] are here at Abenaki instead of playing Xbox or spraying graffiti on the town boat docks. This is a positive place for them."
Hipple says Abenaki works because of the relationship between the town, the non-profit group, and the community. Thirty percent of Abenaki's operating costs are covered by revenue from lift tickets, ski passes, and renting out the hill to clubs and ski teams on Mondays and Tuesdays. The other 70 percent comes from the Wolfeboro Parks and Rec budget, which the neighboring towns of Tuftonboro and Brookfield contribute to so their residents can ski for the $5 local rate. Capital expenditures such as the snowmaking system are paid for by the Friends of Abenaki, which raises money through donations and fundraisers, like an annual pancake breakfast and ski-a-thon.
"I don't think we ever would have been able to put to a vote: Will the town spend $200,000 on snowmaking?" says Hipple. "It's one thing to keep the ski area open and operate it, but to do these big-ticket items, you really need that Friends group."
Abenaki is fortunate. They have a municipal government that sees the value in a local ski area, a populace that is firmly behind it, and a community that has the means to help support it. But the trend is not unique to Wolfeboro. Skiers in the Upper Valley of New Hampshire and Vermont, and the Tupper Lake area in Upstate New York, recently formed nonprofits to help save the on-again, off-again ski areas of Whaleback and Big Tupper, respectively.
Meanwhile, other local areas have come back across the Northeast, both through community support and private investment. Crochet Mountain in southern New Hampshire closed in 1989, was bought by Peak Resorts (owners of regional ski areas in Ohio, Missouri, Indiana, Pennsylvania, Vermont, and New Hampshire) and reopened in 2003. Mount Prospect, a club-operated, three-run, 250-vertical-foot rope tow in Lancaster, New Hampshire, reopened in 2008 after 11 dormant years. Powder Ridge, Connecticut, closed in 2007 and reemerged in 2013.
"The tide has absolutely turned, and I think that this is bigger than just the ski industry," says Schectman. "This is a very 21st century trend of people coming together, pooling their assets, and saying let's do this together."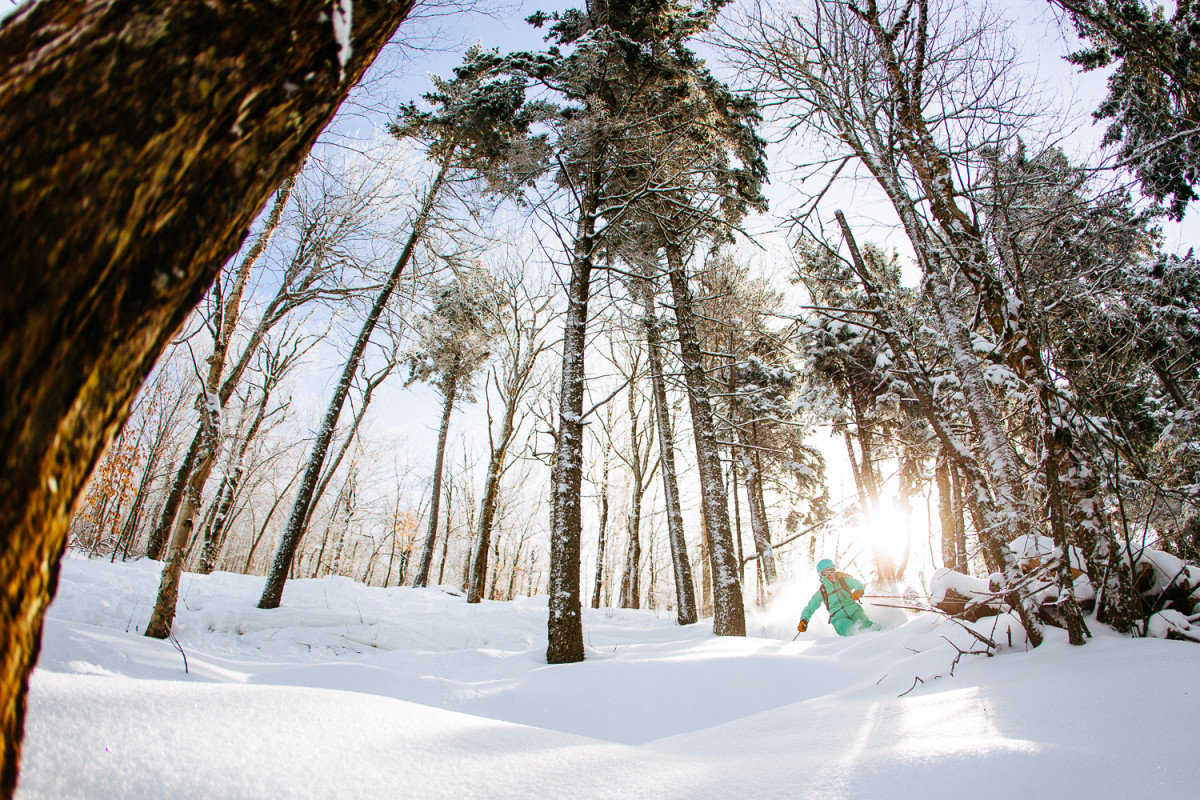 IF YOU STUCK A PIN in a map on the epicenter of the Northeast's ski industry, the southwestern corner of Vermont is where it would land. From the summit of Magic Mountain, in Londonderry, you survey the titans of Eastern skiing. Stratton is off to skier's left. Bromley lies straight ahead. To the right are glimpses of Killington and Okemo. Somewhere behind and out of sight, but not far off, is Mount Snow. When the population centers of the Northeast want to escape their winter doldrums, this is where they come.
Magic, with its two chairs and two surface lifts, under-powered snowmaking system, and absence of luxury amenities, is the odd man out around here. This is not where Manhattanites come to be whisked up the mountainside in a heated gondola cabin, and thus Magic accounts for less than two percent of southern Vermont skier visits. However, with steep, technical, largely northwestern-facing terrain, 1,700 vertical feet, and an open tree-skiing policy, Magic has garnered a hardcore reputation and a passionate following. The ski area won Boston's 2014 Ski Slope Showdown, an online voting competition similar to POWDER's Ski Town Throwdown.
Longtime Magic skiers know what it's like to lose this place. In 1985, the ski area was sold to a group that also acquired nearby Bromley, with plans to market the two together. In 1991, after a few poor snow years and the economy in recession, they abandoned Magic, selling off two chairlifts and cannibalizing the snowmaking system on their way out. Unlike Wolfeboro, kids growing up in this area have no shortage of winter activities. When Magic closed down, the locals didn't rally at town hall. They just went elsewhere. But that doesn't mean it didn't leave a hole.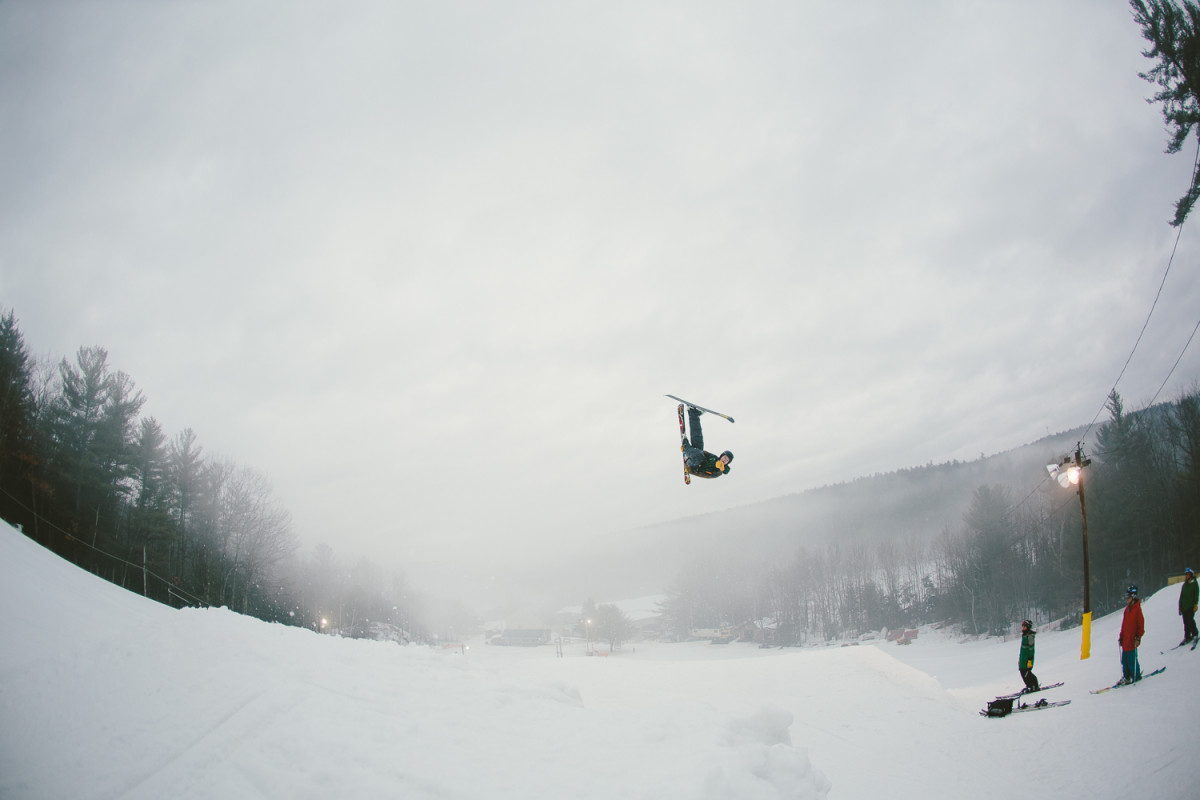 Magic has a different set of challenges than Abenaki. It's privately owned and attempting to stand toe-to-toe with the biggest resort businesses in the ski world. Like Abenaki, though, it has attempted a three-pronged approach: a landowner, an operating company, and a community-based club.
"Obviously it was very difficult when it closed down," says Greg Williams, a Connecticut resident who started skiing Magic in 1978. Magic's community is regional, drawing mostly from southern New England and New York. But there's a brotherhood here you don't find many other places. "I've been here so long that when I do go elsewhere, I realize how special this place is," Williams adds. "I feel really out of place, and all I want to do is come back to Magic."
In 1997, a group of investors from Pennsylvania resurrected the area. Since then, the ski area has endured a series of struggles, and with that, the ownership situation has evolved. Magic Mountain Management, originally a partnership of three long-time Magic skiers, owns the land and most of the infrastructure. They lease operating rights to another company, which has included several different entities since 2002. In 2006, Magic entered a period of relative stability when Jim Sullivan and his company JSL Magic took over operations and ran the area through last winter.
In 2009, when Sullivan needed an influx of capital, he tapped the Magic community, originally selling ownership shares, similar, in some ways, to what Mad River Glen did in 1995 when it sold to a co-op for $2.5 million. The sale eclipsed the 300 shares needed under Vermont law, but for various legal reasons, the partnership never materialized. Of those buying Magic shares, more than two-thirds declined a refund, electing to keep their money with the ski area and form the Magic Faithful Club. In February 2014, Sullivan said there were about 130 club members—skiers who had essentially given $3,000 each to keep the ski area open. But the community didn't stop there.
"We instantly—myself and most of my friends who have been here forever—were automatically going to buy a share. That was a done deal," says Williams. "We'd been skiing here for so long, and it's been such a bargain for so long, the $3,000 was basically a donation to the mountain. Then I just started to brainstorm… What can we do to help out in addition to buying our own shares?"
Williams first made bumper stickers to sell at the bar. When that worked, he had T-shirts printed that read "Save Magic Mountain." "The first order was 400," says Williams. "I thought I was going to have them forever. They sold, and it just started to snowball from there." Two years ago, the community, again facilitated by Williams, raised more than $17,000 to paint the Red Chair. It cost $100 to sponsor a chair. "I could not believe the response," says Williams. "We eventually had to sell the bullwheel."
"My favorite part about having a little ski area in my town is that you can just hang out with your friends there, without being around other people. And you can ski a lot."
—Tasha Hipple, 10
Two or three times a fall, Magic hosts volunteer days, where the skiing community gets together to help clear glades and take on small maintenance projects. "We've expanded our glade system tremendously over the last two or three years based on these volunteer efforts," says Sullivan.
Magic's club experiment fizzled this summer. Sullivan's lease to operate was terminated in June after a notice was sent out that the ski area was behind on its taxes. "[That] left us in doubt that the money was there to get the mountain open this year," says Tom Barker, a partner in Magic Mountain Management who is now heading a new operating company. As of press time, Barker was still unsure what role the club would have going forward. "That club was really the effort of JLS Magic, Jim Sullivan's company," says Barker.
Without the club's investment, Barker says the ski area would have closed. He cites a laundry list of repairs and upgrades that took place in the last five years, including extensive work to the Red Chair last winter. "They were absolutely necessary expenses that their money went to," he says. "You couldn't operate this mountain successfully without that Red lift. Even while we operated for six weeks while trying to finish up the repair, it showed up in lines elsewhere and lower ticket sales."
There is obvious frustration among the Faithful on how the situation played out, and it will be some time before everything is fully resolved. The goal, however, was to keep Magic alive, and to that end, they've succeeded.
"If the money goes into the mountain and this place stays open for other generations to ski, and I stay here until I'm 75, 80 years old, creaking down this mountain, that's all I want," says Williams. "I think that's what everybody else wants. I enjoy skiing, but I love skiing at Magic. It's not just the skiing, it's not just the mountain, it's the whole package that comes with it. That's something that I don't have when I go anywhere else."
Magic, meanwhile, continues to trudge uphill, taking small strides along the way. Since 2006, skier visits have grown from 6,000 a year to more than 20,000. The new operating company takes over an operation that has been upgraded and is relatively debt free. The group of passionate loyalists who kept the ski area afloat for the last 15 years keeps growing.
UNDER THE LIGHTS OF ABENAKI, a group of kids gathers above a giant booter. Thirteen-year-old Jackson Hipple, Ethan's son, shimmies down a few feet, then hops to fakie. He glides straight for the jump, looking over his left shoulder, and flows into a buttery smooth switch rodeo 5.
The kids are practicing for a U.S.S.A. big air contest that will take place here over the weekend. The Abenaki kids have been representing their home mountain well on the competition circuit. The past two years, Jackson and his friend, Luke O'Brien, have gone to U.S.S.A. junior nationals and come home with medals for their age group. They train here on Monday nights and with the Waterville Valley team on weekends. Every night after school (except Tuesdays when the high schools are training), they're here, sessioning Abenaki's park. On a good night, Jackson says he can get 30 laps in an hour.
Later that night, Jackson, his sister, Tasha, and family friends, Samuel and Josh de Beer, are hanging out in his bedroom. The room is wallpapered with trail maps from around the world, some from places he's skied, others mementos from friends. Below his window hang more than a dozen medals. Jackson has a blue cast on his left hand. I ask what he would do if he couldn't ski.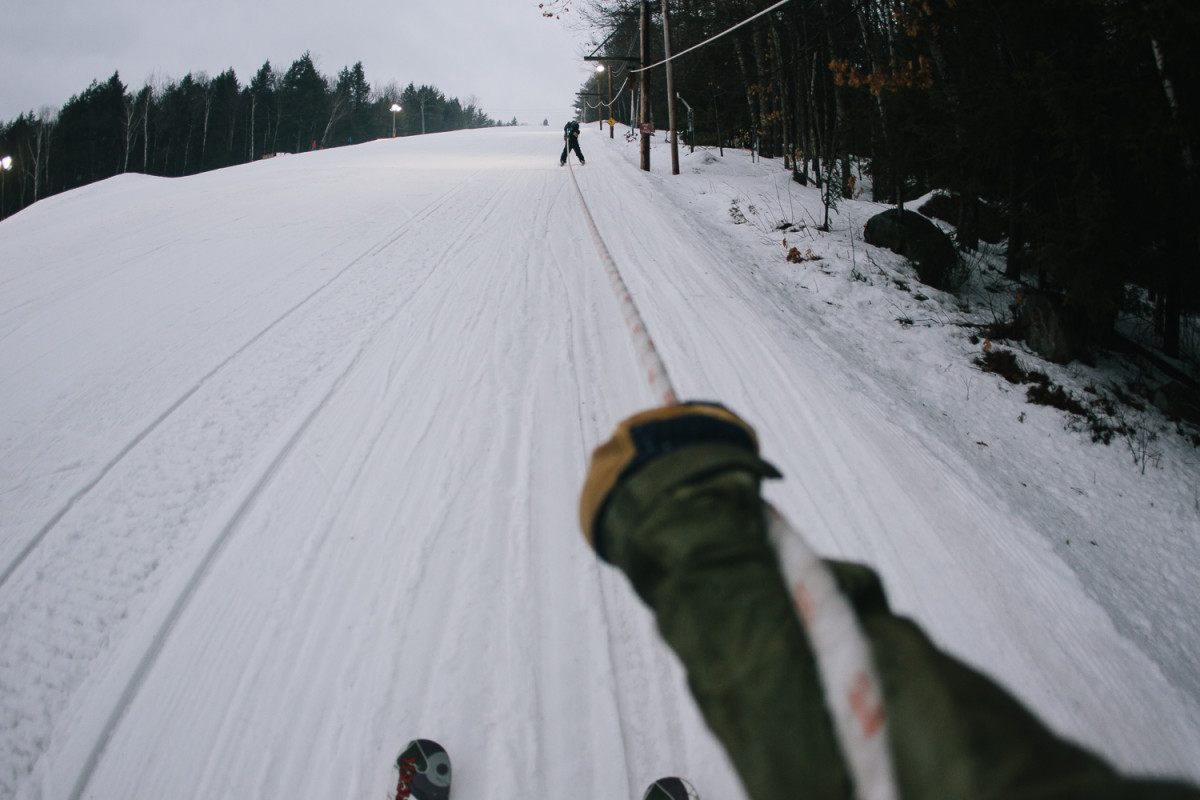 "I don't know. I'd go crazy," he laughs. "I'd probably make a rail right here and jump off my bed on it, or something."
I ask all the kids what they like most about having a ski area in their hometown, and each has a different answer. Jackson likes that he can get a lot of laps in to dial his tricks, Josh likes that it's close and cheap, and Samuel likes the fact that he's skiing all night instead of sitting on chairlifts or waiting in line. Then it's 10-year-old Tasha's turn. Like Jackson, she skis Abenaki most nights after school, and on weekends, travels to contests at larger resorts.
"My favorite part about having a little ski area in my town is that you can just hang out with your friends there, without being around other people. And you can ski a lot," she says. Her answer draws embarrassed laughter from her national champion brother. But for me—for most people who have found a way to make their home in a ski town, really—she is spot on.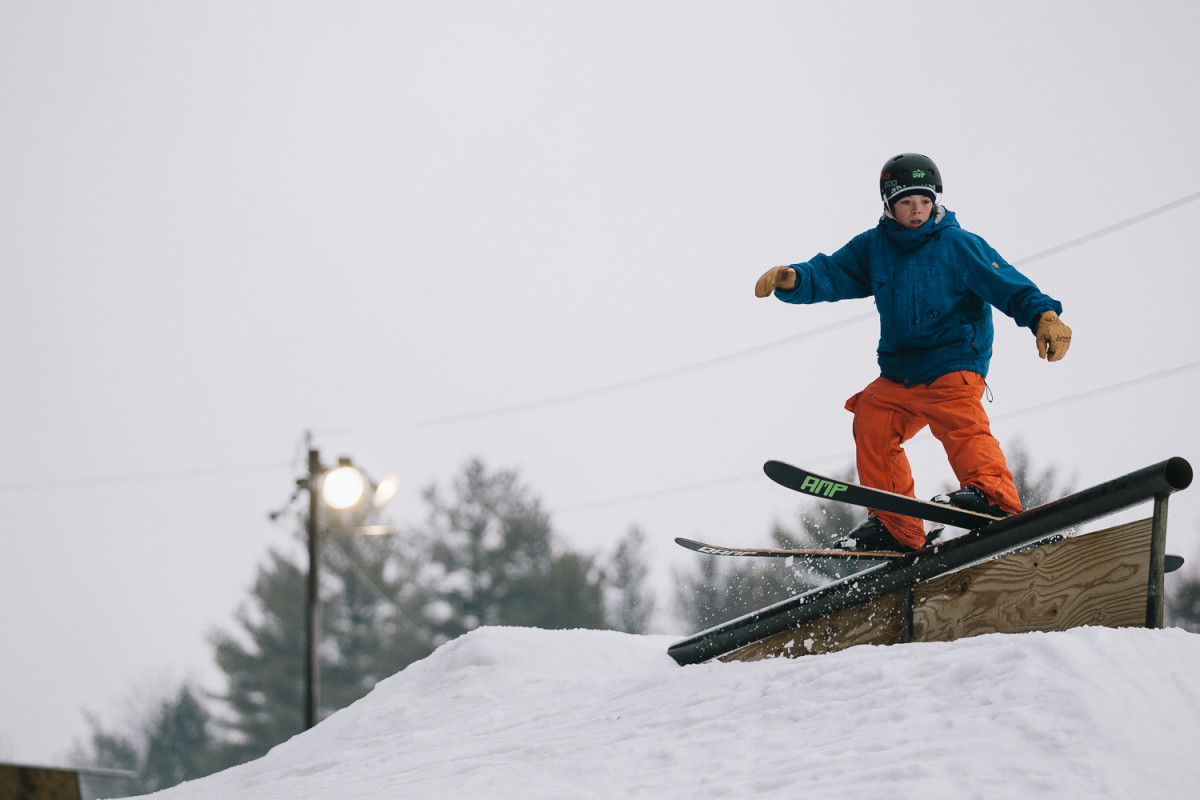 All four of these kids will someday outgrow Abenaki. Tasha, though, will never outgrow that feeling. The skiers comprising the Faithful at Magic certainly haven't.
On a clear and cold Thursday afternoon, a posse of about 15 gets up from the corner table they've been holding down in Blackline Tavern. Everyone gears up for one last run before Magic's lifts close. Beers are stuffed into pockets, coats are zipped, helmets buckled.
"Sunshine corner?" Matt asks.
"Sunshine corner."
We make our way to the Black Chair, which is empty. We take a left off the lift and ski over to a narrow groomer called Trick. It's a classic New England trail, curving and winding through the new growth forest. As it takes a hard left, a sliver of sun paints the slope. Everyone stops. Bottles come out of pockets; an opener is passed around.
In the shadows, I see Goniff Glade and a plethora of lines that spread out from it, all cut in past summers by the Faithful. They aren't filled in yet, but the potential is obvious. We clink glass, and I take a swallow of beer. At this moment, this precise spot, I'm convinced, is the best après scene in the country.
All summer, all week long, these people live and work somewhere else. But it's winter now, and the weekend is about to begin. They may reside in Connecticut, Long Island, Massachusetts. But right here—this mountainside, painted yellow by a setting winter sun—this is home. A place where they can hang out with their friends. And ski, a lot.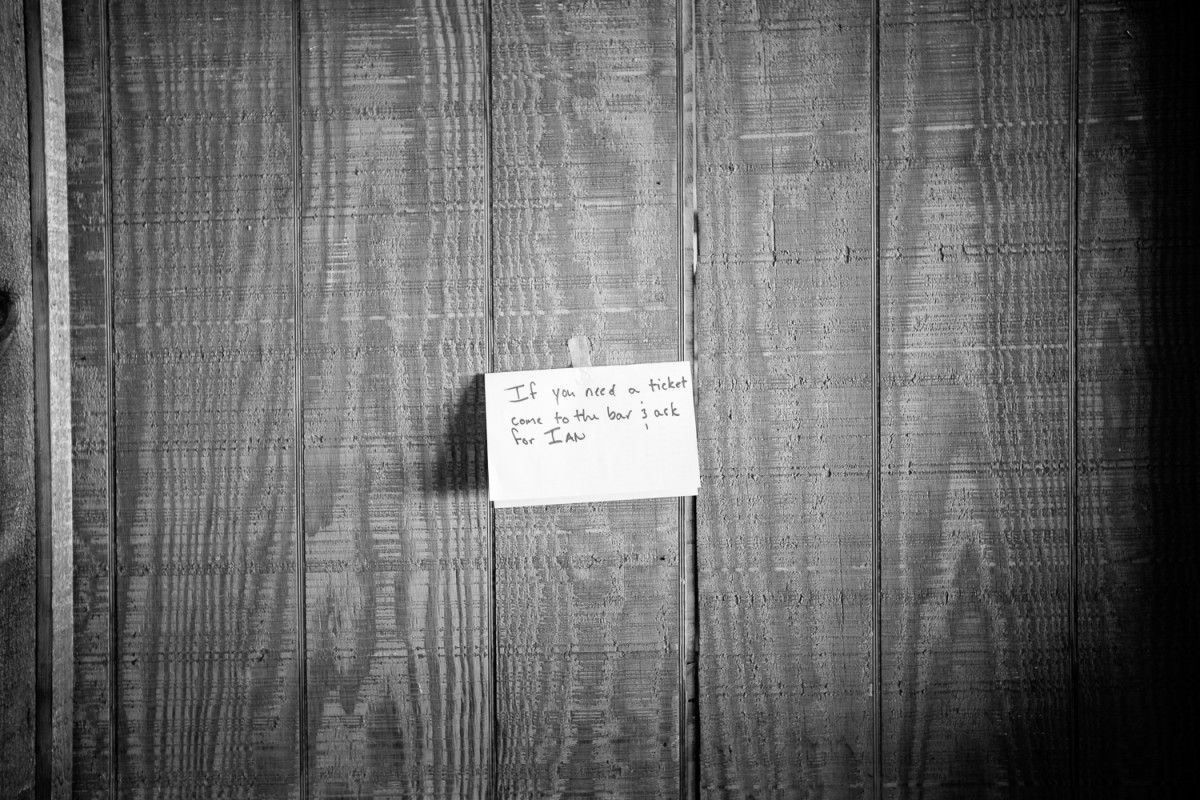 ---