Changing Focus
Eric Pollard strikes a balance between family, skiing, and filmmaking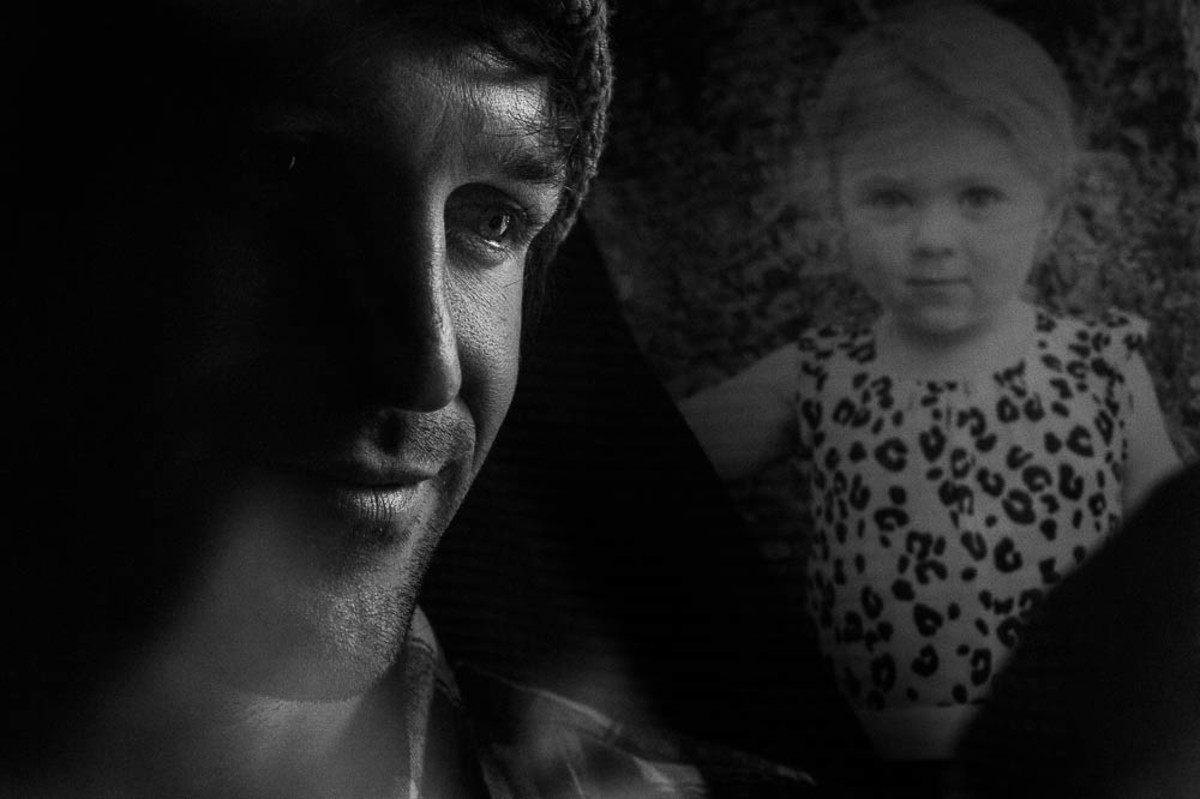 ERIC POLLARD—skier, artist, designer, cinematographer, and producer—relishes his role as a dad. One morning last spring, Pollard made his toddler daughter, Isabella, breakfast, and then sat with her in the living room, listening to old records, reading Winnie the Pooh books, and playing with her toys. All of his attention was focused on his daughter, a rare moment of rest with Pollard's busy lifestyle.
Since he was 15, Pollard, now 32, has traveled the world to ski, influencing the sport with his multi-directional and ultra-fluid style of moving down the hill. He's been designing skis and apparel for almost as long, and used his personal aesthetic to create ski graphics and clothing that helped drag the ski industry out of the doldrums of design and into a more thoughtful, artistic era. As a cinematographer and producer, he created dozens of films that eschewed the standard formula in favor of a more art-infused style of cinematography and editing that has pushed others to think outside the box.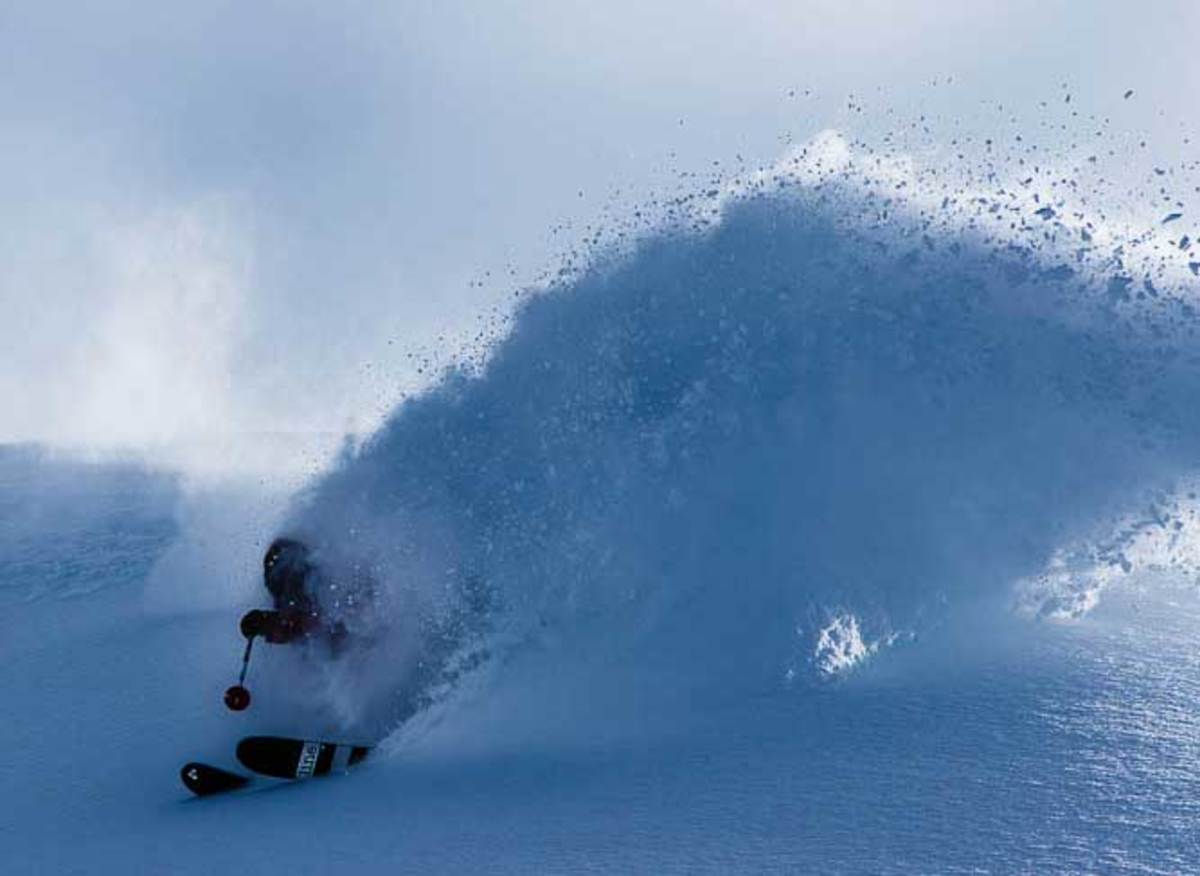 Pollard is still very much continuing on the same trajectory. But nowadays, he also has a new and even more important commitment as a father to his 4-year-old daughter. Before Isabella was born, Pollard disappeared into his home studio to paint or edit for days at a time. He'd work all night and only quit when he'd exhausted his creativity. But now, as a father, everything has changed in Pollard's life.
"When we had Isabella, I immediately had to alter my approach," he says. "My ambitions had to be checked. Really from the moment she was born there was a big reprioritization. I wanted to make sure that every single day I was going to have some sort of consistent interaction schedule with my daughter."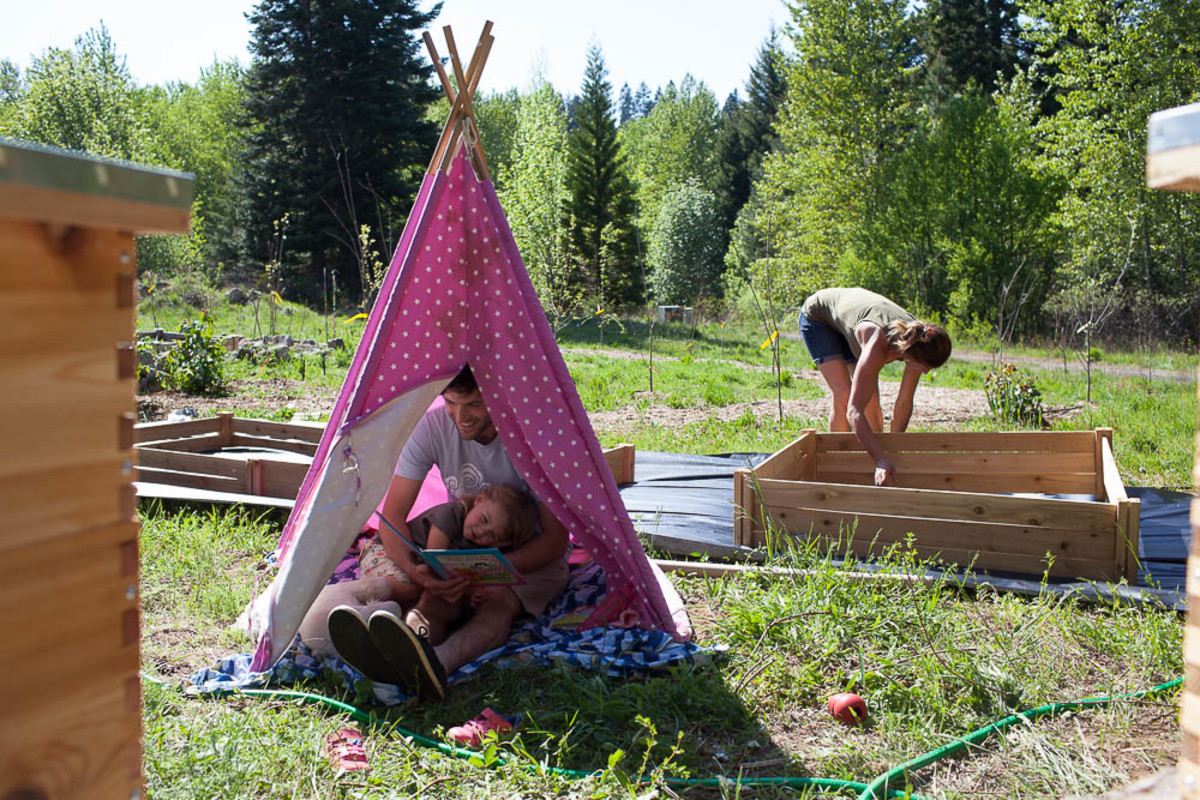 I flew to Portland, Oregon, last March to spend four days with the Pollards at their home at the base of Mount Hood. The first afternoon, Pollard gave me a tour of his home studio where he was editing After the Sky Falls, the two-year Nimbus Independent film project that came out this fall. Nimbus, which formed in 2007, is a collective between Pollard, Pep Fujas, and Chris Benchetler. The trio (which used to be a quartet with Andy Mahre) formed organically over several years based around their shared style of skiing. In the last eight years, they've released more than 32 shorts and films.
For several hours, Pollard walked me through the clips he selected for After the Sky Falls, talking me through the narrative. Like a writer aiming for concise but descriptive prose, Pollard wants every turn to count and every moment to bring you closer to him, Fujas, and Benchetler as skiers and friends. He edited the film to capture the essence of how they move through the snow, as well as their shared love of winter. While we talked, Isabella ran into the room every so often to say hi to her dad. Pollard looked up from the computer screen and engaged with his daughter for as long as she needed, saying hello back to her, answering her questions, explaining to her what he was doing. Pollard is patient because he loves Isabella deeply. But his shift in routine is cerebral and intentional, allowing him to still invest time and effort to his work without detriment to his family.
This doesn't mean Pollard works any less hard. He put in several all-nighters trying to finish this year's film, but only when Erin and Isabella were away. "I'm always trying to figure out how I can refine my relations with skiing and my family and better reconcile the two," he told me while we stood in his studio.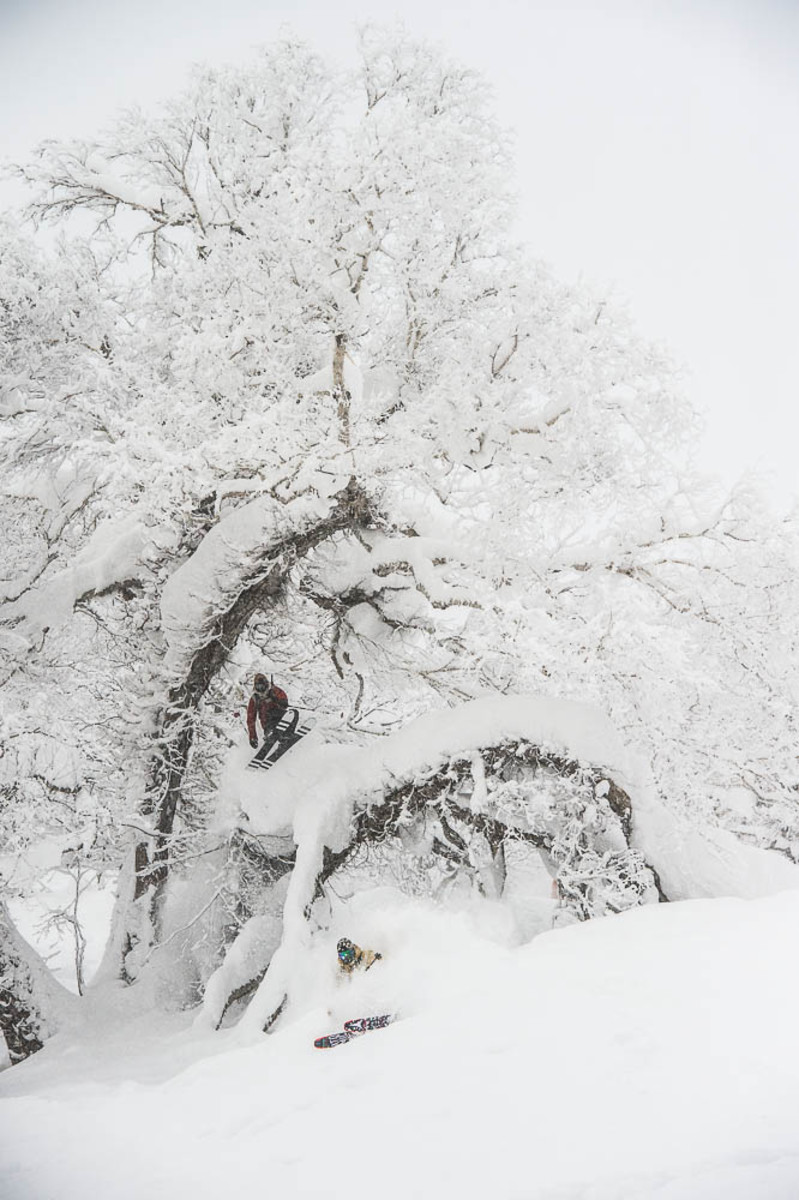 "Everything he does, he does really well and he's going to work tirelessly from the moment he wakes up until the end of the day," says Fujas, "be that on a film project or when he's reading a story to Isabella."
The balance between family and work gets trickier when Pollard goes on the road, which is often. After the Sky Falls took Pollard to Austria, Japan, Switzerland, and Italy (and Mount Hood, of course). He was gone for up to three weeks at a time, leaving Isabella and Erin back at home.
Isabella was old enough to understand her dad was leaving when he went to Switzerland in early February for three weeks and she cried the night before his departure. They kept in touch via Skype so that he didn't disappear, but Pollard says he was still terrified his relationship with her would change. On the other hand, he needed to travel to stay relevant as a skier and filmmaker.
"Coming off a plane and waiting for a reaction from your daughter is a difficult thing," he says. "You wonder if you're still going to have the same connection, and that's tough. Luckily, I got off the plane from that long Switzerland trip and she just ran over to me in the airport. That was great."
Two winters ago, Erin and Isabella, who was 2 at the time, traveled with Pollard and the Nimbus crew to British Columbia for a week (the plan was to stay a month, but Pollard got injured). This year, the entire family went to Italy for two weeks to film for After the Sky Falls. In addition to toting heavy ski bags and expensive camera gear around the world, the Pollard family also carried the requisite suitcases and gear for a toddler—car seat, stroller, toys, a lot of books, and her kid-sized skis and snowboard. Pollard came to call traveling with Isabella the "luggage Olympics."
"When you travel, your worldview is constantly changing and you grow as a person," he says. "As this is happening I don't want to grow away from my family, but I want them to experience it with me."
Adults are more understanding than kids, but Pollard's lifestyle can also be hard on his wife, Erin, a former pro snowboarder he married nine years ago. She understands the routine, and shoulders the childcare and housework when her husband is gone. She was especially tested when Pollard nearly lost his leg from a horrific skiing accident in Russia nearly three years ago, while on assignment for POWDER.
"I'm always trying to figure out how I can refine my relations with skiing and my family and better reconcile the two."
In 2013, Pollard threw a rodeo 360 off a kicker in the backcountry near Sochi, and came out of the landing fast. He couldn't shut it down before he fell off a 15-foot ledge to a flat landing, creating a severe spiral fracture in his left tibia and tearing the rotator cuff in his right shoulder. He didn't trust the first doctors he saw in rural Russia to treat this kind of break. So his travel companions coordinated medical evacuation for him to Frankfurt, Germany. There, he developed compartment syndrome, a severe swelling that could have resulted in the loss of his leg. Erin and Isabella arrived in Germany a week after the fall, just as he was suffering through intense, unending pain from the swelling. Making matters worse, Pollard reacted to an overdose of morphine the night of his family's arrival.
"I woke up and I thought I could see aliens everywhere, so I tried to get out of bed and Erin had to literally hold me down," says Pollard. "It was a full break with reality."
After a series of surgeries to address his condition, Erin quickly saw her husband wasn't getting the care he needed, so she called for a transfer to a higher caliber hospital, also in Frankfurt, where doctors did their best to prevent any lasting paralysis. "He'd been living the dream and the idea of losing his leg completely was terrifying," says Erin. "In the moment, it was like the world was coming to an end. And I think that united us. Some couples might fight or split ways during those rough times, but we did the opposite. We were both working toward getting him back out there, working toward the same goal." Erin's support was not lost on Pollard. "I thought we had shared everything because we've been together since we were 18," he says. "But we faced all kinds of new scenarios, a whole other level of crazy, and she literally rescued me. That's really the only way I can put it."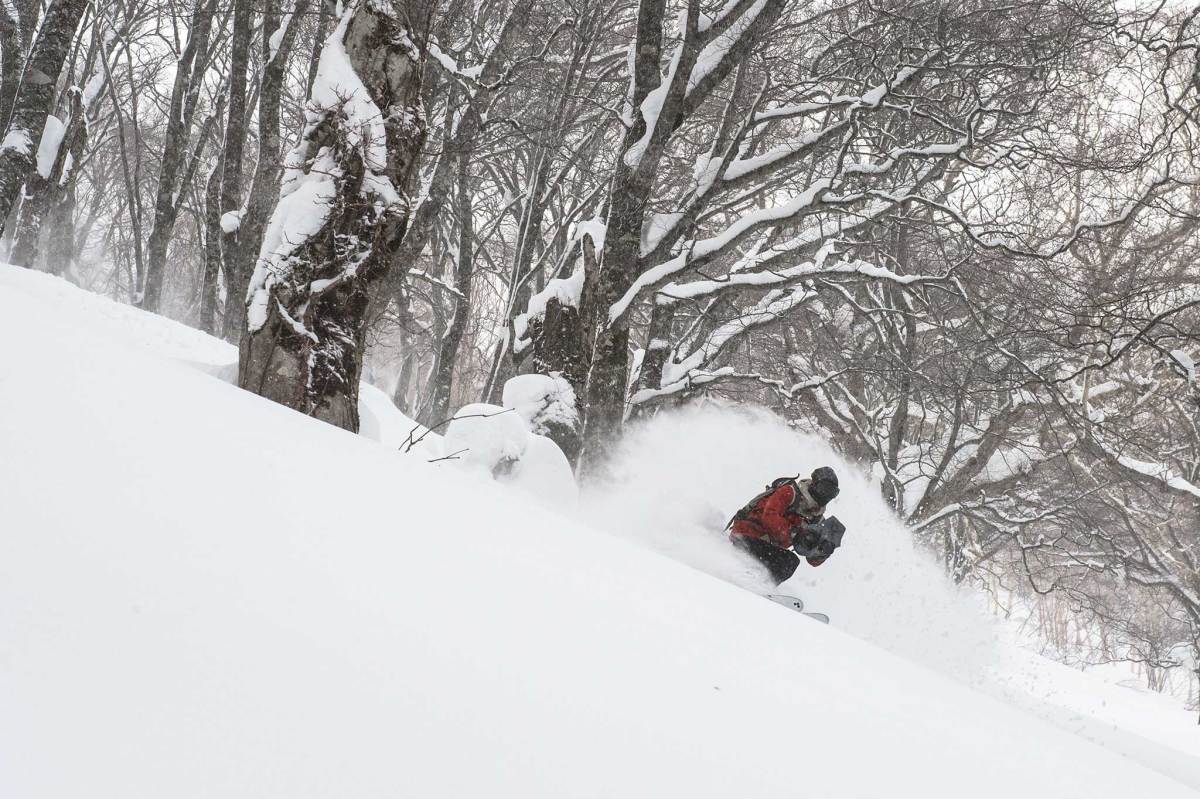 WHEN POLLARD FINALLY RETURNED HOME TO OREGON, the physical ailments kept coming. He immediately came down with a dangerous bacterial infection in his leg bone. For months, he lived with an intravenous line in his arm that fed strong antibiotics straight to his blood stream. Just showering with the contraption was a feat of gymnastics and impossible without Erin's help. There were also months of physical therapy that he needed if he was ever going to recover full use of his leg.
Pollard became lost in thought about how his life had changed. What if he couldn't ski again? What would it be like if he couldn't play soccer with Isabella, something he'd dreamed about since she was born? He also thought about the day-to-day routine—like being able to walk into her room and comfort her if she woke up at night—and how that might change if his leg never fully healed.
Pollard threw himself into physical therapy the same way he tackles everything important in his life. "Even when my neurologist was telling me that I was never going to regain full use of my foot, I was like, 'I'm going to prove her wrong, I'm going to beat this,'" he says.
And eventually he did. Parts of his left foot and all five of his toes are still paralyzed, but he can walk, ski (with a modified boot), and even play soccer. One day while I was visiting, he called up several friends from the neighborhood to play soccer on a small court he set up in his front yard. After a few hours, when everyone had gone home, Pollard kicked the ball around with his daughter.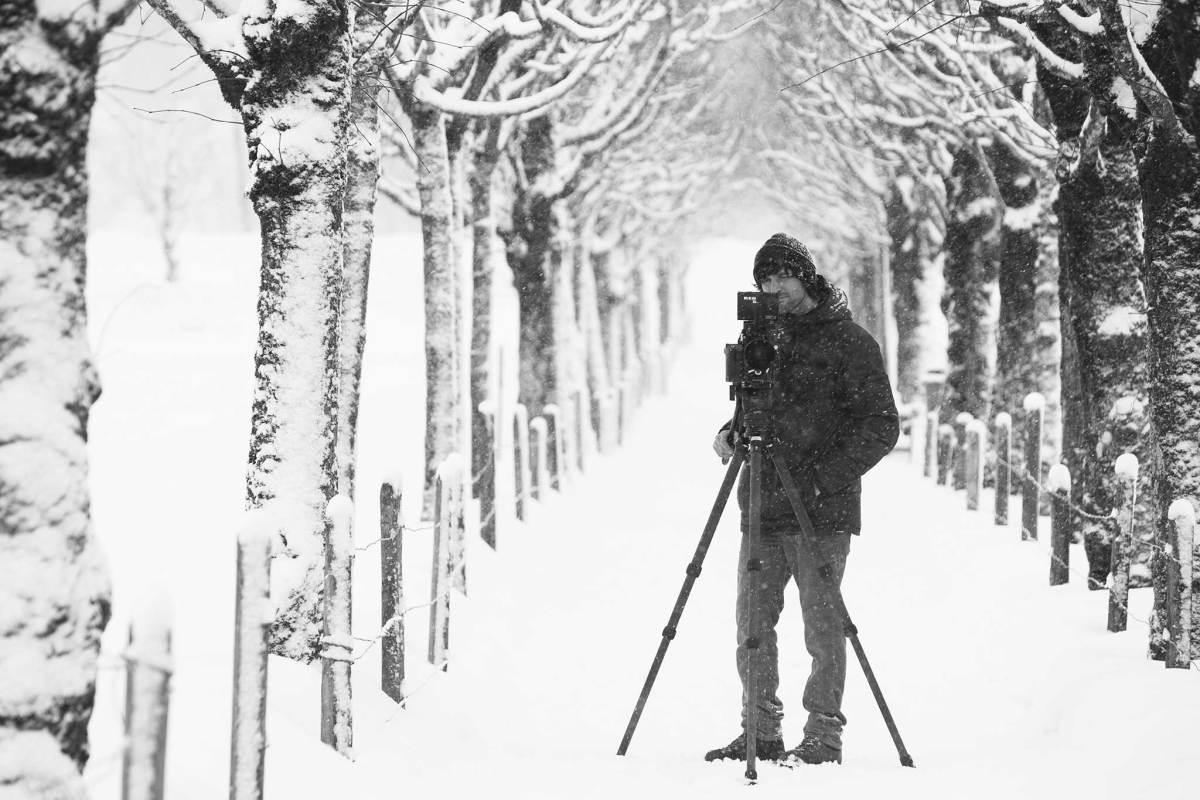 A COUPLE MONTHS AFTER I VISITED POLLARD, I watched the completed version of After the Sky Falls. If many ski films are like cheap drug-store novels with predictable plots and obnoxious protagonists, After the Sky Falls is more like an epic poem—harder to follow, but more lyrical and leagues more thoughtful.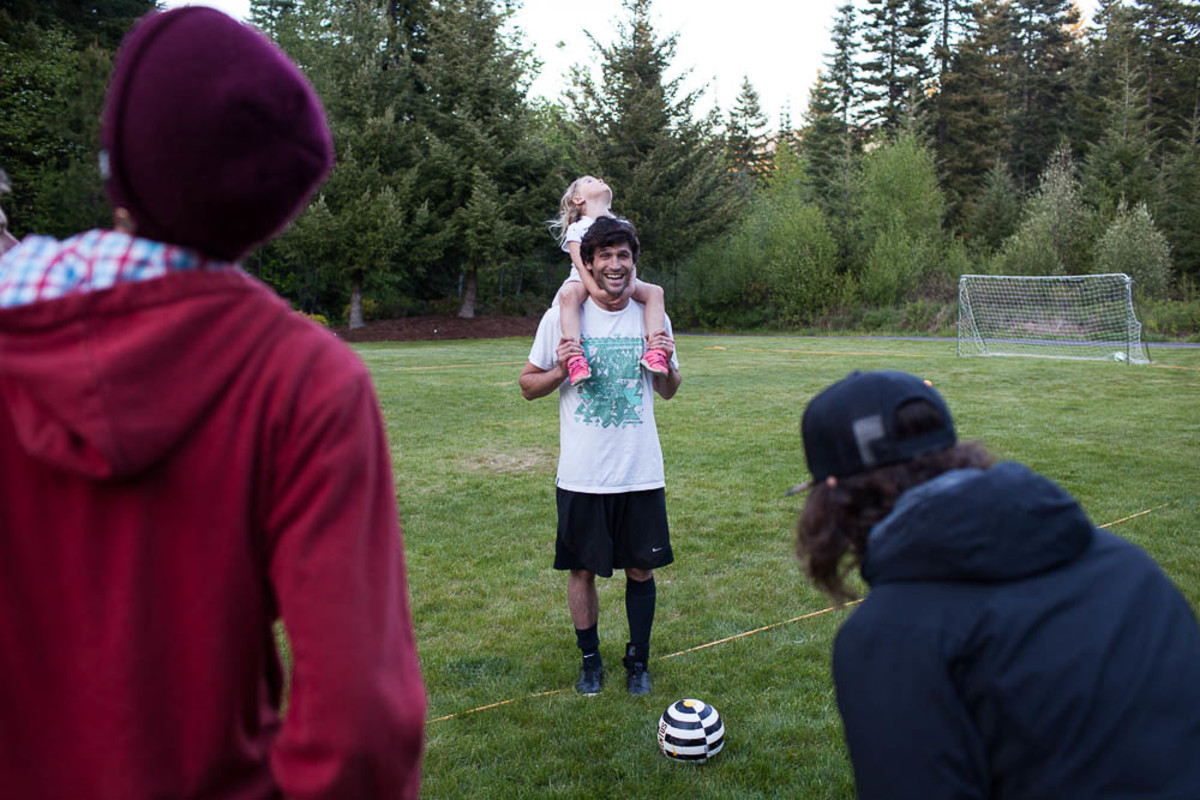 It took a lot of hard work, of course. A week after my visit I received the following email from Pollard about him returning to his crazy editing schedule (while Erin and Isabella were out of town): "Things changed a lot after you left," he wrote. "I went into an alternate reality. I watched the sun come up multiple times. Seriously nuts, I'm actually still recovering physically."
The film is heavily influenced by his accident. He developed the concept in his hospital bed in Germany and says suffering through the pain—and the possible loss of his leg—motivated him to think ahead and dream up the project he really wanted to do.
"I wanted to be more intentional about capturing this specific style of riding that was influenced by surfing and snowboarding, instead of just skiing whatever was in front of me. I also wanted to stay away from telling any kind of story and instead wanted to see if the viewer could pick up on what we were doing," he says.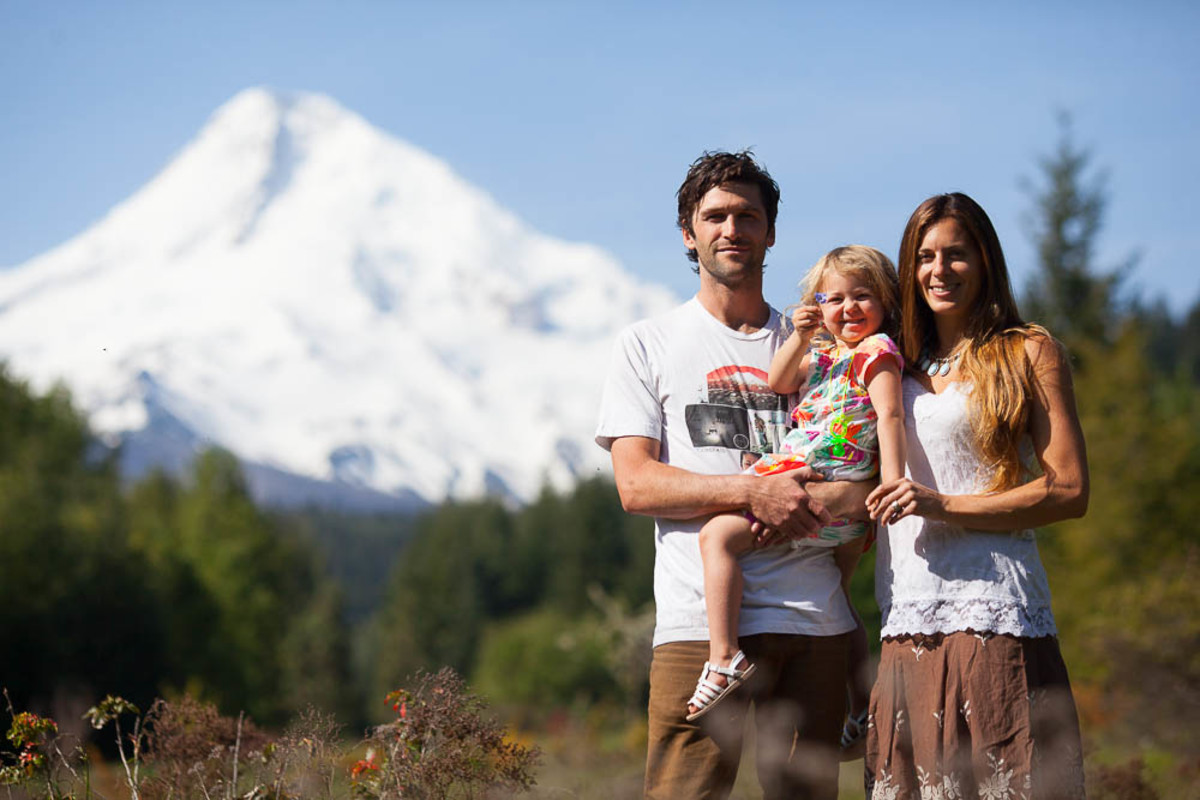 After the Sky Falls is just another chapter in Pollard's life. He's already started to conceptualize the next project and map out the coming years. He recently signed new four-year contracts with his sponsors, Line and Dakine. And Erin is pregnant again.
With a new baby on the way, Pollard is already thinking about how to evolve his work/life balance. He'll still be Pollard the skier and designer, but as the family grows and logistics get more complicated, he'll need to be even more intentional about how he strikes a balance. He's not totally sure how he'll juggle everything, but he's working on it.
"I kind of see life moving forward like a painting," he says. "I have a loose concept of what I want things to look like down the road, but right now I'm still not sure exactly what brush stroke is going to prove best."