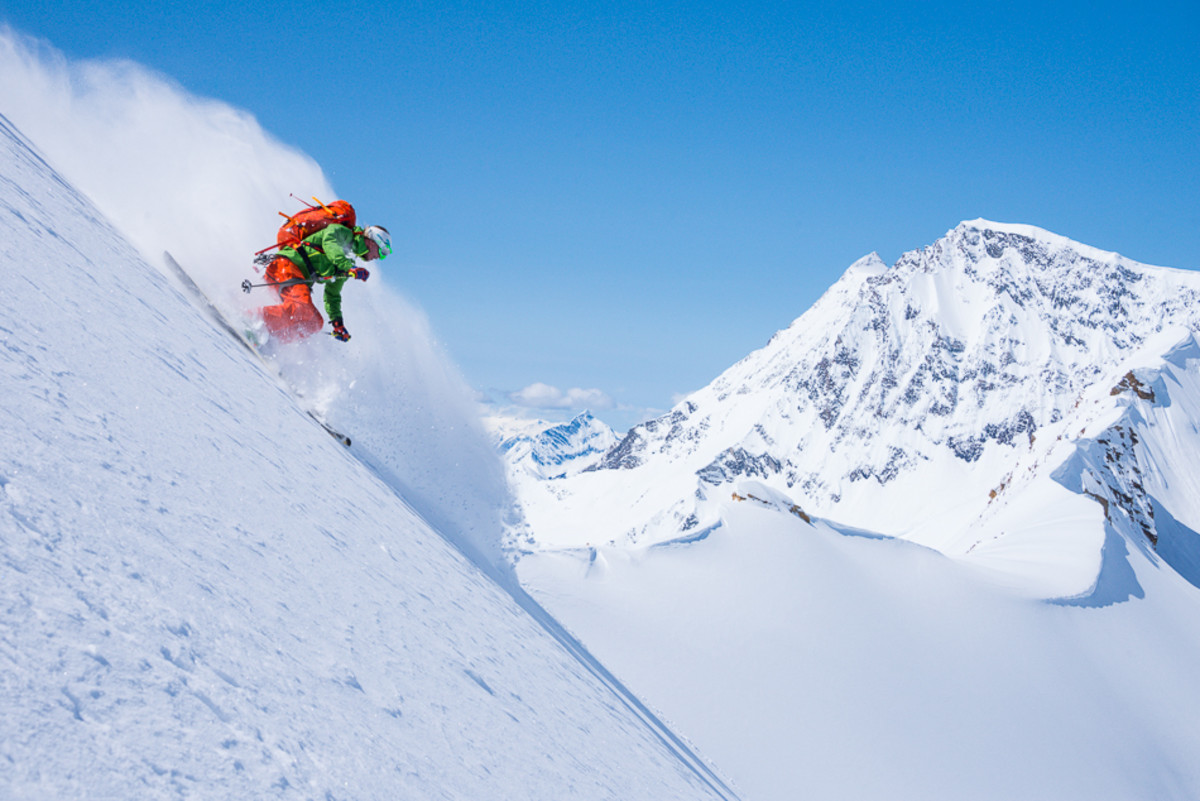 Chad Sayers finds Jumbo-worthy turns at the site of the proposed ski resort, located in British Columbia's Purcell Mountains. PHOTO: Steve Ogle
WORDS: Clare Menzel and Johnny Sudekum
One day this summer, Graham Holt walked into the mountains of the Jumbo Valley, located deep in the Purcell Range near the British Columbia-Alberta border. Holt is the operations manager of RK Heliski, and come winter, his heli operation is the only one to fly skiers to the peaks in this valley. Today, he hiked into the mountains to see if any progress had been made on a ski resort 23 years in the making. Instead of walking up to any infrastructure suggesting the beginnings of the largest ski area in North America, of which has been proposed, Holt saw only a pile of bulldozed rock and debris amidst the trees and wildlife on a single kilometer stretch of an access road, a remnant from the resort's only attempt at physical construction back in 2008.
The Jumbo story dates back to 1991. Oberto Oberti, an Italian-born, Vancouver-based architect, and Grant Costello, a former Canadian ski racing coach, launched an idea to develop a year-round ski resort in the Jumbo Valley, a remote expanse of glaciated terrain that is a five hour car drive due west from Calgary. For the most part, these mountains are quiet. More than 400 inches of cold snow falls every winter, but because of its remoteness—the closest town, Invermere, population 4,000, is 35 miles away to the east—the only activity Jumbo Valley sees are the grizzlies and other wildlife and skiers, who access the glaciers by heli or from a strenuous backcountry tour. Oberti's vision would change everything. The mega resort would stretch across a two-mile wingspan, connected via 20 chairlifts, complete with a village at the base.
Yet 23 years later, with no progress to show and limited communication from ski resort executives, the dealings behind Jumbo Ski Resort remain a strange, convoluted mystery. A vast majority—up to 90 percent—of the residents in the region opposes the proposed ski resort, and yet the British Columbian government continues to stamp its approval on Jumbo documents. Environmental advocates, right-sided conservationists, First Nation tribes, and skiers alike are aligned in opposition, slapping "Jumbo Wild" and "Grizzlies not Gondolas" stickers on their cars and fighting the project everywhere from bars and coffee shops to the British Columbian Supreme Court. But after almost a quarter of a century, Jumbo has become a tired subject.
In October, a British Columbian permit will expire unless the Ministry of the Environment finds that Jumbo Glacier Resorts, Ltd. has made "substantial progress" on the project. This decision could put to rest of one of the most contentious proposals in recent ski history. To understand the momentous occasion this may be, here's a timeline that goes back to the beginning of Jumbo Glacier Resort.
Editor's Note: Representatives of Jumbo Glacier Resort declined to be interviewed for this story.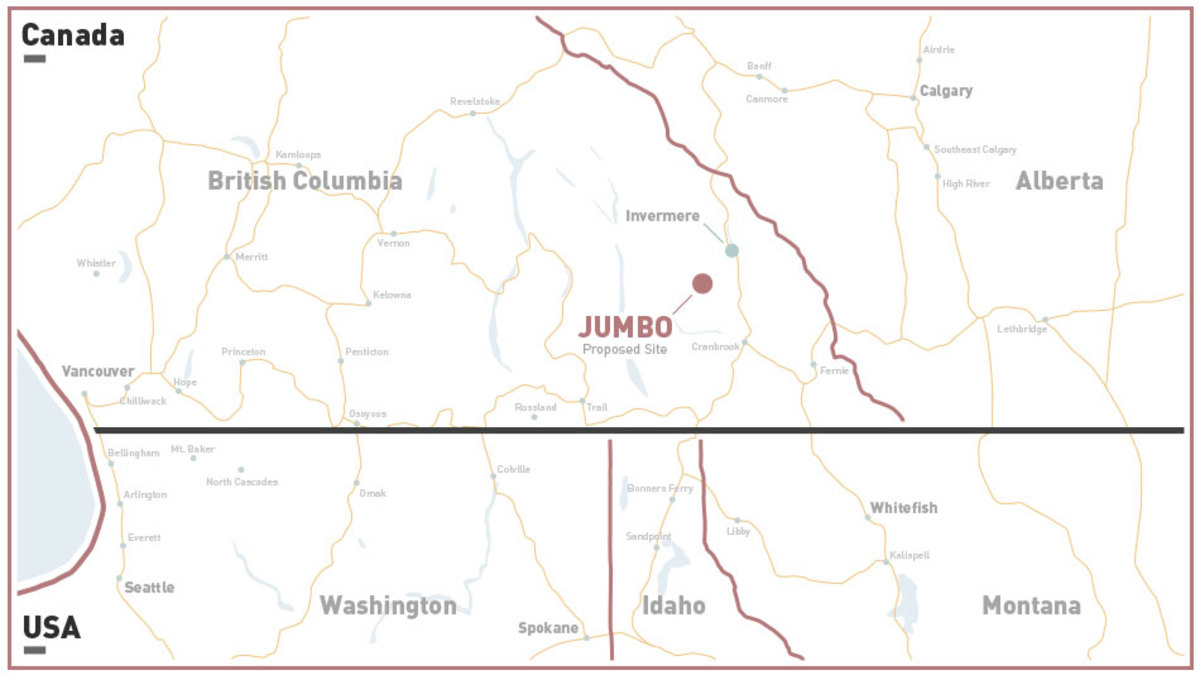 The proposed site for Jumbo Glacier Resort. IMAGE: Patrick Romero
1991: The Idea
Oberti and Costello submitted a formal proposal to the British Columbian government for Jumbo Glacier Resort. Together, Oberti and Costello dreamt of year-round resort skiing for all skiers of all levels on 1,509 acres of terrain sprawling across four glaciers: Glacier Dome, Jumbo Glacier, Commander Glacier, and Farnham Glacier. At the base, a village with the capacity to sleep 6,000 and employ 750 would be erected on an abandoned sawmill site. The entire vision was modeled after the world-class European ski experience, à la Chamonix or Zermatt.
Early '90s: Local response starts slow, gains momentum
As word spread, a strong opposition movement formed, rejecting the plan to put lifts on the glaciers, as well as the village. At first, only the few businesses that would be directly impacted paid attention, like Holt's RK Heliski, whose terrain overlaps with the proposed ski resort boundary. Jumbo promised jobs and economic growth, and at first, that rhetoric persuaded many to support the project. However, over time and with nothing to show, those supporters dwindled. Critics, meanwhile, doubted that this remote area of B.C. was even accessible enough to draw the number of tourists needed to give the region a viable economy.
"I want to see future generations go up into that valley, and see it as I saw it as a kid—a beautiful area of nature, rather than this huge resort that's sucking from [it]," says Ian McIntosh, a professional skier who grew up in Invermere.
July 1995: The Paperwork Starts.
Studying research funded by the developers, the British Columbia government evaluated the entire impact of the proposed ski resort in terms of the environment, community, economy, culture, and health. A step required of every large-scale development, the British Columbia Ministry of Environment awards an Environmental Assessment Certificate only when they are satisfied with the depth and quality of information provided. If the results are unsatisfactory, the developer must finance more research. On average, this process takes four years. The back-and-forth between the government and Jumbo Glacier Resorts took nine.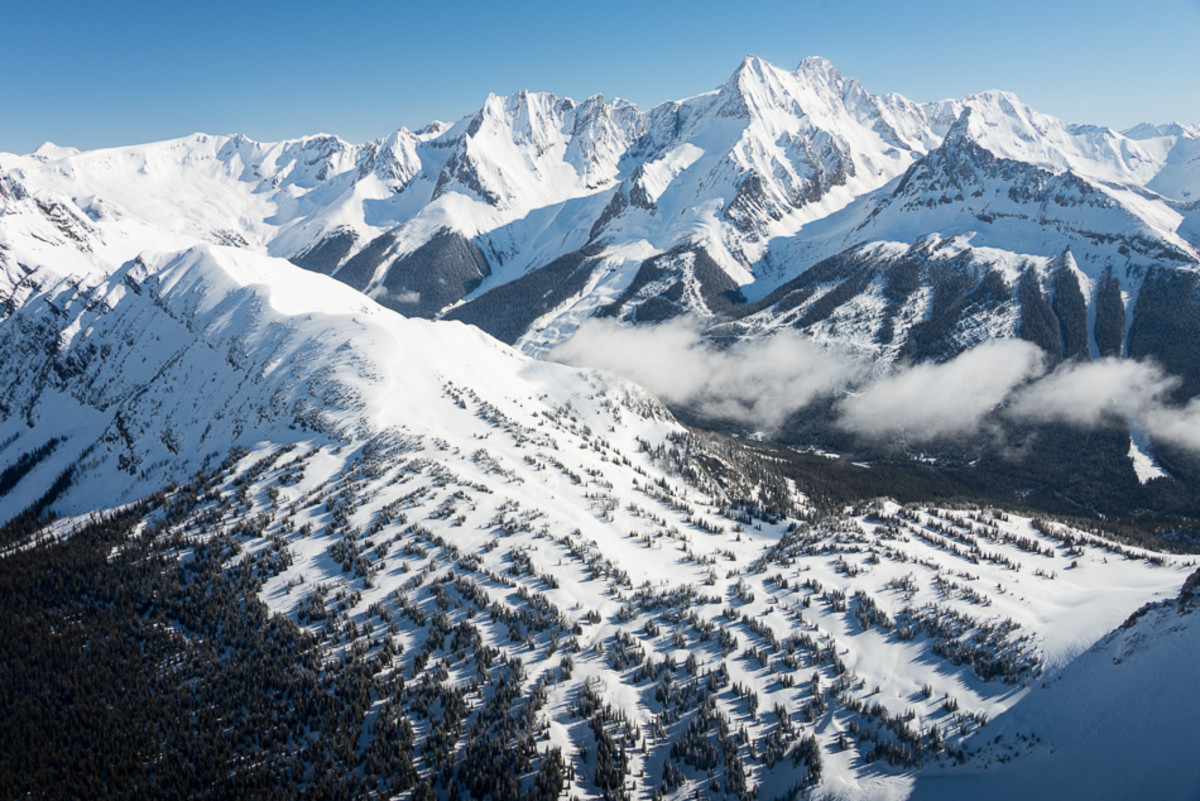 A bird's eye view of Jumbo Pass, looking down towards the proposed village site. PHOTO: Steve Ogle
1998: Graham Holt, current RK Heliski operations manager, moves to the valley
Like many other lifelong skiers, Holt came to southern British Columbia for this string of glaciers that wrap around the valley like a massive horseshoe. He came for the deep snowpack and the steep, technical terrain—more than 5,600 feet of vertical in the winter, when the glacier is at its biggest. Holt has since become one of the most involved and vocal critics of the proposed Jumbo ski resort. "What the world needs is more wild places. We don't need to domesticate them. At a certain point, enough's enough. That's why national parks and recreation areas were established—at a certain point mankind has to say no. We don't need more," says Holt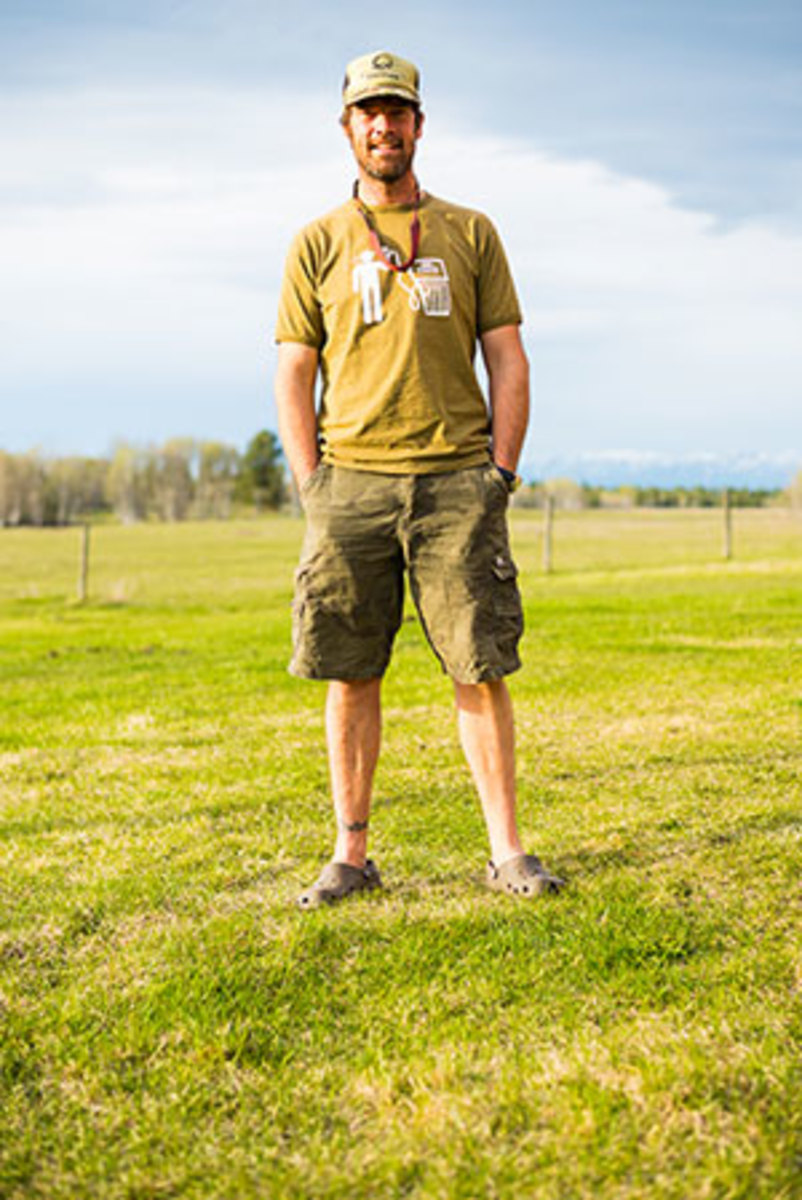 October 2004: Government Gives Permission To Proceed
Despite massive public opposition, the Jumbo Glacier Project completed its review and received its Environmental Assessment Certificate from the government, granting the project permission to move forward with the next phases of development. When Kimberly-based backcountry skier Dave Quinn heard the news, he was stunned.
"This was supposed to be a public input process and polls showed there was well over 90 percent opposition," says Quinn, a wildlife biologist who formerly worked for the B.C. Ministries of Forests and the Environment and environmental nonprofit Wildsight, which led an anti-resort initiative called Keep Jumbo Wild. "Unbelievable…People thought they had spoken and they could relax."
Public concern was widespread over a number of issues, one of the biggest involving the grizzly bears. Roads, infrastructure, and human occupation would cut up and fragment their territory. Additionally, much of the resort and village's proposed, permanent construction would fall in established avalanche paths. With Jumbo's vision of year-round skiing, the arrival of more people, and the use of salt to keep the groomed snow frozen in warmer months, the health of the glaciers—which locals already observe shrinking year after year—would also be seriously compromised.
Meanwhile, Jumbo's developers celebrated this certificate as airtight proof of the project's merit. According to government officials, Jumbo had just completed one of the most rigorous environmental assessments in British Columbian history.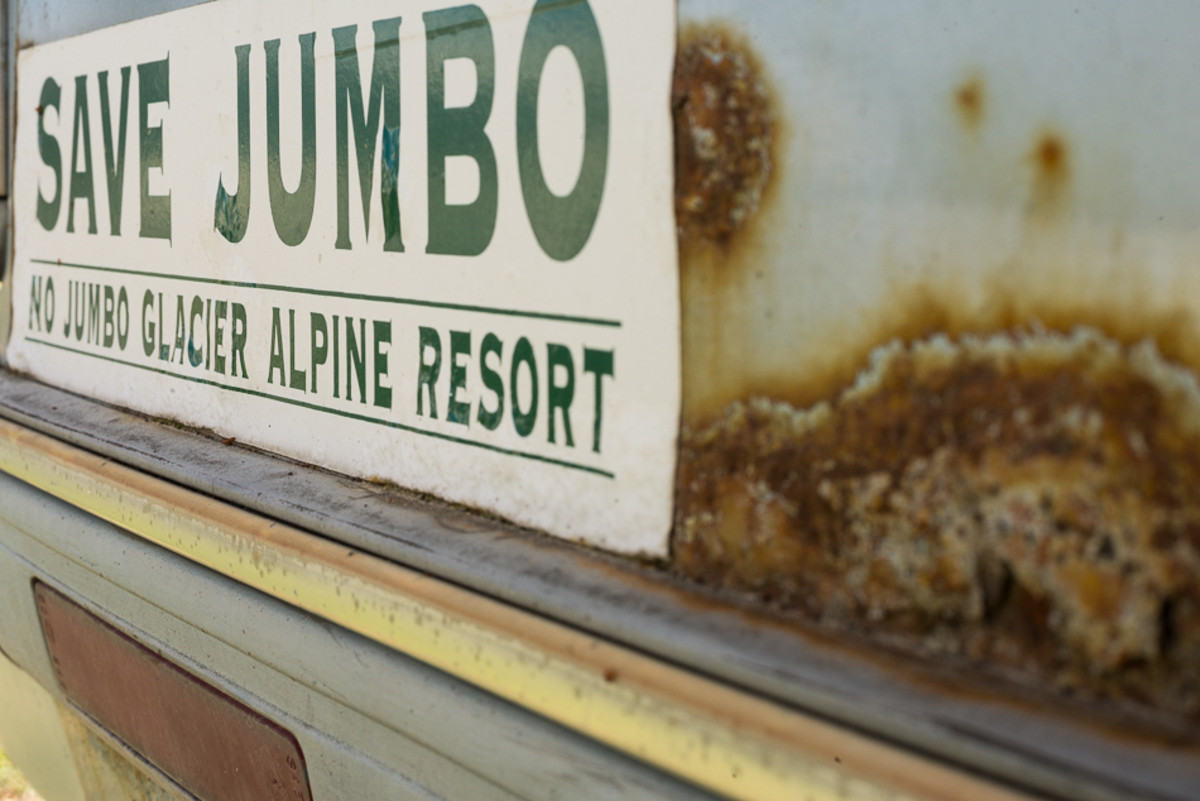 Slapped on car bumpers for 20 years. PHOTO: Steve Ogle
October 2005: RK Heliski files legal action against Jumbo
Some of the loudest local opposition to Jumbo has come from skiers and RK Heliski took matters into its own hands and went to court to challenge the environmental assessment process. If built, Jumbo would drive RK Heliski, operating since 1970, out of business. The proposed boundary for Jumbo Glacier Resort occupies 60 percent of RK's current guiding territory. During the original environmental review, RK submitted testimonies and reports to the government questioning Jumbo's rights to operate on the land. RK alleged that their reports were disregarded and the process was biased. The judge, Justice T.J. Melnick, admitted that the review process may have been flawed, but he wasn't convinced enough to quash the certificate. RK kept fighting Jumbo in the courts. Two years later, the government dismissed RK's final appeal.
July 2008: First, and Only, Attempt to Break Ground
Sixteen years after the project was first proposed, ski resort executives made their first attempt to actually move dirt and started construction on an access road to the proposed ski resort site higher in the valley. Considering the massive effort to push this project through the bureaucratic process, this road—the only sign of physical progress toward building a ski resort—was a weak start. Opponents speculated about the absence of financial backers as time ran thin. If the resort couldn't show substantial progress had taken place within six month's time, their certificate would expire.
"This appear[ed] to be their attempt to squeeze in any progress they possibly could—and keep a very outdated certificate alive. It was a desperate attempt by a desperate developer for a doomed project," says Quinn.
August 1, 2008: First Nation tribe, environmental activists form alliance
In a parallel battle to the opposition formed by environmentalists and skiers, the Ktunaxa Nation, which has occupied the area for more than 10,000 years, also staked their claim. The Ktunaxa are the only native tribe with legal rights to this land, which they use to communicate with the spirit world, and in particular, the Grizzly Bear Spirit. This practice—and this land—is central to the tribe's ancient and sacred tradition. One week following the bulldozer's approach on the Jumbo Valley Road, the Ktunaxa Nation created a road blockade with the Jumbo Wild Coalition to halt the impending development. Planted at the 57-kilometer mark on the Jumbo Valley Road, the Ktunaxa stood alongside more than 50 locals and environmental activists to protest Jumbo Glacier Resort.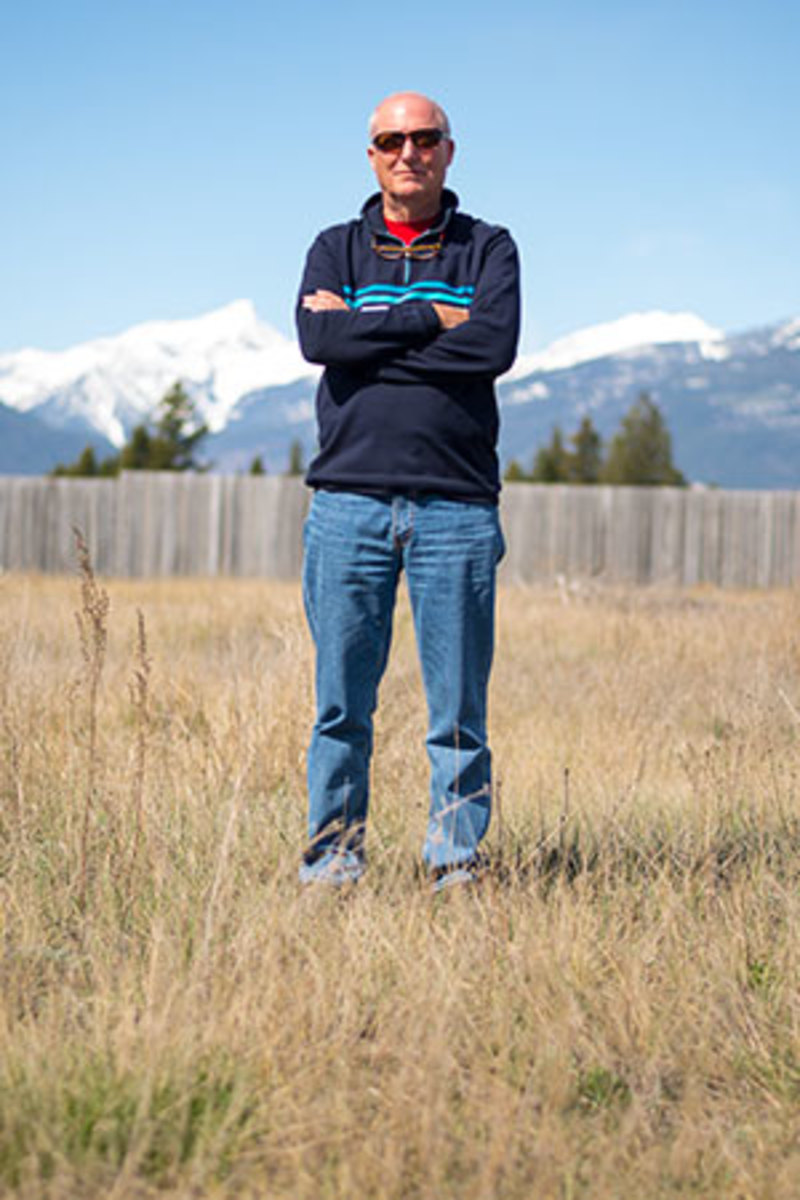 In two weeks, the bulldozers cleared a single kilometer before meeting the opposing blockade, and made no further progress. Protesters remained at the blockade for two months, and only left Jumbo Glacier Resorts after the B.C. government assured everyone that no more construction would take place. According to Canada's Explore magazine, it was one of the longest public protests over land use in B.C. history.
Meanwhile, the Shuswap, another local First Nation Tribe, signed an agreement to support the ski resort, citing employment and tourism opportunities. The Shuswap also rejected the Ktunaxa's claims to Jumbo Valley land.
January 26, 2009: Environmental Certificate Renewed
In another victory for the resort, Oberti and Costello's project received a five-year renewal on their certificate from the Environmental Ministry, extending the life of their dream project.
February 19, 2013: Incorporation of the Mountain Resort Municipality
The province of British Columbia incorporated Jumbo as its own municipality with boundaries correlating to the proposed ski resort. The decision gave Jumbo the jurisdiction to make independent land decisions. Currently, the municipality has no human inhabitants, yet still receives tax money from the province. In May 2013, the municipality passed its first re-zoning bylaw.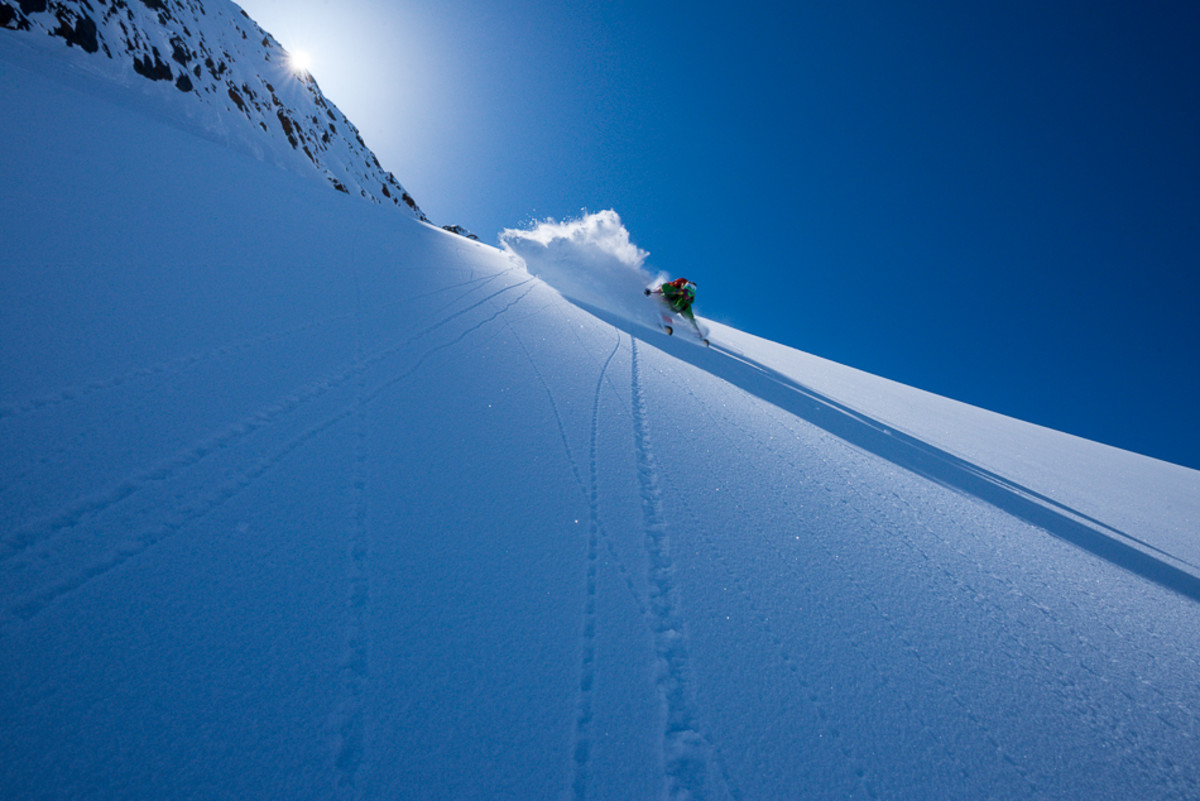 Despite 20 years of back and forth, the only way to make turns in Jumbo Valley is to earn them. Chad Sayers skiing beside the Farnham Glacier. PHOTO: Steve Ogle
Present Day
Local resistance has only grown. "The more educated people become about what exactly Jumbo is, and the plan, then they start to shake their heads," says Holt. There are still some who support the plan, primarily those with real estate or tourist businesses who expect increased traffic during the winter months will be a boon to their economy.
Despite the overall growing opposition, the prevailing attitude is uncertainty. It is hard to put stock into something that is so hypothetical. The project has dragged on for nearly a quarter of a decade with no tangible change to show. So far, Jumbo "hasn't put a shovel through the ground," says Rod Gibbons, RK Heli's longest-standing guide. "We're still skiing in a wilderness setting. It hasn't affected one turn or one snowflake." Jumbo's senior vice president, Costello, still appears optimistic, says Holt, who sees him regularly around town promoting his dream.
On September 10th, the valley got 20 centimeters of snow; it has since melted at lower elevations, but this is a sign that winter is coming and construction season is over. Any day now, enough snow could fall to make construction impossible.
October 12, 2014: The Environmental Assessment Certificate set to expire
If Jumbo does not make headway on construction, it will lose its certificate. This would kill the project. The law is vague when it comes to how much construction must be completed for the certificate to continue, and as Holt explains, "nobody knows what it [the requisite significant progress] really means."
Current plans outline road construction, foundations for a lodge, and possibly even lift installation before October. Some work has recently been done to erect a permanent bridge—funded by the municipality— on the Jumbo Creek forest service road. At the time of publication, there has been no construction.
If the certificate expires, Jumbo Glacier Resort would need to undergo another prohibitively expensive Environmental Assessment Review. "The general feeling is that the same thing will happen that has always happened: The government will just sign off on [the project] without batting an eye or looking at the facts," says Quinn. "But we hope to see the nail in the coffin in this in October."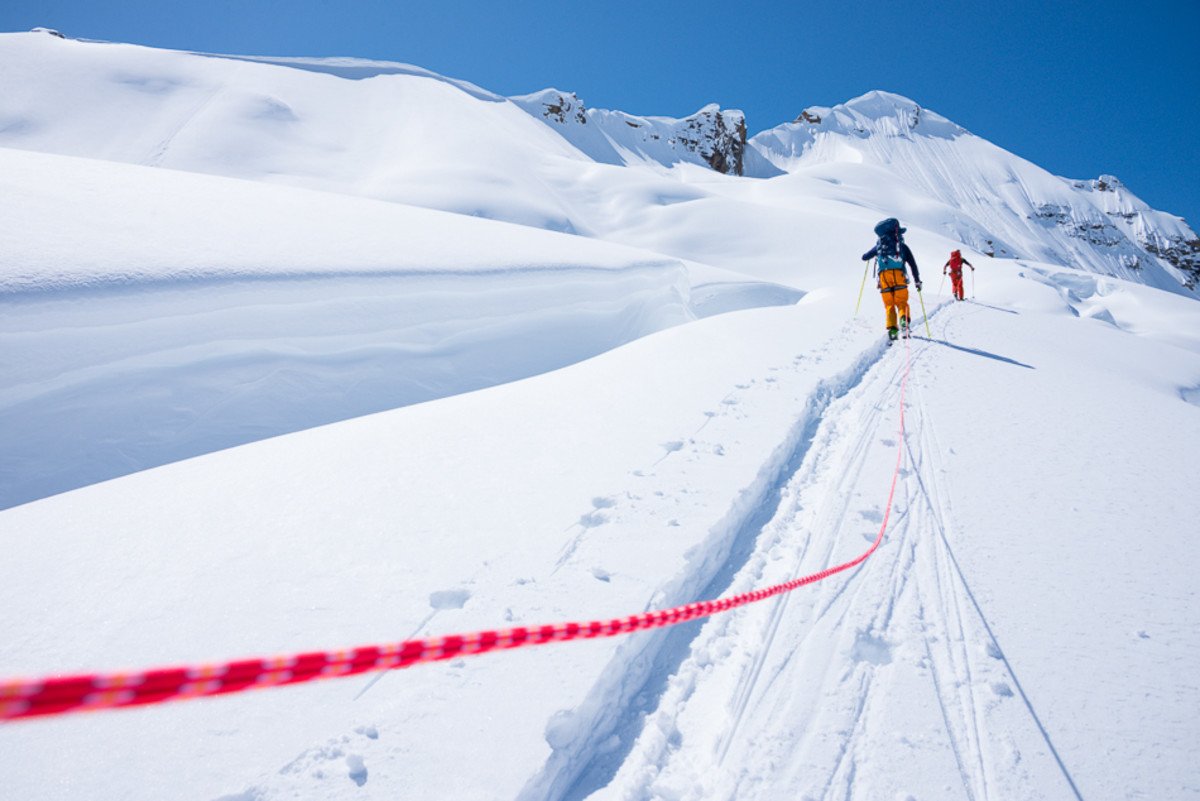 Skin it while you can. Chad Sayers and Brett Eyben hike up to Jumbo Pass for a few remote turns. PHOTO: Steve Ogle