In celebration of POWDER's 45th Anniversary, we are releasing select stories from every volume. This story originally published in POWDER's March 1985 issue (Volume 13, Issue 7)
Story by Chaco Mohler
Atop Squaw Valley's volcanic crags, Scot Schmidt peers down through his ski tips at a couloir of rock. Yes, there is one patch of snow hanging in there, down about ten feet. It's a very small patch of snow. It certainly can't be enough to push off of and clear the narrow stone chute below, then drop to a side hill, compression landing 30 feet down. But Scot Schmidt is not backing away. He studies the rock. Then, on this ridge called "Palisades," on the edge of a couloir no one has ever considered skiing, Schmidt plants his poles and says, "Here I go."
Craziness? Death wish? As the cameras of POWDER photographer Larry Prosor and ski flick mogul Warren Miller sing through their frames, Scot flies in a smooth tuck, hands forward, lands and pushes off that lone piece of whiteness, then sails through space to smash past the compression of the landing and speed down Siberia Bowl in spray. Never more alive, Schmidt has just given a name to this couloir of cliff: "Schmidiot's."
Scot Schmidt, however, is no idiot. He's just a good skier. Warren Miller, who has given a good deal of air time to Schmidt's "air time" in his last three movies, calls him, "one of the top five 'free' skiers in the world. Film audiences can't believe what he does. I still don't believe it when I watch him do it!"
At Squaw Valley, where locals take pride in their self-proclaimed reputation for "craziness," Scot Schmidt goes a step beyond. Most expert skiers would not even look at the rock-lined danger of Schmidiot's; the one other person to try it blew up at the compression landing. Scot has ski/flown it a dozen times, each looking easier than the one before. He has also conquered the other vertical nasties of Squaw like Eagle's Nest and the KT-22 Fingers with similar ease. On a hill loaded with great and daring skiers, Steve and Tamara McKinney, Rick Sylvester, and Robbie Huntoon among them, Scot Schmidt is recognized by all as an "extreme skiing guru."
"Regulars on the mountain look up to him," says Prosor, "as the man who holds the answers to pushing one's personal 'limits.'"
I suspect that many others, including a majority of ski area office-types, look aghast at Schmidt as someone who makes skiing appear a pastime of the lunatic fringe. In an age when speed cops and "closed area" signs are becoming ever more prevalent on America's ski hills, here's a guy who seems to be inspiring hot-blooded bucks on 215s to go crashing off steep rock faces, tuck intermediate run-outs, raining litigation down on resort owners' heads.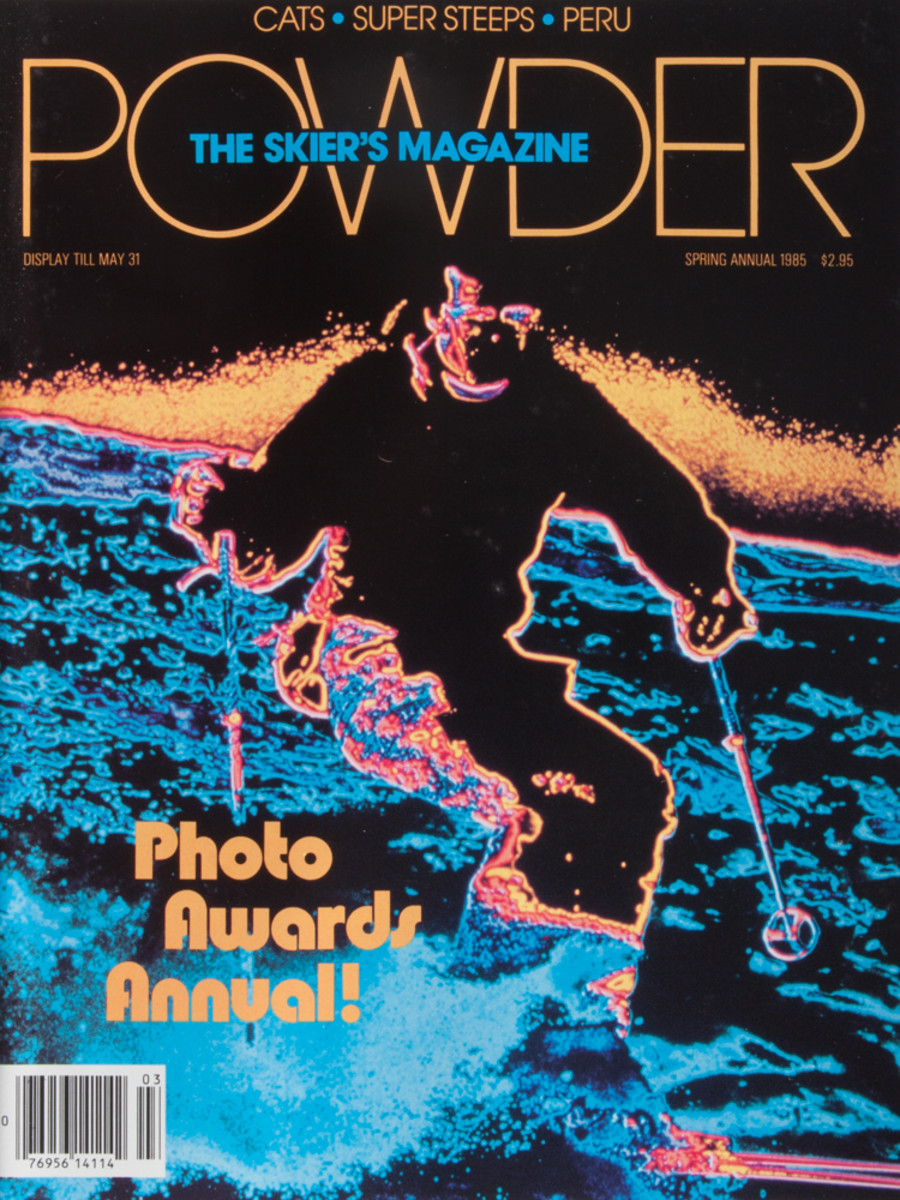 Then there's the established ski racing community which sniffs at the recognition Schmidt's gotten for a "non-sanctioned sport." Well, hell, powder skiing's not sanctioned either, but does that make the great shots in this magazine of skiers powdered up to their nose hairs less significant than a photo of some racer banging around gates? Of course not. The truth is, what Scot Schmidt and a handful of others around the globe are doing is taking the basic, go-for-it thrill of recreational skiing to its logical extremes. The celluloid images of Schmidt flying through the air, just out of nature's deadly grasp, are breath-taking testaments to the precision and grace of the human body and the exhilaration which skiing can give to even a first-timer on the bunny slope.
And while we might be inspired by a shot of Scot skiing down a cliff face, those among us with some survival instinct are not about to go out and buy ten more centimeters of ski and do it ourselves. Likewise, somebody who has "macho" replacing mentality is going to jump farther, ski faster than his skills allow whether he looks at photos of Schmidt 30 feet in the air or not. In fact, to know Scot Schmidt is to realize that these pictures tell more of brains and ability than brawn and balls.
Schmidt was a junior racing phenomenon in his home state of Montana, a winning prospect who was told to "go West, young man" to the then functioning Olympic Training Center at Squaw Valley, CA. Once there, Schmidt fell through the tattered net of U.S. amateur ski racing. The reason, a familiar one: money.
"I was on the Squaw Valley Ski Team for years," he remembers, "and had the points to go to all the FIS races; but I didn't have the money to travel. The team did all they could to help me but I had to work five days a week and try to train, too."
One of Schmidt's best events as a kid was the downhill, but at five foot, nine inches and 150 pounds, he found it hard to compete in the "big time." So Scot went professional, doing the minor and major pro races, few and far between, which visited the Tahoe area.
It was his racing background which made him begin to stand out free skiing on the slopes of Squaw. "I think, technically, racers are the best skiers," he says. "They know how to work the ski a bit better, they know how to hold a better edge than, say, freestyle skiers.
"If you take his skiing apart frame by frame," states Warren Miller, "you'll find he's technically better than most any instructor. He's fundamental, nothing exaggerated, just rock steady, rock hard."
While Schmidt's technical grasp is apparent, it was something else which attracted photographer Prosor, a style he calls, "grace in motion." They began a collaboration which would become very beneficial to both, Schmidt flying far and fast for the cameras of Prosor and the pages of an ever increasing number of magazines. This led to the attention of Miller and semi-professional status with his movie company. On a recent film shoot in New Zealand, Scot jumped for the cameras off 40 foot ice blocks, skied through crevasses, and won a figure eight contest with partne Scott Brooksbank.
But no matter how solid his skills, it is Scot's "crazy" skiing stunts which remain bankable. "I get a little tired of being called crazy," he says. "I wouldn't be doing it if I thought I was going to hurt myself. I've got the ability and the technique and I know my limits."
Schmidt's technique includes waiting for a foot or two of fresh, cushiony snow before attempting long jumps. His skis are 215s, GS, with slightly higher boots and bindings which don't release easily.
After studying the jump, he makes a mark with his ski at the snow's edge in the direction he wants to take off. "I back up as far as I can to get momentum going," Scot explains. "It's dangerous to just stand there and jump. You can lose your balance too easily. I pre-jump the edge a little; it's a down and weight motion. That's where my downhill experience comes in. I use a downhill position in the air: knees into the chest, skis pointing with the terrain, hands driving forward."
As he comes into the landing, Scot opens up and leans back a bit. "I land the skis, then land my back and pop out of it from there. That's how you can deal with heavy compression."
Ultimately, he admits, "You do it by feel. You just have to relax. I do a lot of mental imagery before I jump, get a positive image of how it's going to be. You ski a lot better if you have a smile on your face."
The positive results of Schmidt's leaps of faith have earned him a special respect of the managers of Squaw Valley, even after he lost his pass last year for skiing the mountain before it opened. Scot claims that the ski patrol will clear him and a camera crew to climb Palisades on days when it's closed to others.
"You've got to have the right attitude," he believes. "I'm real cooperative. Some guys are not in control, however, and have bad attitudes. Management gets wind of them and, sure enough, they're all over them, their passes are pulled and they're gone."
It seems unlikely that Scot Schmidt will ever suffer such a fate. This racer from Montana has found a home at Squaw Valley, a resort he says "has the terrain for extreme skiing." Idolized by many locals, Schmidt remains a modest, unassuming figure, still more excited by the joy of carving a good turn that by hints of fame and fortune.
"It makes me happy when people compliment me," he says, "but film has a tendency to make things look better than they are. I know the type of skier I am and I'm not going to get more excited about my skiing because of what someone else says. I already feel so good on a pair of skis that it's like flying. I enjoy just cruising, but there's also a higher level of thrill. I don't know, maybe people from Montana are just a little more wild and crazy."